03.05.2019
The Summer Tote Bag:
Clarins x Inthefrow
This is a paid for advertorial in collaboration with Clarins.
I am beyond excited to announce that from today until the 18th of May, you will be seeing my face on Clarins counters nationwide. After years of wonderful projects with Clarins, we have collaborated together on an exciting Summer campaign - one unlike any I have done before.
We're launching the Clarins x Inthefrow summer tote bag.
If you buy 2 full size Clarins products, 1 to be skincare, you will receive the colourful Clarins x Inthefrow summer tote bag as a gift with your purchase on Clarins counters nationwide AND inside you will be able to choose 3 generous sized travel mini's from a choice of ten you can view below.
It's an amazing and seriously exciting offer, and I am just beyond proud to be the face of this campaign. Thank you Clarins for all of your support and friendship over the years - I can't wait to see you all with your tote bags!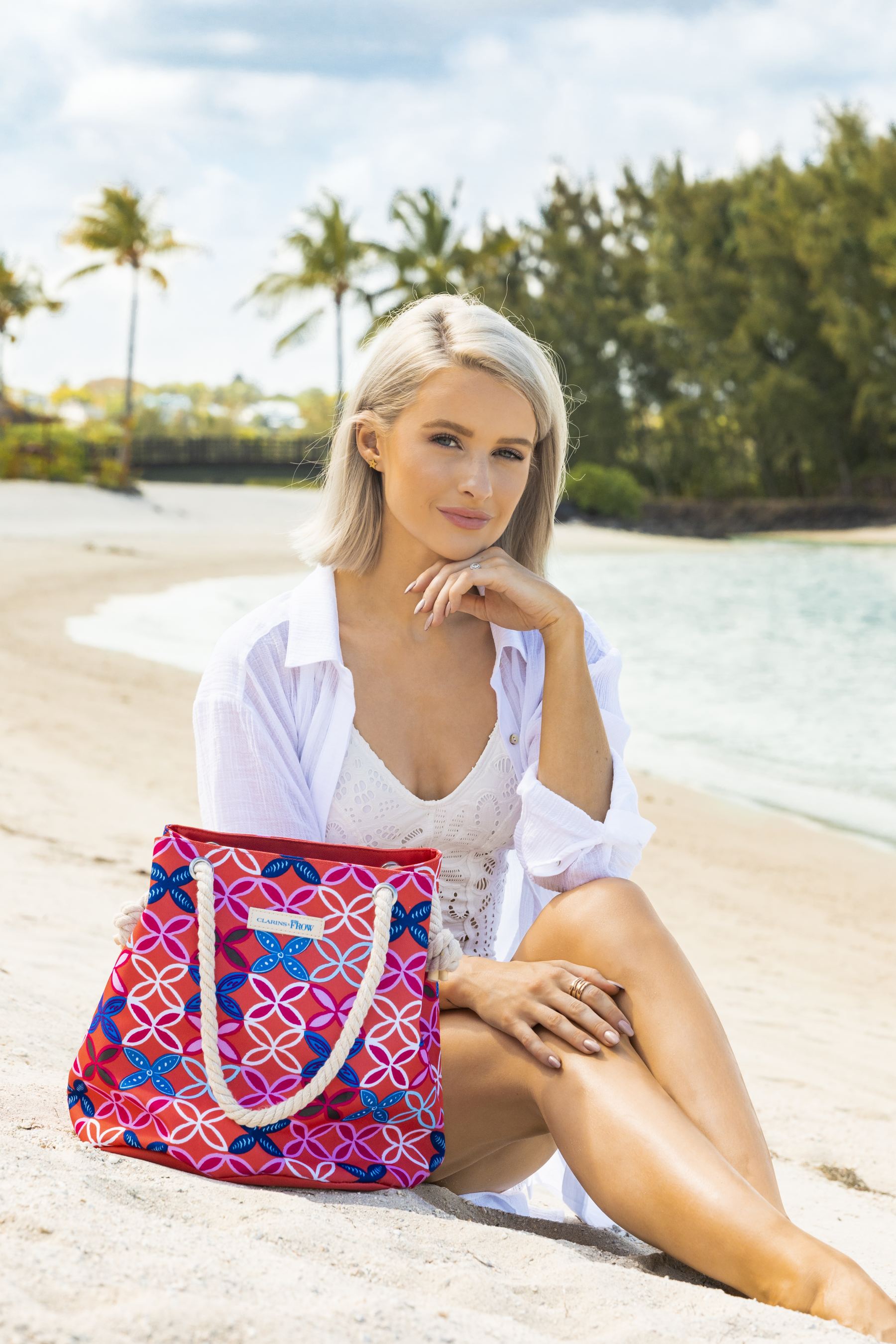 Together as a team we decided to create a gift with purchase based upon my love of travel and functional design. Not only a beautiful summer tote bag but a truly amazing gift I know you'll be thrilled to use. The Clarins x Inthefrow summer tote bag is the perfect addition to your beach holidays, made of sturdy canvas and coming in a stand out, vibrant design. It's the ideal size to keep your holiday essentials with you during the day including your towel, your latest vacation read, your sun protection and anything else you need for the beach and beyond.
My big design request for the summer tote, as well as looking incredible of course, was that the rope handle be luxuriously thick and I'm just so pleased with our final creation. You'll also find a small but chic stitched panel to the front of the gift with purchase, to commemorate our wonderfully unique collaboration together. Over a year ago when our teams started to work on the initial design of the tote bag, we came together to build prototypes with different styles, colours, designs, materials and shapes and eventually we conceived my perfect summer beach bag. I'm so pleased to have been able to bring such beautiful elements together on this project and to be able to offer such a substantial gift with purchase for our biggest collaboration yet.
On purchasing any 2 Clarins products, 1 to be skincare, you will be able to select your new summer tote bag and 3 generously sized travel samples from 10 of my favourite Clarins products below: 
Instant

Eye Make-Up Remover 50ml

One-Step Gentle Exfoliating Cleanser 50ml

Hydra-Essentiel Cream 30ml

Multi-Active Day Cream 30ml

Extra-Firming Day Cream 30ml

Super Restorative Day Cream 30ml

Exfoliating Body Scrub 100ml

Tonic Bath & Shower Concentrate 100ml

Suncare Body Cream SPF30 100ml

Aftersun Balm 100ml
THE CLARINS 2019 SUMMER MAKEUP COLLECTION
Along with the launch of the Clarins x Inthefrow summer tote bag, if you head along to your nearest Clarins counter you will also get to see my face on imagery everywhere! This summer I am also incredibly excited to announce that I am the face of the iconic Clarins Summer makeup collection, as it rolls out nationwide over the next few weeks. You'll see the campaign imagery that Alex and I secretly shot together over the past few months on destination shoots and you'll finally get to see what makeup I've been using to create those amazing sun-kissed beauty looks and vibrant blue eyes.
You can find out all about the new Clarins Summer collection in depth below and which products I've been using to glow up!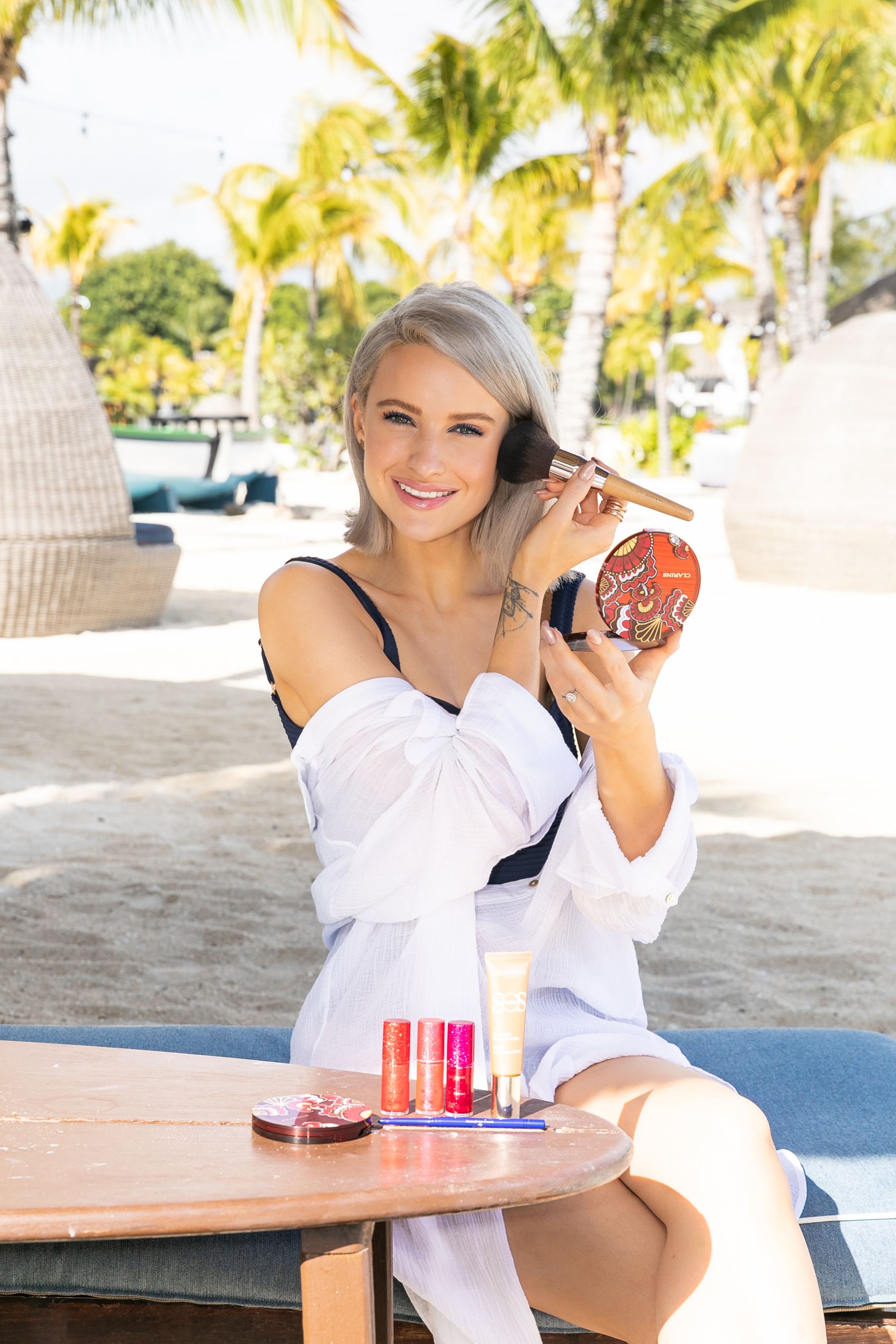 BRONZING COMPACTS
& SOS PRIMERS 
The Clarins summer Bronzing compacts are a favourite of mine every year and this summer's limited edition releases are no exception. Available in 2 classic shades (001 Sunset Glow & 002 Sunrise Glow) you can choose to add a bronzed glow to your look with either warm or cool undertones. Perfect for travel with their sizeable mirrors and beautifully versatile with 3 luminous shades in each compact. A matte bronzer to warm the skin and 2 glowy shades perfect for the apples and high points of the face. Swirl them all together with a large fluffy face brush for an all over sun-kissed look perfect for Summer travels. 
The Clarins SOS Primer is a radiant base for makeup application that boosts the skins natural looking glow, without feeling oily and can also be used alone for a more barely there makeup look. Already available in 6 correcting shades to enhance natural complexions, the 2019 Summer makeup collection sees a new limited edition shade (06 Bronze) focusing on warmth and bronzing. The oil free SOS primer blends onto skin perfectly and leaves your complexion with a visibly moisturised, healthy looking glow. 
WATER LIP STAINS
If you're looking for a buildable lip colour that stays put throughout the hot weather and as many brunch dates as you can handle, then look no further than the Clarins Water lip stains. Available in 3 new limited edition seasonal shades (05 Sparkling Rose, 06 Sparkling Red & 07 Sparkling Violet) they are the smudge proof water based lip stains you know and love but with a little extra shimmer for summer. Use them alone to add dimension to your lips, build them up for a customisable bold as you like look or top your favourite Clarins lipstick with them for a matte base with a shimmery, kissable finish to the centre.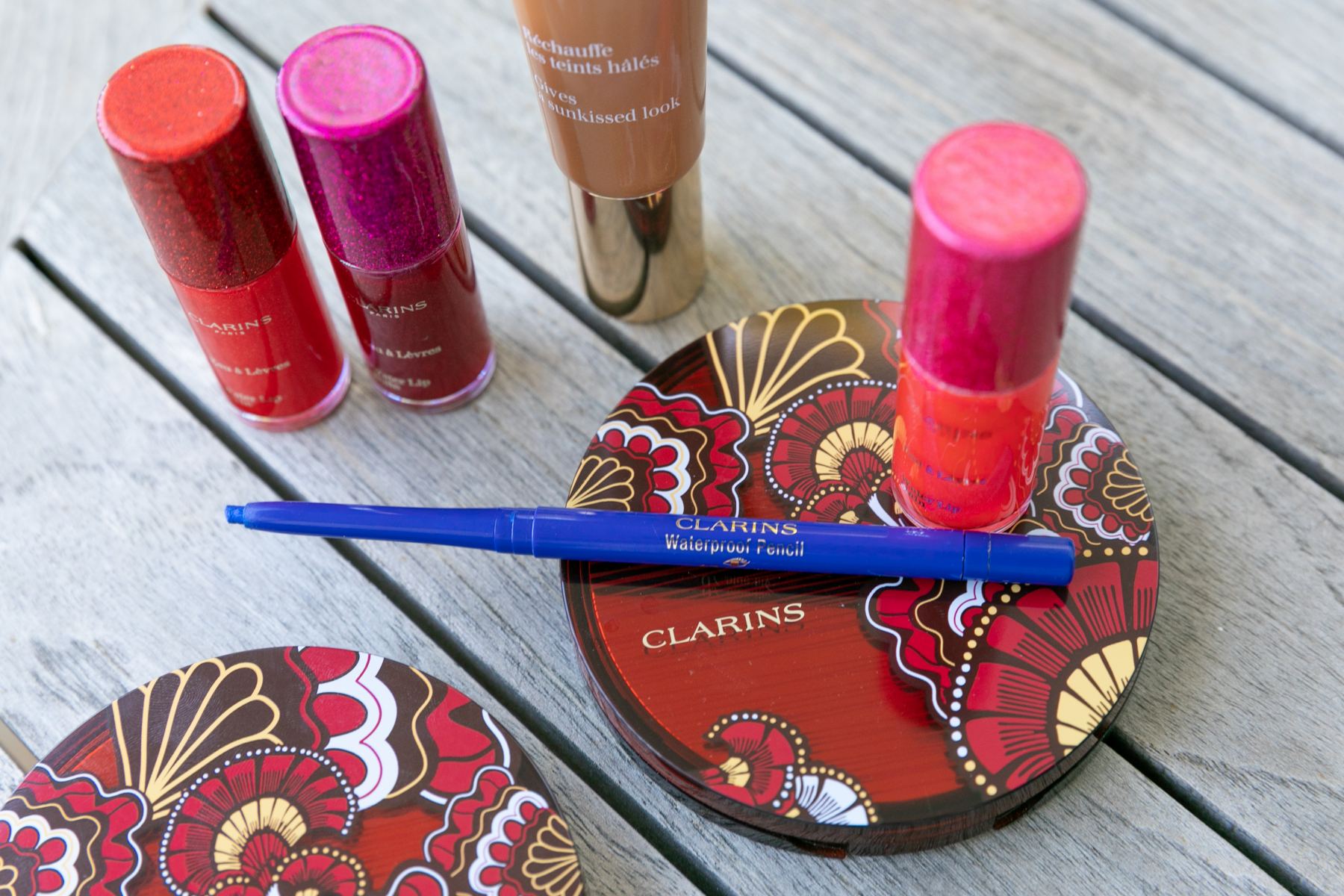 WATERPROOF EYE PENCIL & MASCARAS
Perhaps the star of the 2019 Summer Makeup Collection is the beautifully creamy Waterproof Eye Pencil in the new season shade - 07 Blue Lily. The vibrant cobalt shade is the perfect pop of colour for your Summer makeup look. Easy to apply, long lasting and as many of you have noticed over the last few weeks, it's been a simple but effective staple in my sunshine vacation looks. You can apply the look as bold or as subtle as you like and I've found it also blends incredibly well with the finger if you want to smoke out your lash line rather than contour it.
It's been no secret over the years how much I adore Clarins mascaras and if I had to choose one brand for my lashes to love for the rest of my days, there would simply be no competition. The Be Long mascara is 'the one' if you want long fluttery lashes that are separated and lengthened. The true intense black is a classic finishing touch to any look - day or night. 
FROM DAY TO NIGHT
What is so great about the Clarins Summer Makeup collection is how easy it is to change up your look from day to night. My daytime look is the Bronzing Compact in shade 01 buffed into naturally primed skin and patted onto the high points of my face. Then a simple swipe of the Bronzing Compact across my eyelids too to add dimension and depth, with a touch of Be Long Mascara to really lengthen my lashes and open my eyes. Then a subtle dab of the Water Lip Stain in shade 05 Sparkling Rose to flush my lips is my glowy daytime look finished.
To transform my look for the evening and add a little more sun-kissed glow and pops of colour, takes no time at all. A fresh swipe of the Bronzing compact to deepen my glow, along with another new Clarins favourite of mine - the Glow 2 Go in shade 02 Golden Peach, which adds a dewy light to my cheekbones. Then a single swipe of the Waterproof Eye Pencil in shade 07 Blue Lily across my top lash line, really changes the look up and adds on trend fun to an otherwise easy to create look. Then I added a beautiful bolder lip with the new Joli Rouge Lip Lacquer in shade 760L Pink Cranberry and then I topped it with the Water Lip Stain in shade 06 Sparkling Red to the centre.
A perfect pout and evening look finished in no time at all!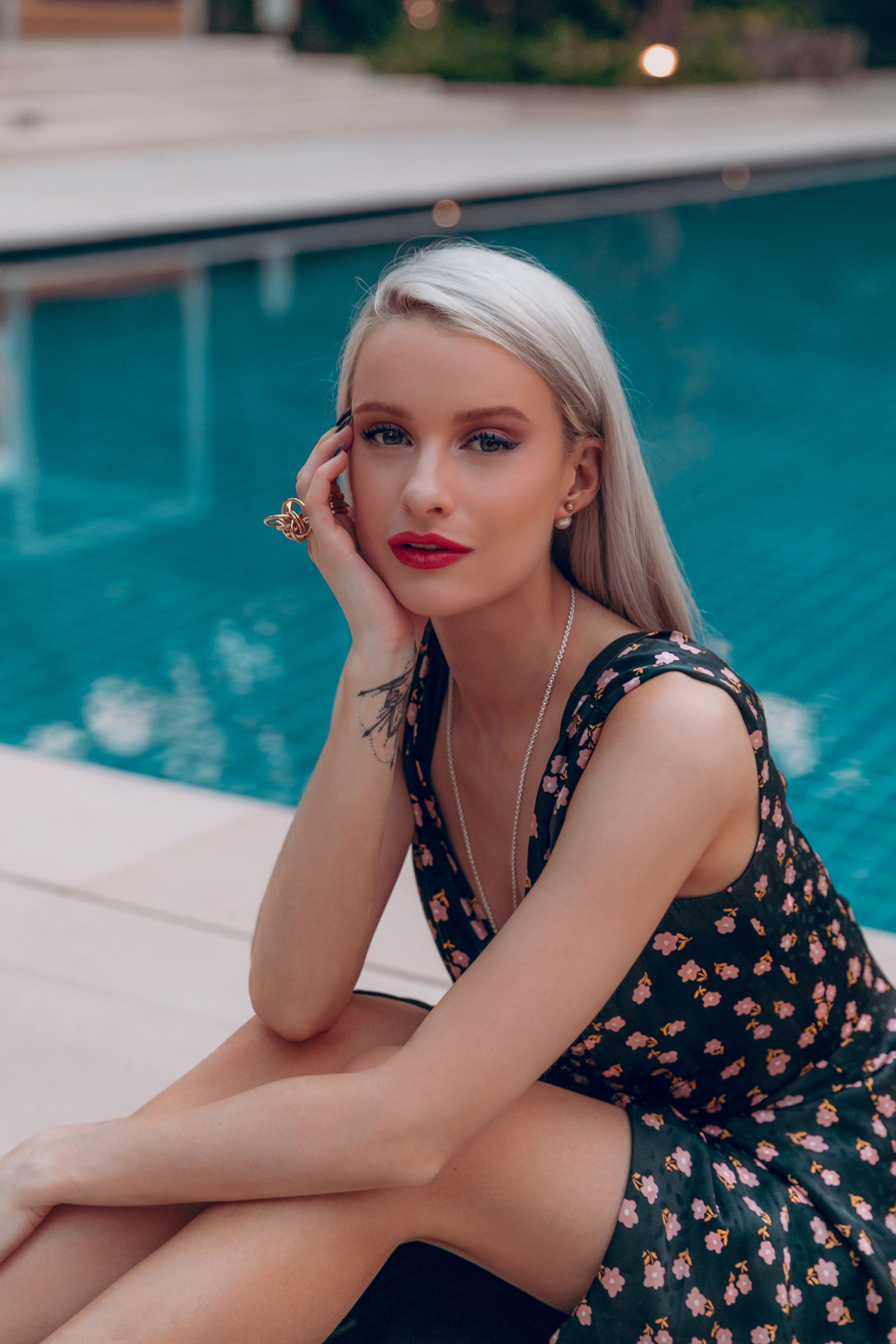 As a huge advocate for sun safety it was so amazing to see Clarins recently release their newest range of advanced sun care products and I have already seen so many people loving them across social media. The range is wonderfully easy to use, super moisturisIng and better yet creamy, but not sticky. I wear an SPF on my face every single day without fail, even if I'm not directly in the sunshine and the Clarins Dry Touch Facial Suncare UVA/UVB 50+ has been my go to product for the last few months. The consistency is exactly what you need for sun protection that importantly doesn't affect your makeup application it only enhances it - a dream to use! Similarly the Sun Care Body Cream UVA/UVB 50+ is just as easy to use as well as being waterproof, sweat-proof, hydrating and isn't harmful to coral. The range also boasts a Gel-in-Oil Body Sun Care formula that applies with ease onto wet skin, a Mineral Sun Care Compact for on the go coverage and the Soothing After Sun Balm and Gel options. The cool touch formula offers instant relief to hot skin and it's silky texture hydrates for 48 hours after applying.
*Do not stay in the sun too long, even when using a protective sun care product.
Overexposure to the sun is a serious health threat.
Avoid the intense midday sun.
Keep babies and young children out of direct sunlight.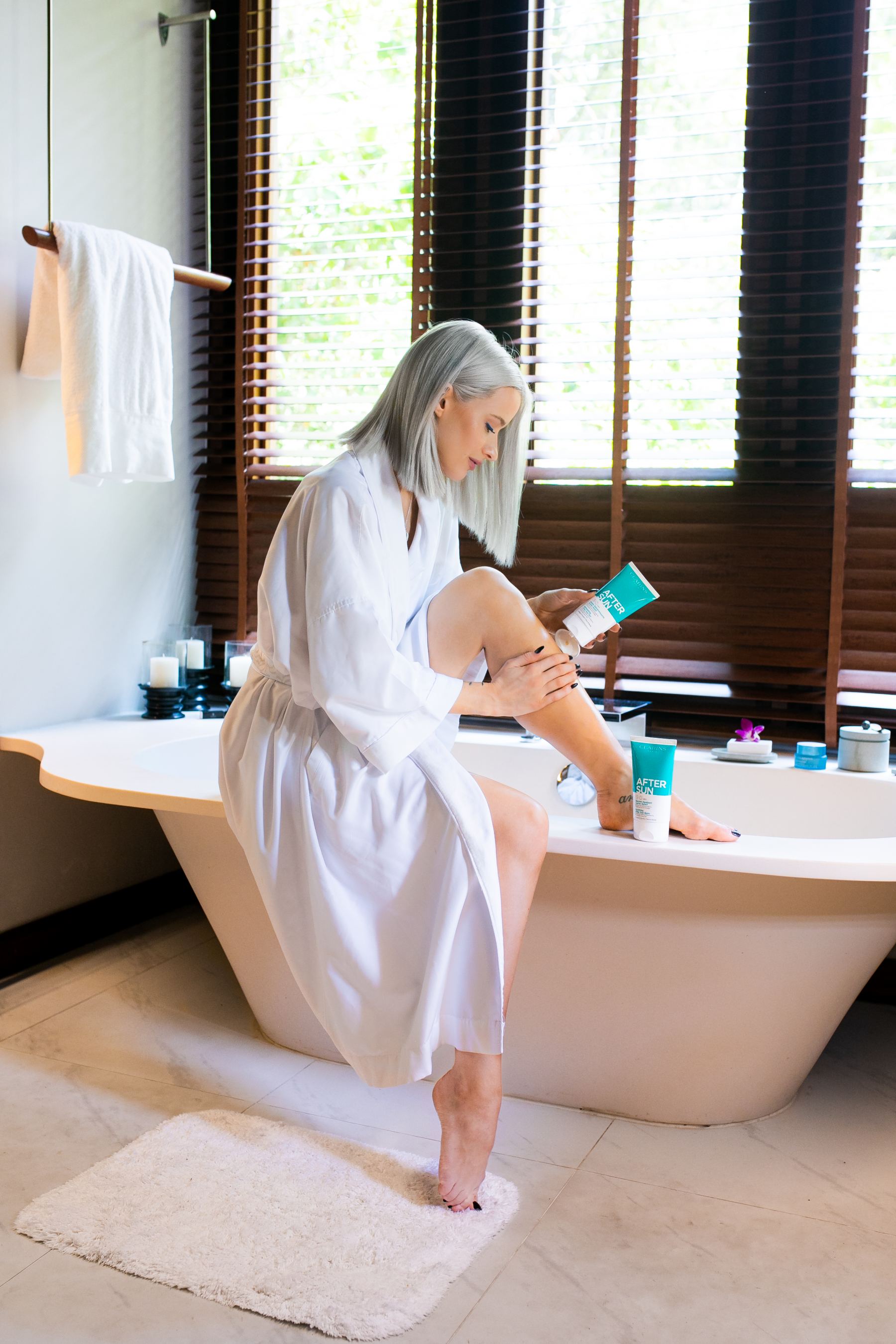 To say that I'm excited to see you all pick up your new Clarins x Inthefrow summer tote bags would be a huge understatement. I'm absolutely thrilled to have teamed up with such an iconic brand that I have adored for such a long time and to have created something so special together. Thank you Clarins for believing in this project and also for allowing my design and imagery dreams to run wild!
Make sure to hashtag your summer tote bags with #clarinsxinthefrow so I can see you rocking them on the beach and your travels this summer!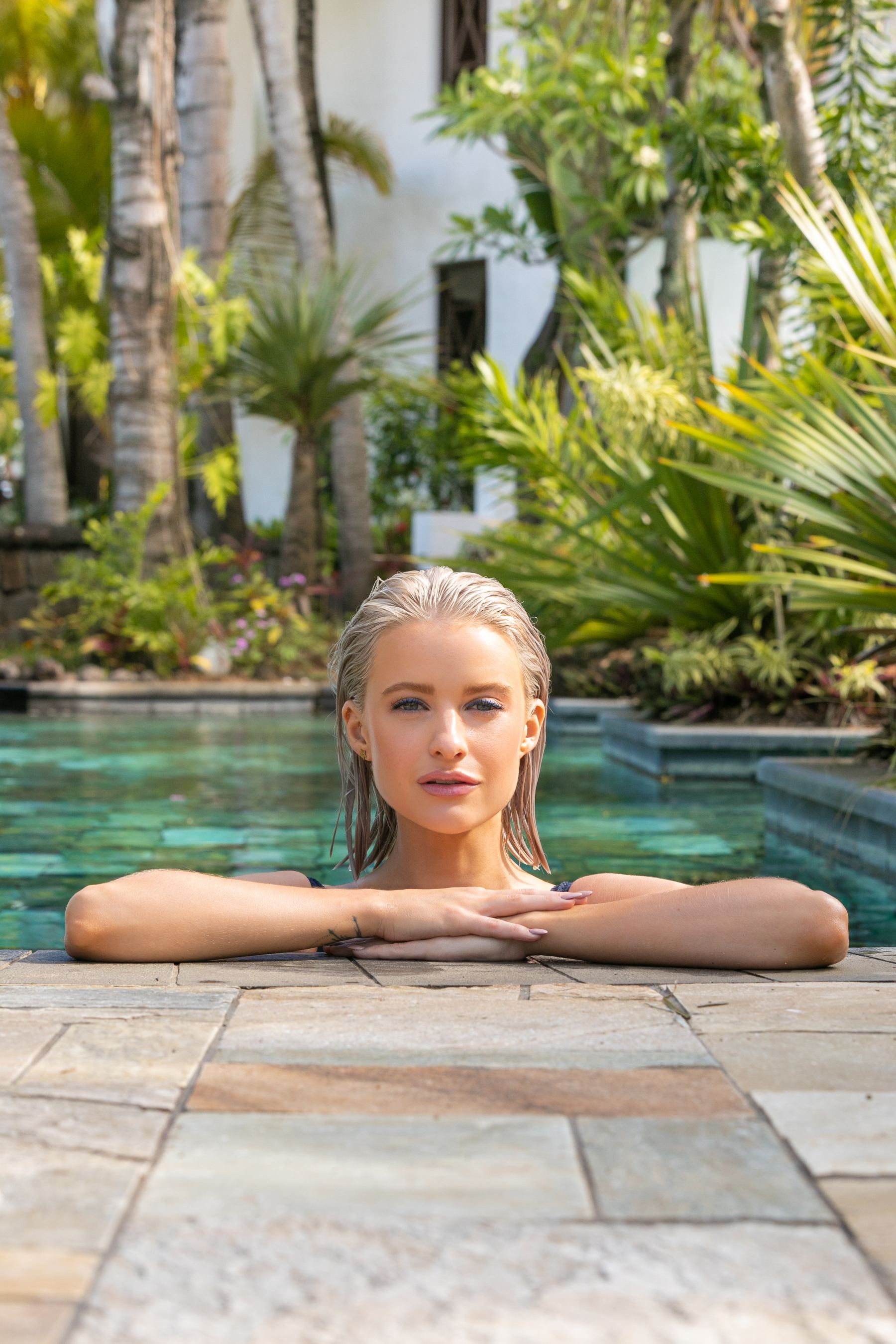 Sign up here for a weekly catch up of everything Inthefrow