30.05.2019
Dior Backstage:
Discover My Favourites
When Dior launched the Dior Backstage collection during Summer 2018, it was an instant hit with me. Designed by the incredibly talented Peter Philips, the collection was created around the items and looks that the runway models needed for the Cruise show, as well as being just as useful for everyday makeup bags. A collection that offered professional grade makeup for those in the beauty industry but that appealed to everyone wanting to create a multitude of looks. 
Fast forward 12 months. The Glow Face Palette in 001 is still a firm everyday favourite of mine, the Lip Maximiser is never far away from any of my handbags and the 40 shade Face and Body foundation is the perfect buildable companion for red carpet events. And what about the latest releases showcased at the 2020 Cruise show?
The new Glow Face Palette in 002 turned me into a Gollum like creature the second I saw those golden tones shining bright, the Eyeshadow Palette in 003 Amber Neutrals has fast become my 'go to' eye look and the Face and Body Primer has switched up my base routine for the better. 
Here are my ultimate favourites from the collection and why I'm loving the newest releases so much.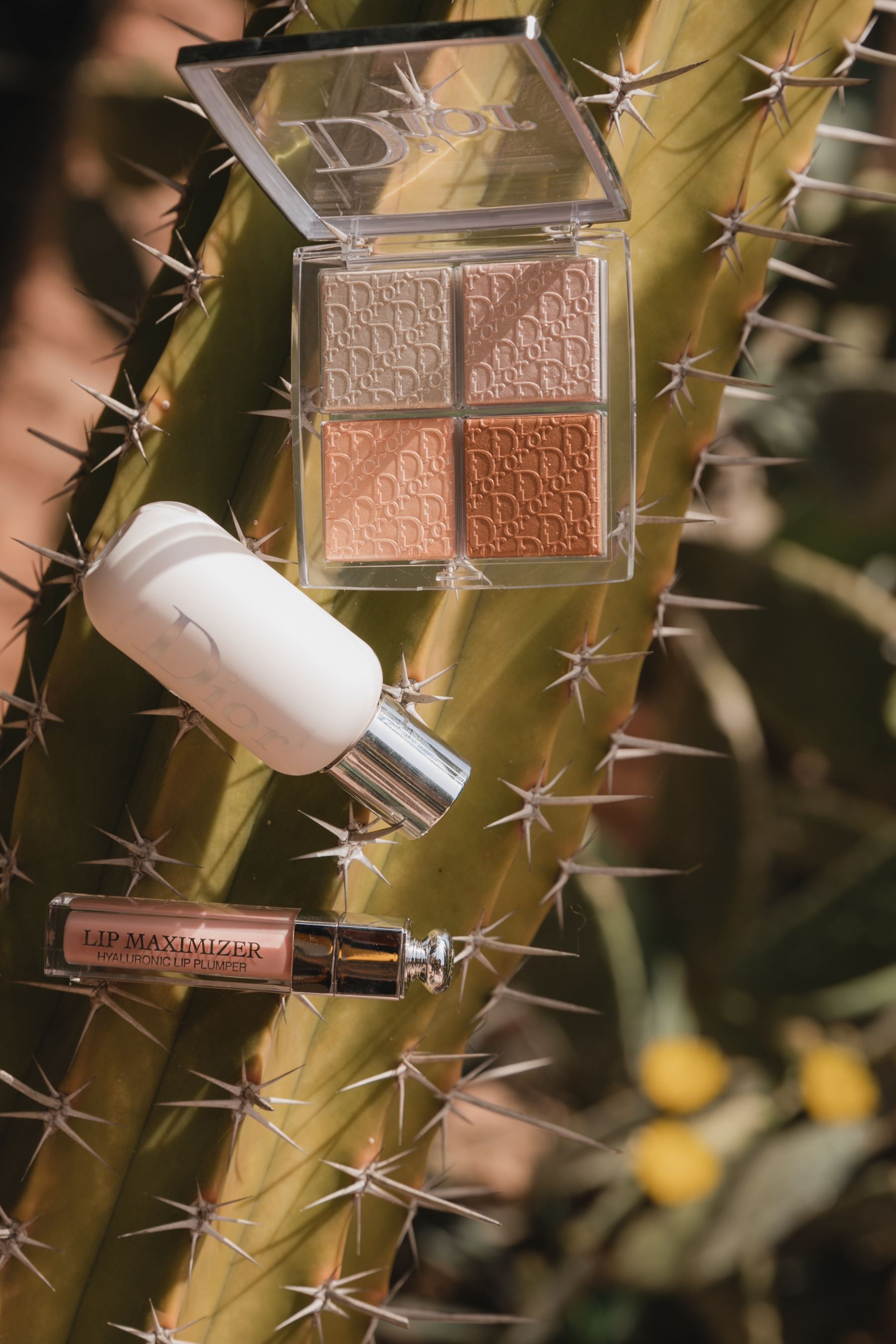 A true favourite from the first drop of the Backstage collection is the Glow Face Palette, originally released in 001 - Universal. A quad of shades designed to work as highlights, bronzes and blushes, that are all full of shimmer but also buildable dependent on how you choose to apply the product. A tapped off fan brush will leave a sweep of light shimmer, a finger will warm the product and leave a more intense wash of shine on the high points of the face and a damp beauty sponge will diffuse any intensity of the product you want to mute after the initial application. A buttery, powder formula that is versatile and one I've found myself adding to my inner corner highlight when creating a glam look and to also add depth to my eyes. The newest release is shade 002 - Glitz. The same beautiful, workable formula as before but with a basis on golden peach shades, rather than rosy pink tones. Perfection in a palette.
The new Eye Palette in the Backstage collection is 003 - Amber Neutrals. The ideal collection of shades to be showcased during the 2020 Cruise show, reflecting the tones and colours of beautiful Marrakech. 9 pans of coppers, reds and rusts that at first may seem bold but are incredibly easy to work with. Just like the 2 previous Eye Palettes (Warm & Cool), Amber Neutrals is a great mix of mattes and luxe shimmer colours that will work from day to night, and from casual to glam. Similarly to the Glow Palette the colours are buildable but also versatile. The eye primer included in the palette will ensure the perfect base, to make any look you create last longer and the powders can also be used intensely as eyeliners, for a bolder more creative look. A wonderful palette to travel with knowing the range of looks you can create, alongside the essentials of a base primer, a crease shade and shimmers to highlight the brow bone. 
There are several Dior foundations that I absolutely love like the Dior Forever Skin Glow (ideal for that radiant sun-kissed look), the Dior Forever undercover (super full coverage for days when you want an airbrushed canvas to work with) and most recently the Dior Face & Body foundation. I was definitely a little late to the game with this newer release but now I've had the time and opportunity to experiment with the coverage and wear time, I've realised why Meghan Markle wore it on her wedding day to Prince Harry. Developed with the focus on the undertones in the shades, Peter Philips created a foundation that can be worn to hide imperfections but enhance your natural look, as well as being built to the highest of coverages with a double or even a triple application of the product. 40 shades designed for even the most extreme circumstances like the hot lights of the runway, the bright flash of a camera and the humidity of vacation destinations. A truly multi faceted product in every way. 
I'm always an advocate of a great base before you even start to apply your foundation. That means clean skin, skincare that works well for you, an SPF that doesn't cause slippage and a primer that readies your skin for your look. I have relatively 'normal' skin and apart from the occasional dry patch, I find I don't have any real problem areas to work with. The Backstage Face & Body Primer has a soft texture that feels hydrating to touch but not sticky or too tacky as it dries down into the skin. I find the finish leaves my pores blurred as well as a little matte but it allows my natural oils to allow a little glow to shine through too. There's a small amount of tackiness that prepares your skin to 'hold' onto your foundation but the overall feel is not too 'siliconey' - for want of a better word. A great base for a wide range of skin types that grips onto skin without feeling like your skin natural look is dulled. 
You know I love my Dior Lip Glow and I've even got my best friend addicted to it too but the Lip Maximiser is definitely on a par for me. It's the older sister of lip glow, the gloss to it's balm and the rebel to it's much sweeter sibling. If Lip Glow offers an everyday sheen of colour that adapts to your lips warmth, then Lip Maximiser hydrates, plumps and adds multi faceted shine in an instant. 7 shades offering washes of colour that can be worn alone for a more sheer look, over Lip Glow for a true long lasting shine or tapped on top of your favourite lipstick to add another dimension to your lip colour. High shine, volume and long lasting - the ideal addition to any glam look.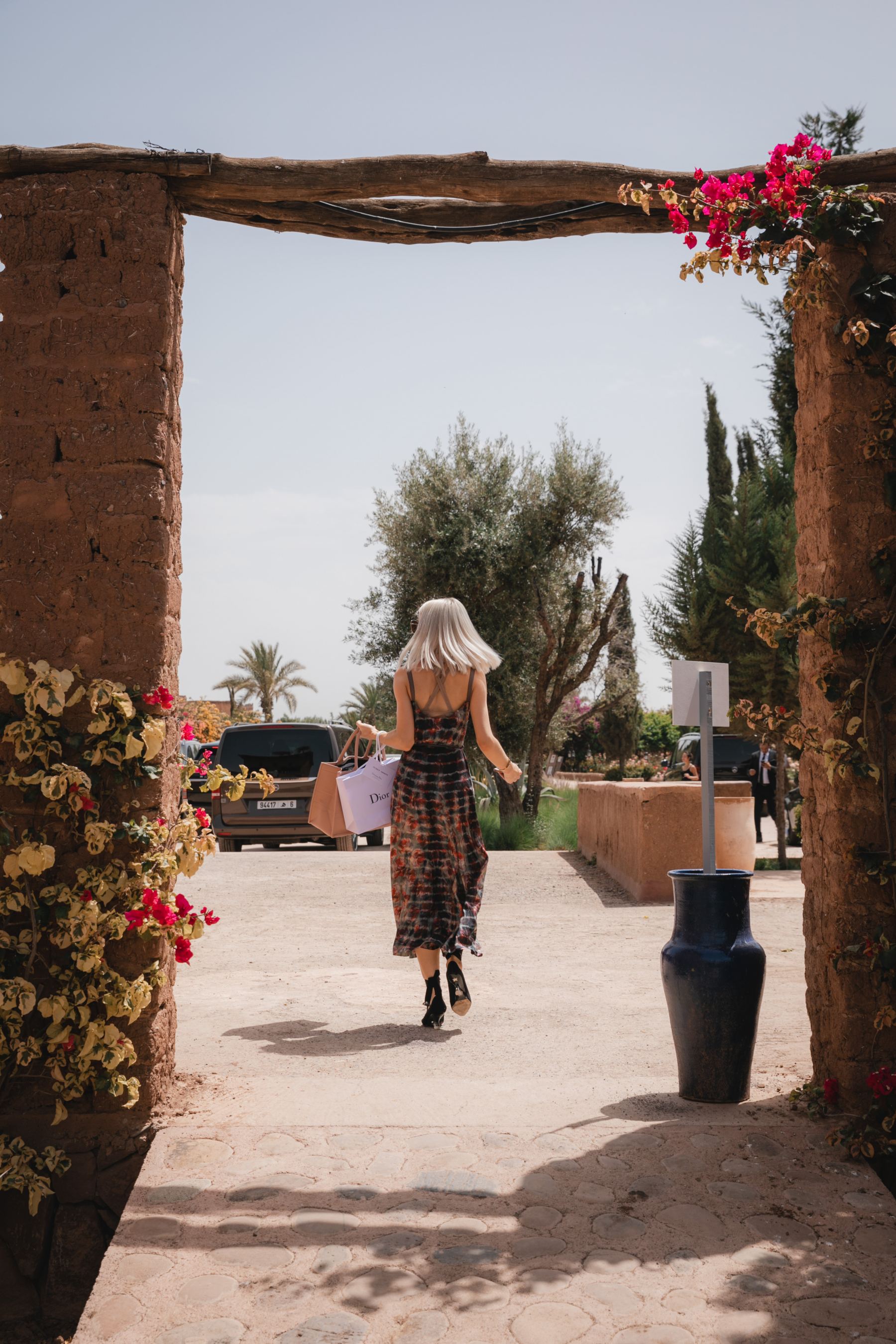 Images taken on a press trip to Marrakech before the 2020 Dior Cruise Show.
This post isn't sponsored but I am proudly a Dior Beauty ambassador. 
Sign up here for a weekly catch up of everything Inthefrow