18.03.2019
Kiehls Skincare
Essentials
This post contains a paid for advertorial in collaboration with Kiehl's. 
If you know me well, you know how important my skincare routine has become to me over the last few years. It's no longer an afterthought after a long day or a rushed routine pre makeup - it's an integral part of my day and my solution to dull, uneven skin. It's a part of the day that takes time, love and attention, making sure the products I choose leave my skin prepped and ready for anything life may throw my way. No matter where on the planet I may be and no matter what my skin has gone through to get me there. 
My career takes me to far flung corners of the earth, some of the most extreme climates you could think of and involves long haul flights that really take their toll on my poor skin, sometimes numerous times a month. If my choice of products wasn't already important enough, then so many miles travelled really does mean I crave skincare that works and becomes an essential part of my travel bag - enter Kiehl's Ultra Facial Cream and more. 
There's a reason why the Kiehl's cult classic is a global best seller, selling 10 pots every single minute and I'm excited to share with you just why my jet-lagged skin loves it so, as well as some other brand favourites you might have seen on the blog before. 
Here's the key to hydrated skin and perfected makeup, no matter the time change. And a code for Kiehls to claim a special gift with purchase!
As mentioned above the Kiehl's Ultra Facial Cream is a cult classic and the brand's number one moisturiser, selling 10 pots every minute globally - a number I can't quite get my head around but can completely understand why. There are a number of things I look for in a facial moisturiser and the newly formulated Ultra Facial Cream ticks all the boxes for me and more. I crave a moisturiser that instantly hydrates when I need it the most, that gives a feeling of deep down nourishment over time, that offers a dewy base for my makeup application (a must have when travelling so much) and perhaps most importantly, is lightweight enough to be part of my everyday routine.
Ultra Facial Cream's light texture is perfect for all skin types, including my normal to dry skin that suffers most after travel and with a severe lack of sleep. Not only did I take these pictures to really give you a sense of what Ultra Facial Cream feels like and how it applies and absorbs into the skin, but also to show you what real jet-lagged skin looks like. I had just arrived in Malaysia off a 10+ hour flight and hadn't slept for 36 straight hours - my skin has never needed that instant moisture more than it has here. To say my skin laps Ultra Facial Cream up would be somewhat of an understatement, especially after such a long flight and before applying a full face of makeup.
There's a sense of nourishment as soon as you apply Ultra Facial Cream (a pea sized amount warmed into the hands and then pressed and massaged into skin) but that doesn't mean it blends away to nothing as it absorbs. You can feel the formula working to add real glow to your skin and there's a radiance that appears after use, that is a personal love of mine. It isn't just the feel of perfected skin and knowing my makeup will glide on effortlessly either, it's knowing that I'm applying a moisturiser that has been clinically proven to work against extreme temperatures and settings. It's my perfect travel companion - sorry Alex! Whether I'm using it on the plane, after my sleepless flight or in the driest of destinations, I can be safe in the knowledge that Ultra Facial Cream will hydrate my poor, jet-lagged skin in an instant and then keep working for up to 24 hours more.
I have an exclusive code for a special gift with purchase
CODE: VICTORIAUF
Use the code when you spend £50 or more on Kiehls.co.uk to receive a mini Ultra Facial Kit- including an Ultra Facial Cleanser, Ultra Facial Cream and an Ultra Facial Mask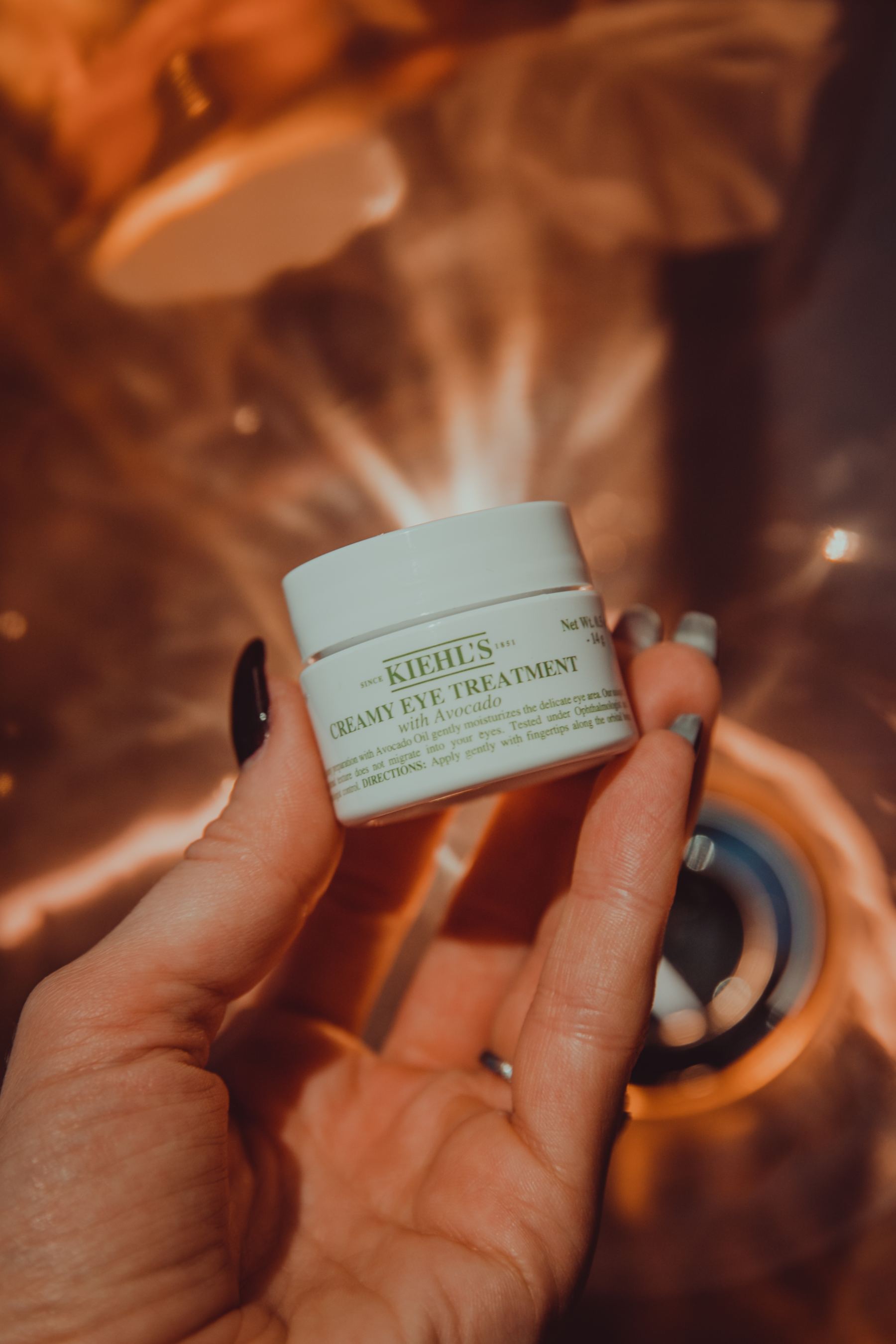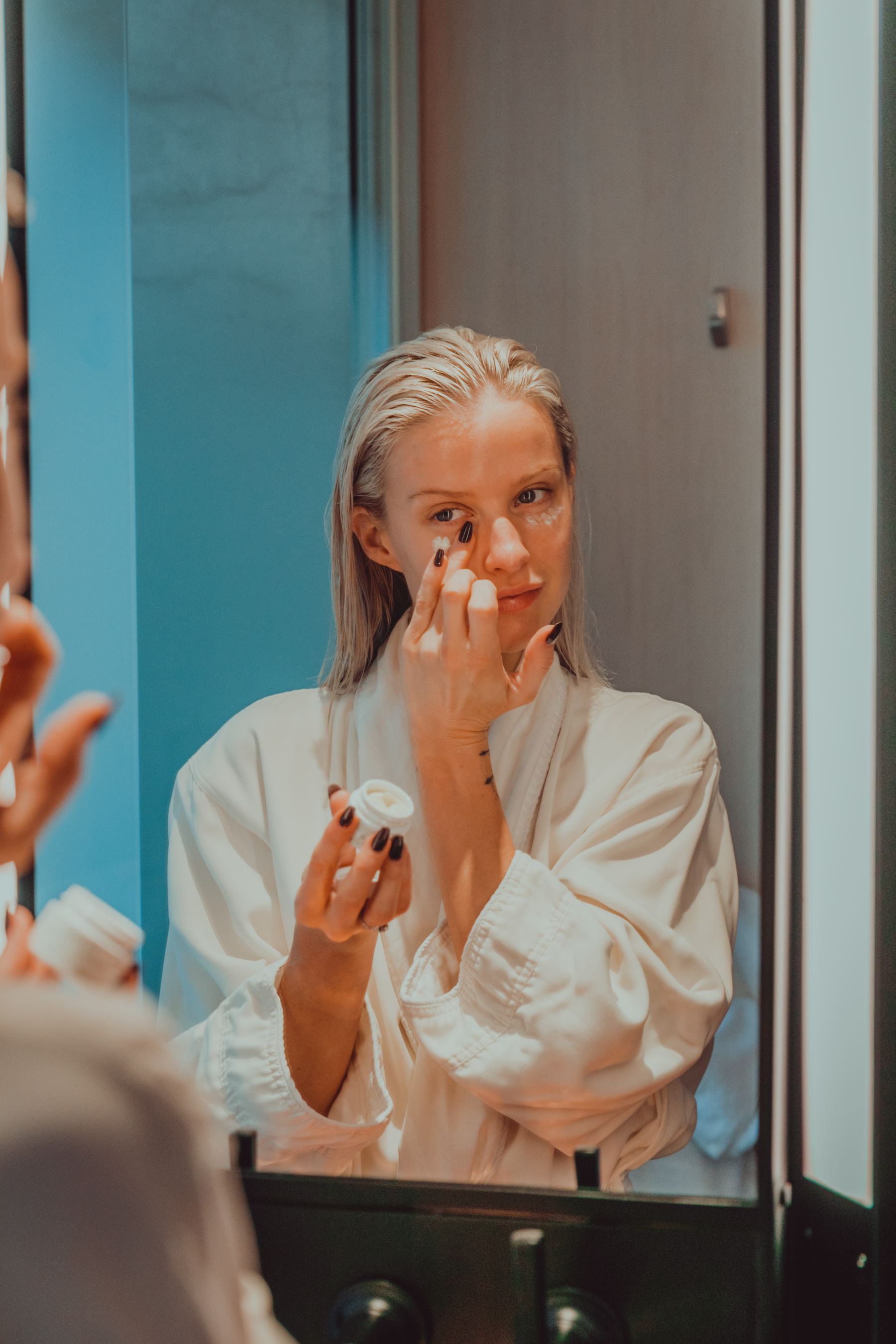 The Creamy Eye Treatment from Kiehl's is quite simply gorgeous. The texture is wonderfully creamy but not too heavy and with it's very light lime colour, it almost seems like food for the under eyes. There's a really rich feeling to the consistency of the cream but very importantly, even with avocado oil as a main ingredient, it doesn't find its way into your eyes after applying. I take a very small amount of the Creamy Eye Treatment onto my fingertips, warm it to make applying to delicate under eyes a little easier and I gently pat it into the skin. On applying you can really feel the treatment coating the skin under your eyes and immediately making a difference to any puffiness and particularly the dry texture I find I get when flying. It's such a nourishing product that I'd recommend always carrying a pot with you on plane journeys - there's a reason I always repurchase this gem in a sea of other skincare if I'm ever caught without an eye cream. And an added bonus? A little of the Creamy Eye Treatment goes a very long way, so a pot of this dreamy avocado based cream will last you months!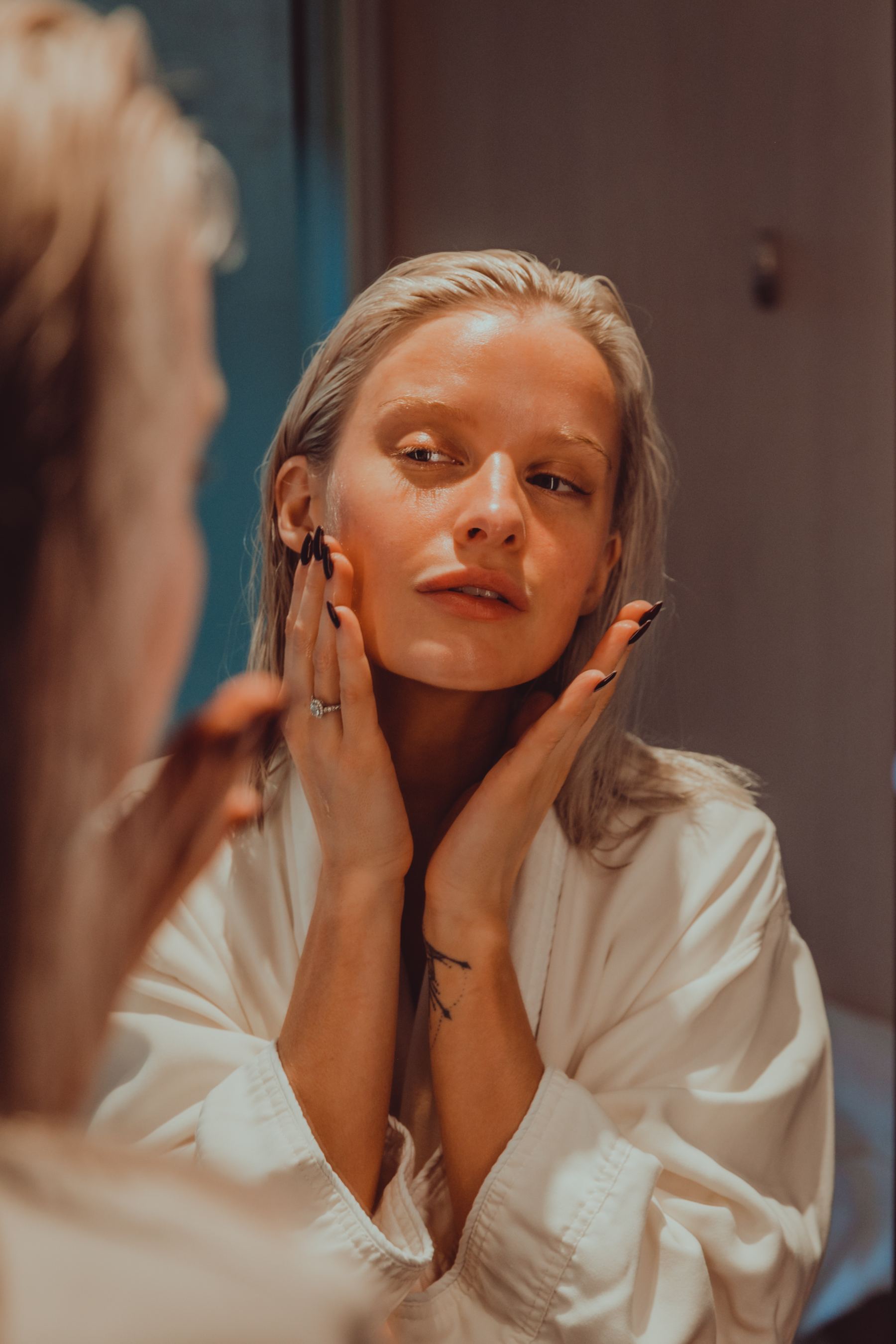 Possibly my favourite step in my routine, to really enhance the amount of hydration my skin gets, is a facial oil and the Kiehl's Daily Reviving Concentrate is a favourite that's been on my beauty table for a long, long time. The reason why? It's luxurious enough to give immediate hydration but lightweight enough to avoid giving me breakouts. It's the dream combination in an oil - not 'claggy' and heavy but nourishing enough that as you push the Daily Reviving Concentrate into your skin, it actively brings it to life. The perfect antidote to dull skin. I avoid pulling the skin when applying by pushing the serum into my face (a couple of drops is more than enough) and I also avoid the delicate under eye too. Daily Reviving Concentrate leaves my skin feeling incredibly fresh (I always think that's the addition of ginger root) and combined with the Ultra Facial Cream too, it brings my travel weary skin fully back to life.
The Kiehl's Glow Formula Skin Hydrator is such a multi purpose addition to your skincare routine, I feel as though if you're like me and can't get enough of skin that really shines (in the best way of course!) then you'll fall in love with this moisturiser. Not only does it have properties like a sumptuous serum, adding radiance and hydration into skin (that's the antioxidant pomegranate extract), it offers an illumination to the face that I've never experienced before and that you can choose how to utilise. My ultimate favourite is to give the look of healthier almost sun-kissed skin by wearing alone on non makeup days but if you haven't yet mixed the Glow Formula Skin Hydrator into your foundation - what are you waiting for? You can even pat onto the high points of your face if you want to add glow to your makeup look too, versatile and hydrating. The ultimate lightweight pick me up for skin that needs a little extra glow and a little extra dimension.
Is there any better feeling than applying a beautifully moisturising lip balm to dry lips after a long day of travelling? I'd hazard a guess the answer might be no - especially when it's the Kiehl's Butterstick Lip Treatment. The feeling of coconut oil melting into lips is the most amazing relief and your own form of skincare for so often forgotten lips. Melting is the perfect word for the combination of coconut oil and lemon butter hydrating your lips and sinking in to plump and refresh them as needed. The last thing I want after a long haul flight is to even think of wearing my usual liquid lip, so the Butterstick Lip Treatment is the perfect rescue for my lips, that are crying out for a little TLC after travel. There's often one of these smoothing lip balms in the bottom of my handbag and there's almost definitely one in my carry on too - so long as Alex doesn't steal it first that is. So wonderfully hydrating and the gorgeous scent evokes Summer holidays too, a perfect end (or beginning) to any skincare routine.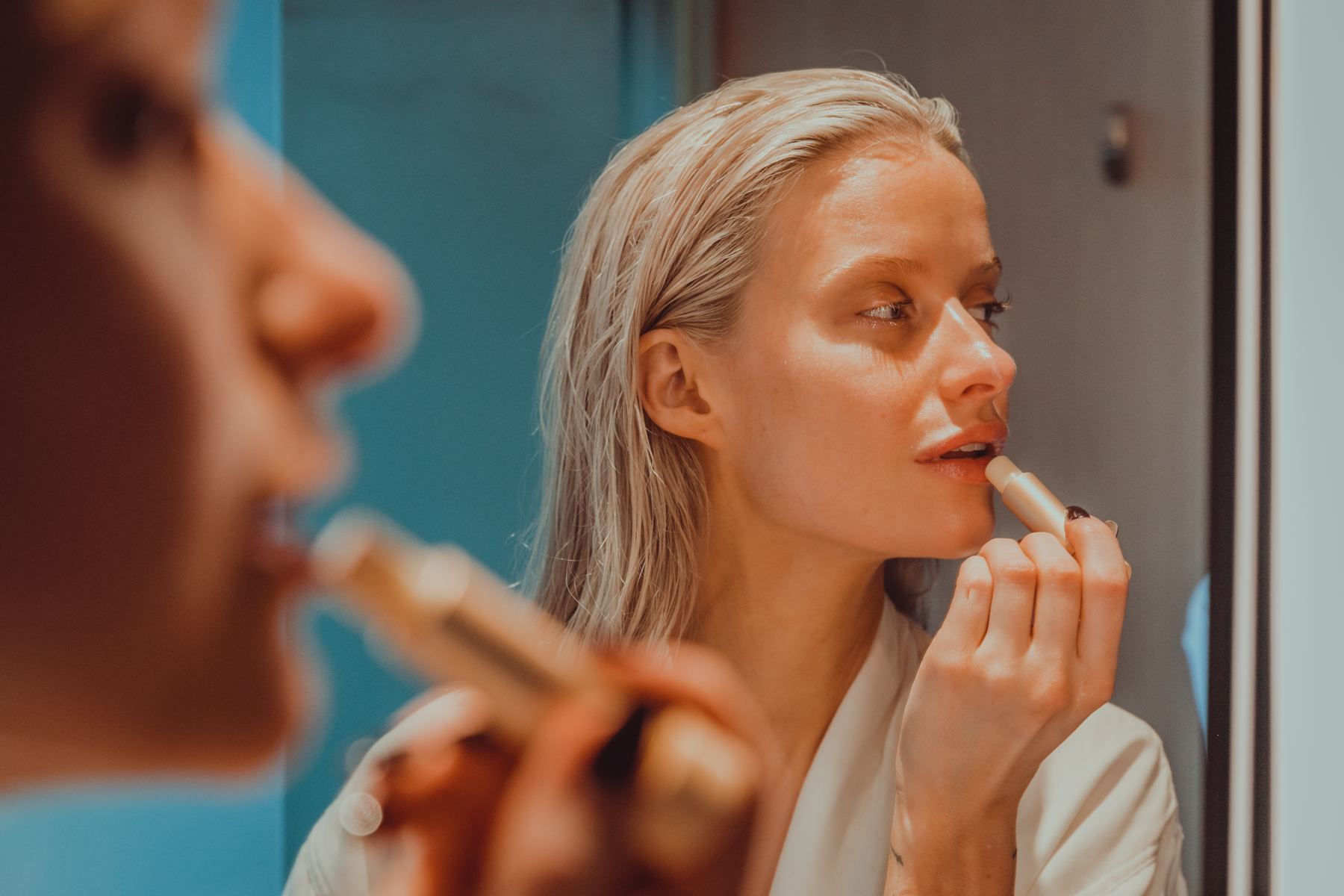 KIEHL'S ULTRA FACIAL CHALLENGE
Step One: Bring in your empty or unwanted moisturiser (from any brand!) to a Kiehl's store for it to be recycled via TERRACYCLE.
Step Two: In exchange you will receive a deluxe sample of Ultra Facial Cream, a stamp on your Recycle & Be Rewarded Loyalty Card and a complimentary Skin Hydration check.
Step Three: Experience the amazing New Ultra Facial Cream for yourself and see why it's a worldwide best seller!
And don't forget to use my code for a special gift!
CODE: VICTORIAUF
Use the code when you spend £50 or more on Kiehls.co.uk to receive a mini Ultra Facial Kit including an Ultra Facial Cleanser, Ultra Facial Cream and an Ultra Facial Mask
Sign up here for a weekly catch up of everything Inthefrow