21.02.2019
Nouveau Lashes SVS:
Speed Volume Style
This is a paid for advertorial in collaboration with Nouveau Lashes. 
I have always wanted eyelashes that are fluttery, fluffy and naturally full but unfortunately it's something that I wasn't blessed with. Not only do I have very light coloured lashes, that cry out for a coat of mascara but they are also incredibly straight and not many brands can give me the volume and most importantly the lift, that I crave.
In late 2016 after watching another YouTuber describe having her own lashes lifted and raving about the results, I discovered Nouveau Lashes and booked in for my first ever LVL Treatment. I was immediately blown away with the results and became hooked. Having my lashes lifted and tinted on a regular basis not only meant my morning routine became a lot faster, it also meant my lashes were camera ready at a moments notice and the confidence boost it gave me was priceless. 
Fast forward to 2018 and I fell in love with a new treatment that adds a little something extra to my look and once again I'm hooked; Nouveau Lashes SVS. An innovative lash extension treatment that allows you to customise the look you truly desire, without needing to take an entire day out of your already busy diary. 
You can find out all about my LVL experience here but to find out more about how incredible Nouveau Lashes SVS is, the step by step breakdown of the pioneering treatment and my amazing before and after results, keep on reading! 
THE CONSULTATION
One of the first impressions you'll have of Nouveau Lashes salons, will be just how professional they are and how much they care about you as a client. Before any of their treatments you will sit down with a friendly technician who will talk you through your choice in detail, to ensure you know exactly what it entails. This will give you the opportunity to ask any questions you may have about the treatment and it also gives you the chance to learn about how important your lash health is to them. At your very first appointment you'll also complete your client record card so that your technicians know if you have any ailments or health issues they should be aware of. This way they're able to provide you with the best care possible and tailor your experience to suit you. To go ahead and find your nearest salon and also see which treatments are available at them, you can use the Nouveau Lashes salon finder, here.
MY NATURAL EYELASHES
Before I take you through what to expect from the Nouveau Lashes SVS treatment, I really wanted to give you a good look at my natural eyelashes. Simply naked, as they are without any product and before the revolutionary extension process starts. As you can see I have very straight lashes, especially in the outer corners of my eyes and I also have very light coloured lashes too. My aim with Nouveau Lashes SVS is always to leave the salon with fuller, fluffier eyelashes that add a little drama to my normal everyday look. All this while still feeling comfortable, knowing my lashes are healthy (very important to me) and looking realistic at the same time too - here's how!
THE PROCESS
Nouveau Lashes SVS has been created to give you the ability to customise your preferred look, when visiting one of the official branded salons. Whether you're looking for full on drama with extensions that create a bold fanned out look, or a more natural everyday set of lashes, one thing is for certain - there'll be minimum impact to your busy lifestyle. Dependent on your choice of style, the innovative treatment can be completed in as little as 45 minutes, meaning even if you're time poor you definitely still have the opportunity to book in for this speedy, lash extension procedure. Accredited technicians will walk you through the revolutionary SVS process, that makes your own lash health a priority and avoids damage to your natural eyelashes throughout.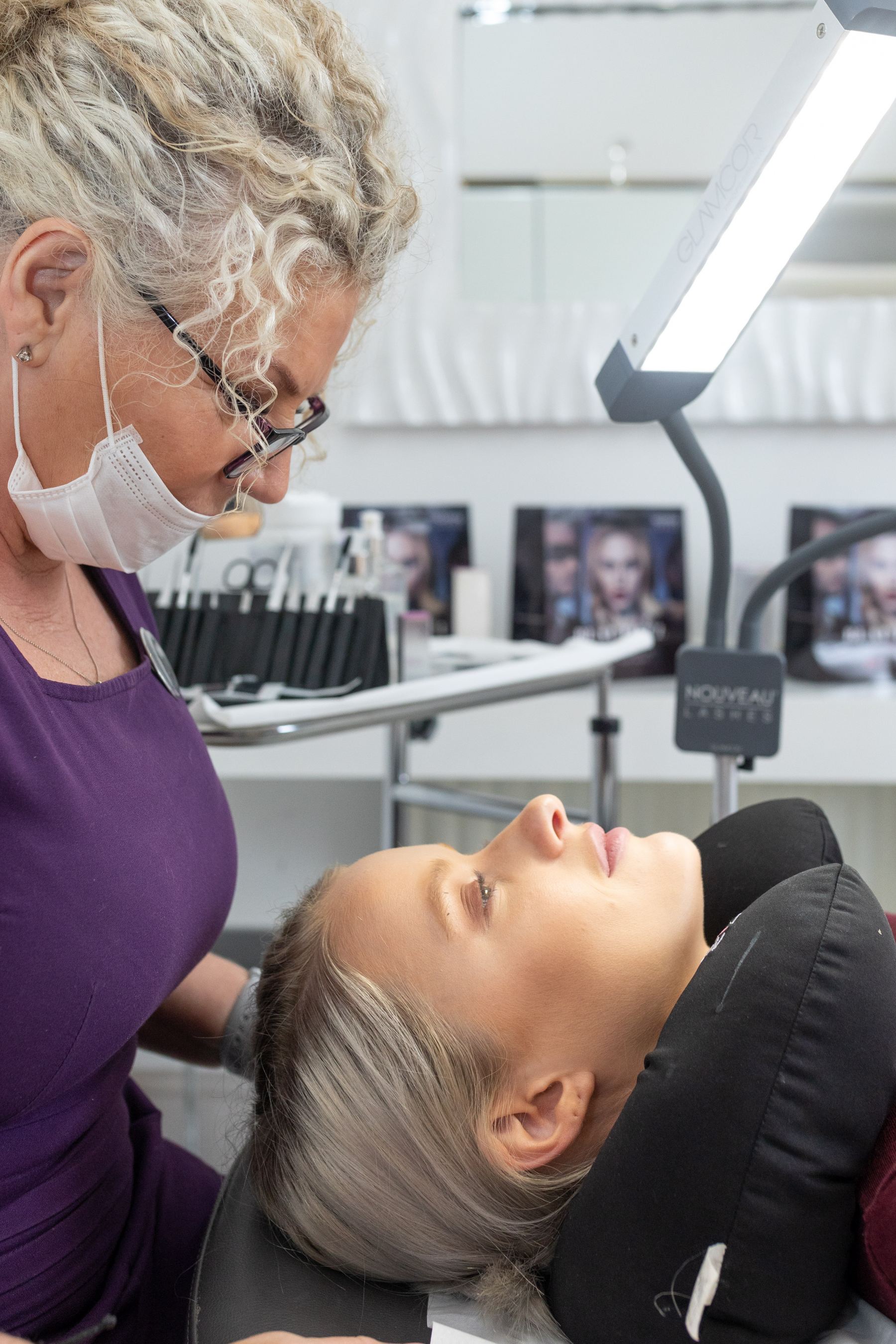 STEP ONE
Before the treatment begins, your technician will take the opportunity to mark out a few spots on your eyelids including the very central point of your eyes. The small marks will act as a reference during your unique treatment so that your technician can see exactly where the longest lashes should be placed. These points help to ensure your requested look (Full drama or more natural) is adhered to when your extensions are being added. After your lashes have been cleansed and your eyelids have been marked out, it's time to lie back and let the relaxing part commence. One thing I love about any Nouveau Lashes salon is how truly comfortable they make you feel. On several occasions over the past 3 years, I've been so chilled out while having a treatment, that I've fallen asleep and only been awakened by the lovely Debbie letting me know that my appointment is in fact actually over - oops! To ensure you're fully relaxed during the procedure too, you'll lie flat on a treatment bed with a neck pillow to support your head, a hair net on to avoid any stray hairs getting loose and a headband, that will also act as a place for your technician to safely place the individual SVS extensions and tools throughout.
STEP TWO
When you're completely comfortable and laying flat, your lovely technician will take the opportunity to check the points they marked, apply an under eye pad over your bottom lashes to protect them during treatment and brush through your lashes to separate them fully. They will also very gently tape the upper lashes using hypoallergenic micro pore tape, to ensure that each eyelash can be isolated and extended without interference from the others. 
Using the lightest of touches and a number of unique tools, each eyelash is brought forward and the revolutionary lash extensions are carefully added, one by one, in accordance with your required look. What I first noticed when having my first Nouveau Lashes SVS treatment is that even though your eyelashes are being extended, the process and the results themselves, feel incredibly comfortable. There's no feeling of heaviness or irritation, or of wearing 'fake' lashes once the treatment is complete - just comfort throughout and after.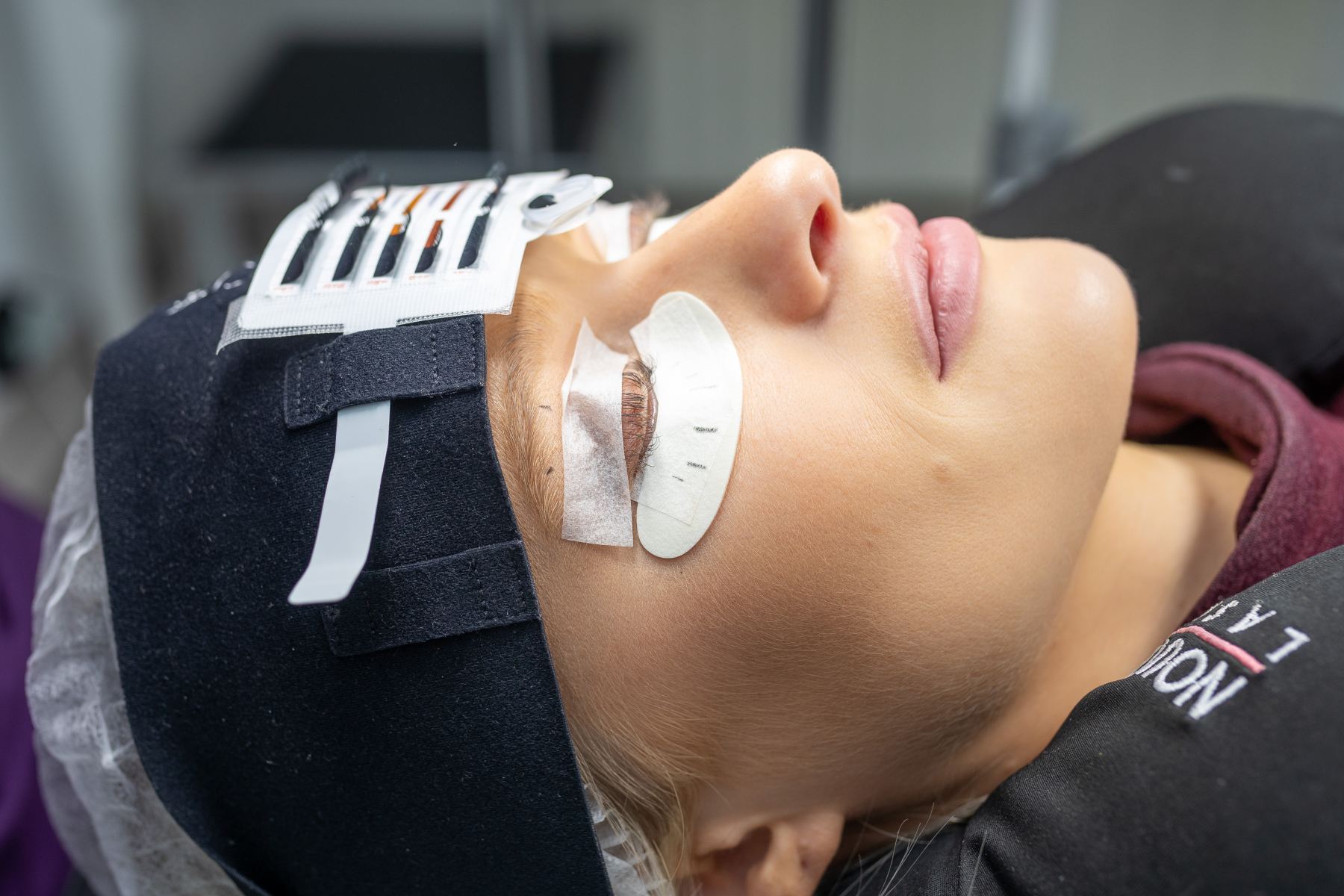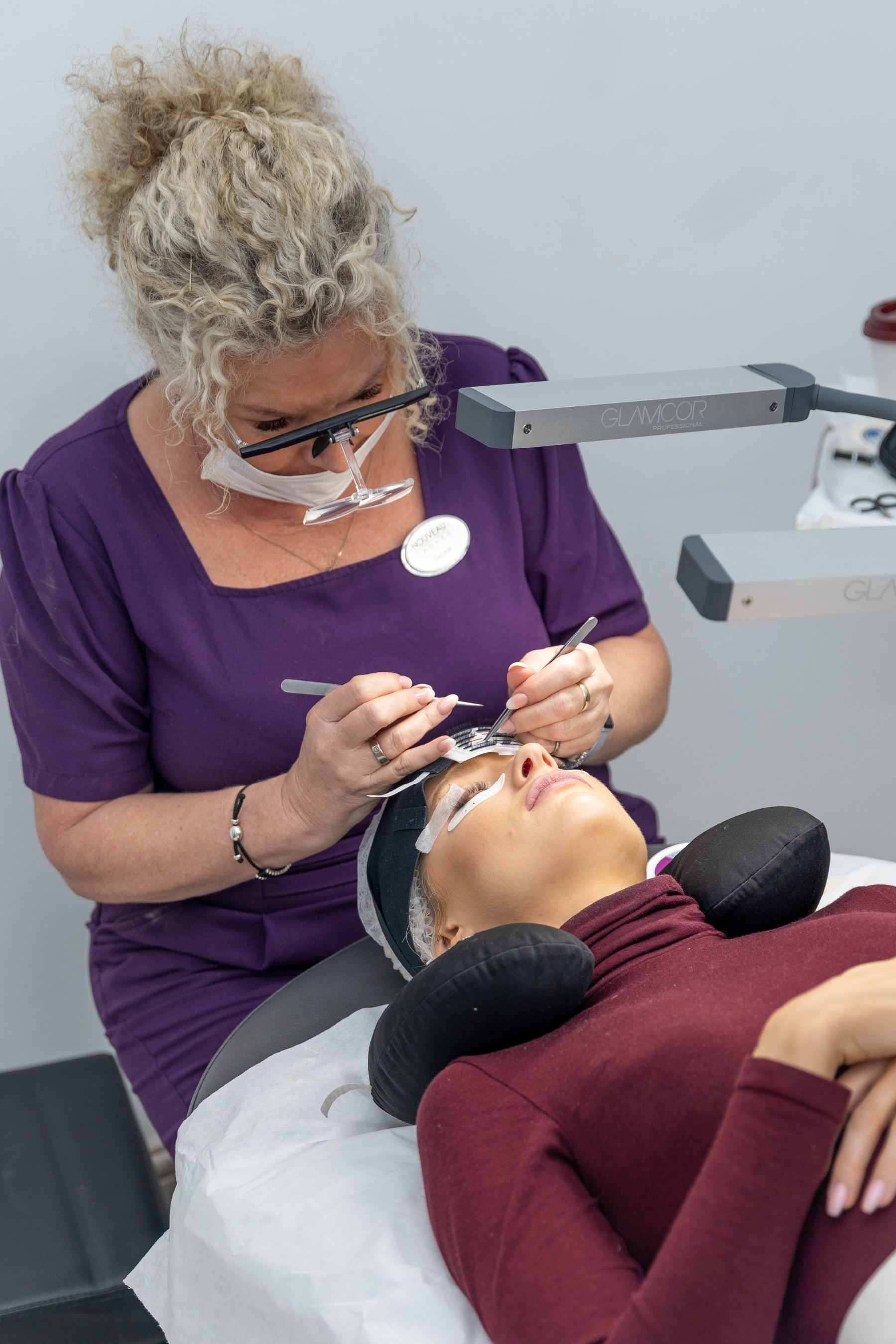 STEP THREE
Your technician will expertly repeat step two until all of your cruelty free extensions are carefully applied and your lashes will then be ready for their finishing touches. Once your extensions have been completed using Nouveau Lashes 'weight for weight' technique (this ensures that light as a feather feeling, as your natural lashes aren't over loaded with extensions) the process of finishing your individual look can begin. After combing through your lashes, each eyelash is once again isolated and the extension that has been added is then fanned out to create the volume and style you desire. Nouveau Lashes SVS treatment looks so natural because each individual extension can be fanned out into 3 different lengths and that is what creates the fluffy texture, that naturally full lashes would have.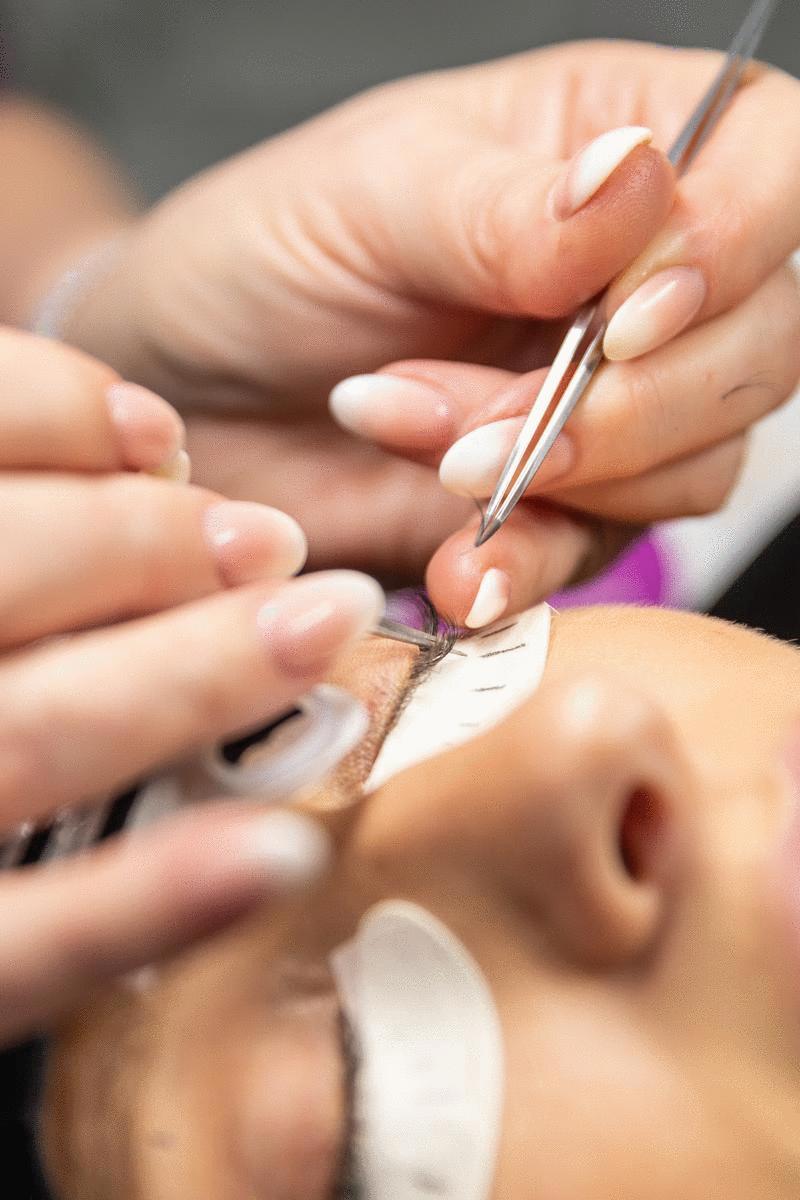 STEP FOUR
With the procedure now complete, your technician will remove any under eye pads and brush through your new Nouveau Lashes SVS extensions. This will ensure they are all perfectly applied and just as you requested pre treatment. Then comes probably the most important and interesting part of your appointment, receiving your aftercare card and understanding the importance of taking care of your beautiful new lashes.
- For the first 48 hours after your treatment is completed, it's incredibly important to ensure no water comes into contact with your lashes.
- For the first 48 hours after your treatment is completed, it's incredibly important to ensure you do not steam your face, use a steam bath, swim or wash your face with hot water.
- Do not use waterproof mascara.
- Do not attempt to perm or use eyelash curlers on your lashes.
- It's incredibly important to ensure you do not rub your eyes when washing your face and only pat dry your lashes after cleansing.
- Do not manipulate your lashes into different positions when sleeping, cleaning your face or applying cosmetics.
- Do use a gentle cleanser that is suitable for eyelash extensions to wash your face.
- Do gently brush through your lashes morning and night with a lash tool or even a disposable clean mascara wand.
Following all the above aftercare rules will not only ensure that your Nouveau Lashes SVS extensions look their best for longer but they will also take great care of your natural eyelashes too. On average you will still need to return to an official Nouveau Lashes salon every 3-4 weeks to top up your extensions or if you're happy to let your lashes return to their natural state, you can book in every 6-8 weeks to have the full treatment repeated. You can also use my everyday favourite Nouveau Lashes Lash & Brow Conditioning Serum to nourish and care for your new lashes too.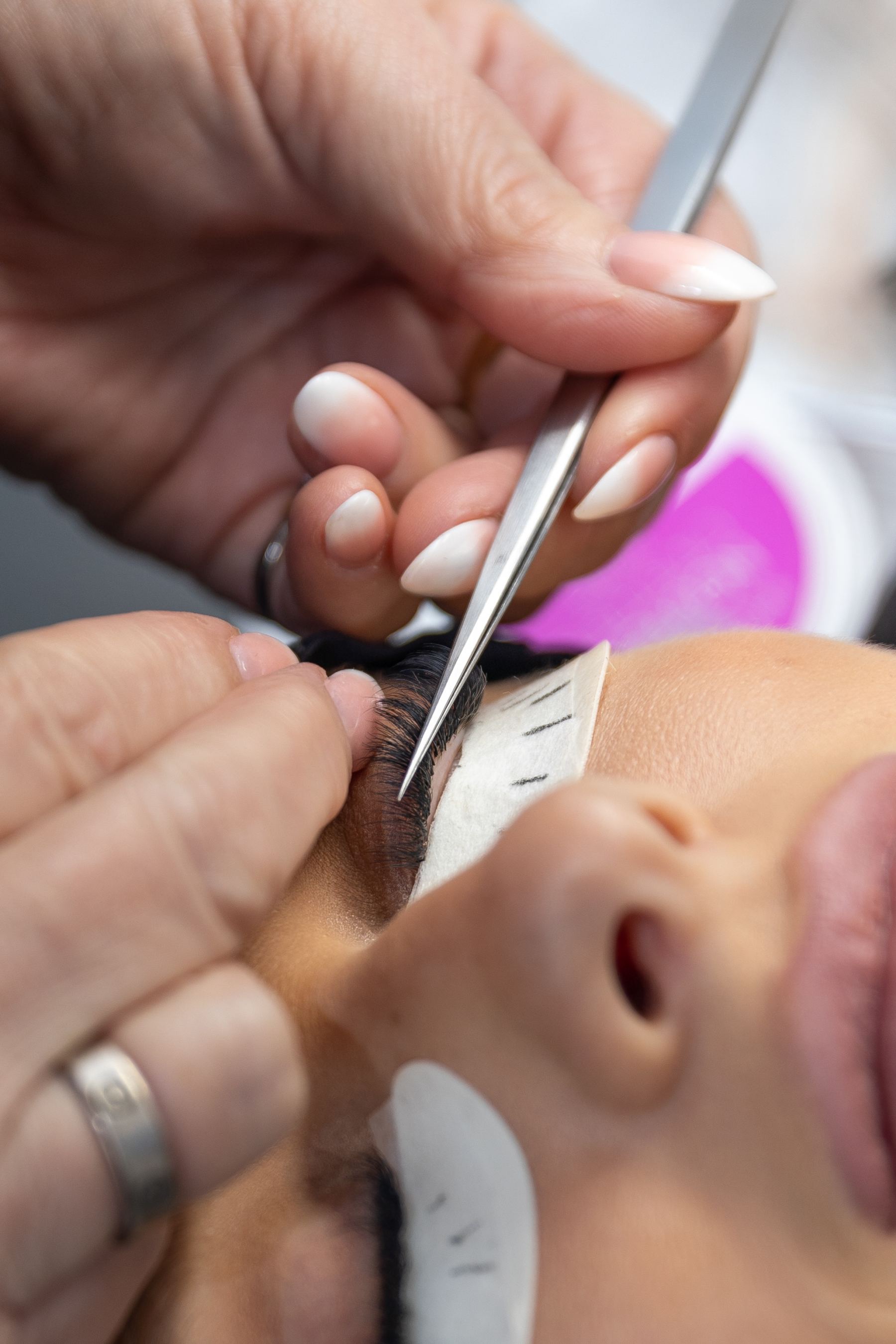 MY FINAL LOOK
I can't wait to hear what you think of my before and after and to see if you're all just as excited about Nouveau Lashes SVS as I am - wedding lashes anyone? If you have any questions for me, please leave them below or you can head to the salon finder here, to book your own appointment. Please remember that any eyelash treatment you'd love to have should be completed by technicians who are trained to the highest of standards by an award winning brand like Nouveau Lashes. Your eyes are such an important and delicate part of you, that ensuring you're booking in for an official SVS treatment at a Nouveau Lashes salon is key. I've been an incredibly happily customer for 3 years now and knowing how incredibly important lash health is to the brand is why I continue to visit them and now have the chance to work with them too - I can't recommend them and their wonderful treatments enough!
Sign up here for a weekly catch up of everything Inthefrow