25.02.2019
How to Wear the Catwalk
for A/W 2019
I can't believe that London Fashion Week is over already! I think choosing to miss New York this season not only gave Alex and I room to make an offer on a house (yes you heard that right - eek!) but also made London seem much more achievable this year. I was lucky enough to be invited to some incredible designer's shows, some really fun events like Victoria Beckham's YouTube channel launch and more importantly came away feeling typically and wonderfully inspired.
From the oversized knitwear at Christopher Kane to the stand out accessories at JW Anderson, and from the Victoriana inspired looks at Erdem to the vibrant prints at Roland Mouret. There was so much to be inspired by and so much to look forward to as the seasons change. So here's my personal London Fashion Week run down for Autumn Winter 2019 and some of my favourite looks, palettes and trends I'm excited to see filtering down into online and high street retailers over the next few months!
My Versace look was kindly loaned to me for the occasion.
This post is not sponsored. Read the disclaimer here. 
VICTORIA BECKHAM 
Victoria's designs for Autumn Winter 2019 were some of my favourites, which when taking into account my personal style, was always going to be expected. Her usual beautifully chic tailoring was on show but with an added sense of fun and a colour palette that made her suiting seem more playful rather than stuffy. There were bold clashes of vibrant orangey reds alongside pale pastel lilacs and even print clashing of leopard peep toe boots (I need a pair of those ASAP!) and country inspired tweed. A lot of the pieces like the classic tan coats and the midi length skirts, shouted about demure cuts but the bright, more modern accessories successfully showed how to easily incorporate some colour into your workwear. Really fun, super wearable and I can't wait to get my hands on a couple of pieces when the time comes!
ROLAND MOURET 
Before we even get to the looks being shown, I have to say how much I enjoyed seeing both men and women walking in the Roland Mouret show. Although all the looks shown are classed as Women's they chose to show the styles duplicated on both, I'd love to see this in more presentations in the future, especially with the awesome suiting and draped fabrics Roland had designed. The vibrant red that seems to be THE colour of next season, was dotted all through the show teamed with a beautiful duck egg blue that clashed perfectly and subtly. The shimmery garments used throughout the looks added a touch of evening luxe and really transformed the tweed/checkered tailoring from day to evening and back to day with ease. Although a lot of the oversized pieces shown across the season so far, are very Autumn Winter, I really appreciated and could envision wearing the majority of Roland's chic dress silhouettes and crisp blazers.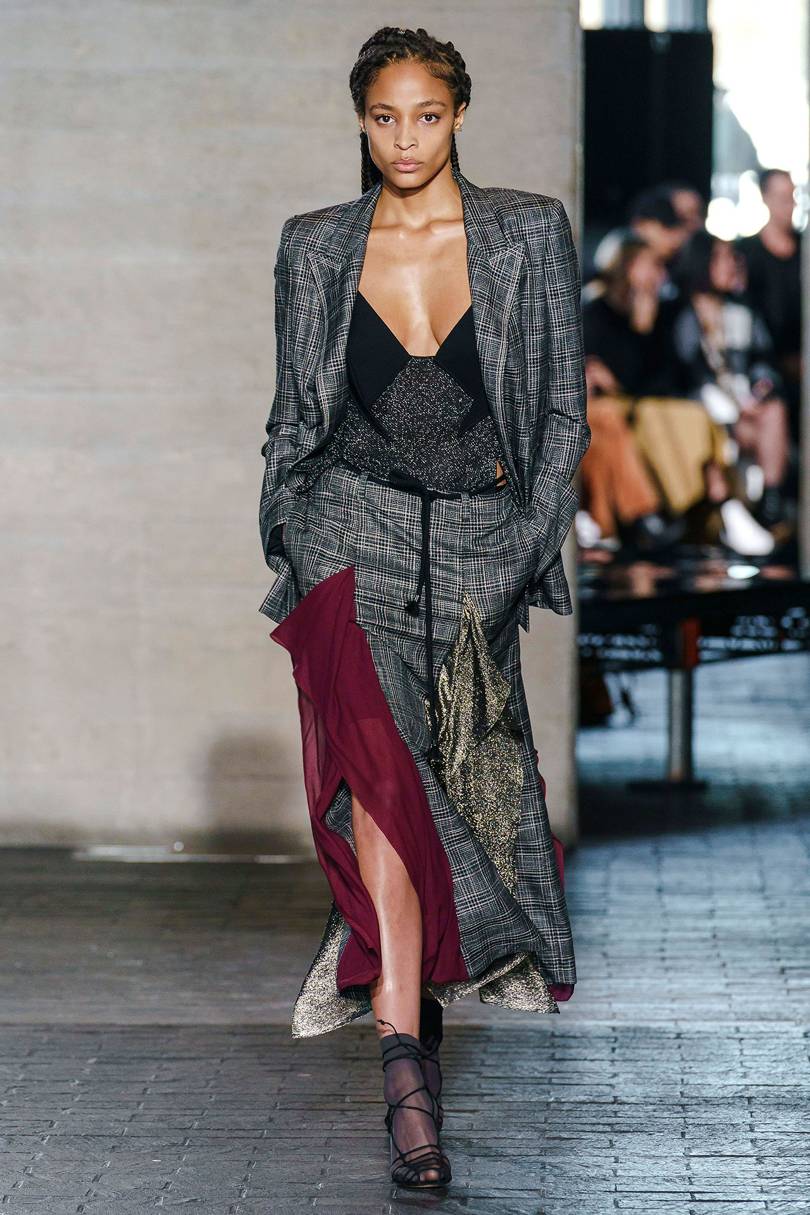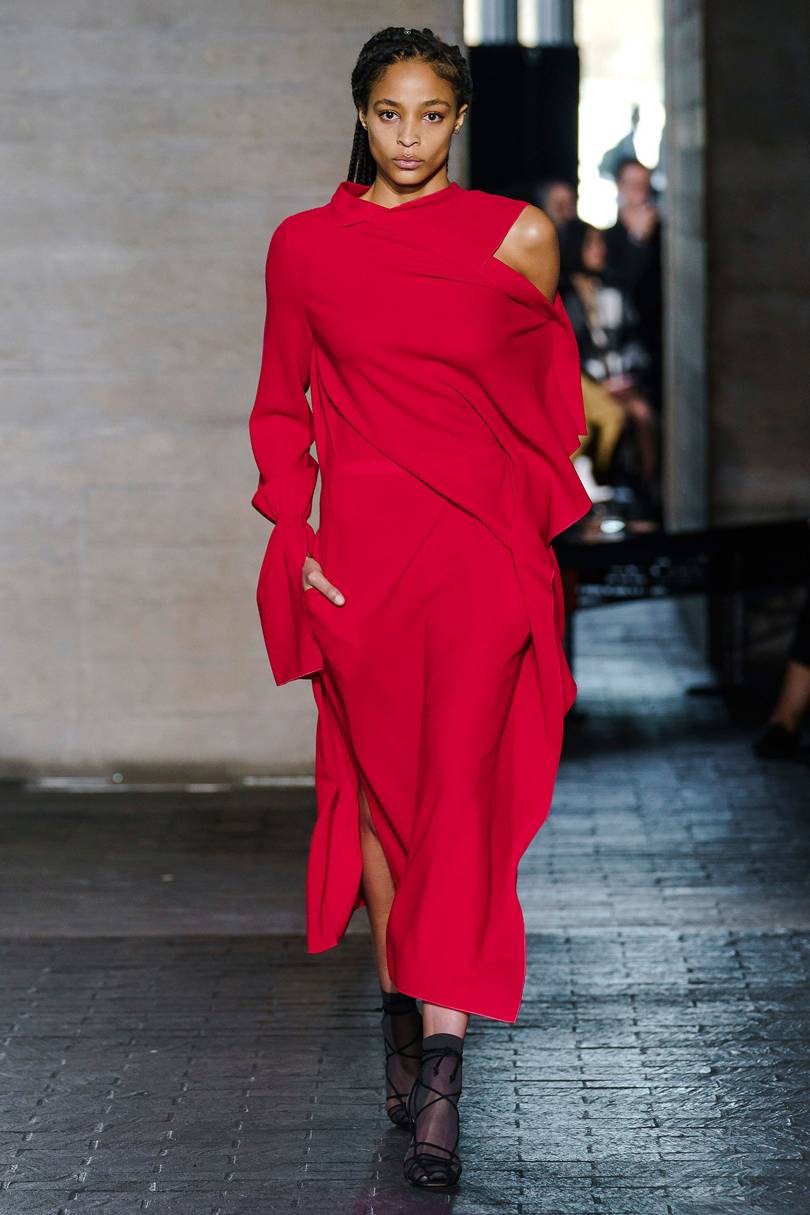 ERDEM
The whole catwalk at Erdem was a really deep almost gothic experience. From seeing black lace again that had made it's way through from the Spring Summer shows to the vivid florals shown on dark bases. There was definitely a romantic edge to the embellishments that had been embroidered onto some of the looks and the addition of strong collars and more structure than seen in other shows this season felt very Victorian. There were definitely some oversized silhouettes too but none of them drowned the models wearing them. There was also a huge variation in textures shown too, which added so much to the experience with chiffons layered over thick checks and lace layered under bright satins. I'm also very excited to see the high neckline making a return on evening pieces, one of my favourite styles of all time!
JW ANDERSON
The big trend for JW Anderson at his show this season was most definitely layers upon layers, with silhouettes that were oversized yet structured. Just like the Victoria Beckham presentation we saw tweed, we saw bold reds and we saw contrasting shapes on almost every model too. From huge structured shoulders that tapered down into tightly cinched waists and from swooping maxi length skirts that were weighted down by threaded, looped fabrics to knitwear that swamped the frae. The accessories, as always, were hugely impactful and I loved the super wide waist belts and the chunky gold hardware on both the bags and chokers. I think we definitely saw the new 'it' bag of the season and I can't wait to get my hands on one of those belts!
CHRISTOPHER KANE 
Almost everything on the Christoper Kane catwalk this season was oversized and/or featured overly exaggerated shapes. The looks featured sleeve lengths that came down to the knuckles, pussy bows tied around the neckline headed for the waist, dropped hems and peplums that extended garment lengths and even knitwear that doubled as chunky dresses. There base palette was very much dark full of navy shades and blacks but the pops of jewel tones really contrasted from some of the other shows. The beautiful sapphire blues and the bright barbie pinks, especially in the light reflecting satins, stood out in the best way possible. I can't wait to style chunky, oversized cardigans this Autumn or this Summer dependent on how fast the trend hits the rails in rainy London.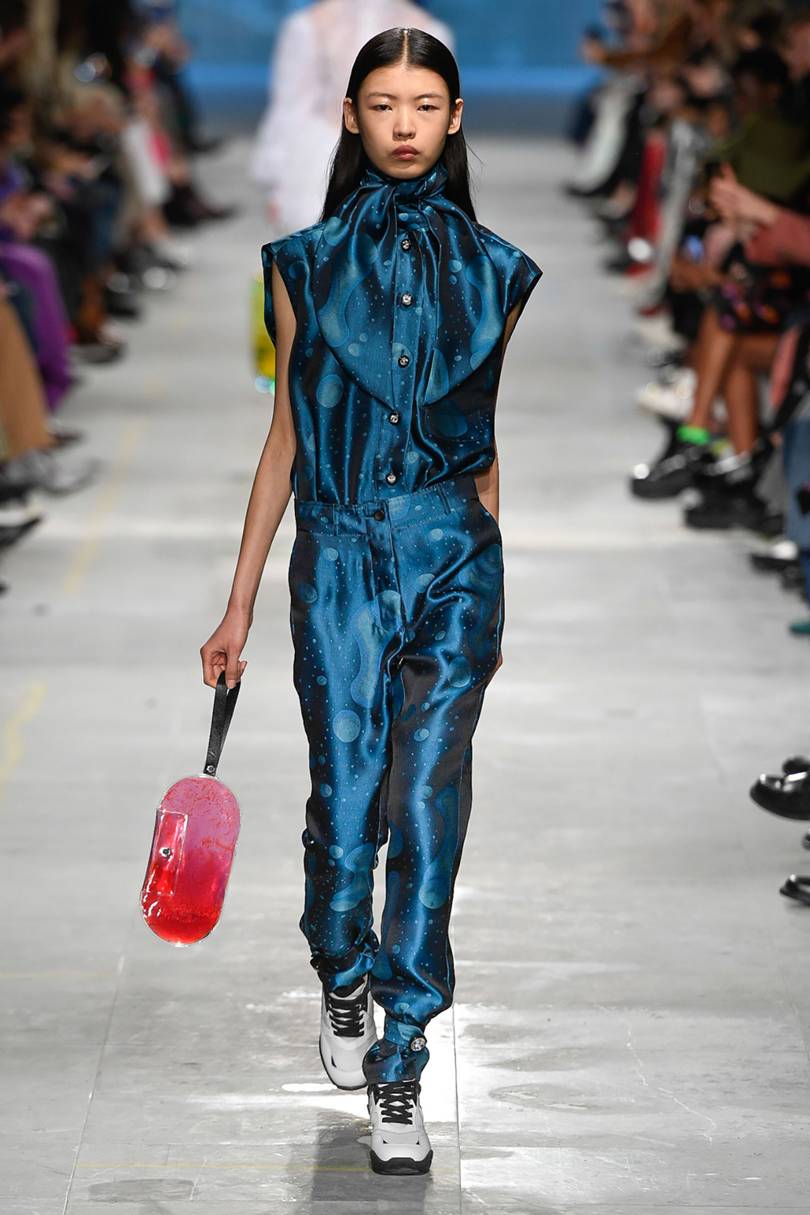 I hope you enjoyed a look at some of the shows I was kindly invited to sit at and running through some of my favourite looks too. I think it's always wise to remember that although a lot of the looks we see in the shows, can seem utterly unwearable half the time, the designs and styles we see every season, are the spark for all the trends we see in the months to come on the high-streets and online stores we shop. I can't wait to see more takes on the vibrant red shade seen all over the runways and the tweed/checkered tailoring is definitely something I will be getting on board with too.
Images of me taken at the London Fashion Week Versace x Kith launch event.
All catwalk images c/o Vogue Online.
Sign up here for a weekly catch up of everything Inthefrow