19.02.2019
10 Stylish & Sustainable
Fashion Brands
When I relaunched the blog in June of last year, I took the opportunity to start a little research on sustainable fashion brands and featured 21 brands to discover. Brands that in one way or another, be it the materials they are choosing to use, the manufacturing processes they are utilising and/or the way in which they are making changes to their business as a whole, are working towards a sustainable future. 
Fast forward to the start of 2019 and off the back of my initial baby steps into the sustainable fashion world, I'm starting to think about my own buying habits a more and what changes I can make while still pushing my own brand and also embracing my usual style. It's definitely an important topic to think abut with being an influencer, content creator and someone who is developing a career around fashion and the trends we see emerging season upon season - but those thoughts on how being in the fashion eye and sustainability can go hand in hand, may well be for another blog post I think?
I recently created a video over on my YouTube discussing 10 sustainable fashion brands on the more luxury side that you need to know about and I thought it would be great to bring those brands over to the blog and give a little more background on them in the process! I hope you discover a new brand to fall in love with and maybe some sustainable pieces will be added to your wardrobe too! 
Inthefrow uses affiliate links & the above items were gifted. 
This post is not sponsored. Read the disclaimer here. 
Created 13 years ago, Nanushka describes itself as 'A contemporary House for the modern human' aiming to not only be fashion forward but to be functional with it. A brand crafted from designer Sandra Sandor's vision for utilising fine craftsmanship and materials, designed in Budapest and created in Europe. The brand doesn't use vegan materials across the board but is known for it's use of 'vegan leathers'. It's so great to see a brand not only looking towards a more sustainable future but also creating fashionable, on trend pieces as they grow, that are kinder to the environment. Here's to more research into creating vegan leathers that positively impact fashion and push sustainable manufacturing processes along the way. Definitely a brand to watch as they continue to grow. 
One of my favourite new discoveries in the world of sustainable fashion is Mother of Pearl. The more research I did into the brand after discovering them the more their ethics made me smile. From their mindset of sustainability being a lifestyle and not an over arching simple term and the changes they've made to their working environments, they champion small changes by all to truly make an impact. The brand chooses to utilise natural fibres such as silk and wool where they can, knowing that they have less of an impact on the environment in the long run in comparison to materials that break down into micro plastics. From recycled fabrics to low water consumption, and from tracing their fabrics life line to using green energy suppliers, the brand is at the forefront of the sustainable culture. Find out more about their practices here.
I've recently rediscovered Mara Hoffman and was so pleased to see that a brand I had already purchased from previously, have started to change their ethos and practices. In 2015 the brand made a promise to use recycled and organic materials where possible. They have recently also made a commitment to responsible manufacturing and fair treatment of all people involved in the creation of their pieces. Mara continues to focus on the use of sustainable materials and practices, and even preaches the importance of garment care to extend the life of the pieces you do choose to buy. A true example of a brand embracing change as they mature. You can find out more about the brands changes here.
A true leader in both sustainable and ethical fashion and a brand that has rightly been on so many of our radars for years. The brand has a mission statement that not only encourages respect for animals and respect for nature but respect for people too. They describe themselves of 'agents of change and I would have to fully agree. From never having used leathers or furs in their pieces to the way they challenge the fashion industries many flawed practices, they truly are a beacon of what other brands can be. Using organic cotton to eliminate toxins, using viscose than can be traced back to the trees it came from and even recycling cashmere waste, they're definitely a luxury brand to invest in. Find out more about their mission here.
I already happily had this designer in my jewellery box and didn't even realise just what amazing practices the accessory brand indulges in. The pieces designed by Laura are almost exclusively manufactured using raw and recycled materials, a process I am so excited to learn more about. By reusing, repurposing and reimagining materials that would otherwise have gone to waste, Laura is creating something beautiful out of what would have been the end of an item's life. It's so lovely to see designers create items using recycling to avoid landfill waste and extend the life of any material. The brand is now heading towards its 10 year anniversary and I cannot wait to see how Laura continues to make repurposed materials into such beautiful, accessible and unique pieces. 
Another new discovery for me and one that you'll see I was incredibly impressed by in the video! Not only is the brand unbelievably new, having been birthed in 2018 but their mission is one that cares for all the people involved with the brand, as well as their choice in materials. The brand shares 90% of their profits between charitable causes, the people that create the clothing and the people that run the brand; 80%, 5% and 5% respectively. Not only do they do this, they also allow the consumers of their products to have a say so in which causes should benefit. Another aspect of the brand that really follows my view of researching and growing with the idea of sustainability, is the fact that if the brand can't find the right material they need to create their pieces, (outside of Tencel and organic cotton) they begin their journey to improve and better their future collections - amazing! Find out more about their choices here.
The first jeans brand I discovered on the site was ELV Denim - which stands for East London Vintage. A denim brand created with zero waste and sustainability at it's core, while also striving for a creative take on a 'normal' pair of jeans. What I really love about the pieces in the ELV denim collections is they are truly unique. Not just of unique design and ideas, but completely unique as each pair is created using 2 pairs of vintage jeans. Cue one of a kind washes, statement seams that really stand out as ELV and fits unique to that single pair of jeans. The brand is based in London and minimises it's environmental impact by not only designing but also manufacturing from the same space. Repurposing and reworking items that are meant for the landfill and bringing new life and creativity into the materials, is such an imaginative and sustainable way to move fashion forward. You can learn more about the brand here.
Similarly to ELV Denim, RE/done is a brand that reworks old denim into new, one of a kind jeans, but uniquely they only use denim from vintage Levis pieces. The brand was created as they say, not as a denim brand but as a luxury brand that 'restores individuality' in the fashion space and create sustainable fashion all the while. The brand use water conserving manufacturing processes at their HQ in LA and involve no harsh chemical in the processes to ensure no further impact to the environment. The act of taking heritage denim pieces and reworking them into pieces that once again bring life into materials otherwise headed for landfill is one I love and hope to see more of! You can find out more about their work here.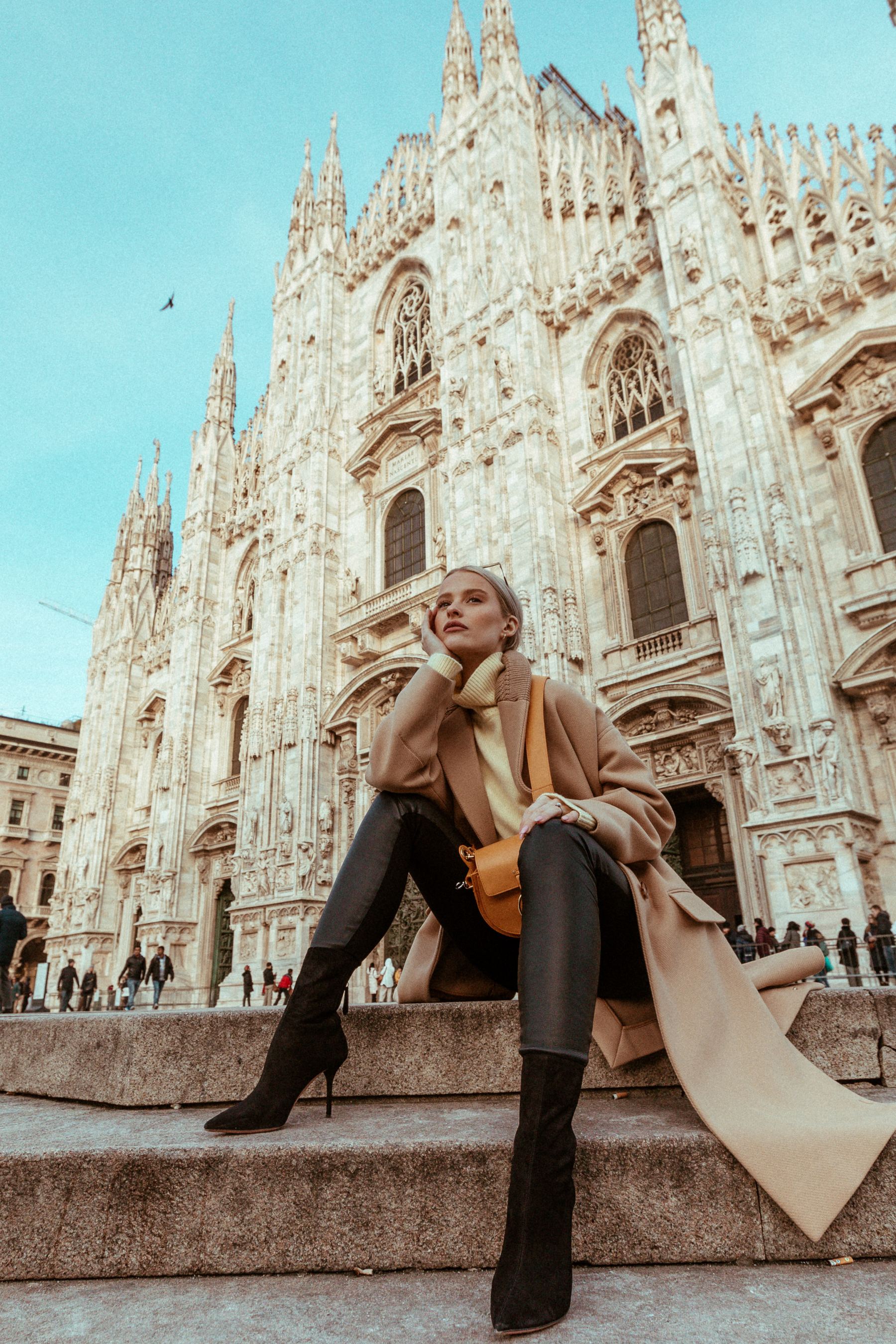 Pronounced 'basic', the Australian brand were conceived 12 years ago when the owners saw a gap in the market for wearable, structured pieces that could be styled throughout your day, from casual to dressy. Since the very beginning of the brand, they have only ever used organic cotton ensuring that no chemicals are used in the creation of their collections and they also ensure that they support local industry, by manufacturing their cotton pieces locally in Australia. The modern brand uses sustainable manufacturing techniques to minimise their impact on the environment and the outcome are pieces that are versatile, edgy and could work in numerous day to day outfits - exactly what the designers were aiming for, wearability. You can find out more about the brands background here.
Very much a high end luxury label, Gabriela Hearst's first collection was launched in 2015 and she has taken great pride in ensuring that her values are placed before her pieces. The brand describes their collections as 'luxury with a conscience or in other words, honest luxury'. This sums up her drive to know that each piece is manufactured with care and detail and that she is able to trace the materials she uses back to their very source - traceability. The wool in her collections is taken from her family ranch in Uruguay, meaning she can follow the wool from the animal, right to the garment. Amazingly with her end product and delivery in mind, Gabriela Hearst will become the first brand to have all of their plastic packaging replaced with TIPA packaging, that biodegrades and composts within 180 days - incredible! You can find out more about the line here.
I hope you liked discovering a little more about the brands I came across during my research into more sustainable, high end pieces and thank you once again to Net a Porter for originally gifting me the voucher that allowed me to delve into these brands in the first place :) So glad I took the opportunity to start my first steps into a journey that no doubt will take a lot of love, passion, mistakes and time to get right! No one is perfect but each of us taking the opportunity to research our first small steps and changes, will be the start of bigger changes in our lifetimes.
Images taken during a gifted press trip to Milan with the Armani Beauty team.
Sign up here for a weekly catch up of everything Inthefrow