09.01.2019
It's All In The
Details
When it comes to my style over the last few years, the one thing that hasn't changed is believing that it's all in the details when it comes to creating and working an outfit that makes me feel my best. It doesn't matter whether that's strutting my stuff down the red carpet in Venice or heading for a central London cafe for a weekend brunch, I want my clothes and accessories to boost my confidence.
So what about on those more casual days? How do I still feel great about my look when it's more relaxed and more everyday than my more 'put together' outfits? For me it's all in the smaller choices I make and those smaller choices are the details that can make or break my confidence. Over the years the details themselves might have changed, I was incredibly partial to a fedora and not many jewels circa 2016, but although my style may have developed and grown, feeling great is still my priority. 
So here they are, the 4 ways I feel help me to look amazing, even when I want my look to be a touch more casual.
ADD LAYERS OF JEWELLERY 
Believe it or not, a couple of years ago my jewellery collection was very minimal. When I say minimal I mean 2 watches, a couple of pairs of earrings, a set of rings that never left my fingers and not much else. Fast forward to 2019 and I've finally discovered the joy of jewellery, even on my more casual days. I've really taken to breaking the 'rules' when it comes to my accessories and have found that mixing gold and silver and layering pieces too, really brings any of my relaxed looks together.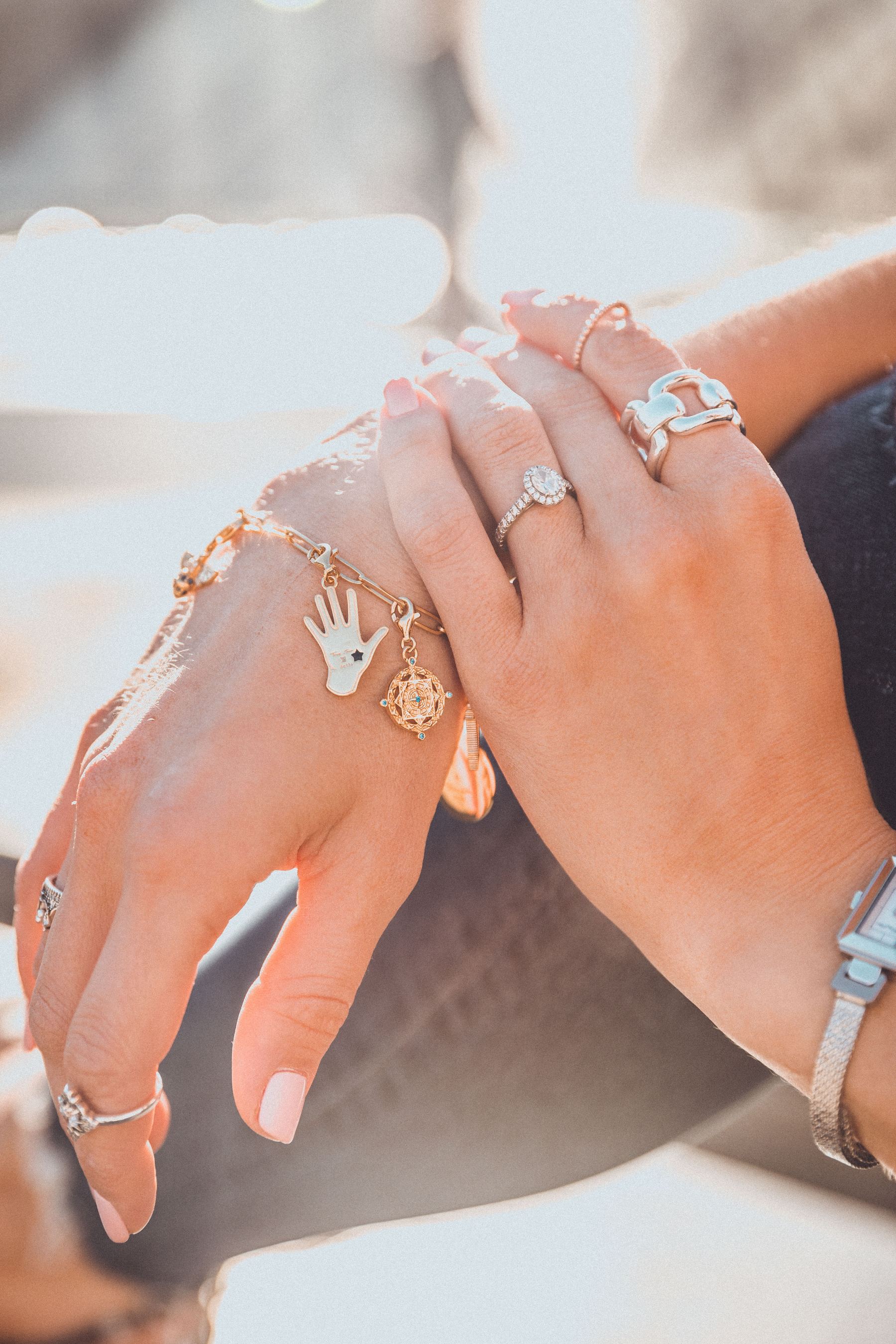 WEAR SOME SUNGLASSES
I always think one of the best ways to make my casual outfit look and feel amazing are a big pair of my favourite sunglasses. If it's a day without any makeup I can hide that very fresh faced look, if my outfit is basic from top to bottom they will add that something extra to it and they never fail in making me feel a little sassy and popping a spring in my step too. Suddenly my simple jeans and camisole style is lifted and so is my mood. 
PULL OUT YOUR FAVOURITES
A way that never fails to raise up the most casual of my looks, is to pull my favourite pieces out of the closet. Casual or not we all have those items of clothing in our wardrobes that leave us feeling and looking our best. For me it tends to be a great pair of skinny jeans or a simple white tee, as I know not only will they go with most other items in my wardrobe but I feel confident in them too. A casual outfit doesn't have to leave you feeling underdressed. 
ADD A SMALL HEEL 
And last but not least and probably most personal to my style, would be to add a low heel. I know a majority of people will not even think about teaming any sort of heel with a more relaxed look but when I wear heels, whether boots or courts, 90% of the time a smaller heel is my way of looking amazing yet casual. Throughout 2018 I added some killer kitten style heels into my closet and they're actually some of my most worn pairs. 
Let me know below if you have any tips and tricks for making your casual outfits stand out and leaving yourself feel amazing, even on those more relaxed days! 
Sign up here for a weekly catch up of everything Inthefrow