11.01.2019
My Favourite Trends For
Spring/Summer 2019
I don't want to send myself into a panic here but I've just realised fashion month starts in a few weeks and if I'm going to keep my promise to myself of self care for 2019, then I better get on the organisation train ASAP! My first stop? Looking back over the Spring/Summer 19 runways and which trends I'm hoping to be incorporating into my own wardrobe this year.
I never want my style to be completely trend led but the excitement of fashion month and seeing the trends repeated over multiple shows, always leaves me with a few lightbulbs overhead and an eagerness to add a few new pieces into my closet. My rules? Items that I love, items that are versatile and items that are still 'me'.
So here they are, the trends from the Spring/Summer 19 shows that are definitely at the top of my 'must wear' list and a little mention of the ones I love but that you probably won't be seeing on my feed anytime soon! 
UTILITY
A trend for 2019 that I am more than excited to embrace again is utility. Think boiler suits, oversized cuts with contrasting cinched in waists, turned up cuffs and sharp collars. The ultimate versatile all in one for pretty much any occasion. Dress down with bright white sneakers and a crisp layered tee, swap the trainers for killer boots and show a hint of lace under the collar to vamp things up and even throw on some strappy barely there heels with a statement waist belt to take it to evening. The trend moves over into every piece you can think of for 2019 too including trousers, boxy tops and even bags ladened with pockets, zips and press studs. It's definitely one trend for 2019 that can quite easily team up with others seen on the runway such as neutrals and layers for a look that's a little more safari than lunch meeting.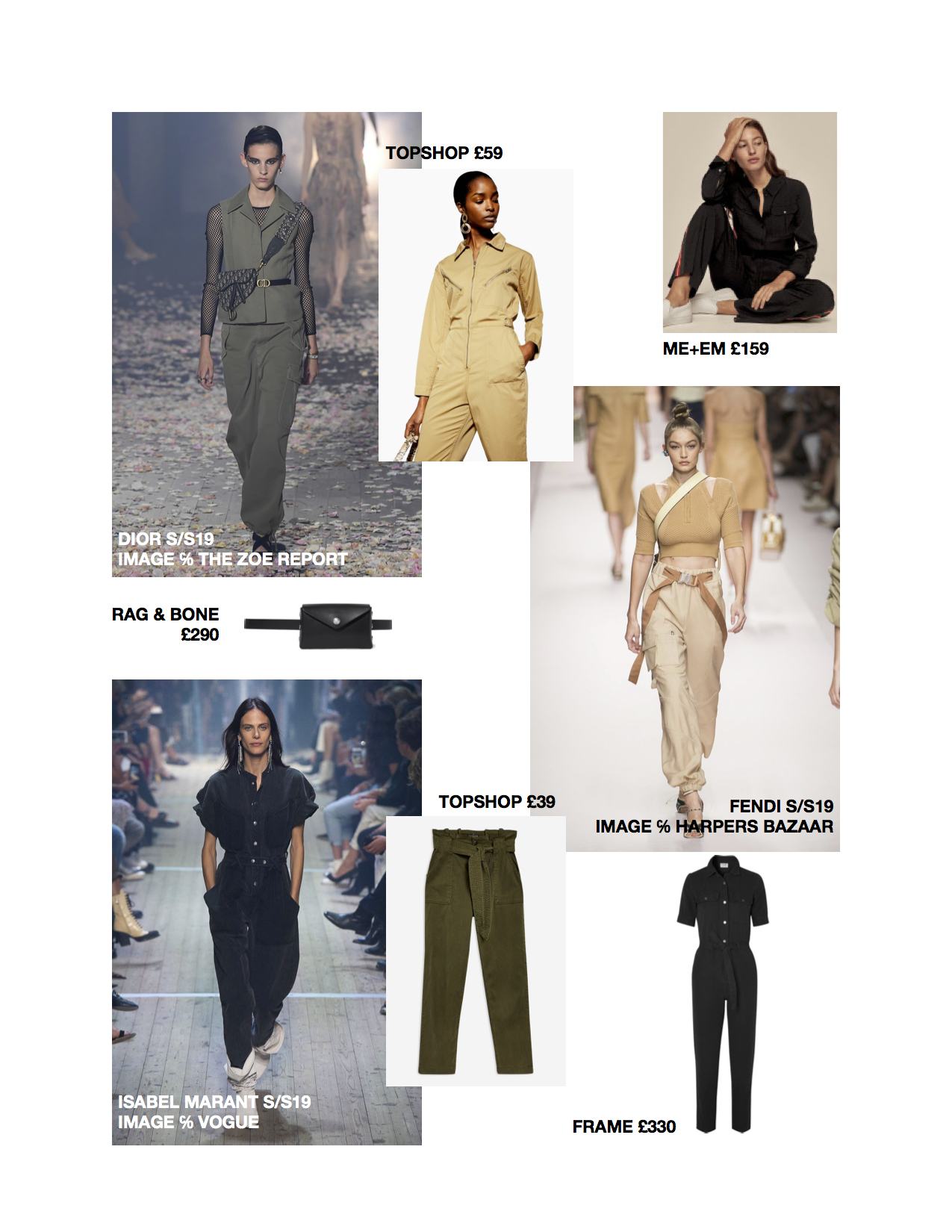 COLOURED TAILORING
Perhaps the trend that's easiest for me to work into my own wardrobe has to be coloured tailoring. If you know me well you know my go to look is anything tailored as I always feel chic and put together in a trousers and suit combo. Spring Summer 2019 is all about taking tailoring to the next level and almost back to the 80's. Think vibrant hues that you can wear both casual and for that epic night out, however your prefer to style them. The runways saw every colour of the rainbow when it came to suiting, so you'll be spoilt for choice trying to follow this monotone trend - eeny meeny miny mo! Pick your favourite stand out shade and it's up to you whether your accessories continue the theme or clash to your hearts content.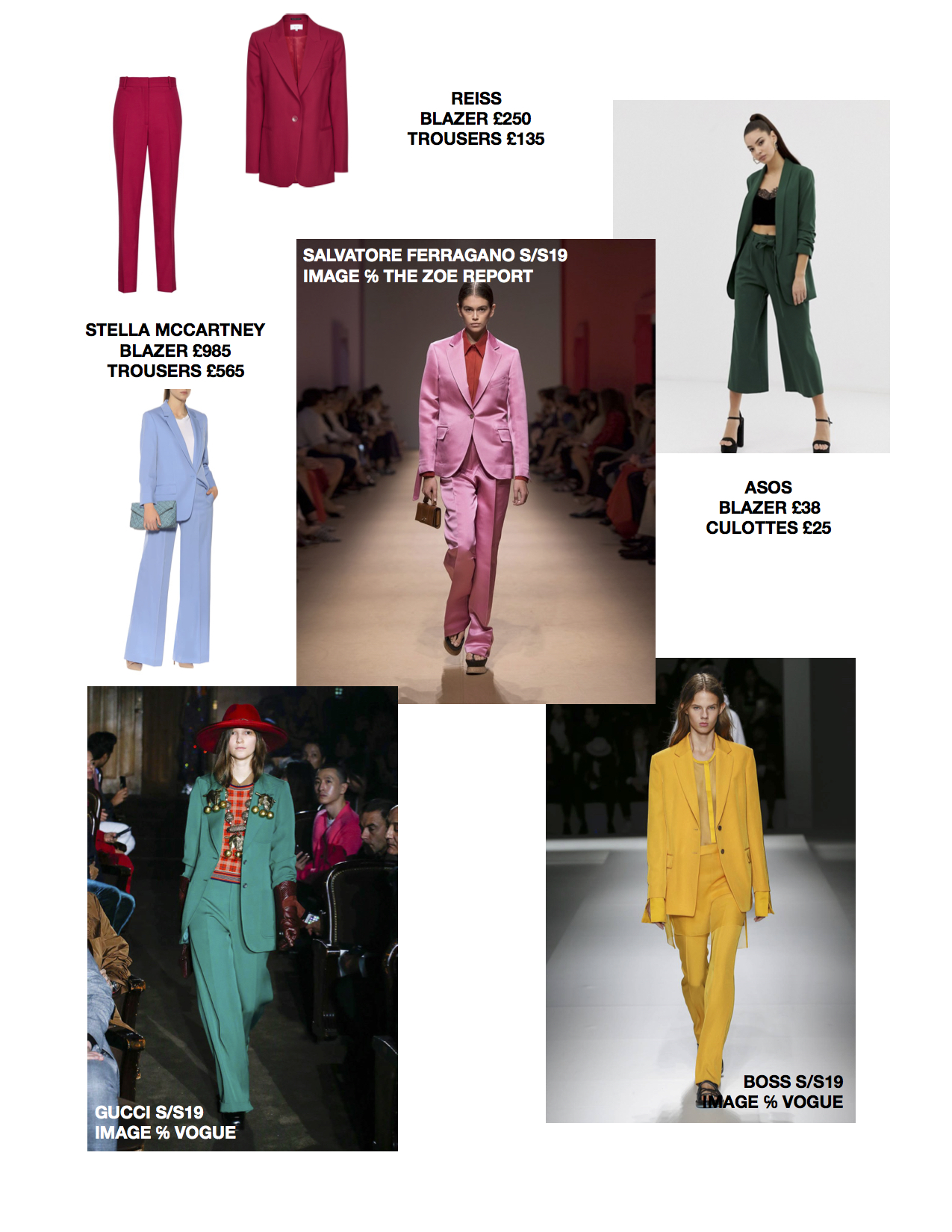 LACE & LAYERS
Now this heading covers quite a few trends all under one fashionable umbrella but I think lace and layers are the key to a lot of the trends seen on the Spring Summer 2019 runways. Not only are layers back again for the next season, think shirts under thin knits, shorts under long length blazers and styling one more layer than you usually would, but lace is also back with a bang. Don't go thinking pretty, whimsical lace will be back in stores though, it's been reworked into basic pieces like shirts and trousers, to give them that alternative edge and contrast to the usual flood of pastels seen for Spring. You'll see lots of black lace panelling, trims and lots of texture being added to wardrobes while outerwear is layered over the top to keep it appropriate for cooler weather.
NEUTRALS
Think 50 shades of beige and head to toe in the most neutral colour palette you've ever seen. Of course in rainy London an entirely beige colour palette might not be the wisest idea this Spring but as always there's a way to bring this trend into your closet. Think any beiges, tans, camels and nudes you love and bring them to the forefront of your wardrobe. Perhaps that camel coat you so love can be thrown over that boiler suit you've been meaning to purchase, or even that black cami that's your go to piece can be swapped out this Spring Summer for a neutral version. It's a trend that has so much versatility and one you can find at any of your favourite stores.
THE BEST OF THE REST 
And although some trends for Spring Summer 2019 might not make their way into my closet this year, they will definitely be all over your social media on the most style savvy of individuals:
Square Toe Shoes
Feathers
Tie Dye
Oversized Silhouettes
Biker Shorts
Fringing
Sign up here for a weekly catch up of everything Inthefrow