04.12.2018
Christmas Collections
to Wish for
This is a paid for advertorial with Feelunique.
'Tis the season to start buying gifts, and I put my hands up and say that I haven't yet finished, or even properly started thinking about what to buy for Christmas presents. I am an advocate for online shopping at this time of year, mainly because Oxford Street on a Saturday in December is filled with hustle, and I'd rather curl up on the sofa with a soya latte to order my gifts.
Luckily for me, Feelunique has been my favourite place to buy beauty products online for the last 8 years or so - and I am genuinely not saying this because I'm one of their ambassadors. I buy every beauty gift from Feelunique for a number of reasons. The fast delivery, the minimal packaging, the ease of the website and the fact they sell practically every brand there is. And even better, right now the site is filled with Christmas gifts, gift boxes and Festive treats. And so, I have rounded up the best Christmas gifts that I will be giving to loved ones this year, picked by yours truly from the huge selection they have on site right now. Just check their Christmas area.
Just to start this post - I want to mention that I'm under no obligation to choose any of the particular items in this post, they are genuinely my favourites that I'd highly recommend.
One of my absolute holy grail body lotions,Bum Bum Cream - mainly because it smells like Creme Brulee and ever since I found this a few years ago, I permanently have tubs in my bathroom, bedroom and my travel wash bag. It's soothing, hydrating and just a seriously lovely lotion to apply - it just smells so damn good. 
And this set is perfect for the person who either loves it already or wants to try the brand for the first time. The cute little 25ml pot is the perfect travel essential. 
The rest of the kit includes:
- Brazilian Bum Bum Cream 75ml
- Brazilian Bum Bum Cream 25ml
- Brazilian Crush Body Fragrance Mist 30ml
- Brazilian Kiss Cupuaçu Lip Butter 6.2 g
A scent that Alex adores and an iconic scent from the brand. Personally Alex loves getting these gift boxes with the matching shower gel to Eau de Toilette; as do I. There's something so lush about washing in a scent before spraying it all over you to finish. Even better when it smells incredible. If you haven't smelled Givenchy Gentleman before, it features a 'Woody Floral Fougère' - to put it far more elegantly than I could. Head notes of Pear, hearts of Orris and Lavender with those gorgeous gentlemanly base notes of Patchouli and Leather. And a great gift when it's bought with the shower gel at a discounted price.
YSL Mon Paris is easily my favourite YSL Scent - it's delicious. The bottle is beautiful, as well as the pretty, girly scent inside and I thought this gift set was a beautiful present to receive under the tree. You get the Eau De Parfum in 50ml alongside a travel/handbag sized 7.5ml, saving you a discount on both. 
The perfume is fruity and floral with top notes of pear and fruit, heart notes of Datura Orchid and White Flowers and base notes of Patchouli and White Musk. 
As soon as I opened this palette I swooned. Last year's Guerlain Xmas Palette was a treat, but this has blown it out of the water. With two highlighters in a champagne and a gold, alongside 8 stunning, wearable and festive eyeshadow shades, this is one of the best Christmas Palettes I've seen this year. The cranberry, emerald green and royal purple shades are divine for a beautiful Christmas eye look, but there are also coppers and golds for something a little easier to achieve. Plus the pigmentation is honestly fantastic. Highly recommended.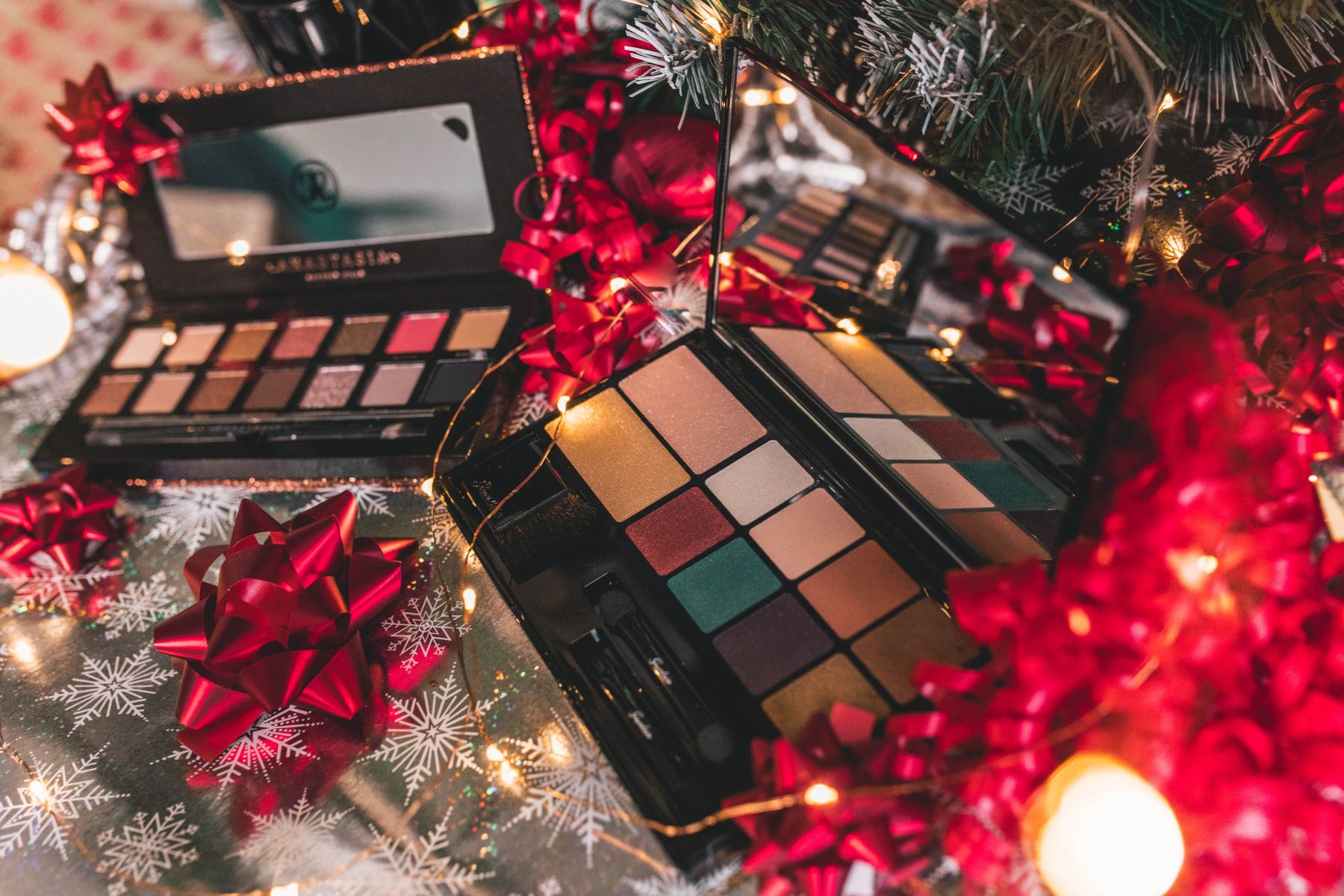 The brand that has probably grown the fastest in the beauty market in recent years, and a makeup brand that does eyeshadows exceptionally well. This is a beauty brand with a lot of hype around it, and people adore it for a reason. Their products are usually excellent. So enter their new Sultry Eye Palette with 14 wearable shades, half in matte and half in pigmented shimmer. Most are neutrals, coppers and champagnes, but the black and coral pink thrown in make this is a touch more exciting. It's just one that someone could get a lot of use out of - and if they're feeling up for it, they can throw in a touch of coral when they like.
What a treat. Elemis is one of those brands that I recommend over and over - not only for their London Spa but for so so many of their products that I have used and loved for years now.
They're definitely a spa skincare brand, and therefore everything smells wonderful and their products are made to work for those in need of a pamper. Now this gift set is on the high side of the price points, but if you're looking for something for your Elemis adoring friend, Mum, Dad or other, this is the best Elemis Gift Set you'll find this year. It's a gem. Plus the gift box it comes in doubles up as a travel vanity case for the future.
Contains:
- Pro-Collagen Cleansing Balm 50g
- Pro-Collagen Advanced Eye Treatment 15ml
- Pro-Collagen Marine Cream 100ml
- NEW Pro-Collagen Overnight Matrix 30ml
- Pro-Collagen Neck & Décolleté Balm 50ml
- Pro-Collagen Hydra-Gel Eye Masks 2 sachets
- Luxury Cleansing Cloth 
- Gift Box
If you haven't tried an Urban Decay eyeshadow before, I promise you that you're missing out. They're some of the best on the market, hence why they created not only one best selling shadow palette, Naked, but went on to create another 3. The original is my mums favourite Palette and its a personal favourite of my own - although I'd probably say Naked2 is my best of the bunch. But in the 4Some Vault, you get all four.
The dreamiest gift for the person who's getting into makeup and has had their eyes on Urban Decay for a while. You won't need any other palettes after you get these.
Contains:
- NAKED (bronze neutrals)
- NAKED2 (taupe neutrals)
- NAKED3 (rose neutrals)
- NAKED HEAT (scorched neutrals)
The Hourglass Ambient Lighting Palettes have always had so much love in the beauty industry. They're a collection of some of the best selling Hourglass powders, and each year they mix up the shades so that you're sure to find an edit that works for your skin tone and preferences. The Edit Volume Palette has a number of faves including dim light and diffused light, which I'm sure you'll find yourself reaching for daily. The powders are so fine and light, they take away shine and add light exactly where you need it.
The shades include:
- Dim Light - a neutral peach beige powder that blurs imperfections and highlights the complexion.
- Diffused Light - a soft, warm, pale yellow powder that conceals redness and gives skin clarity.
- Filtered Bronze Light - a new neutral translucent powder that has a subtle, warm bronze shade.
- Luminous Glow - a new bright coral blush fused with Luminous Light for a vibrant pop of colour. 
- Euphoric Fusion - a soft lilac blush is blended with Euphoric Strobe Light for a glow.
- Euphoric Strobe Light - a pearlescent beige powder for a neutral highlight glow.
I must admit this palette had me super excited. This is my idea of a dream powder palette. There are a number of shades I know I could wear daily, making this so so useful. Two powders, a bronzer, two blushes and a highlighter, all in shades that I could get so much use out of. It's the perfect everyday product. The highlighter especially, in Champagne, is so naturally beautifully, whilst the warmth of Filtered Light and Golden Bronze Light would be my every day bronzing duo.
The palette contains:
- Soft Light: soft translucent powder without shimmer, perfect for the undereyes
- Filtered Light: a soft nude beige powder for finishing
- Golden Bronze Light: a warm, deep bronzer with a touch of shimmer
- Nude Glow: a warm, peach undertone blush with a touch of shimmer
- Mood Flush: a soft blush wth mauve undertones
- Champagne Strobe Light : a highly pigmented metallic strobing blush
Lancôme is my go-to whenever I'm buying for my Mum especially. She adores practically everything, from their foundations to their night creams; as do I. And so I know these gift sets will be so loved over Christmas. This one containing four products from the Hydrazen Skinrange - the anti-stress, nourishing and moisturising line from Lancôme. The gift contains the Hydrazen Day Cream 50ml, Hydrazen Night Cream 15ml, Hydrazen Eye Cream 5ml as well as the famous Génifique Serum in 7ml.
Perhaps one for the mature ladies and gents in your life, as this one is definitely targeted at those who love their anti-ageing skincare. Three products are within the gift, two of which from the Rénergie range, providing plumpness, tightening and radiance. The Multi-Glow Day Cream 50ml enhances the natural rosy glow of the skin by providing radiance and definition, whilst the 15ml Multi-Lift Night Cream works its magic on the skin during sleep. And with a touch of the Advanced Génifique Serum 7ml all over the face to rejuvenate and enhance the look of the skin before night cream, this will be a gift that is sure to lead to a new favourite in their skincare routine.
I really hope this helped to inspire some of your Christmas Gifts this year - please do let me know if so and what you chose to go for. But for more ideas, go along to the Christmas Shop on Feelunique as you're bound to be inspired. 
Sign up here for a weekly catch up of everything Inthefrow