19.10.2018
My Designer Looks
From Paris & Milan
I've shown you all my amazing looks from New York and London and I thought that it was time for both Paris and Milan to take the spotlight. My season this September was quite simply the busiest I have ever had but it was also the most fun I've ever had styling some incredible designer items. 
During fashion month there are lots of ways in which you can attend events and sometimes even more exciting there are also lots of opportunities to be able to wear the particular designers creations. Sometimes you will be lucky enough that the brand will gift you something to style, other times you'll be able to attend a fitting to be dressed by the brand, some brands will loan you an item to style and other times you might already have a favourite item in your closet that you're dying to bring out again.
In any case, with my passion for all things luxury fashion I had to document just how much I loved some of my looks this season from Versace, Dior, Chloe and more! 
THE VERSACE SHOW
I don't know that I've ever felt more kickass than I did dressed head to toe in this killer Versace suit with one of their iconic, golden prints emblazoned on my shirt. I'm a sucker for tailoring no matter the occasion but to style a dreamy double breasted blazer with a completely on trend kilt inspired skirt for the show was the perfect look for me. And of course my new found love of flats had to come into this outfit too!
THE DIOR SHOW
Forever the highlight of my season, the Dior show. When people talk about pinch me moments in their careers, this is one of mine. So much so that Alex and I shot a beautiful Insta video for the occasion just as we did last year that you can take a peak at here. I adored my outfit for the show. Vibrant shades of red and the most incredible biker boots that I would like to wear for the entire Autumn Winter season if possible!
THE ARC DE TRIOMPHE
And afterwards - what else do you do when you have another beautiful Dior look to shoot in Paris? Head to the Arc de Triomphe of course and pose like you've never posed before! This already iconic Dior dress (and my beautiful red long sleeved mini) are available in select Dior boutiques but all my incredible accessories are available below. 
THE ARMANI SHOW
If you didn't get chance to catch my Insta-stories of the Armani show inside Milan airport then you have to watch the behind the scenes vlog below to really understand the scale of the event. It was absolutely out of this world and of course I wore a chic Armani look for the occasion. My golden satin trousers aren't available anymore but you'll be seeing a lot more of this edgy bomber and embellished bag on my channels.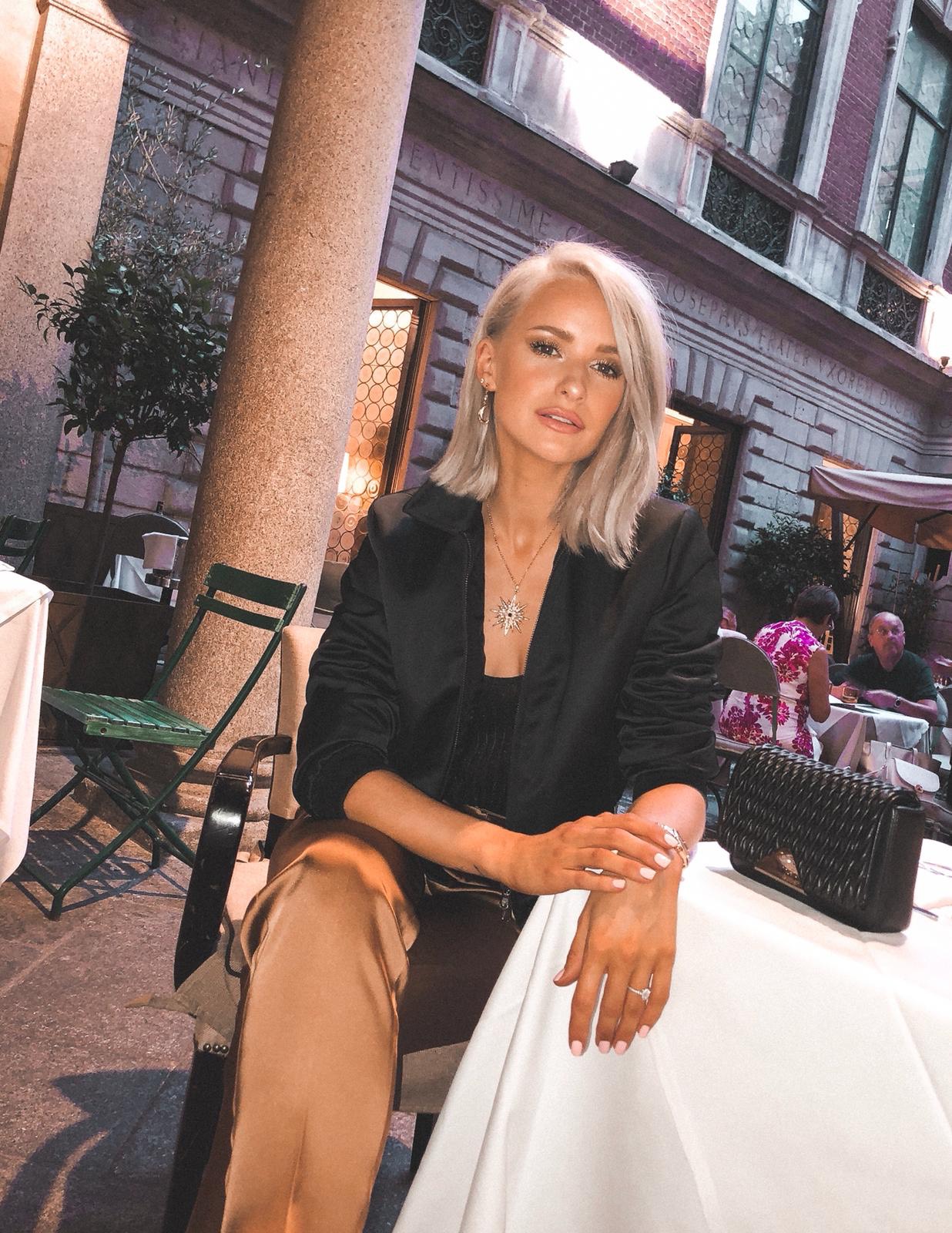 THE BALMAIN SHOW
Another highlight of the Paris shows because you can bet you'll be mesmerised by every look on the runway, is the Balmain event. Yes the looks can be 'out there' and very much shout to be styled with the highest of heels for that special event but every season I come away also craving some wardrobe staples, like my black and metallic stitched skirt, that I know I will keep in my closet forever!
THE CHLOE SHOW 
Imagine my excitement at being invited to the Chloe show and even more so at being invited to a fitting to be dressed for the occasion - what a dream! These amazing pieces like the intricately laser cut dress shirt and the 'I need these in every colour' sock boots are all coming soon but you can see a few snippets of the fitting and the show in my Paris vlog below!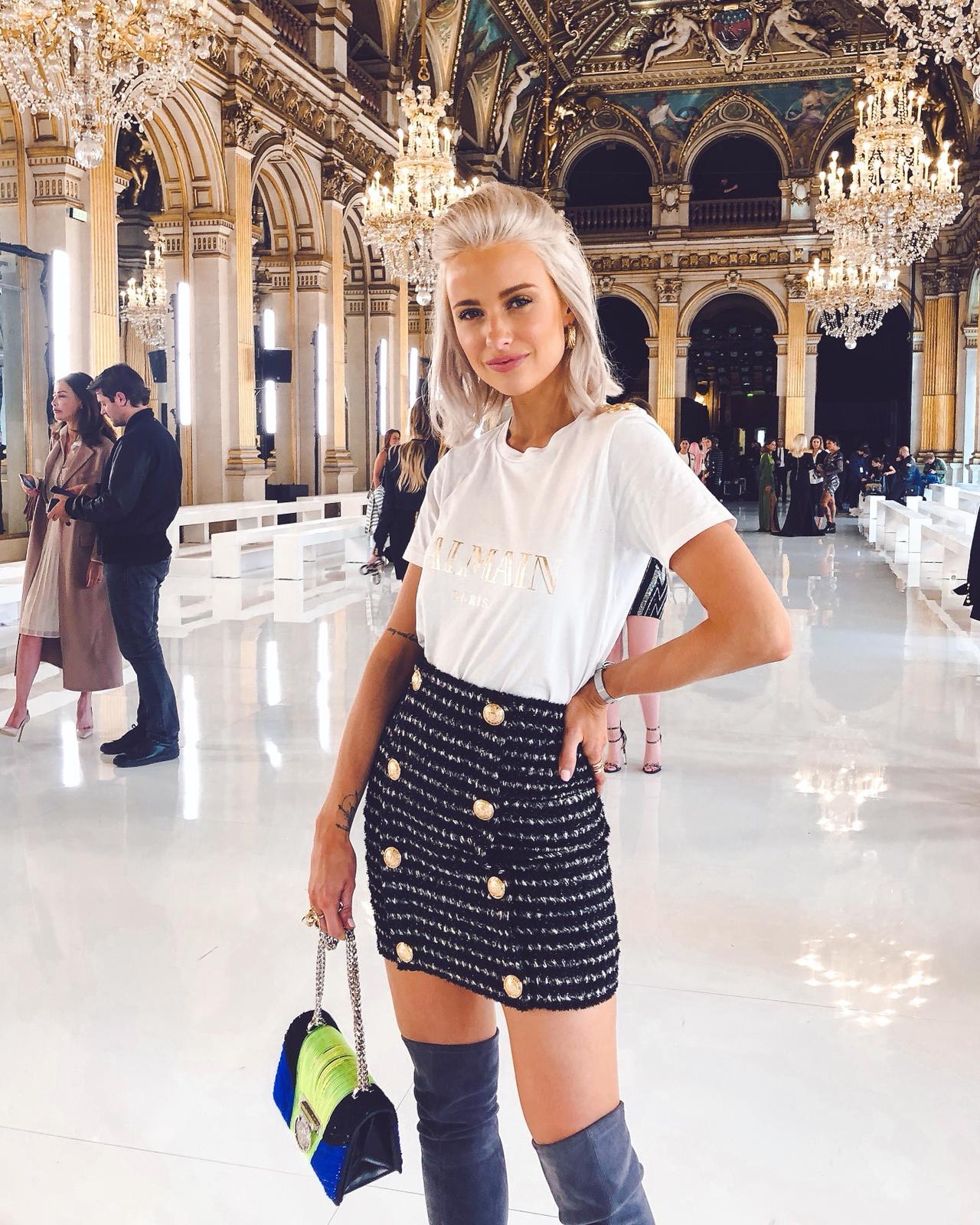 THE ISABEL MARANT SHOW
And last but not least, the incredible Isabel Marant show in collaboration with the launch of the L'Oreal x Isabel Marant limited edition makeup collection. You can find out more about the collection and the show here. I loved my look for this show and this is a great example of styling a piece from a designer to take centre stage, even when it's worn in a way not originally designed. That's the beauty of style! Who said a coat can't be a dress? 
BEHIND THE SCENES IN MILAN
BEHIND THE SCENES IN PARIS
Sign up here for a weekly catch up of everything Inthefrow