21.09.2018
My Skincare Routine with
AlumierMD
This article has been a long time coming. I've been desperate to share my full skincare routine for about 9 months now, especially as it has had such a dramatic effect on my skin and therefore my life. But it was when AlumierMD asked me to keep a new product top secret, the incredible EverActive C&E, that I knew something exciting was here that could enhance my routine even more. In this post, I'm going to talk you through my whole AlumierMD routine, day and night from cleansing to retinols, and share with you one of the biggest skincare product breakthroughs ever.
This post is a paid for advertorial with AlumierMD - but my usage has been consistent for 9 months and my words and thoughts are entirely my own.
#activateyourbestskin @alumiermduk
My Journey
I feel that before telling you about the products and what they do and why, it would be best to tell you about my skin and why I found AlumierMD in the first place. I have always had pretty great skin - never being prone to acne and with a normal to dry skin type. But throughout my 20's, I feel that any spots I did get were angry little monsters below my skin. They wouldn't just pop and go away - they would scar my skin for well over a year. I remember at one point my audience telling me to stop covering the birth mark on my face with makeup - when it was actually the remnants of a spot I'd had 9 months ago. The blemishes just do not fade, so I would dread getting a new, angry spot. But mainly around the time I started with AlumierMD products, I would also get little milia spots under and on my eyelids as well as small, under skin spots on my forehead. The white Milia spots under my eyes were from dehydration and build up of products, and I just needed a routine that could level out my skin, gently exofoliate, offer it as much hydration as it needs and to remove those little nasty lumps and bumps. And it was around that time that I came across an instastory from someone who used AlumierMD and was vouching for the fact that she had since been able to remove all of the underskin bumps she was suffering with. I was influenced, and I got in touch with AlumierMD immediately. It's now been over 9 months of continuous usage, day and night, so I can tell you about what this brand and it's products have done for me and my skin, in pretty great detail.
ACNE CLARIFYING CLEANSER
Let's get right into it. Starting at the very beginning of the routine, every day and every night. As soon as I get up in the morning, I head straight into my bathroom. I used to do my skincare before my makeup, at my makeup desk - but then I decided that actually I wanted to hydrate my skin immediately after cleansing, so I made the decision to move all of my skincare into my bathroom cabinet. That way, I don't leave the bathroom in the morning until my entire skincare routine is complete. Nothing is missed and nothing is forgotten. Honestly, one of the best routine changes I made.
So the day starts like this - cleansing - and I would so highly recommend the Purifying Gel Cleanser and SensiCalm cleansers depending on whether you prefer a cream or gel texture. Either way, the textures are light and smooth, and comforting and gentle when massaged into the skin. The Gel Cleanser for normal to oily skin is pH balanced and gently removes excess oils and removes impurities, whilst chamomile and aloe soothe and hydrate the skin. When I accidentally run out of this - I just don't want to use any other cleanser. It just does it's job perfectly. It doesn't dry the skin out or leave it feeling uncomfortable, rather, your skin feels wonderful and refreshed after usage. The SensiCalm Cleanser is again gentle, comfortable but creamy in texture for skin with rosacea, redness and sensitivity. The Acne Clarifying Cleanser in the shots is currently out of stock so the Purifying Gel Cleanser and SensiCalm cleansers are great alternatives depending on your particular skin type. 
One of my holy grails now - and I really do notice the difference in my skin if I run out of this and I'm waiting on a new bottle in the mail. This is the step that in usual skincare routines, would be your toning step. But the Bright and Clear Solution does so much more for me than anything I've tried before. This is a conditioning solution, that exfoliates any dead skin cells and refines the complexion of your skin. I just pump a few rounds of the fluid onto a cotton pad and wipe it all over my skin - only missing my lips and eyelids. I let that sink in for a couple of minutes whilst I do other things, before applying the next step. So do not wash it off. You want to leave it on the skin working its magic. For first time users, it's worth building up a tolerance to this, as at first, my skin would go quite red on first usage. But I found that didn't happen if I applied my other skincare items right after it had set in. I was walking away for 20 minutes sometimes and wondering why my skin was flaring up, and I almost needed to just neutralise the solution a little with further products.
So, when you first start using it, maybe use it once a day, or once every other day for a week or so, until you can get to a point where you can use it morning and evening like I do. I literally do not miss this product. Imagine this product as that step that is removing any final nasties on the skin, gently exfoliating with Lactic acid, Lime Pearl™ and soy amino acids that break down the dull layers of skin. And if you're using it daily, imagine how bright and clear your skin actually gets - honestly, incredibly so. I've never seen my skin radiate light in the way it does now. But whilst the acids might worry you that it's harsh, it also contains arnica and bisabolol to calm and soothe the skin, so you won't feel the effects of the exfoliation. Especially when you get used to it after a few days like I said. Oh and this is the product that I mentioned someone showed on their stories and said it was a game changer. They were extremely right.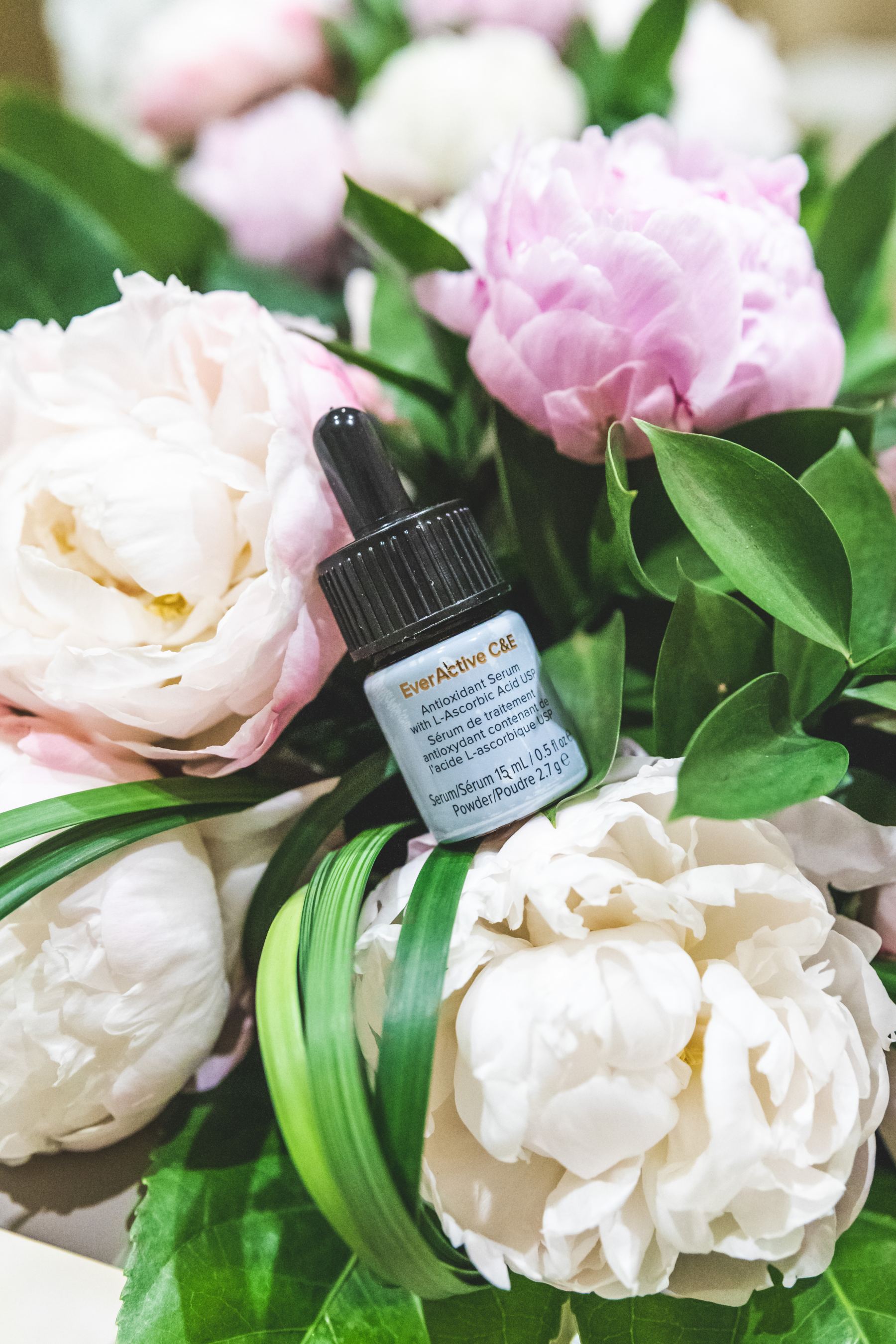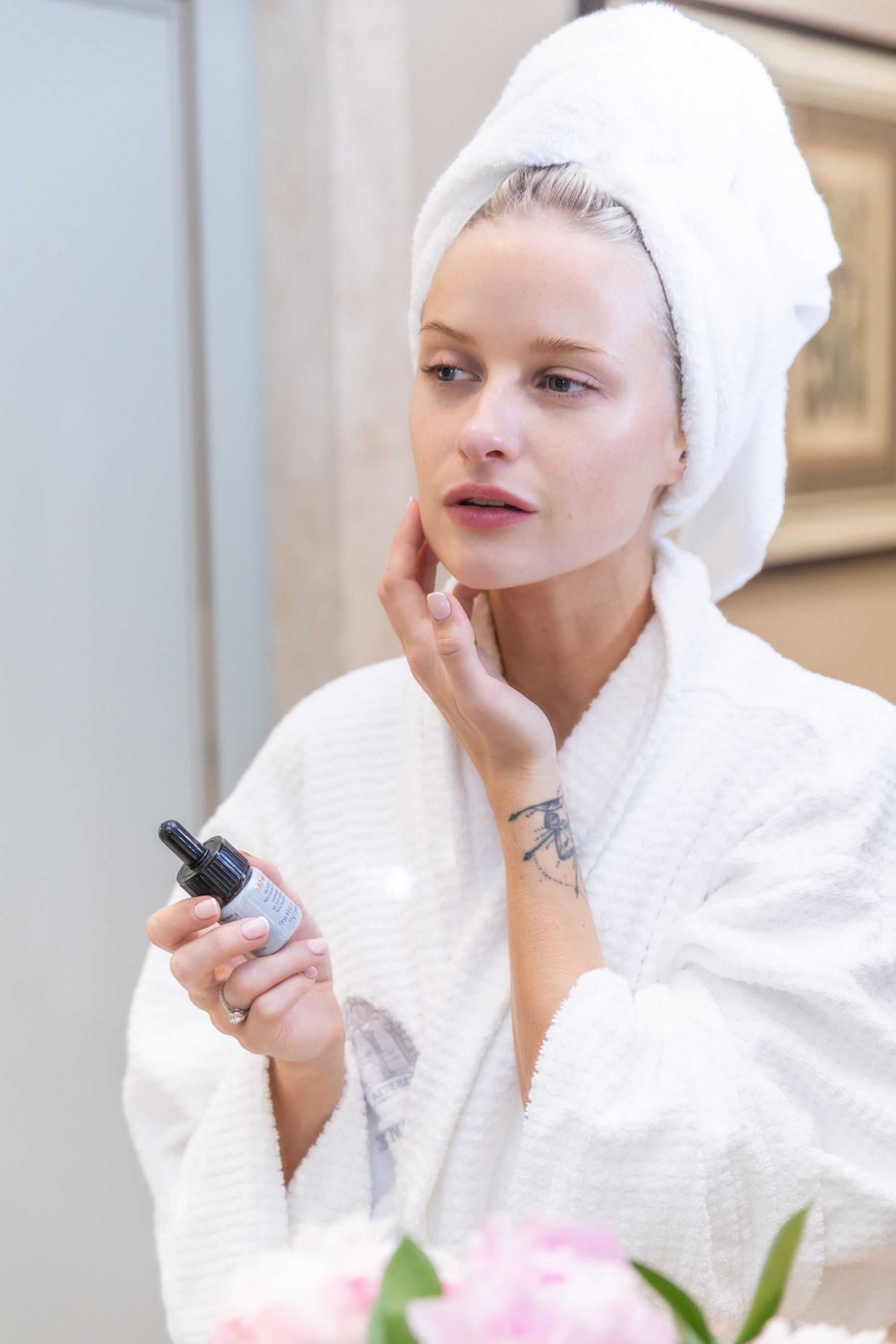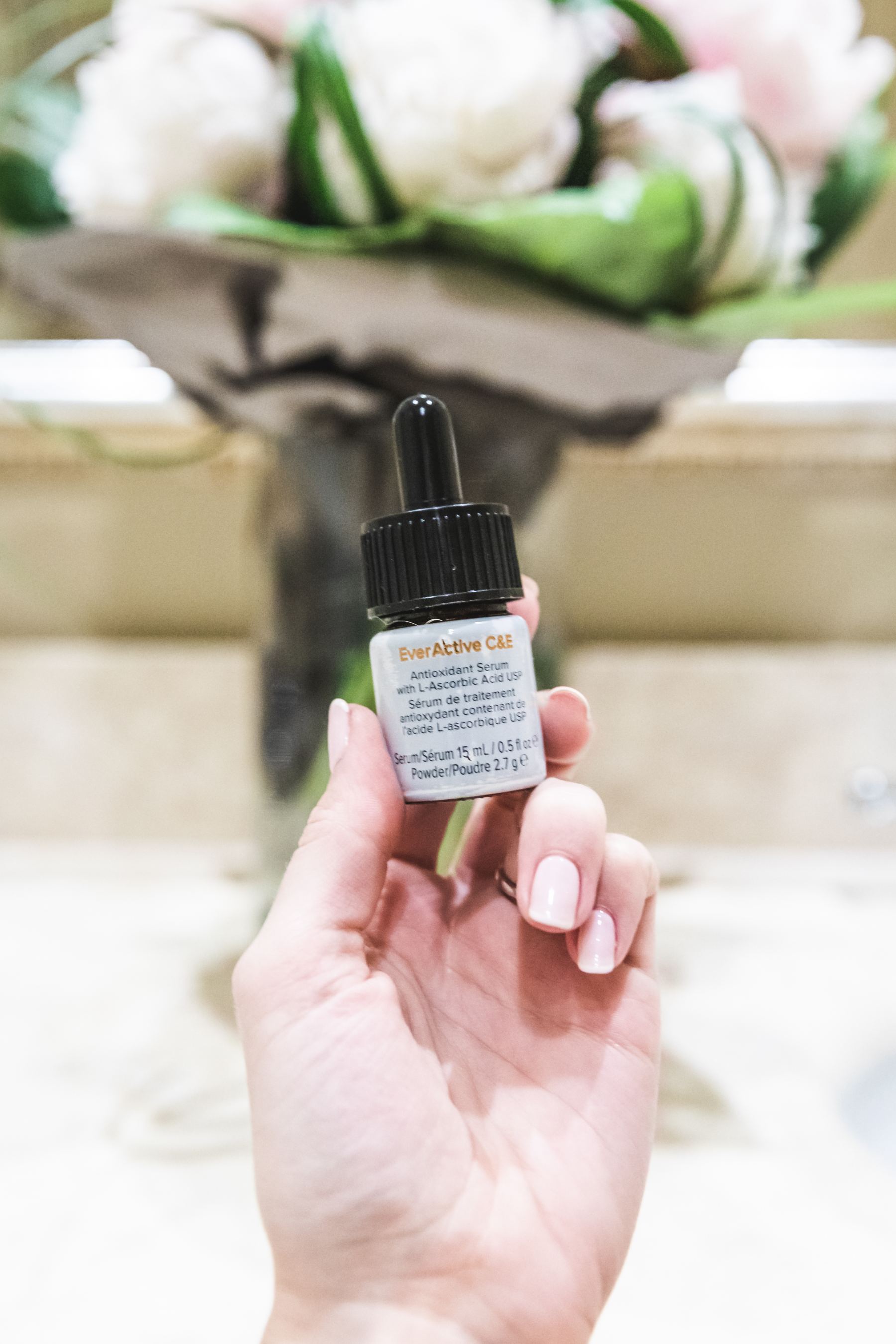 Now that we've got cleansing and toning out of the way, we can get onto one of the most exciting skincare launches I've seen. EverActive C&E is the newest AlumierMD product on the market, and something you will not find anywhere else. This is an antioxidant serum containing 15% high-strength vitamin C (L-Ascorbic Acid), that stays fresh because you only mix the Vitamin C with the serum when you're ready to use it. Most Vitamin C serums on the market oxidise inside their bottles, going brown, making them non-beneficial. The Everactive C&E is activated with a unique delivery system when you're ready, contains the highest grade of vitamin C available and will be perfect to use until you finish the bottle, with continuous daily usage.
The vitamin C and E within the serum reduce the appearance of fine lines and wrinkles, whilst additional Matrixyl® Synthe'6® (peptides) neutralise free radicals and protect against UV damage and pollution. Vitamin C is an ingredient that we all need to be using as often as possible to enhance the brightness of our skin and to protect the skin from daily sunshine and pigmentation damage. And so, this has become a must have in my routine.
I use this only in the mornings, adding a few drops onto my fingertips, and patting it all over the face to disperse, again not focusing on the undereyes or eyelids.
As with adding any new product into your skincare routine however, you should always make sure to build your tolerance up. It's aways wise to be cautious and with the amazing potency of EverActive C&E, I followed these steps to successfully add it into my daily skincare. To build my skins tolerance and achieve the best results, I first added 1-2 drops of the product into my serum every couple of days. After approximately 2 weeks of alternate days, I then applied it every morning but still mixed into my serum - and after approximately another 2 weeks of application, I now use it directly onto my skin. I currently use 3-4 drops patted into my face, every single morning, after applying the Bright and Clear solution. 
I just think this product will become that product, that I never want to not have in my routine. The ingredients within this are saviours for the skin, and if it's protecting and enhancing the texture of my skin everyday, it's a step I can no longer afford to miss. I also love that the package will last 3 full months, as you get 3 bottles of the product delivered.
This is my evening miracle worker. Whilst I use Everactive C&E in the morning, I use Retinol in its place in the evening, right after cleansing and toning. It's only been for the last 9 months that I've used retinol, and I really didn't understand the requirement for it before. But this is a skincare product that has worked wonders to my skin.
To start, AlumierMD sell the Retinol Resurfacing Serum in a number of strengths - 0.25, 0.5 and 1.0 - and I have been using the 0.5 since I started this regime 9 months ago. But I will soon be moving onto the 1.0 strength when this tube has run its course.
Retinol is used to improve the skin's tone and to reduce aging signs. It does so by speeding up the skin's shedding process, meaning that dull skin is shed faster, and fresh, new, bright skin is created at the same rate. Meaning that with continued use, your skin will become brighter and radiant due to the speed in which new skin is continuously being created under the surface of your skin. This also means that blemishes on the skin are shed faster and the skin's texture is enhanced the more that retinol is used. Fine lines and wrinkles are reduced, the appearance of pores are minimised, the skin tone is evened out and acne prone skin is targeted. With continued use, the skin will be brighter and more youthful - and I can vouch for this being the case. Hence why I now use it every evening.
But again, start off by using the retinol twice a week for a few weeks to build a tolerance, before building up to nightly usage.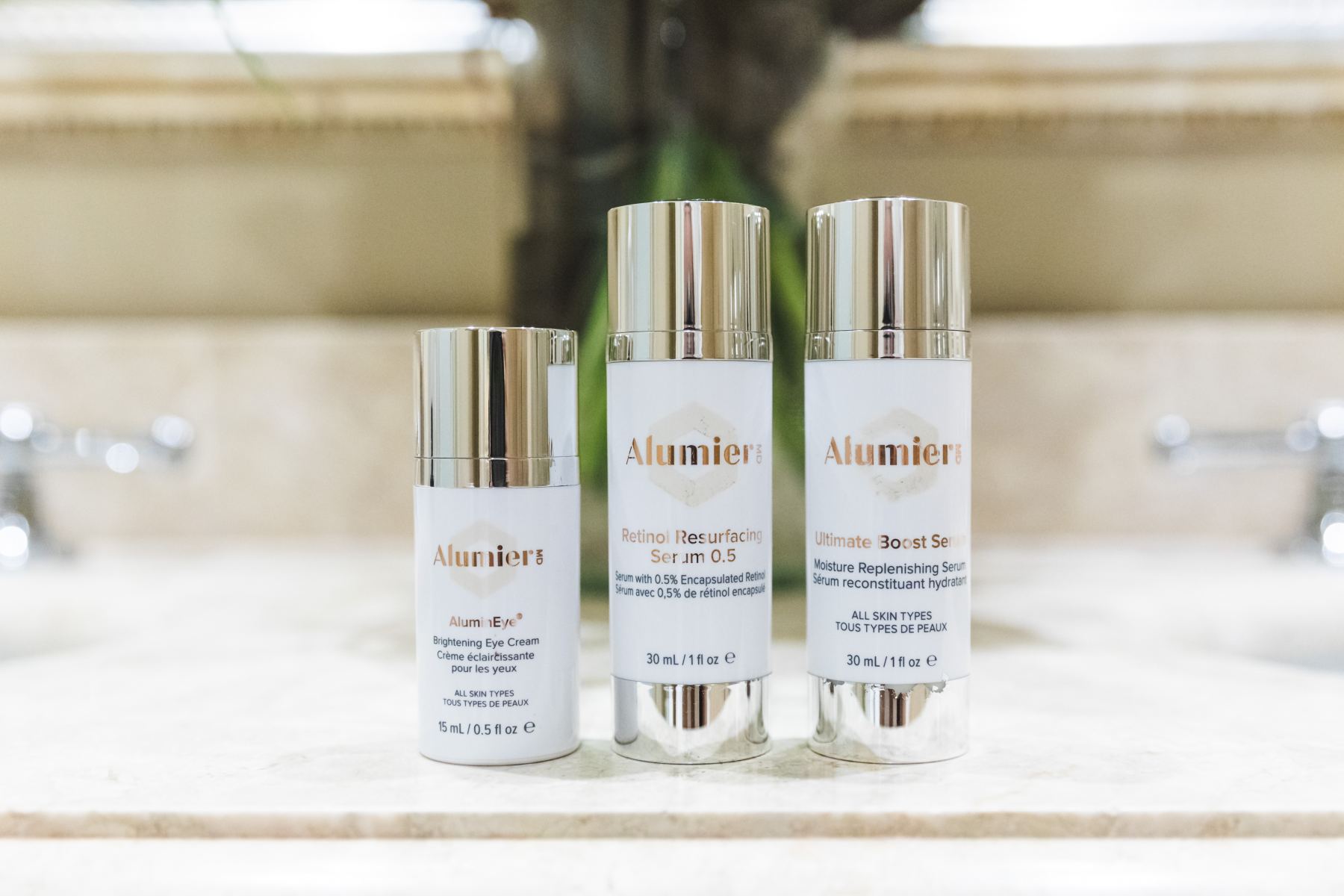 This is probably one of my favourite products. In fact what am I saying, I enjoy putting all of these products onto my skin everyday. But the texture of this serum is so light and refreshing that I almost feel as though my skin is drinking this up.
The AlumierMD Ultimate Boost Serum aims to aid hydration and reduce the visible signs of aging, lines and wrinkles with improved skin density and elasticity. Antioxidants also help to neutralise free radicals and protect the skin from future sun and pollution damage - so the serum almost aims to become a barrier to environmental factors.
So I apply this in a morning, after my Everactive C&E Serum as that hydrating and additional protective layer. And honestly, the difference this has caused to my skin in terms of its hydration and moisture, is incredible. My skin just looks so much plumper and hydrated than it ever was. And I also apply this all over my skin, missing the eyelids, but taking it right underneath my eyes this time. This serum is so light, that it won't affect the under eye area - rather it will help with extra moisture. 
After the Ultimate Boost Serum has been applied all over my skin, and under eyes, it's time to apply a slightly heavier cream to my eyelids. I don't know what I ever did in the years before I discovered eye cream was pretty darn necessary. I have suffered a few times with very dry eczema on my eyelids in winter, and it rang alarm bells that I most probably wasn't hydrating my undereyes and eyelids in the way I should be. But ever since using the AluminEye eye cream, I've had no dryness and makeup appears to sit much better under my eyes.
The cream is rich, but not thick - easy to pat into the skin and sinks in swiftly. The medium texture is packed with peptides that help to reduce fine lines and wrinkles by stimulating collagen and elastin in the area - and don't we all want that in abundance. Under eye circles are also reduced by clearing darker pigments from within the skin and light-reflecting and soft focus ingredients help to lighten and brighten. It's just one of those miracle undereye creams that is helping to combat the signs of aging, protect the skin from the environment and lighten the darkness of the undereyes. I apply it morning and evening, just a small 1 pump amount, onto my ring finger before patting into the under eyes and eyelids, right after the Ultimate Boost serum.
Frustatingly, this is the only product not shown here. Yes, if you can believe that there is another product in this routine. I had used up my acne serum a few days before I took these photos, and threw it away not thinking about this shoot. Therefore, I am so sorry it's missing, but it's another part of my routine so I definitely didn't want to exclude it.
The Acne Balancing Serum is again a very lightweight, gel consistency and serves the purpose of reducing acne and preventing new pimples from forming. And whilst I don't actively have acne, I do often get break outs that scar my skin extremely badly. And so anything I can do to stop that happening, I will do. The serum contains anti-inflammatory, antibacterial and hydrating ingredients that target redness and acne. Salicylic acid (2%) cleans the pores and exfoliates the skin whilst further ingredients work to fight inflammation and bacteria on the skin - to soothe, calm and prevent further spots. This serum also does so much more, such as protecting against free radicals and pollution, and moisturising the skin. It really is an all round must have in my books. And since using it, my break outs have been few and far between and my face heals so much faster.
I apply one full pump amount onto my fingertips and apply this after the Ultimate Boost Serum and before moisturiser.
The winner of one of my favourite moisturisers ever, would go to the AlumierMD Recovery Balm. This medium thickness moisturiser is actually given out in little packs every time you treat yourself to an AlumierMD peel, as the product is wonderful at soothing and calming the skin. (I like to keep these for all of my plane journeys). It's therefore formulated for post-procedure recovery, but my skin laps this up wonderfully, so I use it as my daily and nightly moisturiser too. I find it gives me the most dewy, hydrated looking skin ever, with soothing and calming ingredients such as aloe, honey and shea butter. Redness is also reduced by hinokitiol and sea whip, and copper peptide is used to rehabilitate the look of the skin - especially after treatments. But for every day usage, my skin just gains all of the benefits and more. I cannot speak more highly of the way this makes my skin look and feel - and if my skin ever has a freak out, I go down to just this one product alone for a few days, as I know it's going to soothe, calm and help my skin to get back 100%.
In the day or night, this is the step that follows the Acne Balancing Serum, before I use sunscreen. Just one pump of this onto your fingertips is enough, and the tube will last you around 8-10 weeks I find.
If I've learned one very important skincare tip this year, it's this. Use sunscreen daily. Regardless of if it's sunny, or cloudy, rain or sunshine, there are UV rays in the atmosphere that are causing damage to your skin - even through glass windows.
If you're using retinol, then this is an absolute must - because your skin is fresher and open to sun damage due to continued retinol usage. So if you're using retinol, you absolutely must use sunscreen everyday. But even without retinol, sunscreen is an essential.
The AlumierMD Moisture Matte (suited to normal to oily skin), honestly, has become my foundation on most days. This is a sunscreen product with added tint, that is not only protecting your skin, but boosting the colour and tone to make your skin look healthy and radiant. This is matte, but honestly, over the top of my skincare routine, the radiance of my skin and the product beneath, give my overall skin a dewy, hydrated look that isn't matte at all. Which suits me perfectly.
But the point of this is to protect the skin from UVA and UVB rays - which is why the product contains a Broad Spectrum sunscreen SPF 40. The formula is also moisturising, smoothing and hydrating, and colour-encapsulated beads within the white cream, create a sheer tint and healthy glow to the skin. I have the shade sand for pretty much every day and I adore the healthy glow it gives. I apply a tiny bit at a time to my fingertips before working it into small sections of my face at a time. I find the colour disperses better that way.
Where to buy AlumierMD
And that is my entire routine from start to finish. It has massively changed my skin, to a more normal, hydrated, smooth texture, wonderful radiance, dewiness and very few pimples or breakouts. But not just on the surface, my skin is now hydrated from within rather than just the top layers, it has a faster rate of recovery from break outs, it is cleaner and less likely to break out or flare up and the pigmentation and health of my skin is finally being looked after properly. Plus the sunscreen doubling as my foundation is a winner for me.
I am hooked, and haven't wanted to veer away from a primarily AlumierMD routine now since I started using it.
If you're interested in finding out which products might work for you personally, AlumierMD only stock via their own website (via a special login for customers) or via specialist clinics - of which there are hundreds of clinics that stock AlumierMD. You cannot buy the products freely in a store, because these are cosmeceutical products that require an expert to help you find a routine that suits your skin. They do not want you to buy products that don't suit your needs, so they require you to come along to a clinic and have a consultation with a professional first - which I personally love. Why spend hundreds of pounds continuously on skincare from the pharmacy that just isn't suited to your skin texture and won't actually help you aid your issues. Rather, you can visit a clinic that will select the products that will work for you - and the money you spend will be far better spent.
If you have any further questions, about AlumierMD or about the products I use and my routine, I'll be getting back to all of your comments, so let me know if you need any more information.
Sign up here for a weekly catch up of everything Inthefrow