18.07.2018
What I Wore and Ate in
Amsterdam
A few weeks ago Alex and I had the opportunity to spend a weekend in Amsterdam and honestly, it might now be one of my favourite places. Head over heels, faster than you can say Stroopwafel in love and I for one, cannot wait to return! The architecture, the people, the food, the hotel - it was the perfect combination for us to enjoy a full weekend together exploring a city I had never before set foot in.
I had a list of recommendations, mainly food related let's be honest, that would've needed a two week stay to complete, but we did manage to fill our time to the brim with incredible experiences. So many incredible experiences of course warranted some equally beautiful outfits, and so many lovely outfits meant Alex kindly documented every look for me. So here it is, a weekend in Amsterdam in outfits.
And if you're more interested in the food than the looks, (no judgement from me!) take a peak at the vlog below to drool over some of the most delicious food I've ever eaten and to see some of my looks in action! I've left my best restaurant recommendations right at the bottom of this post too!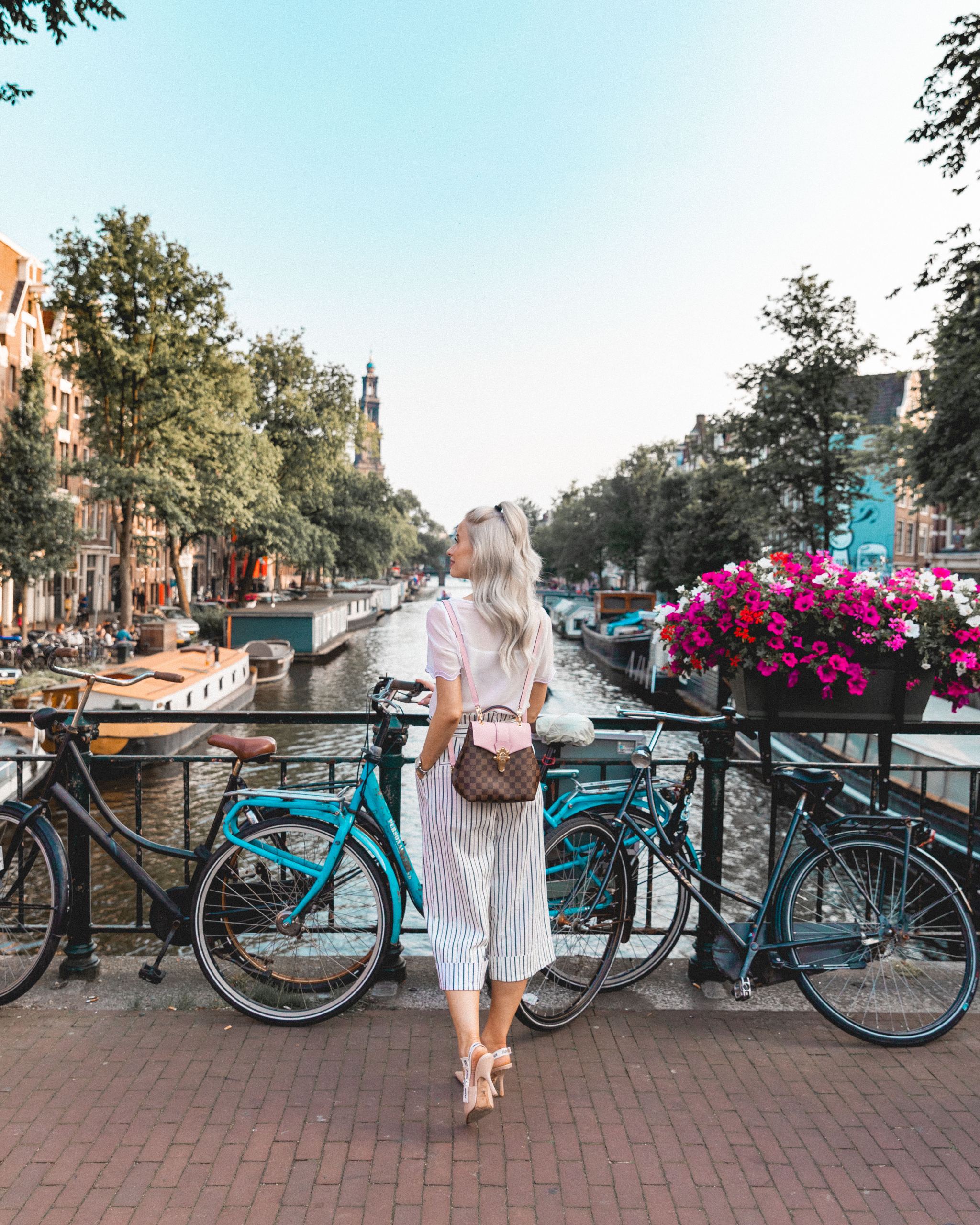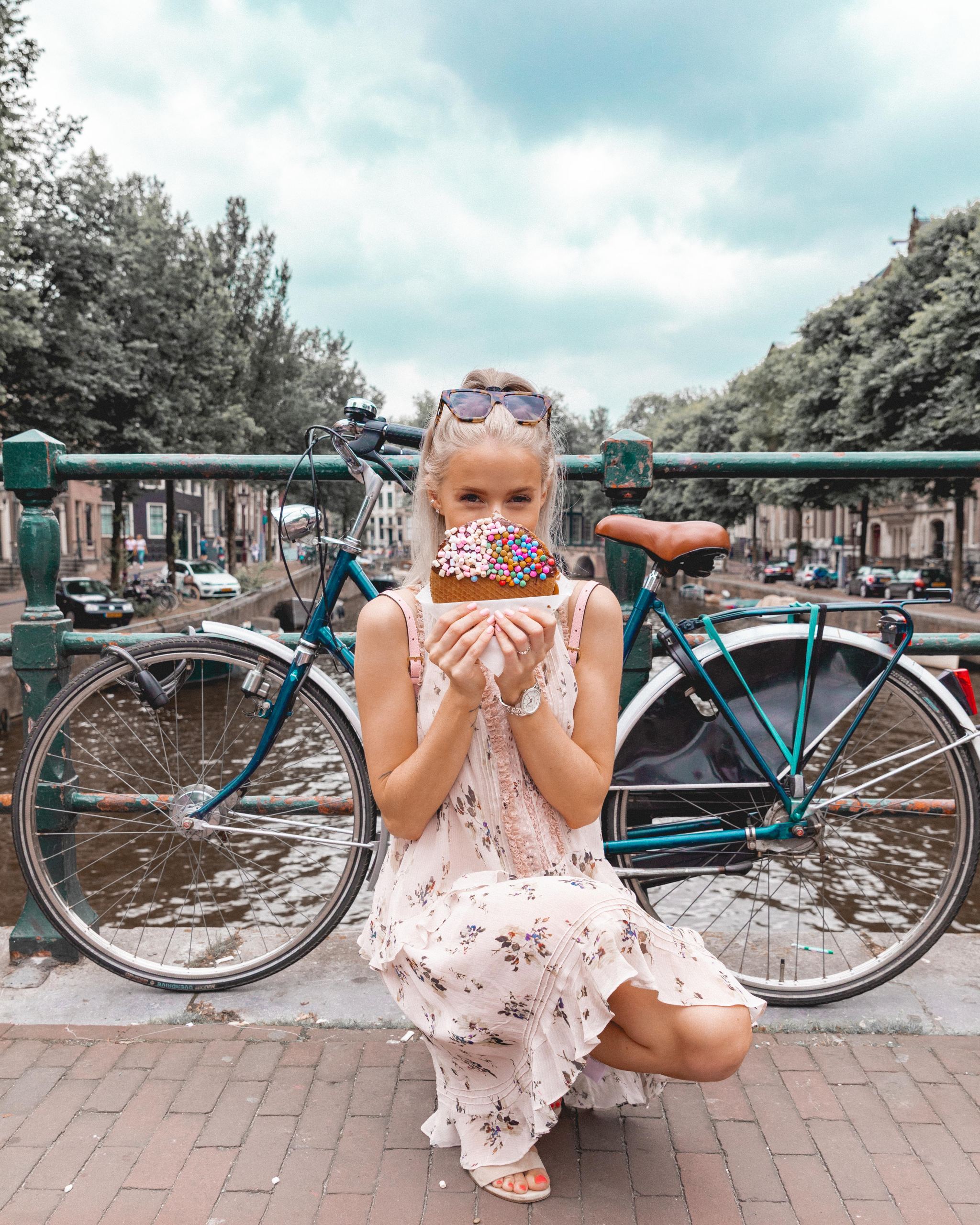 THE TOURIST 
If there was ever a more 'Amsterdam' image than this, I couldn't tell you what that would look like. Standing overlooking the canals surrounded by bicycles, flowers and house boats made me realise why so many people have been shocked I've never set foot in the city before. It's simply beautiful from dawn to dusk and the views made me want to be a true tourist for weeks. As for the outfits, they may not be the 'typical' tourist look but they were comfortable, cool and I got the chance to break out my brand new Louis Vuitton backpack in the process - all boxes ticked in my opinion! These Alice + Olivia culottes are ideal for slightly warmer weather, with their loose cut and on-trend stripes, the Dior heels from the first look are possibly the comfiest pair I own and I could honestly walk miles in them, the All Saints dress is loose without drowning a smaller shape and as for the Louis, you can see a full unboxing included in the vlog below.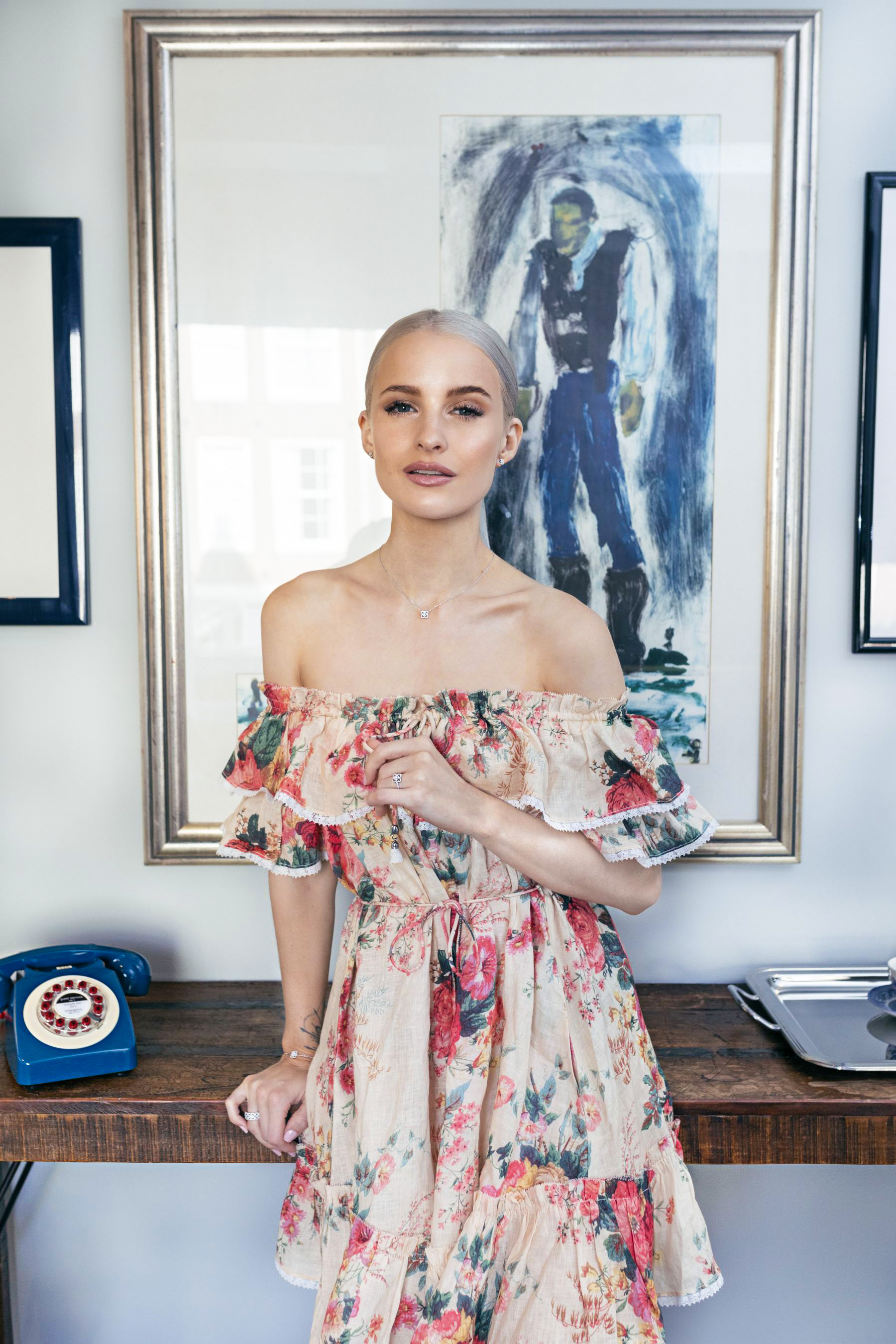 THE PHOTOSHOOT
After a little time spent exploring the city and making a plan for the rest of our trip, we decided to retreat back into the Pulitzer Hotel to take advantage of the beautiful building. Not only was the Pulitzer a great choice because of it's ideal location, the newly renovated interior was just exquisite and perfectly matched to my next look - I can't wait to stay here again! I was lucky enough to be creating content wearing these incredible De Beers jewels so my look was slicked back hair, a polished face of makeup and the most beautiful Zimmerman dress. The tie waist is incredibly flattering, the floral print is muted with a nod to the season and the off-shoulder is a style favourite of mine no matter what the piece.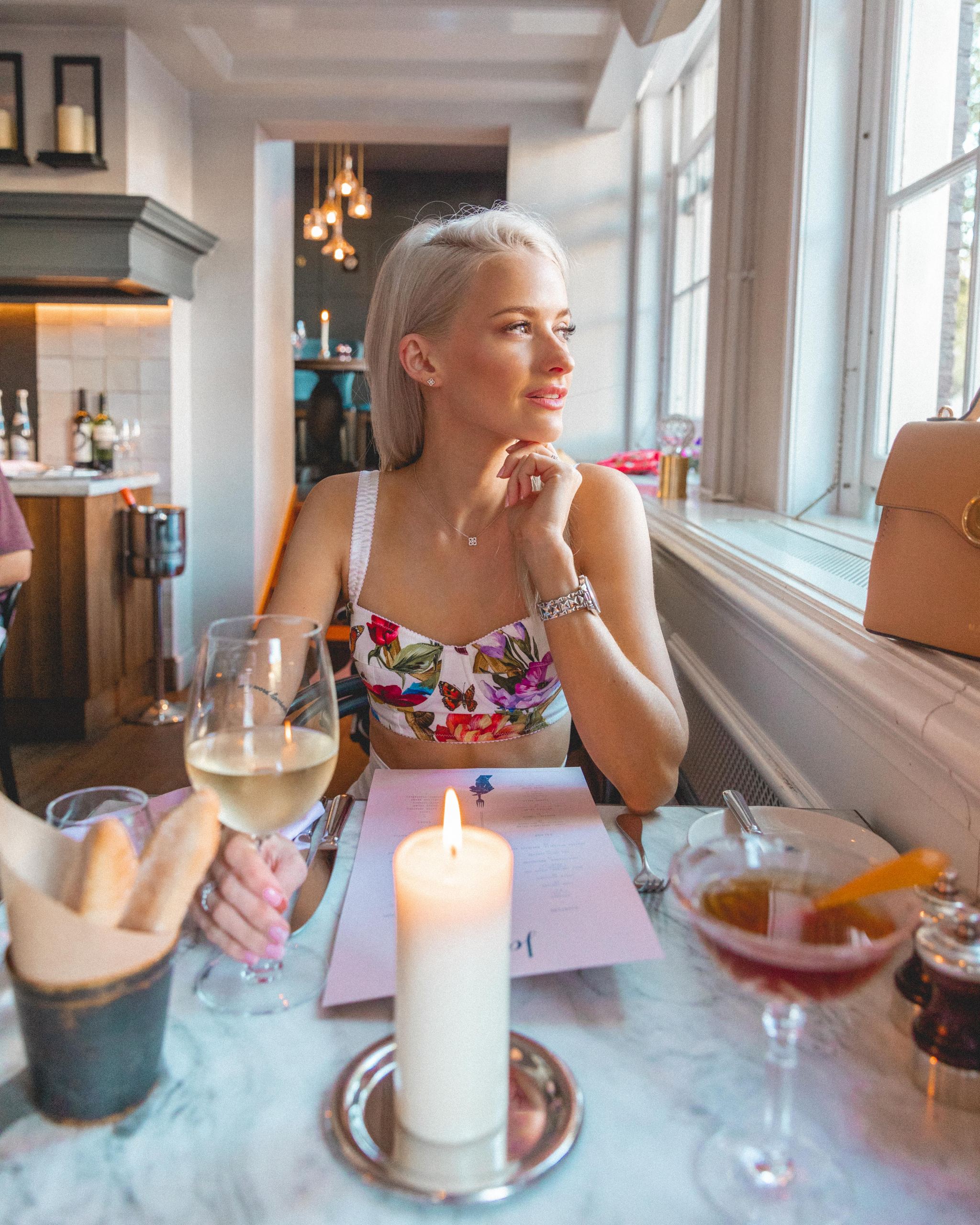 THE DINNER DATE
Then it was onto my favourite thing to do with my favourite person in the world, no matter where we are - a dinner date with Alex. I took the opportunity to dress up a little more, perhaps more than the locals expected judging by the reactions to this outfit, but nonetheless I wanted to feel great for our evening. I had to choose my newest Dolce & Gabbana addition for the occasion, this beautiful floral bralette in one of their many signature floral prints matched with my new go to Dolce & Gabbana printed courts too. Teamed with my current obsession of high waisted wide leg trousers in a bright white and of course some De Beers jewels I felt like I could conquer the world, or at least a huge plate of pesto pasta anyway.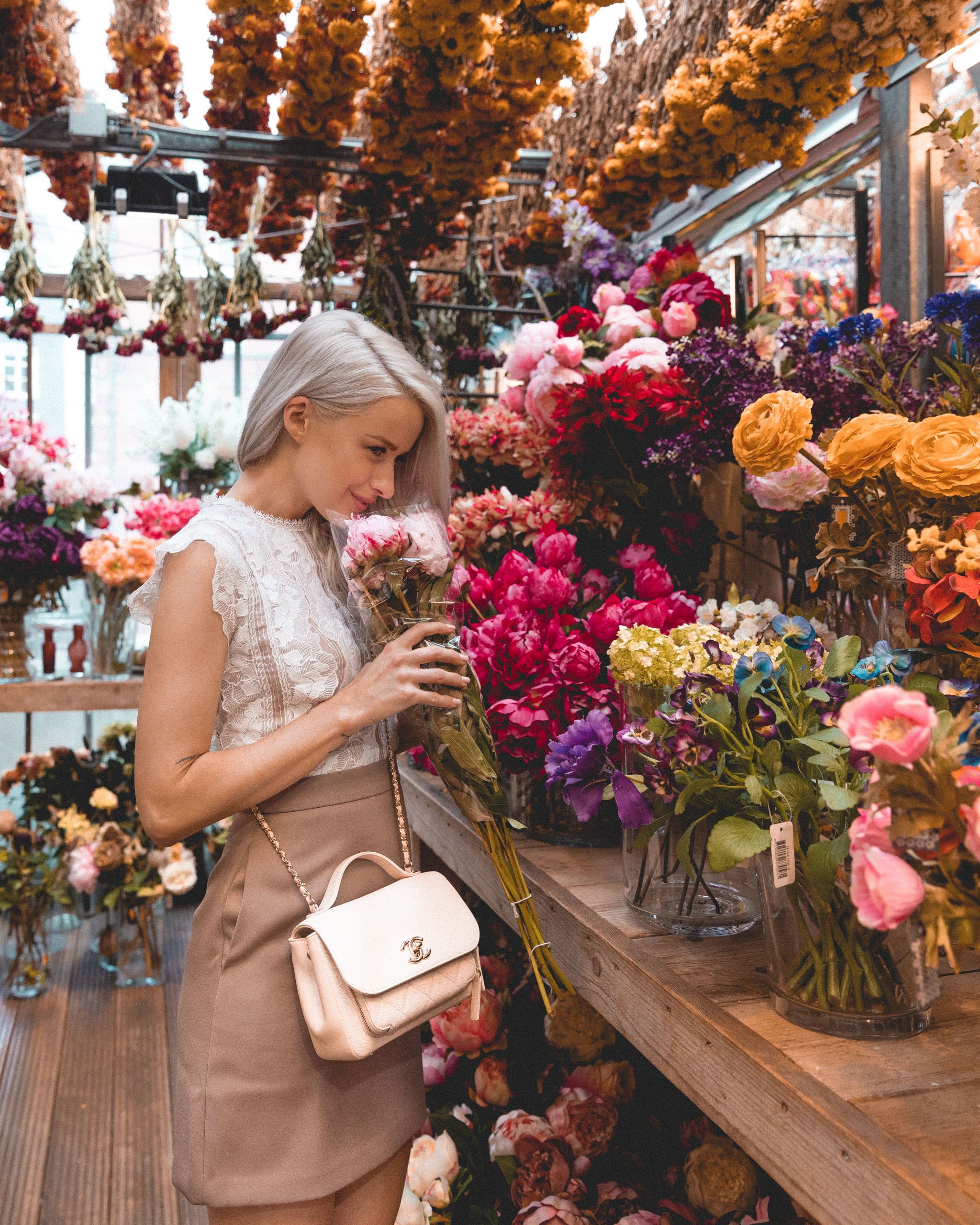 THE FLOWER MARKETS
On this first visit to Amsterdam we unfortunately missed tulip season which means we didn't get the chance to visit the tulip fields nor take part in the incredible festivals to celebrate the season so I had to make do with the next best thing; visiting the flower markets. Wandering around Amsterdam for me just wouldn't have felt the same without being able to see and smell some of the beautiful flowers you see in everyone's imagery of the city. For our last day, another day of being the most content tourists, I chose this beautiful mini dress that gives the illusion of a staple blouse tucked into a suede skirt teamed with my favourite Chanel mini flap bag. A chic, put together look for exploring a few corners of the city that we can't wait to return to see more of soon.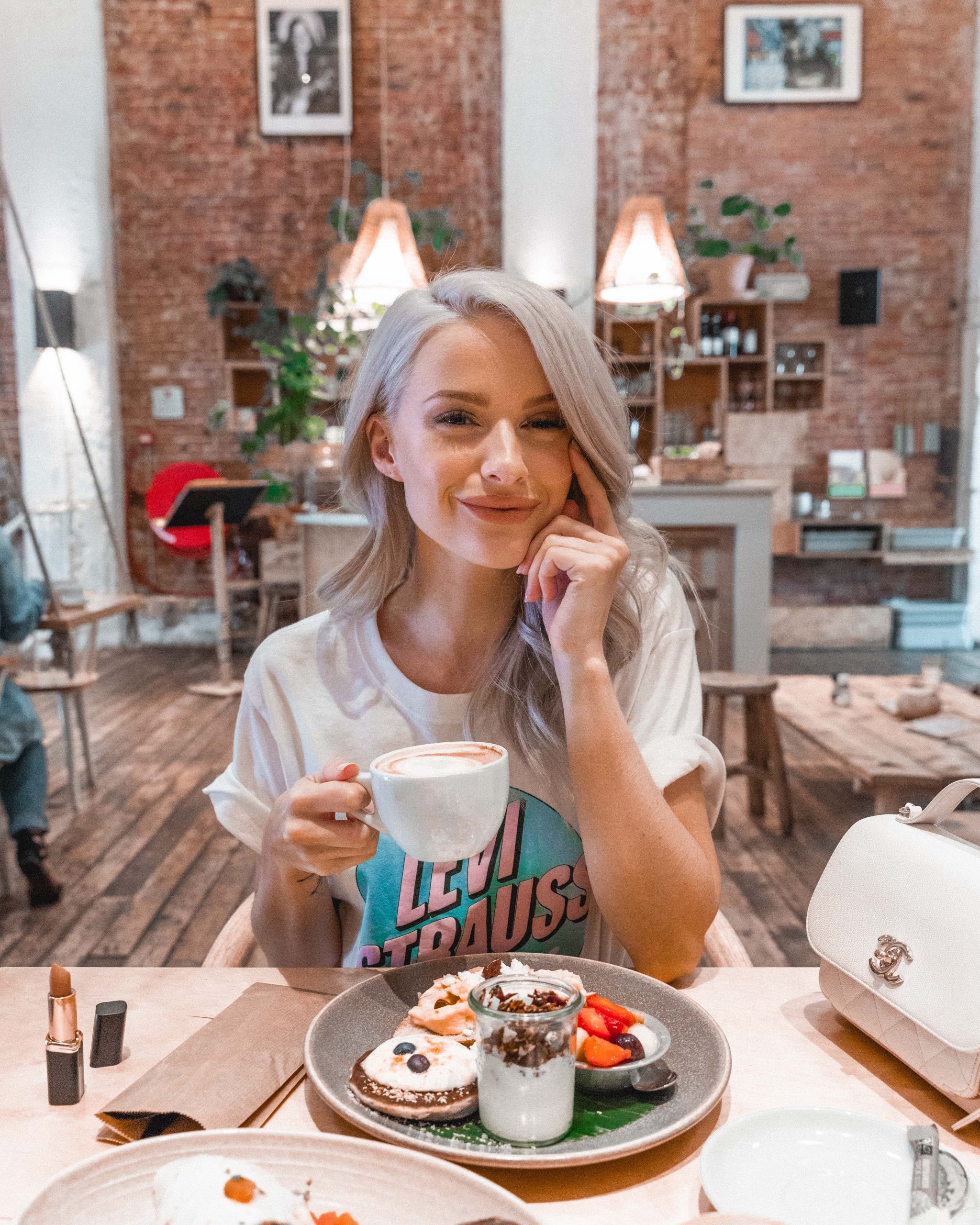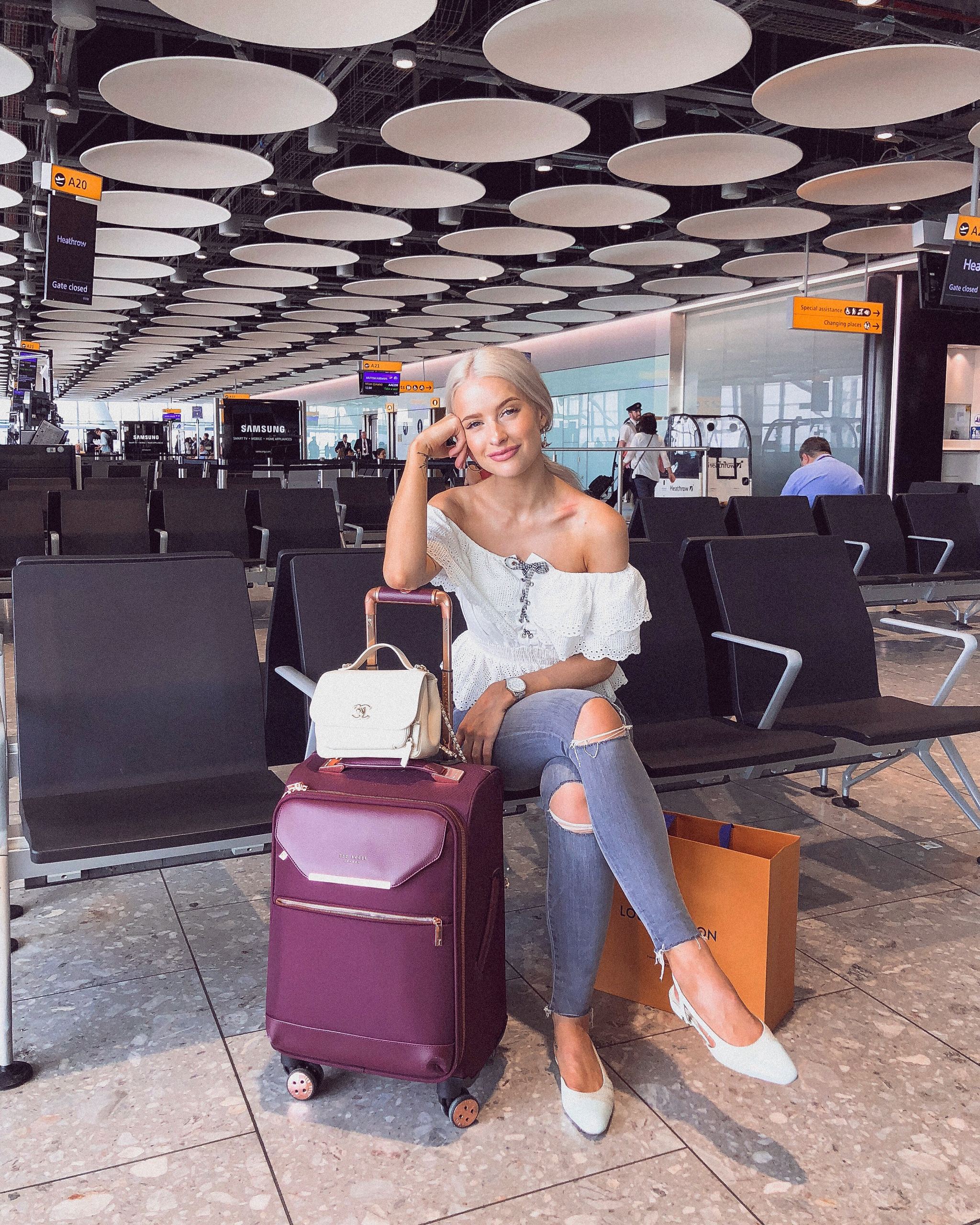 THE JOURNEY HOME
And with that, the all too short holiday was over and it was time for one last breakfast/brunch, which as you know is my favourite type of food, and a relaxed travel outfit to journey home in. Cue my newest Chanel shoes an incredibly comfortable flat slingback, a pair of my favourite All Saints distressed jeans because the flight was only an hour to get us home and my trusty Ted Baker suitcase to hold all my worldly goods. I cannot wait to return to Amsterdam, hopefully sooner rather than later and I hope you enjoyed a closer look at some of my favourite looks from our time well spent in the city. See you soon Amsterdam - you and your delicious stroopwafels.
Sign up here for a weekly catch up of everything Inthefrow