13.07.2018
Summer Trends:
Slingbacks and Stripes
I'm a big fan of summer fashion. When it comes to styling myself for events, for date nights and even for once in a lifetime road trips through the Alps, Summer makes it all so simple, lightweight and so much fun. No layers needed, just key transitional pieces that you can mix and match with the most bold of accessories and the chicest of settings.
Take this outfit, matched (accidentally) perfectly with the incredible vintage Bentley if I say so myself, but it screams playful, fun and chic - the epitome of what Summer styling should be. A pop of colour, the biggest sun hat I could find and an outfit to take me from driver to passenger in the blink of an eye. If only Alex could drive.
This Summer I've seen an abundance of sleek stripes, my favourite slingback style gracing everyone from Princesses to Bloggers, and the revamp of the holiday tote into a luxury wardrobe addition. Here are my favourite Summer trends right now and what I think you may like to add to your wardrobe before the season is out.
CHIC SUMMER STYLE
My Summer style is still very much my year round style. You'll find me styled in tailoring. albeit made from different lighter weight fabrics, and loving my luxury accessories as much as I do in the Winter time. Stripes are once again huge this season and there are numerous ways you can take the look from casual to occasion without feeling like you're buying into a trend that won't last long enough to get your cost per wear. The great thing about seeing stripes on so many different catwalks last/this year, is that it means there are a huge amount of styles, colours and items you can purchase to fill that striped gap in your closet.
Whether you'd prefer to be wearing bold graphic stripes or Parisian chic stripes, you can tailor this trend to what makes you feel your most confident. From Dior showing their striped slogan tees again, to Christopher Kane's bold striped dresses for resort 2018, all the way through to the Pre Fall collections at Paco Rabanne and clashing prints at Michael Kors. Proving this is one trend that will see you through more than just one fashion week and may even become a staple in your wardrobe - capsule or not.
CHOOSING THE ACCESSORIES
You can imagine my delight when the word 'slingback' was thrown into the hat for the trendiest shoe of 2018 as it's been my preferred style of choice now for the past 12/18 months. I invested in a classic nude Dior slingback in early 2017, convincing myself it would 'go with everything' and I'd definitely 'get my money's worth'. Turns out I was totally right. I've actually just invested in my second pair, seen here on my way through Austria with Bentley and I am currently eyeing up a third addition because there are so many out there right now. Those nude heels slowly became my go to pair of shoes. Heading for a meeting? Slingback. Date night planned with Alex? Slingback. Walking the red carpet at Cannes? You guessed it - slingback.
Not only are they incredibly comfortable to walk in, offering the support that the on-trend mule of 2017 just didn't, they are incredibly classic and never fail to suit almost everything I'm styling right now. Choosing the right accessories for me is ensuring any accessory, regardless of price, will offer me comfort, durability and most importantly versatility. The Dior slingback has all three in abundance and investing in another pair of my most worn style was a no brainer. The same goes with my new Dior book tote despite it's bold colours and intricate pattern work. The heavy duty material ensures I can put the tote to good use and the size means it's the perfect travel companion whether heading to the pool in Santorini or it's being placed on the passenger seat of a vintage Bentley. 
THE FINISHING TOUCHES
I always like to keep my finishing touches minimal and more in-keeping with my basic/classic style than any other part of my outfit. You'll often find, in Summer especially, my choices of jewellery can be so minimal they sometimes don't even exist. Most commonly you'll see me alternate between my favourite watches, my Dior earrings that I almost never take out my ears, and generally embracing a more paired down look to let my outfit do the talking. A wide brim sunhat is a must for any sunshine holiday though, especially for saving your hair. Walking barefoot in the Maldives or having a picnic in Hyde park, you'll always need a classic straw hat. As for my beauty picks for the hot weather, who wants to be covered in layers of makeup? You'll find me for the foreseeable future rocking a light coverage base, a bronzed complexion and my ever faithful nude lip. You can find out more about my current choices for a 'glowy' Summer look here.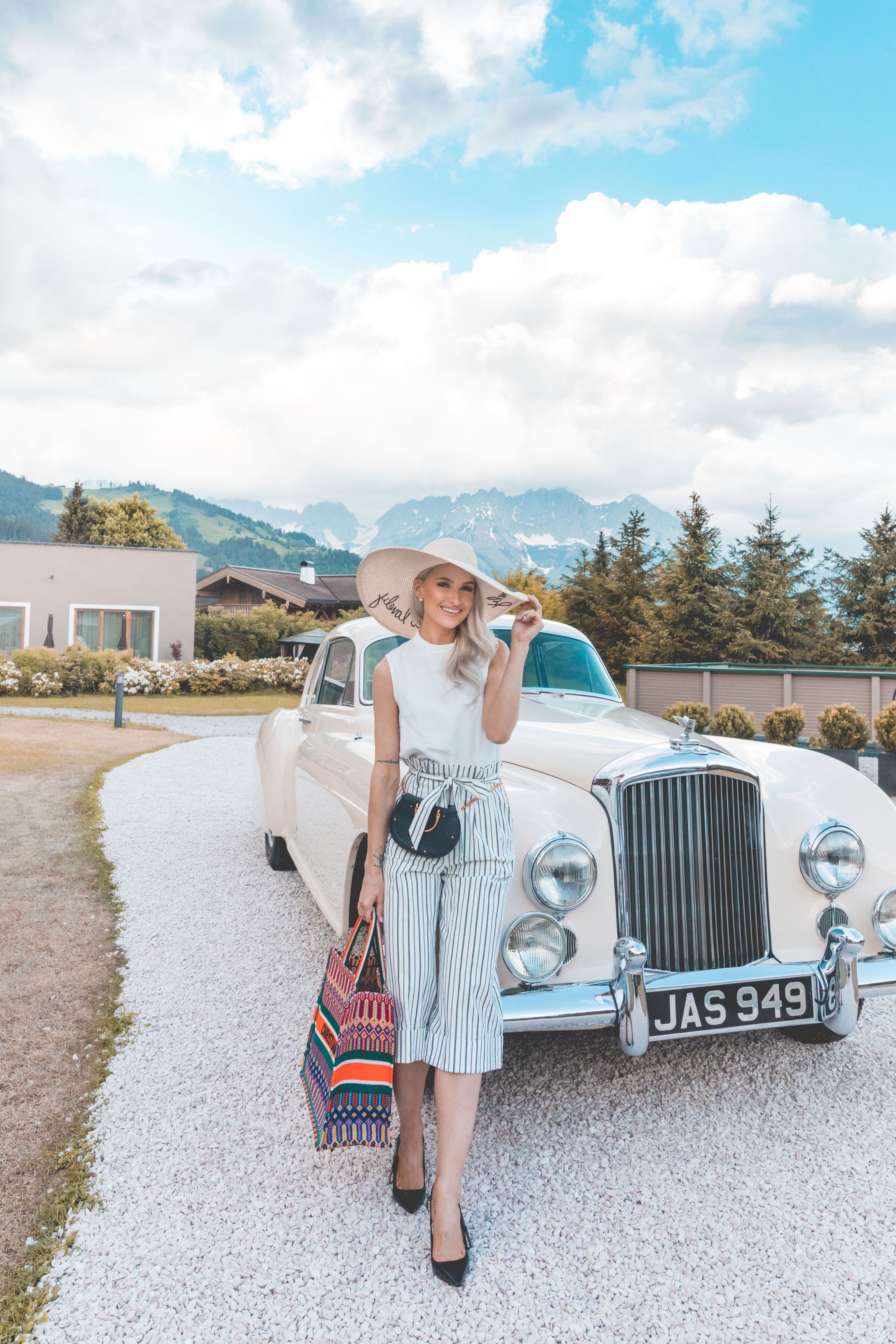 Sign up here for a weekly catch up of everything Inthefrow