01/06/18
Armani Beauty: What's New
If there's ever a beauty brand that has me running to the nearest beauty counter every time it releases both new makeup and fragrances, it has to be Giorgio Armani Beauty. I'm always so intrigued to see how the brand is developing, what they are creating and how they are pushing the boundaries of beauty and I am never disappointed.
Their newest collections are no exception and both the Tokyo Gardens Spring collection alongside the newest Neo Nudes release, have me experimenting with my Spring/Summer look and swooning over the 'no makeup' look that is so 'in' right now.
Teaming the new pastel eye tints with a more matte base, combined with a new way to contour, highlight and blush has provided me with a Summer look that reflects the sunshine beautifully, holds fast in the humidity and is ethereal in it's use of colour. Keep reading to find out why I love these products oh so much and why they'll be joining me on all my sunshine vacations this year.
Tokyo Gardens Collection
'Giorgio Armani beauty's Tokyo Gardens Spring 2018 make up collection is a tribute to the elemental beauty of Japan, a country beloved by Giorgio Armani himself.'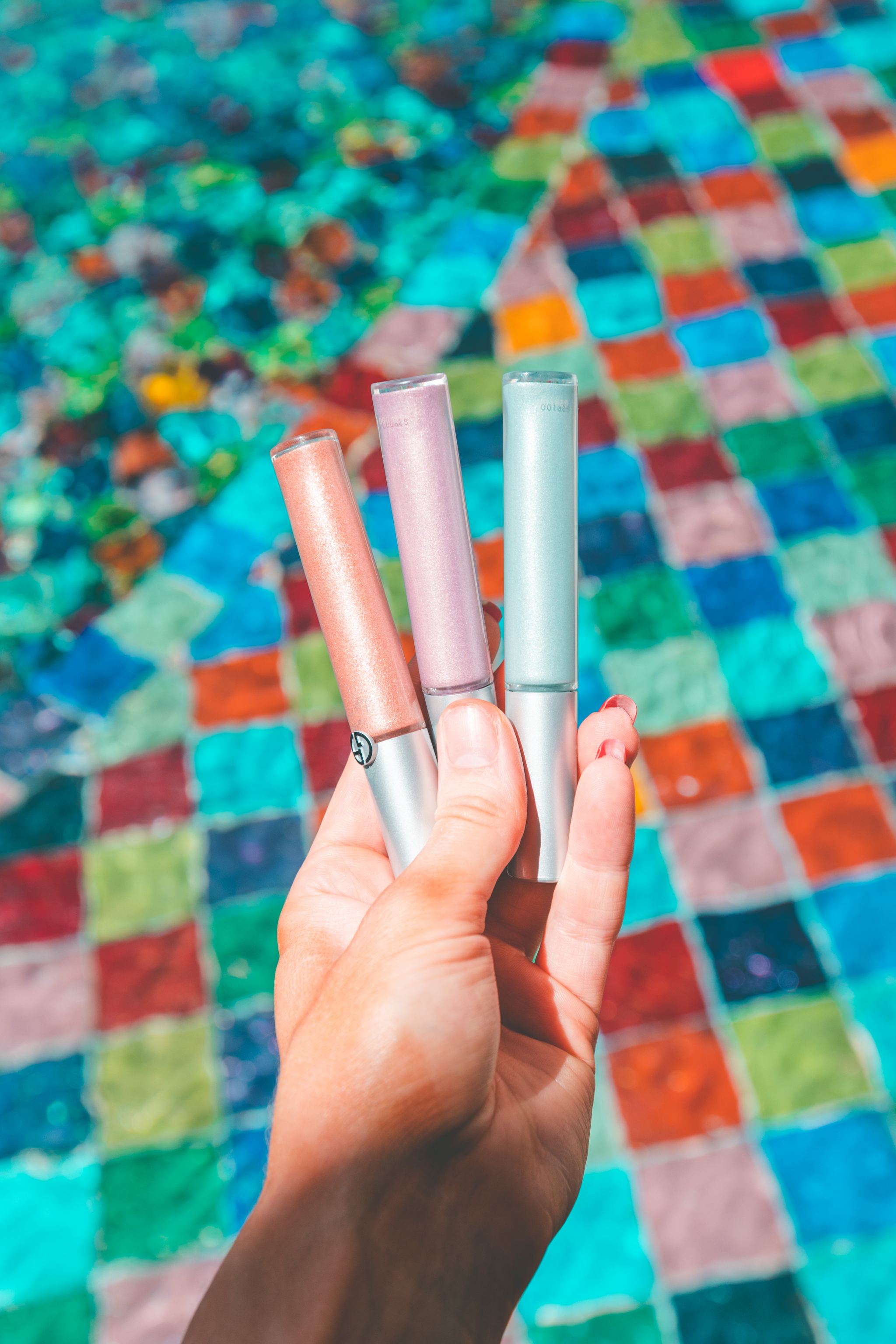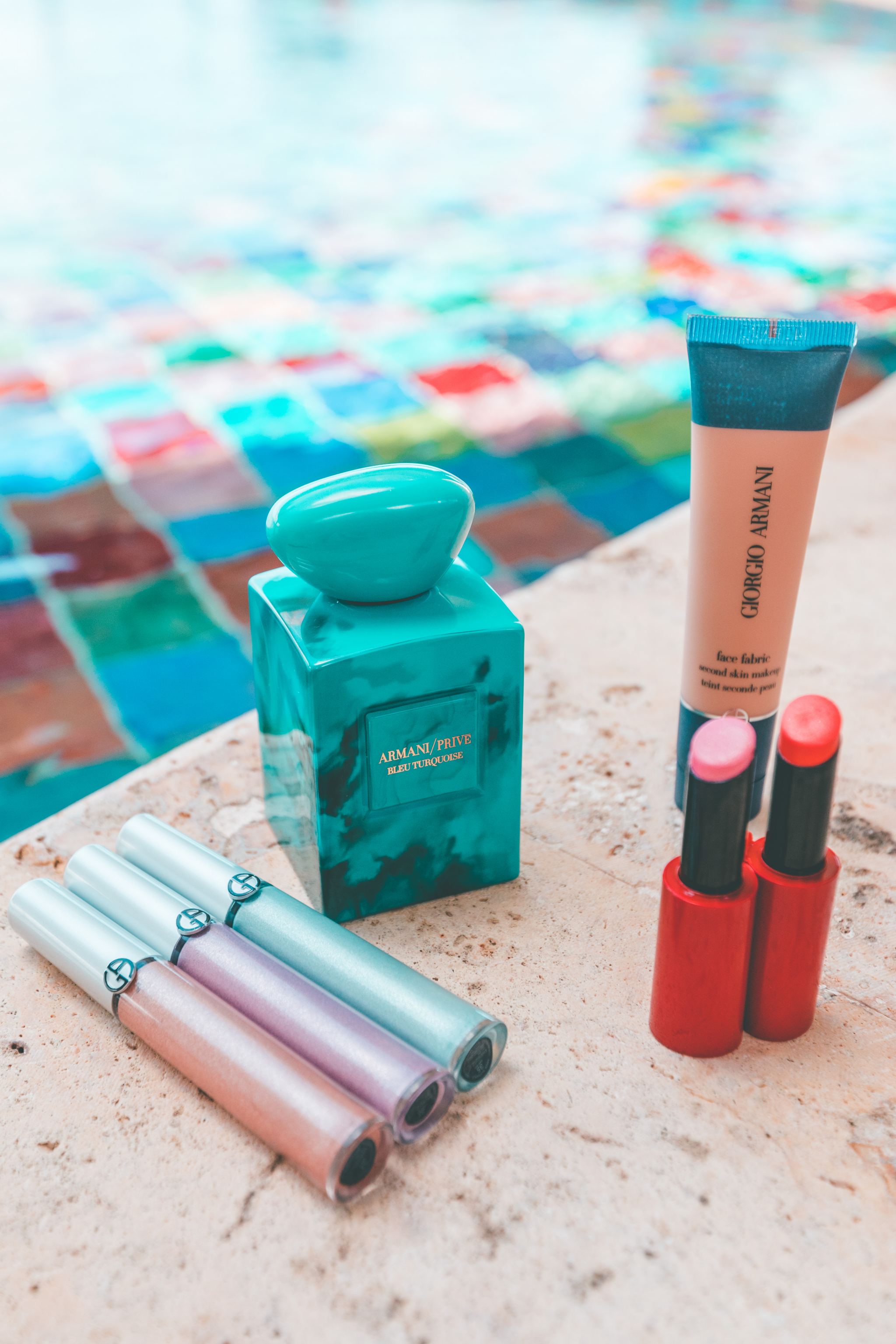 Tokyo Gardens Eye Tints
Possibly my favourite new release from Armani this year so far are the Tokyo Garden eye tints. At first glance the colours seem a little bold, after all a blue shadow gives you 80s flashbacks, but as soon as I started playing around with these I noticed just how wearable they really are. These tints are the perfect holiday makeup addition and even better – take no time at all to apply. The more you work with these tints the more sheer they will get, so my application of choice is to apply liberally over the eyelid with the doe foot applicator, to get the colour pay off you'd like, then use your finger on the outer edges to soften any product into a blend but still leaving pigment on the centre of the lid. I've been using all three shades together with Blue Reflection on the inner corner, Rose Reflection to the centre and Day to the outer – this creates the most beautiful shimmer and they catch the light perfectly.
Face Fabric Second Skin Makeup
If you know me well you know I love Armani foundations and you know that whenever there's a new release, no matter what the coverage type, I'm always so excited to test it out. Although not a part of the Tokyo Gardens collection it's the perfect accompaniment for the new products. Face fabric has been around for a little while now, but I was late to add it to my collection and I'm so glad I took a chance on something new to me and tested it on holiday. I'd describe Face Fabric as a velvet matte finish, it's medium coverage, buildable if needed but particularly great in a hotter climate. I usually prefer my Luminous Silk or Maestro Glow as I adore a dewy, natural finish, but being able to lock everything about this look in place while the humidity was so high, was much needed. An ideal warm weather foundation if you need good coverage and a blurring touch. My perfect match is shade
Tokyo Gardens Ecstasy Lacquer / Tokyo Gardens Ecstasy Shine
Talk about a lip dream team! I already love the Ecstasy shine range and often reach for a number of shades from the range because of how the lipstick feels. Not only does it have great colour pay off in the bolder shades like my favourite Androgino and Ecstasy but the colour glides on so smoothly, it's akin to applying your favourite lip care rather than a lipstick. The lipstick is classed as a lip cream with it being so comfortable to wear all day and leaves your lips feeling plump and moisturised. What I love about the new Tokyo Garden shades are just like the eye tints they have chosen beautiful colours that you can choose to sheer out, perfect for those summer months and easy to swipe on without a mirror. My favourite shade is definitely Sakura. And for that pop of lacquered shine? The Tokyo Gardens Ecstasy lacquer amps up the shine but doesn't add any stickiness. Use alone to team with the beautiful eye tints or layer over a preferred colour to add another dimension to your look. I love the shade Luce.
Neo Nude A-Contour
If you've ever been too scared to try contour or are wanting a more natural, subtle way to define your features, the new A-Contour is the perfect addition to your makeup bag. I can't tell you how easy this product is to not only use but to blend too. The water based formula means the colour melts into the skin base and is easily worked in with either fingers or your preferred tool, I always have a medium sized contour brush to hand, but the beautiful grey undertones leave you with that perfect shadow rather than the harsh sculpting we have been so used to seeing. Number 20 is my shade.
Neo Nude A-Blush
Similarly to the A-Contour the A-Blush is a beautiful, subtle wash of colour that is buildable if you prefer but gives you a natural flush of colour at first application – perfect for that Summer holiday glow from within. The A-Blush has a really natural pay off so don't be scared by the looks of the shades in the bottles, I know liquid blush can have you imagining clown cheeks faster than you can say blend. I love to add this to the apples of my cheeks after my contour is blended and I work the colour upwards with a brush to really give my face a barely there warmth. I love shade 50.
Neo Nude A-Highlight
I am always up for adding any new highlight to my collection, the 'glowier' the better, and the new A-Highlight has joined me in India, St. Lucia, Cannes and everywhere inbetween since its release. You will know if you've followed me for a while now that a liquid or cream highlight is my choice when it comes to my glow and I love how I can layer this new release from Armani without fear of texture or dryness as with some products. My favourite shade is number 10 patted on my cheekbones and cupids bow with just my fingers to reflect the sunshine like with this full Armani look in St. Lucia.
Neo Nude Fusion Powder
The new Neo Nude Fusion Powder just screams innovation with it's powder to liquid transformation and I can't get enough of it's luminous finish. The product itself is so light it doesn't feel as though you've added anything onto to your skin, but the real seller for me it's multi-use as both a veil for a natural medium base or as a bronzer with a darker shade choice. The compact is beautifully smooth to apply whichever way you choose and it melts into the skin giving you enough coverage to go without added concealer or more coverage over your foundation of choice. I love shade 5.5 for my base and 8 to add warmth. You have to try this to see just how innovative it is!
Armani Prive Bleu Turquoise
'Captivated by the spiritual land and nature of India, Giorgio Armani dedicated the newest additions of 'La Collection des Terres Précieuses' to his vision of India.'
Bleu Turquoise
No surprises here that I was beyond excited to see another scent added to the Prive range, this time a close contender for my favourite fragrance in the range. You've heard me talk about Rouge Malachite so often and the Christmas edition of Pivoine Suzhou but Bleu Turquoise has something different for the range. It's inspired, as the brand says, by spiritual journeys to exotic lands and is a very deep, sumptuous scent – not for the faint hearted. The notes of jasmine and sandalwood are two favourite ingredients I have a lot of in my collection but combined here with vanilla and ylang ylang creates a scent I have never experienced before. There's also the beautiful new Bleu Lazuli if you love warm tobacco scents mixed with tea.
I'd love to know if you've got your hands on any of the pieces from the new Armani collections or if there's anything you're lusting after? Let me know below if there's anything I haven't yet tried that I might love too!
How I Got The Full Armani Look  
Sign up here for a weekly catch up of everything Inthefrow