28/05/18
The Luxury India
and three beautiful cities
So my trip to India, where do I start. Firstly the feedback on my images has been unlike anything I've ever received. I couldn't count on two hands how many people, in person, have told me they now want to go to India because I totally changed their perception. I mentioned it within my vlogs that I filmed there, about the way that the U.K. media portrays India – not necessarily negatively, but just never sharing any positive news. But I guess, why would they share wonderful news from another country – that doesn't happen often anyway. But alas, I had a perception of India before I travelled there, and it would seem a lot of people had/ have the same perception. And the fact that my imagery and vlogs changed their thoughts on it, makes me extremely happy.
Mainly because it was simply amazing. Me and Alex agree, that it was one of the best trips we've ever taken. Visiting Mumbai, travelling to Jaipur, over to Hyderabad and then back to Mumbai in 9 days, staying in Taj Luxury Hotels and being treated like royalty. It was an experience of a lifetime. And honestly, you could experience the very same thing if you fancied visiting India. I thought I'd tell you what we did and how we did it, in case you'd really like to do the same.
Travelling with
Jet Airways
Starting off, we travelled from London to Mumbai with Jet Airways business class. I'd probably say it was one of the best business class experiences I have had the pleasure of trying. The staff were wonderful, the seats were extremely comfortable and the cabin just felt quite cosy. It was relaxing and comfortable with an awesome selection of films and a great menu, mainly Indian based. I'd highly recommend their services if you're flying to India, it was truly one of the best – and they haven't asked me to say so.
If you're interested in the multi-city trip that I experienced, flying from London to Mumbai to Jaipur, (you need to take a different airline from Jaipur to Hyderabad), but Hyderabad back to Mumbai, JetAirways offer a multi-city trip from £668 pp in economy.
After the 9 hour flight, we got to Mumbai airport, into a cab, and off to the Taj Mahal Palace Hotel. This hotel is seeped in history since its creation in 1903. You may be aware it was the location for one of the horrific terrorist attacks of Mumbai in 2008. However, the hotel has rebuilt, instated necessary security measures for all guests and now feels safe and perfectly secure. I only mention it because I feel like some might remember this fact; and I wanted to ensure you that it should absolutely not sway your feelings towards visiting now.
The hotel resides right next to the Arabian Sea, overlooking the Gateway of India. It was built by a gentleman named Jamsetji Tata, the founder of Tata, who wanted to bring a hotel to Mumbai that welcomed everyone and anyone, and was worthy of Bombay. It is a truly stunning hotel, with lavish, opulent features, incredible restaurants and a beautiful pool to the outdoor. The service is impeccable and the rooms are fantastic. If you're visiting Mumbai, I would honestly stay or visit if you can.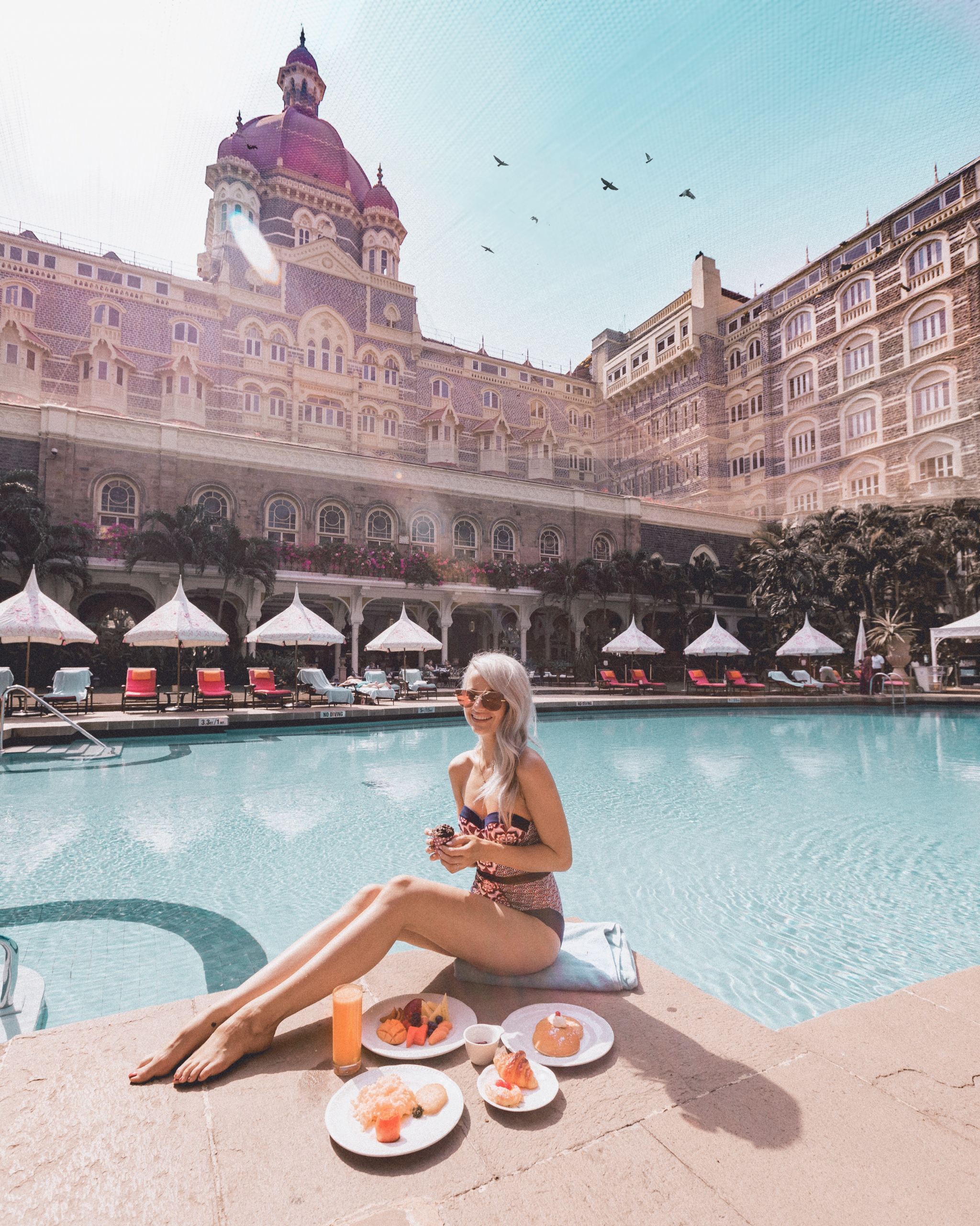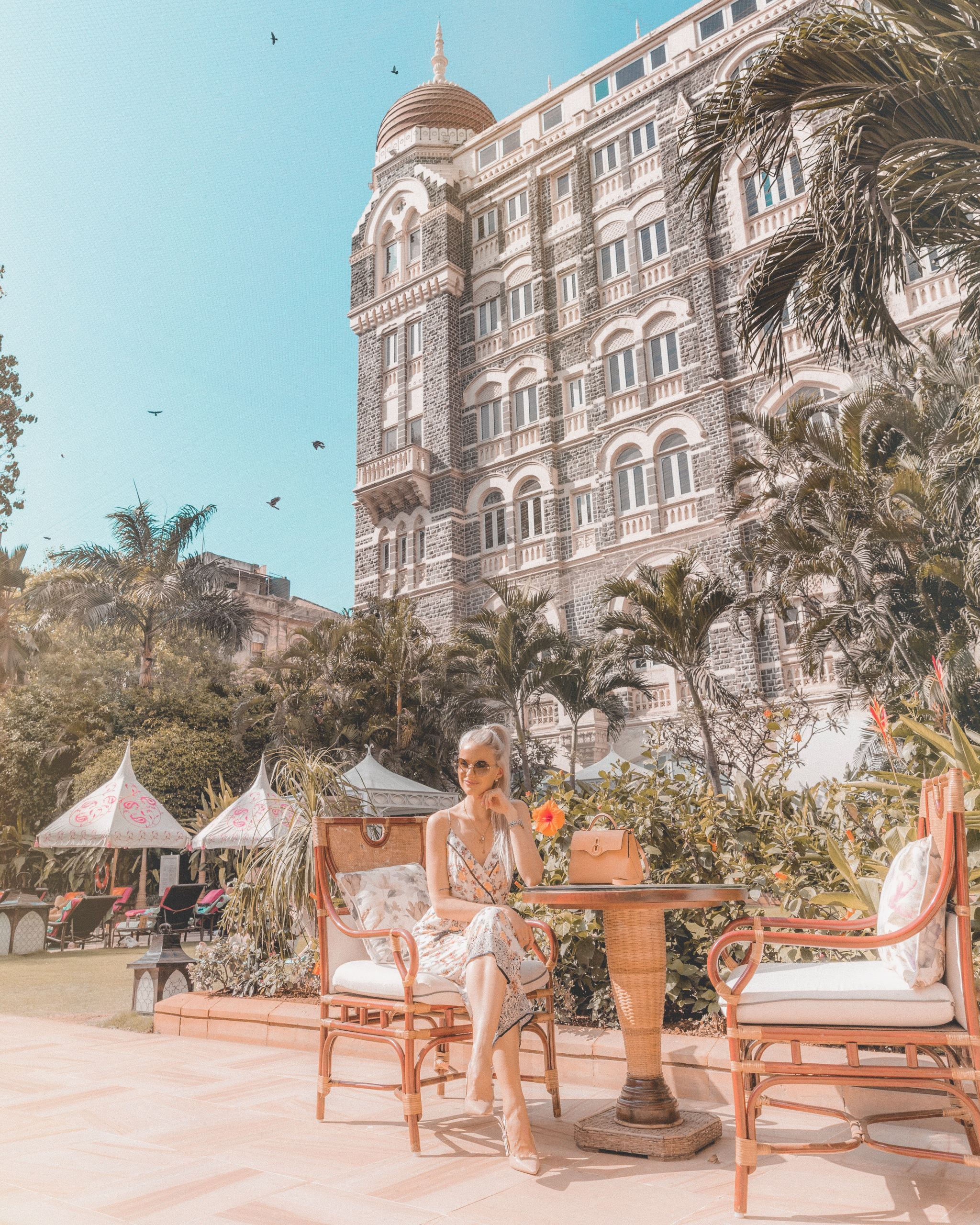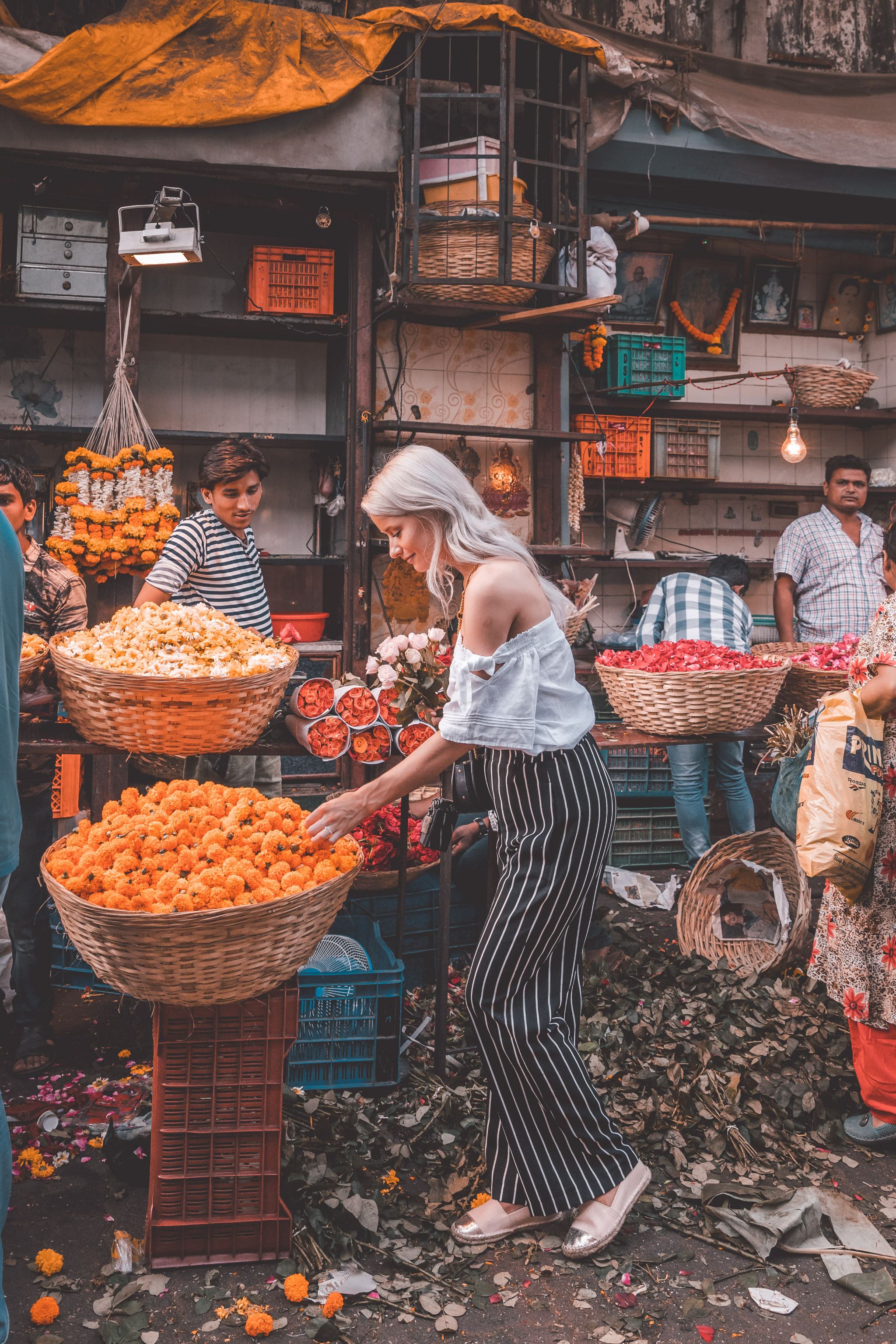 Mumbai
Mumbai is so full of life and culture. It blew us away entirely. We went on the most amazing walking tour of Mumbai in the early hours, starting off at 4am, making our way to the fish markets, to the flower markets, veg markets and to the newspaper sorting areas. The people of Mumbai were just getting on with their day, doing their work, minding their own business and generally welcomed us with smiles. I can't recommend this more. Just book with @nfpexplore, send them a message to ask about it – we had Addy show us around and he was truly so brilliant!
Nearby to the hotel are also a number of gorgeous shops, especially interiors based that you should definitely check out. And just walking around this area and visiting the nearby hustle and bustle is definitely a must see.
Its worth noting – in India the etiquette is usually to cover your shoulders and knees as a female. However, Mumbai is a little more accustomed to being a tourist spot and so we were told multiple times by people who lived there, that it wasn't entirely necessary to cover your shoulders in touristy and busier areas. Any holy places you must cover up though. In other areas of India, or anywhere you may feel a little unsafe, it's better to carry a shawl to cover up if you need to. In these photographs my shoulders are uncovered, and our tour guide felt I was appropriate and safe to dress this way for where we were at the time.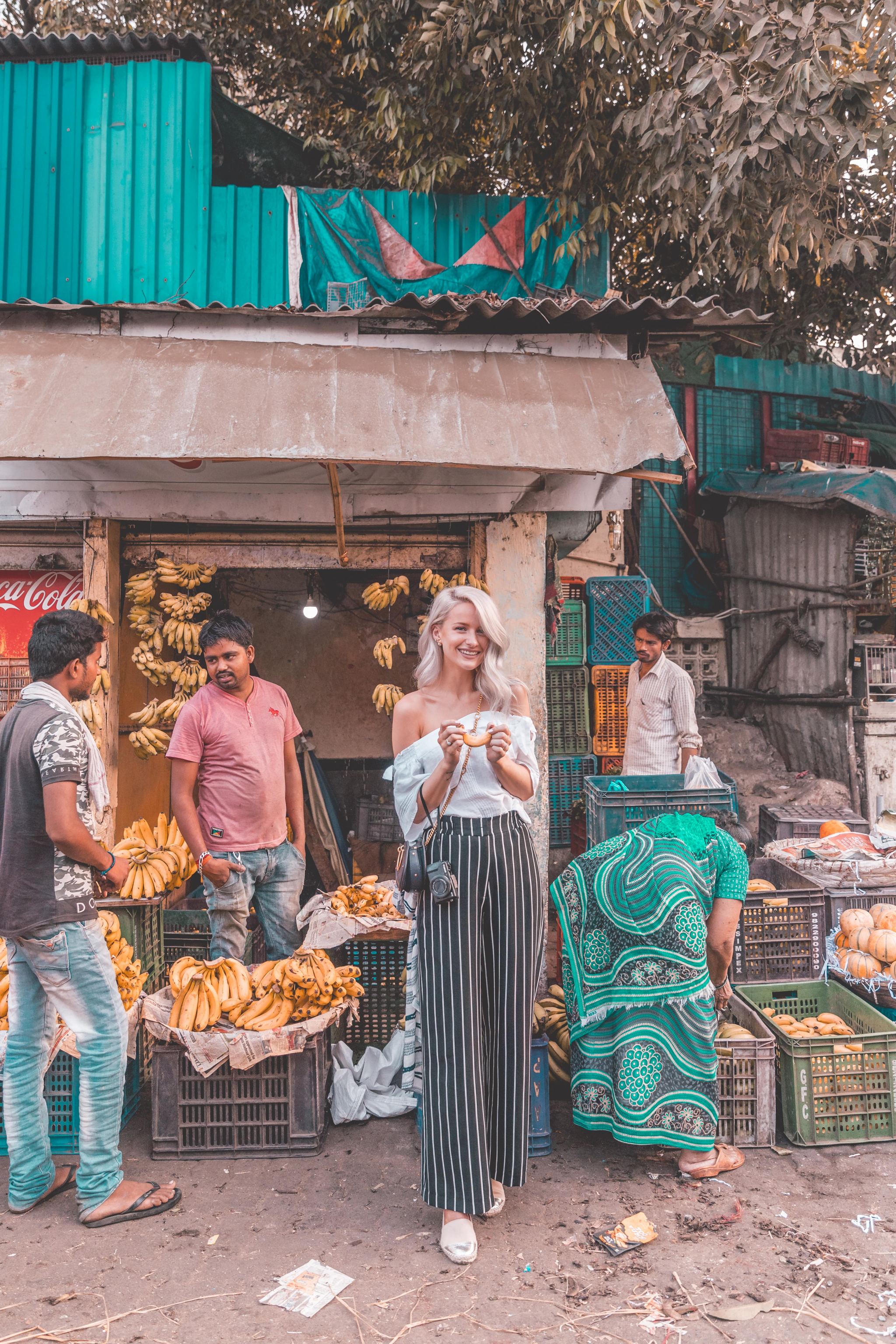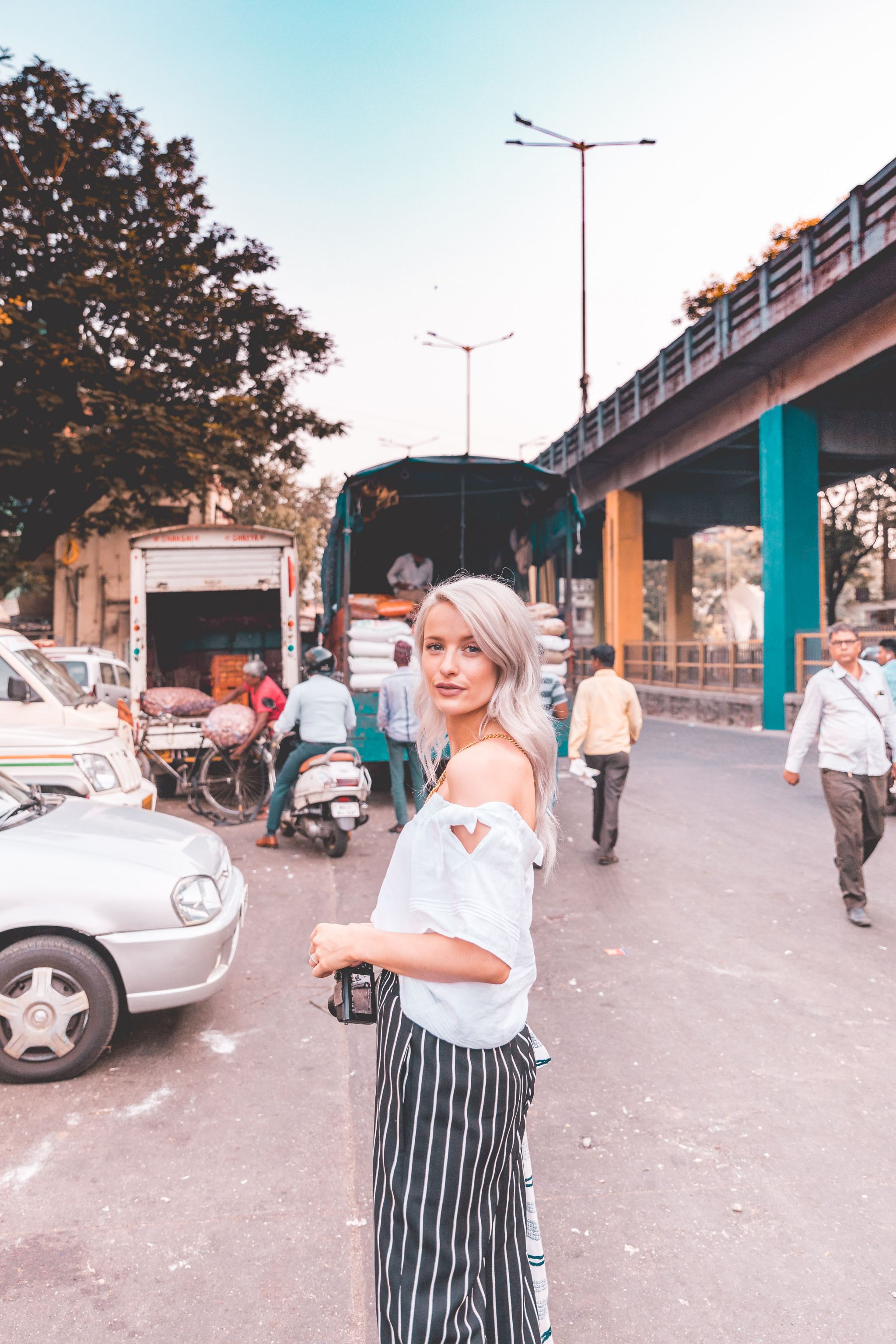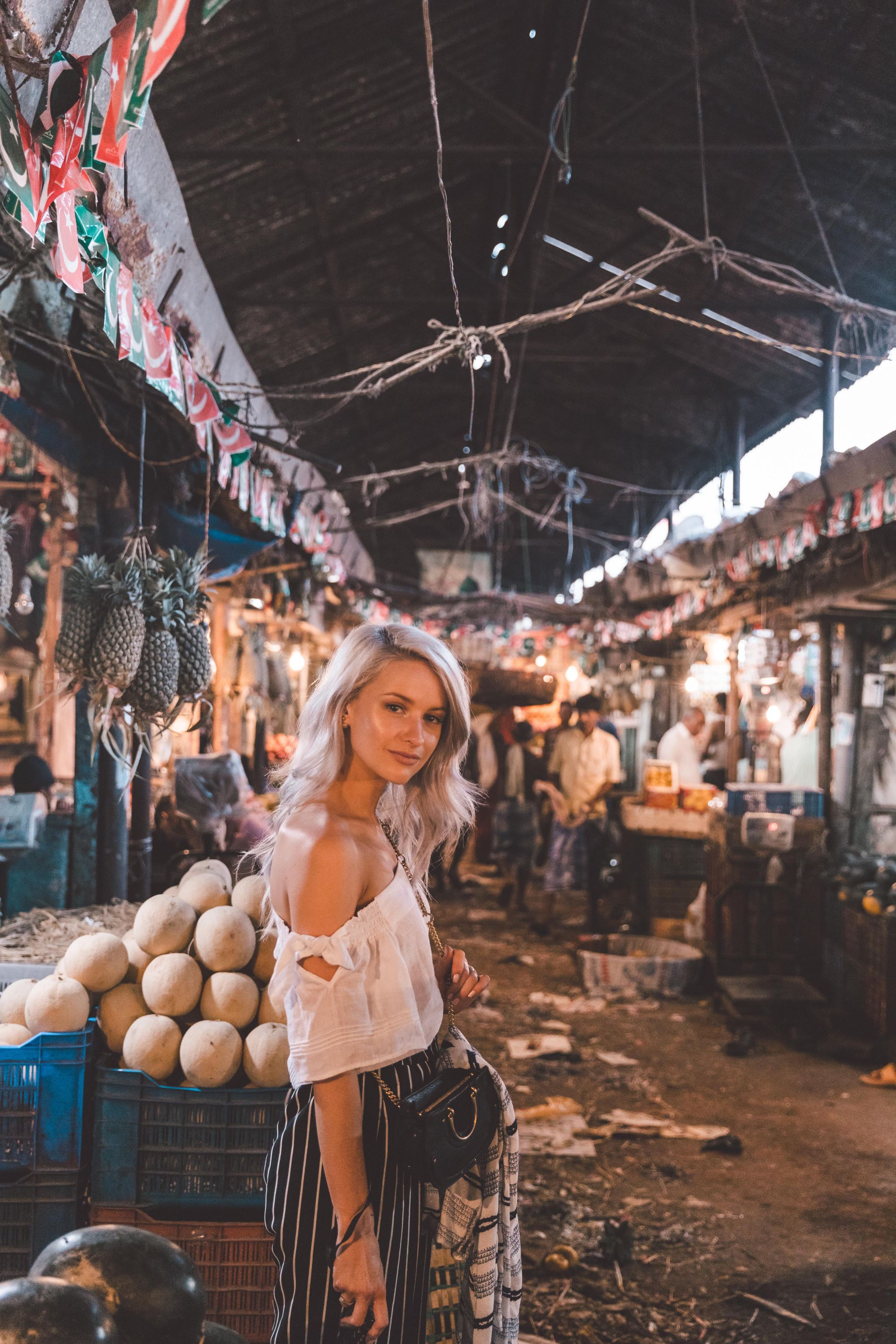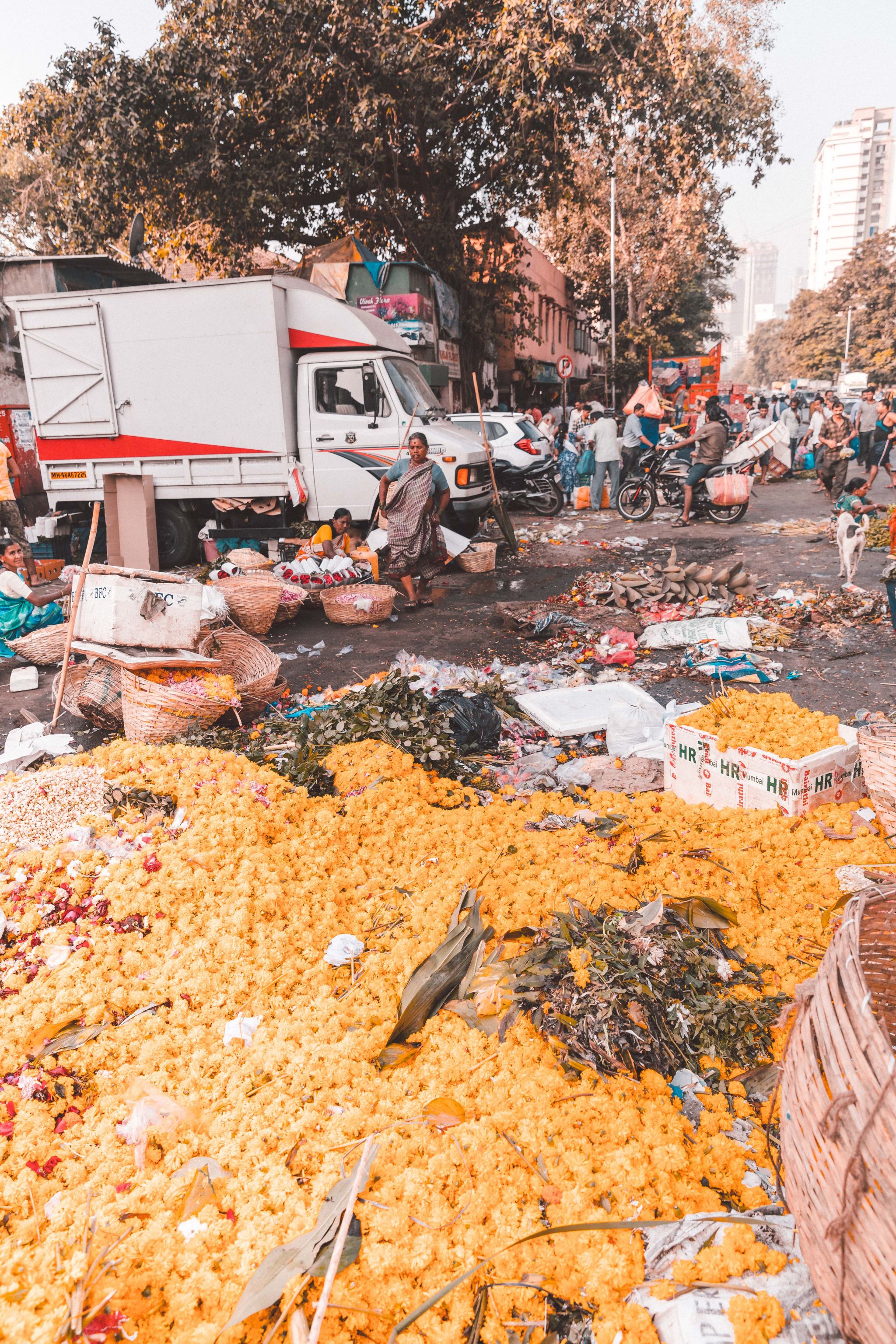 From Mumbai we departed with Jet Airways on an internal flight to Jaipur. This is the city I had heard so much about, so I couldn't wait to see the sights I had spotted so often on Instagram.
We left the airport and once again were picked up by the Taj staff to take us to the Taj Rambagh Palace. If I thought the Palace in Mumbai was something special, this was astounding. It was beyond my wildest dreams in honesty. The architecture, the interiors and the welcome we're all impeccable. Everyone with a smile and warm and friendly attitude that just made you feel immediately welcomed.
The room was fantastic. A huge lounge area with an enormous flat bed looking out over the gardens. An enormous bedroom with a chaise lounge and a super king bed, leading to a closet and dressing area. And then the bathroom, with a bathtub as big as a jacuzzi and a double person shower. We were most definitely treated here to a suite, but, I know the lower tier rooms are just as special. We were also given tours of the supremely special bedrooms and wow, I've never seen anything like it.
But the Palace is much more than the pretty bedrooms. The main events are the beautiful spa area with an indoor and outdoor pool that are exquisitely maintained. The spa hosting you in outdoor rooms within beautiful gardens roamed by hundreds of Peacocks. Then there is the Mexican restaurant within an old, vintage train that was imported, gutted and turned into a dining room for guests. The gardens themselves are beautiful to behold, and to roam yourself, alongside the peacocks. There is also an inner courtyard, inhabited by hundreds of pigeons that flock into the sky before turning around and re landing in the courtyard, every time that a gentleman claps two sticks together. You would think by now they may have gotten used to this routine. And then the lawn, where you can sit for afternoon tea and take in the glorious sunshine.
But one of my favourite moments here, was visiting the dining room, exactly as it looked when the King lived in this Palace, with gold cutlery and the most opulent interiors you've seen. The Indian meal we had that night was probably the best I've ever eaten.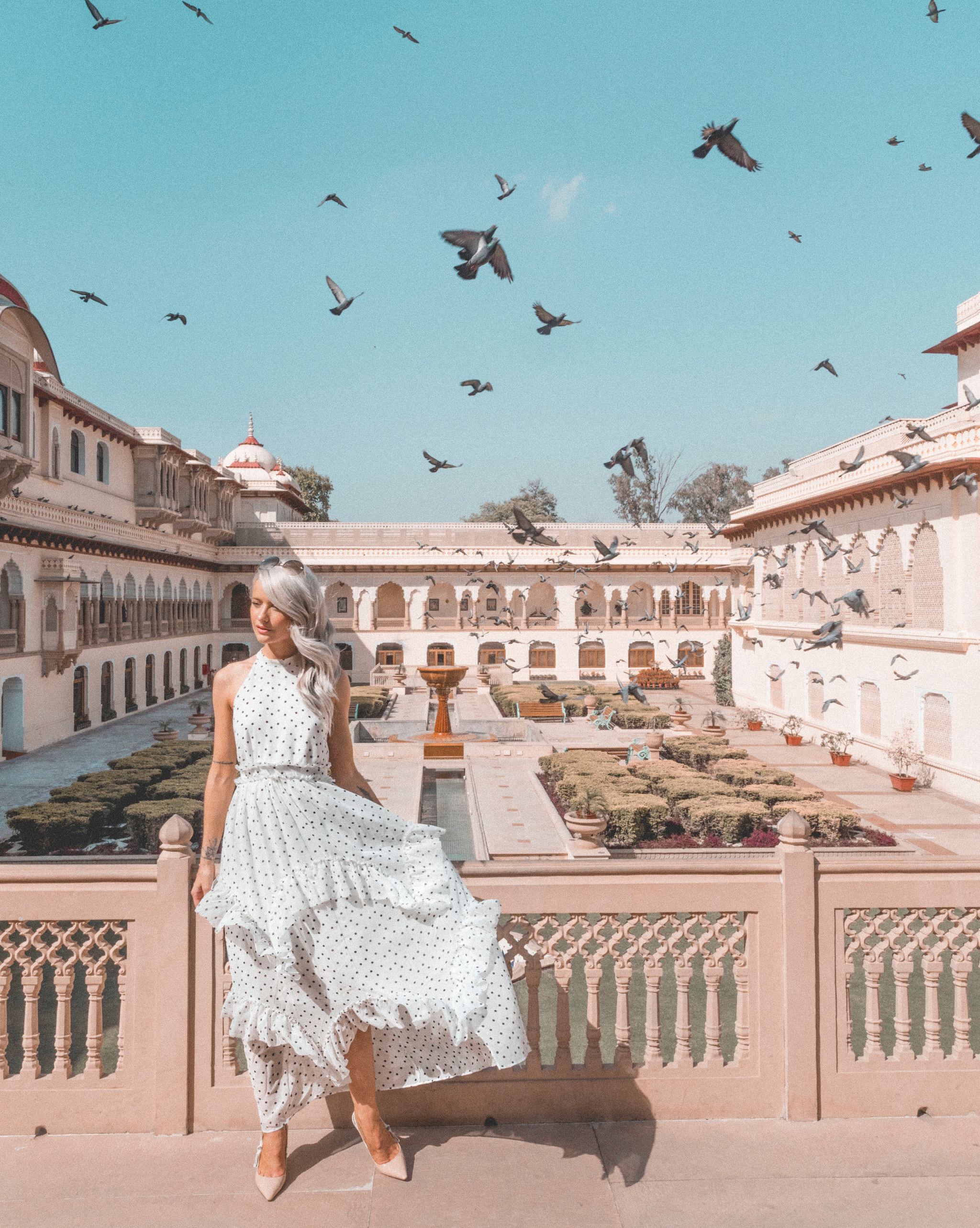 Jaipur
Jaipur is filled with so many things to do and see. We went to a local cafe, Caffe Palladio, that was just so so stunning and unique – I almost felt like I was in LA. Plus the symmetrical staircases of Panna Meena Ka Kund, that lead down to an old swimming pool in Jaipur are a must see. This is an incredible photo opportunity but I must be honest – the chances of you getting a photo is slim unless you pay the guards on duty. Due to how unsafe it is – there is literally a pool of unused water 15 feet below, the guards on duty do not allow people to go down and take photos whenever they wish. We luckily had a tour guide who offered them a sum of money to turn a blind eye to us rushing down, swiftly I may add, to get the photos we did. Normally you may need to pay about £100 to get this chance. I just wanted to put that out there, because I don't want you to visit in the hopes of getting that shots we did, when it may not be possible for you. It's also interesting to see what really goes on behind the scenes of a photoshoot. I would also highly recommend visiting the Amber Fort too – it's a beautiful place to walk around for the afternoon. And don't forget to visit the Patrika Gate – from the outside, you would never know that it looked so stunning on the inside – but those colours and the archways are beyond perfect. The picture below of me and Alex there is one of my favourite photos ever. Thankyou Carrie from WishWishWish for capturing this for us.
 …the best and most exquisite hotel I have ever stayed in. Yes I said it.
We stayed in Jaipur for two nights before leaving for Hyderabad. Unfortunately Jet Airways does not cover this route so we had to use another airline – but this is so worth it. Hyderabad was one of my favourite places we visited, mainly due to the Palace, Taj Falaknuma. Another Taj Palace and the best and most exquisite hotel I have ever stayed in. Yes I said it. The best. Even more impressive than Rambagh Palace, and that is honestly saying something. I don't know what did it for me; whether it was the impeccable cuisine, the beautiful rooms, the courtyards, the pool area surrounded by trees, the breathtaking view over Hyderabad or the fact that you are literally having a sleep over in the Kings Palace. It is just the same as it was when the King of Hyderabad lived there – his couch, his bed, his paintings, all still there as they always were. And so you literally feel as though you have been invited by the King himself, to spend time in his Palace.
One night we had dinner, the six of us, on the Kings table for 101 people. Just us, alone in this long, opulent and enchanting room, feasting on Indian meals made for Kings. It was one of those real pinch me moments. But any guest could experience this too. For that evening, we had also bought Saris locally, and so we dressed in traditional Indian attire and felt like Princesses. It was one of my favourite evenings maybe ever.
But every food experience here was amazing, the staff were beyond brilliant and the atmosphere and the comfort was perfect. When you first arrive, making your way up to the top of the hills in Hyderabad, to arrive by horse and carriage to the main entranceway and to be greeted by rose petals being thrown over you from the balconies above – you feel like you're in a fairytale. The architecture of this building is astounding, and I've honestly never been more blown away. And don't think this is out of your reach in terms of pricing – you will be astonished at how affordable a night here is!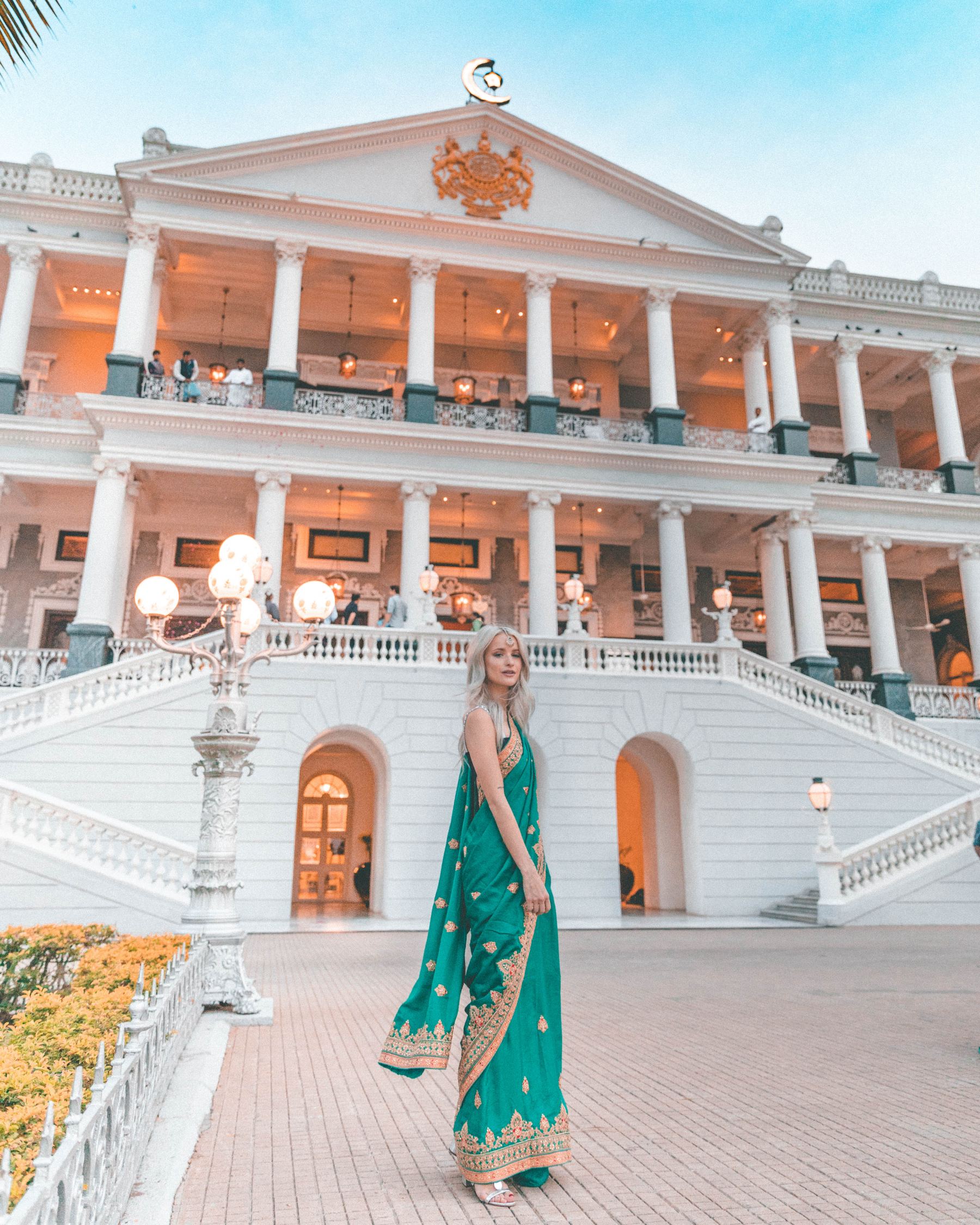 And after two nights in Hyderabad, it was back to Mumbai for one last evening at the Taj Lands End Hotel. This is the only hotel we stayed in that wasn't a previous Palace, but lovely nonetheless. It just had more of a commercial feel to it, being more for those looking for great restaurants and a comfortable nights sleep. It was still up market and well designed, just not with the opulence and beauty of Taj Palace Mumbai. The Taj Palace was more of a luxury destination, whereas this final hotel was relaxing and comfortable. If you're visiting Mumbai, I'd recommend either one – but if you're looking for a little more experience and luxury, the Taj Palace would most definitely be my choice.
But it was during this final day that we had the chance to experience one of the greatest moments of the trip. Another guided tour led us to the largest public laundry in the world, Dhobi Ghat. An outdoor laundry, inhabited by a number of its workers and washing up to 100,000 pieces of clothing and cloth per day. It was eye opening and astounding to see; but within this place of obvious poverty, there were smiles and happy faces. Children playing together, mothers waving with their gorgeous babies in hand and men welcoming us to show us what they were working on. It was a moment I won't forget. And from there, we visited a local area, described by the government as a slum, Wurli Village. Again, from everything I had heard, I expected to feel unsafe, unsure and devastated by what I saw. But in fact, whilst the inhabitants were in some cases very poor, the people were happy, playing, laughing and living. Some lived there because they always have and they're happy to live a life of less. Other's lived there because they couldn't afford more – but it was clear that there was a community here amongst the people.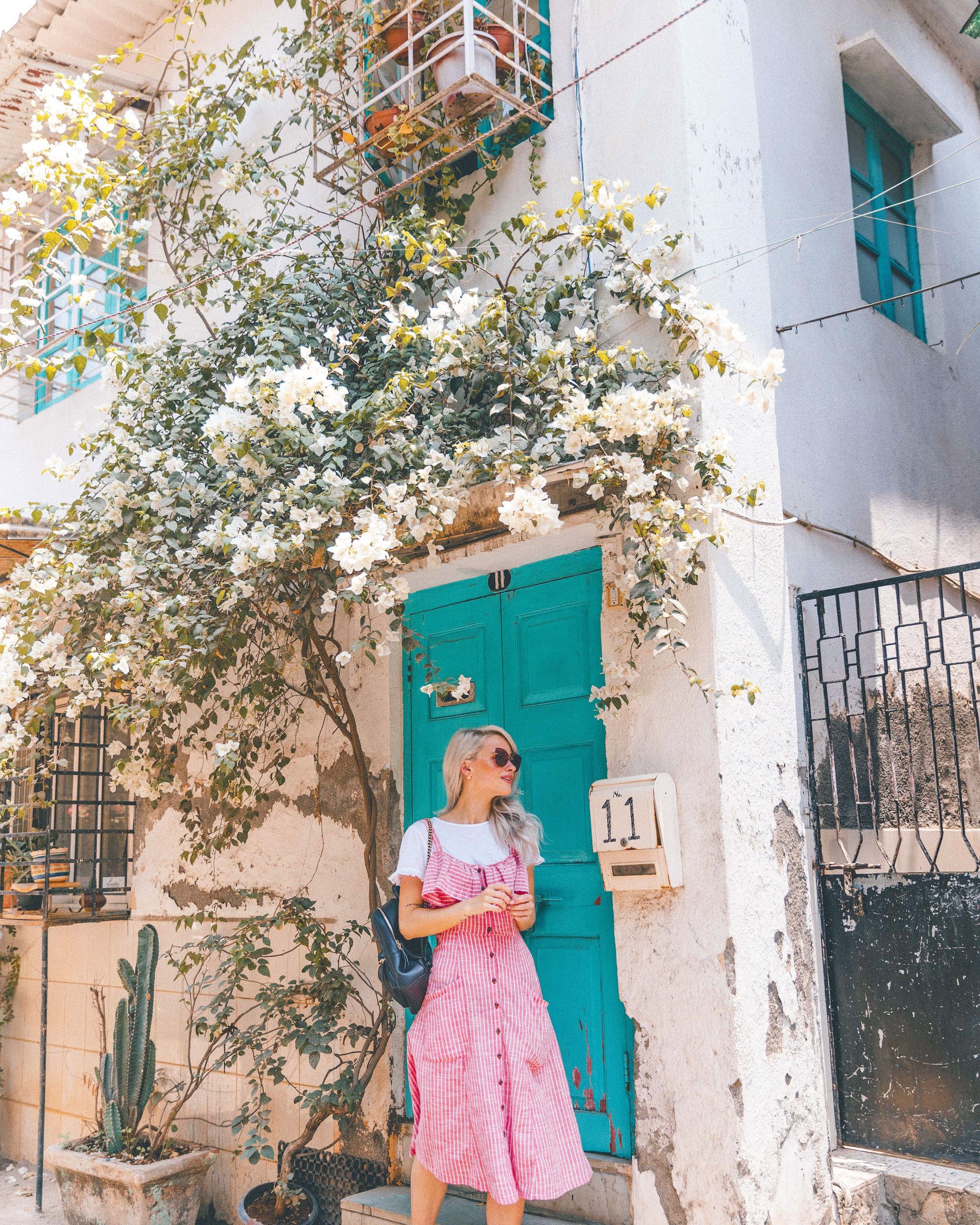 And after 9 fantastic days in India, it was back to London, again with Jet Airways.
It was an experience of a lifetime. A chance to see India in all of its luxury; as there really is more to India than the poverty we often see in the media. It is an India I knew nothing about, and I am so glad I got to see it for myself. The are so many different types of cultures here, many religions and many people. So much to see, so much to explore and much more to India than you probably realise. It opened my eyes to a country that is absolutely beautiful, and I highly recommend you make a similar trip if you're interested. We certainly hope to travel back there again someday.
The majority of images were taken while exploring the markets in Maharashtra in Mumbai.
Sign up here for a weekly catch up of everything Inthefrow