06/04/18
Guerlain Beauty
A Fresh, Spring Look
And the new Customisable Rouge G Cases
There are some beauty brands that completely fill me with excitement and Guerlain is most definitely one of them. From the numerous lip products that grace my face on a weekly basis, to the luxe packaging that you can't help but lust over, Guerlain has a special place in my heart. The release of new products from a brand you trust, is akin to a little endorphin rush and you just can't wait to get your hands on what might be your next 'holy grail' product that you can recommend to friends and family.
As a fashion and beauty blogger I'm beyond lucky to have discovered so many wonderful brands over the past 5 years. But just like with everything in life, you will always have your favourite brands and your 'go to' products.
My current Spring makeup look is a lot fresher than I've previously sported. Lighter brows, a more medium coverage base (this has actually gotten a lot lighter since this post) and a warm healthy glow from my eyes to my cheeks. A trip to Paris with Guerlain to celebrate the new customisable Rouge G shades, added some new favourites to my makeup bag and re-established some old favourites too. Here's a run down of my favourite beauty products from the brand right now and why I love them so!
MÉTÉORITES PEARLS
I couldn't start this post without talking about one of Guerlain's cult products and now full ranges, Météorites. The pearls are the perfect finishing touch and are always sat on top of my desk ready to swipe over my full face before I step out the door. The iconic violet scent evokes such wonderful memories for me and this trip to Paris with the brand is now a wonderful addition. The pearls themselves always come in the most elegant packaging and every time I see that a limited edition version has been released, just like this blossom collection, I get the urge to add another to my collection. The pearls themselves offer colour correcting through yellow, pink and mauve tones and also leave you with the most radiant glow, allowing light to bounce of the skin. Oh and the beautiful matching powder brush will of course look perfect on your dresser! You'll find the pearls themselves in four different shades and more recently a whole range of Météorites products have been added to the collection. From their beautiful compact powder, giving the same gorgeous glow but in a more travel friendly container, to the luxurious anti dullness base with pearls that melt into the skin to correct blemishes and dull looking skin, pre foundation.
Terracotta Light
The smell of Guerlain terracotta bronzers is such a wonderful Summer scent. It reminds me of being in the Maldives and warming my face in the sunshine while walking to dinner with Alex – it reminds me of the best holidays. Just like the original terracotta bronzers, terracotta light comes in multiple shades and aims to warm the skin tone while uniquely keeping the skin hydrated and protected from pollutants. The pan design has also changed from the mosaic pattern to the newer sunbeam look and I have to admit it has replaced my older style bronzer. My new favourite for sure! The powder offers a wonderful, warm, radiant finish to the skin and is easily buildable and blended, without fear of being too heavy handed and applying too much colour. Used as a contour in a sweeping '3' motion on the face or just used to simply build a healthy glow, this bronzer is a lighter, glowy bronze for Spring.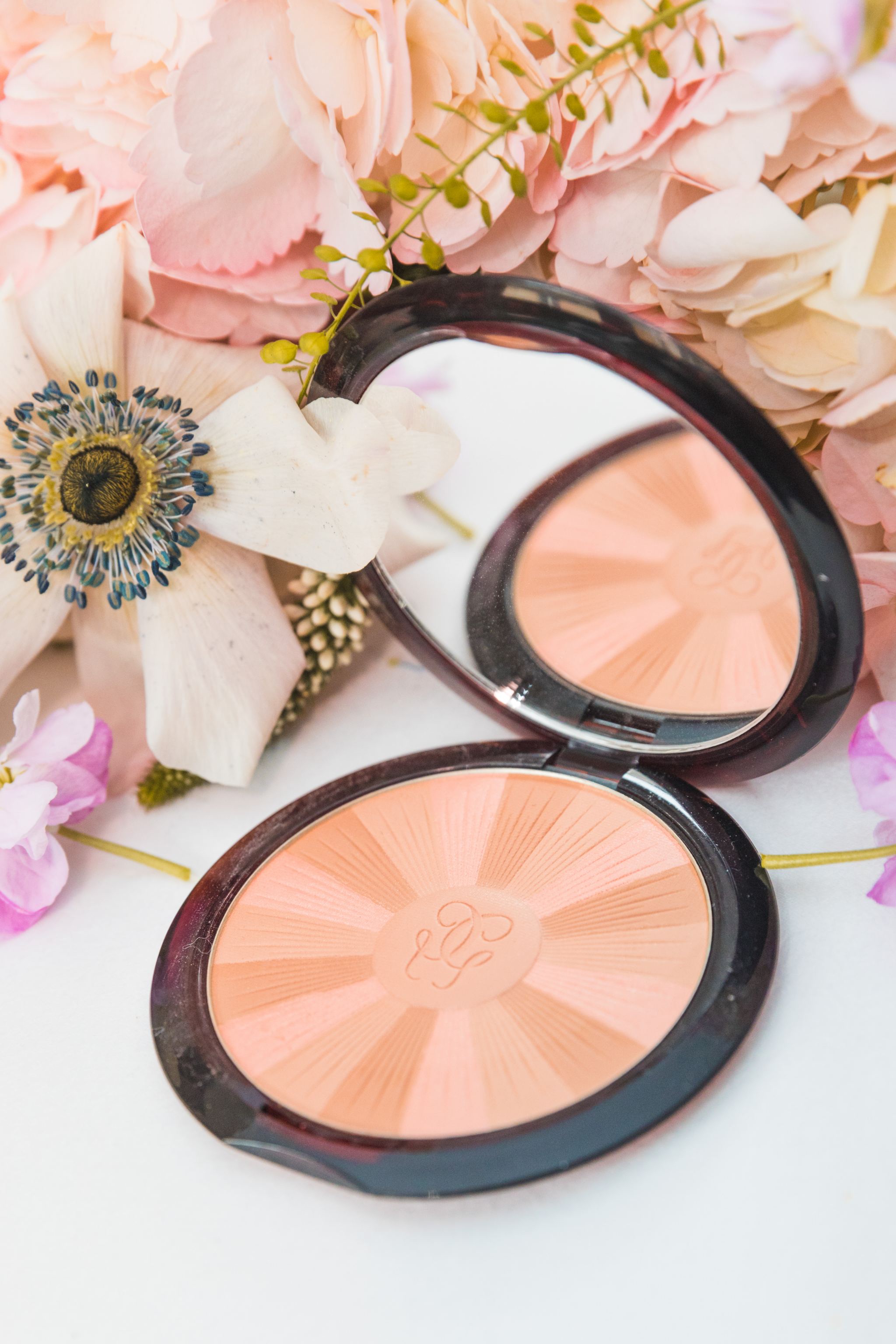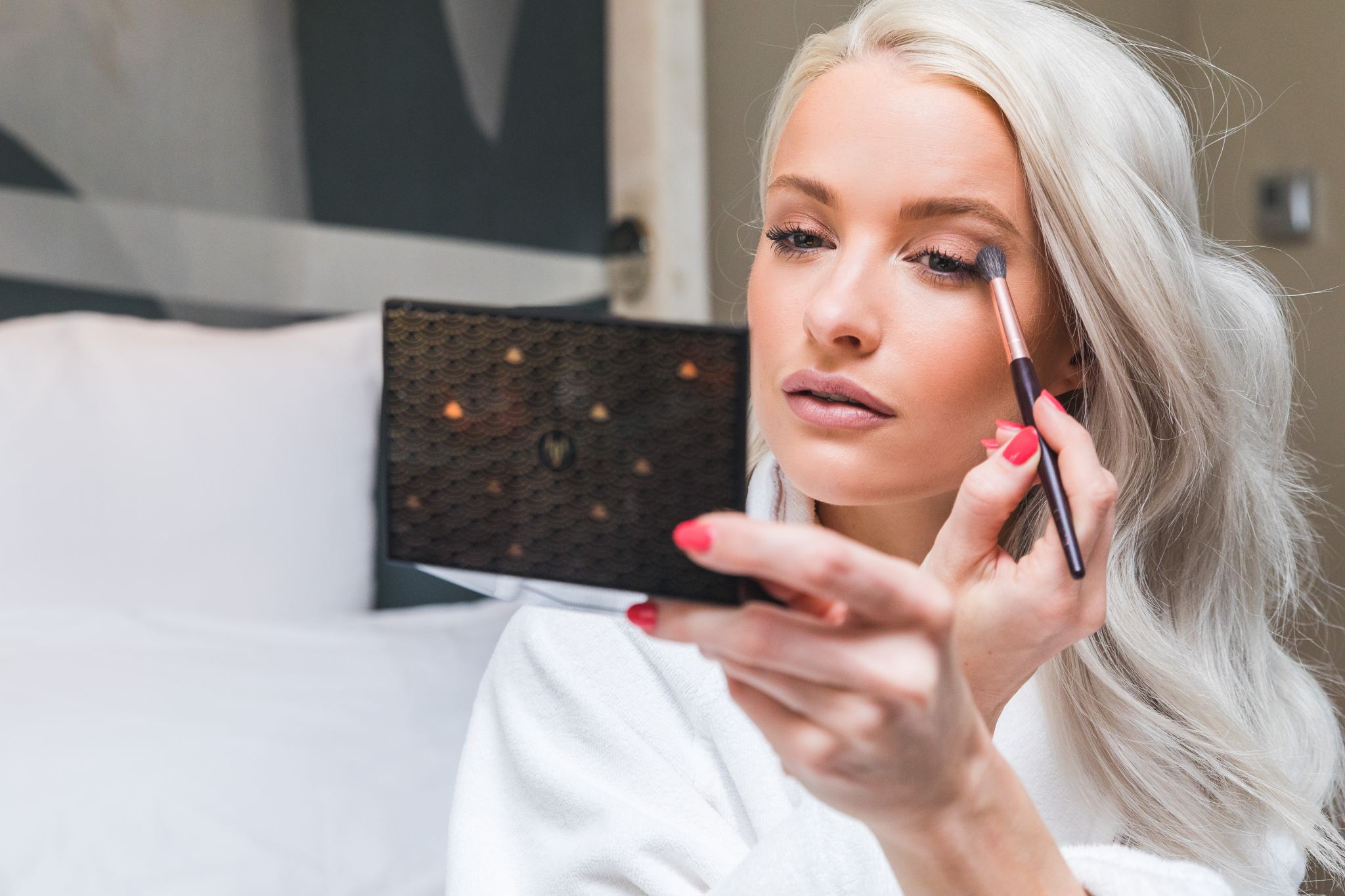 Guerlain Gold Palette
I was definitely more than a little late on discovering this multi use palette, but I just had to briefly mention it despite it no longer being available to buy. This was Guerlain's first complete face palette, perfect for travel and was released for Christmas 2017 so is unfortunately sold out. Just like the eye palettes I've previously had the pleasure of using, the pigment in here is amazing, the pay off from brush to skin is great and the colours can be used dry and also wet to intensify the look even more. I've linked some of my favourite Guerlain palettes below, but I'm keeping my fingers crossed for this to be re-released or a second palette to appear sooner rather than later!
Guerlain Rouge G Lipstick
Now I love lip products. From lipsticks, to glosses, to everything inbetween but I have to say it's been a little while since I was so excited for a new launch like this. Guerlain have reinvented their Rouge G lipsticks in 30 shades and I feel that I need them all, even the most daring shades! If you haven't tried the Rouge G formula, now is the time. The mango butter offers a smooth, creamy application but the colour pay off is incredibly intense, even on the lighter shades. Non sticky and not at all drying to wear for extended periods of time either, a formula you really have to try! My favourite shades are 02 (classic nude), 77 (vibrant pink), 78 (deep red) & 999 (pearlescent balm). The colour shown in the images however is 520, which gives a very translucent, sheer and balmy pink toned finish. Not only have Guerlain released more shades and expanded the line, they have also rather uniquely released 15 customisable cases for Rouge G, complete with convenient double mirrors, to personalise and customise each of your lipsticks. The perfect gift for a loved one and a really great price for something so luxe yet practical – I'm on the hunt for them all!
Guerlain La Petite Robe Noire Lip Colour 
I don't see enough people talking about these lip lacquers and I've totally fallen for them. This particular version is the 'La Petite Robe Noire: Lip Colour Ink' and it is always in my handbag recently. It's one of a few liquid lipsticks I've found that are easy to apply, smooths on like applying a lip gloss but then dries down to a matte finish with no downsides. This formula has none of the stickiness before drying down and none of the chalky, flakes some matte finishes can give. It's such a wearable, comfortable formula and I have two shades that I've used so much they need replacing! Shade L111 is a beautiful pink toned nude and L110 is a nude with more brown undertones that I love wearing when I feel quite bronzed.
Guerlain Black Bee Honey Balm
You've probably seen the honey balm mentioned on the blog once or twice before, but it's still very much a firm favourite of mine and especially so when travelling. The sweetness of the scent can't fully be described apart from to say, it actually smells like pure honey, it's so nourishing and thick and always leaves my hands wonderfully soft after just one application. This rich balm can actually be used anywhere on the body, so it's a great multi use travel product incase of dry spots when flying, for example, but I always keep a tube of this in my handbag for 'on the go' applications too. Formulated for extremely dry undernourished skin the effects of this balm are close to a miracle in what has been a super cold Winter in London. Highly recommended!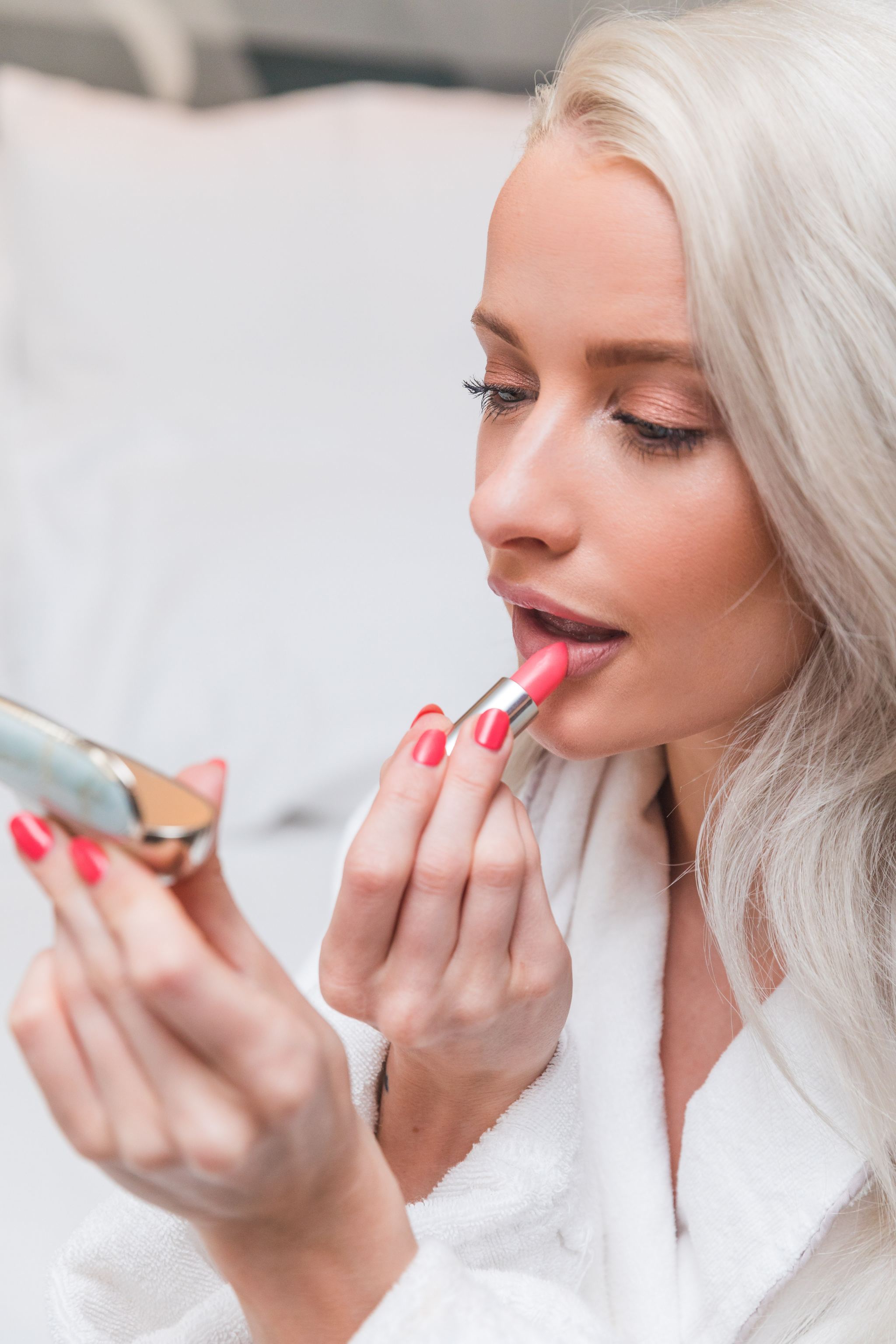 VLOG - PARIS WITH GUERLAIN & MORE ABOUT ROUGE G
I would love to know if you've already discovered Guerlain and if you've treated yourself to any of their products before? If there's anything you love from the brand that I'm yet to discover do let me know below – a girl can never have too much makeup right?
Sign up here for a weekly catch up of everything Inthefrow