07/03/18
Dressing For Spring
Location: London
Every year, I get the fashion equivalent of an urge to Spring Clean. I want to rearrange my wardrobe, crave a little newness and add some fresh Spring touches into my style. Whether that's purchasing some oh so stereotypical pastels or just delving into last years Spring dresses that have been tucked away behind chunky knits and scarves for the past few months. There's only one catch – it was snowing last week?
Suddenly Spring florals, peep toe sandals and lightweight jackets seem a million miles away. In just over a week, I've gone from being incredibly inspired by all the amazing street style I spied at fashion week and I'm suddenly refusing to pack away my roll necks and still adding that extra layer under my outfits.
So what do you wear when you're feeling like a seasonal change but when you're still shivering every time you leave the house? Spring may not have sprung quite yet, but here's a look at my go to style for those chillier, post fashion week days.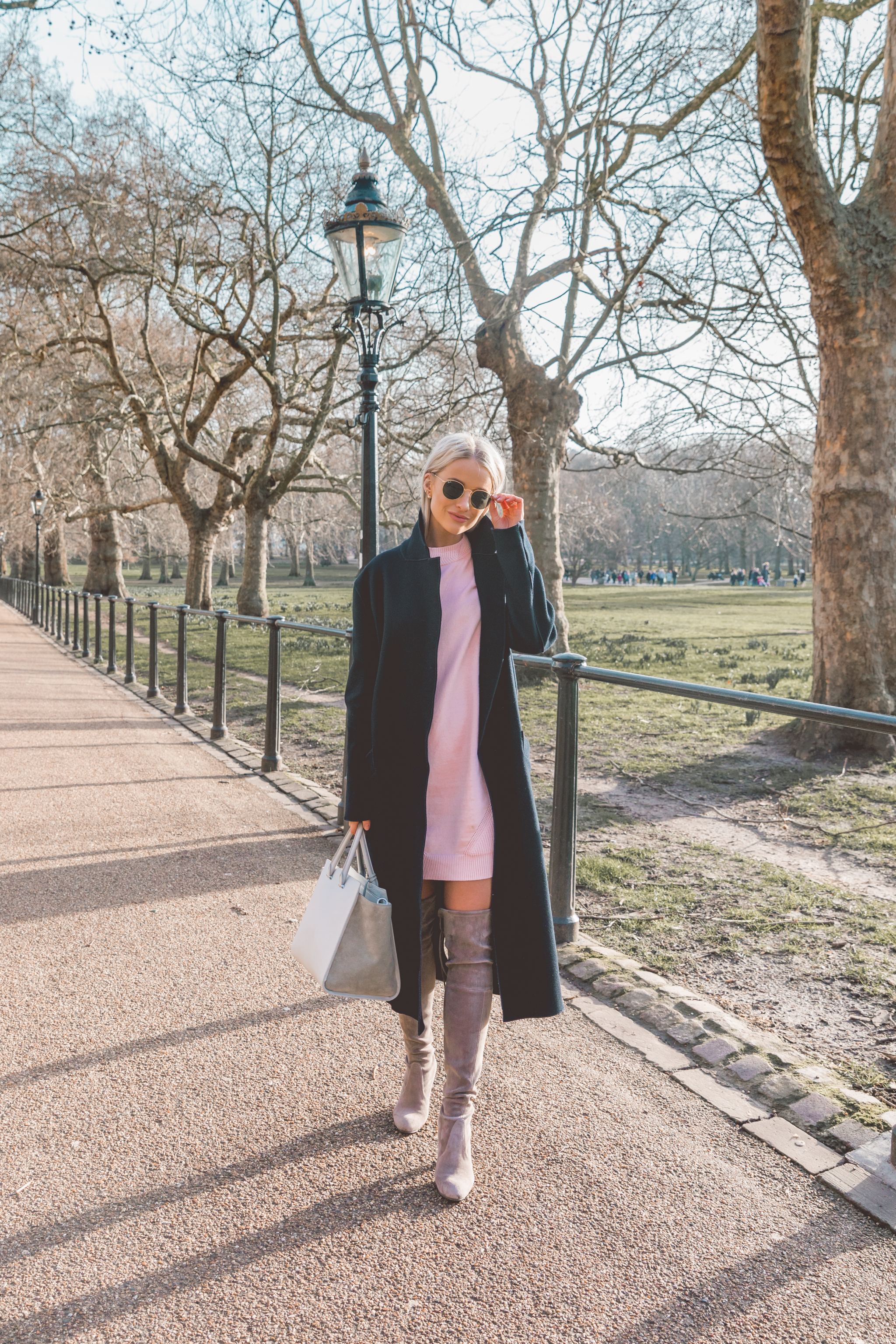 The Clothes
Layers, Pastels & OTK Boots
Although I'd love to be wearing a sun dress right now, teamed with my beautiful Dior slingback heels – the reality is far from it. The past few weeks have been windy, snowy and just downright chilly. Layers have been a must. The only way I've kept from feeling like it's not the middle of December, is to add some pastel tones into my wardrobe. From my striped Valentino tote, to my brand new All Saints aviator jacket and this beautiful pink knitted dress. It's the perfect transitional piece with a pastel shade, but a thicker material to keep you feeling like it truly is Spring and to keep your Mum happy along the way too. I chose to be a little brave and style it with my favourite grey OTK boots, to show just a hint of leg, but a small enough amount that I wasn't feeling the cold while out and about. I finished the look with a much needed outer layer and the choice was this classic tailored coat that I know will see me through day to night and casual to smart. A great investment piece that'll keep me warm through this cold snap, but perfect to just throw over my shoulders when the sun finally appears above London.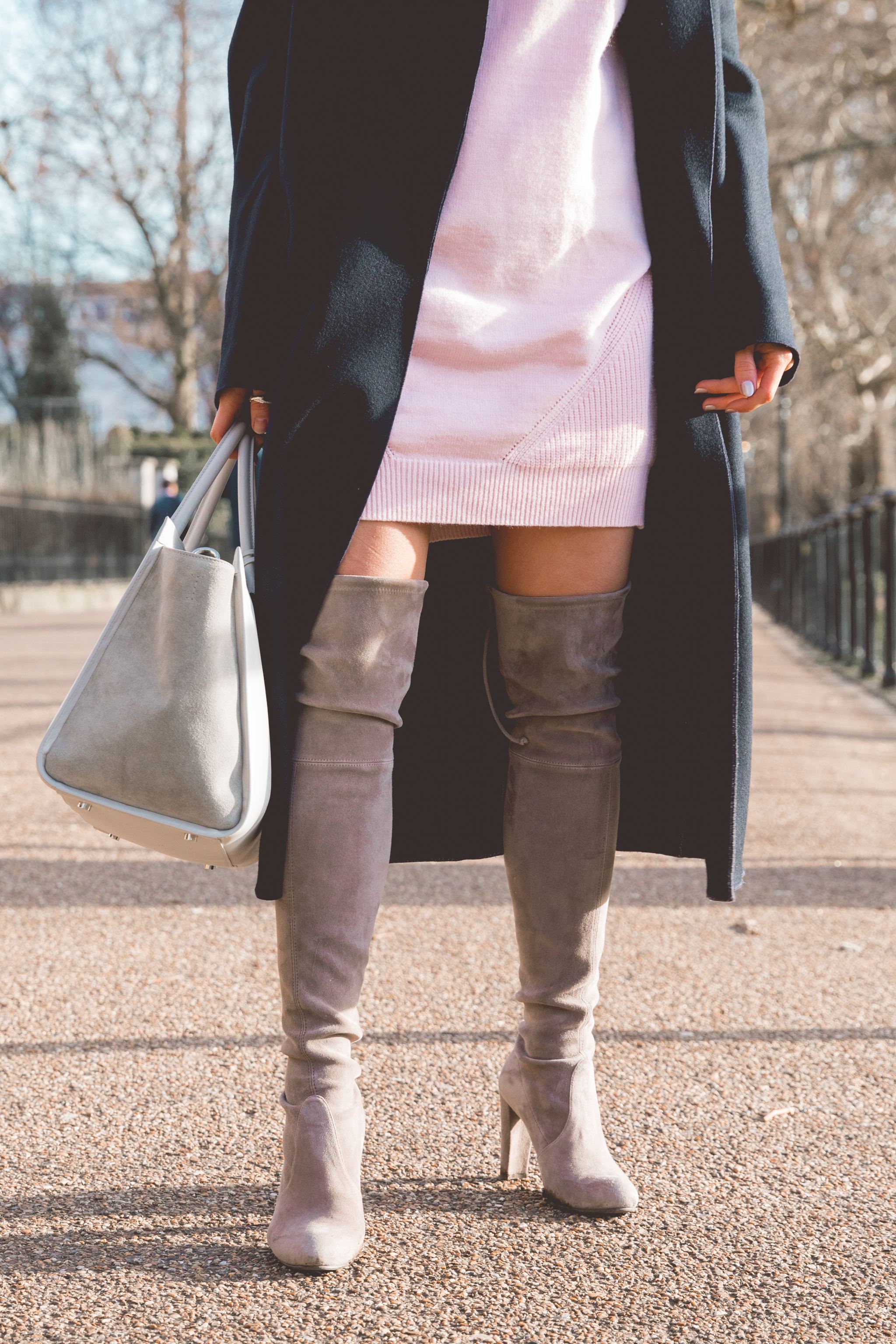 The Accessories
Texture, Sunglasses & Jewellery 
 If there's one true fire way to make it feel warmer than it is, throwing on your favourite pair of sunglasses is it. Not only do I wear them to finish a look, but they instantly leave me feeling that the sunshine you can see in these pictures was perhaps even a little bit warm. Spoiler alert, it was not. Brrrr! My current favourites are these awesome Ray Ban round sunglasses that fold (where has this style been all my life?!) that inject a little bit of fun and even start hinting at festival season. Add this beautiful grey tote from Amanda Wakeley to tie together the deep navy of the coat and the pastel pink of the knit, with it's suede accents and grained texture. A bag big enough to keep all my cold weather essentials like my mittens and scarf, while still looking chic, is a must. Finally the pièce de résistance – my new charm necklace from Thomas Sabo to add a little colour and personality into a simple, cold weather outfit.
Have you got any 'go to' pieces or outfits you love for this time of year? Something that keeps you warm but still makes you feel like Spring might hopefully be somewhere around the corner?
Sign up here for a weekly catch up of everything Inthefrow