28/03/18
Holiday Style
Laid back evenings & Sunset strolls
There is something so unique about your chosen holiday style and I think it's because it's truly a reflection of how relaxed we feel, when we finally take that well deserved break. The twenty five 'holy grail' products on your face become five, your hairstyle takes just two minutes to complete and you can't remember the last time you actually wore shoes – total, unequivocal, bliss!
I always feel that we come into our own when we're on a holiday. We surround ourselves with the things we love the most, we holiday with the people we love the most and we then sit back and enjoy doing every activity we love the most. Getting ready for the evenings when you're away, suddenly takes a back seat in favour of enjoying your surroundings that much more. A quick spritz of this and a touch of that, is more than enough before you style your ideal holiday attire.
There's a lot to be said for becoming a minimalist when you're on a sunshine break, in more ways than one. From your outfit to your glam, there's definitely a case (no pun intended), for trying to pack light too. Here are my five go to 'rules' for taking my look from day to night, on a sunshine break.
PAIRED DOWN MAKEUP
I know I can hear you laughing as I type this – Victoria?! Paired down makeup?! If you know me well you know I love my many steps of skincare and glam but even I tone things down on holiday and only the creme de la creme make the cut. There's not so much contour, no heavy brows, no glam eyes and no stand out lip. I love to feel fresh when it's humid on holiday, so transitioning from day to night becomes a relatively simple affair. Some good skincare to ensure I'm still protected from the sun, a light dewy base to keep my skin natural, a sweep of bronzer across the eyes and cheeks to add definition and a tan, and last but not least a natural looking lip and then a touch of mascara to open the eyes. Suddenly forty minutes becomes five and we can soak up a little more time every evening.
LIGHTWEIGHT LOOSE ATTIRE
Cue floaty jumpsuits, swishy maxis and not much else! If you're on a sunshine break in particular, and don't wish to spend all evening averaging a temperature of over 1000 degrees, then these are truly a must. The humidity can be a killer, so don't tempt fate and spend your night miserable because you really wanted to wear that new bandage dress. Think cotton, linen and lovely loose fits and you'll be onto a winner. From day to night, the sun may set, but that doesn't mean the temperature will drop. A lightweight cover up for your shoulders might be needed if you're planning on watching a movie on the beach in the wee hours, but a strappy jumpsuit or off should dress is more than enough coverage, in the Maldivian weather at least.  Swimsuits all day and floaty maxis at night is all you'll need in your case for this resort.
RELAXED BEACH HAIR
With days spent swimming in the deep blue and evenings spent on the beach, I avoid adding any more heat to my hair while on holiday. It's hard to look after bleached hair day to day in London but add sand, salt and chlorine into the mix and anything I can do to help is a must. Holiday hair is something I revel in because I know for a fact I can never recreate it when I'm home, however hard I try. So my man made 'beach waves' are left back home in London and I embrace the natural wave of my hair every evening. Sometimes it's just a quick run through with some hair oil, to tame any fly aways or like on this evening, taking my look from day to night meant a half up half down style, to keep the baby hairs out of my face.
MINIMAL MULTI USE ACCESSORIES
If I know my style is going to be paired down and generally a lot more simple while I'm away, then my accessories are a big part of that decision. I'm generally not one for 'out there' accessories anyway and sometimes choose not to wear jewellery at all, but the choices I do make for sunshine breaks are always minimal and always with multiple outfits in mind. I choose accessories I can take from day to night. Big enough to fit my camera for those sunset shots in the evening, a cross body safe enough to use during the day too while riding a bike and then colours that mix and match easily with lots of my outfits. I'm pretty sure I actually only wore this one handbag every evening of our holiday. Simple, chic and converts into a clutch too – perfect.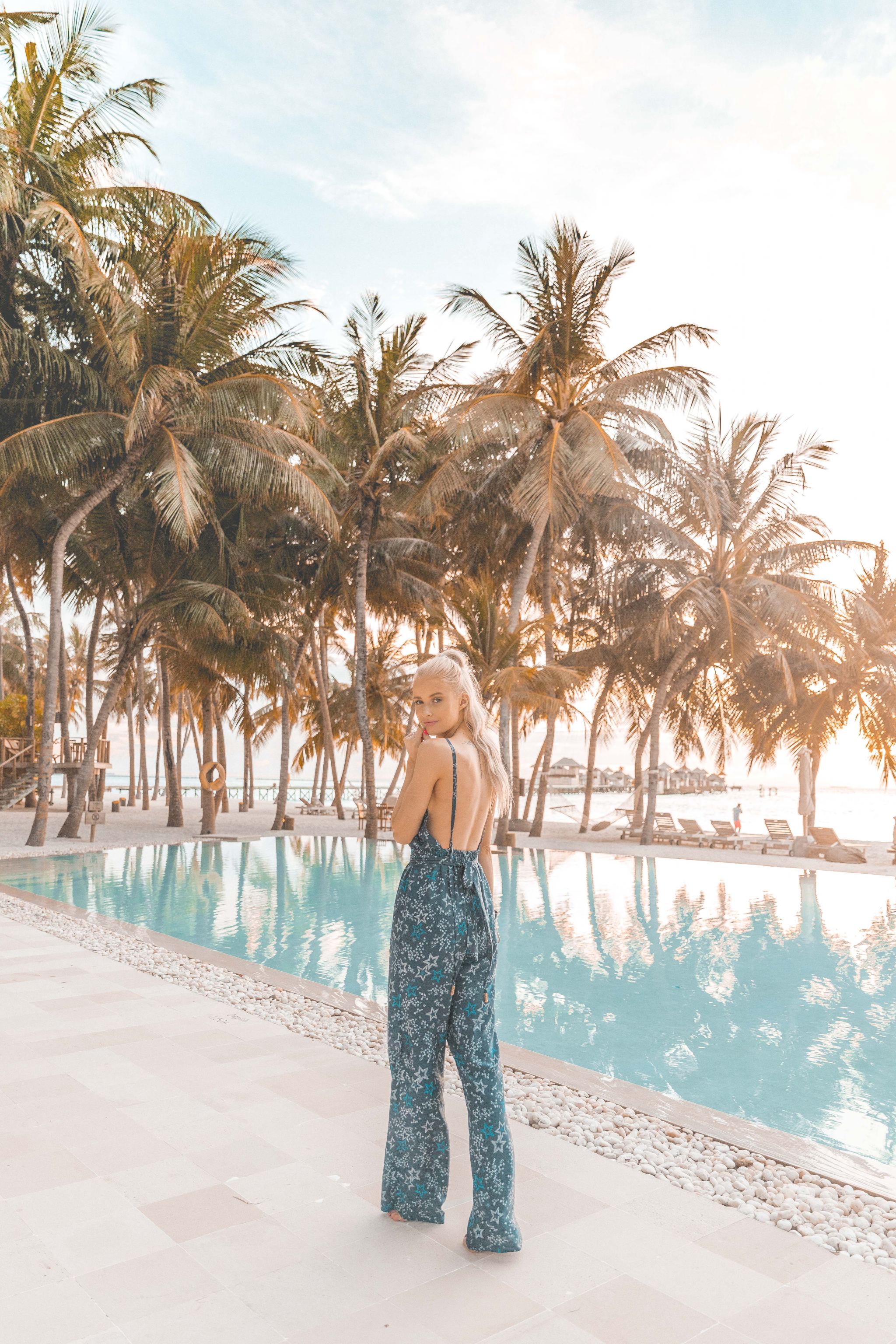 No Heels Necessary
Perhaps my favourite part of a beach/sunshine break, is not having to wear heels and a lot of the time not having to wear shoes at all. It sounds so cliche, but being able to walk across the beach and feel the sand between your toes is such a freeing, relaxing experience. It's also a huge part of why we chose to head to the Maldives for this holiday together too. Having been before, we knew that you're encouraged to lose the shoes and enjoy both walking around the resort during the day and even heading out to eat in the evening barefoot. No need to tell me twice – my feet were very glad of a break! I packed a couple of pairs of sandals in my case, mostly because we knew we would cycle around the island occasionally, but apart from that it was barefoot from day to night.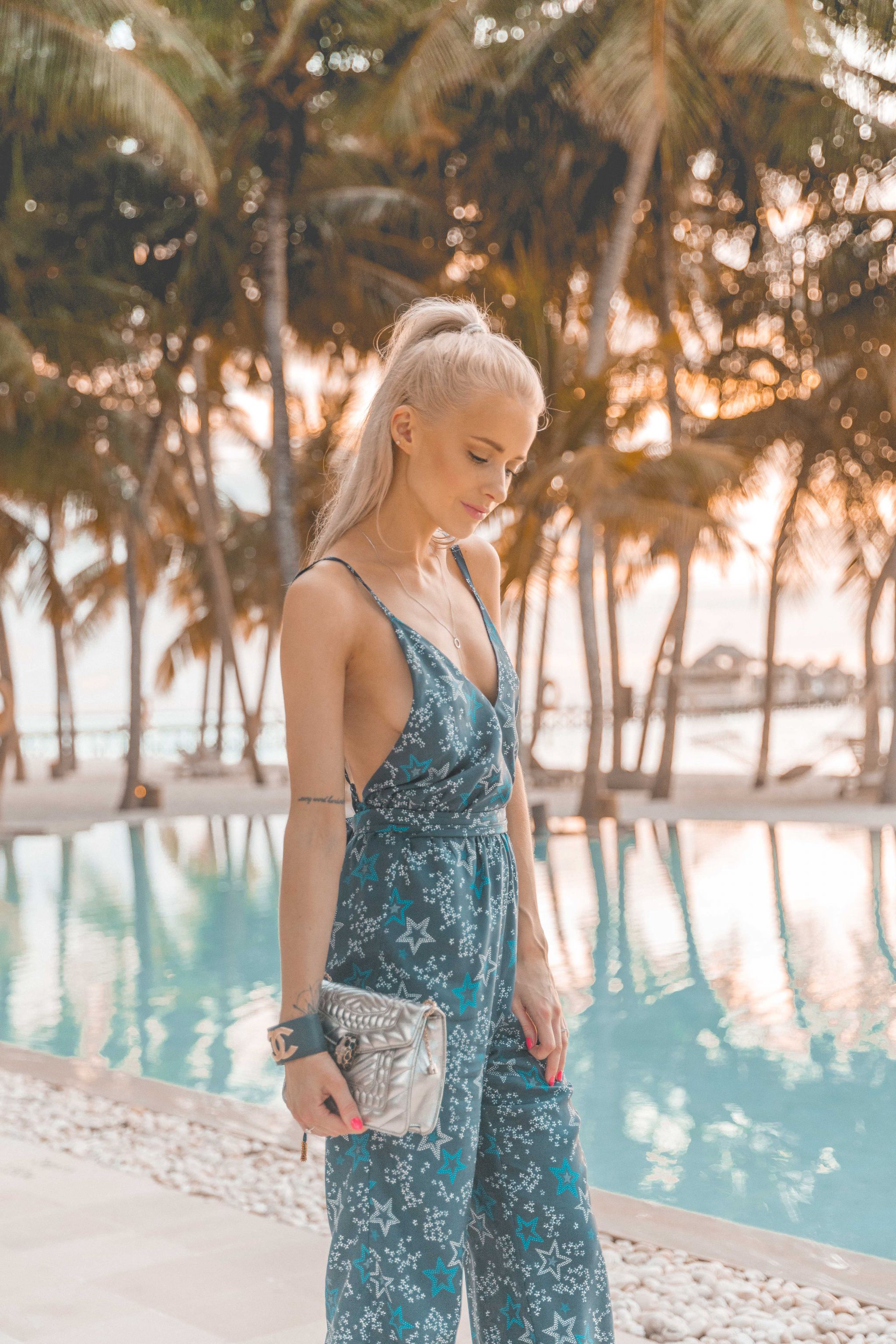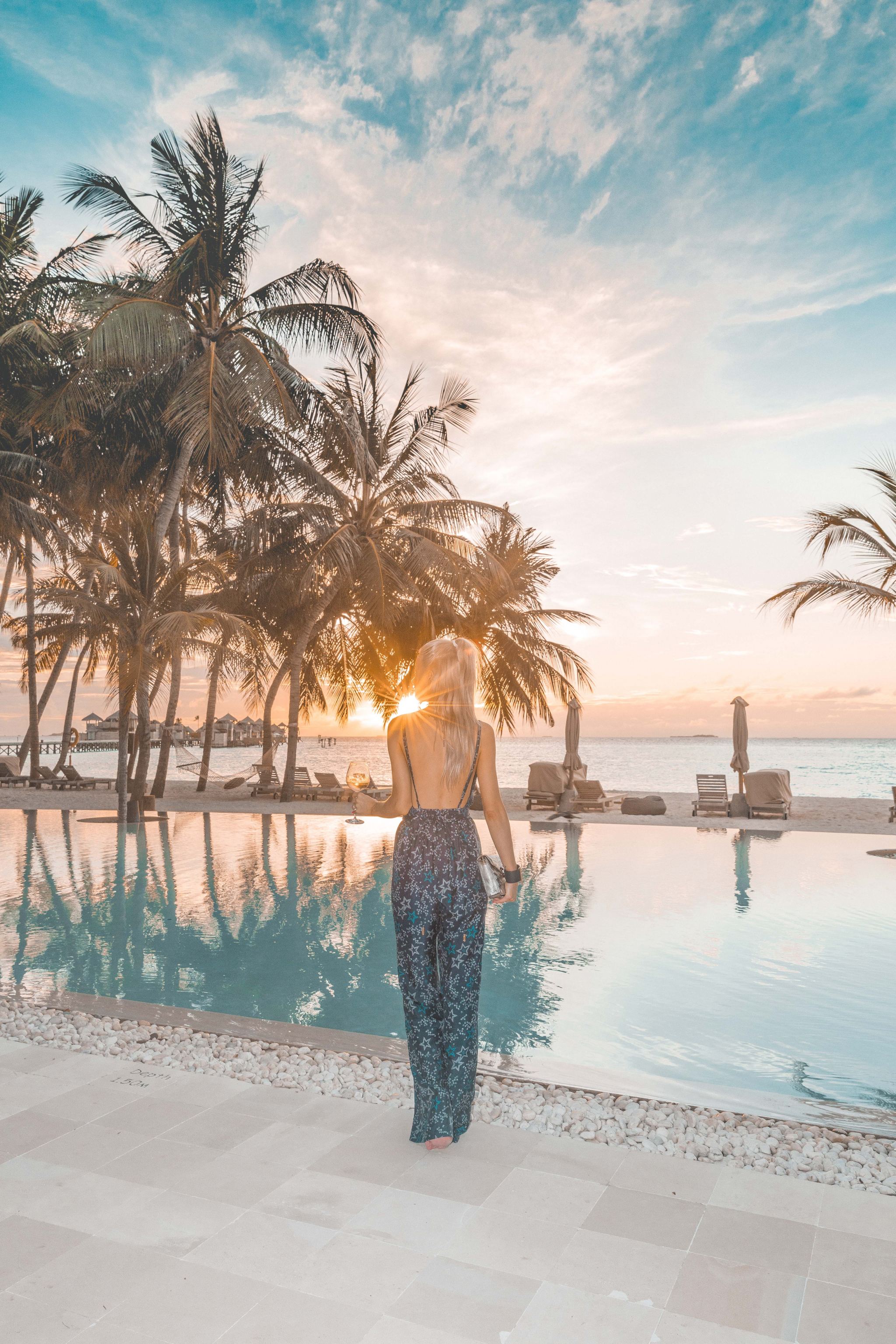 Sign up here for a weekly catch up of everything Inthefrow