13/03/18
What I Wore In Paris
PFW Style
I didn't want the occasion to pass, without reflecting on yet another fashion month and what better post to create than a '
what I wore
' for fashion week in Paris. I love to look back over the month's events, analyse what trends are coming in for the season ahead and to take inspiration for my own wardrobe – but just as exciting is looking back on how I styled myself for the shows too.
What pieces made the cut? What accessories were my 'go to' items? What new additions arrived this month? And what pieces will you be seeing a lot more of in the coming weeks? From Balmain to Me+Em, from Kenzo to Ted Baker and from Malone Souliers to Fendi, here's what I wore for Paris fashion week and just how I styled them.
Below you can find each outfit, a link to shop the full look and even my latest YouTube videos featuring an in depth chat about the newest featured pieces too. Hope you enjoy a peek into February and March's wardrobe favourites – I can't wait to hear what you think!
I just had to pack my Me+Em prince of wales check trousers for my trip to Paris. Knowing it was going to be snowy and generally quite cold, I made sure to pack some firm favourites that I knew I could style easily and feel my best in, while retaining at least a bit of body heat. This is my favourite relaxed look from the trip, which actually was just heading out to eat one evening with friends but has some of my most worn pieces in my wardrobe right now. My Dolce & Gabbana leather jacket, which is so easy to throw over any outfit to make it a little more 'edgy', my classic Chanel mules that team so well with tapered trousers and my Me+Em ribbed jumper because in zero degree weather, a camisole just wasn't on the cards!
Shop the full look here.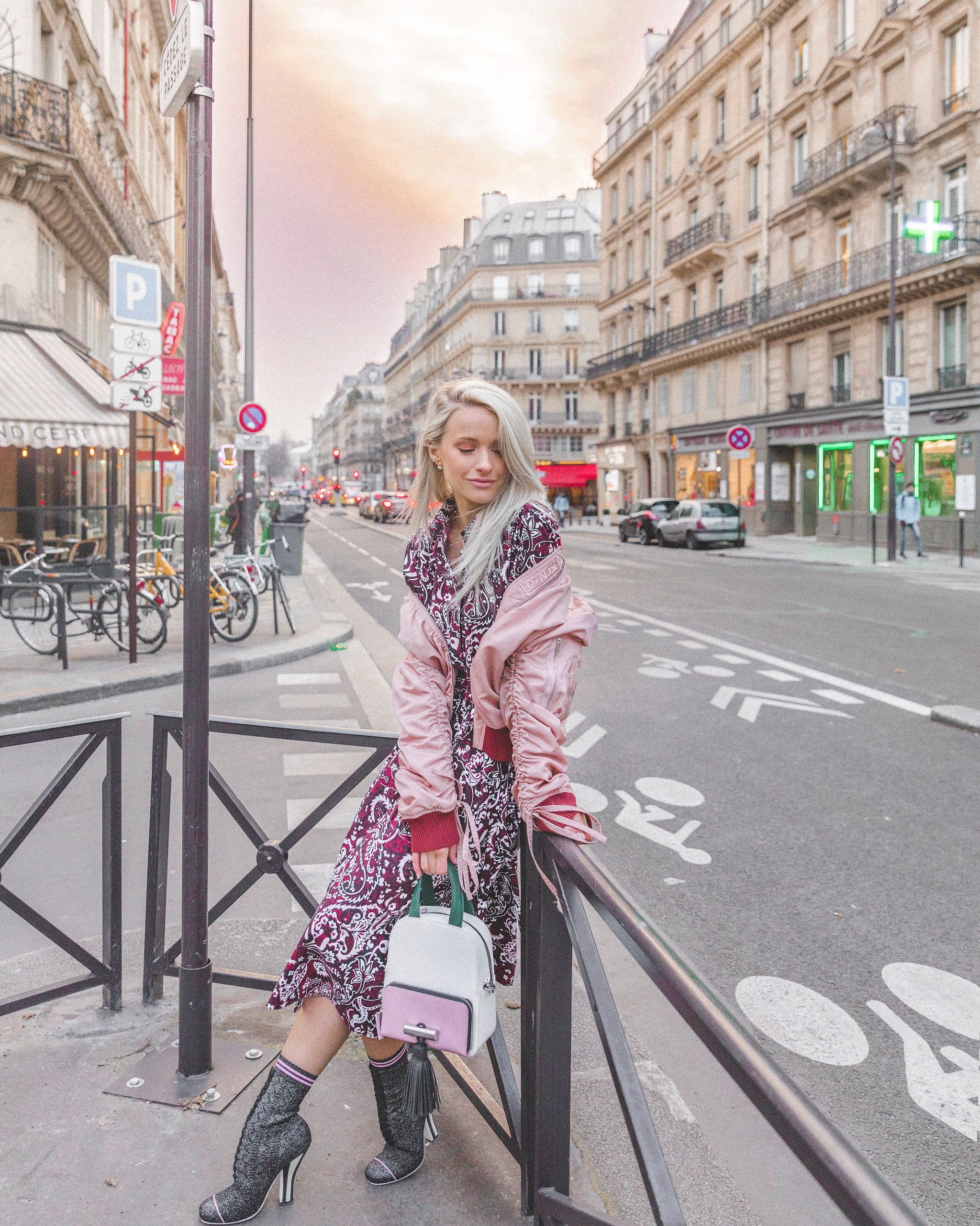 I was lucky enough to have a fitting with Kenzo before their Paris show and I absolutely loved stepping out of my tailored comfort zone with my look. I haven't worn a bomber jacket in so long and they are on of my favourite styles to throw over a contrasting floaty, feminine piece. The millennial pink is such an on trend colour, that I fell in love as soon as I set eyes on it. The dress was a perfect mix of tailored shirt dress up top and A line full skirt below, offering a flattering, nipped in waist against the oversized bomber. Teamed with my brand new Fendi stretch boots for the occasion, love or hate them they are so statement, and the cutest Kenzo shoulder bag with the cleanest lines and Spring block colours.
Shop the full look here.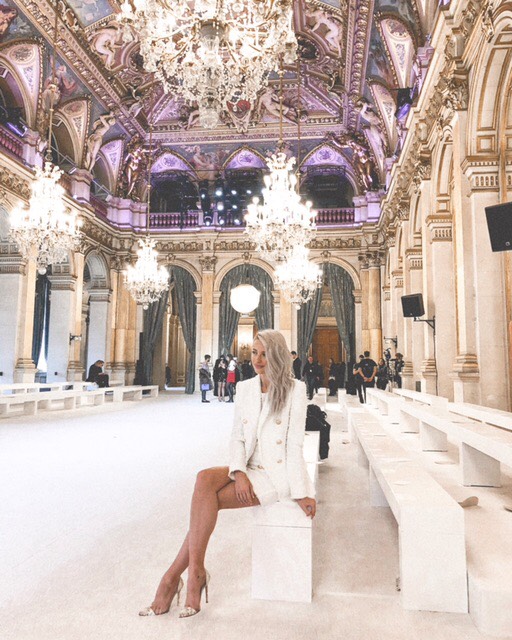 When you treated yourself to the Balmain white tweed blazer and then searched high and low for the matching white tweed skirt, what else are you going to wear to the Balmain show? It's a trick question I'm afraid – the answer is your matching Balmain suit! I don't think I've ever felt as 'girl boss' as I do when I put this outfit on. I am so happy that I purchased such a classic suit style, that fits so well, that I know for certain I will still be styling twenty years from now. My Gianvito Rossi plexi courts were a perfect choice to accent the gold details on the suit. I then went one step further and treated myself to a logo tee from the brand for the occasion to complete my almost head to toe Balmain look.
Shop the full look here. 
When the sun finally did appear in the sky, it was no better time than to add some shades of pink to my day and shoot this beautiful head to toe Ted Baker look. Suddenly it was bright blue skies and Paris was looking like the city of my dreams again! Pink is quite easily one of my favourite colours to style, no matter what the season, but there's something especially welcoming about pink in Spring. These slim fit suit trousers are the perfect mix and match piece to team with numerous items already in your wardrobe and this fuschia silk camisole is the ideal upgraded basic, to take from day to night. My accessories continued the theme with the new season tassel camera bag and these beautiful brooch detail courts, a must for wedding season.  Finally I threw my MaxMara Seoul coat, that is unfortunately now sold out, over my shoulders – but never fear Ted Baker have a beautiful dupe for far less that you can buy here. This whole look makes me so excited for Spring!
Shop the full look here. 
How to take your everyday, blue jeans to the next level? Team them with some over the knee white boots from Malone Souliers of course. I spotted these boots from one of my all time favourite brands a few weeks ago and I just couldn't resist how statement they are and how they elevate a casual look. Even better that they were 50% off too! My jeans are my 'go to' Grlfrnd high rise jeans, my tulle layered shirt is from Me+Em and although my investment MaxMara camel coat is sold out, I have found a very similar new season style from the brand here. Oh and I had to team the entire look with my brand new chubby bag from Anya Hindmarch to add a little fun, to such a simple look.
Shop the full look here.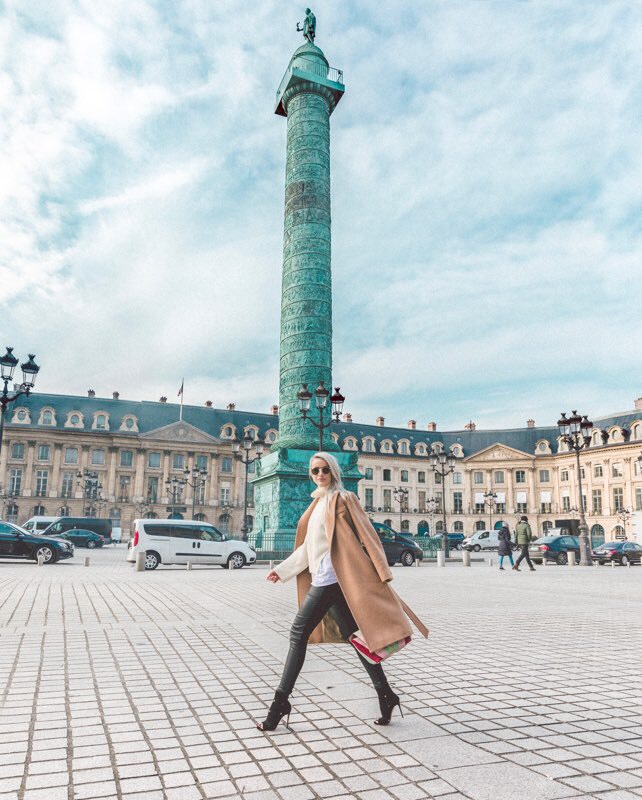 And last but certainly not least, I strutted out of fashion month wearing a look that could not have been more 'me'. Black pointed toe ankle boots? Check. Leather trousers from Reiss? Check. High neck cream knit? Check. Style is so individual and fashion is so inspiring, but there's comfort to be found in styling the pieces that instantly make you feel great, as soon as you step into them. These killer Aquazzura peep toe boots have hardly left my feet since I purchased them, this All Saints cream knit has been invaluable because of it's unique layered look and I always know where I stand with a pair of Reiss leather trousers – a true staple in my wardrobe. Team them once again with a camel coat of your choosing, to initiate girl boss mode of course and finish with a pop of colour with possibly my best sale buy of the year so far – my Valentino striped tote.
Shop the full look here.
I'd love to know which of the new pieces are your favourite below and even more so I'd love to know whose street style from fashion month has inspired you the most! I never feel more grateful for my career than when I'm surrounded by incredible designers, models and bloggers who all share the same passion, so I'd love to discover even more inspiration if you have any recommendations!
Sign up here for a weekly catch up of everything Inthefrow