28/02/18
The Statement Trouser
When I first laid eyes on these trousers, my immediate reaction was 'I can't wear those'. Not because I don't wear colour, and not because I don't love Burberry, but because they were
so
statement. I racked my brains for ideas on how to add them to my wardrobe and primarily, how I could 'tame' them and style them into a more everyday look.
Then it dawned on me – the items I would choose to style them with, wouldn't be lost on them, they would help me to create a look, that meant wearing a pair of statement trousers, suddenly wasn't as terrifying as I initially thought.
Now admittedly, these aren't my usual style. I'm very much into my nude tailoring and chic suiting right now, so a bold bright red, in a classic Burberry check, was a little out there – even for me! But.. fashion should be fun right? And I'm quite sure I've never had more messages, comments and compliments on a single item of clothing, in a very long time. So in the spirit of Fashion Week and pushing ourselves out of our comfort zones once in a while, here are my top tips for styling the statement trouser, along with some of my favourite styles out there, right now.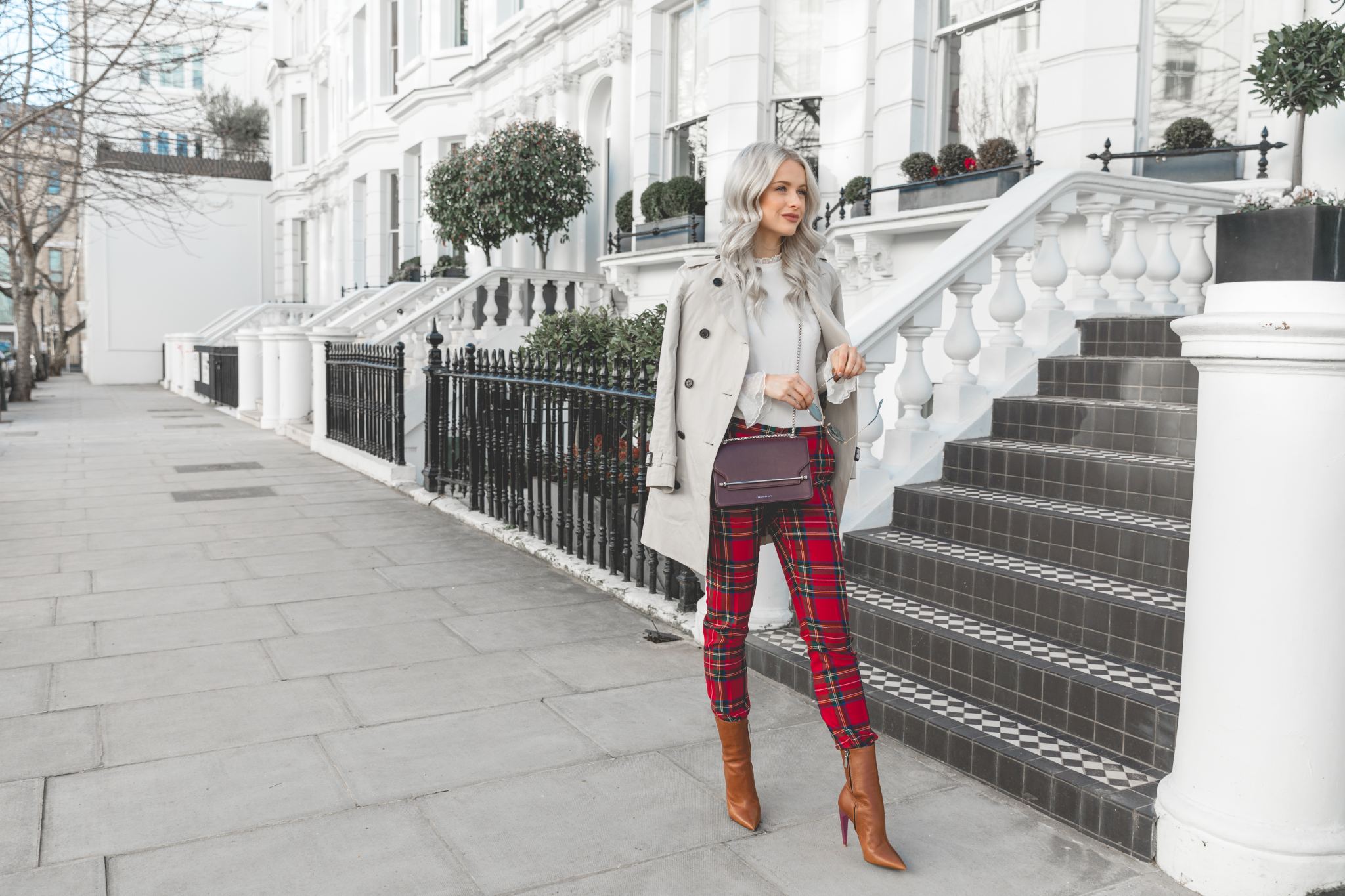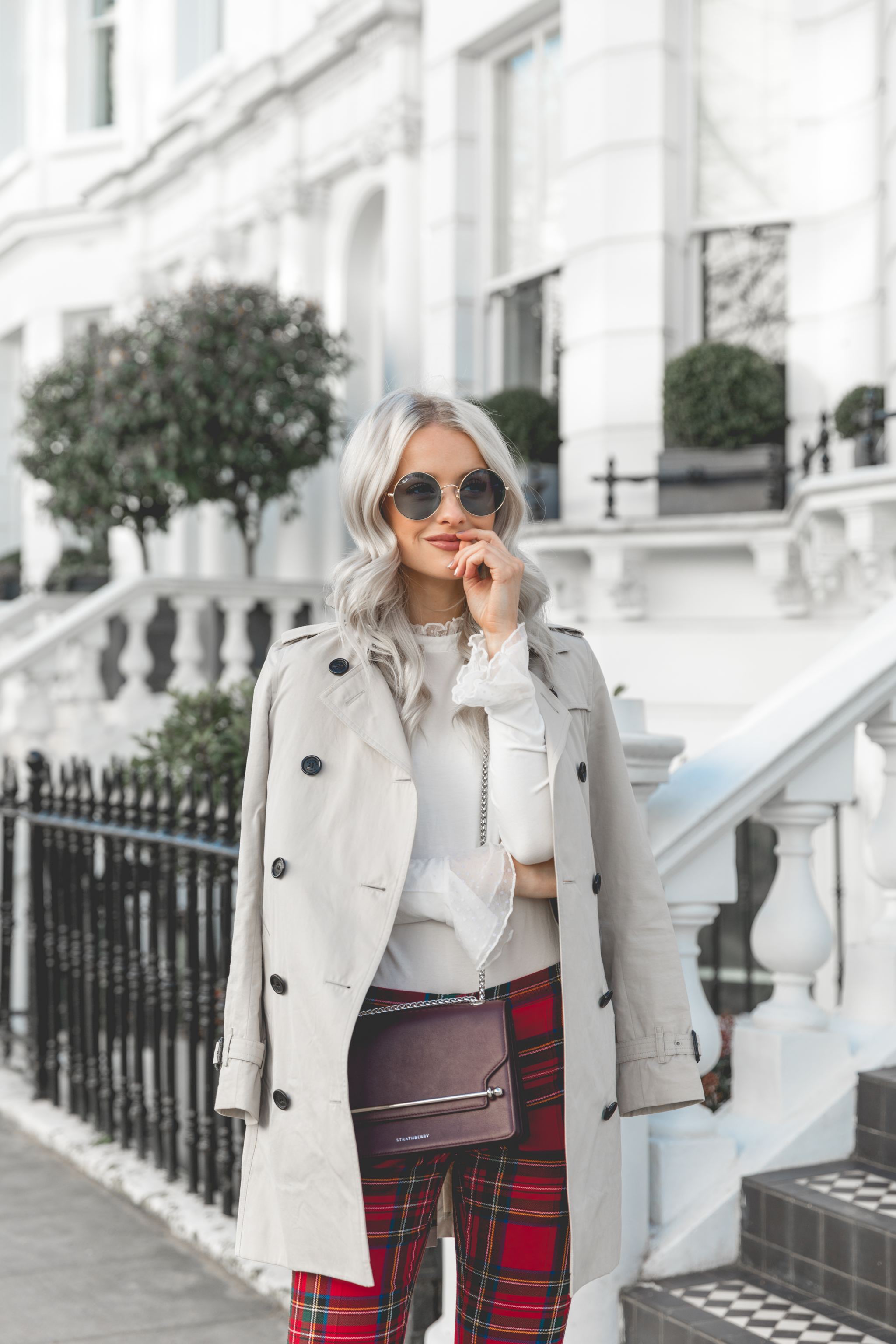 Keep the rest of your outfit simple! 
I know, I know – groundbreaking right? But very easy to get wrong, believe me! I have often thought my chosen outfit was quite chic, simple and classic, only to see pictures later on from an event and realise that perhaps my initial definition of simple, didn't quite hit the mark I was aiming for. Take this look for example. You may have seen over on the vlog, I wasn't initially sure what coat to team with the look and then all I could think of was the palette surrounding the trousers. Not only did I need to keep this look simple, I needed to stick with an earth toned, colour palette to let the trousers do their thing and to keep the rest of the look as strong as them. Cue tan boots (albeit with a fun heel!), stone trench and cream top. Perfect to sit alongside the vibrant shade of red, in the key piece of the look.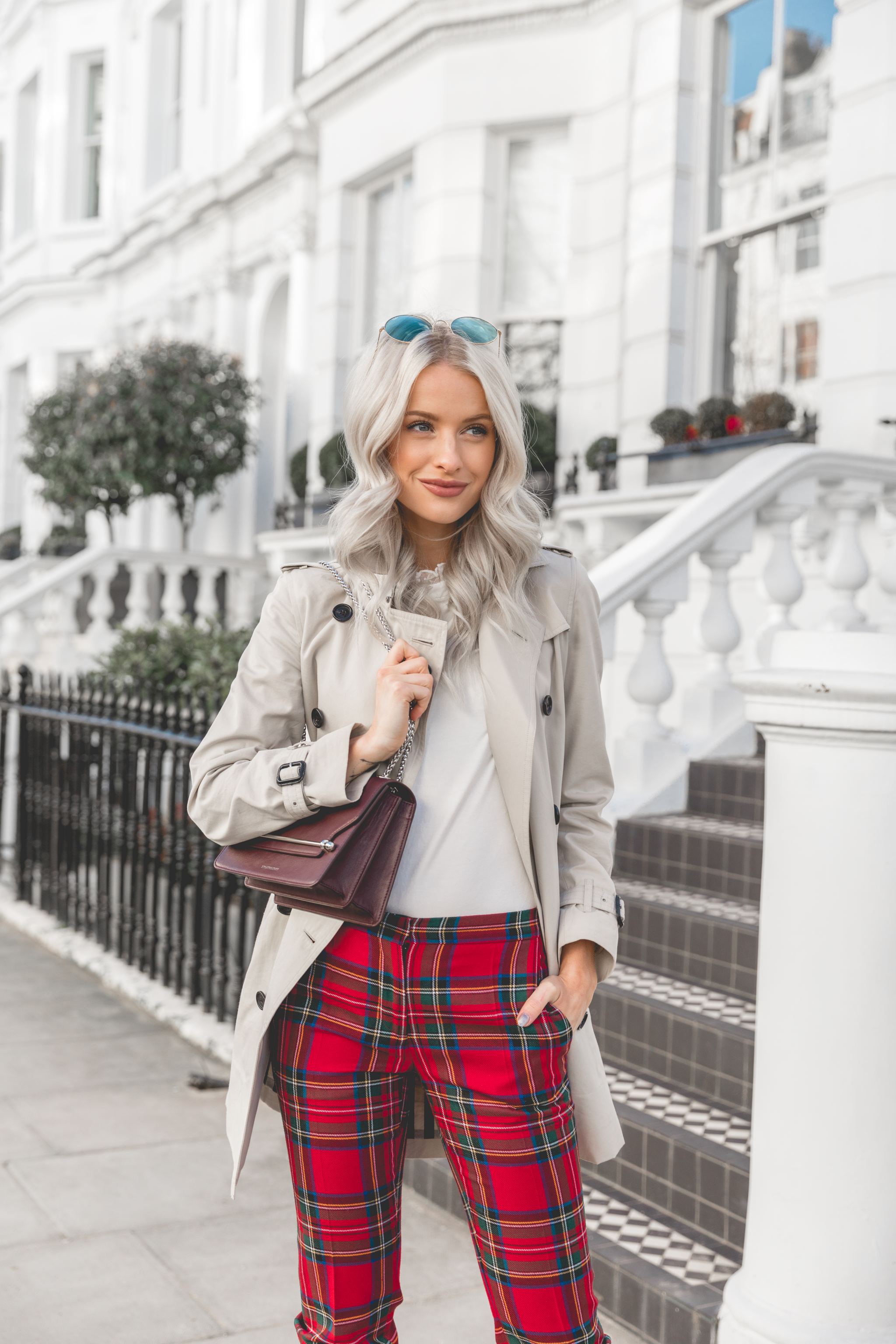 Use colour block accessories! 
For me, my accessories can make or break an outfit. Whether choosing them for practicality, such as boots because quite simply – I live in London and it's February. Or whether purely because you've just brought out a line of handbags with one of your favourite luxury brands (cue shameless plug!), and would love to style them on the blog. No matter what the choice, the key is to ensure they compliment the statement piece, not distract from it. Solid tan boots, with a pointed toe, lengthen the leg instead of cutting them short and a deep plum shade of handbag, sticks to the same side of the colour wheel, without being too 'matchy-matchy'.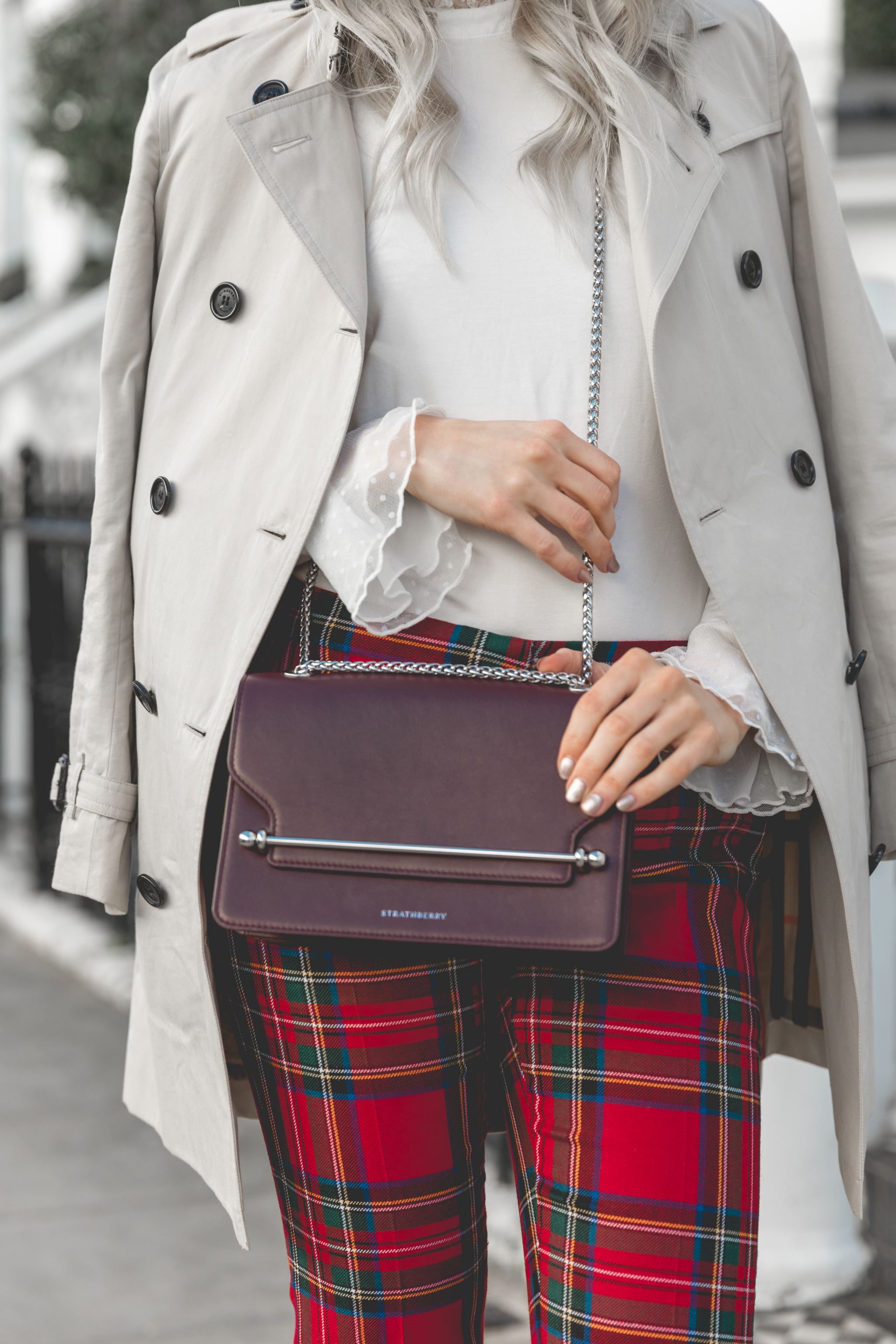 Make sure the fit is perfect! 
And last but certainly not least – make sure they fit you like a dream. If you're stepping out of your usual comfort zone, a huge part of feeling confident in any item (trend led or otherwise) is knowing that item fits you perfectly. You shouldn't ever step out of the house in something you don't feel great in, style shouldn't give you palpitations, it should give you the confidence to strut down the street like you never have before. These skinny fit Burberry trousers are in a fit I know suits me, they have a taper I know will pair with boots (my favourite footwear this time of year) and they have a high enough waist, that I can pair them with multiple types of tops. Perfection!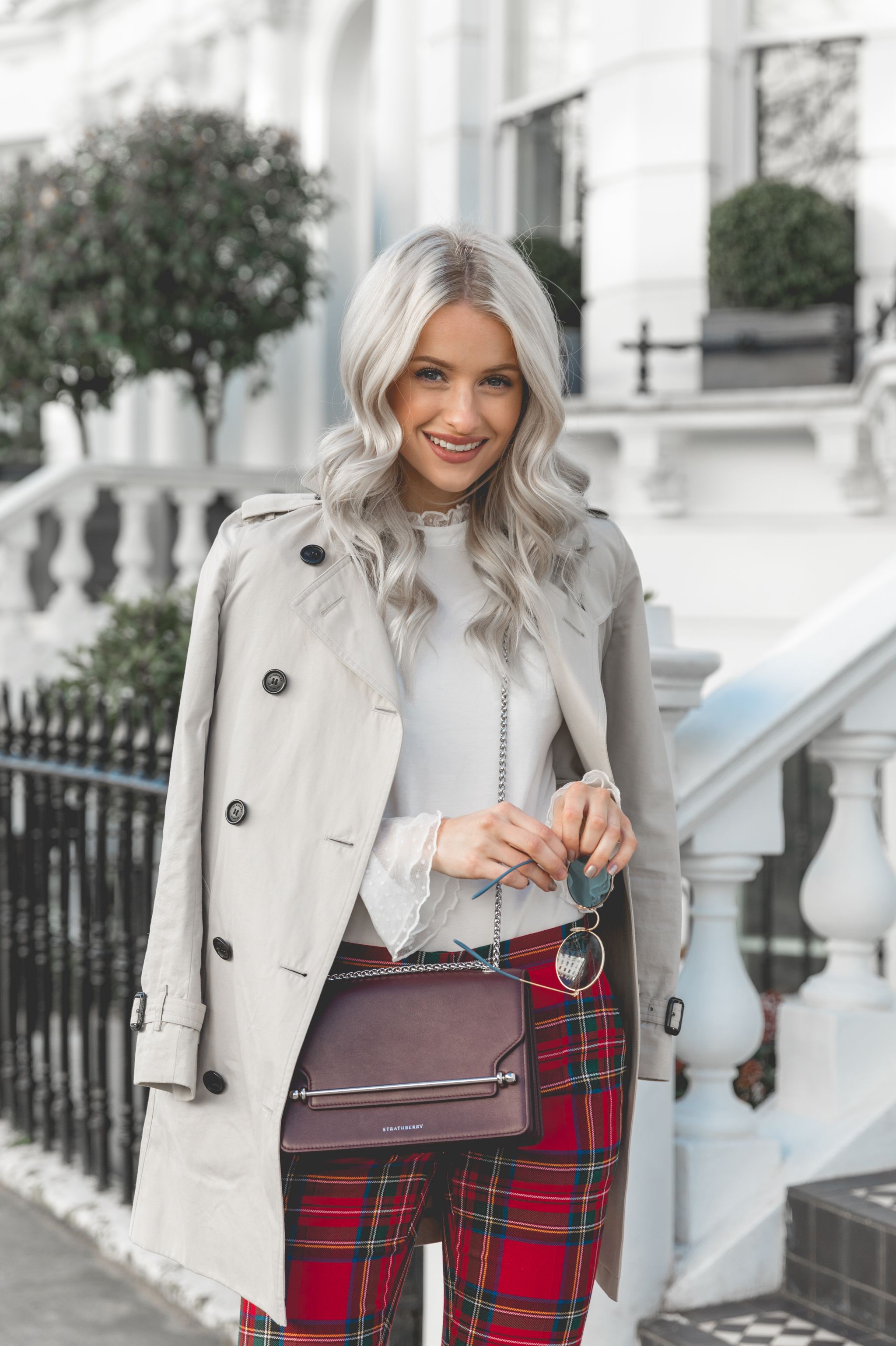 This week saw the launch of my collaborative accessories collection, with the amazing luxury brand – Strathberry. I am so excited to share this with you and I hope you love all the pieces as much as I do. I was lucky enough to take Strathberry's values of high quality, unique hardware and innovative design and add my own personal touches to create a limited edition, capsule collection. As you can imagine, you'll be seeing more of the accessories featured across my social media channels and I hope you love seeing them styled alongside my usual blend, of personalised topics. You can shop all of the items below for a limited time and you can use the hashtag #strathberryxinthefrow to chat with me about the collaboration. I can't believe that the bags have already sold out (we did manage a pre-order restock which wasn't originally in the plan!) so I'm sorry to those of you who didn't manage to treat yourself in time! But thank you all so much for this amazing opportunity and I hope you'll continue to shop the Folios, Cardholders and the Strathberry brand as a whole – I will be!
Victoria x
Sign up here for a weekly catch up of everything Inthefrow