25/02/18
#strathberryxinthefrow
The Limited Edition Collaborative Collection
Almost 5 years ago, back in Manchester, I started a conversation with the owner of a new, independent, accessories company. I instantly fell in love with the way they spoke about their hopes for the luxury brand, their passion for creating products of the highest quality and the unique details they were using to define their label and stand out from the crowd. That night was the start of a wonderful friendship and the beginning of my love for Strathberry.
You will have seen me style numerous Strathberry bags over the years, supporting the brand whenever I could and they have always been some of my most complimented pieces. From the creative designs, the unique hardware and the quality leather, people have always wanted to know, where they could get their hands on their own bag. So imagine my excitement, when in 2017, we sat down to discuss the possibility of making a #strathberryxinthefrow collection, a reality.
Fast forward to 2018 and I have been lucky enough to have spent the past 12 months, working on my own collaborative collection with the most incredible team, at their design studio in Edinburgh, Scotland. I've been working to add my own personal touches and colour palette, to their already beautifully crafted accessories and together we've developed the limited edition collection you see below.
There will be lots more imagery coming soon to the blog and you can also find the much anticipated announcement video for the collaboration below. I hope you all fall in love with the collection, as much as I have over the past year.
I'm so proud to finally unveil #strathberryxinthefrow – a limited edition collection, available for purchase from today.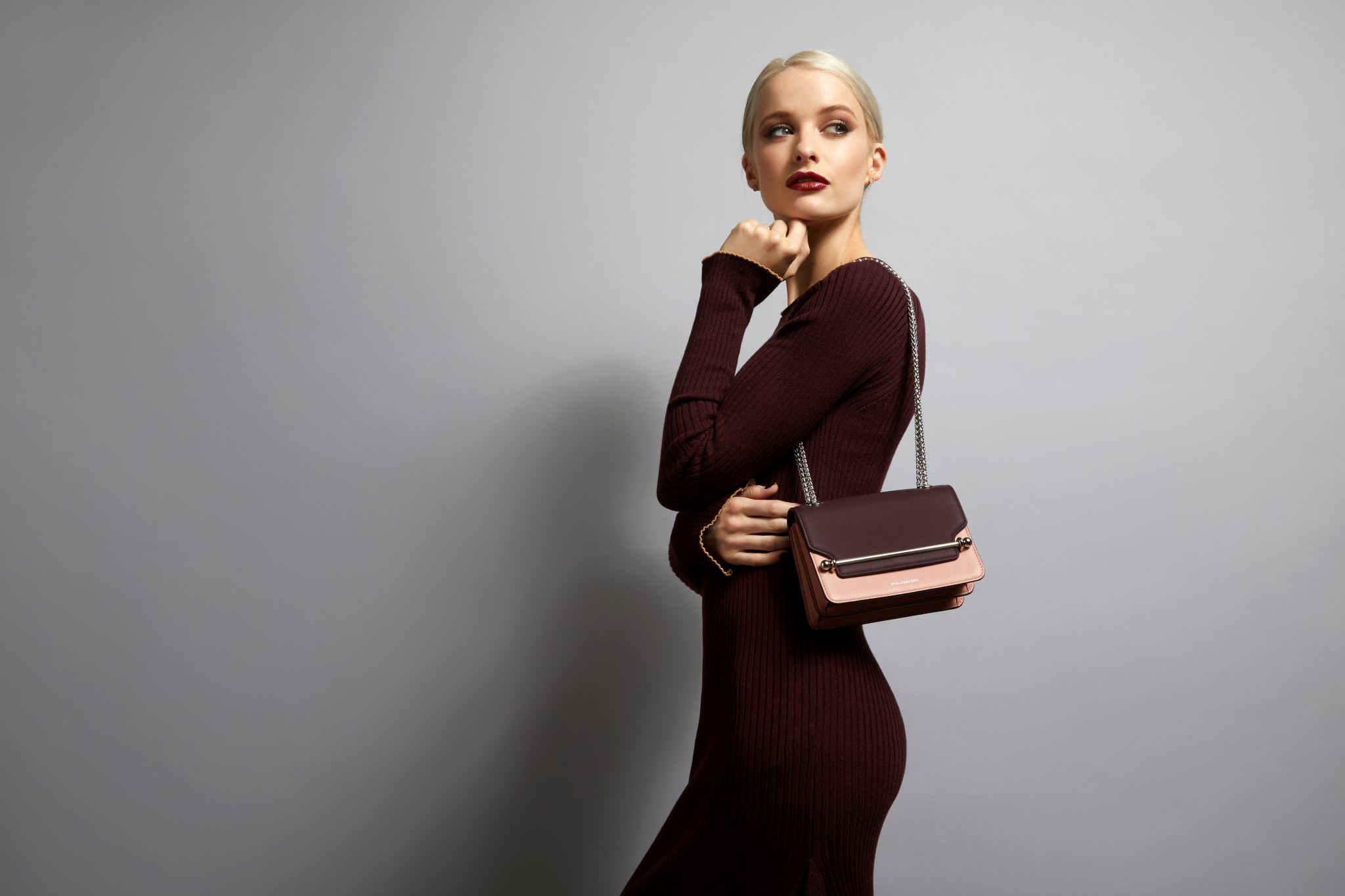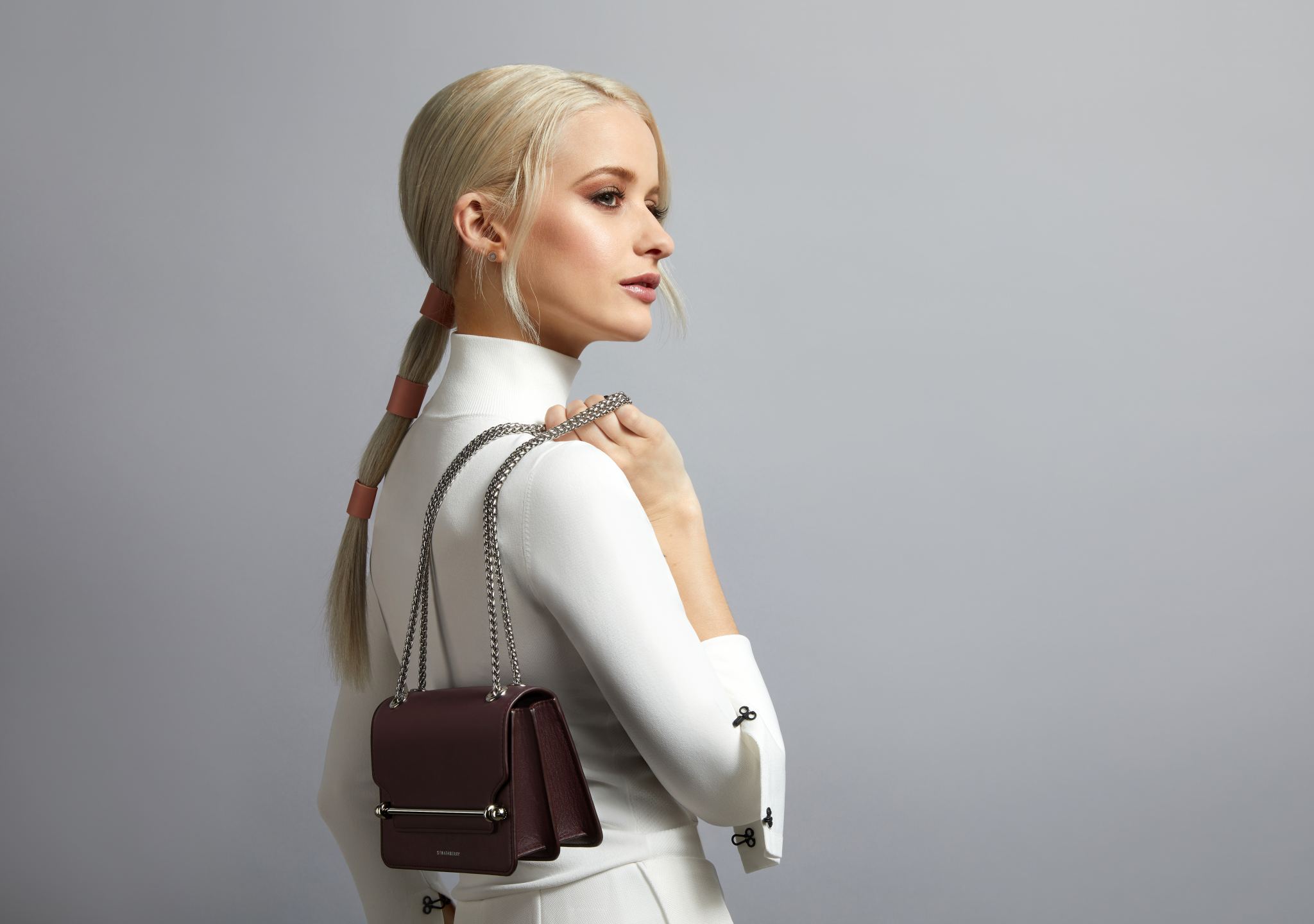 The East/West Bags are already a defining piece in the Strathberry collection – you probably will have already seen me wearing my Ruby bag and my white East/West Mini, so many times on Instagram and the blog. Strathberry offered me the opportunity to give  the East/West bags an Inthefrow makeover, and I literally squealed with excitement.
So I went for Plum and Rose. The two names of the varying colourways. The Plum – I mean, I had to throw a purple in there didn't I. If you're an OG follower, you will remember the three years where I had purple hair. It was my defining characteristic and honestly helped me so much in the early days of the blog. But I didn't want to create a purple bag, I wanted something sophisticated, somewhat mature, wearable, versatile and chic. Plum it was. Something that could suit the girl who adores only black bags, but something for those who also love a darker toned accessory.
And the Rose, because I think every lady needs a neutral, pink bag in their collection. My lighter coloured bags are some of my most worn. Plus, this shade perfectly matches my every day lipstick shade, and if you know me well, you know I love to match my lipstick to my handbag. This colour isn't overly pink, or overly beige. It sits beautifully in between and is so extremely wearable. I can't stress enough how much this will match with the majority of your outfits, because the shade is so easy to wear. I absolutely adore it.
And finally, a truly defining feature; silver hardware and branding all over the whole collection. Strathberry is known for their gold bar closure and gold features. It's become a trademark feature for them. But as a gal who loves silver, I really wanted the bags to be a true reflection of my style, so we went for silver hardware, zips and embossed branding. A feature I feel, that really refreshes the look of the plum and rose leathers. They're bright, chic and so beautiful.
East/West Bags
Made in Spain using the finest calf leather and microfiber lining with a suede like finish.
Width: 23cm (9″), Height: 16cm (6″), Depth: 9cm (3.5″).
Shoulder strap drop: single strap – 53cm (21″), double strap 29cm (11.5″)
Weight: Approximately 0.65kg (1.7lbs)
East/West Mini
Made in Spain using the finest calf leather and microfiber lining with a suede like finish.
Width: 18cm (7″), Height: 12cm (5″), Depth: 7cm (3″).
Shoulder strap drop: single strap – 53cm (21″), double strap 29cm (11.5″)
Weight: Approximately 0.45kg (1lb)
Alongside the bags are 6 matching accessories. Folios in two colour ways and two sizes – one an all-over plum and the other a duo folio in Rose and Plum, to alternate sides. Each comes in a mini and nano size – each perfect for the sizes of the East/West bags. The nano folio fits perfectly within the mini East/West bag, whilst the mini folio fits perfectly within the standard East/West bag. Each with a wrist strap, to allow you to take it out with you as a handy clutch too. The mini folio being able to fit your iPhone 8 Plus or equivalent size, plus enough room to fit your lipliner, lipstick, cards and a key; just in case you were wondering. On the front of the folios too, you will find the Strathberry x Inthefrow logo embossed in silver to the lower centre. Such a dream come true to see my brand name embossed onto a stunning branded accessory. I can't believe it.
And the cardholders – in two various colour ways. Majority plum to the front with rose to the upper card sections, or, majority rose to the body and plum to the card sections. Each also with the alternative colour of stitching to the leather. Strathberry had never previously created card holders or smaller folios, so I was extremely excited to bring something new and totally suited to what I personally use and love to have with me.
I never carry a purse anymore, I only have a card holder, so I really wanted to bring this to life in my own collection. And equally, in every bag I take out with me, I always carry a pouch for my little bits and pieces. Lipsticks, tissues, lip liners, sponges. They all sit inside a handy pouch, so you can find everything you need super quickly. So I had to have a Strathberry folio within the collection too. Plus, the nano size folio would make for a perfect coin holder or card holder also. The quality and the craftsmanship that has gone into their creation and the quality of the leather, is beyond dreamy. I can't tell you how stunning the materials and workmanship are.
Folios
Wrist strap to each, so they can be carried and secured easily.
Made in Spain using the finest calf leather and microfiber lining with a suede like finish.
Standard Width: 25cm (10″) Height: 18cm (7″)
Weight: Approximately 0.2kg (0.4lbs)
Cardholders
The cardholder has five card compartments to fit standard credit cards.
Made in Spain using the finest calf leather and microfiber lining with a suede like finish.
Width: 10.5cm (4″) Height:  7cm (3″)
Weight: Approximately 20g (0.7oz)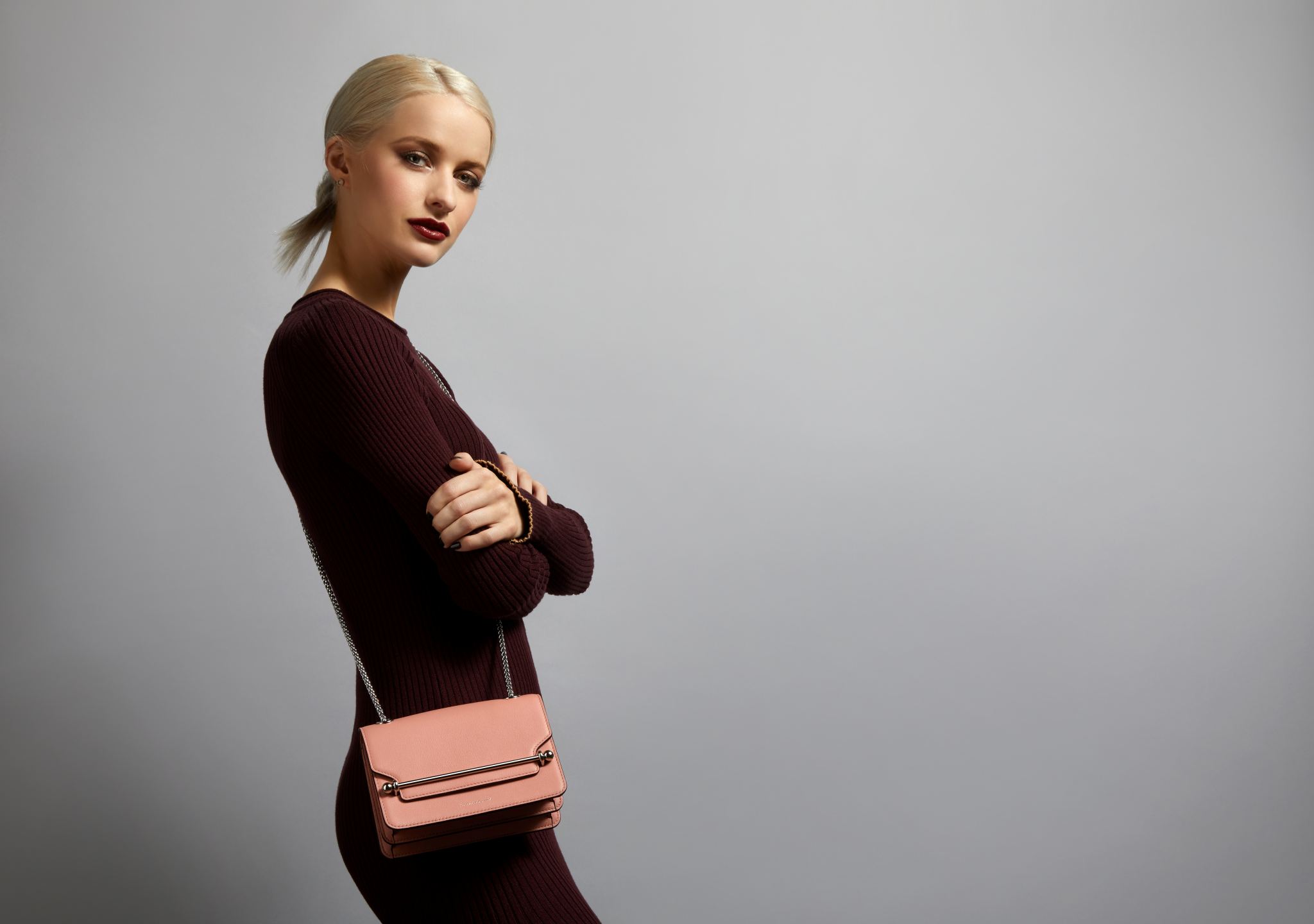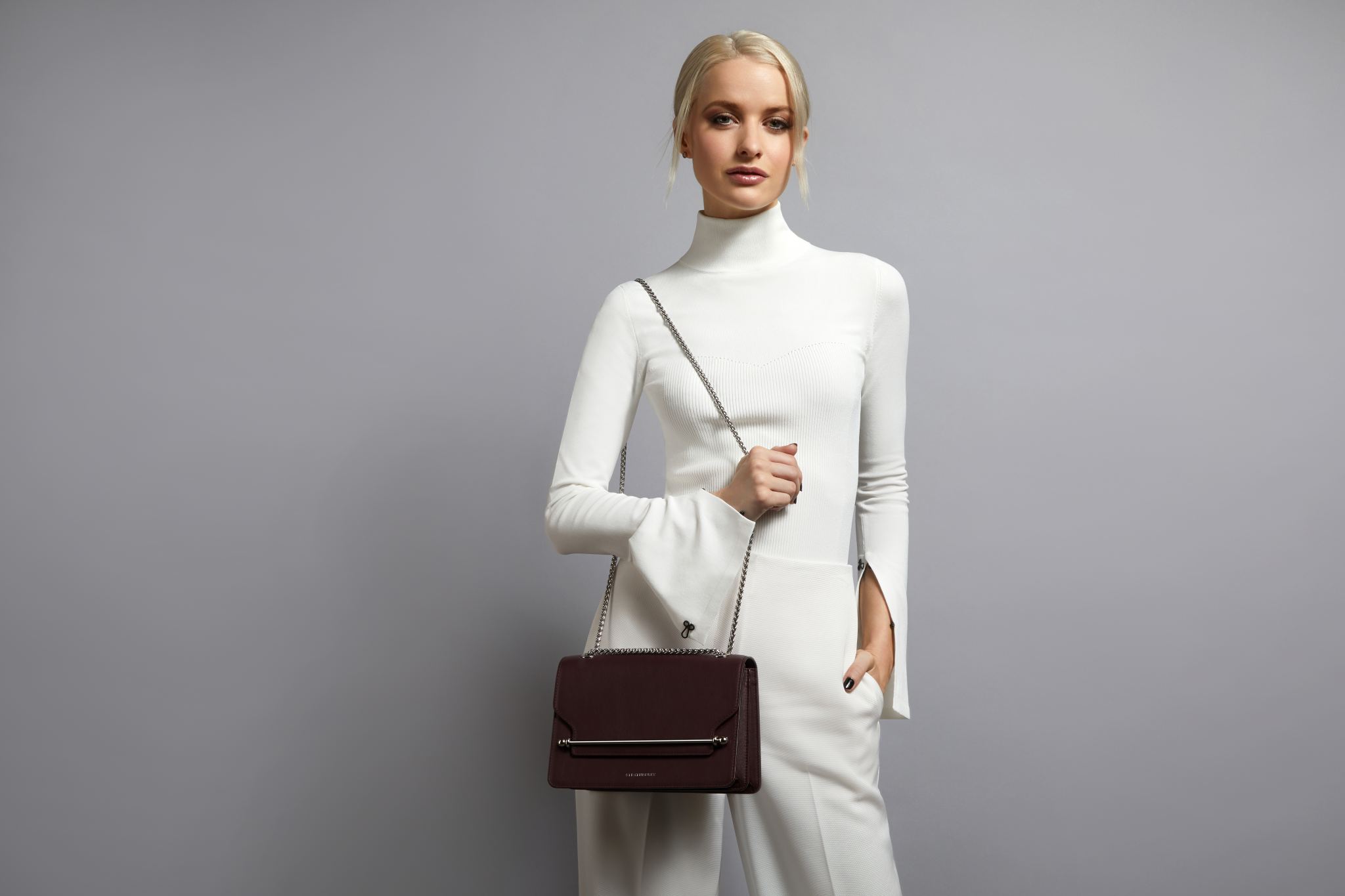 A quick note to say thank you so much to the team at Strathberry, for allowing me to create this wonderful collection with them and giving me the chance to collaborate with such a talented, passionate group of creatives. Thank you also to my amazing management team at Gleam, especially Bronagh and Amy, you've both been such a support and a huge source of inspiration to me. And lastly thank you to each and every person who has supported, encouraged and lifted me up over the past few years. You've all shown me that I can achieve anything I put my mind to and for that I am forever grateful.
Victoria x
Sign up here for a weekly catch up of everything Inthefrow