29/01/18
Looking After Your Skin in Winter
My Top 10 Products to Try
Tis' the season for dry skin. And don't I know it. My skin has been in the worst shape of it's life in the past month, and it's down to a few reasons, I presume. Extremely cold weather mixed with a very warm flat – I'm thinking of buying a humidifier stat. Plus, trying out a few new skincare treats and finding they were a little too much for my sensitive skin. As well as trying out lots of new makeup and finding it just wasn't working for me. And it's all just sort of accumulated in very dry, flaky skin that would sting with moisturiser, form bumps underneath the surface of the skin and also result in some hefty breakouts. Yet, I have made changes, know what has started to work and also found some new moisturising favourites along the way. Plus, I pulled out all of the old faves that I know do not break out my skin, and always leave it feeling its most hydrated. Out with the things that just weren't working, and in with the amazing products that make a difference. I'm guessing a few of you may also be experiencing the skin blues at the moment too, so I hope that this helps!
1.
Chanel – Hydra Beauty Micro Creme
£66 for 50g | $98 for 1.7oz
A favourite of mine for a while now and something that's always within reach on my desk recently. I've just finished my first jar and I am now onto my second – which in itself must mean I love it with the amount of products there are to choose from right now. The formula itself is lightweight yet feels extremely hydrating; the perfect combination for my skin right now. Some thicker moisturisers can feel too much when my skin is in such a sensitive state at this time of year but the Hydra Beauty Micro Creme leaves my skin feeling refreshed and hydrated with no oily residue. There are quite a few moisturisers/creams in the Hydra Beauty range (Micro Creme is suitable for all skin types) but this one is the 1st ever cream that has 'camellia micro-droplets' within it, giving an almost 'bursting' sensation as you apply it to your face. There's a wonderful cooling sensation that comes from applying this gel-cream  that I adore. It leaves your skin feeling refreshed, sinks in incredibly easily and is a great base for makeup too.
2.
Clarins – Hydra-Essentiel Silky Cream
£36 for 50ml | $48 for 1.7oz
Another amazing cream that is so hydrating, I feel like it really quenches my skin's thirst whenever I apply this. My skin just sucks it up. The formula is still very light, despite it being so great at moisturising my poor skin right now, and leaves you with a healthy glow after application. The silky cream is formulated for normal to dry skin and contains ingredients meant to continue to protect your skin from dryness in-between applying – there's also a cream in the range for extremely dry skin. The cream has a lovely fresh and light scent (I love creams that are unscented or fresh) and my skin soaks every ounce of it. This is definitely a moisturiser I use on my very dry days because it leaves me with plumped, smooth and saturated skin and is also my travel go to right now in a travel size for when I fly.
3.
Armani Prima – Glow-on Moisturizing Balm
£62 for 50g | $110 for 1.7oz
Although you'll notice in this post that I have a real love for light weight, super hydrating creams, I couldn't not mention the Glow-On Moisturizing Balm by Giorgio Armani Prima, an exciting discovery of mine from mid 2016 that I still adore. Although the texture is thicker than the rest here, when worked into the skin the silky balm formula melts in and the consistency makes me glow as soon as I've applied it. The balm contains hyaluronic acid to to keep skin hydrated and ingredients to enhance glow. Although the formula doesn't have the usual wet, bouncy formula you instantly associate with a moisturiser, (rather it reminds me of a silky cream paste), it gives you such a radiant glow when you massage it into your skin – truly a one of a kind product for me! It's perfect to use before you apply makeup if you're aiming for a dewy look but it also keeps your look in place all day.
4.
Clinique –  Moisture Surge 72-Hour
£36 for 50ml | $39 for 1.7oz
I had to include this classic product in the collection, simply because it's incredible! We all know and love the original Moisture Surge with it's amazing hydrating powers and for the first time in 15 years Clinique have released the next step in the Moisture Surge line – the 72-hour replenishing hydrator. Just like the original there's an instant feeling of moisture being absorbed into your skin but this new gel cream 72-hour formula is just – wow! It's 100% fragrance free, suitable for all skin types and keeps my skin feeling moisturised way past the end of the day and into the next. The new light weight, oil free formula uses caffeine to invigorate the skin and ingredients like aloe water and hyaluronic acid to keep moisture locked in.
5.
La Mer –  The Moisturizing Soft Cream
£220 for 60ml | $315 for 2oz
I had to include my beloved La Mer Moisturizing Soft Cream. It's been a favourite of mine for well over a year now since I was given the chance to try it and I haven't looked back. I know you're likely screaming at the screen right now saying 'How much?!' and I completely agree it's on the pricier side. However this is about the product first and foremost and I have to say it's easily one of the best creams I've ever tried. I also tried the original Moisturizing Cream but the thicker formula just isn't right for my skin. It really takes a lot of work to work it into the skin whereas the Soft Cream just blends beautifully into the skin and really hydrates and plumps my skin. This cream mixed with the renewal oil is the perfect combination for dewy, radiant skin after I've applied it and on no make up days, it's my go to skincare duo.
6.
AlumierMD –  Post Treatment Recovery Balm
£72.50 for 50ml
This balm is brand new to me and I'm currently very lucky to be testing out a huge range of AlumierMD products to really see what the brand has to offer. Out of the items I'm currently testing, the Recovery Balm has become the stand out product for me so far because of just how soothing and calming it feels when my skin has been so utterly dry recently. These products are a little different to everything else mentioned in this post because they are not available for you to by over the counter. AlumierMD are skin specialists and purchase of the products is accessed through a consultation to ensure the products you purchase are the right ones for you. After a consultation and/or treatment you are supplied with a username and password for the website to be able to purchase the items you need. The consistency is of a standard cream (not as thick as the Armani Prima Balm), the scent is beautifully subtle and as with all their products they use 'clean science' meaning the items are free from harmful chemicals. I can't wait to update you on all the products I'm currently testing!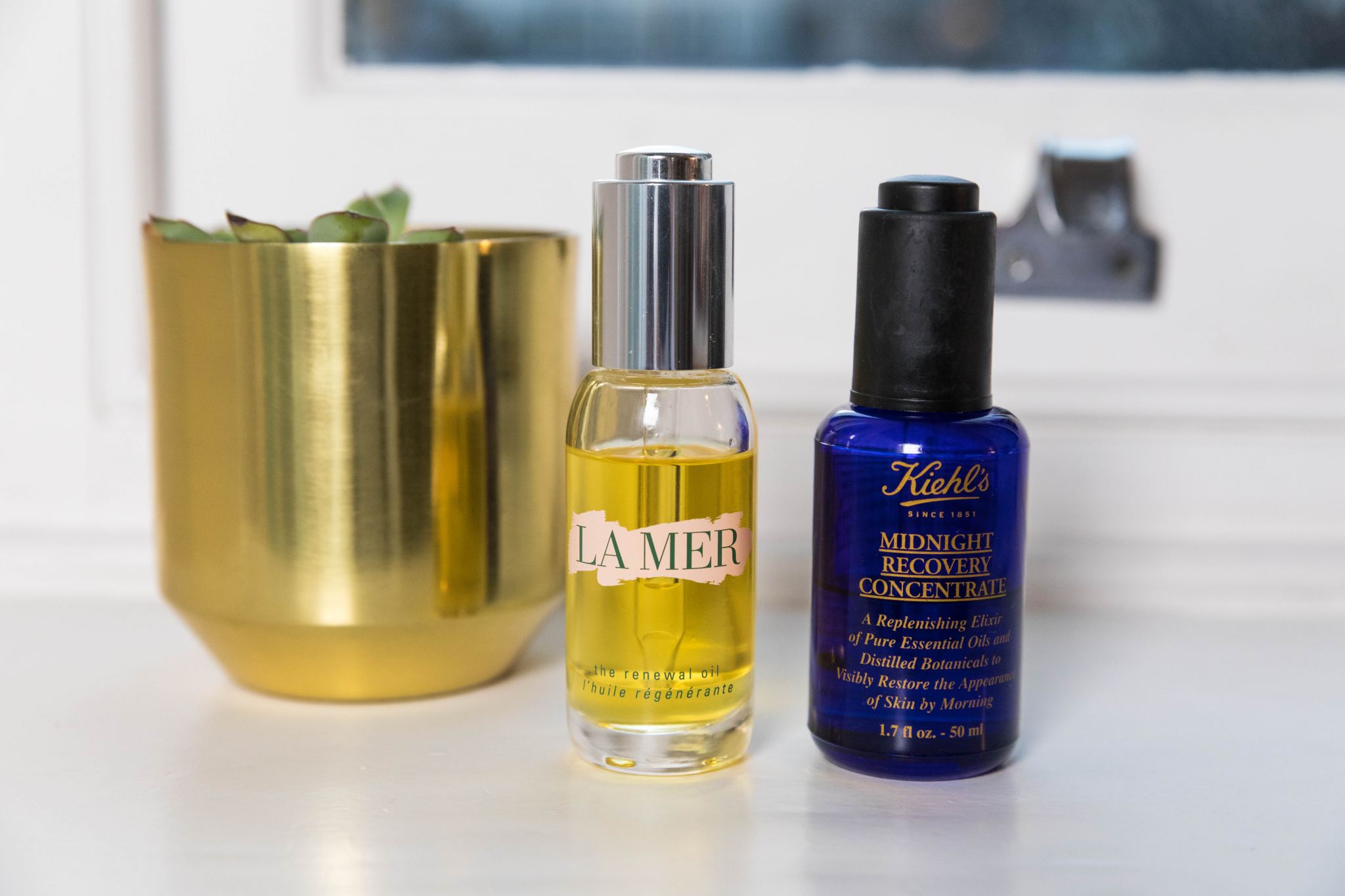 7.
La Mer – The Renewal Oil
£170 for 30ml | $245 for 1oz
I love to use oils mixed in with my moisturisers for a really dewy hydrated feel to the skin on both makeup and none makeup days and the La Mer Renewal Oil is the one I always go back to. For a cheaper alternative, the Kiehls Daily Reviving Concentrate is also incredible, but my skin responds so well to the La Mer Oil that I know it's a keeper for me. The wonderful thing about The Renewal Oil is that you can actually use it from your head to toes so even on dry hair and dry cuticles if you wish to. Just like La Mer's other products, the oil promotes skin healing, firm and hydrated skin and collagen production to make skin more resilient. I also use oils like this to massage into spots at the end of the day. If I have any breakouts because of my sore, dry skin each pimple will get a tiny amount of oil massaged into them for a minute each and I've found this is the best way for me to start tackling them and reduce the initial redness and soreness. A game changer for me!
8.
Kiehls – Midnight Recovery Concentrate
£37 for 30ml | $46 for 1oz
I feel like I was so late to jump on this bandwagon and let me tell you – the hype is real! I was so mad at myself for not testing this out long before I got my hands on a bottle and now it's the first evening oil I would recommend to anyone to try. I use this every evening by pressing the oil into my skin before I apply my night creams and moisturisers. Since discovering this I've found I wake up with skin that's hydrated, fuller and just generally healthier looking. If I ever downsize my nightly routine or forget this oil when I'm traveling I can tell straight away that my texture is more evident and my skin starts to look dull and uneven. It contains essential oils and lavender oil, that also promote a great nights sleep as well as being 99.8% natural ingredients overall so I know I'm using something great for my skin. I'm onto my third repurchase of this and I know I'll be buying it again the next time I run out.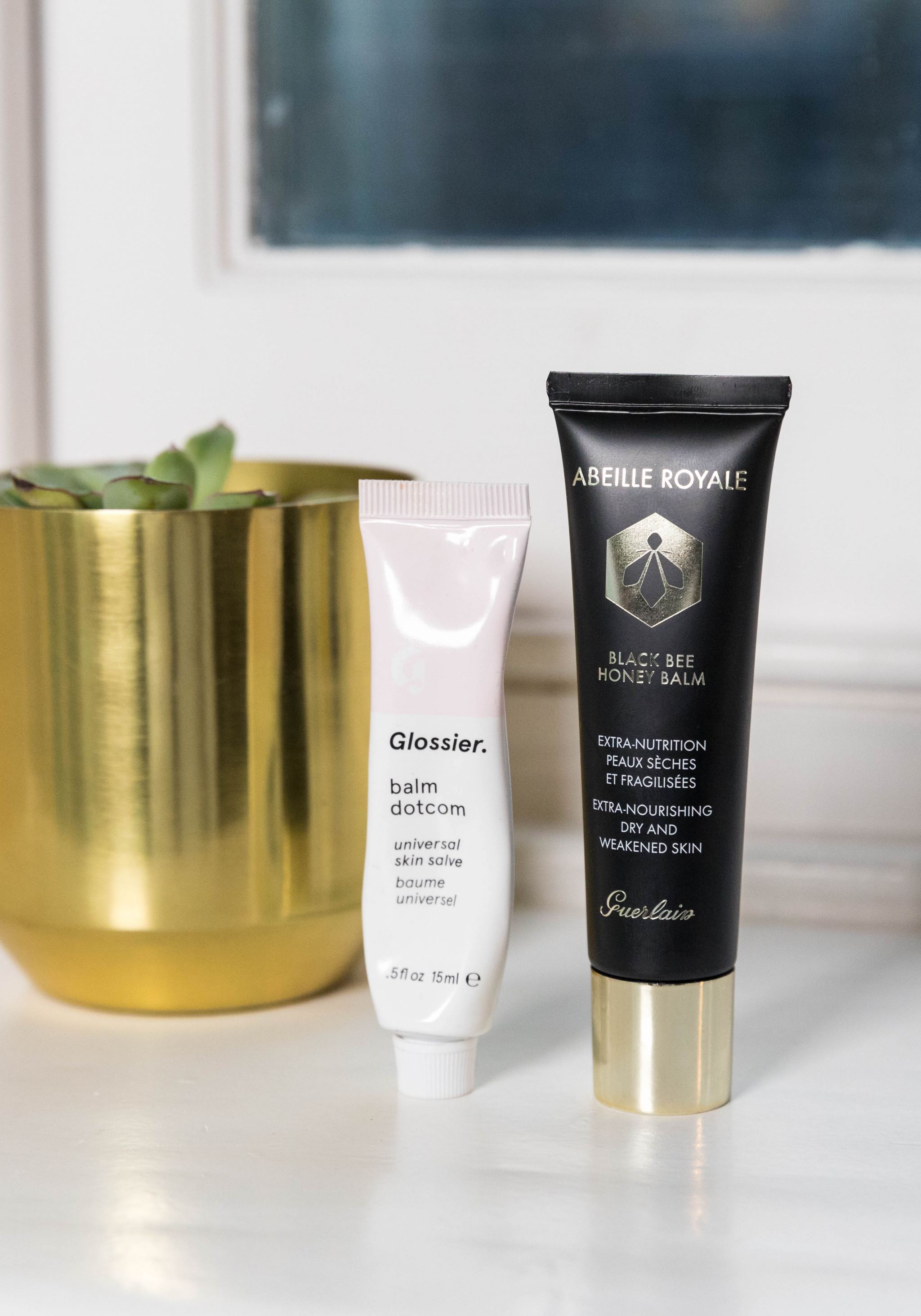 9.
Guerlain – Abeille Royale Black Bee Honey Balm
£41 for 30ml | $56 for 1oz
Although this cream is marketed for use on face, body or any areas that may need an extra ounce of help, I personally love to use this balm on my hands, especially right now. It's the perfect rich formula for the Winter months when my hands are so dry, my cuticles are sore and the palms of my hands just feel generally dry and unloved. It's got a wonderful scent of honey that I love, due to the royal jelly and black bee honey ingredients and you can tell straight away with use what a difference this product makes. As soon as I slather my hands in this I can feel a lovely soothing, calming and hydrating sensation that brings my hands back to life. I love to have this in my handbag to use throughout the day and I always use it just before bed too.
10.
Glossier – Balm Dot Com
£10 for 15ml | $12 for 0.5oz
Another item I was determined not to succumb to the hype about (is anyone else like this?) but I put my hands up and I admit that the hype, once again, is real! Now you know I love my Carmex so for this to make it onto the list is quite a big deal, but I have really been enjoying everything about it. The consistency is similar to a mix of Carmex, Vaseline and Elizabeth Arden 8-hour cream and although it's touted as a universal skin salve, I've only used it on my lips thus far. This balm has that petroleum jelly feel to it, but unlike so many other lip products, you can actually feel the product sinking into your lips and hydrating them. My lips have been noticeably softer since using it, despite it not having the intensity of a Carmex type product and it's become a very recent permanent addition to my handbag! I'd highly recommend the original fragrance free, un-tinted version.
So those are my ten winter skincare favourites. I'd love to know what holy grail products you've been using this Winter and if there's anything you always swear by to bring a little life back into your dry skin?!
Sign up here for a weekly catch up of everything Inthefrow