04/12/17
Festive Styling
Location: St Tropez
If there's one thing that fills me with sheer panic about this time of year, it's having enough outfits to cover every event. This isn't because I'm a princess and refuse to wear something more than once (if I love something I will wear it till it's no longer in existence) but I like to wear lots of new items and accessories for the sake of what I do. You guys wouldn't want to see me in the exact same dress every week. But on a lot of occasions, I do like to style the same dresses with different accessories, giving my older accessories a new lease of life with some new sparkles and even switching up my makeup for events too.
I am absolutely jam packed for December and have been for a few months now, but although I've been somewhat more organised than previous years, there are still outfits needed for multiple events. If you're about to be in the same predicament as me then hopefully this is the perfect post for you too! Let's get styling!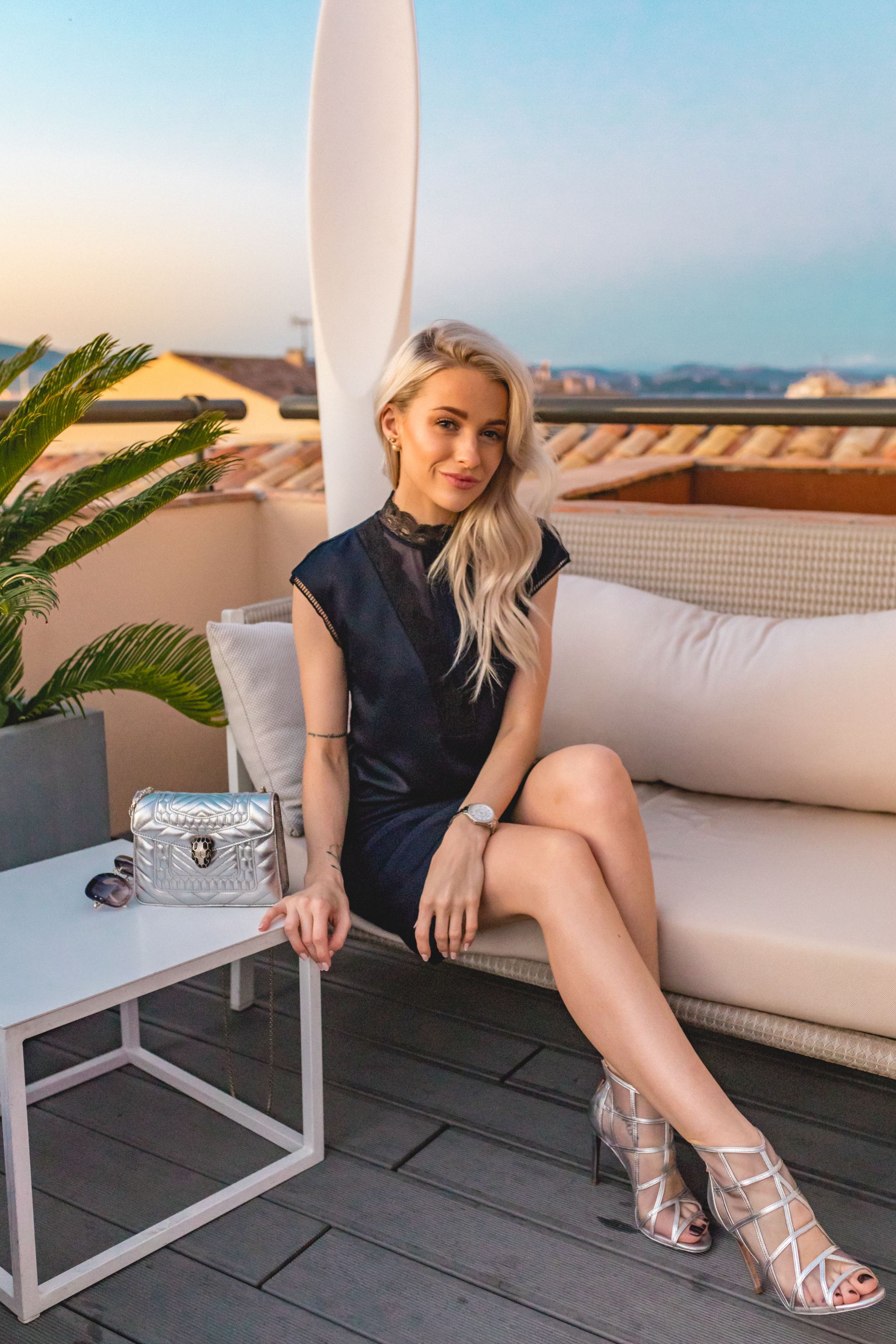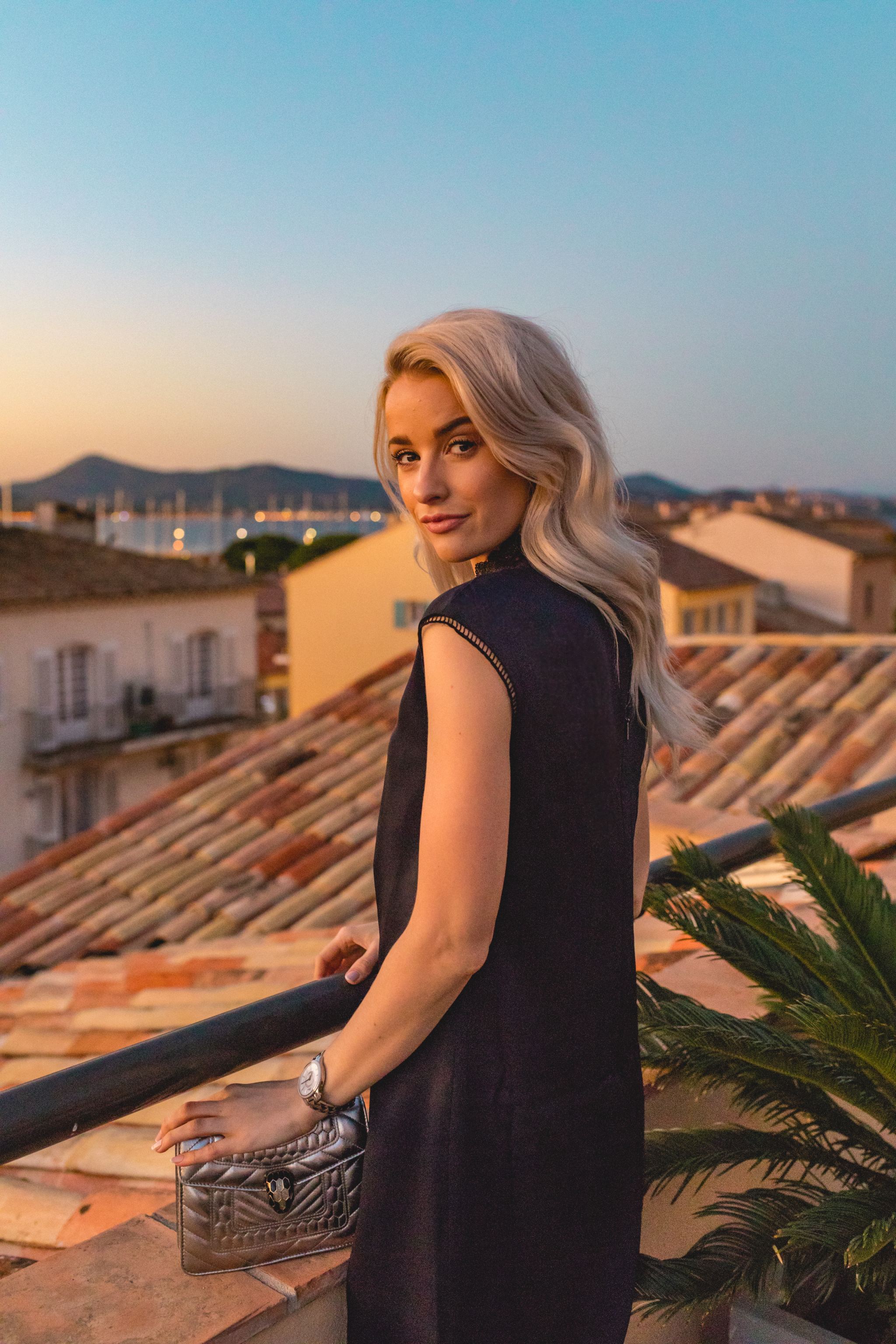 Look One:
Matching Metallics 
I love matching accessories. I think there's something about having a cohesive palette when it comes to your accessories that is so pleasing to the eye and pulls together any look, especially for the party season. Metallics are a favourite of mine, from these Ted Baker caged boots, to my very loved Bulgari handbag and the little finishing touches like my Thoms Sabo studs. It's very easy to panic buy during the festive season but with a little planning it's even easier (and cheaper!) to pull forward those investment pieces from previous seasons, like my Serpenti Forever, and rework them into a new on trend outfit.
This Ted Baker shift dress is the perfect shade of easy to wear navy with lace detailing to the neckline and sleeves to add a little sass and nod to underwear as outerwear. The hemline is short enough to team with over the knee boots should the evening be too cold for open toe boots, but not too short that you'll spend the evening flashing anyone sat across from you at the work Christmas party. The silky material is a wonderful alternative, if sequins are not your cup of tea this time of year, and teamed with a classic Thomas Sabo watch and even some statement Miu Miu sunglasses for the Winter sun it's festive chic at it's best.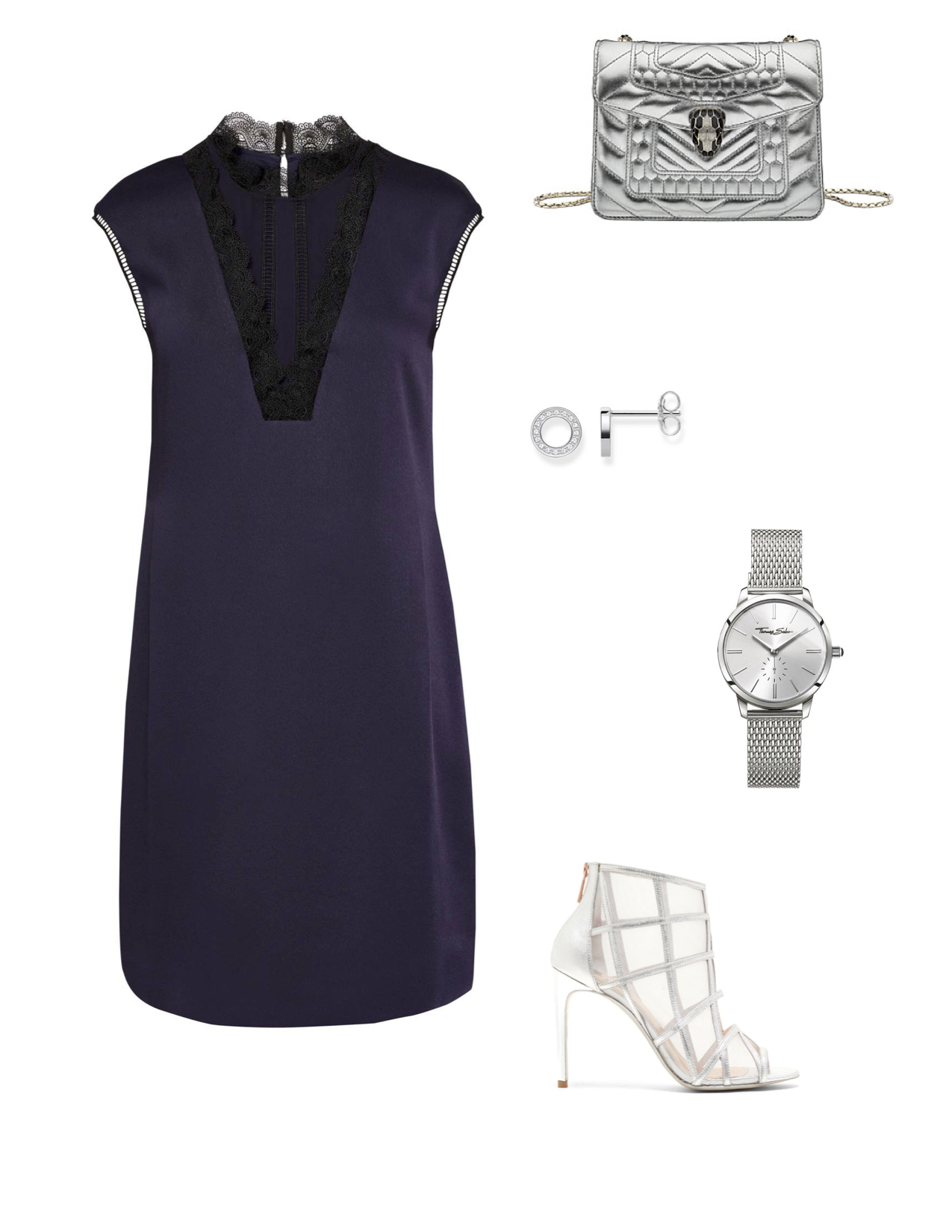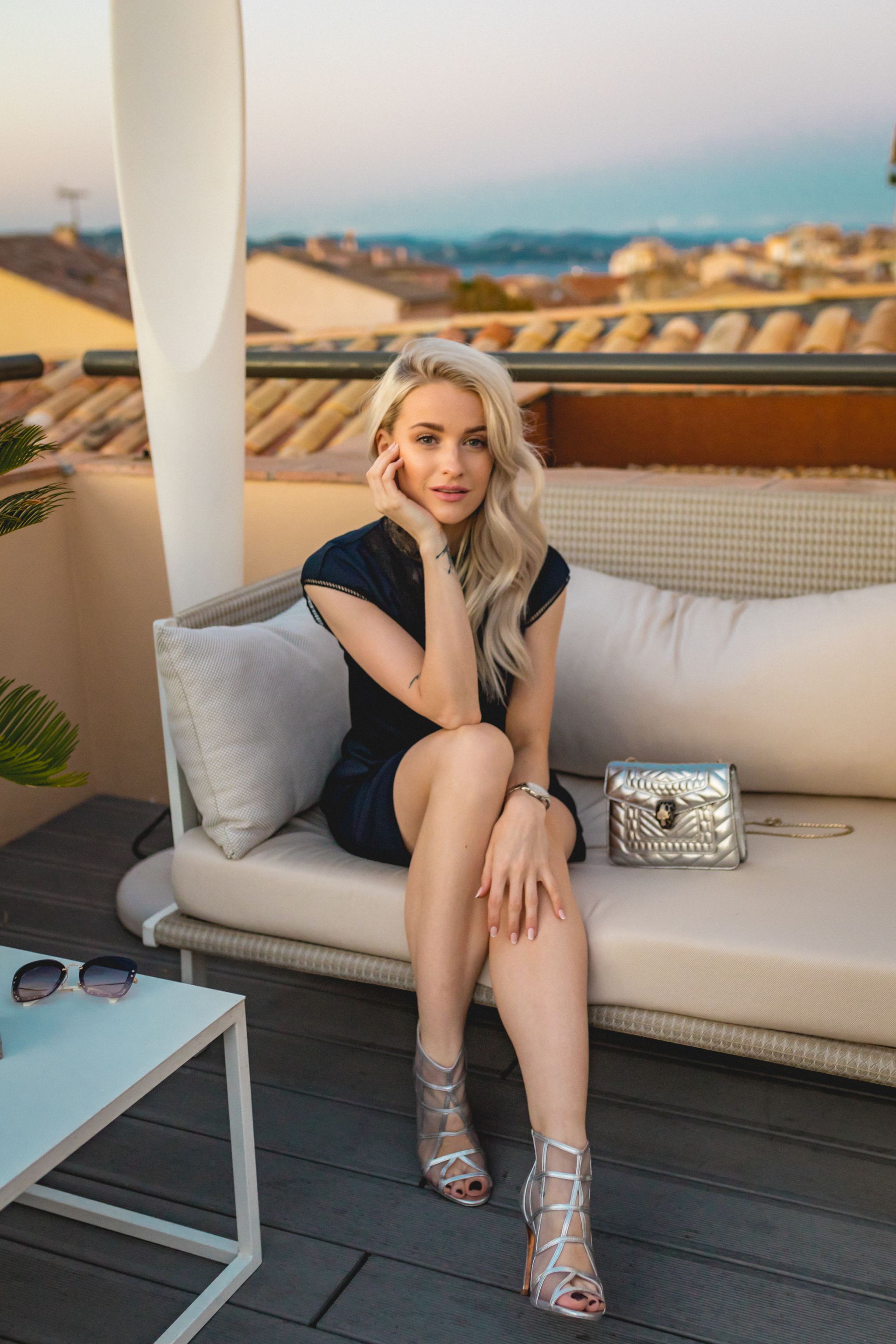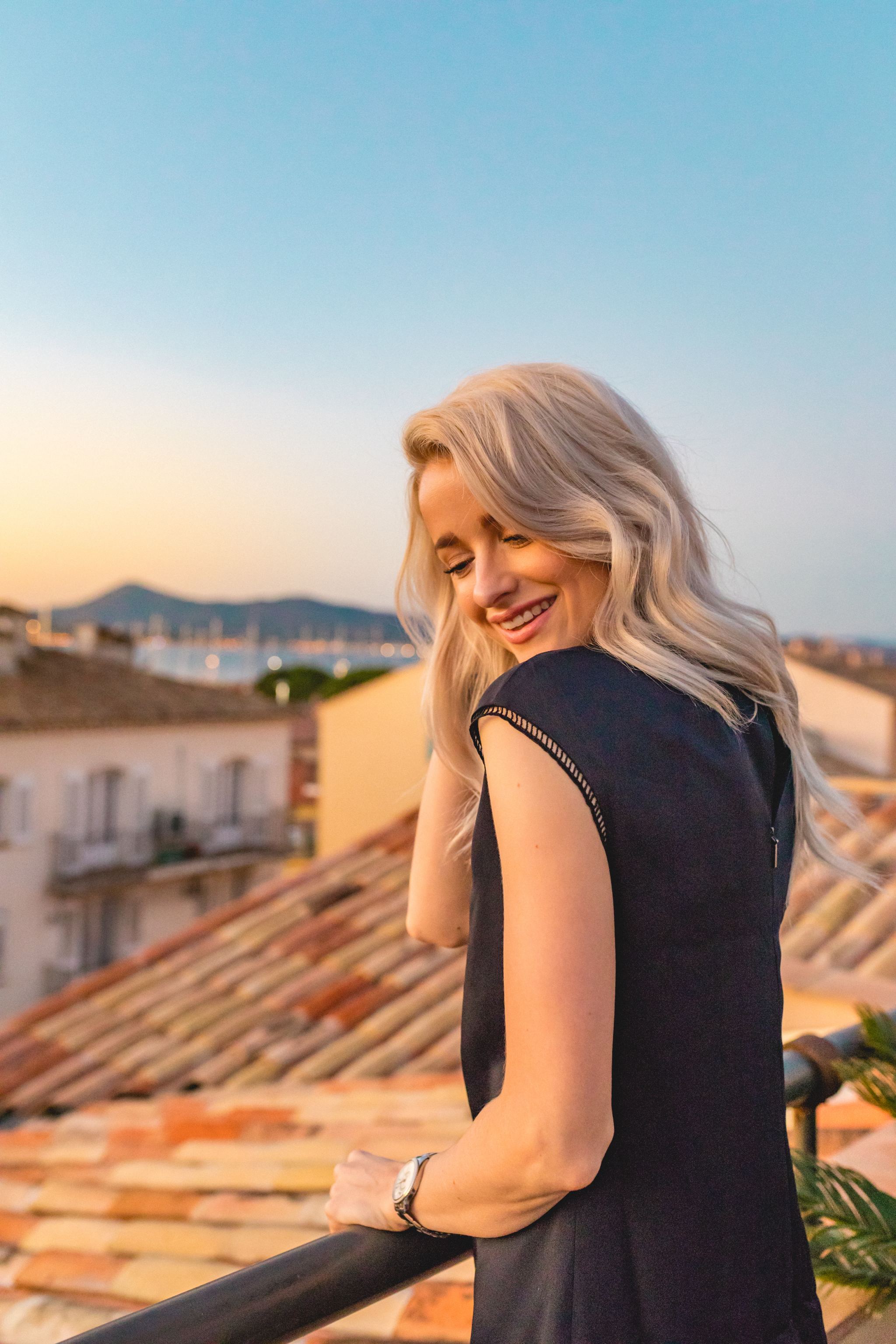 Look Two:
Suited & Booted 
The great thing about investing in some well fitting, quality tailoring is the amount of options you give yourself by adding them into your wardrobe. The versatility of a classic suit in a navy or black, can inspire so many different outfits for the festive season and beyond. Reiss do some of the best tailoring out there and although the price can be a little on the higher side, the quality pays for itself in my opinion. This classic black blazer and trouser combo are pieces you can wear again and again, and mix 'n' match with so many other items.
You have the ability to create edgy evening looks to workplace appropriate attire with a staple like this suit but for me a suit is the perfect way to impress at those Christmas parties. A well fitting suit can add just as much confidence to my step than the most sexy of dresses, you just have to make the right statement accessory choices. This outfit is screaming out for some killer red heels (a la Victoria Beckham), your sparkly handbag to add that festive touch and then to show a little skin, roll up those sleeves and add a gorgeous camisole too.  The contrast between the masculine tailoring and the feminine cami is the perfect way to feel vampy without needing a sky high hemline and the long necklace draws the eye and elongates the neck.   
Look Three:
Sassy Sequins 
It's Christmas therefore it's obligatory to add some sequins to your wardrobe. You may prefer look number two with the more subtle cami, but let's be honest if you can't push the boundaries and wear a sequin dress when can you? This shift dress is the perfect mix of great quality and festive fun and even better it can be teamed with my favourite boots of the season already sitting in my wardrobe, my Stuart Weitzmans. A mid thigh hemline doesn't have to mean shivering all night when over the knee boots can make the look go from fun to foxy in one fell swoop.

Just because it's a Christmas party doesn't mean you have to forgo wearing your trusty Winter jacket, infact throwing a faux fur collared coat over a sparkly dress is one of my favourite contrasts and anything that keeps you warm before the dancing starts is a bonus in my eyes! If I'm already rocking the sequins then adding my studded Jimmy Choo lockett bag seems to be the perfect choice alongside a rose gold bracelet (let the neckline speak for itself) to continue the mixing of the metals without overkill. 
Look Four:
Lady In Red
The colour of the next two seasons, the shade that dominated the catwalk and my newest love; anything ruby rose red. I couldn't plan for my holiday events without a beautiful red piece in here. My last minute 'go to' for any event is always a bold, bright piece and recently there's something about a certain vibrant red that boosts my confidence levels and leaves me feeling my best. From my beautiful new Three Floor dress, to those love/hate River Island cropped trousers and from my killer So Kates, to this beautiful bandeau jumpsuit. 
You might remember last year I found the jumpsuit of dreams from Hugo Boss that flew off the shelves and this  jumpsuit is the perfect updated party version with a fitted bandeau top, a statement frill and a flattering cropped leg length.  Even better it's in the sale! This shade is so beautiful for me it needs to stay simple. Your most worn faux leather biker is the perfect throw on, with nude heels to lengthen the legs and your favourite bag that's got room for everything you need for the evening. Finished with simple pearl earrings to compliment the choice of nude accessories. 
Look Five:
The LBD
You can't think about festive dressing without thinking about styling a little black dress for the season. We all know how flattering the classic dress can be but the Christmas season is the perfect month to treat yourself to a not so classic Self Portrait style. I love this lace and frill dress with a totally on trend kilt style bottom and the instantly recognisable, intricate detailing with long sleeves to contrast the over knee hem. I have a collection of Self portrait dresses I've loved wearing again and again, they're the perfect investment for seasons to come too. 
It is party season after all so adding a bit of fun into the mix is the simple way to update the LBD for Christmas and New Year. Some all out sparkle heels that make you feel like a princess, a colour block clutch from YSL that will see you through to 2018 and some stackable rings from one of my favourite jewellery brands to finish the look. Perhaps my favourite type of event outfit; a lace dress, killer heels and alternative accessories.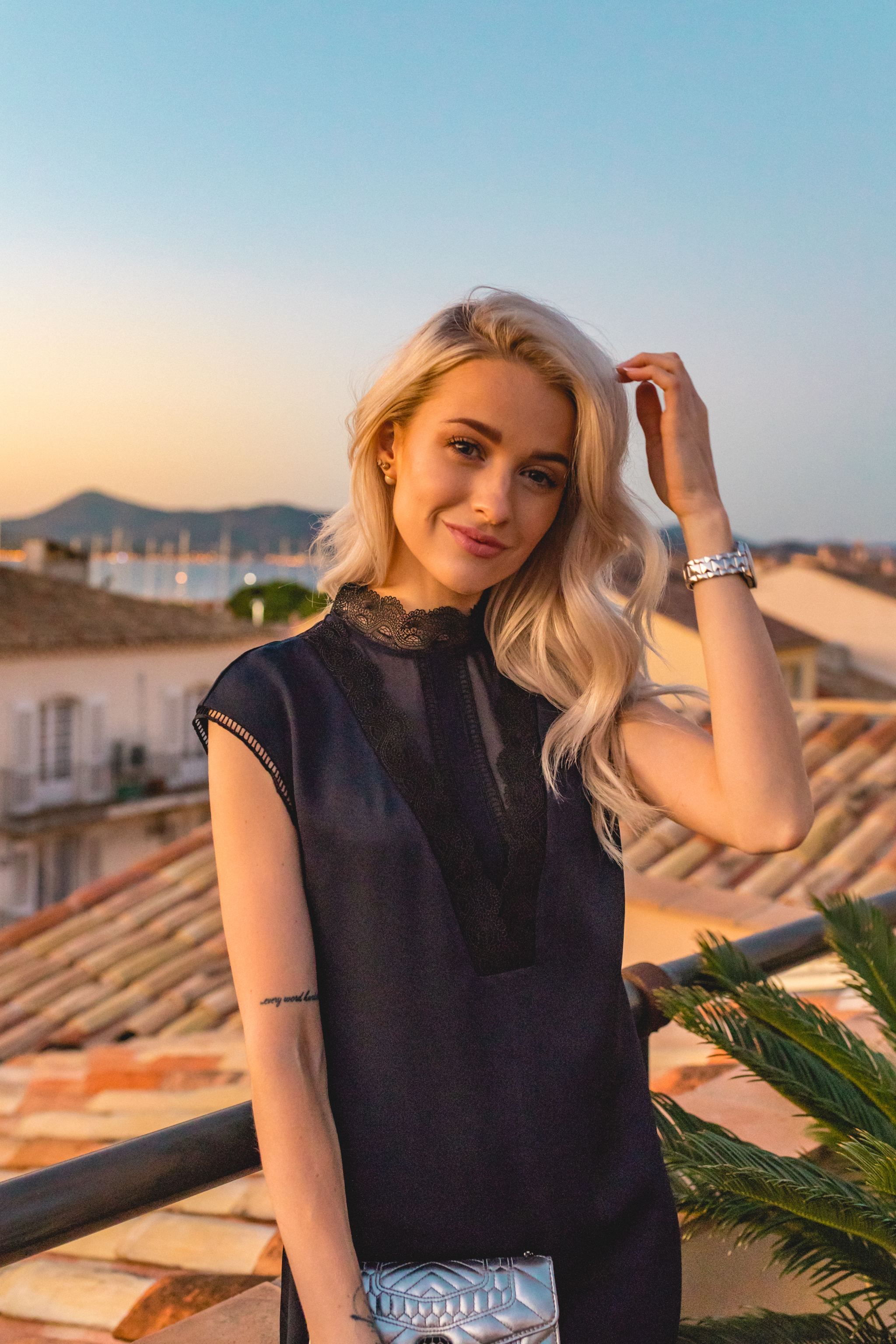 Hope you're all enjoying some Christmas festivities so far this December and I hope you've find some style inspiration for your Christmas parties too!
Sign up here for a weekly catch up of everything Inthefrow