17/11/17
Styling Over Knee Boots
Location: St Tropez
So, you've seen everyone on your Instagram wearing a gorgeous pair of overknee boots and you're wondering if you can make them work for your style without feeling uncomfortable or a little silly. I remember before I bought a pair of overknee boots, I was so unsure as to whether they would suit me and if I could actually pull them off. I was just a little intimidated by the style. Whilst now, I can't think of a pair of shoes I like to style more.
They're versatile, slimming and usually really comfortable. Depending on the colour, they can go with so many items in your wardrobe and really create a statement without being over the top. I have maybe 6 pairs of overknee boots in my collection now, each in varying heel heights, colours and styles and they are such a fantastic accessory to style for most occasions.
And thus, I wanted to round up some favourites in the stores right now, in varying price points and to insert a few ideas of how to style them in a way that is appropriate for most daytime events.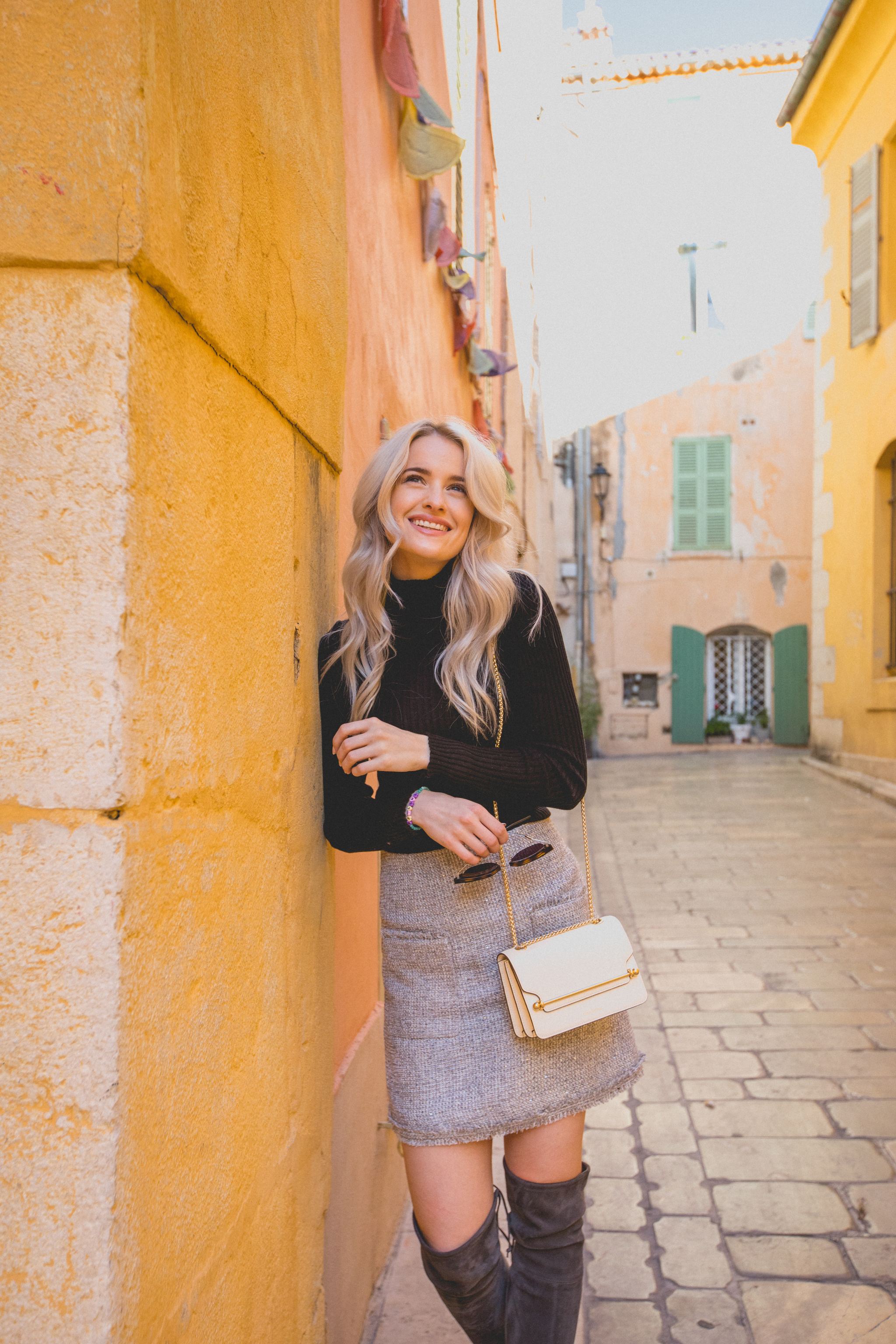 Styling.
You've found the boots of your dreams, but how do you style them? I find overknee boots are far more versatile than I ever expected. They can go with so many different items in your wardrobe depending on the look you're going for, and the occasion.
Evening Event:
If you're looking for something somewhat sexy that will elongate your legs, go for a high heeled, suede overknee boot in grey or black to streamline you. And with that you could wear a little black dress that is either floaty or fitted, or alternatively a skirt that doesn't touch the top of the boots, with a blouse tucked in and a little denim or leather jacket.
Daytime Wear:
It depends where you're walking to, as you may prefer to go for a pair of flat boots. And with that, you could wear them over your skinny jeans if you prefer. But I like to wear mine with a chunky jumper dress that skims the top of the boots or a suede or leather mini skirt with a jumper tucked in.
My Style.
The outfit that I am wearing in the pictures, is a typical way that I like to style my OTK boots. With a mini skirt that isn't too inappropriately short, but doesn't touch the top of the boots. That slice of skin is one of the most flattering factors I think. This one is sold out on River Island by the way, but I've left other options below. And then I will tuck a tee, blouse or jumper into the skirt to streamline me. Then you can throw a jacket over the top for warmth. You will find that with over the knee boots, you won't need tights, as they will keep your feet and legs quite toasty. Especially if you wear a pair of knee high socks too! They really do flatter your legs by elongating your shape, especially in a black or grey. But the beige boots on the market right now are truly stunning.
Let me know what you think of the over knee boots trend and how you love to style them the most! Which style is your favourite right now?
Sign up here for a weekly catch up of everything Inthefrow