This is a Paid for Advertorial in Collaboration with Philips.
10/11/17
The Key to a Beautiful Smile
Your teeth. It's the thing that people see as soon as you speak to them – it's the structure to your face shape and the beauty behind your smile. They're one of the most important things to look after when it comes to personal appearances. For years I didn't care though. I didn't wear my retainers after years of dental work and I was disinterested in the health of my teeth. Don't get me wrong, I'm one of those people that brushes at least twice a day without fail; I've never been one of those skip brushing before bed types. But I was a standard toothbrush kind of gal for years, until around a year ago. I finally started to use an electric toothbrush after a check up with my dentist and her noticing that my gums were inflamed. She suggested I really needed to try a toothbrush that would actually help to keep my teeth clean and bright, and that an electric brush was the only way. And she was totally right. The next check up I went to, she could tell immediately that I had made the switch. My teeth and gums looked healthier, cleaner and so many other nasties around my teeth had gone. And after that actual proof of them working; I'm never going back.
You really do need to try out an electric brush if you want to up your dental health game. And this is  literally the top of the range, top of the pops when it comes to dental care. Say hello to the Rolls Royce of Toothbrushes.
This is the Philips Sonicare DiamondClean Smart in blue, and the one of the most advanced teeth cleaning devices I have ever seen.
It is your own personal guidance coach for your brushing behaviour, how often you brush, the pressure you're using and how to better care for your teeth.
Everything you need to know is below including why it's the Rolls Royce of toothbrushes, how to use, where to buy and a discount code for 10% off!
Your Personalised Guidance 
The most incredible feature of this toothbrush for me, is the app. It offers personalised guidance and coaching via smart sensor technology and also hosts a multitude of features. I honestly never bought into this connected idea before with previous brushes, but this one is the easiest and most useful app I've tried. With an easy download of the Philips Sonicare app from the app store, you can connect your brush via bluetooth by simply holding down the mode button. And from there, the app follows and coaches you through your brushing performance in a few amazing ways:
It tells you when to slow down or stop moving your brush
It tells you if you're brushing with too much pressure
It tells you where in your mouth to brush, step by step
It gives you extra time at the end to reach areas of your teeth you didn't brush enough
The health of your brush head is monitored and tells you when to replace it
It tells you to recharge it when it's running low
It's like having your own dentist watching you brush and checking you're reaching every nook and cranny. The app just pops up with tips and actions whilst you brush, and the colour of the teeth on the screen go from yellow to white, to signify how well you have brushed them. It's brilliant. I've never seen anything like it and I'm totally blown away. The fact that it told me to go back to one area of my mouth I hadn't spent enough time on was so clever. Honestly, my teeth have never felt so clean.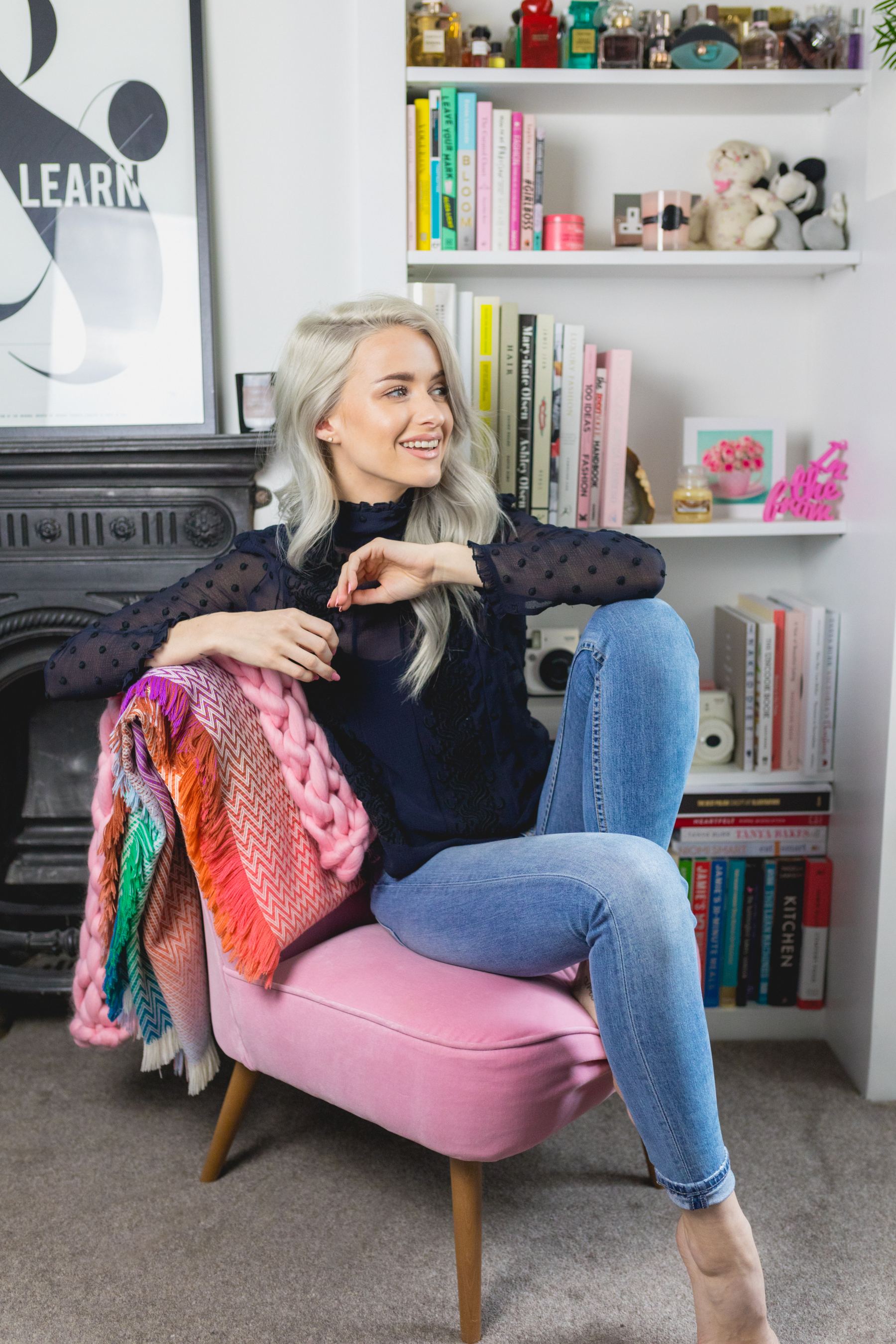 The Smart Brush Heads
You will find four in the box, and all of them are fitted with a clever micro-chip inside. When attached, the micro-chip tells the toothbrush which head you have attached and chooses the correct and most recommended settings accordingly. This will then track your usage and will remind you when you need to replace the brush heads to maintain the best oral care results. There is a Premium plaque defense brush head, a gum care brush head, a white brush head and a tongue Care+ brush head - each for their various purposes, and there are three intensity options whilst you are brushing. The brush is meant to be lightly brushed back and forth, rather than scrubbed along the teeth, as with all electric brushes. But the app will tell you what you're doing wrong and what you're doing right when you're brushing, so there's no more guessing.
Extra Features
The charger is a glass tumbler, which sits on top of a rose gold charging base. When you place your toothbrush back into the glass, it begins charging it up for you again - if the base is plugged in. But it's genius. Most people throw their toothbrush into a pot or tumbler at the end of brushing, but this way you are charging and storing your toothbrush in one. But furthermore for trips away, a handy black travel case can store your toothbrush and two brush heads for on the go and enables the toothbrush to be charged from within the case via usb. There are also plastic tops to cover each brush head to keep them clean, and a mouthwash for on the go.
The Philips Sonicare DiamondClean Smart removes up to ten times more plaque than a manual toothbrush with up to 100% better stain removal in just three days. Furthermore it offers seven times better gum health in just two weeks. In trials, 90% of users said that the brush helped them achieve a cleaner feeling mouth every time they used it, with improved brushing technique. I can absolutely vouch for that personally – I've really worked out how to fully and effectively brush every angle of my teeth through using this.
Its price tag is warranted by its brilliance. It's the most innovative smart brush on the market and is honestly an incredible step in getting the brightness, cleanliness and health of your teeth back on track.
The brush is available from John Lewis, Boots and Amazon, but with the code SPARKLE5, you can get 10% off on the Philips website, which also seems to be the best deal from looking at each retailer.
I can't wait to hear your thoughts on this. It would be a fantastic idea for teens and adults for Christmas, especially for those who really want to enhance their smile and oral health. But also for yourself, I am so glad that I invested my own time and costs into moving into smart toothbrushes, as truly I have seen a world of difference since I did. A normal toothbush just doesn't cut it for me anymore. If I have to use an ordinary toothbrush if I forget to charge my smart brush, the difference you feel is awful. Your teeth really just don't get the cleaning they deserve. This toothbrush is top notch, and I'm not just saying this because this is an advertorial. I'm honestly incredibly thankful to have this in my brushing routine – it's a game changer.
Sign up here for a weekly catch up of everything Inthefrow