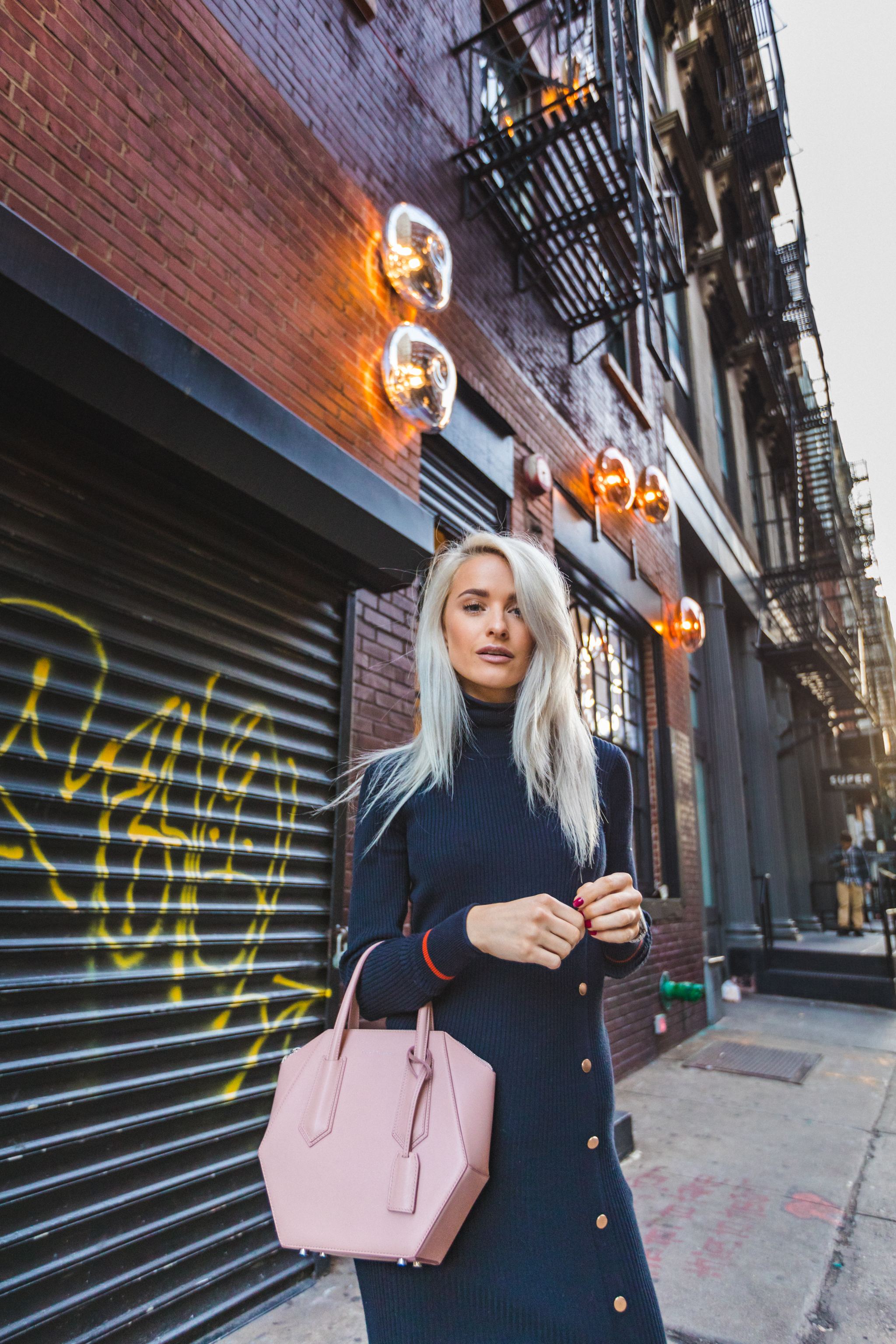 13/10/17
Red Accessories For Fall
Location: New York City
I love filming monthly favourites videos over on my
YouTube
channel and this month I thought I would dedicate a video entirely to the fashion choices that topped the list for September. There were so many amazing new additions to my wardrobe due to a hectic fashion month and I had to make sure I shared which pieces made me feel my best and which items have made a welcome addition to my new closet. I filmed a
chatty run down
of my top picks from the month, both clothing and accessories, and there were 3 items in the comments that people seemed to
love
. My
navy knit dress
, pink
Sage Aubrey mini luna bag
and those
red Balenciaga boots
that divided everyone.
I remembered I had worn all 3 pieces together on this beautiful afternoon in New York City and began brainstorming on what post would do the images justice. I went back to the comments on the video where I previewed one of these images and so many people asked for dupes for the Balenciaga boots that it just had to be red accessories for Fall. I touched briefly upon red as a trend I was coveting in my Autumnal Style post but there have been so many accessories I've since come across, high end and high street alike, that my new favourite colour definitely deserves a post all on it's own.
THE TREND: RED ACCESSORIES THAT POP
I'm never really one to abide by unwritten fashion 'rules'. If it makes me feel great then I'm wearing it! You'll find me mixing navy and black, silver and gold jewellery and even more so bold colours that some may choose to avoid like the plague. This outfit is one those times. When I originally posted this outfit over on Instagram a few people were divided in loving the pieces separately but not teamed together, and even more people weren't fully convinced by the boots at all. But you know what? That's the wonder of fashion and personal style. I bloody love these boots!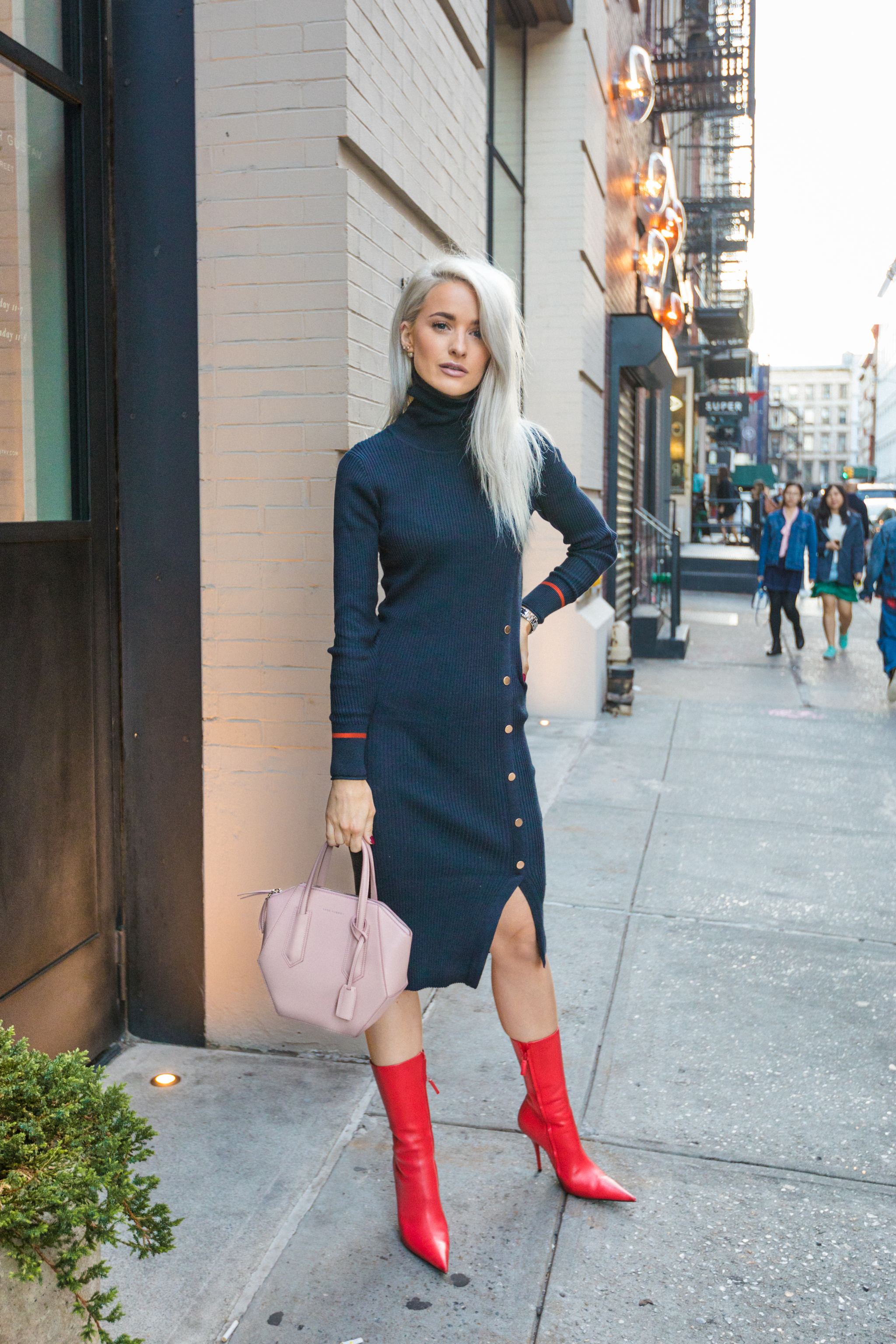 I've spent hours scouring the web to find the best red accessories out there, no matter what budget you're working with, and compiling them into easy to view and shop categories. I hope you enjoy my rundown of what I think are the 'creme de la creme' to add that pop of colour to your Fall outfit. My advice on how to style this bright vivid shade of red? Have fun! Now all I need is to resist buying every item here myself!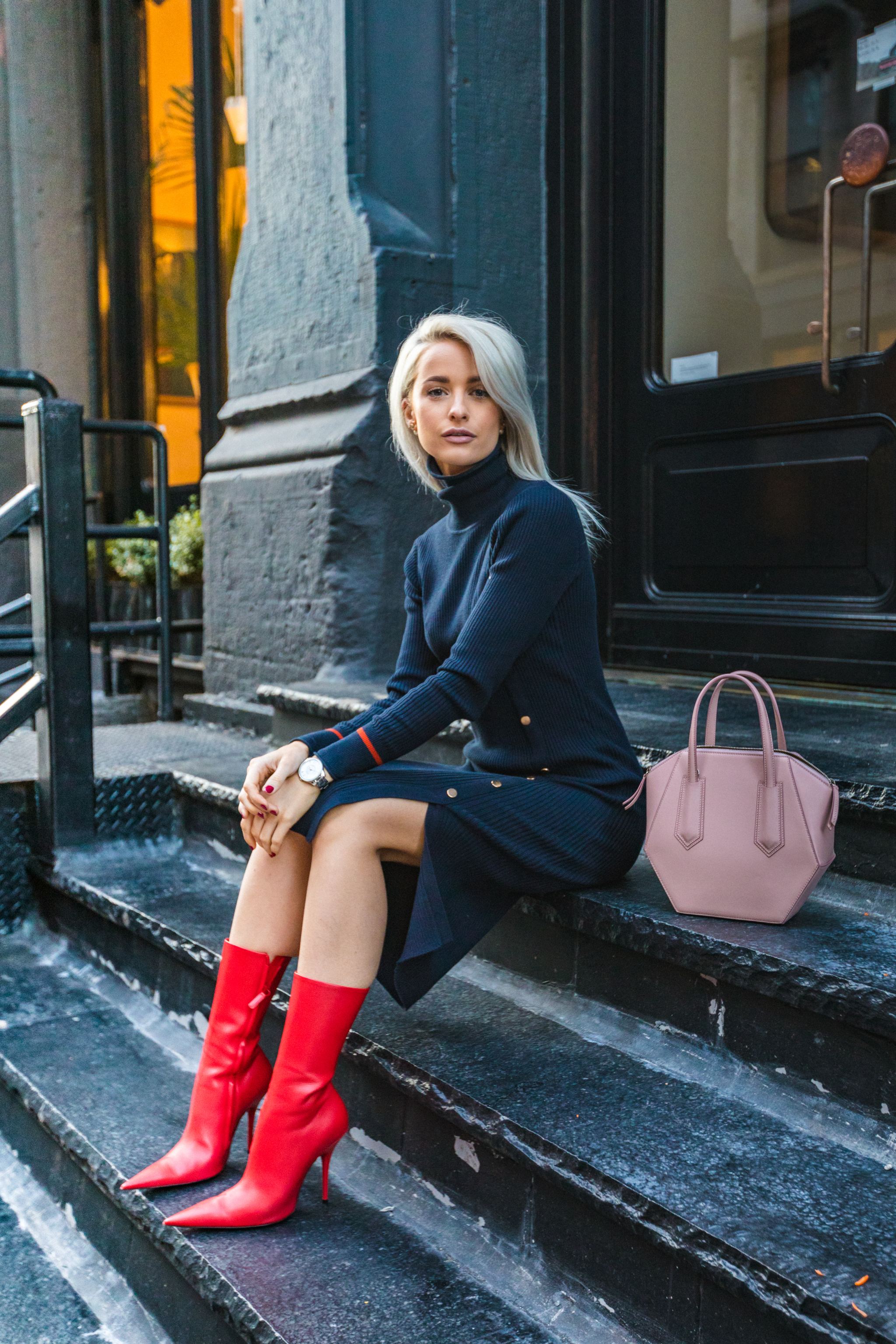 I'm so glad I'm getting chance to create more of these fashion dupe posts and I'm so glad I always get such great feedback on here too. I spoke briefly on my twitter this week about how my blog is my favourite platform out of any of my social channels and the reason being is because we've created a space together here were we can switch between numerous topics that we love, interact on a regular basis with each other and give feedback in a constructive and positive manner. Perfection for someone like me who wants to post about things they're passionate about as well as thing I know other people will enjoy!
Sign up here for a weekly catch up of everything Inthefrow