09/10/17
The LA Makeup Look
Victoria Beckham x Estée Lauder
I feel like my world has been so Victoria Beckham focused recently that I'm a little worried she's going to get a touch sick of me. But after a dreamy trip to New York for the show, I just have a lot I want to share. Not just because I love the products and feel you should too, but because they are of such a price and style that I feel they need to be reviewed and spoken about a little more. Mainly for those that are thinking of splurging and need a second opinion.
In this latest drop as Victoria's second makeup collection with Estée Lauder, the range has quadrupled in size and thus the number of products available are numerous. I've already spoken about a number of the products within the 'Victoria Beckham x Estee Lauder New York' look in a recent post, and so this one follows on, reviewing and trying out products from the LA look.
This sub section of the range is very me. All about the dewy skin, bronze tones, highlight and nude lip. Whilst the New York look injected a touch of colour with the blue and orange eye palette, the LA look keeps it stripped back and neutral. It's the kind of look I tend to wear daily, so I was so intrigued to try out an entire look with all new products from the range. And here it is, reviewed, tried out on my face in the shots and paired with an outfit I wore with it.
THE ESTEE LAUDER X VICTORIA BECKHAM 'LA LOOK' 
There are two winning glows in this look. The VB Modern Mercury highlighter – which I've spoken of previously in this post when the first collection was released. This is a high intensity highlighter, that can be swept lightly over the cheekbones or layered for a stunning, eye catching beam of light on the cheeks. The shade is a stunning warm golden tone that could suit the majority of skin tones. Even on my light skin tone iT blends beautifully. But this is also a fantastic product when used on the eyelids as a shadow!
And secondly, the Aura Gloss. A pot of dewy, glow enhancing gel that can be tapped onto the cheekbones to catch the light, used as a lip balm as Victoria tends to adore, or popped onto the cupids bow, brow bone or any high points on the face. It has the sort of texture that can catch the light better than a powder can, so when patted over the top of the Modern Mercury highlight, it is a double whammy of dewy light.
Beautifully packaged and with a soft warmth, the Saffron sun Bronzer is a repeat from the first collection, but with good reason. It is a fantastic shade for light to medium skin tones with a smooth matte finish for a natural bronze to the skin. It's definitely made it into my list of top three bronzers that I prefer to use, especially when I'm looking for a natural finish.
Probably one of my favourite pieces from the new collection, the Cheek Creme is a subtle creme blush for the apples of the cheeks. Victoria mentioned that she likes to apply it a touch higher on the cheeks to lift the features, but it could also be used on the lips too as a stain. Used with your fingers or a stippling brush, this is super easy to apply, blend and add a subtle flush of natural glowy blush.
The lips are the defining feature of this look; nude, glossy and fool proof. The lips are lined with the Victoria lip pencil to define and add further shape, and with such a wearable nude shade, this liner is a must for your handbag. It works perfectly with most nude lipsticks and is such a smooth and easy application. And over the top, a slick of the Desert Heat Lip gloss for a mid shine, gloss finish. It enhances the pout of the lips without being too sticky or thick, rather adding shine and a nude pigment for a subtle, wearable day look.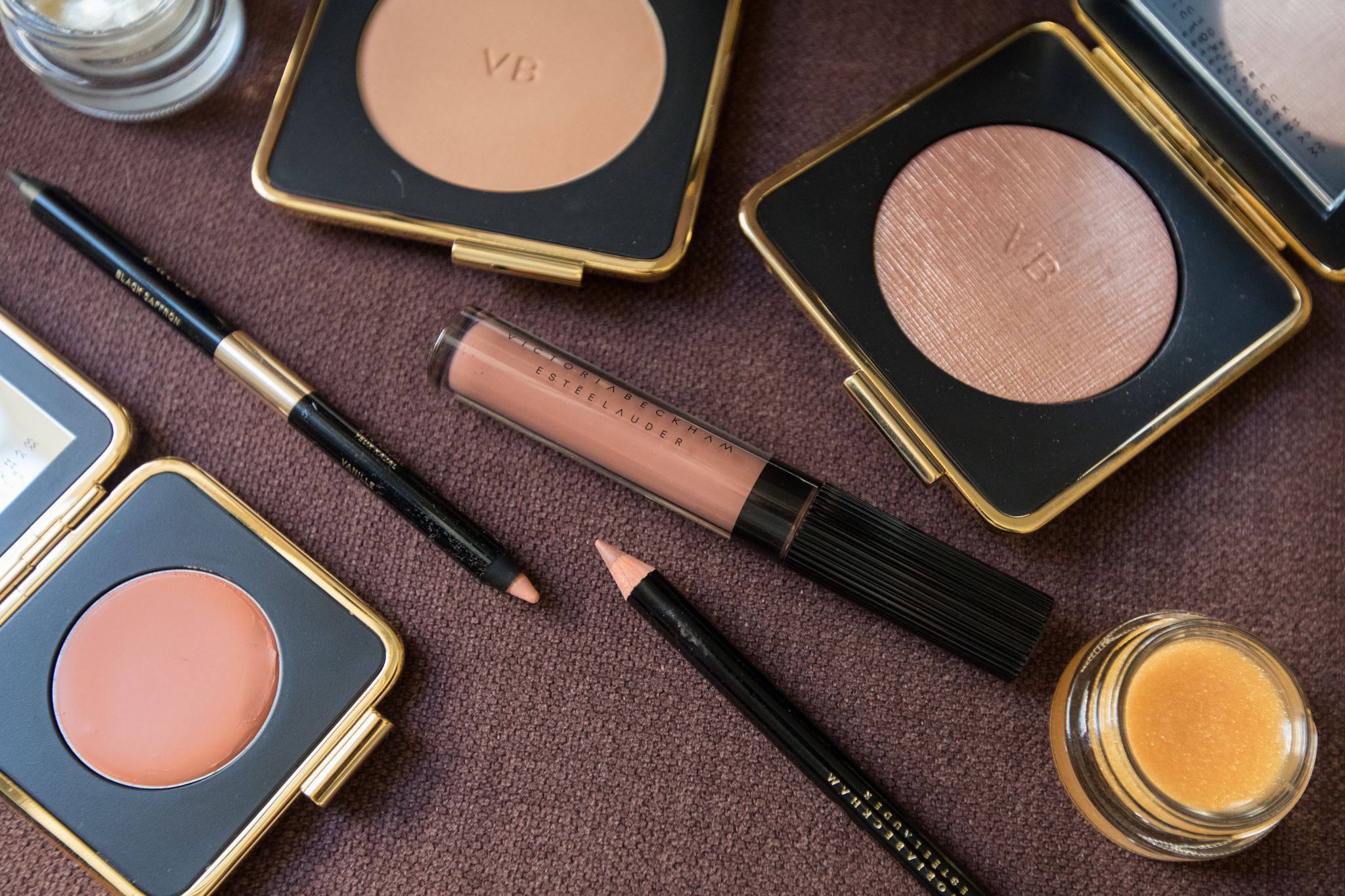 Unintentionally incorporating my new VB jumper, this was such an easy and wearable look that can be worn into Autumn with the help of a jacket, and tights if you must. The mini skirt (similar here) is a one of those pieces that can be worn with anything in your wardrobe, but with this heavier, draped knit, it offers a more feminine finish. I adore these two together with their contrasting textures and shades, pulled together with the nude heels. And to finish, a pop of colour with the Coach Selena Gomez bag in a bright red, which has not left my side since I found it.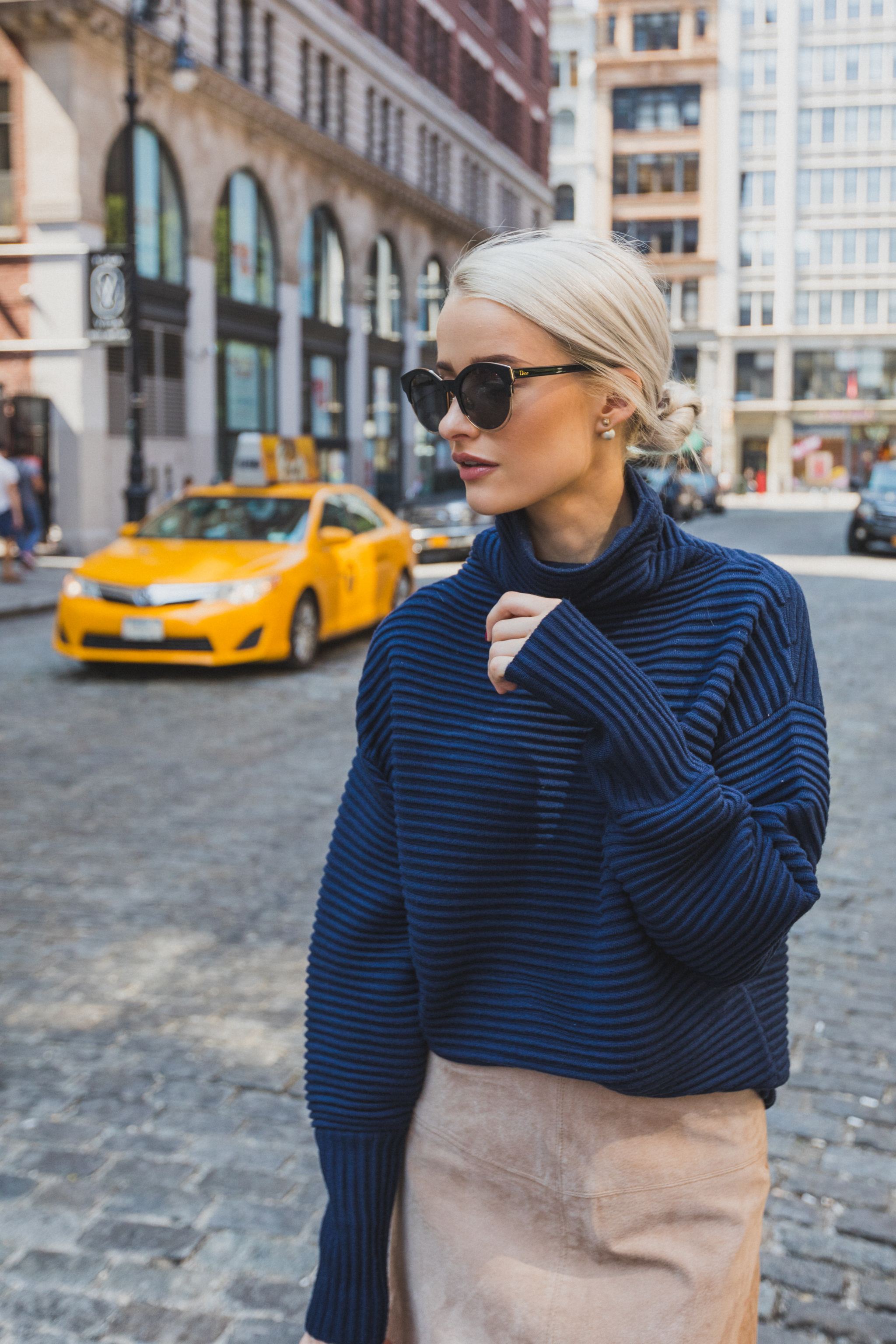 For more on the products, have a peek at the video I filmed below, where I apply the majority of them onto my face, in the hopes of looking something like the lady herself. I was thrilled with how many people watched and loved this video, so please do leave me a comment if you enjoy it!
VICTORIA BECKHAM GET THE LOOK | NYFW SS18
Sign up here for a weekly catch up of everything Inthefrow