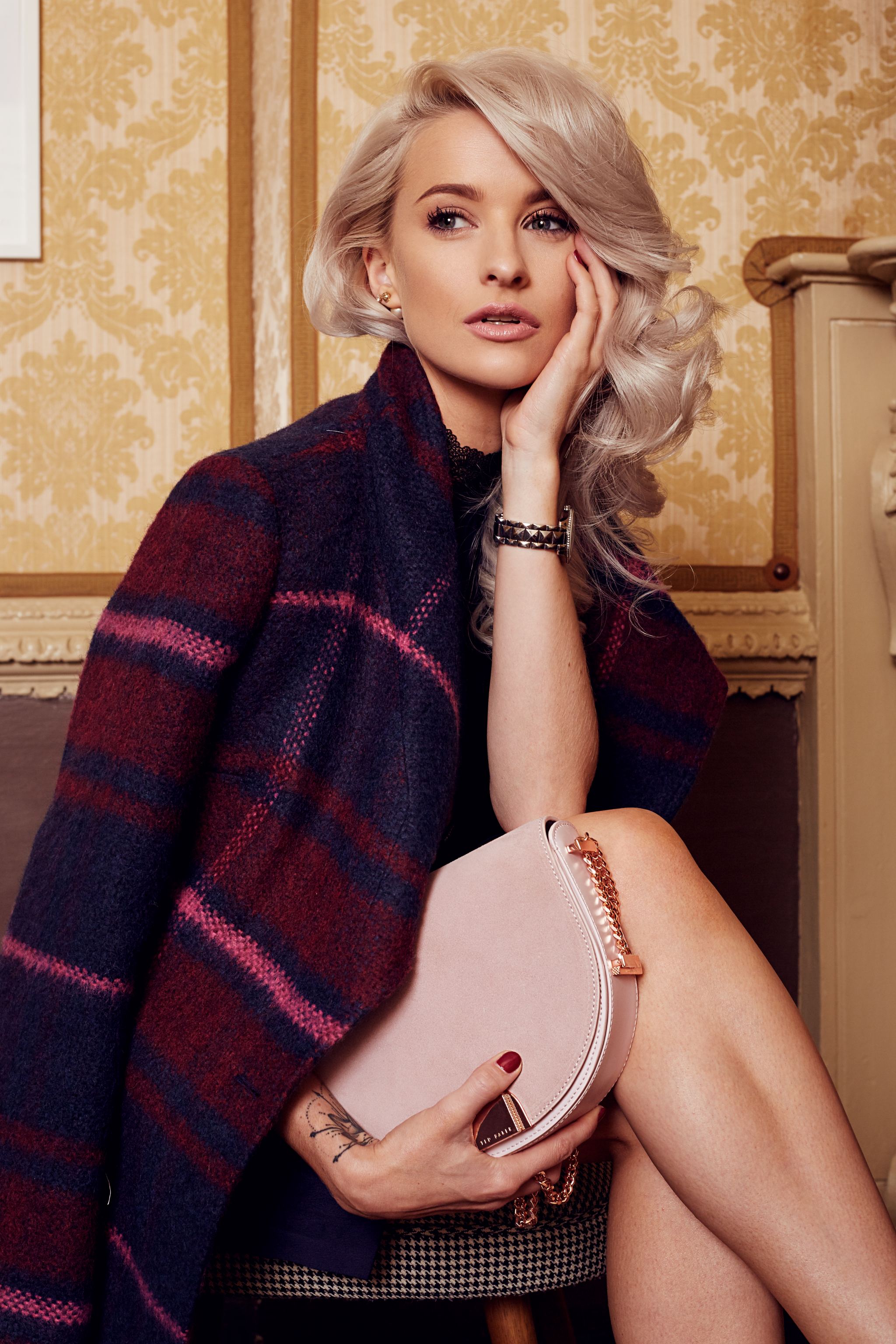 20/09/17
The Best You
Paid for Advertorial with Ted Baker
This morning I awoke, sleepy, snoozy and making tiny animal noises as I yawned and stretched myself into the day. It has just been a long few weeks and thus every hour spent sleeping is currently the best thing ever. Alex mentioned it was my turn to make the breakfast to which he received my most unimpressed look and me banishing myself beneath the duvet. A few more prods and jokes about me being masterchef of the morning led to a growly me telling him to stick his breakfast where the sun don't shine. To which he laughed and told me that he was going to start naming my split personalities. My growly morning self would have her own first name, whilst my few other personalities, or so he says, will have others.
Whilst it was pretty funny at the time and one of those silly conversations only couples have that make others sick, it got me thinking about just how growly I can be sometimes, and how much I'd love to be my best me, at all times. I realise not everyone can live with a smile on their face constantly, but there is a side of me, and a side of you, that I'm sure you'd love to really bring out the best in, as often as possible.
There's definitely a side of me that I prefer. The side that gets out of bed early, feels grateful for a new day and sunshine coming through the blinds. Sticks on the Nespresso, or now Smeg Coffee Machine, because hey we're Baristas now, get's her makeup done with sunlight, sings along to the charts to get ready and gets herself out of the house without even a frown. And then I come home, having bossed the day, been my most productive, made a few new friends or contacts along the way and can cuddle with Alex on the couch whilst we watch the Bake Off. Honestly, that doesn't happen all that often, and I'm starting to realise why.
I'm sure that you guys will also have a side of you that you prefer. Just take one second to think about who that side of you is and what they do that makes you happiest and how you could potentially get to that point everyday. And if not, have a peek at some of my thoughts on it and ideas for how I want to change up myself and my own life, to get the best out of myself, permanently.
And one other thing, I absolutely WISHED that I looked like THIS everyday, hair with extreme bounce, wearing the cutest Ted Baker dresses and accessories and looking like the lady of the manor. And yes, you absolutely DO need this coat in your life. No more questions, it truly is love!
Who are you though, really?
Okay, let's kick this off. How to be the best version of yourself. Firstly, define who that is. What is it about this side of you that you love? Your best side will probably be nothing like my best side. I'm a workaholic, so my best side is what I consider to be my most productive, ultra boss, getting shit done kinda side. I'm still loving and cuddly, but then I also don't mind getting the dinner on when I come home. I stay happy and upbeat yet totally productive and nothing brings me down. For you, your best side might be your most friendliest, loving side. It could be the part of you that feels confident and strong when faced with fears you need to overcome that day. I would say, have a really good think about who you are, who you love to be and why exactly that is.
Get yourself organised.
For me, being organised is what starts off a brilliant day. If my emails are all done, I'm ahead of my work, I know exactly what I'm doing that day and the whole week, and, I'm on top of all tasks, I feel like the day is a breeze. But that's so much easier said than done. I find it all comes down to being efficient and super organised – in fact this reminds me of a post I wrote about efficiency too. That all comes into play. I like to work and live in a clean and tidy house – it's the Monica in me. And so, I try my best to put all clothes away the evening I take them off, tidy away my shoes into the closet, put my bag somewhere for the next day. Just those little things that keep the house clean. Tidy away the dirty dishes in the evening so the kitchen is bright and clear for the morning. Plumping the cushions on the sofa before you head to bed. Making the bed as soon as you get out of it. My goodness, I know right, slightly bordering on control freak, BUT if you want to be organised, you need to get prepared, fresh and clean minded. You will wake up to a tidy home and a completely fresh start without tidying up from the day before. Start fresh and bright and the day ahead won't be dragged down by a lazy yesterday.
Be Your Most Beautiful.
What makes you feel beautiful? For me, my most beautiful may be entirely different to yours. I feel my best with a tan, curly hair and my best lingerie. I don't even care about makeup if I have those things down. But throwing on a face, is my next best thing. For you, you may feel your most beautiful wearing that dress you love, the high neck sweater that synches you in or in your perfect black stilettos. If that accessory or garment is what makes you feel like a million dollars, then keep on wearing it. Or, maybe buy a few more of that type of garment, so you can mix it up a bit throughout the week. If you love going into work in a pair of killer shoes because it gives you that confident boost you need to get through the day, then just keep it up. Throw them on every day and own it. On those days when you're not feeling amazing, go through the routine that you know will make you feel your best again. For me, I jump in the shower and do my whole routine from start to finish. Wash, tone, treatment, shave, exfoliate, dry, mask, tan, dry hair, sleep – wake up like a different person and ultimately my best version of me. Not only do I feel like I look my best, but then I feel my best. It just takes that time spent on YOU to get you back to your 100%!
How to Stay at your best.
Try to work out what it is that makes you switch out of this best version of you. Is it tiredness, is it a frustration or perhaps it's something else? Only you can work out what it is that makes you feel your best and the steps it takes to drive you to your worst. For me, when I get tired or when I let work slip slightly, I get behind and my mood entirely changes. I get stressed and aggravated. Yet, I've realised that creating lists and putting all of my tasks down onto paper in order of priority, truly helps me to get thoughts out and onto paper. And as such, gets me more organised again. If you find it's the cleaning that sets you off – you know what, just find yourself a cleaner. It's like £10 an hour and honestly will probably change your life. If you hate making the dinner, speak to your partner and try to share the load. If you are down on your appearance right now, why not mix it up! Buy yourself a bottle of tan, go and speak to your hairdresser about a new doo, head onto ASOS and order yourself a few new pieces of clothing to switch up your look. You just need your confidence back.
There will be a number of ways that you can start to push out the worst in you and leave just the absolute best, it just takes acknowledging what those worst traits are and focusing on the best of you.
The Finishing Touches.
If you're looking for something gorgeous and a little more fancy to boost your mood, then I got you covered right here. These rose gold brooch Peetch heels, the sophisticated lace dress and my gosh this coat! I felt so beautiful in these two outfits, and each piece is so wearable for so many occasions and events. Let's just say I've worn this coat three times already and each time I've had over a handful of compliments! This is the latest from Ted Baker and you really have to check out the whole collection, there are so many items I would love to be wearing throughout the next few months. When it comes to Autumnal and party dressing, they nail it every time!
Sign up here for a weekly catch up of everything Inthefrow