04/08/17
Estee Lauder: Summer Bronze Collection 2017
Location: Mexico
I honestly feel like the luckiest girl in the world, on the days when I am offered the latest beauty collections to try. It's a position that every beauty and blogging journalist is now in – to review the latest beauty products on the market, to let any readers know what's actually worth their money. And I've said it before, but I wouldn't recommend something to you guys, if I wouldn't recommend it to my Mum or my Auntie. My mum and Auntie K will often head out and buy things they see me mention, so if I don't think its good enough for them, I don't post it on here for you to read.
And so, I have been in a position for a number of years, where I have to be so selective. I would need to hire a full writing team, if I was to feature each and every single product that came through my letterbox. I mean, I would absolutely love that, and never say never, but hey it's also good to keep that selective process! It just makes this blog what it is today – filled with some of the most beautiful products that are out there on the beauty market. I just want to give you guys a view of the very best that's out there now.
And that provides a lovely segue into today's post. This is the latest collection from Estee Lauder, once again hitting us with another dose of Bronze Goddess for summer. This got my attention as soon as I opened up the packaging and I packed it immediately into my bag for Mexico, as I couldn't wait to try it, review it and talk about it! I am now thrilled to say I'm in love with the collection, the shades, the pigmentation and the packaging.
Read on to find out how you too, can join in and become a Bronze Goddess too!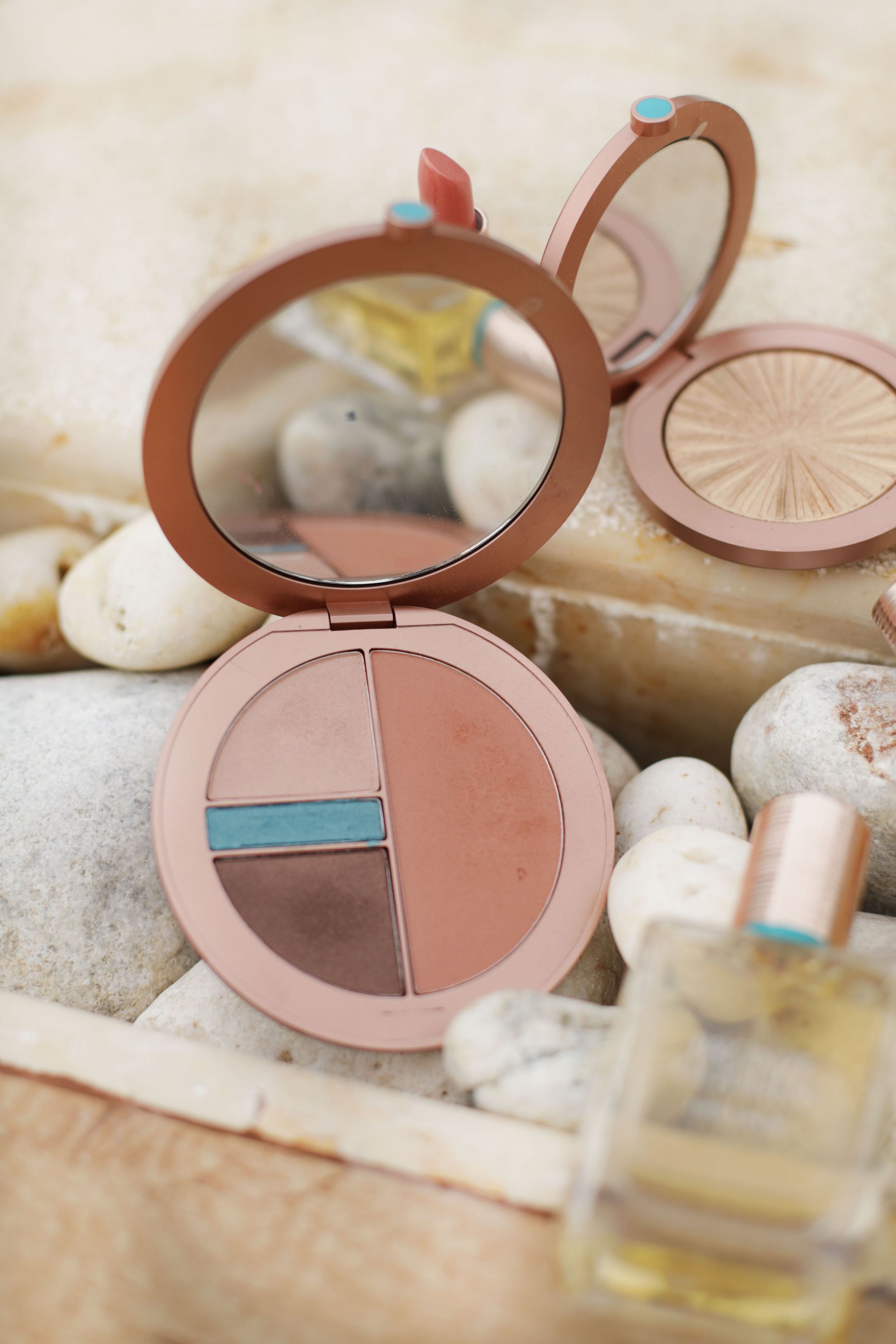 ESTEE LAUDER THE SUMMER LOOK PALETTE
It's beautifully packaged, contains a large mirror, a blush and three eyeshadows. I didn't think I would need this palette until I used it. This blush is my current go-to and has been for about 6 weeks. There's something almost terracotta about this blush shade; deep, rich with an undertone of coral but also of rosy pink. With just a very light swish of this onto the apples, it blends like magic onto the skin, leaving a warm and rich rosy flush. The pigmentation and the pay off is wonderful, so I wasn't joking about a light hand.
The three eyeshadows are also beautiful, although I feel they're slightly over-shadowed by the blush. I'm sure there's a pun in there somewhere. The blue is of course the exciting part, and would make a stunning eyeliner finish, with a wet, thin brush. However, for the look in the images, I actually just took the blush shade through my eye socket instead. I used the chocolate brown to the very outer corner of my eyes for extra definition, and a touch of the creamy highlight shade to my inner corner. They layer beautifully and can be used separately or all together. But honestly, the blush as an eyeshadow trick is my fave.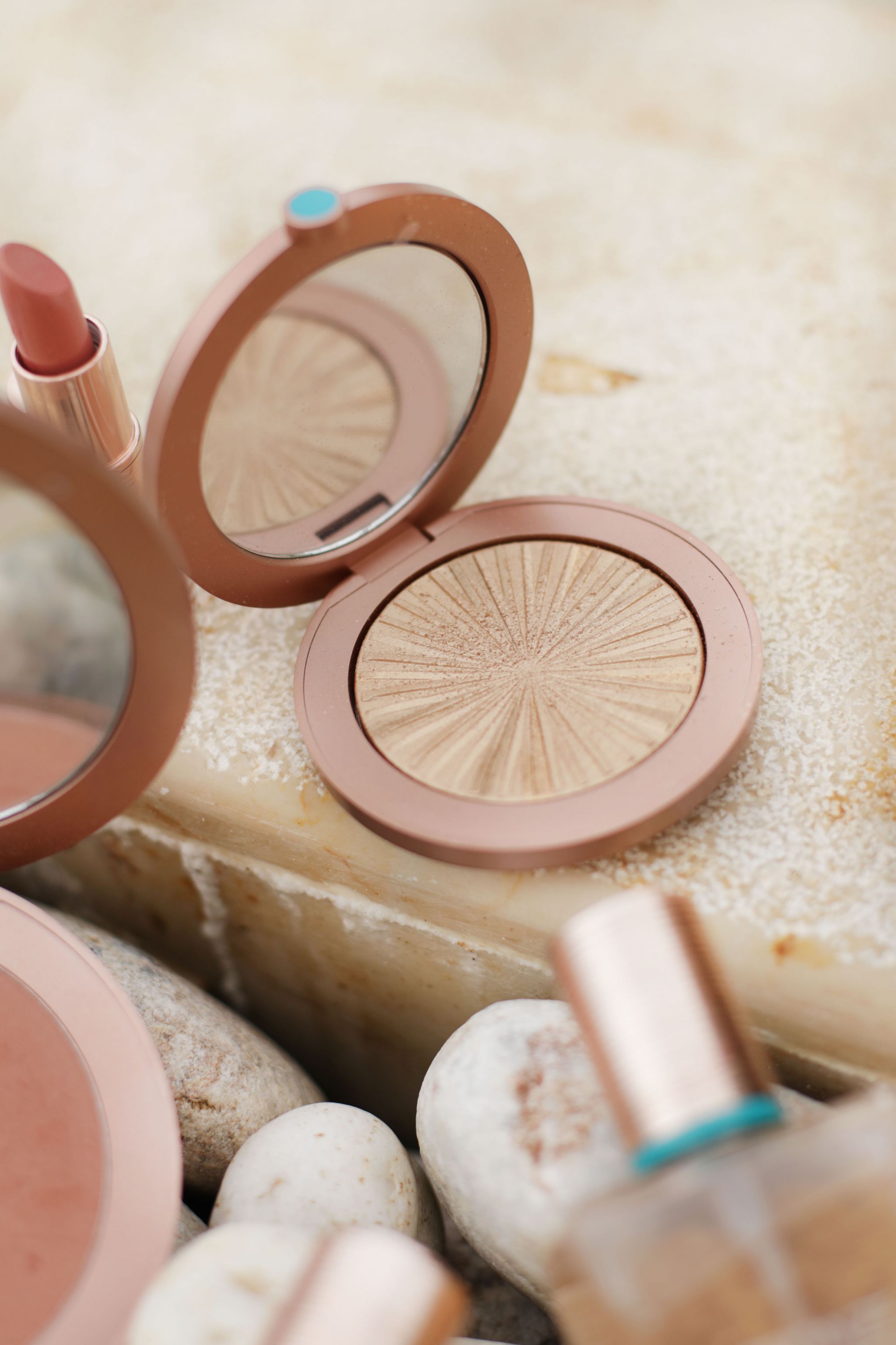 ESTEE LAUDER ILLUMINATING POWDER HIGHLIGHT
Well hello sunshine golden highlight! This is sold out in a lot of places right now, and I believe many are anticipating new stock, but I did find some hiding at this store. But rightly so, this is one stunning summer highlight and certainly a favourite from the new collection. The beams of gold powder radiating from the circumference of the pan, make your eyes light up as soon as you see it. It's just beautiful, and luckily has pigmentation to boot. It is illuminating, brightening and glowing – and I'm a little sad that these photographs didn't quite pick that up. But in person, trust me, the glow is there!
ESTEE LAUDER BRONZE GODDESS SUMMER LIP GLOW
The golden packaging could not suit the golden coral of this lipstick any more. Estee Lauder absolutely nailed it with this packaging, and the lipstick sits wonderfully alongside the collection with a very luxe aesthetic. But the product inside is creamy, smooth, soft and offers a great colour pay off. With this eye look and very bronzed finish, it was a sophisticated accompaniment and suited the tones wonderfully. I mean, that was probably the plan.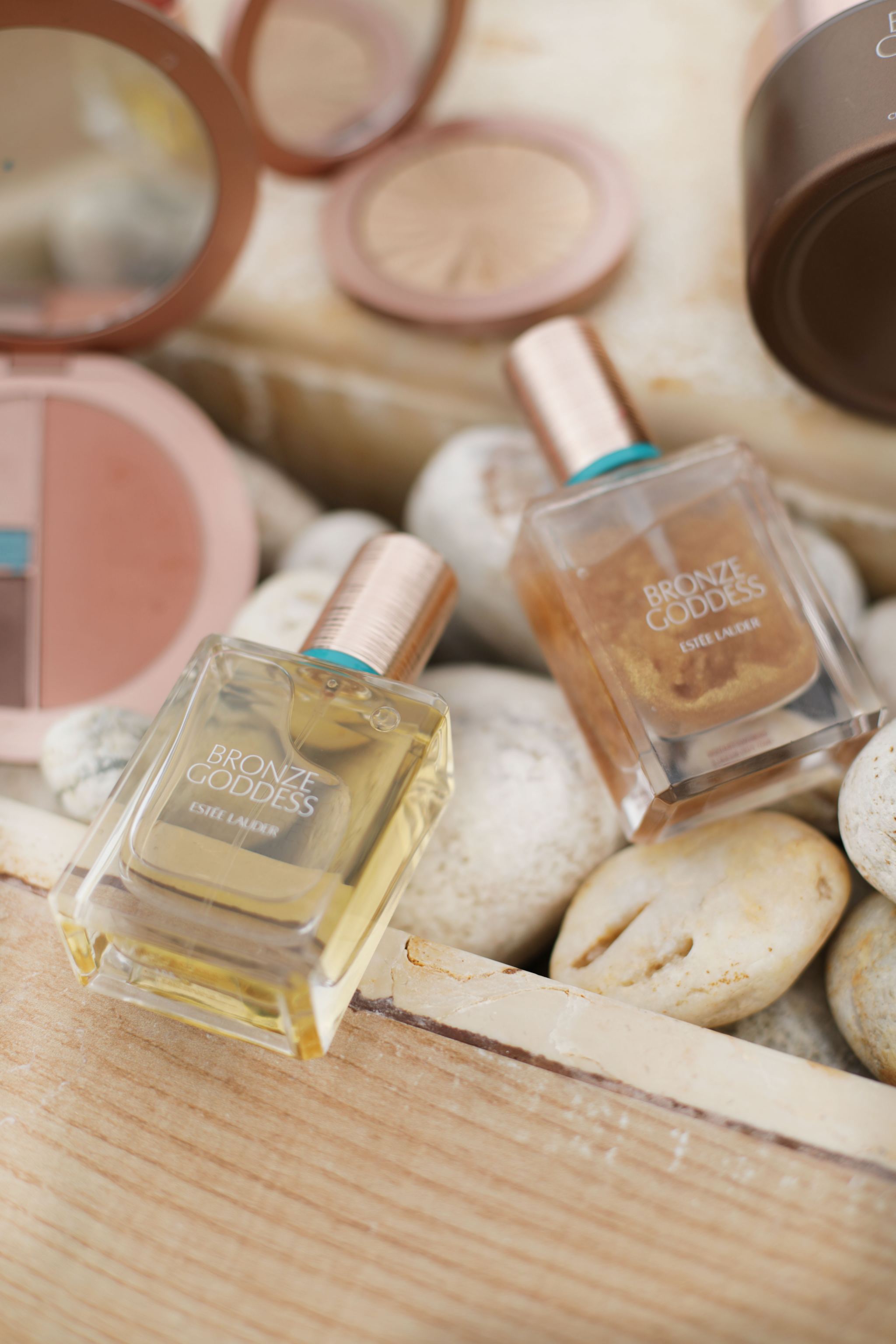 ESTEE LAUDER BRONZE GODDESS SKINSCENT AND SHIMMER OIL
If you have smelled Estee Lauder Bronze Goddess previously, the chances are you're probably already a big fan. I have seen Estee Lauder re-launch this fragrance every summer for the last few years, as it really is a huge summer hit and a favourite for so many. To me, it smells like a holiday in a bottle. Creamy coconut notes mix with vanilla and warm amber for a rich and delicious holiday cocktail. Your skin smells like sunshine and warm beaches, and for so many it will be a scent you recognise and adore.
But it's the shimmer oil that I'm a real sucker for. I take this product with me on every trip, and pick up a new one every season. The thing about the Estee Lauder body oils that I like, is their compact size. They're not too clunky or too heavy, and thus fit in my travel beauty bag a little easier than some of the oils on the market. But they've become a must for me for holidays as well as evenings out and events, where my legs are on show. Just a few pumps of this onto your décolletage or your shins, and you will look like you're glowing from head to toe. It contains fine shimmer, so whilst the oil provides nourishment and that wonderful glow, the shimmer just adds that extra touch of something special. No one wants dull skin, and this is the quickest way from flaky to fabulous in an instant.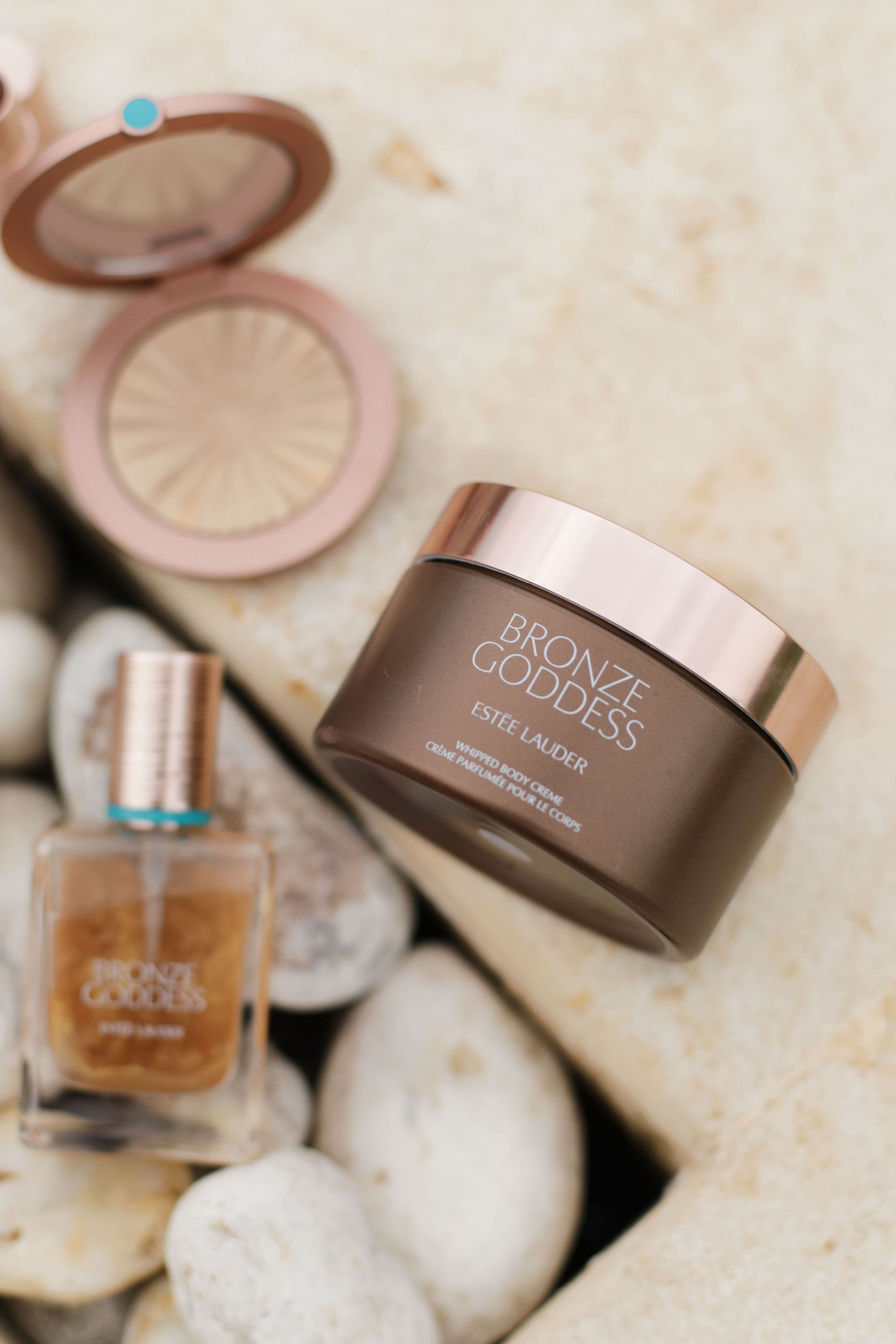 ESTEE LAUDER BRONZE GODDESS WHIPPED BODY CREAM
But if you're looking for some extra moisture and nourishment, the Whipped Body Cream might be just the ticket. This is light, hence the whipped description, and sinks into the skin quicker than many of the body creams I've tried. I'm talking 20 seconds or so here. You can slather it onto your legs and it won't feel tacky and sticky straight after. You can jump into bed just 20 seconds later, and that for me is a bonus. But the best bonus of all, is that it smells just as delicious as the whole range. Coconut, vanilla, bergamot and amber in a beautiful concoction. As far as body creams go, I don't tend to use them very often as I find them boring to apply, and frustrating to wait for them to dry. But this cream I can absolutely get on board with. The skin feels nourished and moisturised without the heaviness and tacky finish.
Congrats Estee Lauder, I'm hooked! The colours, the packaging and the luxurious feel to everything, got me at hello.
What do you guys think?
Sign up here for a weekly catch up of everything Inthefrow