23/07/17
Why Cuba?
Location: Havana
Cuba was a place I had heard rumours about; little mentions and comments from friends and Instagrammers I follow, who had visited and come back with incredible memories. When Alex and I were offered the opportunity to visit Cuba with
Virgin Holidays
, in particular Havana, we jumped at the chance to explore. We excitedly spent evenings reading our itinerary, planning outfits, scouting locations and delved into our own research to understand a little more about the Country as a whole. It is such an interesting place with so much history – most of which you may or may not have been told about. It was my Step Dad who started to explain a little more about the political history of this country and why it is only in recent years that anyone has been able to visit there a little more freely. More about that below. But it is now back on the hotlist of places you truly need to visit, and soon.
Virgin Flights
from London now to travel to both Havana and Varadero in around 10 hours, so you have a few more flight options also.
THE 50'S & 60'S CARS
In total honesty, the main thing that drew me to visit Cuba were the beautiful 1950's car models. I'm not an avid car collector or follower even; but I know a beautiful car when I see one, and a pink Cadillac is far too exciting to not take a picture with. It is a photographers dream. The classic cars are just as beautiful as you imagine they are. It's almost mesmerising to watch these vehicles trundle by completely normally, day by day, as though they aren't a sight to behold for us tourists. It's like stepping into a time machine with bright colours and models that you would ordinarily describe as vintage, and thus sometimes it's easy to miss the real reason why these cars are so old and historic.
When the US enforced a trade embargo in 1962 and banned all American citizens from travelling to or transacting with Cuba, it meant the cars that you see today became a permanent means of transport and a constant reminder of the restrictions placed on the Island. Those on the Island were unable to trade parts or vehicles or in fact anything at all with America and many other countries that America had persuaded to sever ties with Cuba. The political history of Cuba is extensive and extremely interesting and I would recommend you research the 1950's Revolution and 1960's Cuban history before visiting, as it truly helps to bring vast perspective to this country. What you may see on the surface does not necessarily reflect the emotions of the people who live there. If you look a little deeper, the wounds are apparent, yet I must admit that the patriotism of some of the people there is incredible.
THE ARCHITECTURE
Cuba is not a holiday destination for those in search of the stereotypical holiday. The weather will of course likely be beautiful, the locals will welcome you to experience their culture with open arms, and the nightlife in Havana particularly, will stay with you long after your holiday has ended. There is so much to see here and so much to do. Havana is for the streets and the colours and the Cuban lifestyle. Varadero is for the beach goers and those who prefer an all inclusive lifestyle – but I must admit it was referred to as 'Plastic Cuba' a number of times by the locals.
But the real beauty I feel is in Havana and other areas of Cuba. Meandering through the uneven streets, spying the blue skies between the colourful buildings and experiencing the myriad of colours on display feels like it could be a once in a lifetime experience. But the buildings are often old and crumbling due to the political history of this country and it is forever in the back of your mind as you wander around these beautiful streets. Much of Havana is in disrepair, rundown and in some cases extremely poor. Thus, the buildings are broken, old and worn; which of course adds to their historic charm but tell a much more emotional story. I wish I could offer more history in this blog post, but I feel that a research site could offer a much better background than I.
I vastly appreciate the beauty and the difficult history of Cuba, but realise that tourism is a huge part of this country's economy and to that I say that Cuba should be on your hotlist. It is a must see. Before western cultures take over in the future, if trading laws are relaxed even more, you must visit before the ugly McDonalds sign or a Starbucks coffee take over this vibrant and beautiful country. It may never happen, and I hope it doesn't. There is nowhere to shop for Western brands, no logos or signs that you are used to, and that in itself makes this country feel untouched and precious. You are immersed fully into a Cuban world.
CUBAN TRAVEL TIPS
If you've already planned your flights to Cuba and your hotel in Havana then here are a just a few travel tips and travel myths about this country.
Don't take your drone to Cuba with you. The chances are you will most likely get it taken from you if your bags get searched on the way out of the airport. Someone once flew their Drone over the most political building in the country and ended up in prison for 13 days. Just don't take a risk with this one. All the guys in our groups had their backpacks searched and the Cuban guards spoke of Drones as a no-go.
Do not worry about taking luggage to Cuba. I had been told horror stories about missing baggage and therefore some people only took hand luggage with them just in case. I can tell you there is absolutely nothing to worry about whatsoever. The airports are just the same as so many I have been to in smaller Island countries. Our bags came out on time and totally fine!
We had been told to watch out for pick pockets in the streets and to therefore not take many designer brands and flashy objects with us. In honesty, this rule applies to every city I have ever been to. If you let your guard down and leave your bag open or alone somewhere, the chances are that you will have a nasty surprise. Don't let this ruin your feelings towards Cuba – we had absolutely no issues, I carried designer bags with me everyday and I didn't feel uncomfortable. Just stick to the main areas in groups and you will be absolutely fine. Just be vigilant in daily life and everywhere you go.
You obviously need a Visa to visit Cuba, so don't forget to apply for one with the Cuban embassy. It can be a little long winded, but the experience in Cuba is absolutely worth it!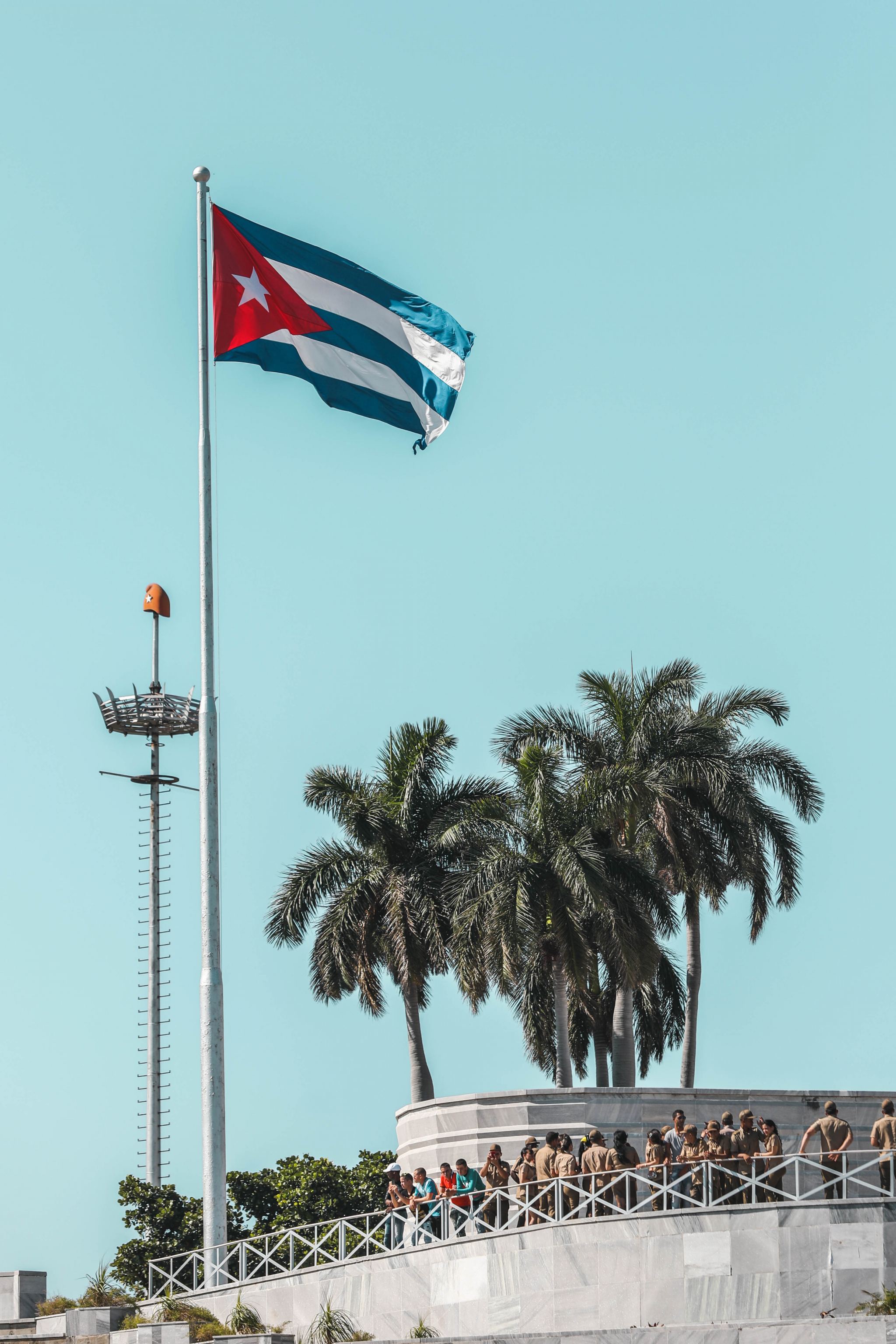 I honestly couldn't recommend Cuba more. It's essential you visit pretty soon, as I felt the country was still really cultural, beautiful and not yet spoiled. It was truly beautiful, with wonderful people, so much vibrancy and so much to see. Is Cuba on your travel list?
Sign up here for a weekly catch up of everything Inthefrow