20/07/17
6 Outfits for the Mexican Heat
Alex and I were whisked away to the beautiful Azul Beach Resorts on the Riviera Maya in Mexico recently by the incredible team at Revolve. As always they treated us like royalty and we were able to experience a piece of this world we haven't visited before, alongside some of my favourite people in the blogging world.
After a few of my travels this year, I posted style diary videos over on my YouTube channel to show what I had worn, how I had styled the pieces and how else you could wear them. Yet there have been so many out of this world trips in the last few months, that there are just not enough days in the week to be able to film for each holiday we've been lucky enough to experience. So I thought it was about time to bring the Style Diaries over to the blog in a similar format that you will hopefully love just as much!
If you've never heard of Revolve before you are seriously missing out! I've introduced so many friends to the wonders of shopping on Revolve.com and I feel so grateful to have had the chance to work with such a great team as often as I have. Revolve was started back in 2003 and has now grown to incorporate over 500 brands for both Men and Women including so many brands I adore, such as Equipment, For Love & Lemons, GRLFRND & Tularosa all while shipping internationally, yay!
Hope you love my Mexico picks!
This swimsuit gives me Total Pamela Anderson circa 1995 vibes and I just love it! I've recently added quite a few red additions to my wardrobe after previously thinking the colour 'wasn't for me' when actually I've realised that getting over my self inflicted fear has made me feel sassy as hell in such a vibrant colour. I love the halter tie of this swim that gives a smaller chest like mine a little enhancement and also the high cut leg that lengthens your pins is always a winner for me.
Being away with the Revolve team and having access to so many amazing brands and pieces is like a dream come true and makes me feel like the luckiest girl on earth. This blush bodycon dress by NBD x Revolve is totally out of my comfort zone. I would usually grab for a slim but not too tight lace capped sleeve or spaghetti strap dress but being able to create a new look is what fashion is all about. I teamed this tie shoulder dress with my favourite Dior slingbacks and continued the sleek look with a simple up do to really allow the dress to shine. I would be tempted to wear my hair down with lots of volume to cover my shoulders next time and perhaps even add a pair of statement earrings to complete the look.
For me there's something about a maxi dress that screams Summer holidays and walking on the beach bare foot and this one is no exception. The lightweight crepe material is that perfect mix of a dress that floats as you walk but makes you feel like a Goddess as your leg shows through the not too high split. The tie waist is a huge plus on a maxi dress as so often you can feel overwhelmed with material and more paniced than poised. And here's that beautiful red colour again that I think might be a new favourite going forward!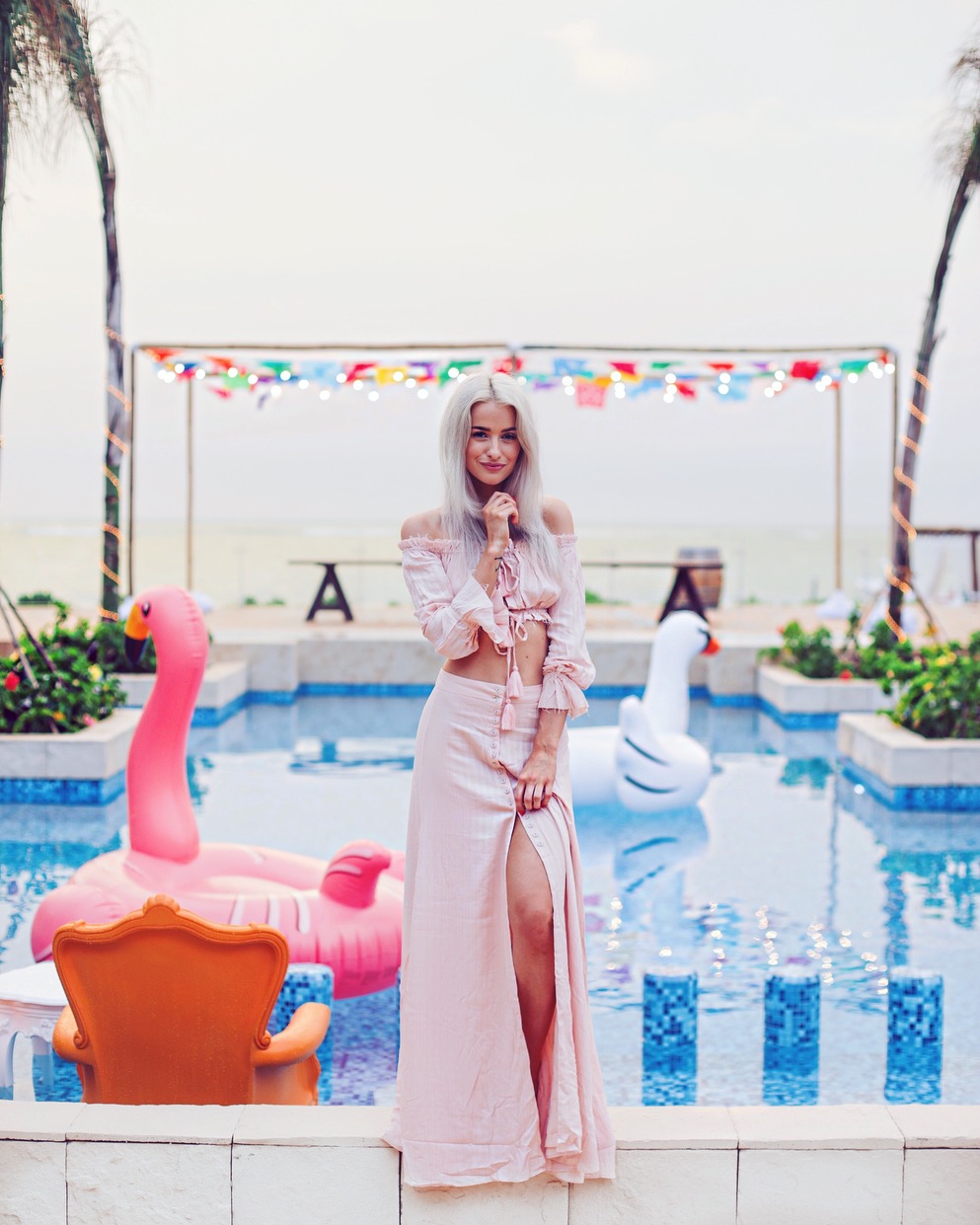 You may recognise this nude coloured Majorelle x Revolve two piece from my Mexico Vlog where I twirled and sashayed  at the side of the pool feeling like a million dollars. There's something so beautiful about this ruffled, off shoulder top teamed with the high waisted button maxi skirt that immediately made me want to dance the night away and it's your choice how much leg you show. You can button the skirt to wherever you feel comfortable and show as much leg as you wish. This look totally spoke for itself so I left my hair to air dry naturally and kept it simple in every way.
Don't get me wrong I LOVE to dress up and make a chic, tailored statement with a little edge wherever possible but I will always deep down be a denim girl. From skinnies to the shortest shorts a pair of good blue denim is a wardrobe staple for me no matter what the weather. Mexico was the perfect place to casually dine al fresco and team this wonderfully fitted pair of GRLFRND denim shorts with a simple blush cami and ramp the glamour with my accessories instead. Some statement block heels with a tie round the ankle are the ideal addition along with on trend coloured lense sunglasses.
I am fully aware that this dress features twice but how could I not? Not only did I fall in love with it the second I slipped it on but this photo is a favourite of mine from the trip and I had to have it on the blog. The perfect day and the perfect summation of the entire trip: filled with great people and the greatest clothes. We often dressed for dinner and all came down wearing the same dresses because there were so many pieces we all fell for and wanted to wear for the same occasion, but if there's anywhere that isn't a faux pas it's a Revolve trip with these beautiful ladies.
And to finish.. a little black dress is a must. No matter where you are or what the weather an LBD is the chicest way to boost your confidence and make a statement at the same time. I teamed mine with my newest Dolce Kate heels for a pop of colour and to compliment the polka dots that cover the entire dress. This is definitely on the slinkier end of the spectrum as mini dresses go with it's double leg split and low back, but if you're looking to feel sexy and bold this is definitely the ideal choice.
I hope you love this new version of a style diary and would love to know if you'd like to see more on the blog! I have some gorgeous outfits from the Hamptons I'd love to share with you and do another run down of some looks that made me feel my best.
Sign up here for a weekly catch up of everything Inthefrow