27/07/17
Hamptons Style Diary
There just haven't been enough style posts on the blog the past few weeks and it's time that changed. Last week I brought you all the pieces I wore and styled in
Mexico
with the Revolve team and this week I'm bringing you my favourite looks from my recent Hamptons weekend with them. You may have already had a little sneak peak at some of the pieces I wore if you saw my
Vlog
of our Hamptons break, but I thought a more in depth look of some of the outfits and brands along with how I accessorised them, was definitely in order.
From slinky evening dresses through to my more casual traveling attire, there's a whole host of different looks for every step of your next holiday, no matter what destination you choose. The one thing you'll find focus on here, apart from the amazing clothing? The accessories of course. You'll find classic heels and retro sneakers, through to edgy handbags and chic sunglasses that all add to the finished looks.
This certainly won't be the last time you'll be seeing a lot of these pieces and I'm even starting to get excited about how to transition them into the colder months. I know I shouldn't wish the warm weather away but that Chanel boot purchase while I was in Chicago, combined with the wardrobe clear out I'm about to have before I move apartments (don't worry I'll be filming it) already has me excited for Autumn.
For now here is my Hampton's style diary and hopefully with it a little style inspo along the way!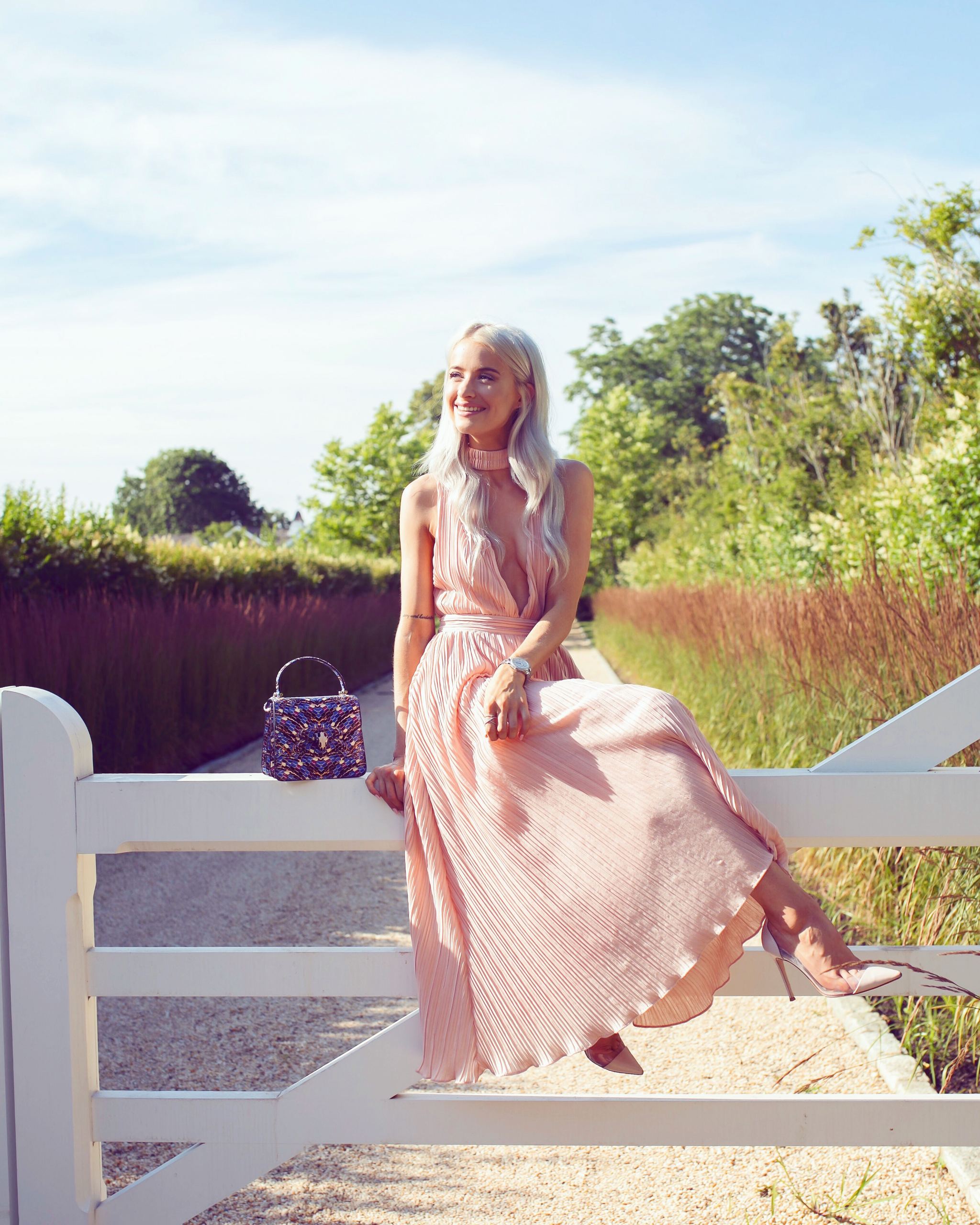 The second I stepped into this dress I fell head over heels with it! I felt like a modern day Marilyn Monroe in this style and couldn't stop spinning every time I saw my reflection in the house. The high neck detailing is definitely a 'trend' addition set against the plunge neckline but the tea length of the skirt feels so demure and flattering. The pleated blush fabric hangs heavy, just how you would want it to and makes it feel way more expensive than it really is, especially now you can catch it on sale! I teamed this beautiful dress with my go to Gianvito Rossi plexi courts and then added my Bulgari Serpenti bag for that fun touch of colour. This outfit is totally brought to life with some incredible Astrid & Miyu jewellery in my favourite silver tones including a delicate bracelet and a slightly edgier ear cuff. Perfection.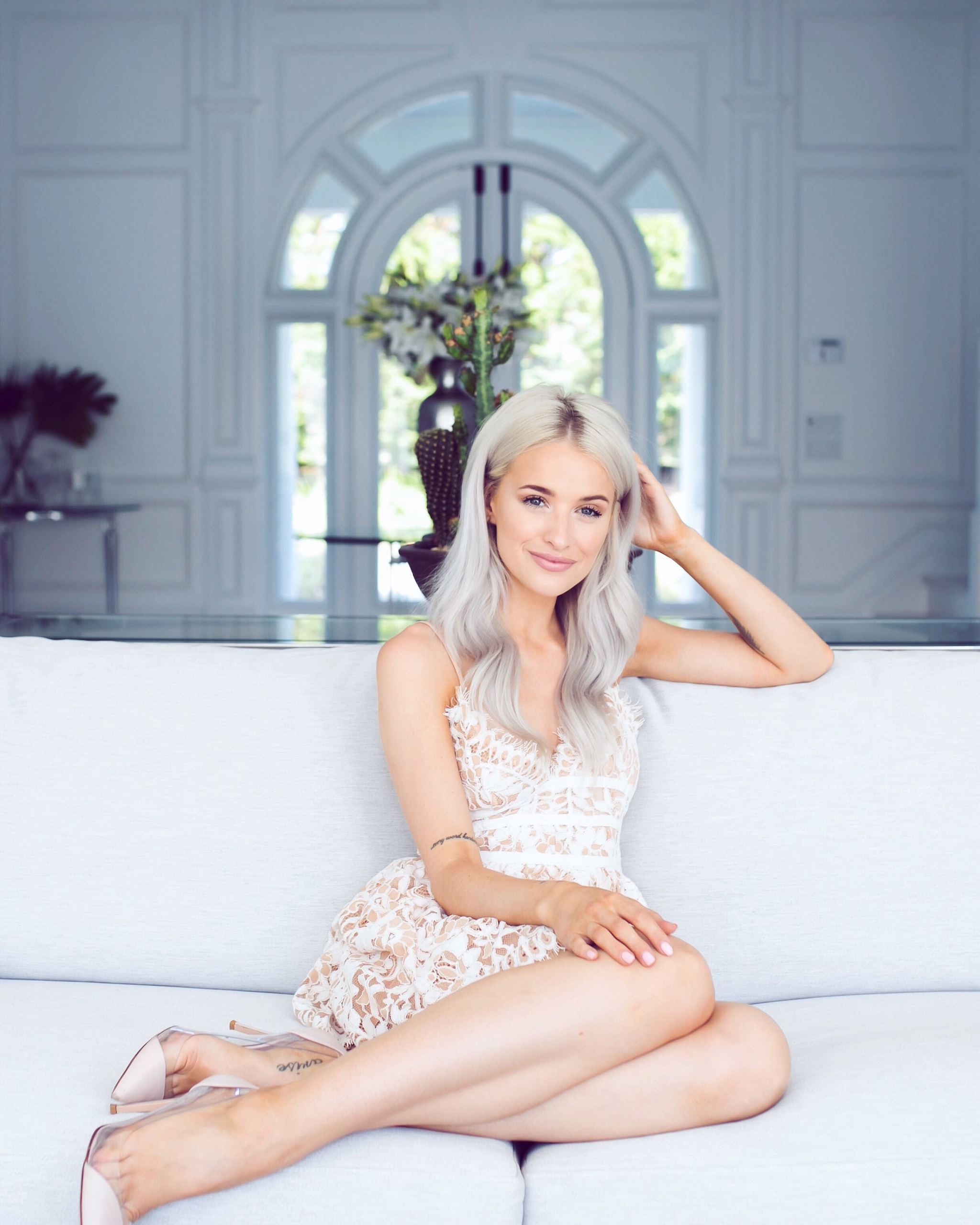 I know I know, another lace dress.. but look how amazing the detailing is! The eyelash edging is such a beautiful touch and really adds to how delicate and floaty this dress looks despite the cinched in figure flattering waist. I absolutely love how the dresses more nude lining warms the cream lace and a hem line a little shorter than normal makes it a great choice for a night out or in. The Gianvito's make another appearance here to compliment the colour palette and my Valentino Rockstud bag brought the look back from being too delicate while still sticking with the nude theme. And it's also available in blue!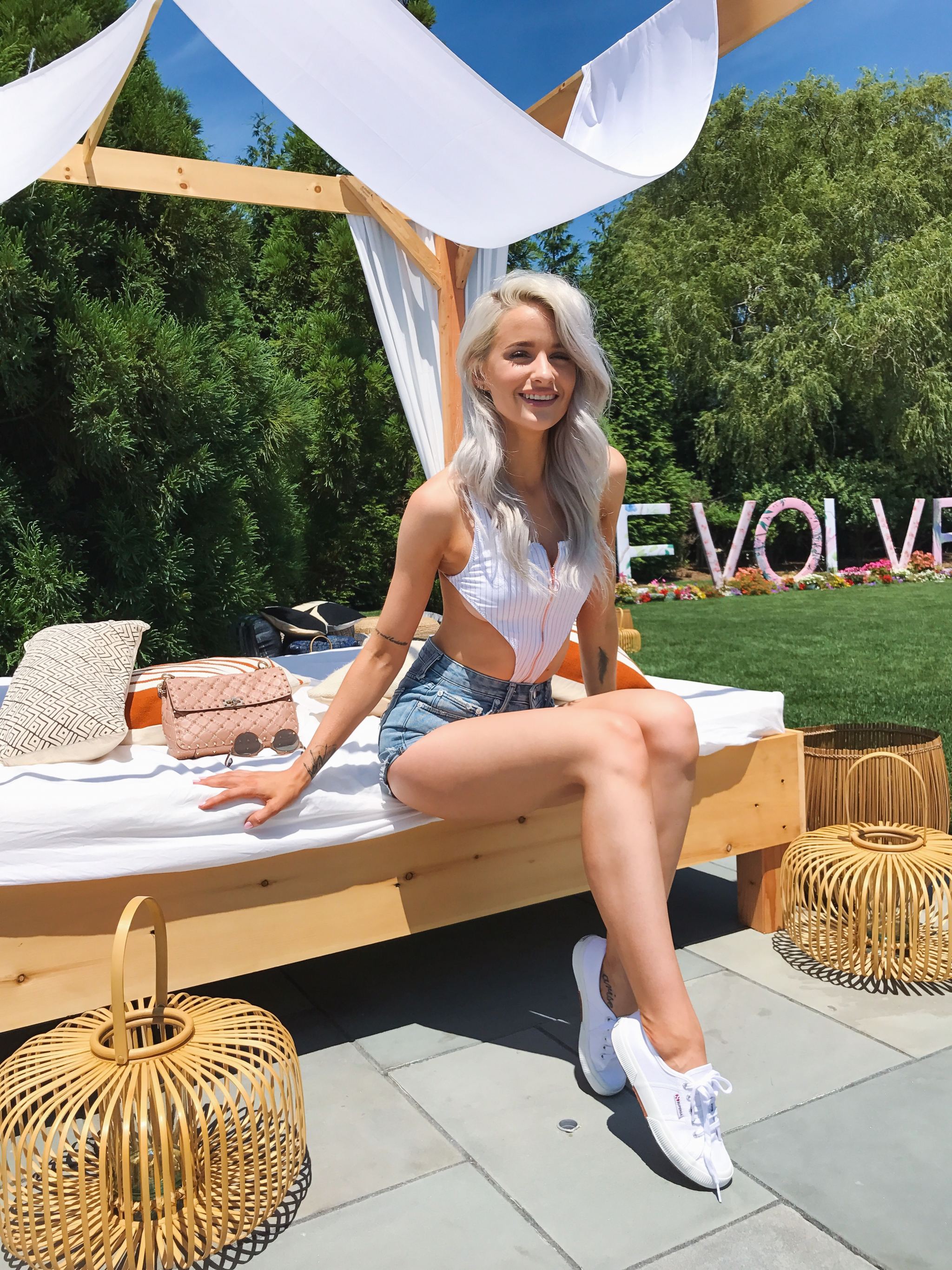 I love when you find a piece of clothing that has a dual purpose. This 'top' is actually swimwear worn as a bodysuit and when there's a pool or a beach nearby, clothing like this is ideal. Having the ability to throw on a pair of denim shorts over a swim and not feel like you're inappropriately dressed to grab a drink from the bar or head back to your room makes this Ale by Alessandra suit perfect. I love this casual look, especially paired with brand new Superga's and a dark pair of sunnies for that almost 70's poolside vibe.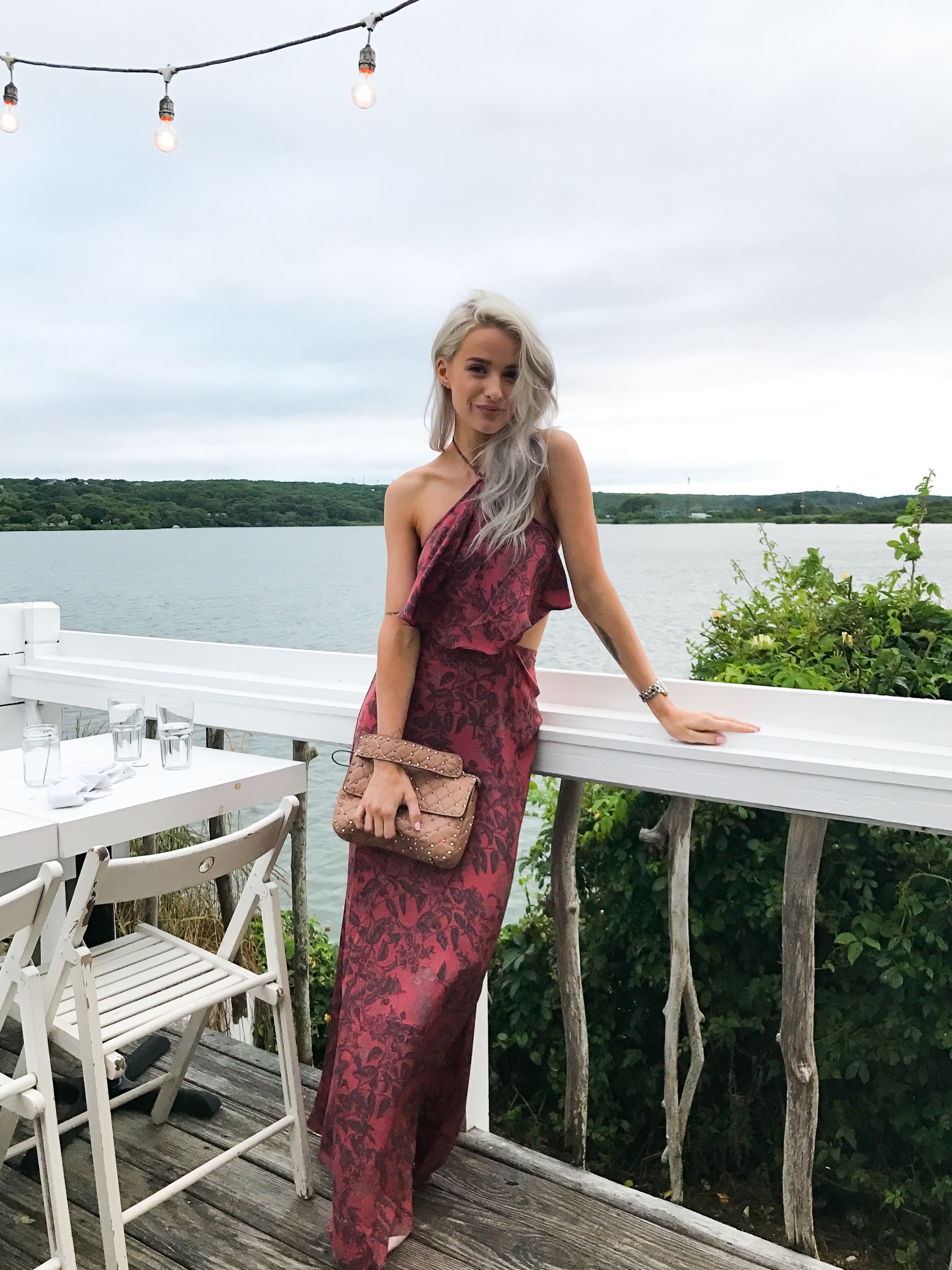 Believe it or not this was a total last minute choice when I had nothing to wear on our first evening. Alex and I had been delayed by quite a number of hours on our way to the Hamptons and we arrived about 4 hours later as everyone was about to sit down for dinner! Cue the amazing Revolve team suggesting this beautiful House of Harlow Maxi dress and once again another red tone steals my heart and works its way into my wardrobe. I adore the cut of this dress and the low tie back gives the illusion of a 2 piece from behind which looks so flattering but beware you definitely can't wear a bra with this dress!
I can't tell you how confident I felt in this outfit, I felt completely sassy, sexy and accessorised to the nines! The pieces are so simple but they're also so statement too. The nude bodysuit with it's draped back felt as though I had slipped into a beautiful piece of lingerie to wear as outerwear and the block colours allow my jewellery and shoes to shine. My Astrid & Miyu necklace mimics body jewellery with it's long drape to the navel and then adding a pair of strappy black Stuart Weitzman stilettos completed the look. My ideal date night outfit.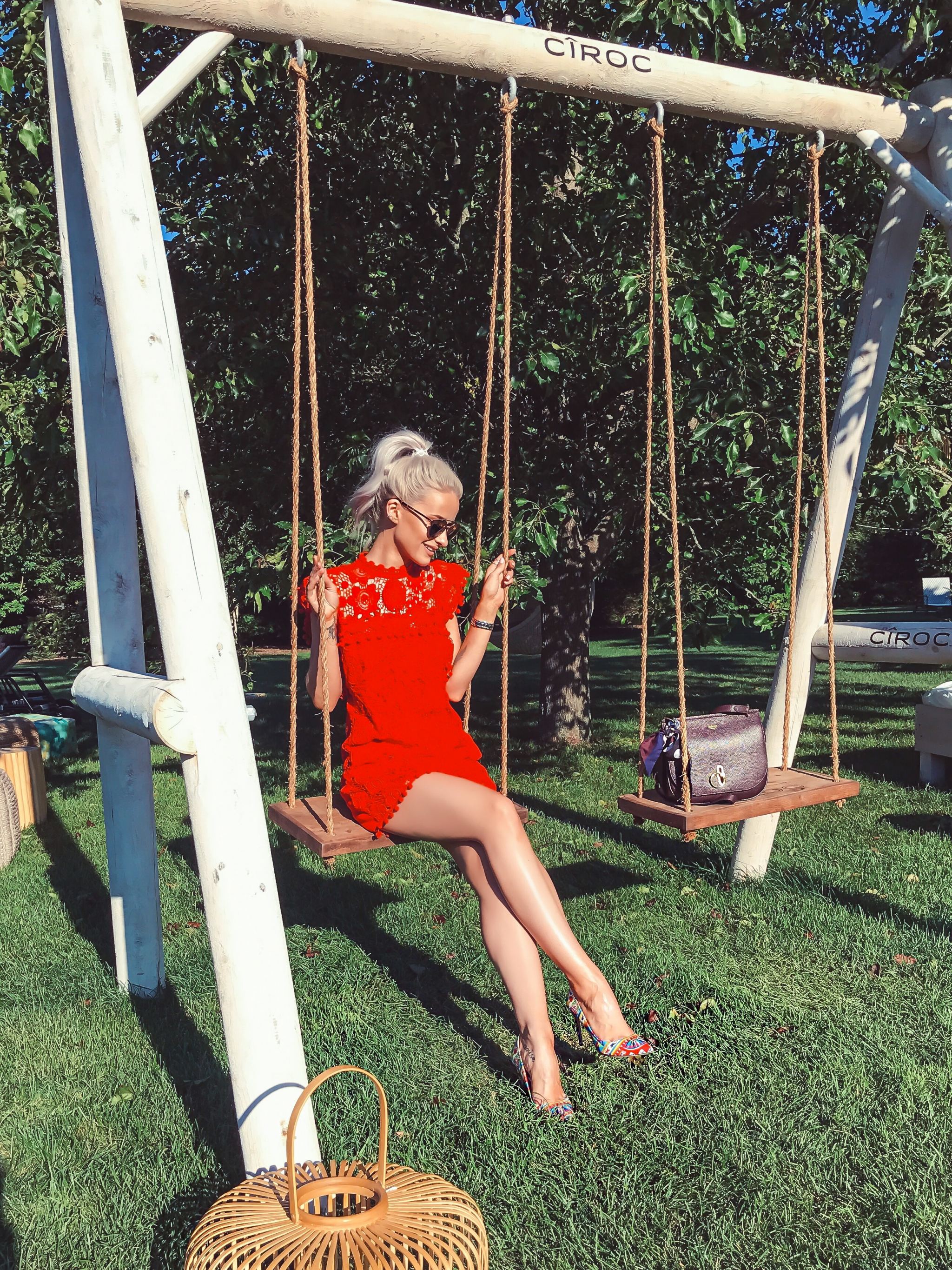 There's that shade of red again that has slowly but surely crept it's way into my wardrobe and I think it might be staying! Tularosa is a label I have worn often after first discovering it through Revolve and it's one that always has something new to offer that intrigues me. Both the colour and cut of this dress with it's batwing style sleeves wouldn't have been my cup of tea 12 months ago but this summer I'm embracing dressing out of the box and trying new styles. The higher neck with the shorter hemline is a definite winner and teamed with my Dolce Kate heels I feel like it's the perfect outfit for a Summer evening.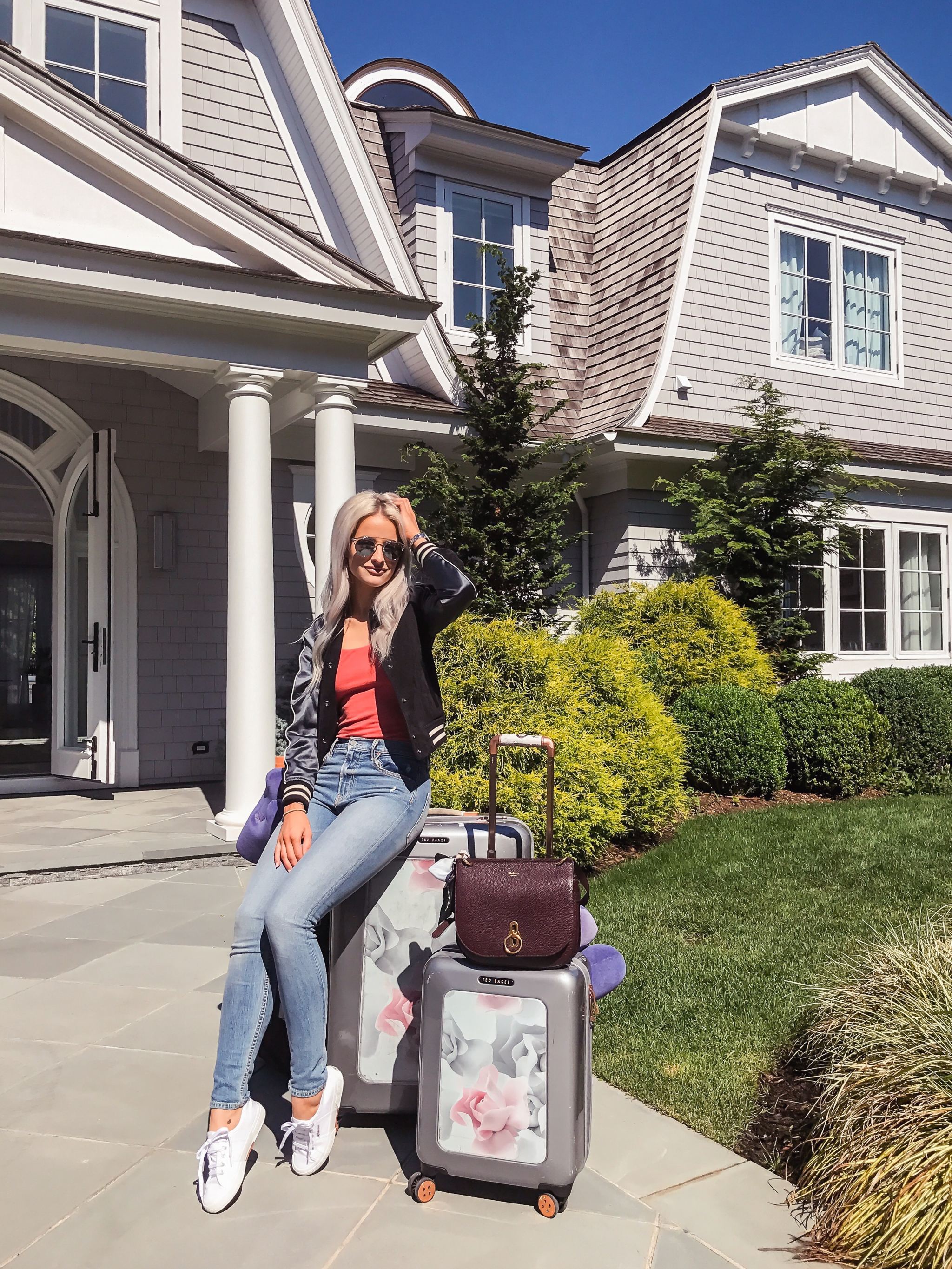 And last but not least my flying to Chicago outfit. My main aim for travel is always to be comfortable but I love fashion no matter what the setting and I always want to feel my best too. Cue my current favourite Bomber Jacket from All Saints (currently less than half price!) with the stand out satin sleeves, some stretch GRLFRND denim for comfort on the short flight and worn with the usual culprit.. a strappy bodysuit. Add my new Superga's and my trusty Ted Baker cases and I am good to go!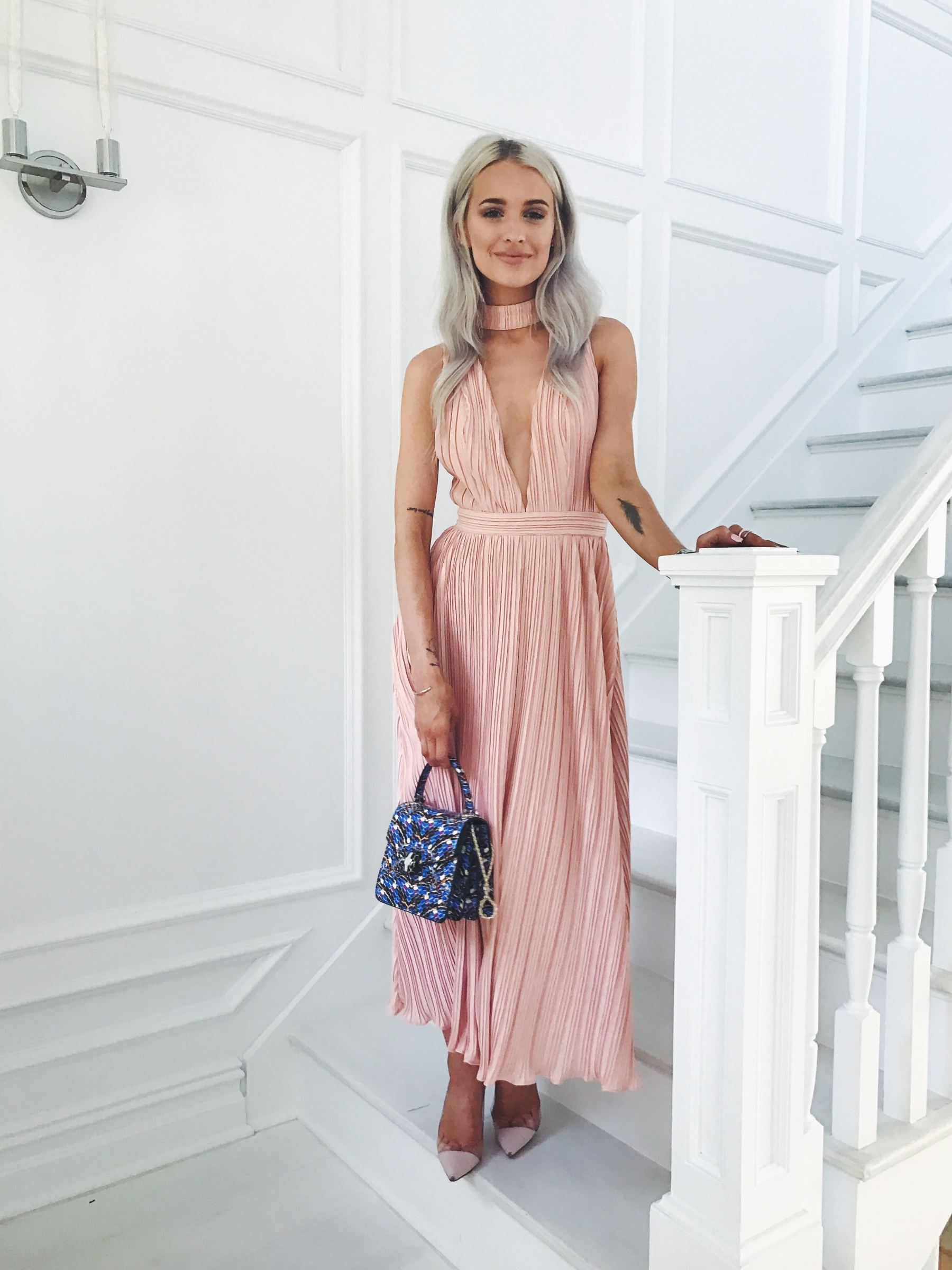 Sign up here for a weekly catch up of everything Inthefrow