21/05/17
Holiday Makeup Menu
For the Sri Lankan Heat
I spoke of the idea of creating a Makeup Menu every month, back in January. Since the first month of the year, honestly I just haven't had the chance to piece one together; although it's been on my mind to do so. Instead, I was in Sri Lanka last month, packed with a whole host of gorgeous new makeup I was trying out and falling in love with, so it was the perfect opportunity to show you what I had packed with me.
Of course external factors played into the choosing of these products. Firstly, the fact that I wanted to try something new, but mainly that the heat in Sri Lanka was going to be extreme and what I wore couldn't be all that crazy. Yet, I'm a blogger first and foremost, and wearing makeup in the heat is a big part of this job when you like to combine travel and beauty like moi. I was loaded with products that I hoped would stand up to the test.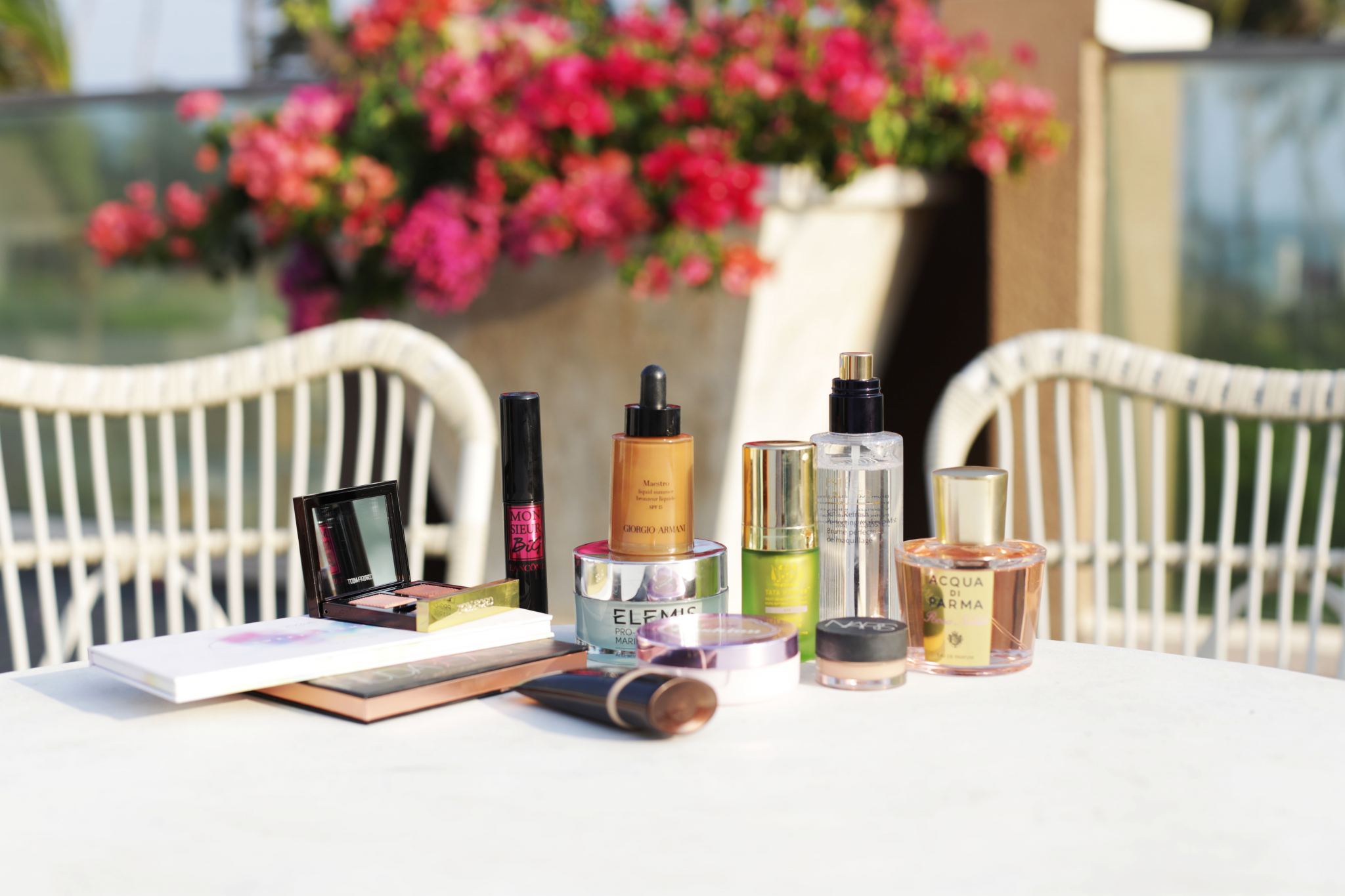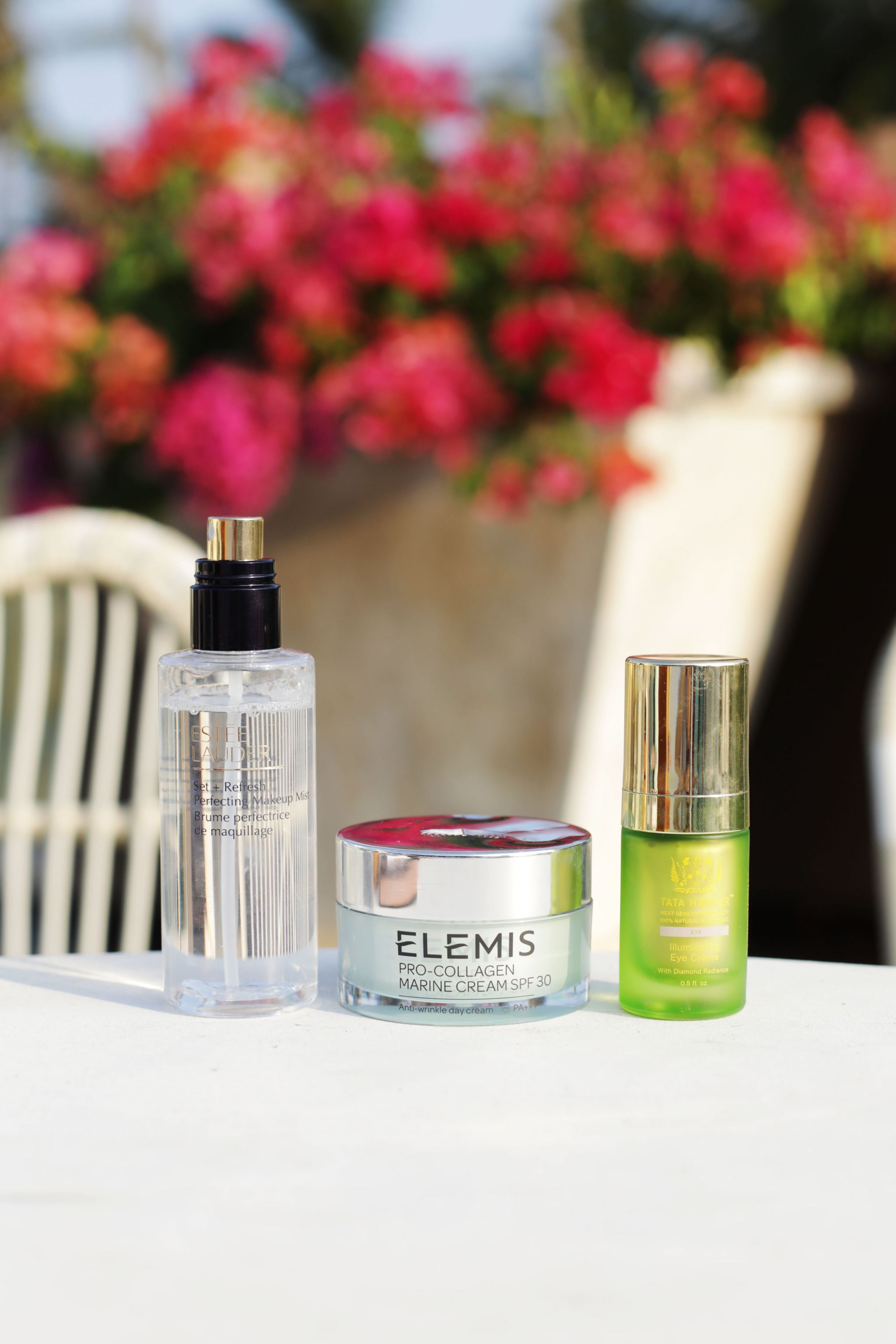 Skincare
Three newbies to my collection and three absolutely fantastic products that I cannot wait to share. They've become much loved products in my home routine also, with the Elemis Pro Collagen being a favourite of mine for the last few years.
***
Makeup setting mists are an essential in my everyday makeup routine. I don't finish or start my makeup without one usually. And through this adoration, I have come across a few excellent, and not so excellent mists over the last year especially. This one has made it onto my desk, for everyday usage so I know it's a goodun. For me its about how refreshing, light and well dispersed the product is when it leaves the bottle. After you've spent an hour applying your perfect makeup, you don't want to spritz your face with a hose. Believe me I have done this. The Set and Refresh is dispersed through the nozzle in a wide spritz that mists the face perfectly, without being too heavy or even too light. In terms of longevity, I feel it definitely helps to keep the makeup set down. I was in 35° heat and my makeup didn't seem to budge too much, so I'm happy.
Tata Harper Illuminating Eye Creme
This eye creme has only recently entered into my collection after a cheeky recommendation of the brand from Caroline Hirons. This creme however contains 'Diamond Radiance' and intends to illuminate the eye area rather than simply hydrating it alone. And boy does this illuminate. The pink pearl creme has a slight pearlescent finish and a ton of radiance reflecting particles, that reminds me of a skin illuminator. For some, this will be too illuminating and radiant in honesty and I definitely don't use this everyday, but for special occasions when I'm all about that glow, this is unlike anything I've tried.
Elemis Pro Collagen Marine Cream SPF30
Well, the best seller anti-wrinkle cream has been released with added SPF30 and I for one am over the moon. The consistency and texture of this cream is wonderfully rich but not too heavy, with a gorgeous spa like scent and a great hydration sensation on application. So for holidays, with the added SPF30 for under your makeup, it's a total winner. I'm not sure why Elemis didn't launch this sooner. However, it's £82. And that always makes me feel a little odd. It sure is fantastic, and for the people that love their skincare, it's a total gem, but just bare the price tag in mind.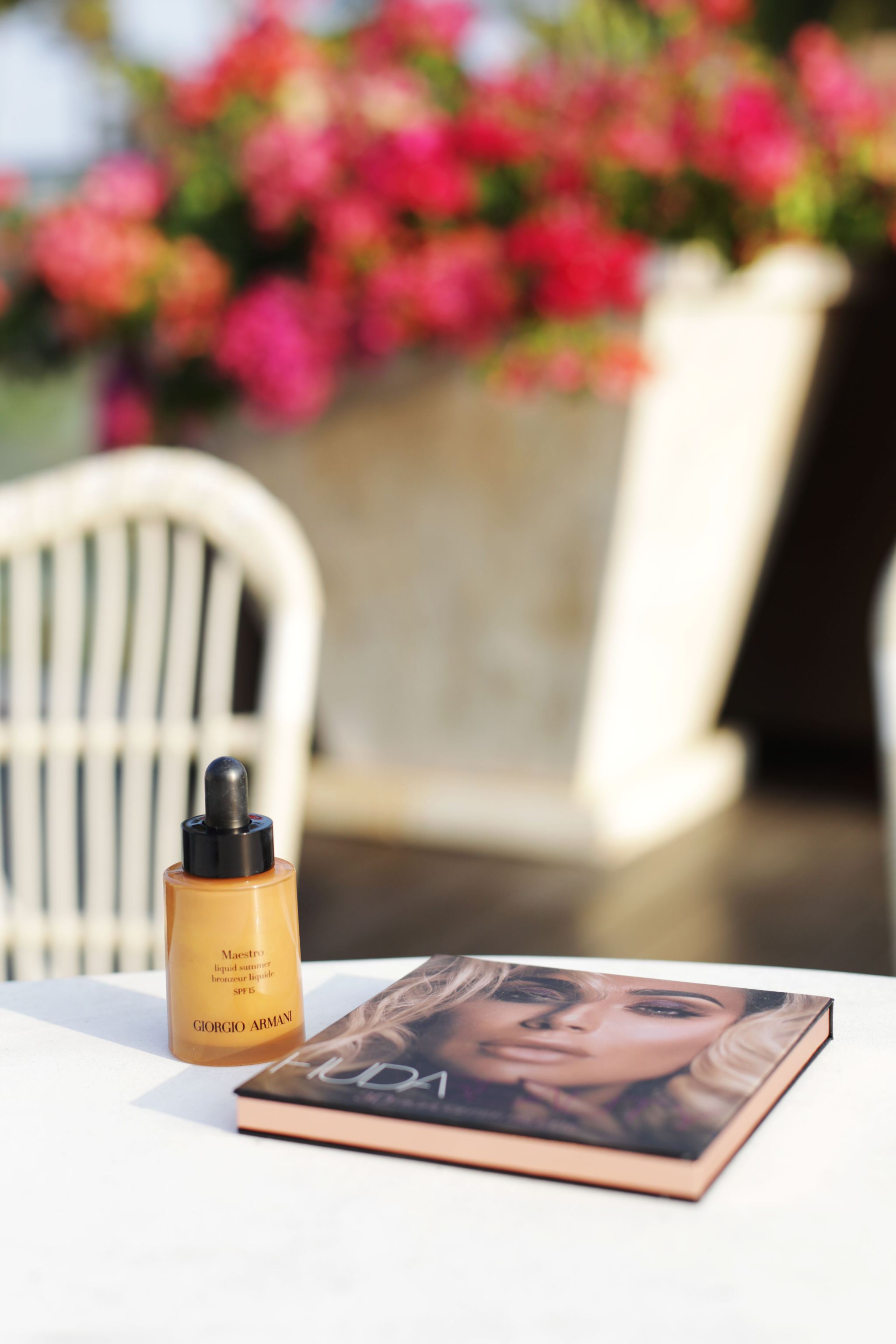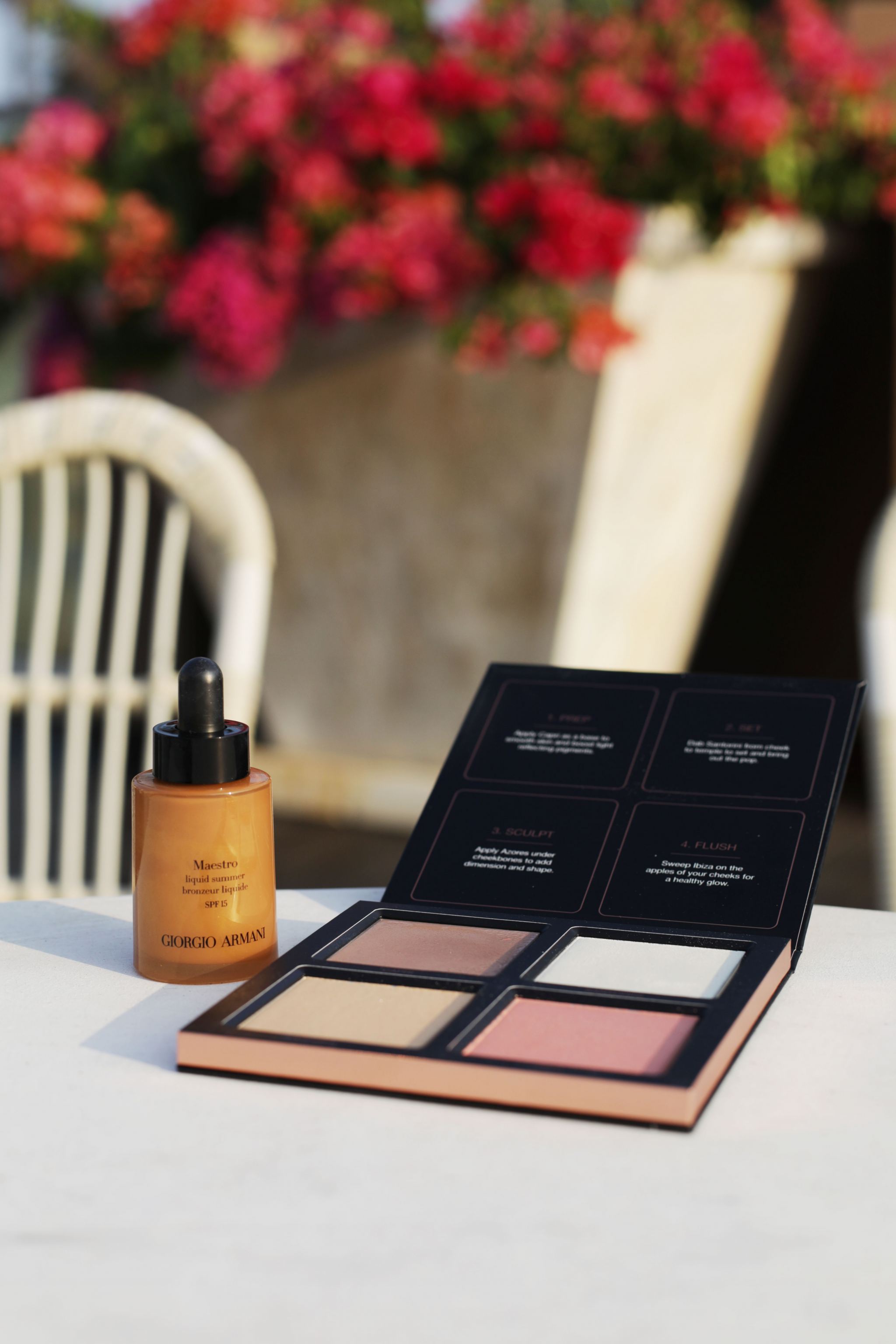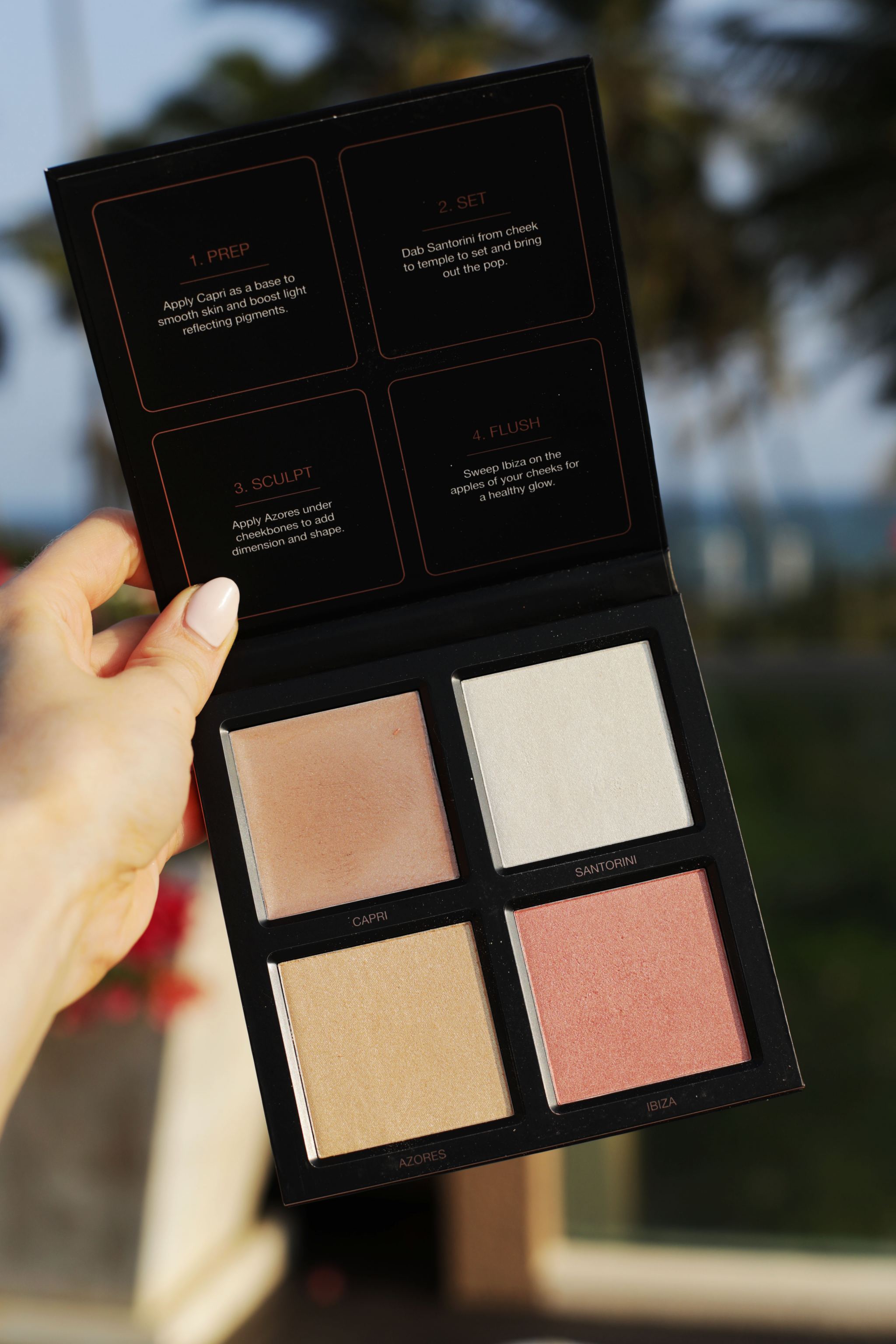 Bronzing and Highlighting 
Two definite goodies. And one brand I have never tried before, from Youtube sensation turned beauty powerhouse, Huda Beauty.
***
Giorgio Armani Maestro Liquid Summer
With added SPF15, this is one of those liquid bronzing products that is made for the sunshine. For some, the liquid formula will be intimidating, but it's all about being confident with the product and trying a little product before building it up. You can pipette this onto the back of your hand before using a packed contour brush to stipple this onto your cheek hollows and cheek bones to contour and bronze. The overall effect is a sunkissed, sun reflecting bronzed sheen, without looking powdery or matte. And it's also very buildable. Don't worry, the shade won't make you look 10 skin tones darker!
Huda Beauty 3D Highlighter Palette
I totally love this concept. Four shades in the palette that aim to create an almost 3D highlighting effect to the skin due to the reflecting pigments and particles, plus the usage of highlights, bronze and blush tones. The palette helps you to use the product, laying out a description of the top left prep stage that smooths the skin with reflecting pearls, moving to the powdery setting highlight, a bronze tone to add dimension and finally a flush of pink to the cheeks. The look is very instagram and very highlighted, but for your summer holiday, get that glow as much as you like!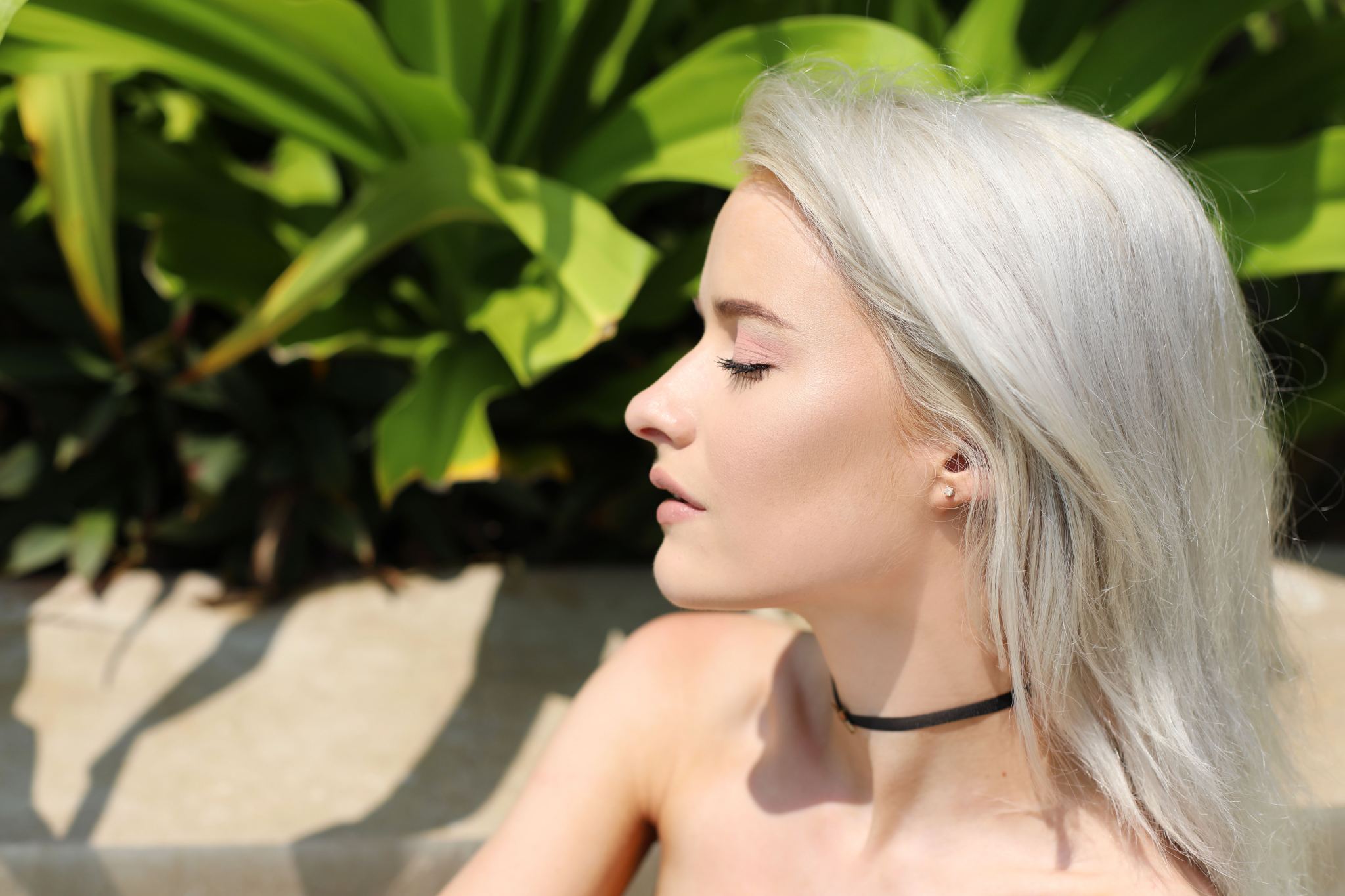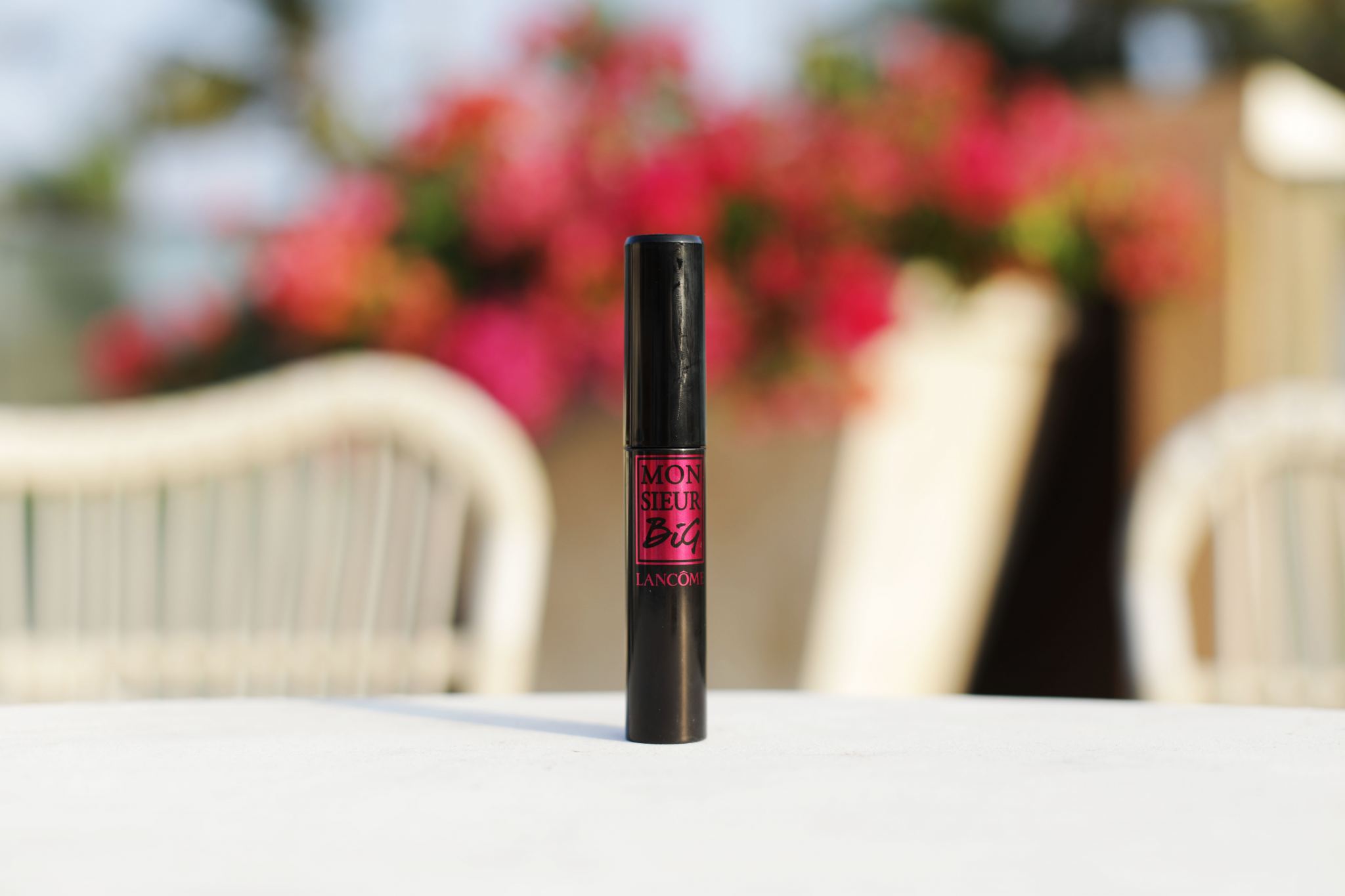 Mascara
Lancome Monsieur Big Mascara – Launching Soon
I'm going to start off this review as I often do with mascaras. Does it hold a straight lash curl? The answer is no, because it's not waterproof. So for me, it's not something I would reach for everyday. As a second mascara over my waterproof, definitely. I like the brush head, I like the volumising effect and I liked how black it made my lashes. But honestly, I wasn't blown away by this one. Lancome Hypnose Doll Eyes Waterproof is still my go-to from this brand, as it's one of two mascara's I have ever found to hold an eyelash-curler-curled straight lash in a curl. I love Lancome, but this just didn't do it for me this time.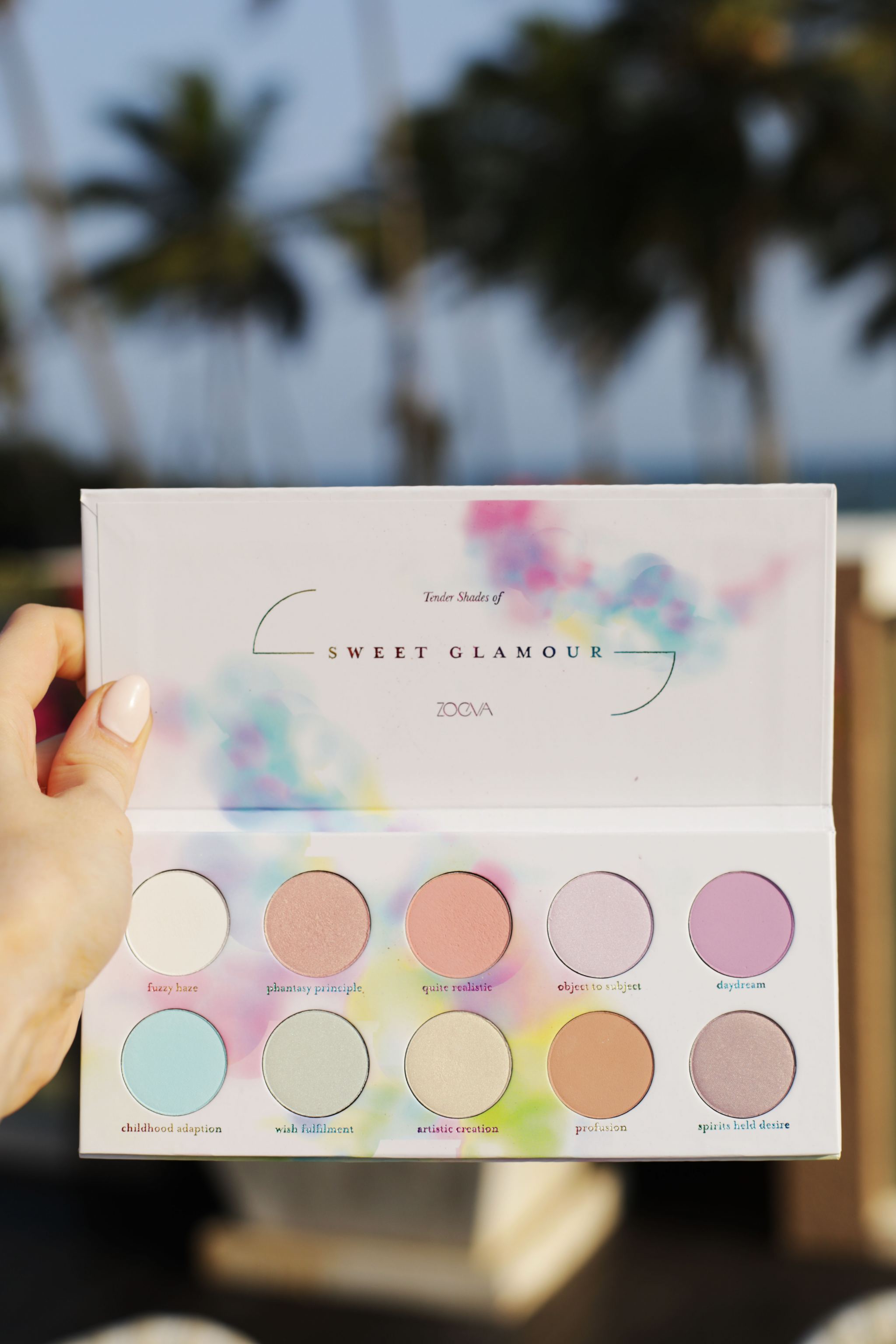 Shadows 
Zoeva have done it again, like every other launch. I honestly think this might be one of the most exciting Cinderella beauty stories out there. Whilst Zoeva were always my go-to brush brand (honestly I have used them every single day for the last four years), it is only in the last year or so that they have really started to make waves with their cosmetics. And every collection released, I am more excited. Each palette is filled with pigmented, blendable shades that are wearable and highly usable. The Caramel Melange Palette was a recent wintery favourite and now this one for summer – and since I took these photos, they just released the Basic Moment palette too.  Aside from the fact that I'd love them to launch their packages with mirrors, I honestly think Zoeva deserve more recognition for just how much they are slaying the beauty market at the moment.
This palette is fresh, pastel and yet still so wearable. There are inner corner highlight colours, warmer crease shades, yet the lid can be washed in spring summer pastel pinks, lilacs and greens. So beautiful!
Base
Onto the super exciting part – the foundation of this routine.
***
The heat called for something strong and waterproof, so I opted for the Tom Ford Waterproof Foundation/Concealer Cream in Linen. It's pricey at £66, but the quality and finish is absolutely beautiful.
Over the top, a pounce of the L'Oreal Nude Magique Cushion, and hands down my favourite cushion foundation on the market. I often take this foundation only, when I go away on holiday, as the dewy finish of this foundation is like no other. I cannot tell you just how much I adore this for truly dewy and medium finished skin. It's fantastic. I often go for shade 7 when I am tanned, shade 4 when I'm not, using a beauty blender to pick up the product and then going directly onto the skin. I use this foundation as a last step over my other foundations almost every day, to leave the skin looking dewy and perfected by the beauty blending effect.
And for concealer, there is nothing I want to use more right now than the Nars Soft Matte Concealer in Canelle. If you buy one item from this post today, make it this. It's the most covering, none caking, perfectly blendable concealer in my collection. I carry it with me inside my makeup bag, with a beauty blender, every single day.
Lips
I couldn't be more excited to talk about this product and I would really love your opinion on this product in the comments if you have time! This is the new Tom Ford Shade and Illuminate Lip Palette in Automatic, limited edition and unlike anything I have really seen before. This was applied to me on a recent photoshoot and I absolutely fell in love. The idea is to use the darker shade to line and the lighter shade to fill in the lips, to create a two tone ombre lip. It was the concept that got me, in that the two shades are right there, with a mirror, a usable brush and encased in a stunning Tom Ford package. Honestly, it excited me more than any other recent lip launch. And I'd love to hear what you think of this, as I think it's so innovative. But I might just be getting a bit too carried away here.
Fragrance
And onto fragrance and the only scent I took with my for my Sri Lanka and Maldives trips. The Acqua Di Parma range is one I have always spotted in Liberty, with their super luxurious feel and beautiful packaging. They look beautiful, and yet I have never ventured over to spritz one. Until a lazy day in London took me into Liberty and I decided that today was the day. Rosa Nobile became my easy favourite from the collection with a femine, floral, rose Italian flower garden. It is splashed with mandarin and mixed with bergamot spiced with pepper, whilst peony, violet and lily of the valley make up the heart. The overarching scent is the Rose but it's deep and almost woody, sensual and absolutely delightful. It's honestly one that I could wear every single day.
 Let me know your thoughts on any of the holiday picks above. Are you loving anything I've mentioned or have I intrigued you to try something new? And please do let me know what you think of the Tom Ford Palette? With it being so different, would this be something you would add to your collection or just still prefer your generic bullet lipstick. I'm hooked, but I'd love to know if that's just the blogger in me!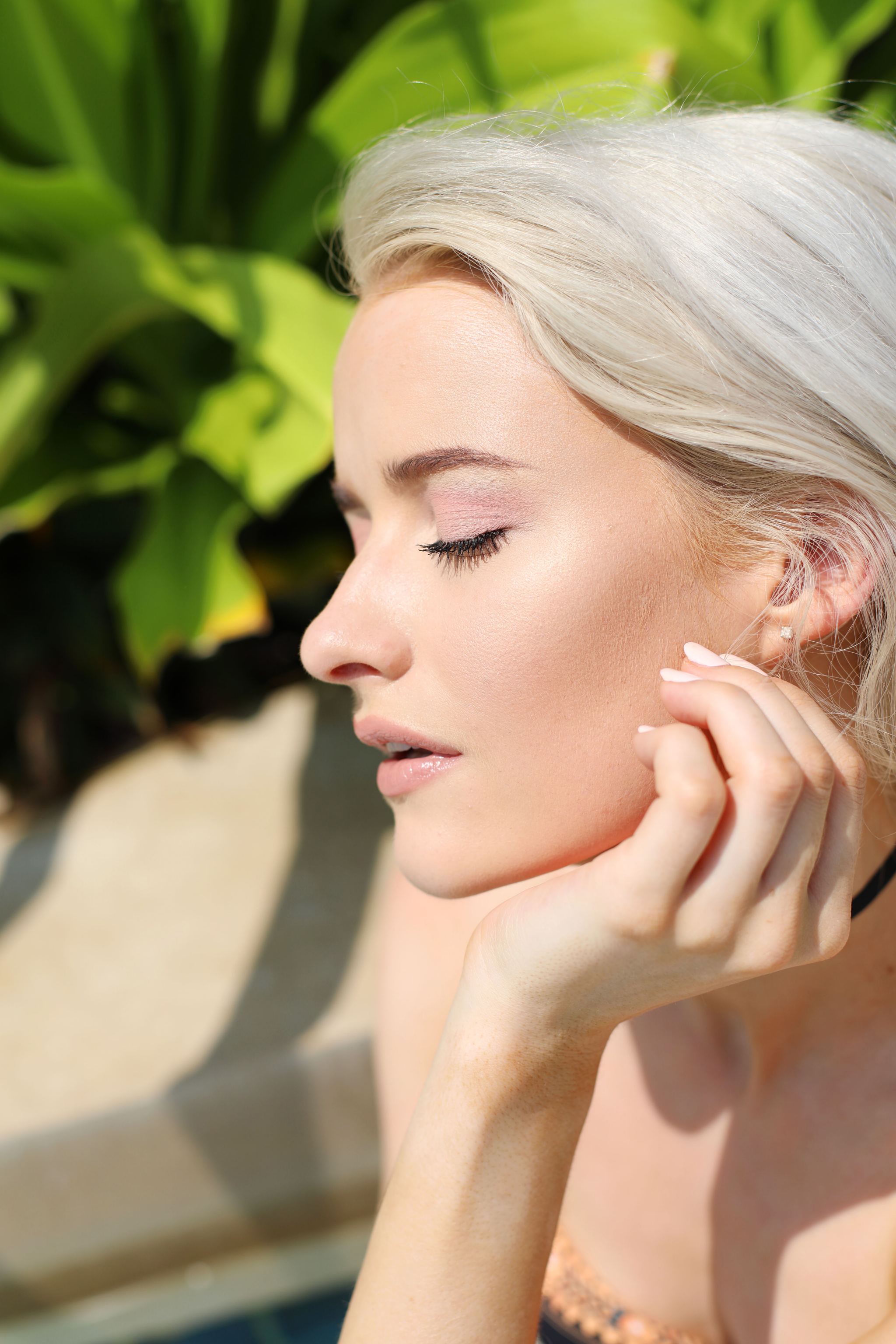 Shots taken at the Shangri La Hotel, Hambantota, Sri Lanka. Full hotel review coming soon – but I can pretty much tell you now that it was like paradise.
Sign up here for a weekly catch up of everything Inthefrow