13/05/17
Dior Addict Lacquer Sticks
My New Lipstick Obsession
I had no idea, that flying over to LA with Dior in February would be one of those trips where I would find a new makeup essential. I adore Dior, probably more than the majority of brands on the market, in terms of both their fashion and accessories as well as stunning beauty collections. Having become one of their #DiorGirls in the past year, I am so proud to work so closely with a brand that I have adored throughout my life. It's a brand that I feel resonates with my personality and my aspirations, and every time I walk into their store, it is as exciting as the very first time. And this LA trip, for the launch of the Dior Addict
Lacquer Sticks
collection, was one of the very best I have ever experienced. I left with amazing memories, as well as the whole Lacquer stick collection, and I have been desperate to tell you all about it!
THE MAGIC
There are so many lipstick products on the market these days and in total honesty I'm feeling a bit done with all of it. A new lipstick just doesn't get me as excited as it used to do. Mainly because I never seem to find any that I can throw into my handbag as soon as I find them. And that is the ultimate test.
But I swear on my heart, as soon as I tried the Dior Lacquer Sticks, in my hotel bathroom in LA back in Febuary (yep this post is delayed here) I actually got my lipstick mojo back. This is a product that breaks the mould of the majority of lipsticks out there. And although I can't quite put my finger on what exactly it is about this product that is so unique, I think it's a mixture of the pigmentation, semi-opaque finish, slender bullet design and small ended tip. Oh and maybe the wonderful colour selection.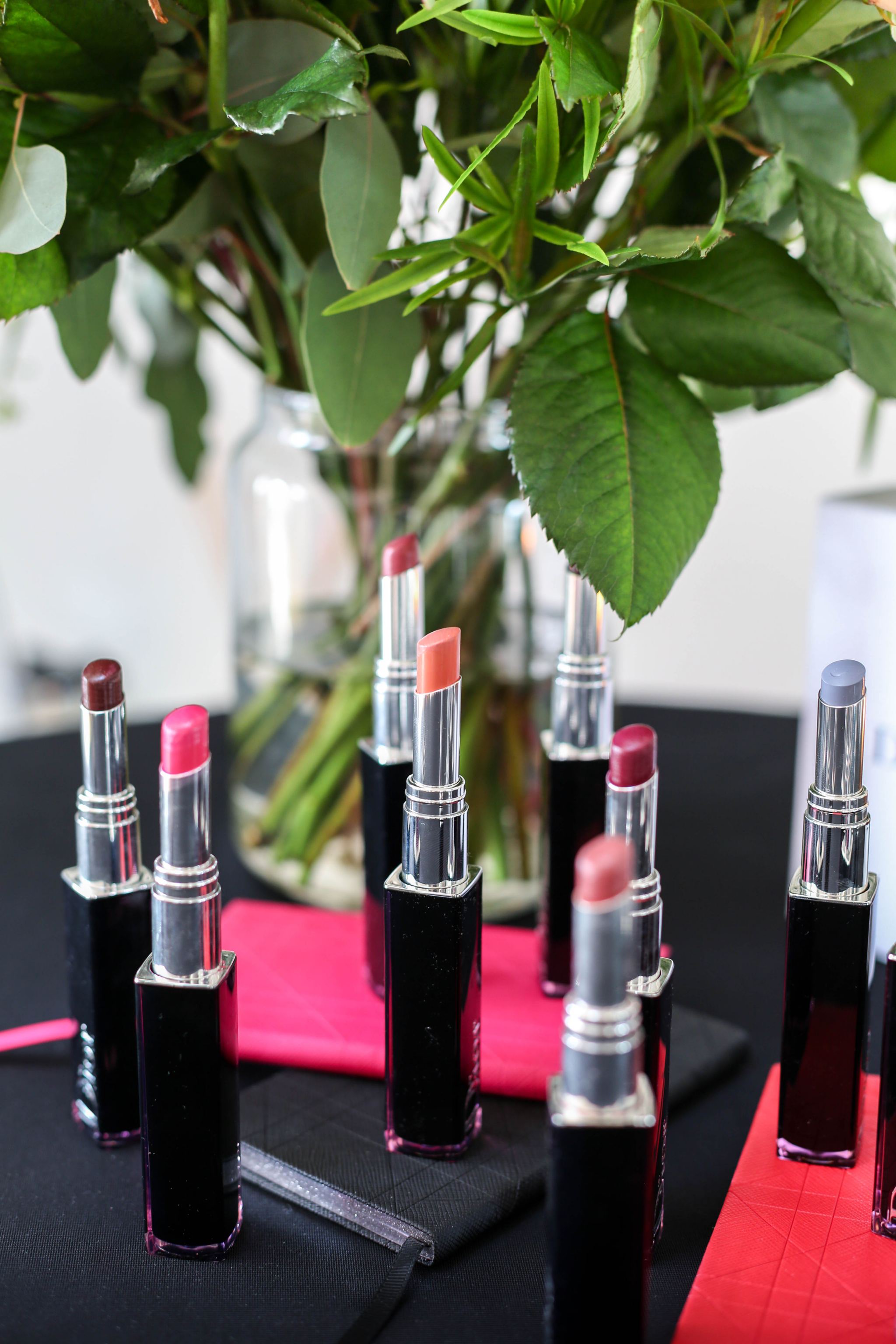 SHADE SELECTION
There are 18 shades in the collection, but for this post I chose my favourite 13. Yes, 13 out of the 18 shades I absolutely loved. Peter Phillips absolutely nailed this colour selection. If you scroll down the page a little more, I have written all of the shade names next to the colours, just in case you see one you love! My absolute favourite shade and the one that made me fall for this collection the most is Bel Air. However, it would seem that Bel Air may not have been released everywhere since I tried the initial launch box of products. Bel Air is the perfect beige nude and I couldn't get enough of it. Yet, although Bel Air is now long gone, Rolling, a coral toned nude (lip swatch below), Underground, a darker brown nude and Tease, in a light pink (lip swatch just below) are my main favourites.
But there are some stand out shades in this range, including the grey blue of Blue Wave, the deep plum brown of Black Coffee and the gorgeous rich oxblood of Sauvage. For that super barbie pink lip there is Bubble and for a brighter fuchsia pink, Turn Me Dior.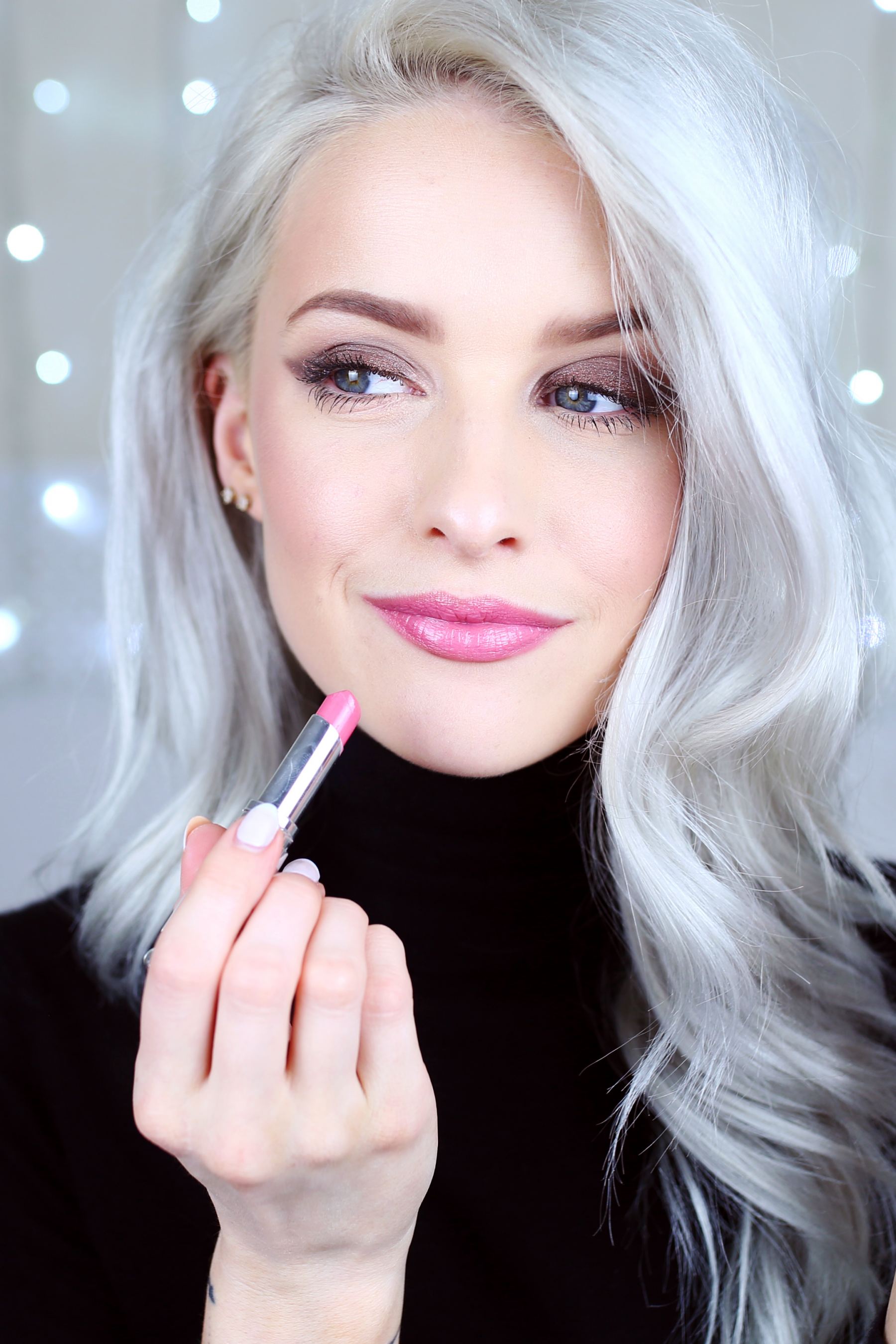 Dior Addict Lacquer Stick in Tease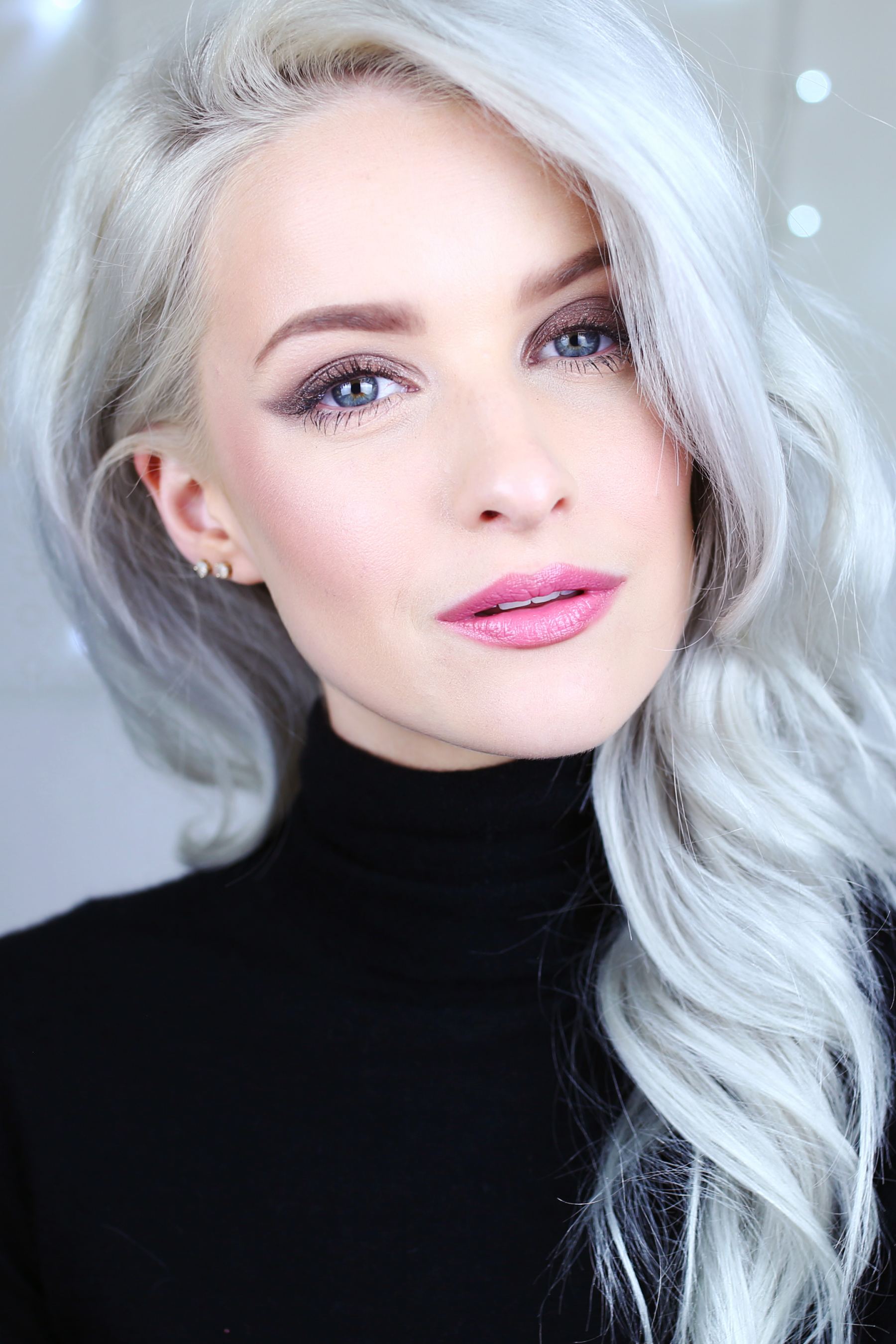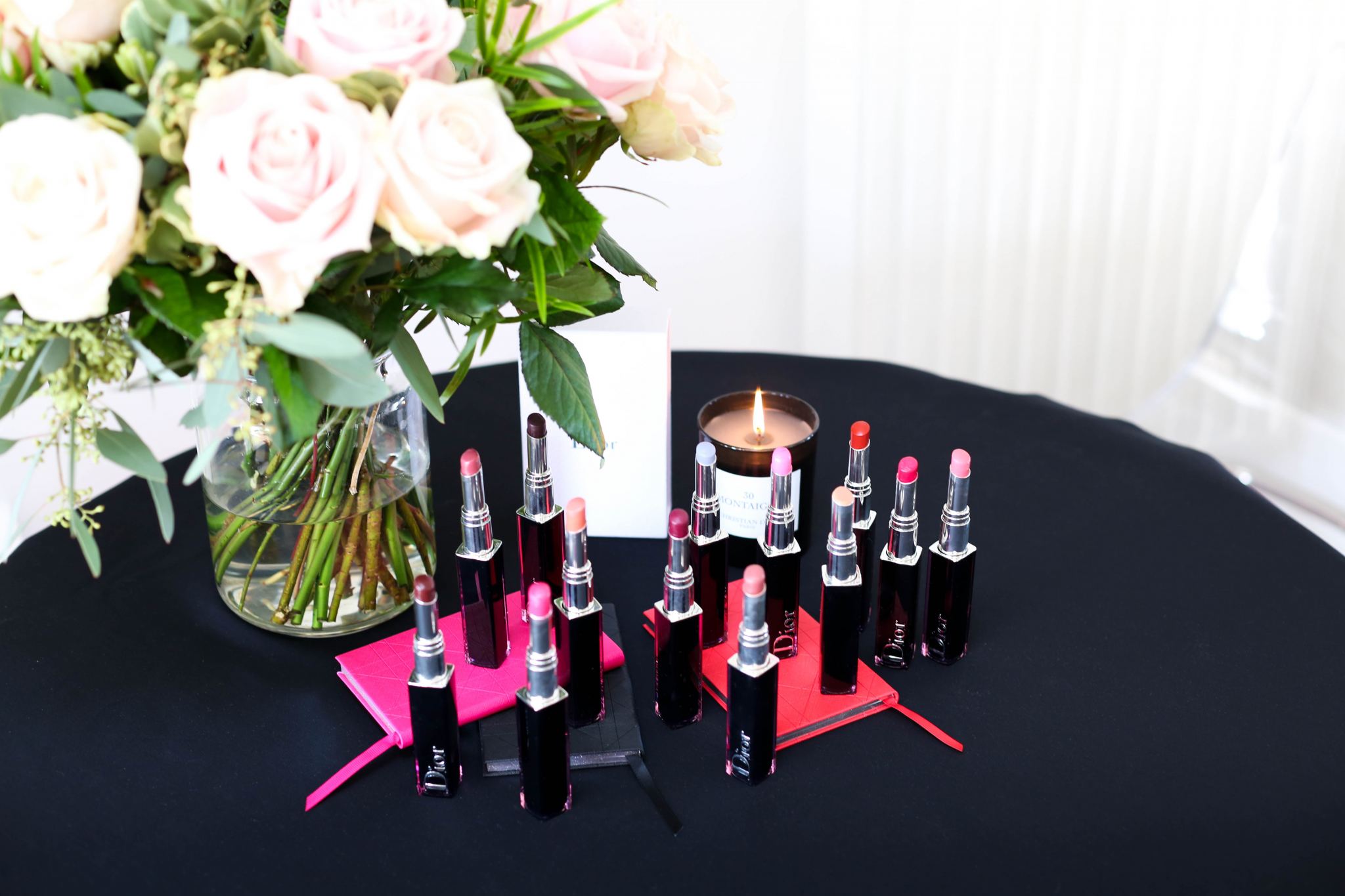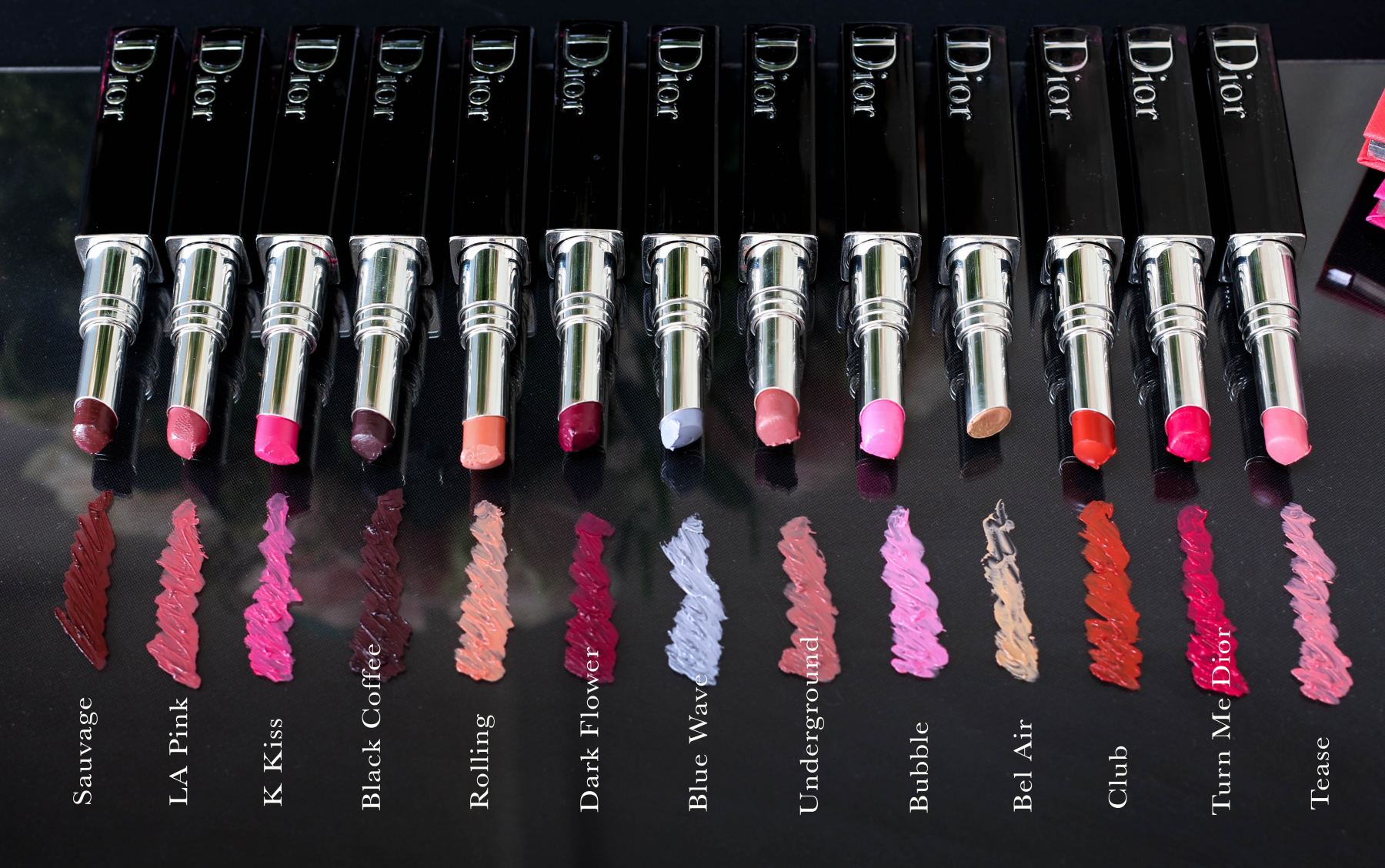 THE FORMULA
But aside from the sleek packaging and the well thought out colour range, its the formula that is the magic ingredient here. This isn't shiny, wet, sticky, uncomfortable or drying. It isn't too matte or too opaque or too sheer. It is just, well, perfect. I'd like to call it a semi-opaque formula, with enough pigmentation to coat the lips in the exact shade you see in the bullet. But it's not heavy or too coating that it becomes matte or dry. It glides softly and smoothly onto the lips with a satin shine finish; the exact amount of shine that I am currently loving on the lips. Have a look at the pictures of me wearing the shades Rolling and Tease to get an idea of the finish I'm talking about. You can see the light bouncing off of the pigments, without looking at all glossy. But the formula is so pigmented that if you applied one colour of this, and then applied a second alternative colour, the only colour you would see is the last lipstick shade you apply. It just coats and covers so incredibly well.
And the bullet shape is wonderfully designed to really allow you to draw out your lip shape without over drawing or creating a total mess. It's fool proof with an incredible formula and stunning shades that I can't get enough of.
 Dior Addict Lacquer Stick in Rolling
I just can't rave about the Dior Addict Lacquer Sticks enough. If you follow my Inthefrow Youtube channel too – you may have seen me mention these in my favourites videos and makeup tutorials also. I honestly think Dior have brought out a true winner with this collection.
And just in case you'd like to shop the collection, I've added five links above for a few alternative retailers that I personally prefer to buy from. So happy shopping! And please do let me know in the comments if you decide to try one out – and which colour you went for!
Sign up here for a weekly catch up of everything Inthefrow