24/05/2017
Join Me and the BHF
Let me cut to the chase here. I'm hosting a special dinner party for 10 of my followers/readers/watchers in the UK, to support the work of the British Heart Foundation (BHF) and its Wear it. Beat it. campaign! And I want you to be there. Last year, I became an official supporter of the BHF, hosting my own pop-up store to sell my clothing to raise money for the charity's incredible research to diagnose, treat and prevent heart disease. It was a huge success and I have only continued to support whenever I could since then. Let's just say the majority of my old wardrobe is now in the BHF store in Kilburn.
I also supported the Wear it. Beat it campaign last year with a red lipstick selfie, to bring awareness to the campaign, aimed at inspiring everyone to wear red and to raise money for the cause. This year, the campaign is a little different.
Around 160,000 lives are cut short every year by heart and circulatory disease – that's one person every three minutes. Right now there are around 7 million people in the UK living with these devastating conditions.
Last year more than 15,000 people took part in Wear it. Beat it. raising over £750,000. The BHF is calling for even more of you to get involved this year and help raise in excess of £1million for the charity's heart research.
Here's the Idea 
First and foremost let's talk about the new Wear it.Beat it. campaign. It's getting super social this year, and is all about spending time with friends and loved ones, throwing a red themed fundraising event! Get your friends over, get the community involved, make it red in any way you can and raise some much-needed donations towards the cause. And of course, the more you can share this on social media with the hashtag #WearItBeatIt the better! Get those photos out there and show everyone what you're doing. It's all for an incredible cause.
Here's My Idea 
So, my idea. I asked the BHF if I could throw a dinner party. Red themed, red dresses, red roses and ten of the people who support me the most. It's going to be in central London on the Friday 2nd June from 7pm-9pm. Everyone will need to be 18 or over (so sorry) and will also be coming alone, so be prepared to meet lots of lovely people over a glass of your favourite tipple. All I ask is, you wear something red to the event. Let's just say, this is what I'll be wearing…
Get Your Party Idea!
This isn't a fundraising event like many of you will have seen before. This is just an encouraging excuse for you to see friends, colleagues and loved ones and spend some (red) time together to raise money. There are already thousands of people signed up to help the campaign, submitting their fundraising ideas and showing their support for the BHF. And I really wanted to spread the word. On Friday 9 June, wear red, do red and support a wonderful cause in the process.
Without giving away my idea (shhhh) for the day, I will be celebrating with a few friends by hosting my own red party on my tiny little balcony. I'm going to make a big red tomato pasta, Bloody Mary's, scatter some red balloons, dress the table with Red Roses and napkins and bake some Red Velvet Cupcakes. Oh and of course, I'll be serving red wine! And I'll just be asking each friend that if they'd like to donate anything towards the BHF on the evening, then I'll be collecting and donating everything together. And I can't wait! That's as well as my dinner party event a week earlier on the 2nd! Here are a few more ideas for your event…
Host a red themed BBQ – red bbq sauce anyone?
Encourage all of your colleagues to wear a red t-shirt to work in the office
Use red napkins and serve a red menu in your cafe
Get your friends together and do yoga in the park, in red!
Get your office block to all bake red desserts and others buy them for charity
Host a dinner party! Easy!
Wear a red running outfit and get friends to sponsor you to run for 20 miles! (or more, or less)
Throw a car boot sale, with red table tops, red tshirts and donate all proceeds to charity, if you can.
Get friends round and make pizzas together. Red tomato sauce doesn't stain red tshirts (maybe).
How to Enter?!
Easy Peasy. If you're over 18 and can get to central London for 7pm on Friday 2nd June, then I would love for you to enter to come along! It will be me, you and 9 others, hanging out in a beautiful (believe me it's gorgeous) dinner party location, dressed beautifully in white and red decor and we will all of course be wearing our red dresses.
Just go along to my Instagram and find my BHF image – you can't miss it, I'll be wearing a red lippie! And all I want you to do is comment and let me know what sort of red fundraising event you would ideally throw. I've given you a few ideas above, but I'd love to hear your most creative ideas of how you would get involved. Hopefully they can also help inspire others! Leave me your red fundraising idea in the comments and I'll be choosing my favourite 10 ideas by midnight on Friday 26th May! So you have three days! The winners will be commented back to by myself, with an email address for them to contact where they will receive all of the exclusive event info!
One more thing! Just before you rush over to my Instagram to enter please do read the Terms and Conditions here!
I cannot wait!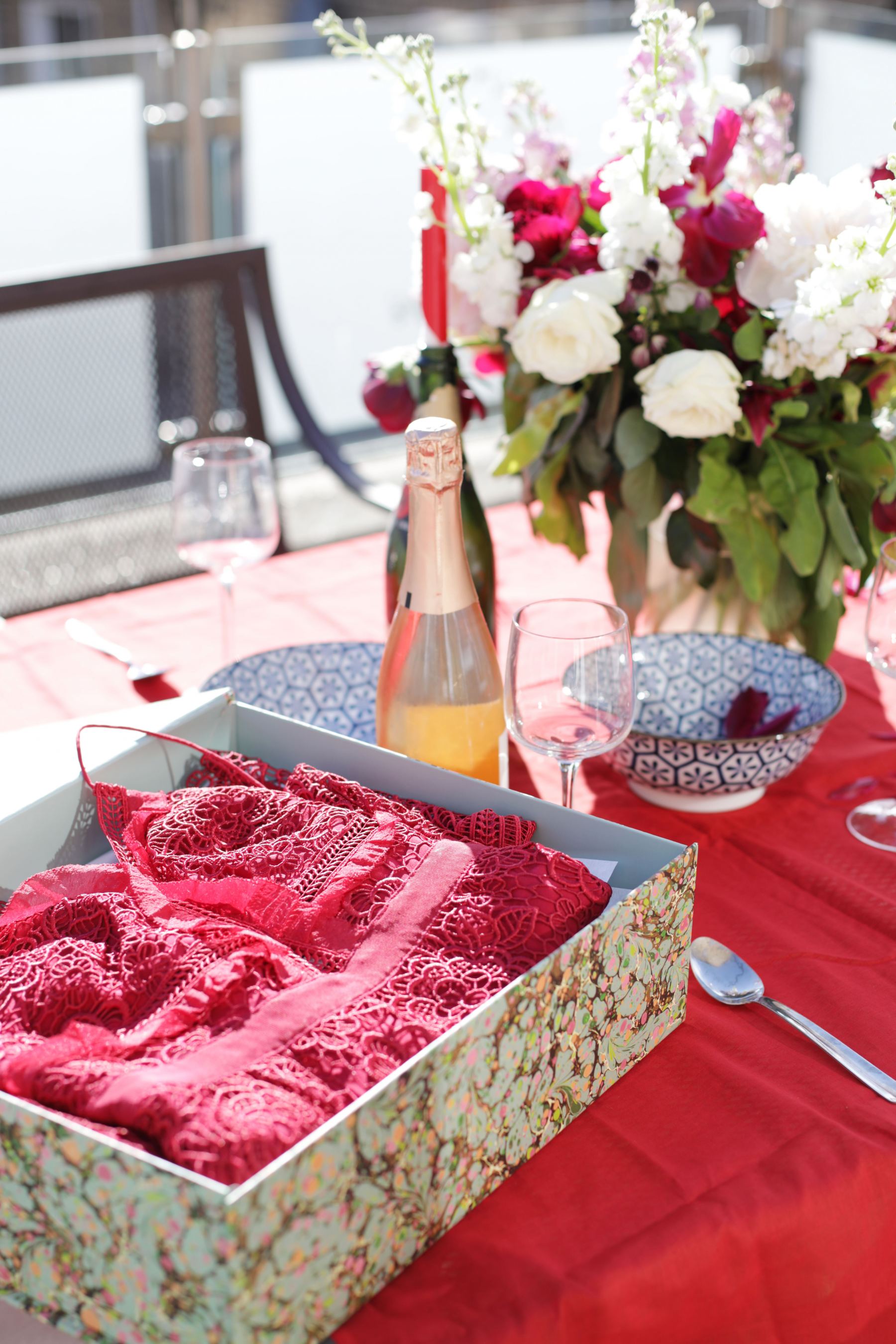 Sign up here for a weekly catch up of everything Inthefrow