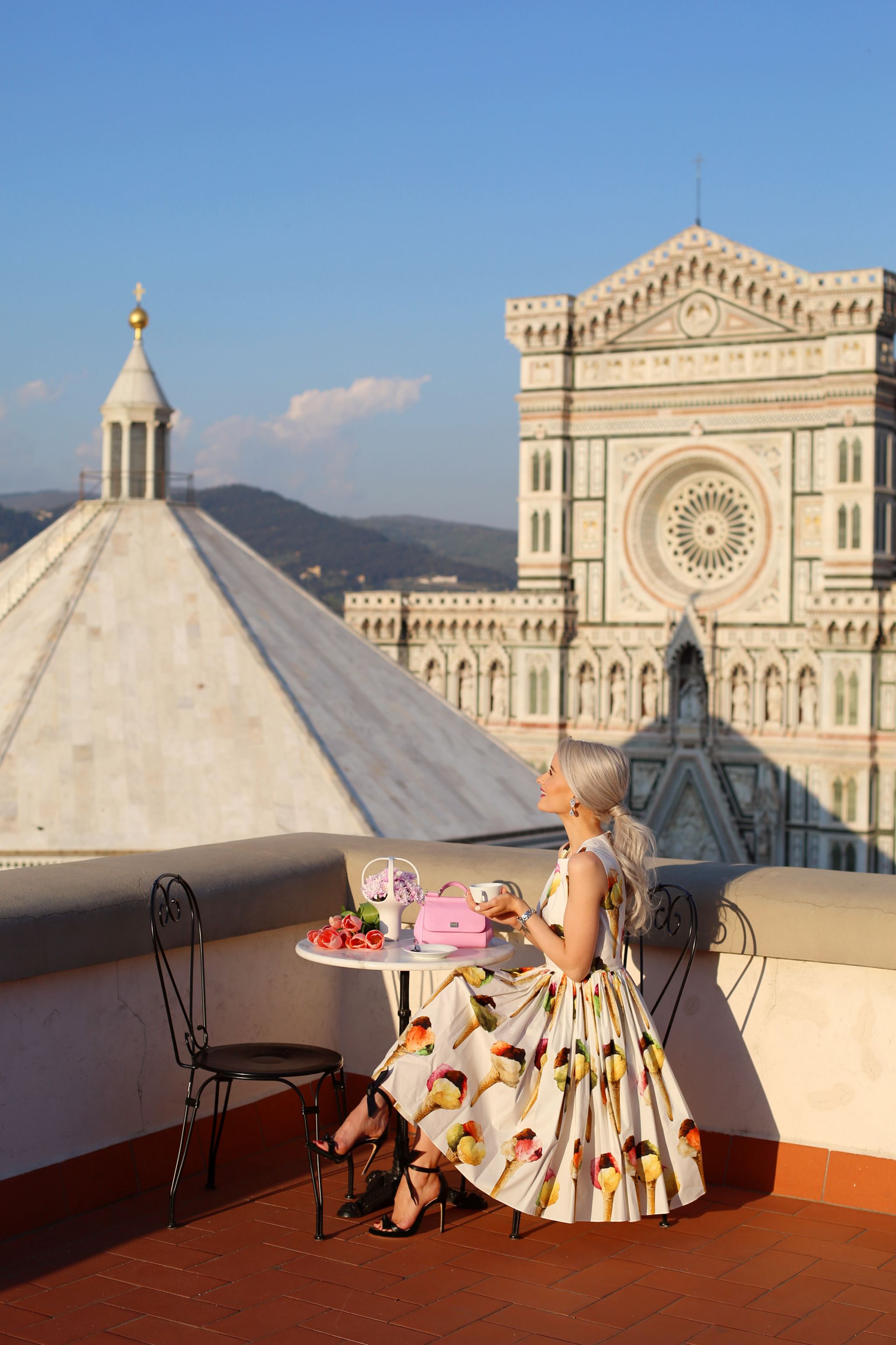 15/05/2017
The Italian Dream
in Dolce and Gabbana
Peering over the energetic city of Florence from a 10th floor terrace, with a coffee cup in hand and a Dolce and Gabbana tote elegantly situated on the marble table, I could have imagined I was living out a scene from a fairytale. The classic shift silhouette of the
Dolce and Gabbana Icecream dress
summarises the Italian lifestyle; encompassing sophistication, fashion, fun and fearless individuality; and what do I love more about Italy than the gelato?!
Florence is one of the most beautiful cities I have ever visited. Culture, architecture, shopping, walking and the most incredible Italian food I may have ever tasted. The pizza at Il Pizzaiuolo was a dream come true. But it was this moment, overlooking the city, wearing three pieces from one of the most famous Italian houses in the world, that I won't ever forget. This was the day I got to be an Italian Dolce and Gabbana Princess.
A Brief History
Dolce and Gabbana, founded by Domenico Dolce and Stefano Gabbana, debuted at Milano Collezioni in 1985 before presenting their first fashion collection in 1986. Their renowned accessories were born in 1991 with a Women's scarf collection followed by perfume in 1992, men's underwear in '93 with a host of further inclusions until Dolce and Gabbana beauty in 2009. They set up shop with their first flagship in Milan in 1994 with further boutiques opening in the following years; now boasting a portfolio of 323 stores worldwide. The designers have created clothing for Madonna's, Whitney Houston's and Kylie Minogue's World Tours, have a Dolce and Gabbana restaurant to their name, a host of books and have dressed the team from A.C Milan and Chelsea Football Club as well as the Italian Boxing team. It would appear that these two creative gents have taken the luxury fashion world by storm over the last 31 years. And are continuing to grow yearly, with innovative and modern concepts. The Millennial's fashion shows for one, are a nod from the designers to the power of social media and the rise of the social star. Dressing the cream of the fashion social circles and allowing them to walk in the Dolce and Gabbana fashion week shows. A dream come true for anyone, but for someone who adores fashion as much as the bloggers they have chosen previously; I cannot imagine how incredible that moment must have felt.
Each season, the collection's are distinctive and often themed. The same fabric and pattern could run throughout one person's entire wardrobe, with accessories, dresses, t-shirts, jackets, trousers, shorts or skirts forming a full patterned range that can not be ignored. Patterns are often extravagant but wearable, this season sporting large tied spaghetti prints, cocktail glasses, bold leopard print, large pineapples on pink fabric and of course, icecreams. Each extremely bold, vibrant and beautiful and absolutely Dolce and Gabbana.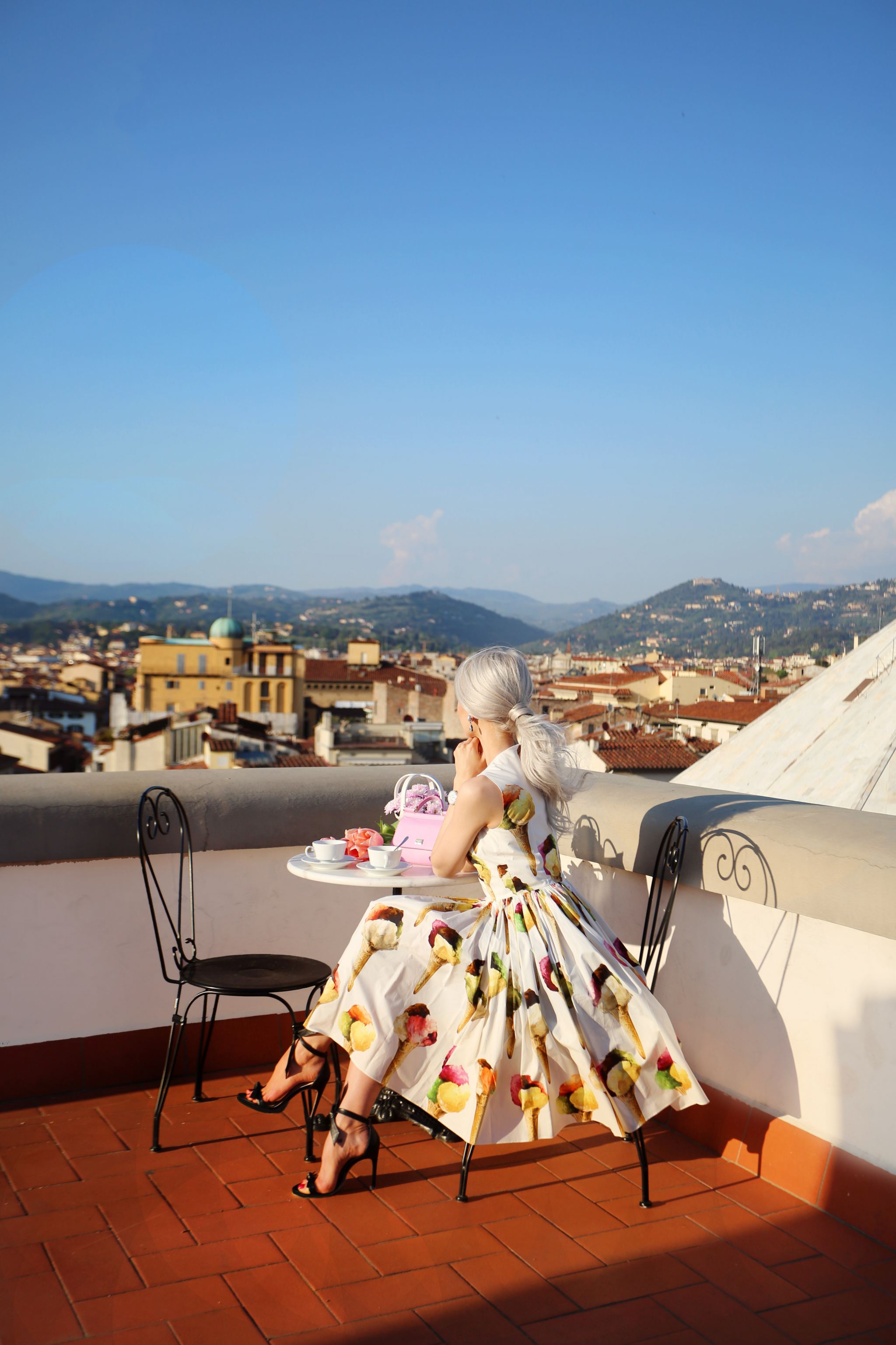 You only need to decide which pattern and print you love the most. The Icecream print mixes an incredible assortment of colours in vanilla, strawberry, pistachio and chocolate for a palette that is good enough to eat. I was hooked as soon as I saw it. But if you're not sure if a full Neopolitan icecream dress is quite your thing, the icecream print also appears in a skirt, shirt and trousers; the skirt being a personal favourite. And alongside this beautiful strawberry pink Sicily tote, the two pieces could have been paired in heaven.
I'd love to know if you too are an avid fan of Dolce and Gabbana. Which collection is your favourite and if you had the available funds, what piece would you buy first?
Sign up here for a weekly catch up of everything Inthefrow