18/05/17
A Love for Florence
Location: Florence, Italy
Leaving Pisa and driving the thirty minute journey over to Florence had us wondering what we would find. I had seen a handful of beautiful pictures of the architecture, the great river that runs through the centre of the city and I had heard countless gasps of envy when I had mentioned this trip to those who asked where I would be travelling to next. But I didn't know much else about this famous Italian city. I only knew I was excited to visit somewhere new.
Pulling into the area and winding our way through the little streets until we found out hotel, Relais Santa Croce, we started to get a feel for the place. Busy, vibrant and beautiful were my first thoughts as we explored, and more and more on this trip we both fell head over heels. I know that Kim K got married here, and in honesty, I don't blame her. I'm starting to think the same. Florence is one of those cities that you absolutely must visit. We cannot wait to go back here, and we do not say that all that often. It had everything you could want from a city break, from a multitude of areas to explore and walk, rustic and delicious places to eat, architecture to swoon over and of course, fantastic sunshine. I've elaborated even more so below, so have a read on.
Starting off with the most important one, obviously. For me and Alex, food is our favourite thing. We probably like food more than we like each other. Therefore finding the best foodie spots in the city we're visiting is often high on our agendas. I would eat Italian food every day if I could. Pizza, pasta, salad, what is there not to love?! And in this capital area of Tuscany, you will find a lot of Italian meets Tuscan cuisine. There are a lot of foodie places serving hearty Tuscan bean soups, fish courses as well as amazing meats. But for us, the place we absolutely urge you to try is Il Pizzaiuolo. A rustic pizzeria tucked into a side street on the more Easterly to Centre side of Florence. Apparently Bey and JayZ visited here for a pizza in recent years, which we found out afterwards. But I totally get the hype. It looks like nothing at all from the outside, and even when sat inside it is just a wonderfully rustic Italian. But the pizzas, my goodness those Pizzas. They were truly fantastic!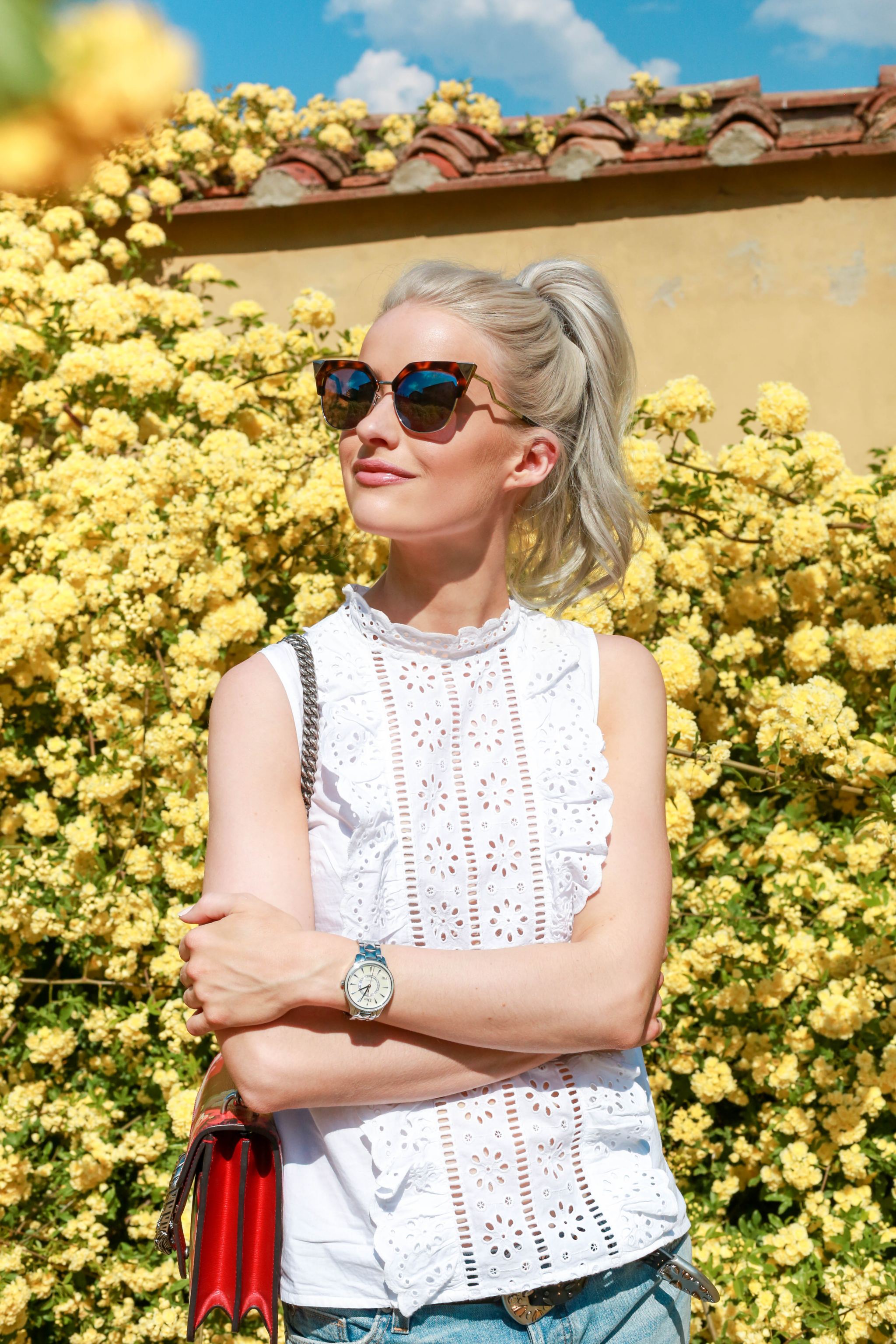 Not only is Florence less than an hour's drive from Pisa, if you're interested in the history of the famous tower, but it is steeped in so much history of it's own. If you're interested in Italian history dating back to the Romans and the middle ages, this is such an interesting historical site to visit, whilst also offering so much more. I wish I knew more information myself as to the history of this beautiful city, but alas we didn't quite have the days to spare. If you do have the time, make sure to really find out all of the facts whilst you're there. The numerous cathedrals, churches and incredible architecture will have you learning for hours.
There are not many cities that I know of, that can offer a natural view from above and over the city. Florence is lucky in that its ground isn't flat, and so you're able to walk south of the River Arno and rise high above the city (with a steep uphill walk mind you) in order to get the most incredible view over Florence. This is also where you can find Michelangelo's statue, placed strategically to look out over the vista. But thousands of people per day flock to this area in order to cast an eye on such a view – Alex even did it at 5.30 in the morning.
If you're anything like me, you may be all about the history and the culture, but you also love the opportunity to look at a rail of clothing along the way. Don't get me wrong, I don't go on holiday to shop – but I really enjoy the opportunity to look in stores when I'm abroad. The product selection is different and quite often there are shops there that we do not have here in the UK. For instance, me and Alex spent hours in the huge Luisa Via Roma store in central Florence and fell in love with everything in there. I've been to a few cities abroad and not always felt as though the shopping was worth any of my time, but Florence definitely ticks my shopoholic boxes.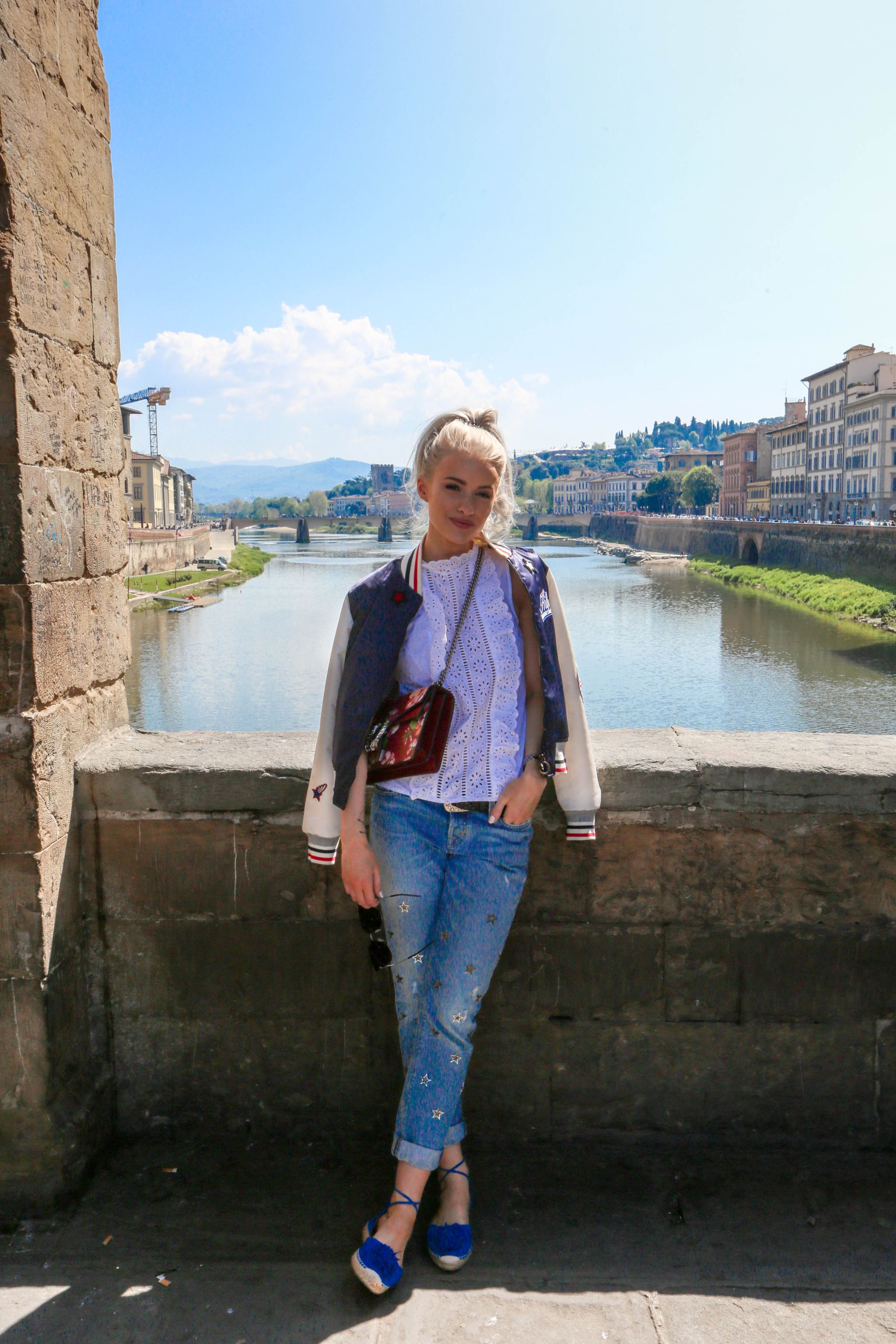 This is one of those cities that you could get lost in, in the best way. Alleyways, pathways, the huge Boboli Park to walk around in; a day activity that I would really recommend by the way. There is so much to see and so much to do in Florence. The bridges that cross over the River Arno are absolutely beautiful, especially Ponte Vecchio with its abundance of little stores to peek in. But the squares and the Cathedrals dotted around the city are all so stunning that you could walk out of your hotel without a map, walk in the direction of the centre and find so many hidden gems. The Basilica of Santa Croce is beautiful, as you can see in the images, and the Piazza del Duomo is filled with incredible architecture, such as the Baptistery of Saint John, that you definitely have to see. You may have seen a few photographs of it from above, in my Dolce and Gabbana post from above Florence.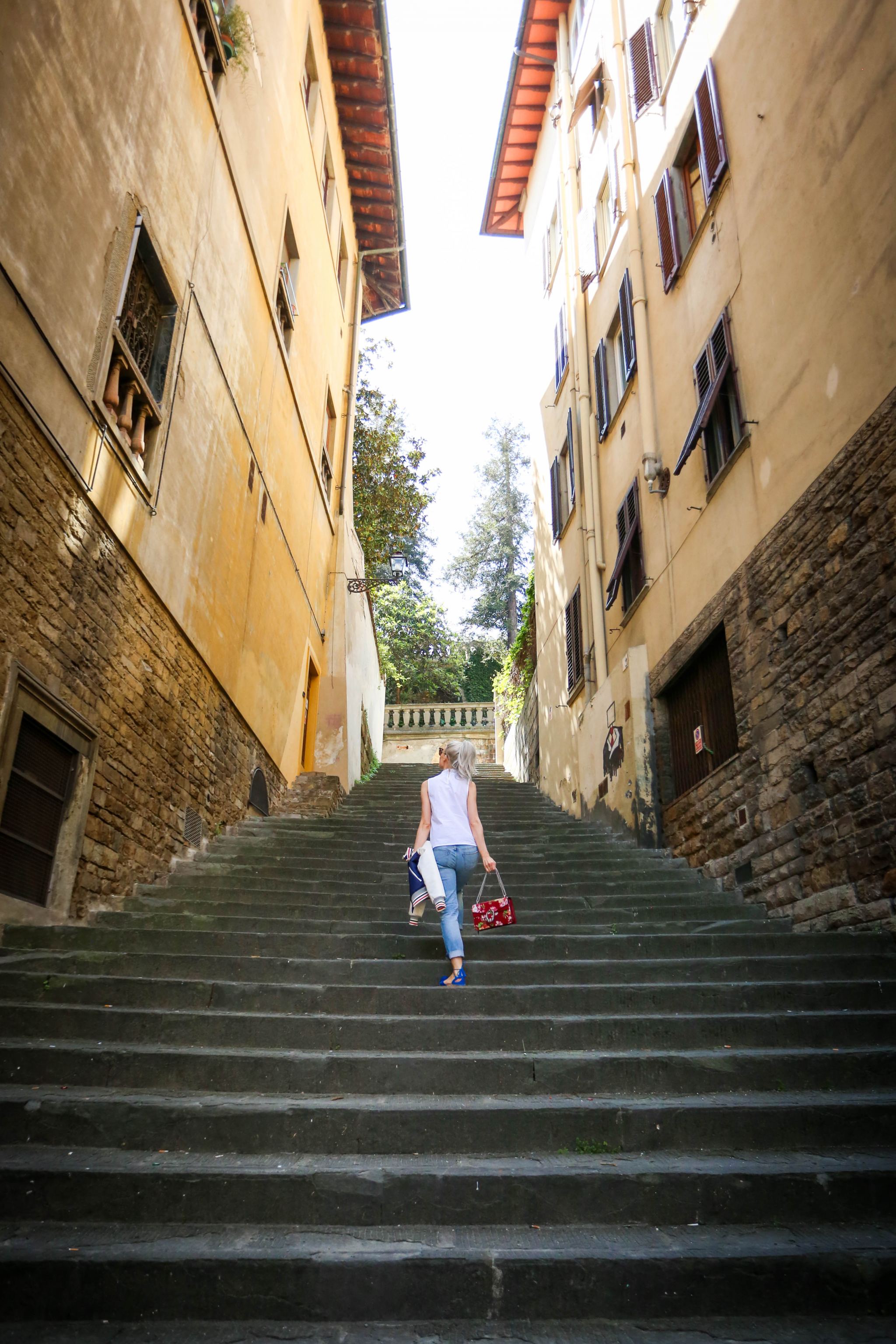 Have you visited Florence before? Would you recommend it also? I love hearing about other people's experiences when it comes to places I absolutely adored. It's high on our list to re visit again as soon as possible. I honestly cannot recommend it more, for those looking for a city trip that has a lot more than just shopping on the agenda.
Sign up here for a weekly catch up of everything Inthefrow