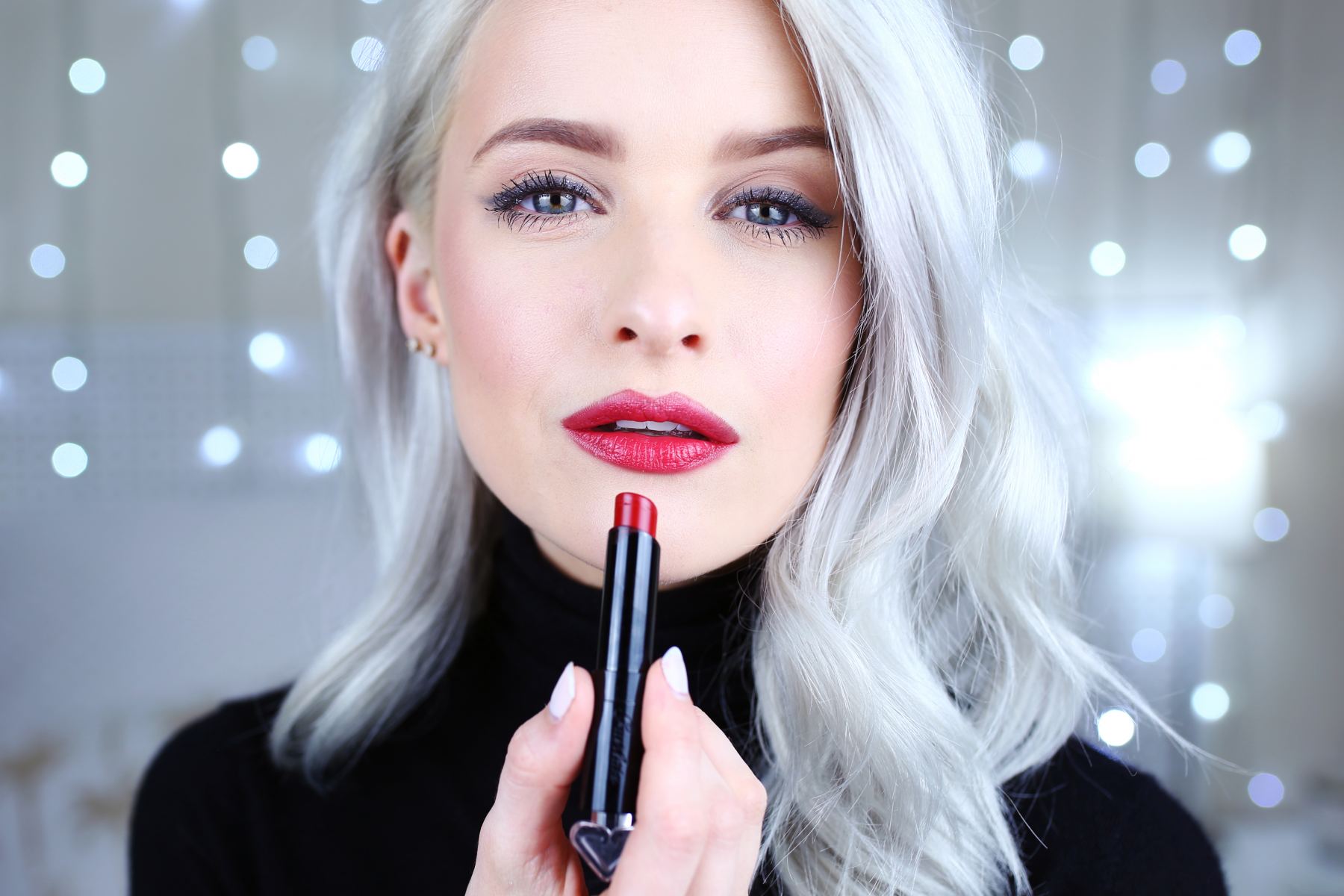 05/04/17
Guerlain La Petite Robe Noire
As one of the only brands in the market that focuses solely on beauty, Guerlain is a brand that I have a lot of time and love for. Their perfumes are what brought them a huge loyal following, but it is their makeup that makes me swoon. That violet fragrance to their powders and creams is truly dreamy, especially as I would happily douse myself in Palma Violet scents every day if I could. But it is their packaging, sophisticated branding and elegant image that stands out for me. Everything just looks cute and extra special. And the same goes for their latest products for the La Petite Robe Noire collection.
There are a few new lipstick shades, a lip and cheek tint, a cool mascara with a beautiful wand and a limited edition fragrance. All with the iconic La Petite Robe Noire packaging. I had to give them a mention!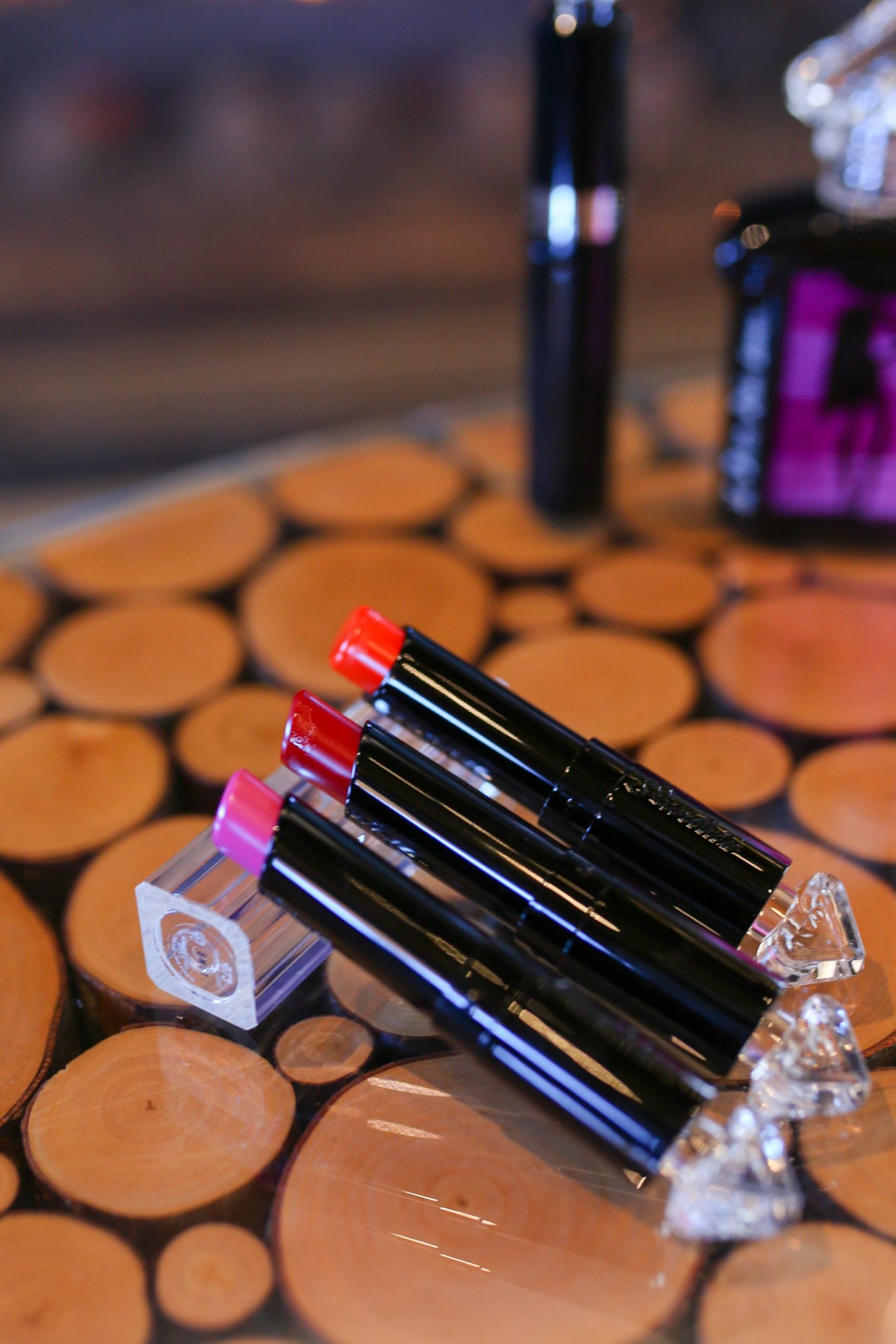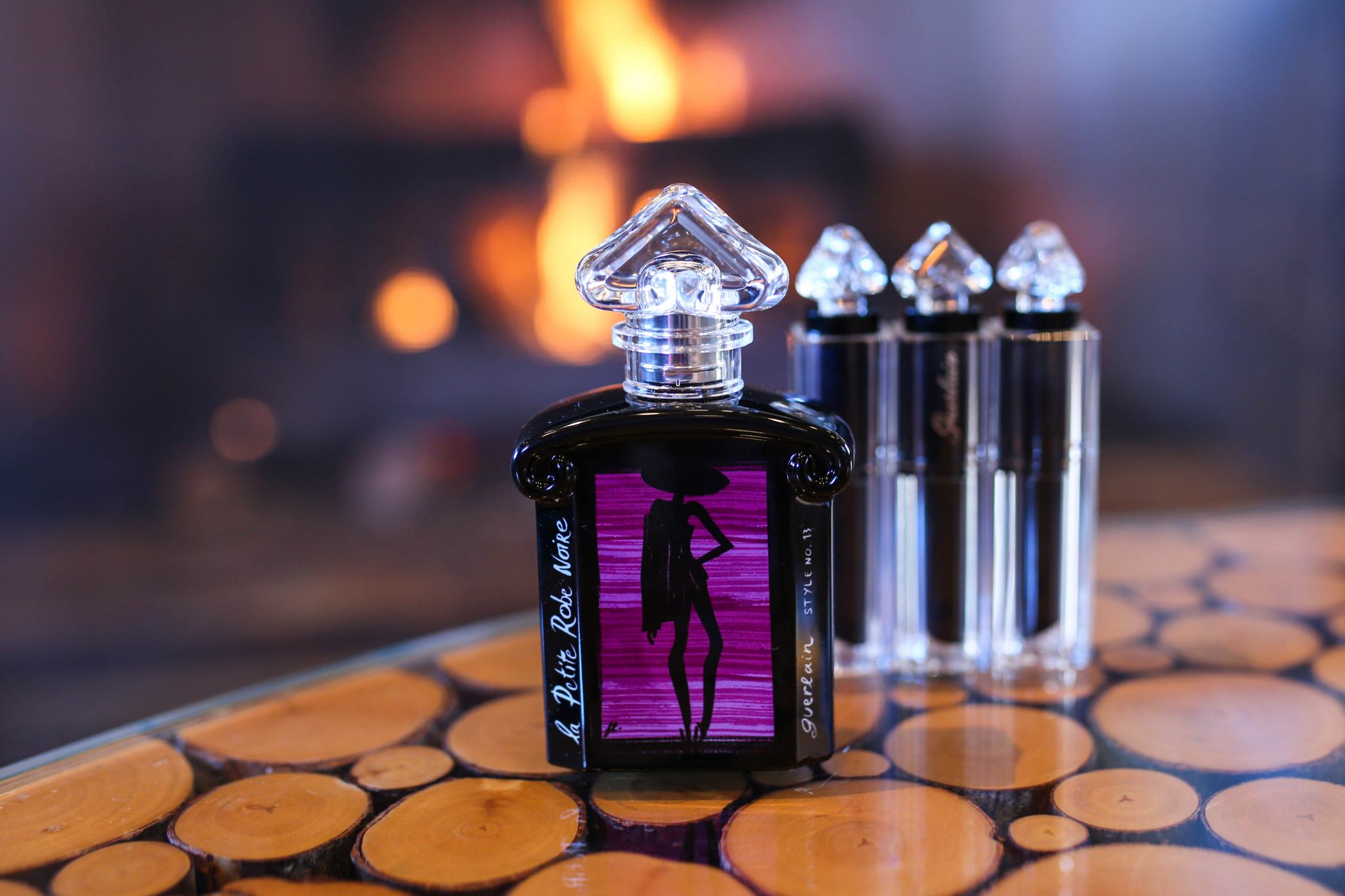 Adding to the existing range of La Petite Robe Noire fragrances, a Limited Edition set of bottles have been launched for collectors. With 15 bottles to choose from, it is a mystery which bottle and design will be inside your pack. Each design shows the La Petite Robe Noire character sporting various little black dresses, so that the perfume lover can collect a full fashion show of bottle designs. Very cute!
A number of limited edition shades of the La Petite Robe Noire Lipstick have been added to the already large and colourful range. Two years ago, I was so proud to work with Guerlain in promoting the launch of the La Petite Robe Noire Makeup Collection – and featured all of their lipstick shades in that video. So take a peek at the bottom of the page. But a number of further shades have been included in the line, including a vibrant orange (43 Sun Glasses), a purple toned pink (73 Orchid Beanie) and a classic deep red (23 Ruby Ring) that I'm wearing in the images. The formula is just as smooth, workable and highly pigmented with a beautiful shine, and the colours are a wonderful inclusion for a vibrant spring look.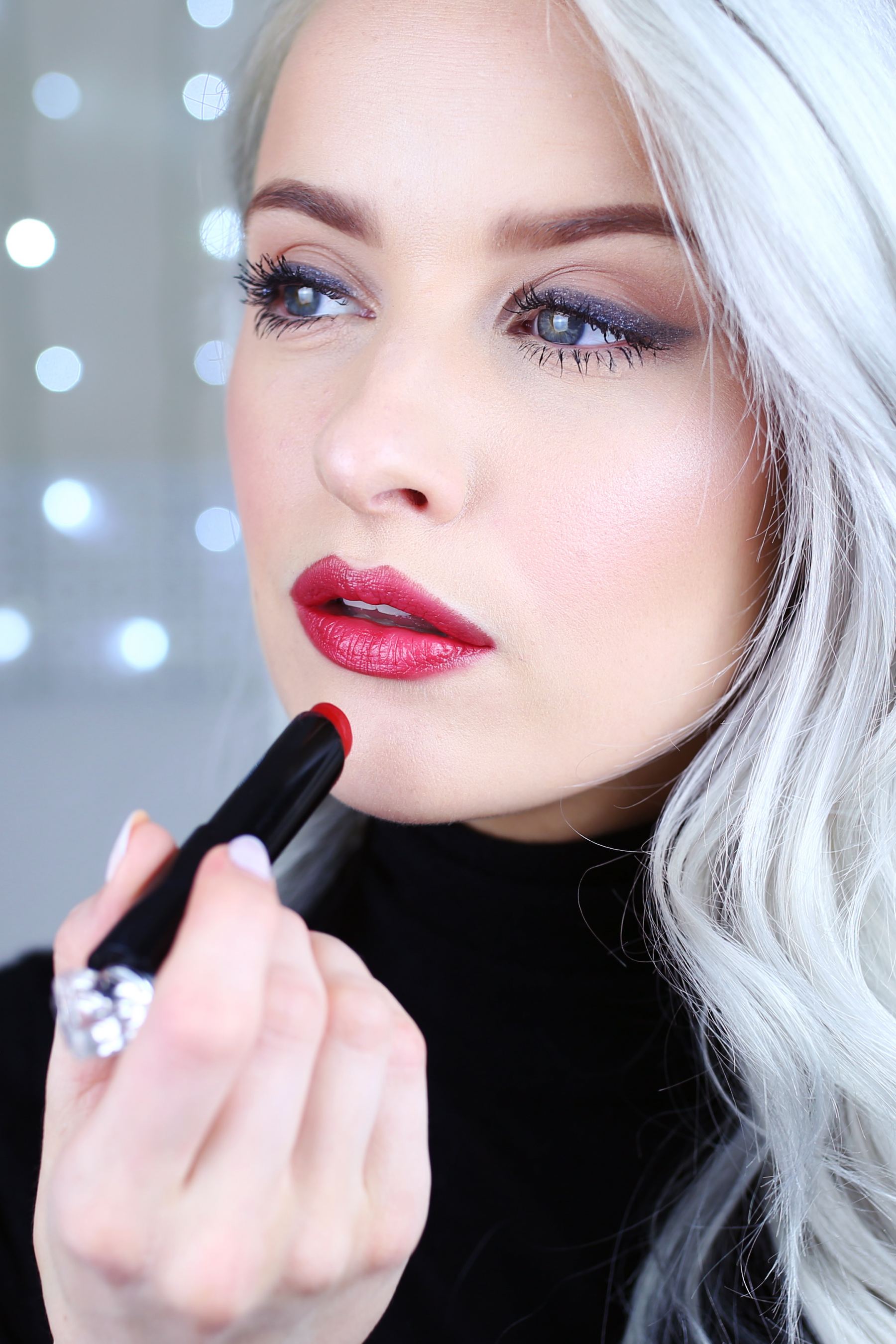 Possibly the most exciting item to be added to the range is the new La Petite Robe Noire Mascara, with the matching iconic lid and a unique conical wand. The wand also includes a circular end to the tip, for easy access to the very inner lashes and for helping the separation of the rest. The design of the packaging is beautiful and the formula is a brilliant black, so on the offset, I was pretty excited to try it. Apart from the fact that this isn't waterproof, and therefore doesn't hold the curl in my lashes as well as I'd like, the overall finish is very separated and lengthened. It's a little difficult to use the shape of the wand, but probably because I'm so used to the generic mascara wand shape – but with a bit of use, you can easily get used to how different this is to apply. If you have curly lashes, this could work well for you if you're looking for a natural, separated lash look.
For cheeks and nails, both products are again housed in the adorable glass bottles. With a limited edition violet purple nail polish (Lilac Belt) entering the existing range of majority red and pink shades, this offers something a touch more diverse for the Guerlain nail polish lover. And for cheeks, a Lip and Cheek Tint in an almost neon coral pink tone offers a rosy glow for the apples. On the lips, this is a sheer tint and just a touch of colour; perfect for over your favourite lip balm. Such a lovely inclusion to the small but adorable range of La Petite Robe Noire products.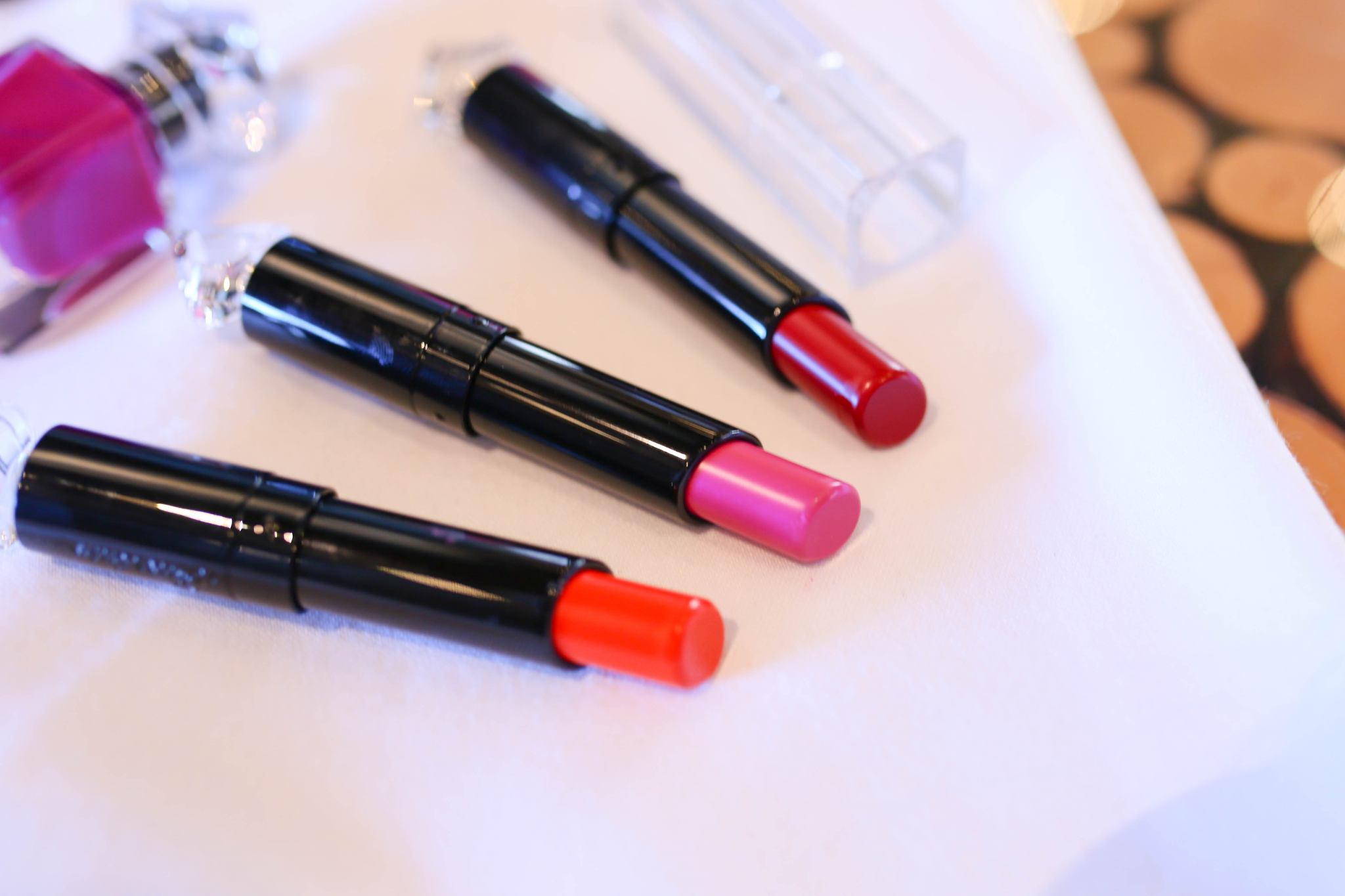 As always I'd love to know what you think of Guerlain as a brand and if you've used any of their products? Which is your favourite? And have you tried anything from the La Petite Robe Noire Collection?
Sign up here for a weekly catch up of everything Inthefrow