This post is a paid for advertorial in collaboration with Coach.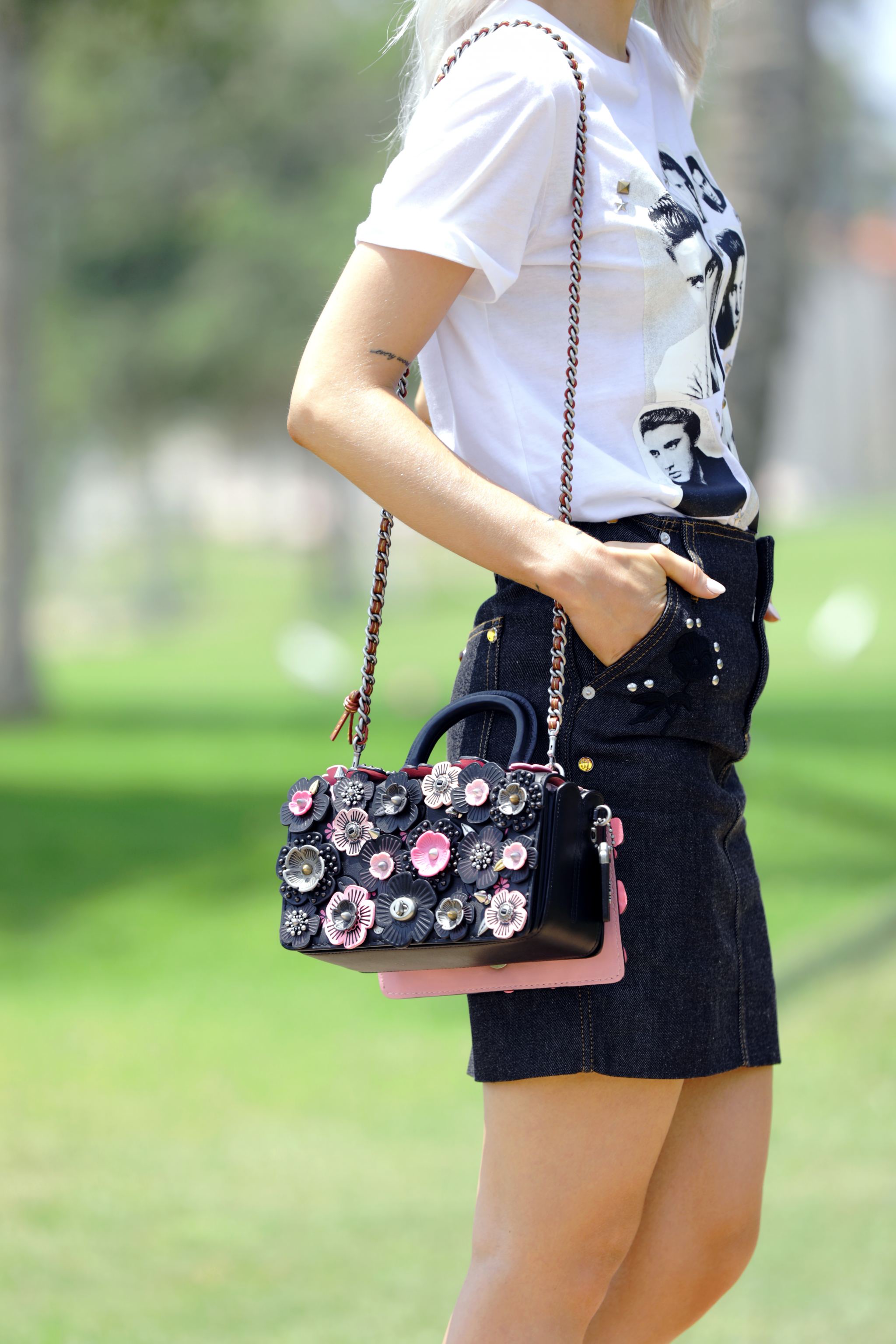 27/04/17
One Bag, So Many Choices
The Coach Dinky
As a huge fan of the American fashion and leather goods house, Coach, I must admit I have been really inspired by the new clothing and accessories coming out of their fashion shows for the last few seasons. Stuart Vevers joined Coach in 2013, armed with an idea to reset and reinvigorate the brand to a real American Luxury House. And his vision is truly creating a statement. The clothing is stylish but playful, unapologetically American and proud. This season especially, saw the inclusion of Elvis montages, studwork, rivets and a further Americana vibe that only added to the American dream of previous seasons. The most recent collections, in my opinion are strong, powerful, confident and most importantly, truly recognisable. And that is the direction that Coach needed to take, to re-establish the famous American brand back into the hearts of their admirers. It is clear that Stuart and his Coach team have absolutely nailed their goals.
But it is the Coach Dinky Collection that is creating the most attention this season, due to its primary position as the key bag for the Spring Coach New York Fashion Week show. Every model on the catwalk was armed with a Coach Dinky, this season in an abundance of embellishments, applique, fringing, linked leather, rivets, studs and a variety of shades, sizes and leathers. The craftsmanship that has gone into the unique designs of each Dinky is beautiful and a fantastic statement for this brand. Not only does the Coach lover hope to own a classic Dinky; now they can dress up their favourite bag style with colour, texture, pattern and embellishments like never before.
And to show you just how wearable and unique these bags can be, I couldn't help but pack three Dinky alternatives for my recent trip. Of course, styled alongside my new Coach favourites from the Coach 1941 collection for Spring. I can't wait to see which you love the most!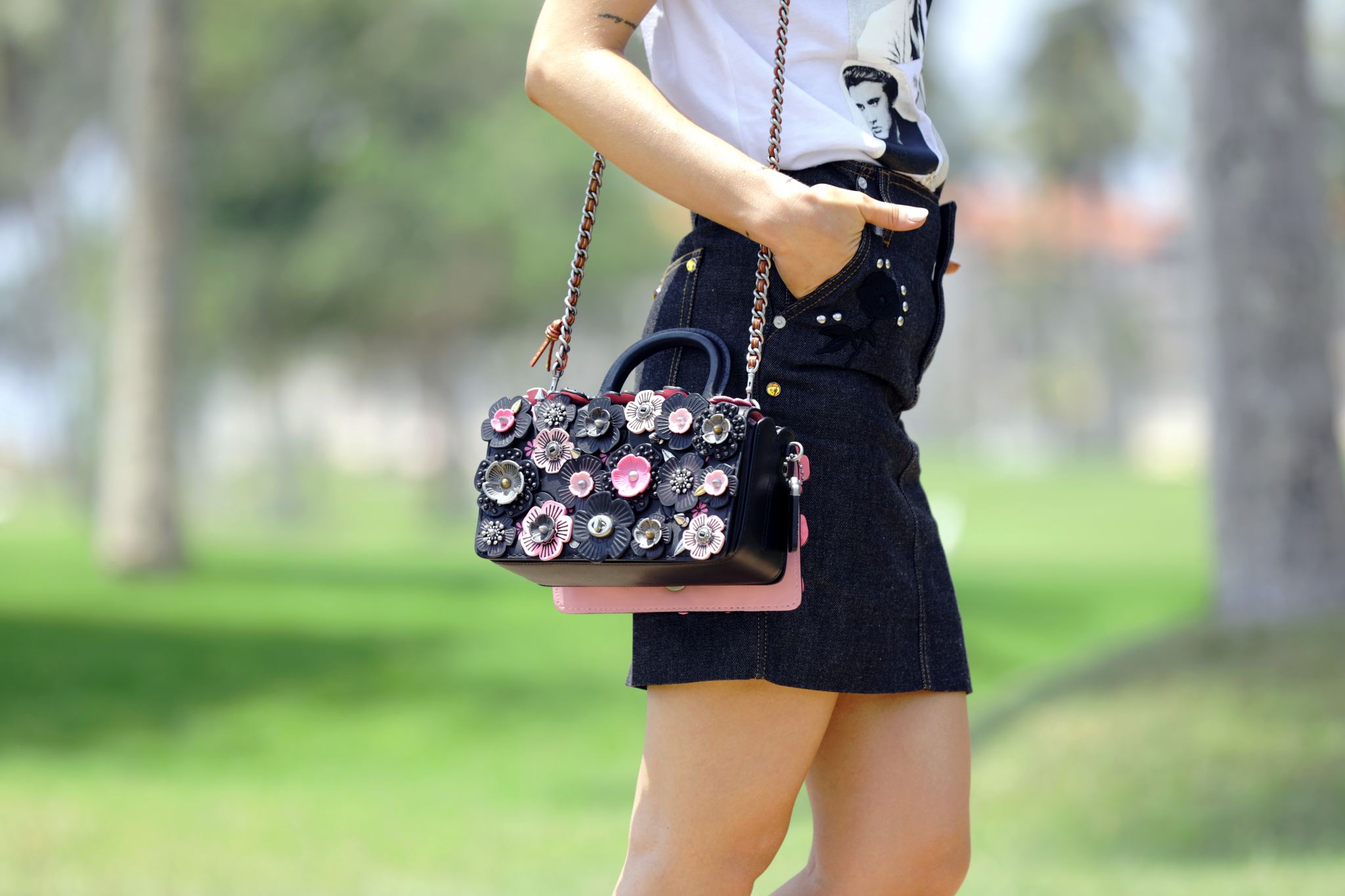 To start, the Coach Double Dinky in Wild Tea Rose Applique. Probably my favourite of the new Dinky styles, and believe me the collection is plentiful. This design places a regular sized Dinky onto the back of another to create a double sided design, with a handle to the top, a leather linked chain strap for crossbody styling and a mixture of vibrant colours to choose from. I was absolutely smitten when I first saw this. With the Dinky being such a wearable and classic design, having a larger and double size suits me perfectly. I don't tend to travel light. Plus I adore the way that the double design gives this a box bag appearance, and the top handle provides a new way to carry this signature look. But add onto that the stunning floral patterning, rivets, texture and craftsmanship of the leather, and you have a bag that will add that something extra special to your outfits.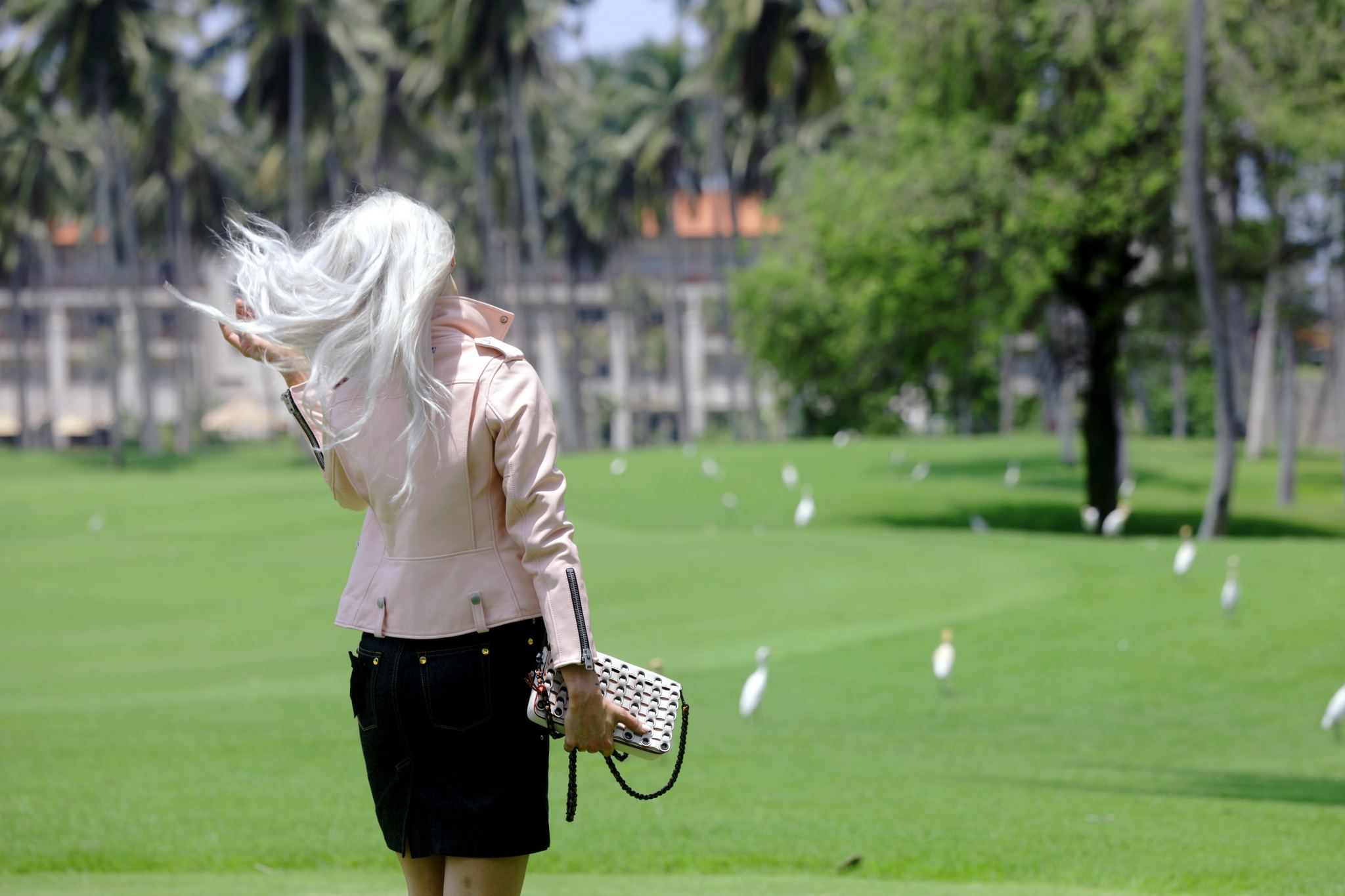 A second favourite is the new linked leather detailing. Pieces of glovetanned leather are woven and looped together with eyelets, a turnlock closure and a small coin wallet to the inside. This is the signature crossbody to clutch size, that works just as wonderfully with or without the strap. But with this added texture of the linked patterning, the bag offers an everyday alternative to something more simple and classic. It is tasteful and primarily, very wearable. This style also comes in a 'dinkier' size for those who are looking for an evening version, as well as alternative leathers and a mixture of shades and colourblocking.
Oh and by the way, did you see the Moto Leather Jacket. In the smoothest, softest leather imaginable, the peachy pink tones of this jacket had me at hello. Granted it was extremely warm in Sri Lanka for this jacket, but needs must and I had to show this jacket styled in the way I would wear it. The things I do for you guys and a photo. But it is cool, chic and totally Coach.
And the third favourite, the Dinkier bag carrying a wonderful assortment of chains, studs, charms and fringing. This is Coach's version of couture. The dinkier size is such a useful inclusion to the range, for the girl who loves her tiny, evening or date night bags. For me especially, I do adore mixing up the sizes of my bags according to event, so this works so well in Coach's favour, especially as this design is just adorable.
And I feel this bag signifies how cool the new Coach direction truly is. It's fun, it's playful and it is completely unique to previous Coach collections. The Coach consumer is a touch rebellious, a touch rockabilly, with a Southwest background and a love of Elvis. There is an edginess to the collection and a modern, youthful feel that perhaps collections from the past did not quite master. But the inclusion of unique charms, textures, fringing and embellishments on a number of the new designs keeps everything fresh and interesting. Below I have picked out a few of my favourites, but have a look through the whole Coach Dinky Collection, as you will honestly find a style you had no idea existed. You can thank me later.
And pairing this especially, with the key Elvis Montage tee, the most important piece from the collection for the homage to the King, just adds even more cool to this look.
Okay, so which style is your favourite? There is an abundance of sizes, embellishments, textures and colours to choose from, so you're bound to have one that you're swooning over. I'm totally in love with the Wild Tea Rose applique, with the large flowers overlapping and forming a mixture of charming textures. It is one of those bags that will get everyone's attention, and you're bound to be asked at least once where you're bag is from. Bag goals right there. Coach have nailed this fun and varied facelift to their signature bag design and I'm totally buying into the hype! I'd love to know what you think!
Sign up here for a weekly catch up of everything Inthefrow