20/04/17
Lauder X Beckham
The Latest in the Collection
I have been a big time fan of VB for as long as I can remember. I often speak openly about my admiration for her success and hard work alongside building an incredible brand, family and empire, as I'm sure you've probably heard or read somewhere in my little corner. Especially when it comes to interviews, I am always asked to name my fashion idol, and the answer is always the same.
And then there is Estee Lauder. A brand much loved by the majority of skincare and makeup wearers all over the globe. With products like Advanced Night Repair, Double Wear and Bronze Goddess under their belts, Estee Lauder is famous worldwide for creating some of the most coveted products on the market.
And here they are, two huge brands, joining forces and names to create a line of products that sincerely do both brands justice. A line that rings true to both Estee Lauder and VB, portraying class, taste, sophistication; and a damn good product inside.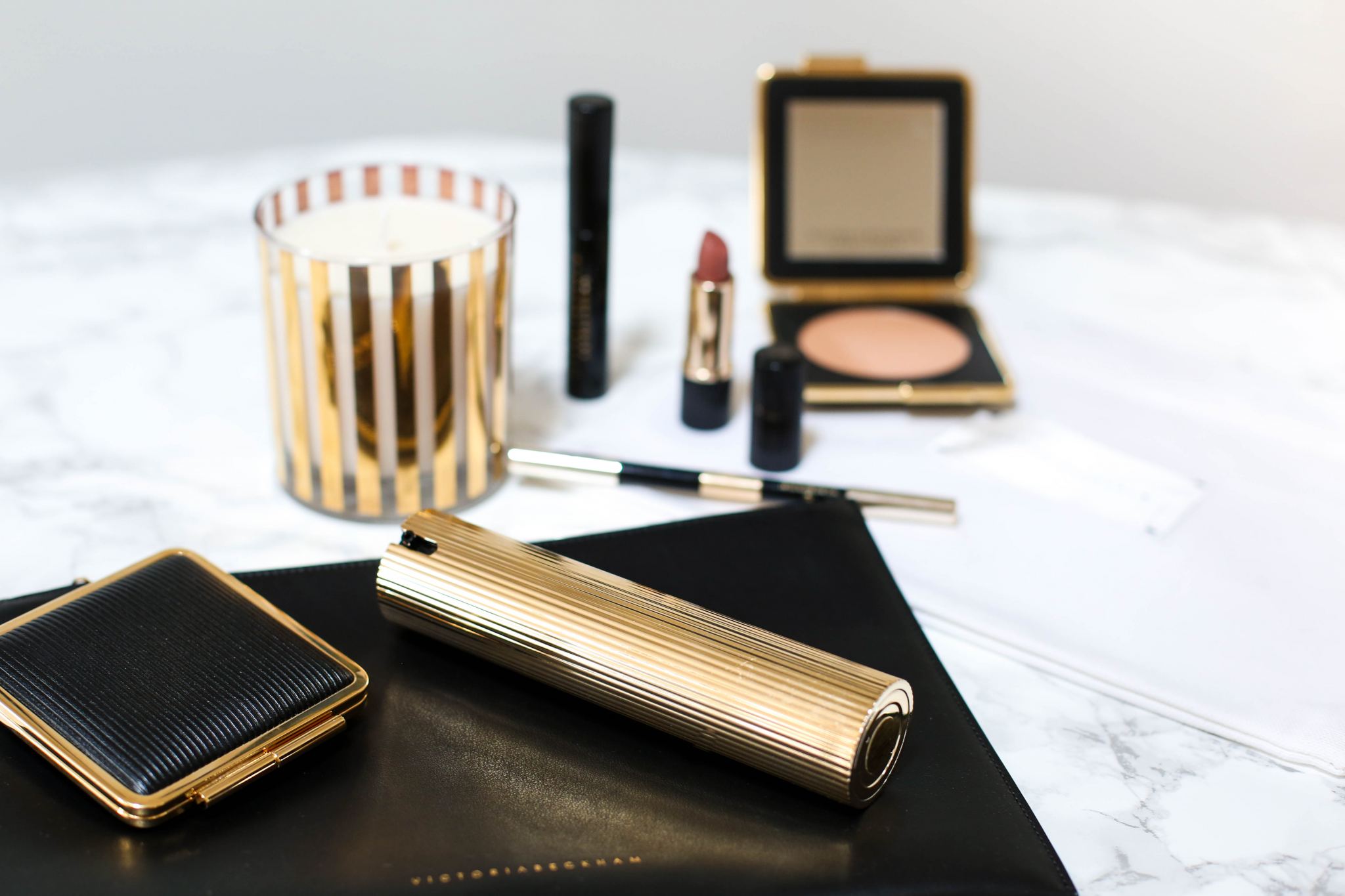 MORNING AURA
–
Encased in the tall, golden casing is what I would probably guess is the signature product in the entire line of Estee Lauder X Victoria Beckham. Morning Aura is a product that combines both a moisturiser and primer with a pearlescent, gold flecked formula, to provide a glowing and radiance restoring base for makeup. For me personally, I prefer to add this over the top of my serum and moisturiser as a radiance primer, due to my dry skin type. But for others, a layer of the Morning Aura underneath foundation is one simple, illuminating step.
But the product can also be mixed with foundation, to enhance the radiance of the base and a more dewy finish; which I also really like to do. And so, Morning Aura can work for anyone, in a number of ways.
Yes, its a little pricey and I guess, similar in some ways to a number of products in the luxury beauty market, but there are a lot of things I really do love about this product. The packaging, the luxury feel to the whole product, the subtle luminosity this adds to the skin without looking cheap, glitzy or shimmery and the lightweight feel to the cream. Plus, I'm a huge fan of VB, and I guess this product makes me feel as though I could potentially look just as fabulous as Victoria does, with a pump of her Morning Aura potion.
MODERN MERCURY HIGHLIGHTER
–
Now this is glowy. Probably one of the most glowy, illuminating highlighters I have tried. And believe me, I've tried a lot. Just looking at these photos of me wearing it, I haven't enhanced that glow with photoshop; it is just THERE. The Victoria Beckham Modern Mercury Highlighter has a rose gold cast when you apply it to the skin, which needs to be blended around the edges with your brush. You can't just sweep this onto your cheekbones and go, unless you have a much deeper skin tone that me. But with some blending around the edges, the rose gold cast disperses and enables the glow to sit more seamlessly alongside your bronzer and blush. When I got this right; I got this RIGHT. And I was swooning!
—
SAFFRON SUN BRONZER
–
Not too warm, not too orange and not too ashy, this is a shade of bronzer that I'd like to think Victoria meticulously picked. It warms up the skin with a sunkissed bronze sheen, that blends easily into the skin and doesn't leave a muddy finish. I also love to use the powder through the crease of my eyelids, as a warm transition shade. But as a bronzer alone, this is a fantastic shade that I feel would suit the majority of lighter skin tones. And don't get me started on how elegant and sleek the black and gold packaging is, plus a mirror inside. Ultra luxe, stylish and a style that suits Lauder and VB to a tee.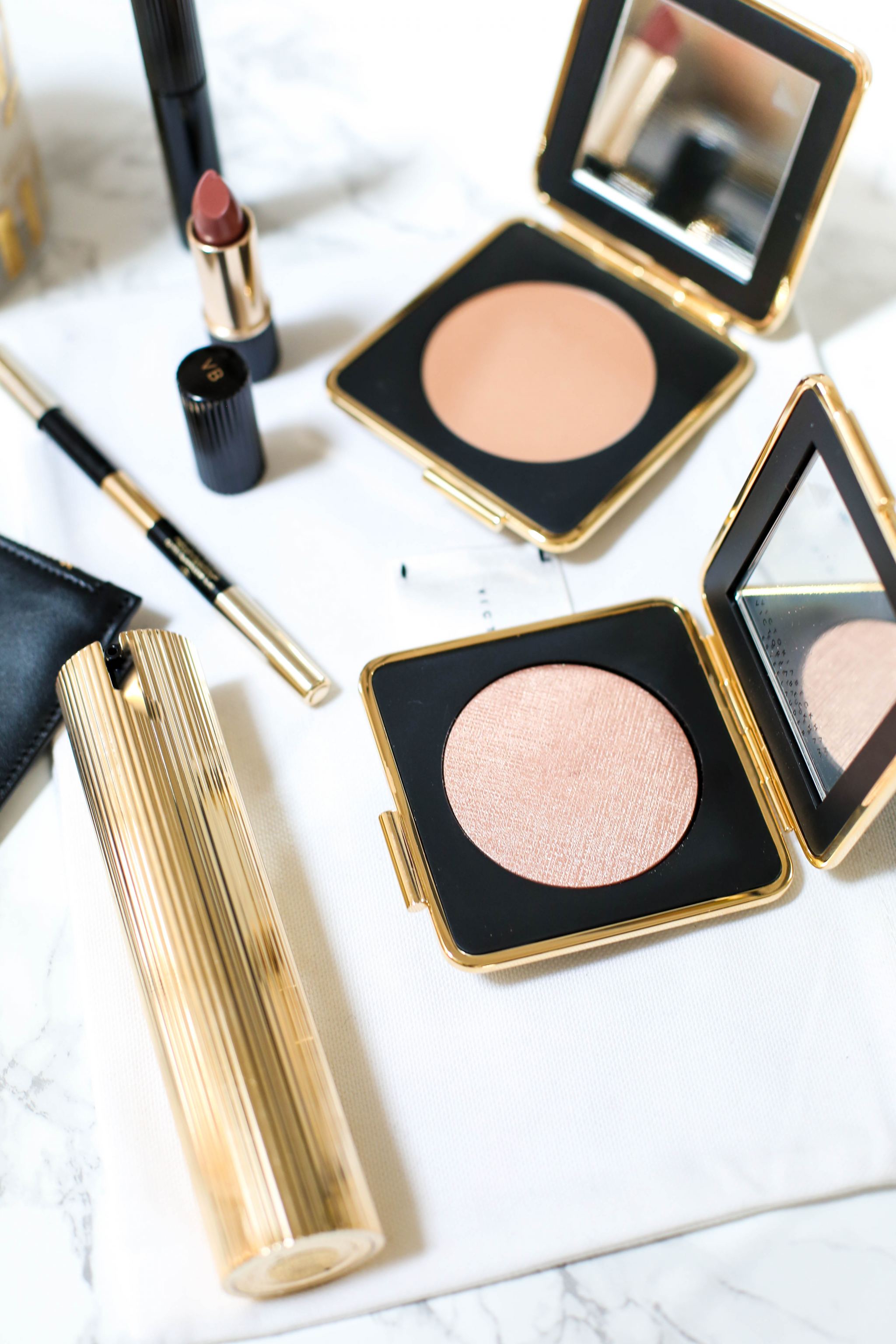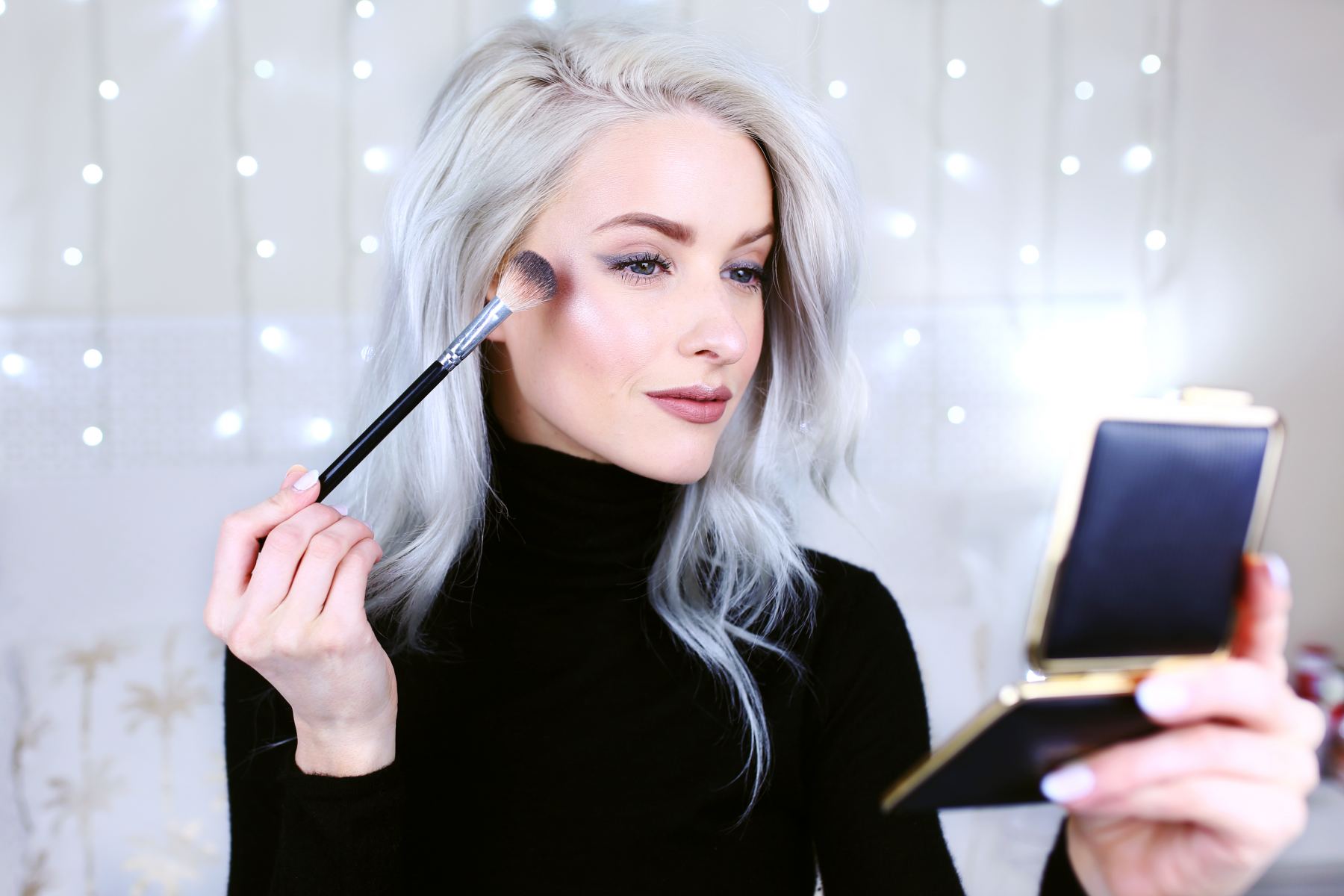 EYE FOIL IN BURNT ANISE
–
I have to apologise firstly, as when I took these photos, the blue/black burnt anise shade shown here was still in stock. Hence why I featured it. You may still be able to find it at your local Estee Lauder counter, but as far as online goes, it seems to have bitten the dust. So good luck if you're going to look in store. This product truly impressed me. With the small doe foot applicator, eyeshadow application was really easy – I just swept this over my lash line and used a brush to disperse and blend the edges so that it turned into a cat eye. But on application, it swept the product onto the eye with an opaque finish and fantastic pigmentation. This look literally took me about 30 seconds per eye. And I absolutely adore it.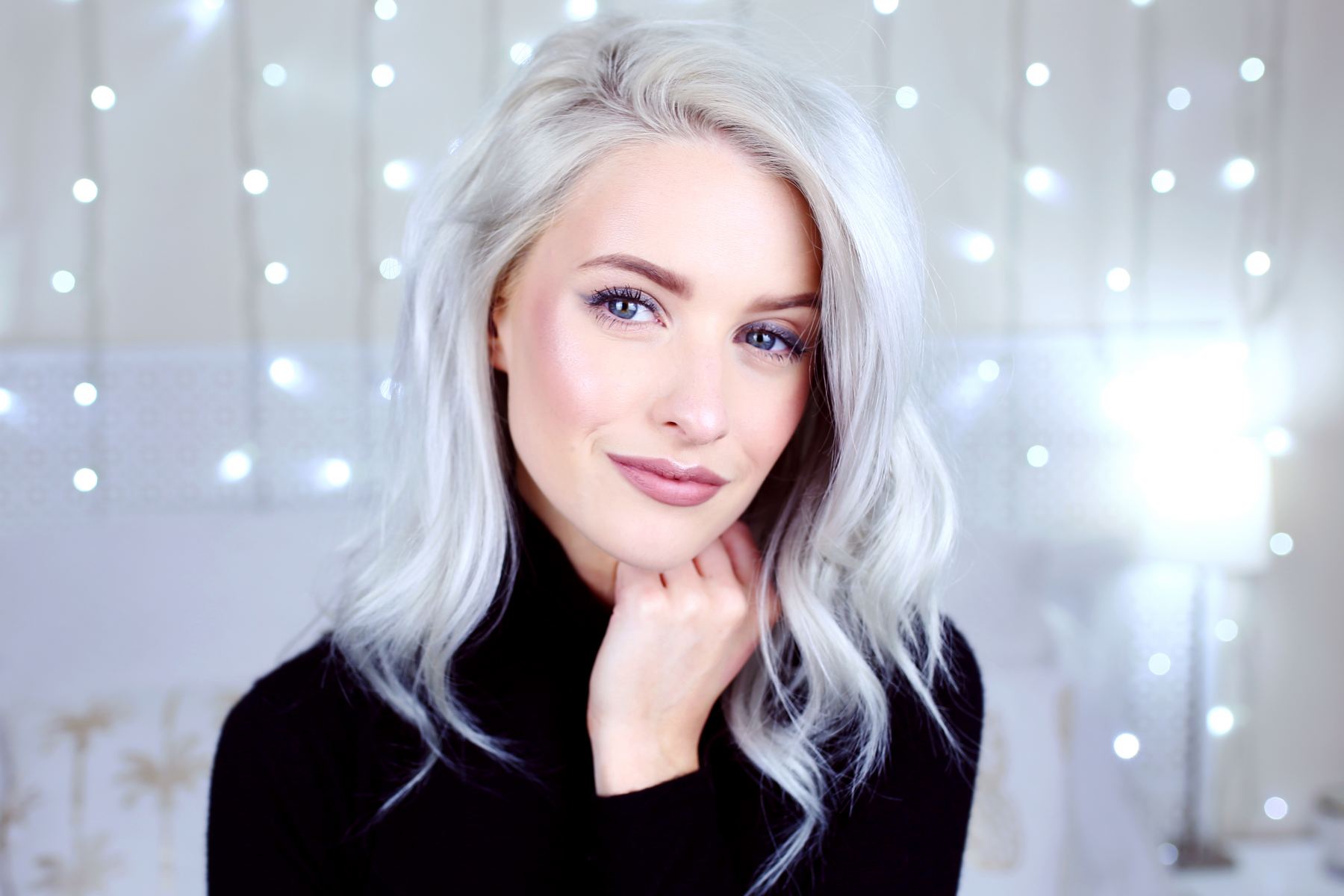 MATTE LIPSTICK
–
The latest, and probably for some, the most exciting edition to the collection is Nude Spice Lipstick. The initial collection launched with a bright, burnt orange and a brown nude lipstick, both in a creamier and shinier finish. And thus, the latest additions to the VB line include a matte, almost velvet like nude lipstick. Nude spice is a touch deeper in tone than I would usually choose, however I think that's because I am a little set in my ways and my light nudes. Yet on application, I absolutely adored the tone and finish.
Whilst it is technically matte, it is a lipstick for the woman who wants comfort and a non powdery finish to her matte lip. I almost feel as though this is the more mature, sophisticated woman's matte, in that it is much more wearable, comfortable and lightweight than the majority of lipsticks. It glided onto the lips smoothly and left an almost velvet sheen, providing a sophisticated nude brown with a hint of spiced orange undertones. And again, the Tom Ford like packaging (I'm thinking the Black Orchid bottle here), in the black and gold casing, make this a super luxury cosmetic product for anyone's makeup purse.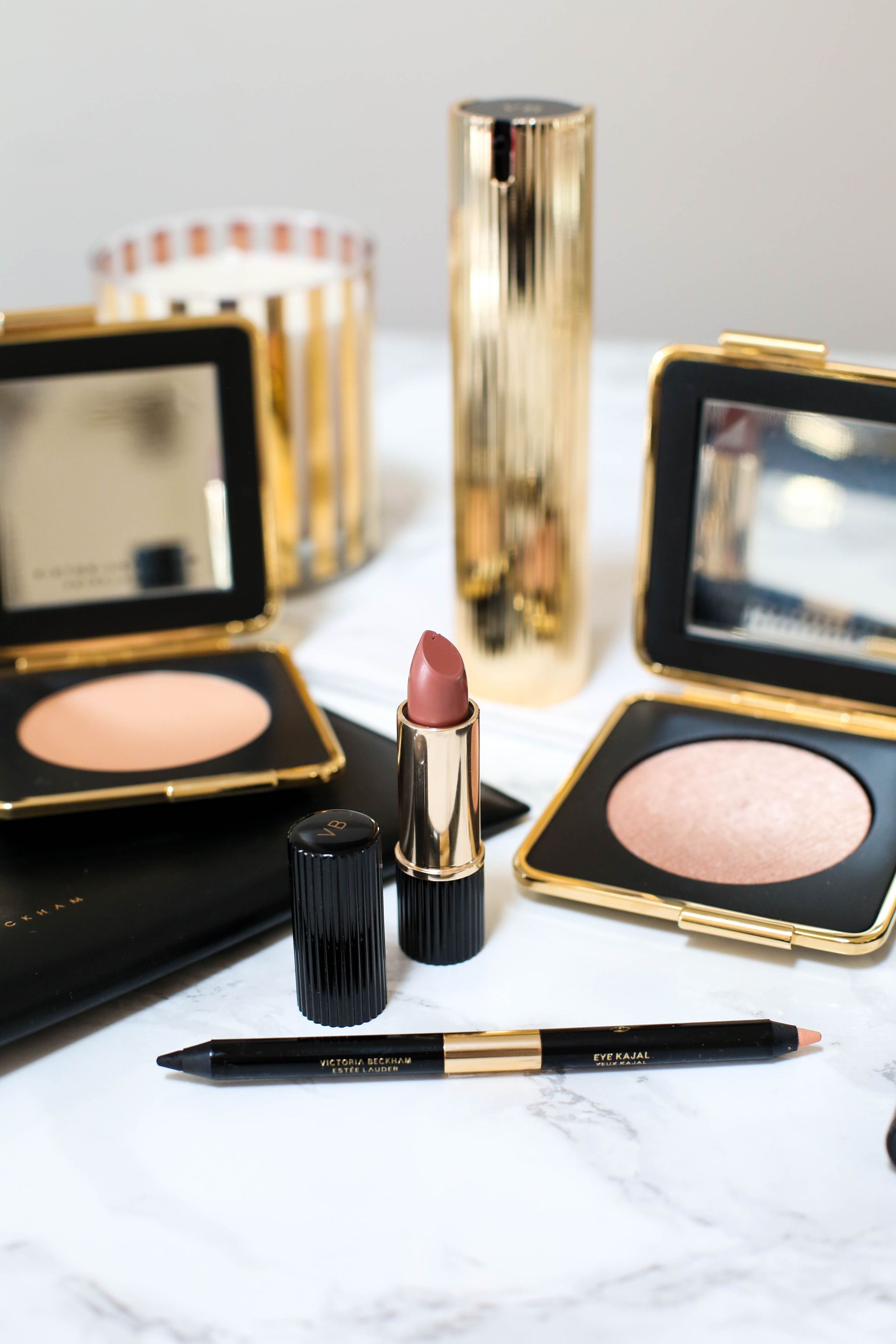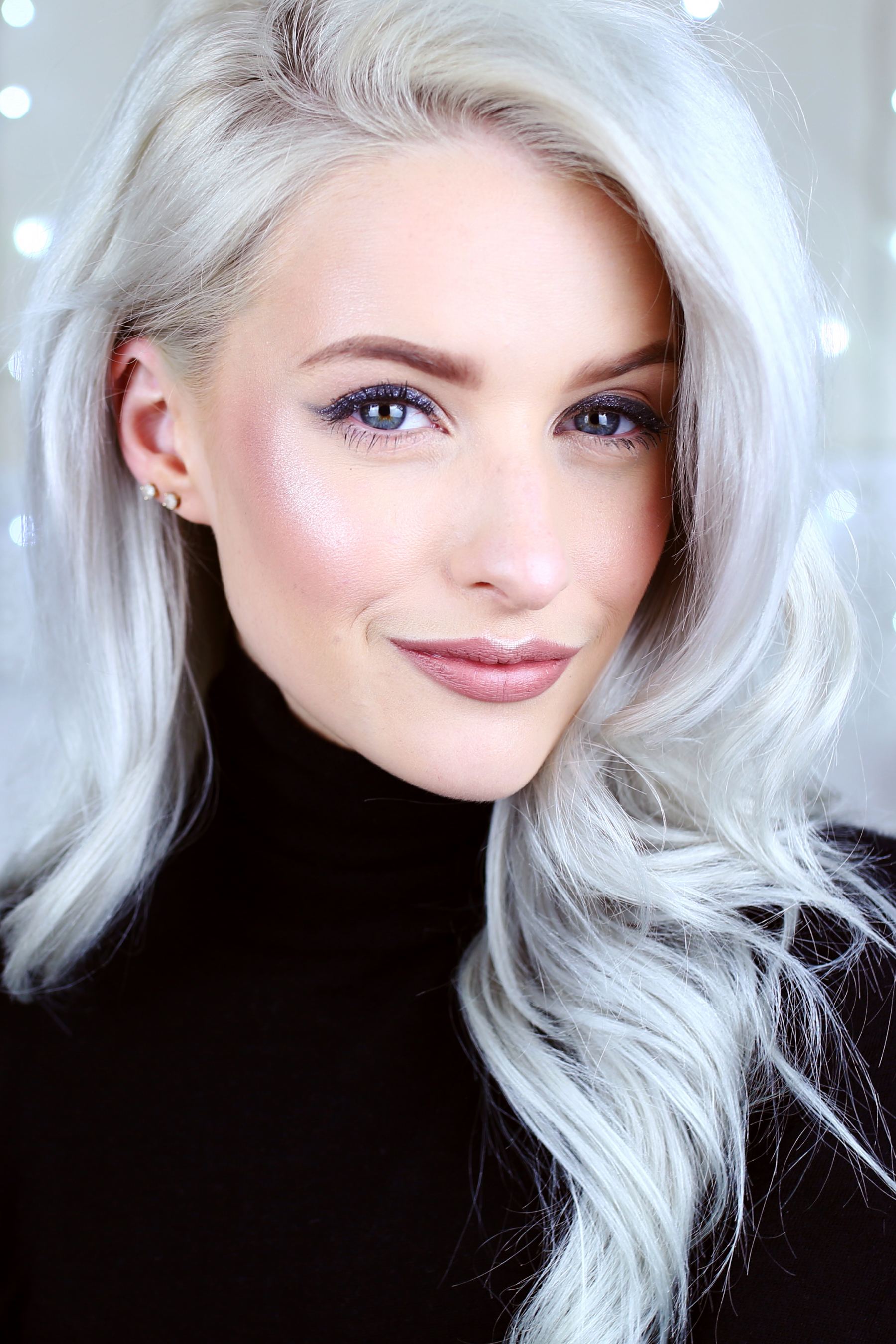 I feel like the first collection launch in 2016 was a huge success for both Estee Lauder and VB. I wouldn't be surprised if it was the most lucrative collaboration in history. The hype around the collection was more than anyone had probably anticipated and attracted both VB and Lauder fans alike, to a new product range that catered for the ultra stylish consumer. In effect, it bridged the gap between fashion and beauty, offering trend led products, luxuriously styled in robust blacks and golds. And now, after a number of products flew off of the shelves and became completely rare, the new line has brought back some of the sold out favourites alongside a few new shades. And with this launch, I have found a daywear appropriate lipstick, a perfect warm-yet-ashy bronzer and a highlight that can be seen from space.
What are your feelings on the Estee Lauder X Victoria Beckham line? Did you buy into the range last season, or are you tempted to try something this time around?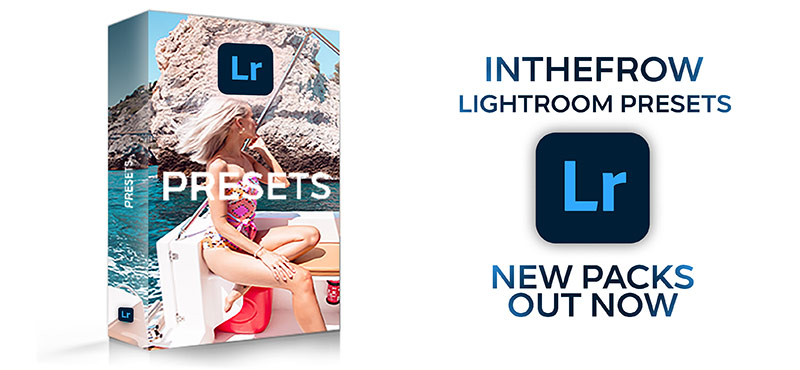 Sign up here for a weekly catch up of everything Inthefrow