This post is a paid for advertorial in collaboration with Clarins
15/03/17
The Smooth and Radiant Complexion
From your Skincare to Makeup
We are all looking for that perfect skin base. And whilst we can go out and buy a whole new set of makeup, often it comes down to a number of factors. Your skins texture, how spot or acne prone it may be or even how much water you are currently drinking can cause issues to how your complexion can look from day to day. Makeup will always look a touch better if you have a better ground for it to lay on, but we all don't have completely perfect skin to start with. And that's where the miracle of skincare and complexion products can really do their job.
The new Hydra-Essentiel Silky Cream from Clarins is new to their range and provides a beautifully silky and hydrated base. Base products that really plump and hydrate the skin tend to make my makeup look healthier and fresher throughout the entire day. And so, being more selective of your moisturisers and skincare beneath your makeup is priority. But over the top, there are primers, radiance creams and glowy foundations that can also play a huge part in the perfect routine.
Read on for how I create a smoothed and radiant complexion using just a couple of products that do their job extremely well.
HOW I CREATE A SMOOTHING & RADIANT COMPLEXION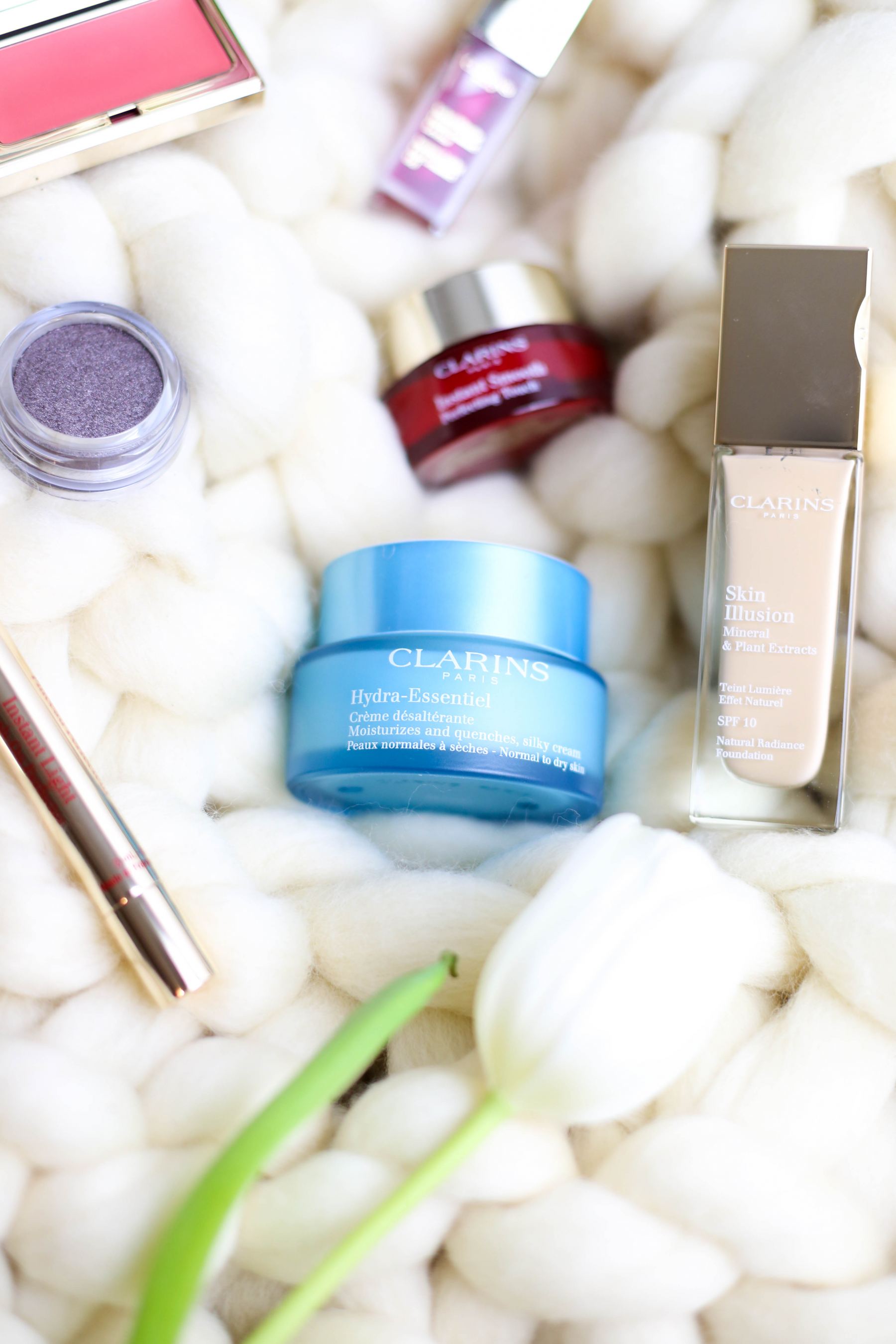 Hydra-Essentiel Silky Cream
We all lead super hectic lifestyles, rushing from here to there, outside to inside and taking it for granted that our skin is happy with the constant changes. The new Clarins Hydra-Essentiel Silky Cream is made for the skin's desire for super hydration and TLC. It contains organic and medicinal Kalanchoe extract, described as a powerful, natural hydration activator. It boosts the skin's production of hyaluronic acid to quench the skin whilst adding radiance and a silky finish. This is so soft to touch and a pleasure to apply with a silky yet light and creamy finish that rivals some of the best skincare I have ever tried.
I apply it over eye cream and if needed on the day, a touch of serum, before applying makeup above.
Instant Smooth Perfecting Touch
A classic Clarins product and for good reason. This is one of the smoothest, silkiest primer's you may try, and it's won awards for its brilliance. Clarins are known for their fantastic primers and the Instant Smooth perfecting touch is arguably their best. This is light, smoothing, silky and fills in all of those problematic textured areas and pores to leave you with an even tone for your base makeup. But it also contains moisturising properties whilst creating a flawless base for your foundation. For that perfected complexion, this is a saviour!
Instant Light Radiance Boosting Complexion Base
This product is a glowy complexion in a tube. Just a small pump of the Clarins Instant Light Radiance Boosting Complexion Base onto your fingertips and massaged over your skin will provide a wonderful, radiant glow. Something that almost mimics the effects of a facial. I love to apply this after moisturiser and primer, all over the skin before applying foundation above. Or I add a tiny amount of this into my foundation for even more luminosity.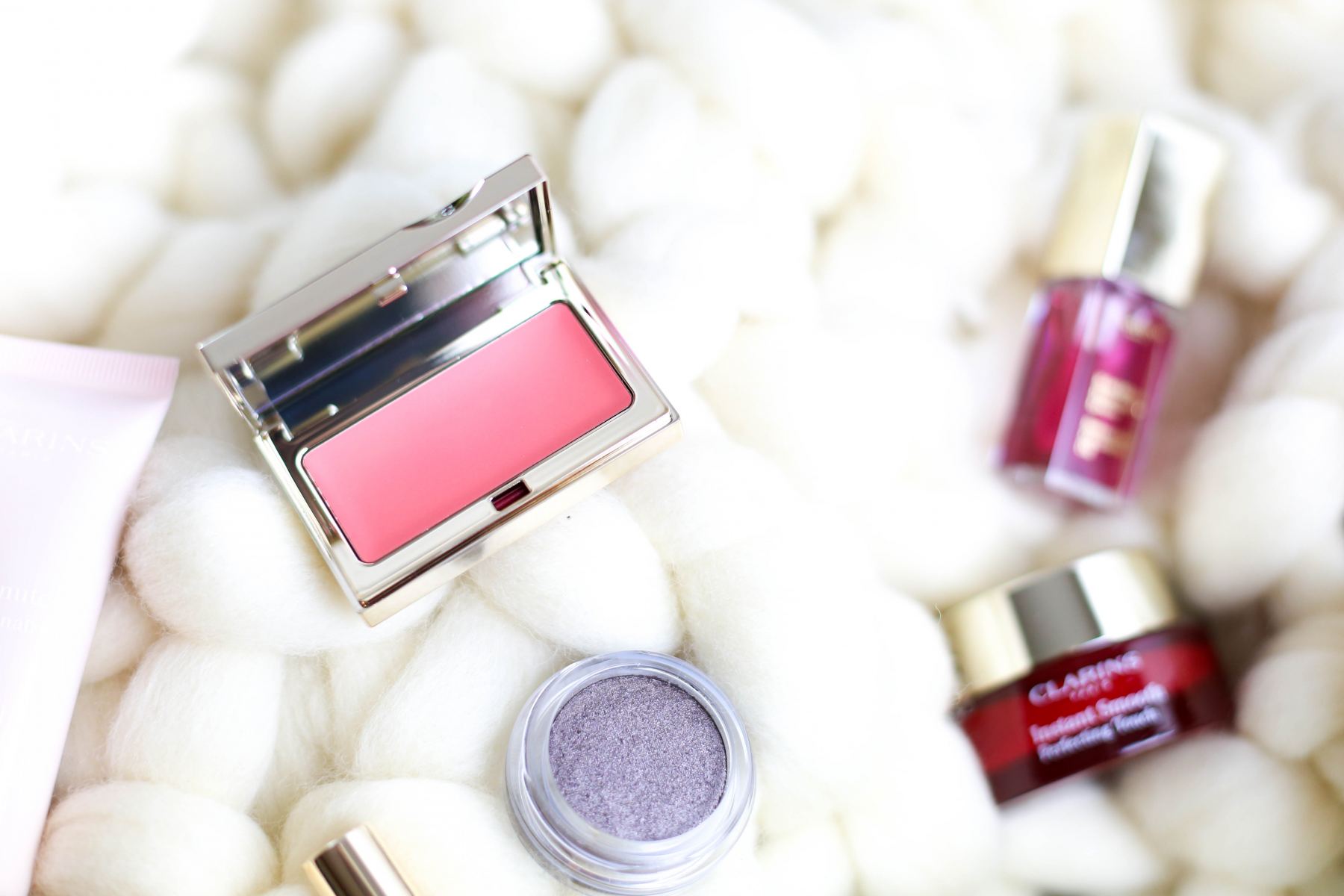 For a lightweight coverage and hydrating finish, the Skin Illusion foundation is one of my favourites from the Clarins base range. It has such a subtle but sweet scent which I really love, but it is the radiance and light-reflecting properties of this foundation that make it so special. It creates a more even complexion due to its finish and hydrating properties, so it feels and looks its very best. Over the top of well prepped skin, this really can look glowy, radiant and even out your complexion.
A dewy and perfectly complete base is nothing without a cream blush. Adding powders over creams will mattify and provide a more velvet, powdery finish. And so I love to finish my base makeup by using as little powders as possible. Cream products allow the skin to look bouncier, healthier and as though they are glowing from within. The Multi Blush in 02 added lightly over the top of my cheeks, adds a warm, realistic and subtle glow from within.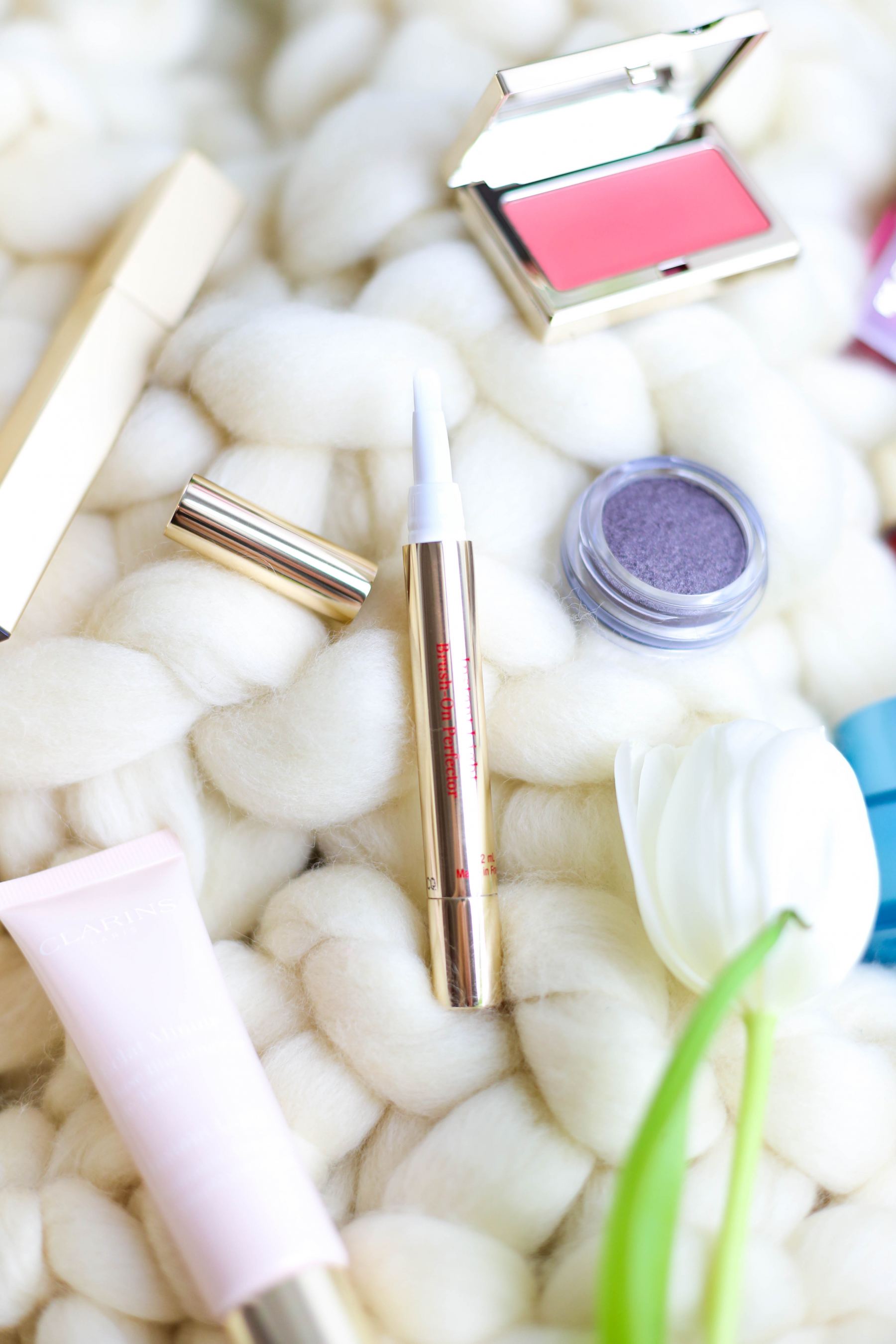 Clarins Instant Light Brush-On Perfector
For those under eye circles or small blemishes that you're hoping to cover, I must admit that I'm a huge fan of the Clarins Instant Concealer in 01. But for a lighter coverage, the Instant Light Brush-On Perfector is fantastic for older skin types and those who prefer minimum, invisible coverage. This pen twists at the bottom to push product into the small brush, allowing you to control the amount of product you apply to your undereyes. And with your fingertips, a blending sponge or a small brush, you can blend the product into the areas for a lightweight finish.
And to finish those eyes, a touch of the Ombre Iridescent shadow in a silver plum. Not necessary for the look, but just a touch of shimmer and colour to define the eyes a touch more before mascara. The pigmentation and blendability of these shadows is wonderful, and applying with your fingertips works wonders. I applied along my lash line with my fingers before blending upwards with a small brush.
The whole look is not complete without lash definition, provided by the Be Long Mascara. This truly lengthens the lashes due to the fine and hard plastic brush head, that combs each and every lash for lashes that look lengthened. It is intensely black, and although it was not waterproof, I found that it held my straight lashes in a (eyelash curler) curl much better than most mascaras I have tried.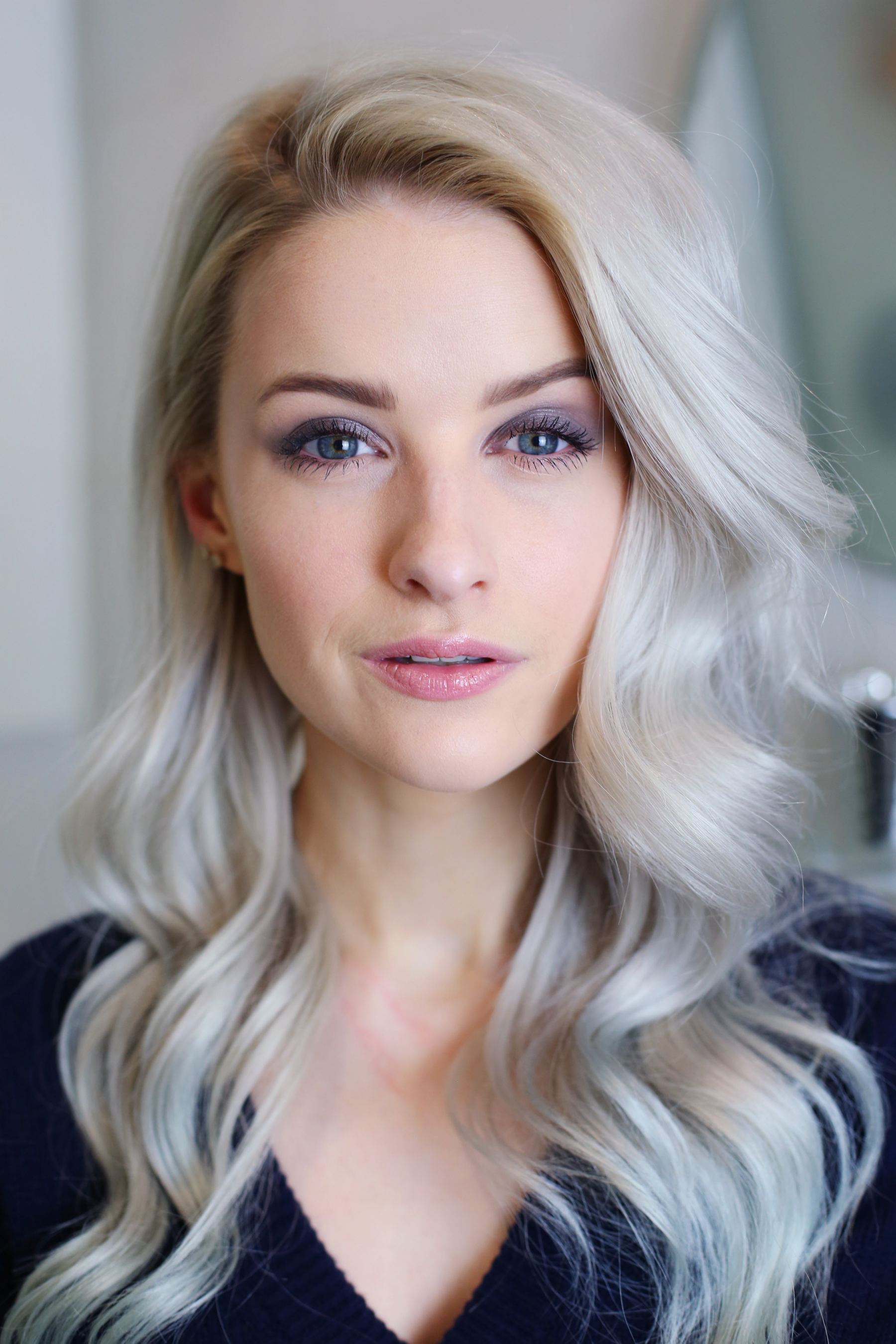 Do you have any tips for creating a super smoothed and radiant skin finish? Now and again I will also add in oils or serums beneath my moisturiser for even more hydration, or I will add a touch more highlighter to my cheek bones to provide more of a glowing finish. Plus I find that plumped and well hydrated lips can also make a huge difference to your final look. What do you like to do to get the best out of your skin?
Sign up here for a weekly catch up of everything Inthefrow