11/02/17
My First NYFW
With a slight unexpected glitch
It's 9.36pm LA time, 5.36am UK time and I'm sat in bed after a pretty long and exhausting day. After a magical few days with Dior Beauty, educating myself on the new Dior Laquer Addict Lipsticks and attending their LA parties, it was time to head off to the airport for a flight to New York. My first New York Fashion week was just around the corner, and I was super excited to dip my toe into the American Fashion Week for the very first time. Dates and times have never aligned before and so New York has never been on my agenda. Until 2017.
It turns out though, like many previous seasons (I have been assured), the weather is everyone's worst nightmare on this February week, and this season it just happens to be putting down 10 inches of snow. And so, after a trip to the airport from the hotel in the morning, we arrived to find our flight had just been cancelled. With Alex (my other half) literally in the sky on his way from Heathrow to JFK to meet me, panic mode kicked in and we had to find a quick solution. And with so many cancelled flights due to the weather, the only flight we could physically fit onto was an early morning flight the next day. Leaving me here in bed, working, passing time and telling you this story.
And so, the first outfit of NYFW is actually this one, shot in L.A. I had planned to wear this when I arrived, but hey plans don't always work out. Luckily, taking photos in LA just meant that I wasn't super cold without any further layers. And this outfit works perfectly for the London weather also – so win win! Plus, I don't think I could have stumbled upon a better backdrop for this baby pink Bally coat.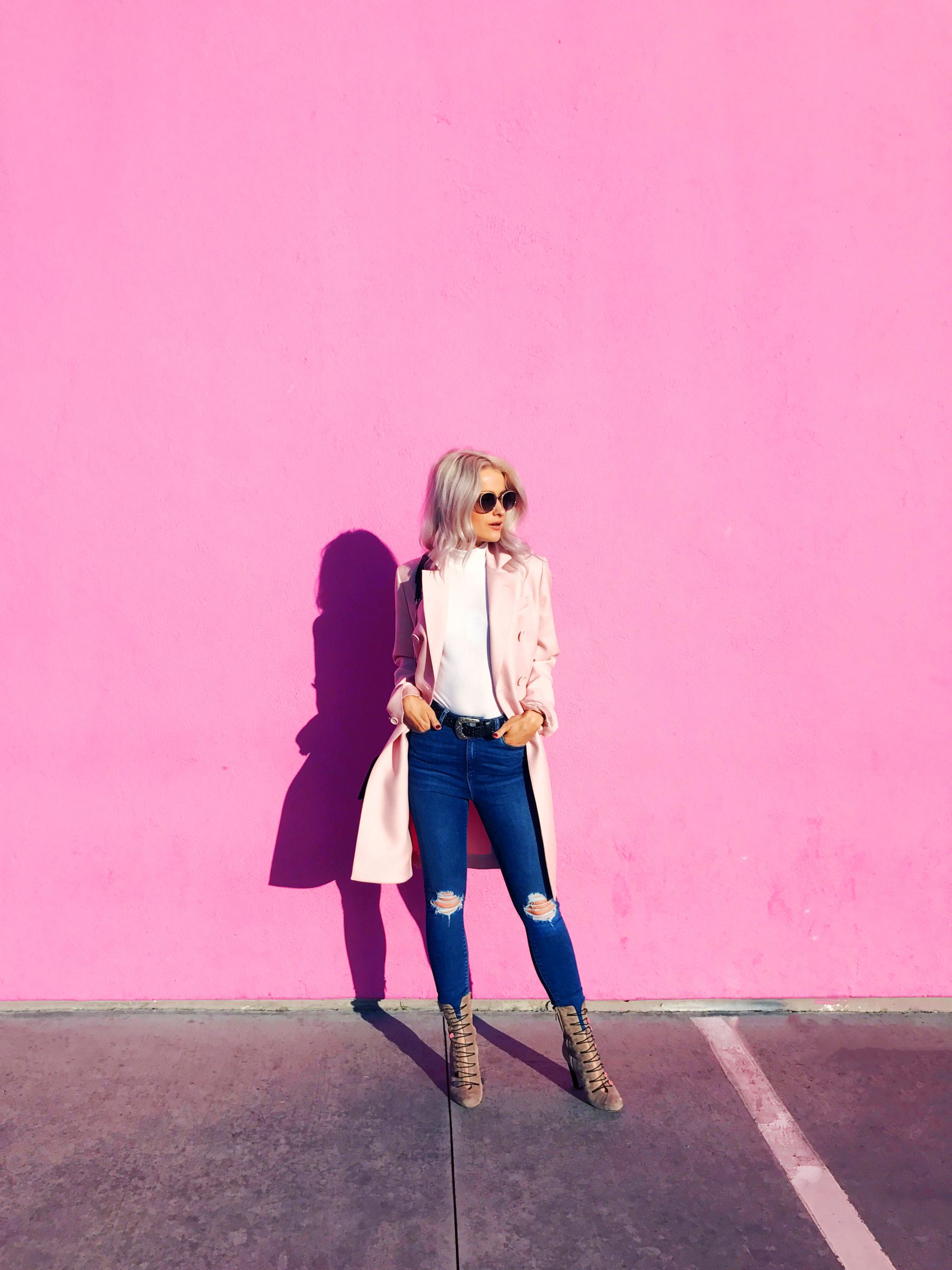 Personally, I'd class this as a typical me outfit for spring. Ripped but skinny and flattering jeans. These are a recent find on ASOS and they fit super snug. An amazing pair of ankle heeled boots. Jimmy Choos optional, but they certainly make me happy. A fitted bodysuit; in black or white, long or short sleeved and of course, always roll neck. And a beautiful jacket that works for the season. Any colour is fine, as long as its warm or cool enough, fits in all of the right places and kicks your outfit up a few notches. This is an incredible jacket from Bally in the most perfect pastel pink.
Throw on a few accessories, a killer pair of shades and your casual outfit just became pretty cool.
What do you think?
Sign up here for a weekly catch up of everything Inthefrow