This is a paid for advertorial in collaboration with Armani Beauty.
23/02/17
Armani Beauty Box Opening
Covent Garden
If you're new here you may not be aware of my affinity and loyalty to Armani Beauty. It is one of the only beauty brands that I would honestly say that I could create a full makeup look with, from skincare to setting spray. It is a brand that I feel moves with the trends and the desires and requirements of their consumers and makeup enthusiasts, so that they're actually bringing products to market that fill a potential gap. I'm looking at you, Lip Magnet, Maestro Glow, Eye and Brow Maestro, and now the new Power Fabric foundation. Talk about products that do what they set out to do, and do it better than you could ever expect.
And whilst this brand may seem somewhat intimidating to someone who has never ventured near to an Armani counter, I really want to reassure you that you're missing a trick. This is a luxury brand absolutely, but one that really needs to be shared and one that will truly welcome anyone with open arms.
And I personally feel that that is what the Armani Beauty Box sets out to prove. Set into the beautiful Covent Garden courtyard area, alongside a number of other luxury beauty brands, the new Armani Beauty Box pop up has literally just opened. Decorated in the signature black and red that Mr Armani is known to love and integrate into the Armani Beauty packaging, this is a beautiful little store, perfectly designed for the tried and tested Armani lover or the lustful Armani admirer. Everyone is welcome to enjoy, try, test and become entirely immersed in the Armani Beauty experience.
And what an experience they have created…
PRODUCT WARDROBE
You step inside the box to be greeted by Uri, the full sized gorilla statue replica of the original that Mr Armani owns in his private home. Just that extra touch of fun from Mr Armani himself. Of course I had to grab a picture and a pose before I left, because a full sized red gorilla isn't something you come across every day. And quite frankly, I love it.
But this top floor of the Armani Beauty Box is product paradise. Their entire product wardrobe is laid out, in every shade, ready for the testing. Swipe away or have your makeup touched up for you by one of the makeup artists complimentary. And for anyone that needs any extra help, they have connected mirror cameras recording your entire makeup routine, so you can re-watch the tips and tricks of the artists when you're back at home. Big hand clap for this, as I feel this innovation will work wonders for those who are really new to Armani and to makeup in general.
But having a private space for Armani Beauty alone, and every shade up for the testing, is a real plus when you're buying into luxury beauty. No one wants to feel as though their new foundation won't suit their skin tone. So a visit to the beauty box will set your mind at ease, allow you to choose the products you actually need and try them out before you buy.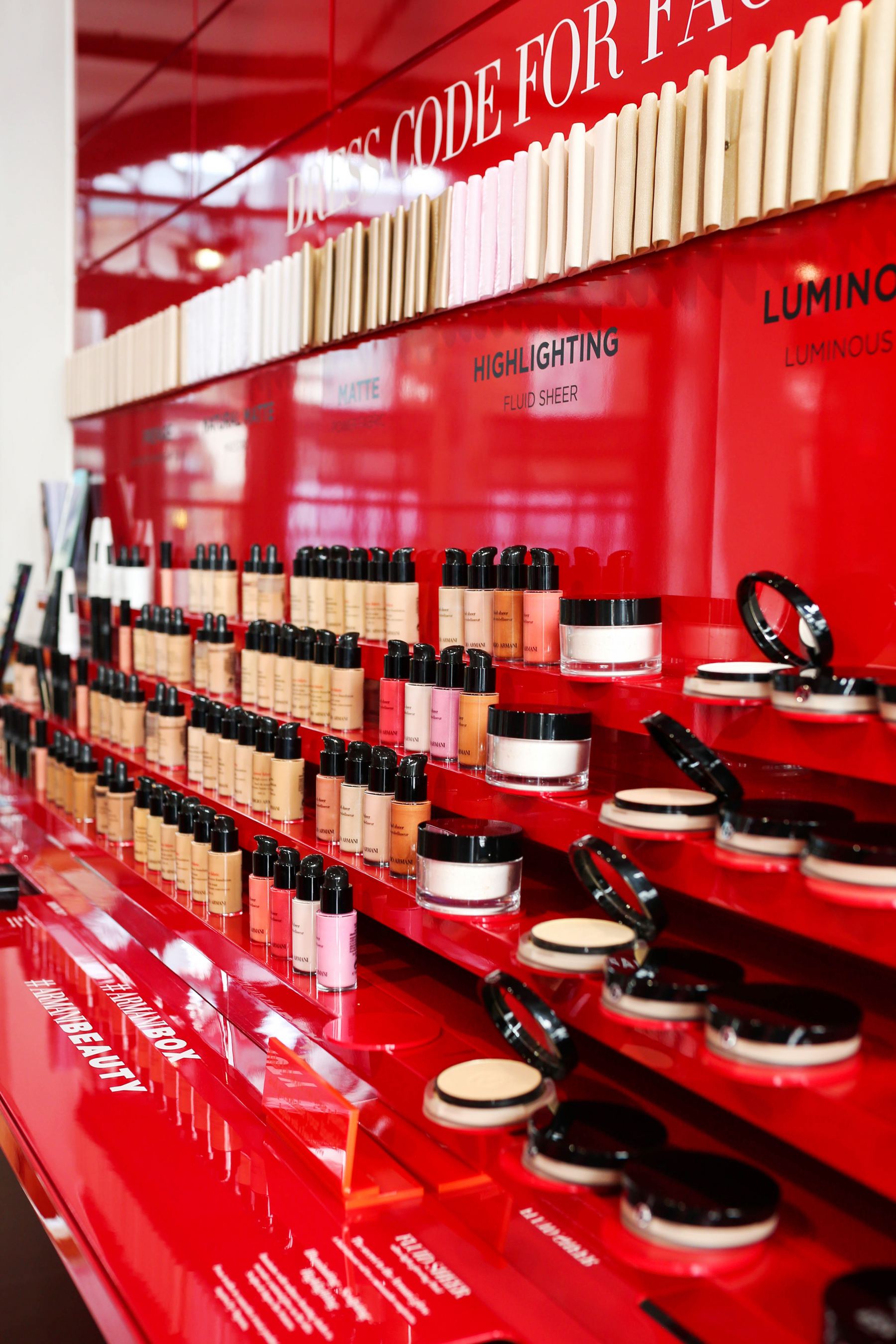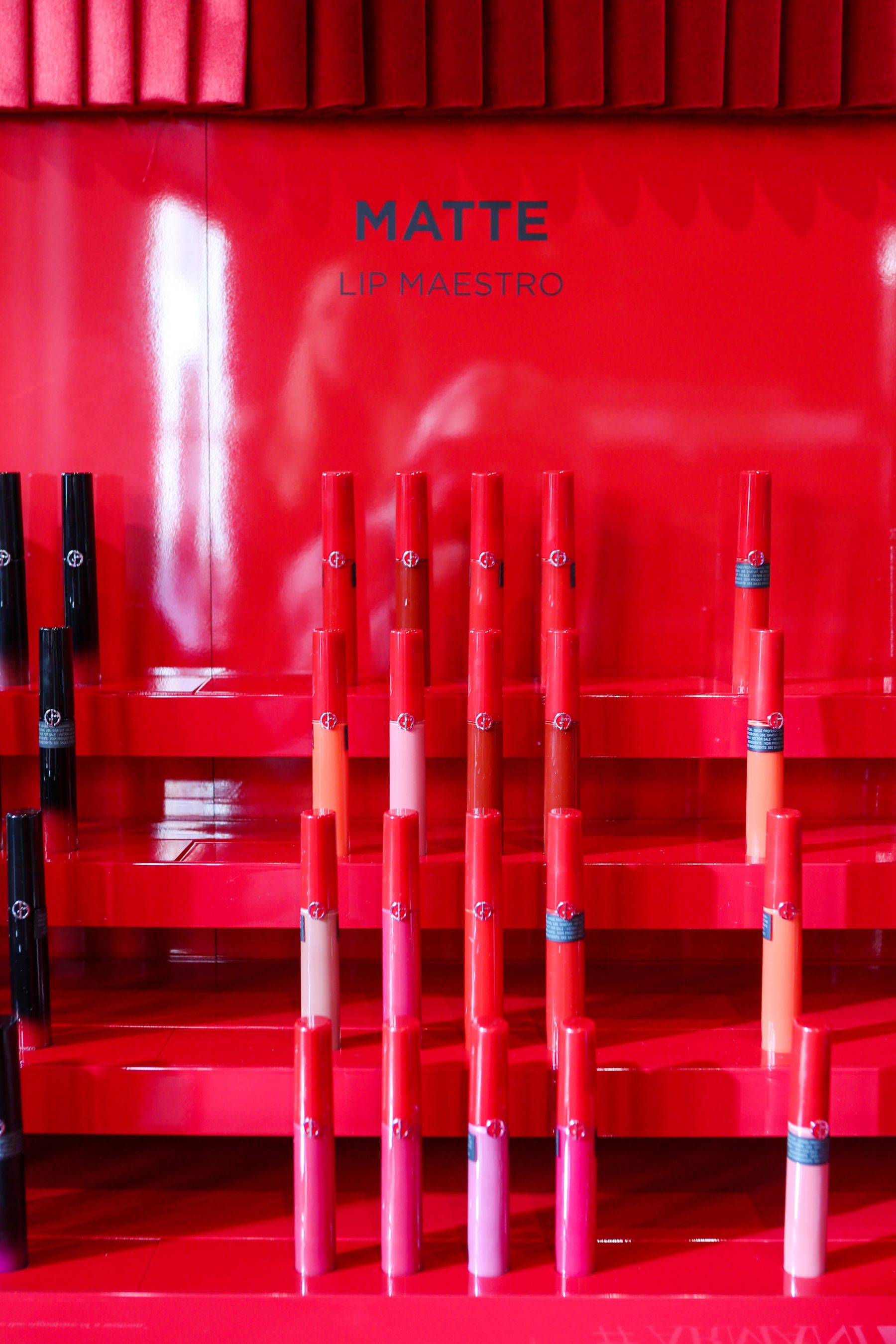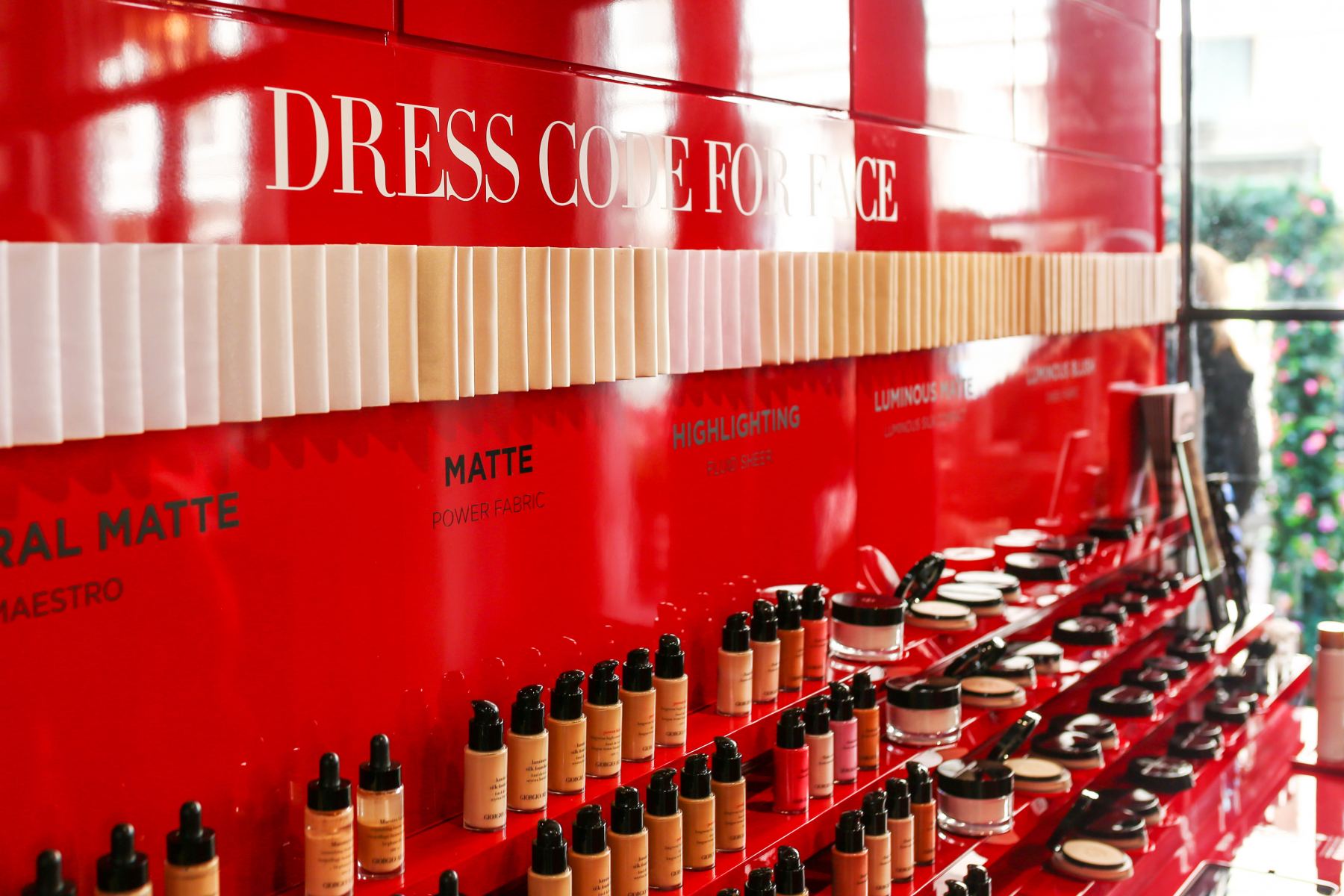 PERSONALISATION
But the super exciting feature of the Armani Box is the personalisation aspect. Any product can be personalised with your initials, the outline of Uri the Gorilla or a number of other symbols, to offer you a unique product and experience. As a gift for yourself or for another, this little touch of individuality to a product makes it even more special. And it can be done in store within a matter of minutes. You won't be able to get this service at another counter, so for me this is a wonderful feature of the Armani Box.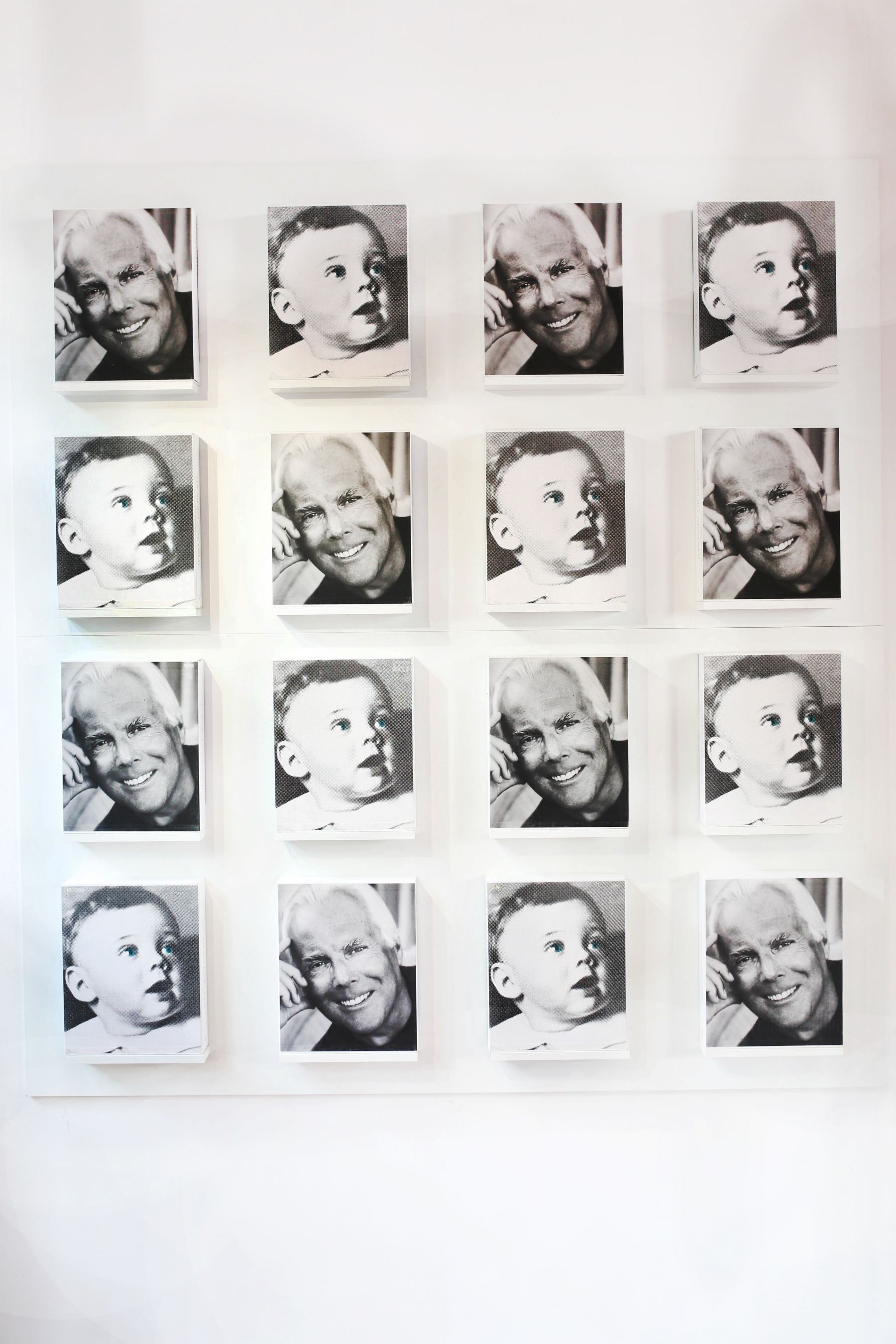 ACCESSORIES
There are also a number of Giorgio Armani accessories available if you're up for buying a clutch to fit your new powder compact inside. Plus, the perfect coffee table accessory, the Giorgio Armani hard back book is on sale at the store too. I want to go out and buy a coffee table immediately just to lay this out on.
PHOTOBOOTH 
And for an extra experience, you and your friends/relatives can take photos of your new makeup in front of the photobooth downstairs in the store. Plus, turn it into its own gif to post on your social media. Just another lovely way to document your experience in the store.
STORE EXCLUSIVES
For those who like to buy products you can't find anywhere else, the Armani Box has created an exclusive and limited edition red lipstick for collectors. The sleek black Armani packaging has been embossed with Uri the Gorilla, encasing a signature Rouge D'Armani red shade, this time in Urban Gorilla Red. Let's just say, this is my kind of red. Slightly blue toned to create a richer, raspberry meet cherry tone. This lipstick has the regular texture and finish of the Rouge D'Armani lipsticks, with a subtle sheen, stunning pigmentation and a comfortable finish. You just won't find this shade or packaging anywhere else!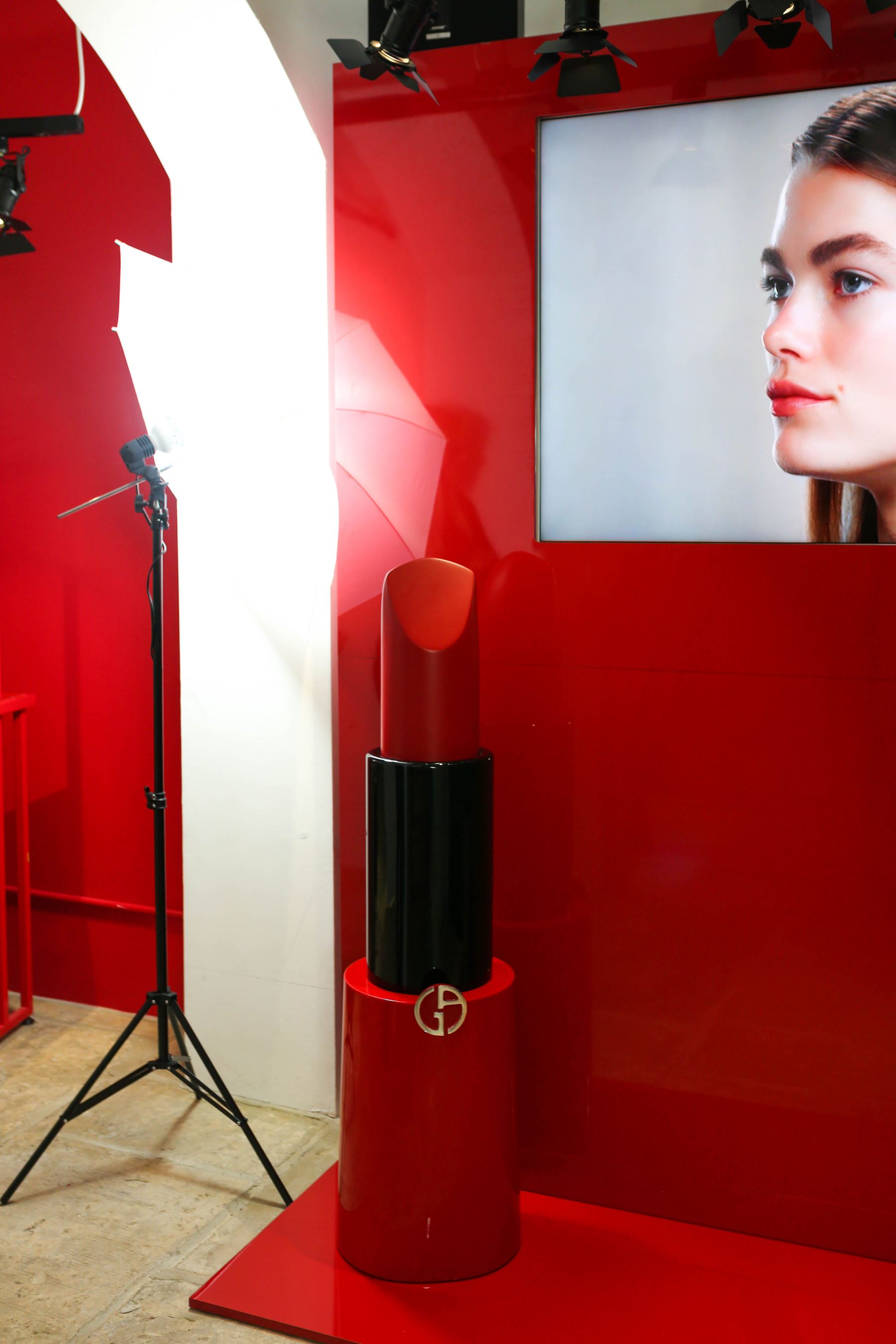 MAKEUP IN PRIVATE
And for anyone who would love a makeup spruce, or a new full face of makeup, but prefer a touch more privacy, the downstairs area offers you a little makeup haven. A number of makeup stations are laid out ready for the taking, with iPads of colour choices and cameras to record your full makeup application. Perfect for those days when you're off to an event and in need of a new look, or for a shopping day with your Mum who would love to experience Armani Beauty for the first time.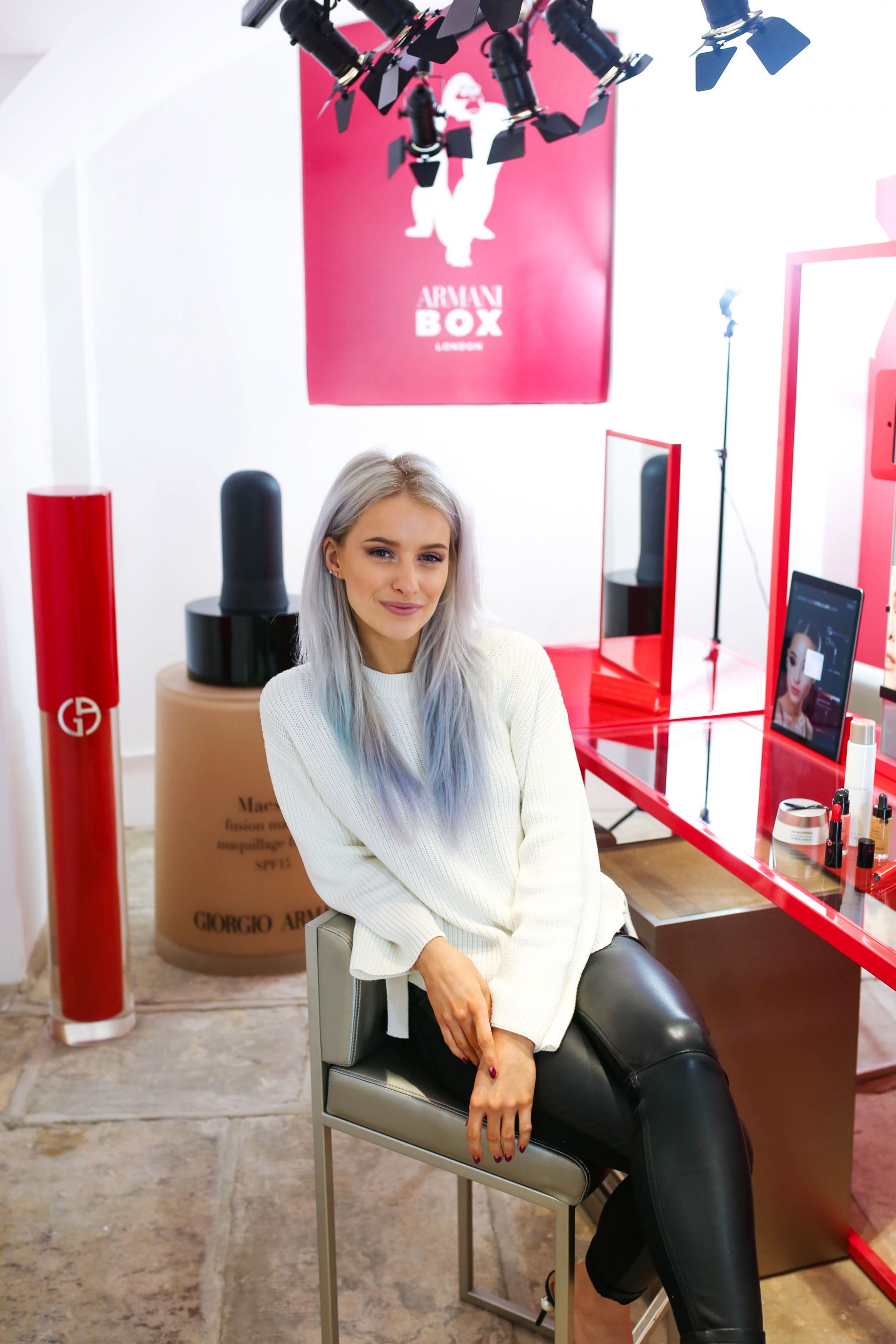 Whatever your next occasion, be sure to pop into the new Covent Garden Armani Box as soon as you can. If not to pick up the limited edition and exclusive Urban Gorilla Red lipstick, then to test and try out all of the Armani Beauty pieces in person. It is a beautiful, immersive store experience and I'm sure you will enjoy it just as much as I did; and leave with a little bag of Armani Beauty goodies!
You can find the Armani box at:
6a THE MARKET BUILDING
COVENT GARDEN 
LONDON
WC2E 8RF
Sign up here for a weekly catch up of everything Inthefrow