19/01/17
Skincare Luxuries
Givenchy L'Intemporel
A major perk of this job is being able to try out a multitude of different products that I wouldn't necessarily try. It's the reason why I have fallen in love with so many brands and products that I probably would never have even heard about if it wasn't for a well timed beauty launch parcel. And I feel extremely lucky that I have that opportunity to get a first look at a number of products from drugstore to luxury collections. But it also means that I get to impart this beauty info onto you guys and any readers, in order to give you my opinion, just in case it was something you were interested in. Again, reading beauty blogs for the last 5 years is one of the main ways that I have learned about some absolutely incredible products that I now call my holy grails.
Over the last few months, I have kicked my skincare regime up a massive number of notches. I love skincare, and I always ensure my face is super clean and hydrated before bed and in the morning, but I never put enough thought into what my skin was actually getting out of it. That was until I discovered Milia (tiny white cysts) just underneath and also on top of my eyelid. They're super mini, so I ignored them for a while, until after I had three, I decided maybe I needed to work out what they were. After a quick text to Caroline Hirons (you need to read this post), I realised my Milia was probably due to lack of exfoliation on my face, excessive keratin being produced in that area and also lack of actual hydration. You can slap creams on, but if you don't look at what's actually inside them, you may be fighting a losing battle.
Anyway, after this realisation that in fact my skincare regime wasn't doing what it should have been, I mixed up my products, a lot. And I'm now always on the look out for any eye creams and face creams that contain more hydrating ingredients, namely hyaluronic acid. This absorbent little ingredient laps up 1000x it's weight in water and allows your skin to start absorbing more of the water content from your moisturisers. And you can imagine the wonderful benefits of that!
Without going into a full skincare lesson, because in honesty I would love to know more about this topic and I feel I need to do a lot more research on it myself, I really wanted to mention these skincare luxuries from Givenchy. The Givenchy L'Intemporel collection plus one of their super luxurious Day Oils, Le Soin Blanc.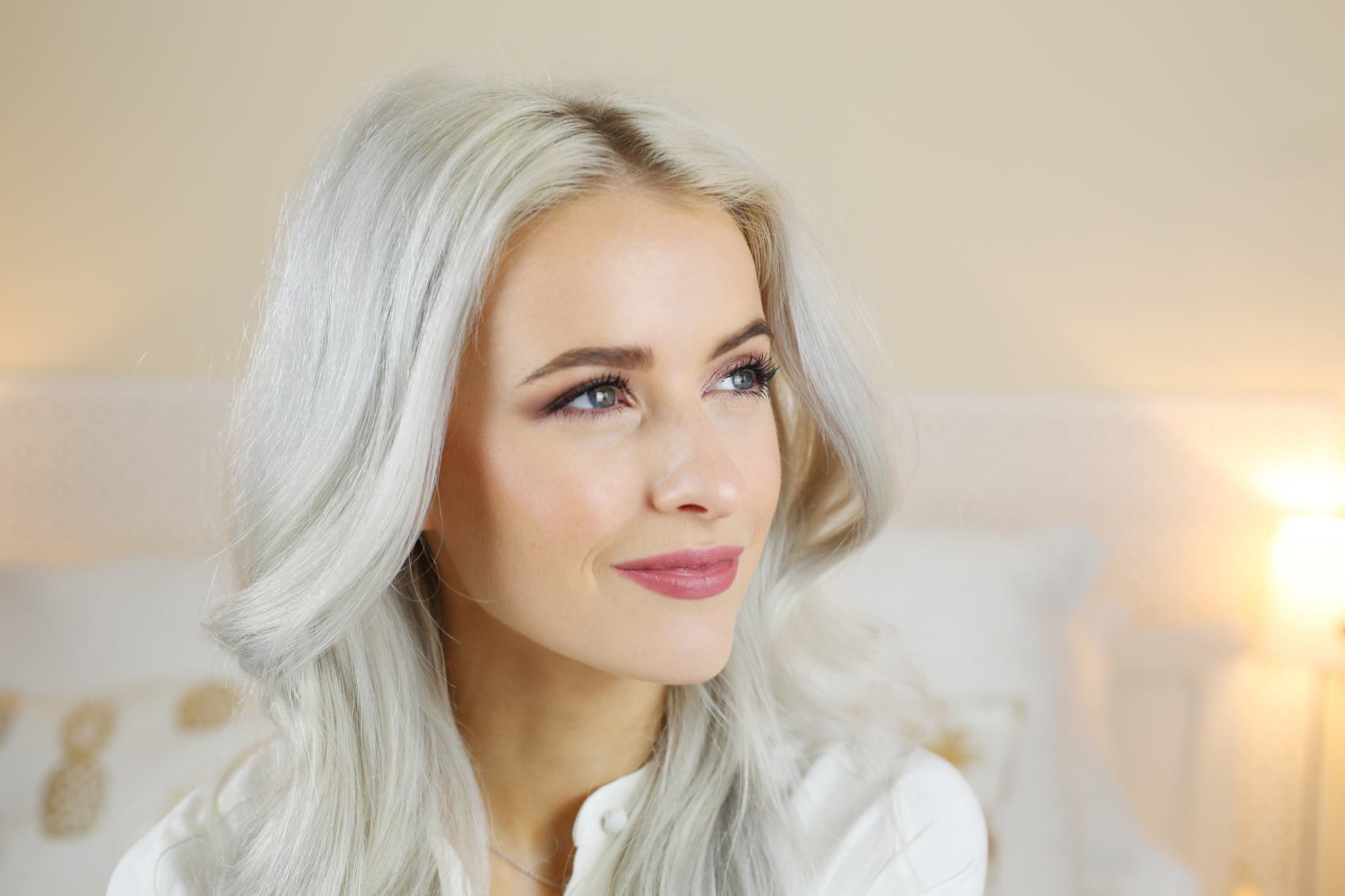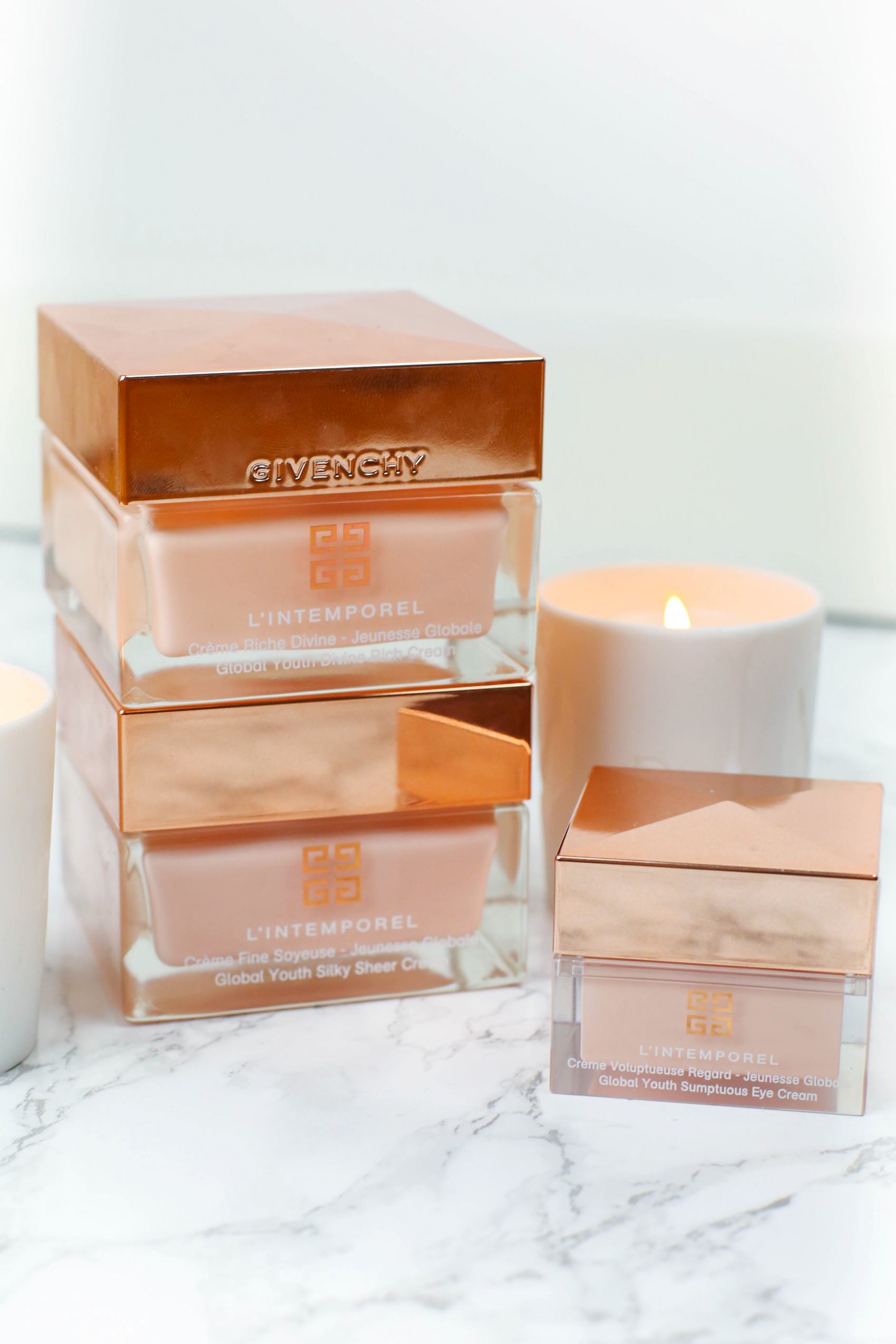 The Givenchy Le Soin Blanc comes in a set with a second product, Le Soin Noir, which creates a set of day and night oils. This is part of Givenchy's most luxurious, Prestige skincare range and so I was expecting big big things. And honestly, I wasn't disappointed.
I didn't include the night oil here for some reason, mainly because my skincare regime's are so full on right now that I'm trying out something else in it's place. However, the daytime oil in its white casing is a product I've been using most days for the last few weeks. It has a super soft, silky and thin gel oil texture. Very weightless on the skin and packed with radiance and hydration that really brightens the luminosity of the skin on application. The oil takes a few minutes to absorb fully into the skin and does leave a slight tackiness (yet not greasy) before you apply your moisturisers above. This doesn't really bother me, but if you're someone who prefers their oils and creams to be almost invisible, this might not be for you. 
Le Soin Noir & Blanc are supposed to be used together as a pair, to revive the skin's balance and complexion. And whilst I have been using just Blanc alone, I do throughly enjoy using it as a step in my morning skin ritual. I use it over the next product, the Givenchy Youth Preparing Lotion, and then apply the Givenchy Silky Sheer cream above, especially on those days when I'm feeling particularly lavish. Let's be honest, these products are certainly not the most inexpensive on the market, but I have been truly enjoying trying out something in the super luxe categories of skincare.
The noticeable aspects of the Blanc oil is the luminosity and illuminated appearance to the skin on application. The skin certainly feels a touch firmer and fresh due to the illumination. But within the oil, it contains Phormidium Persicinum, a luminescent blue micro-alga that boosts the skin's vital energy, aiding in cell regeneration. It also states that it contains three times more moisture than traditional oils and that it helps to protect from UV. Each day of application is alleged to aid the restoration of the skin's radiance and complexion, and I must admit that it has certainly added to the radiance of my skin in the past few weeks.
This is a pricey product, but it has definitely become a firm favourite in my morning makeup routine. It leave a wonderful luminosity and silky texture to the skin and due to the consistency of the gel oil, rather than a thin oil finish, it definitely feels easier to massage into the skin, with a more luxurious feel.
Retail Price: £280 for set of two.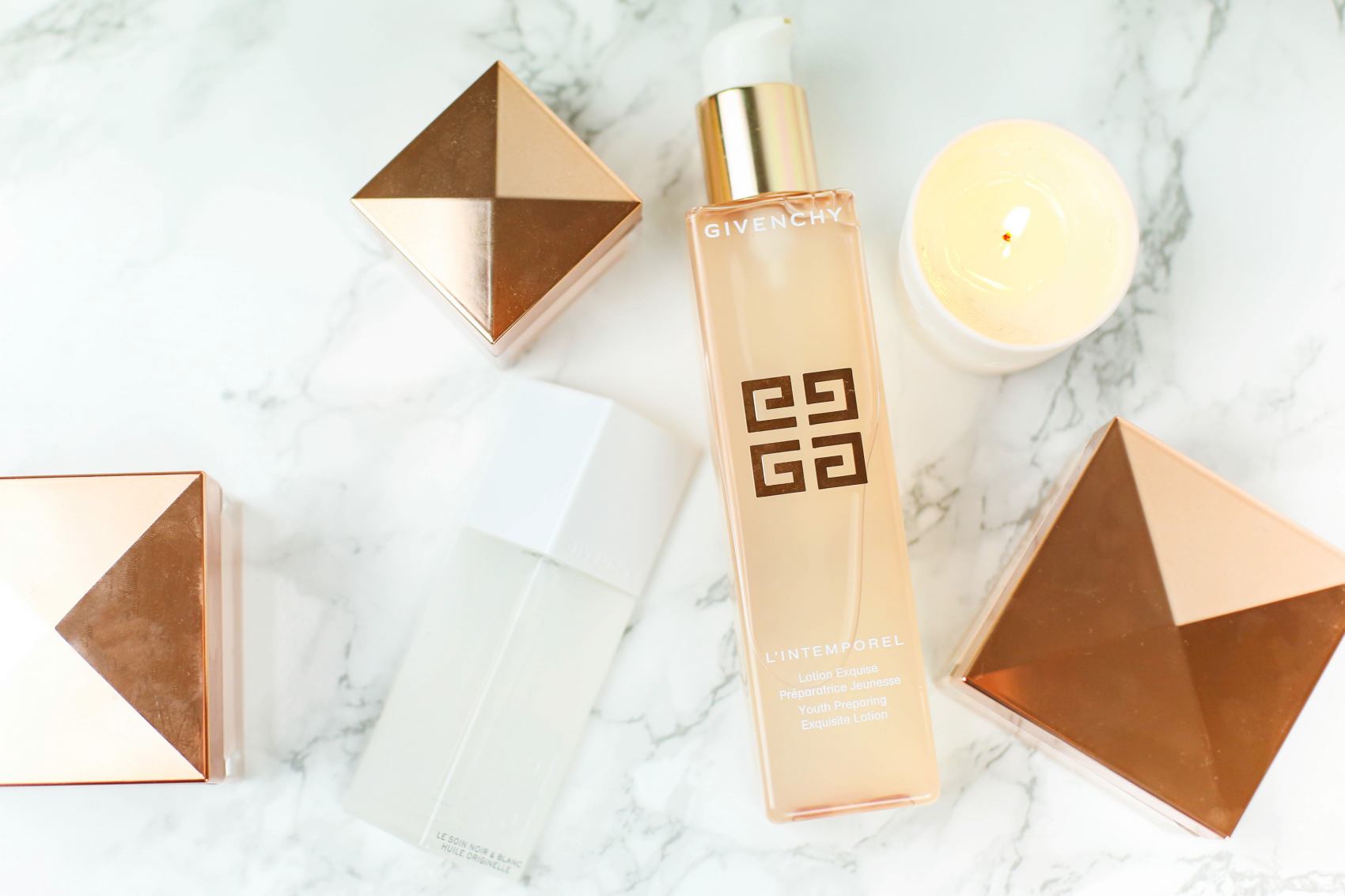 The Givenchy L'Intemporel Youth Preparing Exquisite Lotion is my favourite of the bunch. It prepares the face with hydration and moisture before serums and moisturiser and is therefore the first step in my daytime/makeup routine. The consistency is only mildly thicker than water and can spread lightly over the skin to be absorbed within seconds. But the skin is provided a cool and hydrated sensation on application, and I just feel as though it wakes up my skin before applying further products.
And on the inside it contains IR-Sensitive, an ingredient that protects the skin against oxidation and stimulates collagen fibres to enhance and encourage firmer skin. Plus Vitamin E to reinforce antioxidant action and to revitalise the skin. And it contains everyone's best friend, Hyaluronic acid, to plump and reinforce the moisture and hydration of the skin.
For me, it is just a wonderful, fresh and hydrating layer to kick start the day. Highly recommended!
Retail Price: £40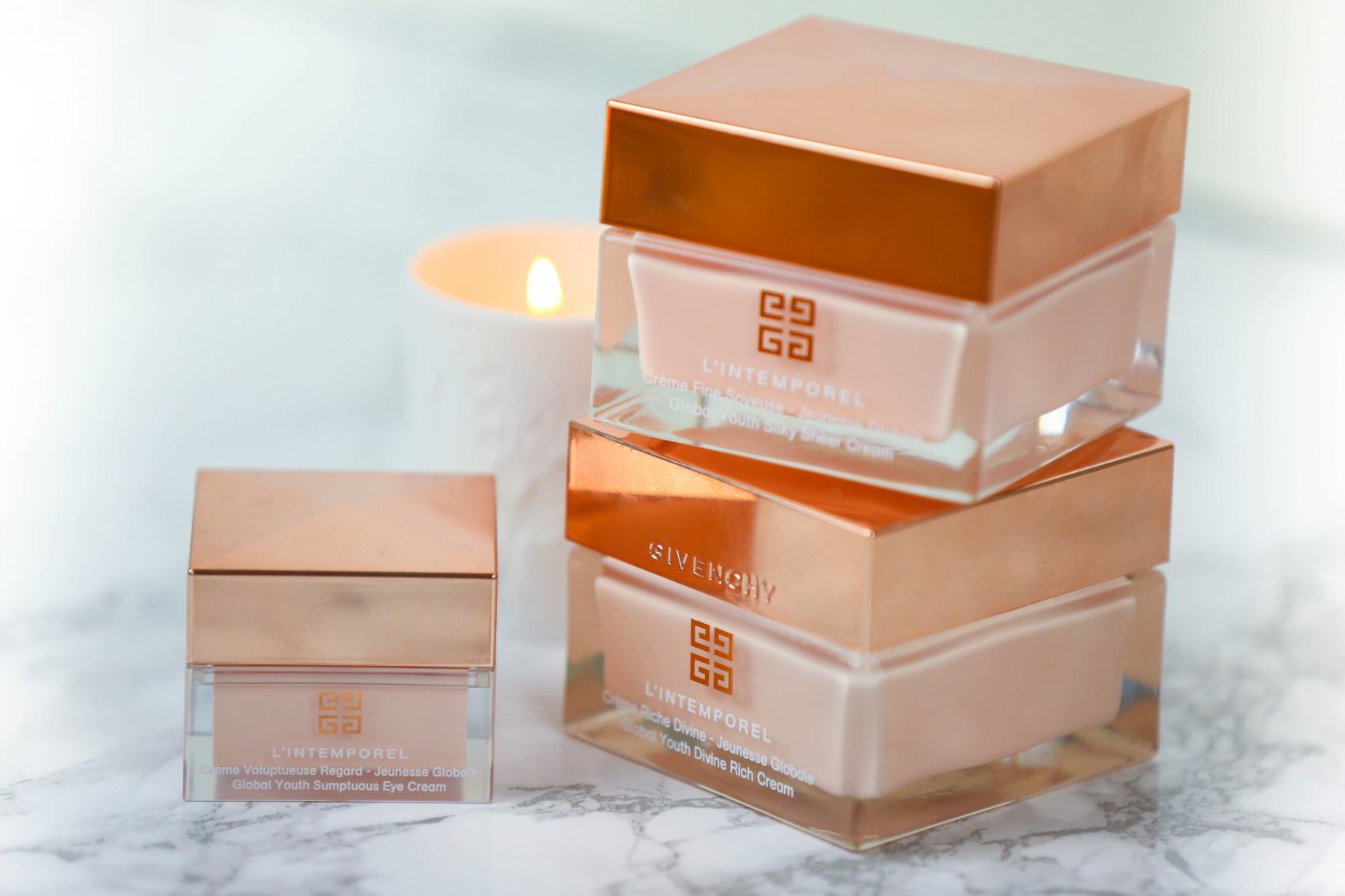 With my Milia issue recently, I've been struggling to find something that really hydrates my under eyes and eyelids. So the eye cream hunt has been real. I was looking for something that was not too thick, but would hydrate and include all of the right ingredients for my needs.
The Givenchy L'Intemporel Youth Sumptuous Eye Cream is sheer, lightweight and smooths lightly onto the contours of the eye. It freshens, hydrates and absorbs within a minute. It's really beautiful to apply and I've had it sat by my desk for my morning routine. The key aspect of this product for me was that it included Hyaluronic acid, just to really push those hydration and moisture levels up in that area. My eyes and undereyes are always so dry, which causes issues with concealer and now Milia. But through my new routine and applying the right creams, I'm seeing huge differences. 
This is a really luxurious, nourishing cream that really does cocoon the undereye in moisture whilst smoothing out fine lines and adding radiance to the skin. I'm thoroughly enjoying using it, and for me it really is giving me the benefits that I was looking for. Plus, I know it doesn't matter, but the packaging is an absolutely rose gold dream.
Retail price: £60
And the two face creams in the collection are also beautifully packaged gems. The Givenchy L'Intemporel Youth Silky Sheer Cream is my daytime cream. I apply it over the Lotion, Eye Cream and Blanc Oil as my final moisturising step. Do you need so many layers – most probably not all the time. Just on those days when you're looking for ultimate hydration, potentially after a flight, big night out or a bad nights sleep. But I personally adore having really plumped, moisturised skin for most days, as I find my makeup just glows whenever I do.
This cream literally feels just like silk on the skin. It is an absolute beauty to apply and I can not get over this texture. A very light yet bouncy cream that feels nourishing and illuminating and creates a fantastic base for makeup due to the silky texture. It almost feels as though it contains a touch of silicone for that gorgeous thin silk texture, but I can't put my finger on it. It is just the most luxurious feel. I may cry when this runs out. 
You may wonder, do I love it as much as La Mer Soft Cream. Tough one. They're potentially on par for me. The soft cream is a touch lighter and nowhere near as silky. Yet, the soft cream does blend well with face oils, whereas the Givenchy doesn't mix in the same way. Probably because it doesn't really need to!
Retail Price: £95 50ml
And for the evening, the Givenchy L'Intemporel Youth Divine Rich Cream is my newest addition to my bed side table. This is very different to the Silky Sheer Cream, with a much thicker texture. It is quite hard to explain, but the consistency of this product almost sits between a balm and a cream. It almost bonds together and you need to almost dig a little deeper into the pot to extract some of the product.
It isn't super silky like the Sheer, but rather feels even more soft, nourishing and rich, whilst not overly heavy. It is also not at all greasy and sinks into the skin within a few moments. With similar ingredients to the eye cream and with similar anti-ageing benefits, this will help to provide firmness, reduce wrinkles and nourish the skin for a visibly smoother and suppler complexion.
I'm pretty hooked I must admit. It is just very different to most of the creams that I have tried and I can definitely see and feel the benefits so far. As my skin is still technically in its youthful years, it's hard to really provide advice on whether this can reverse those signs of ageing. But when it comes to my skins texture, hydration and appearance currently, the feeling of my skin has never been better.
Retail Price: £100 50ml
I'd love to hear your thoughts on skincare – and if you suffer from Milia, what did you do to get rid of the pesky things? I'm definitely seeing differences, but I'm yet to rid my eyes of them completely, so I'd love any tips if you have some.
I'd also love to hear your thoughts on luxury and high priced skincare. Do you ever notice the big difference that the price tag brings, or do you have an affordable product that you swear by? Please do share!
Sign up here for a weekly catch up of everything Inthefrow