16/01/17
Style Transition
Growing through Personal Style
If you have been here for quite some time, or even the last four years, I'm sure you have noticed some big changes in my personal style choices. Everyone ages, grows and goes through transitions when it comes to fashion. Hence why we have specific fashion eras from the last hundred years to refer back to. Seeing a photo of my dad in platform shoes and flares in the 70's is an image I love to remember. And whilst styles and trends alter over the years, so does a person's dressing style.
I don't always follow the trends to the letter. I prefer to take particular elements from trends and the current styles and work them into my existing wardrobe; finding ways to make them work for my own tastes. And my tastes have changed dramatically over the last two years, at least.
I remember a few years ago when I throughly enjoyed wearing a pink leather shift dress with pink and white platform heels and my long pink hair. Pink on pink on pink and I am not ashamed. Back then, I enjoyed being experimental with my hair colour, and that grew into my clothing style. I adored colour and bold shapes and I guess I wore outfits that only the brave would copy. But back then I was living in Manchester, working as a fashion lecturer and I guess, still working out what my own personal style actually was.
Everyone is allowed to make mistakes, make changes and head in new directions when it comes to their style. It is what we all learn by. But a lot has changed since 2014…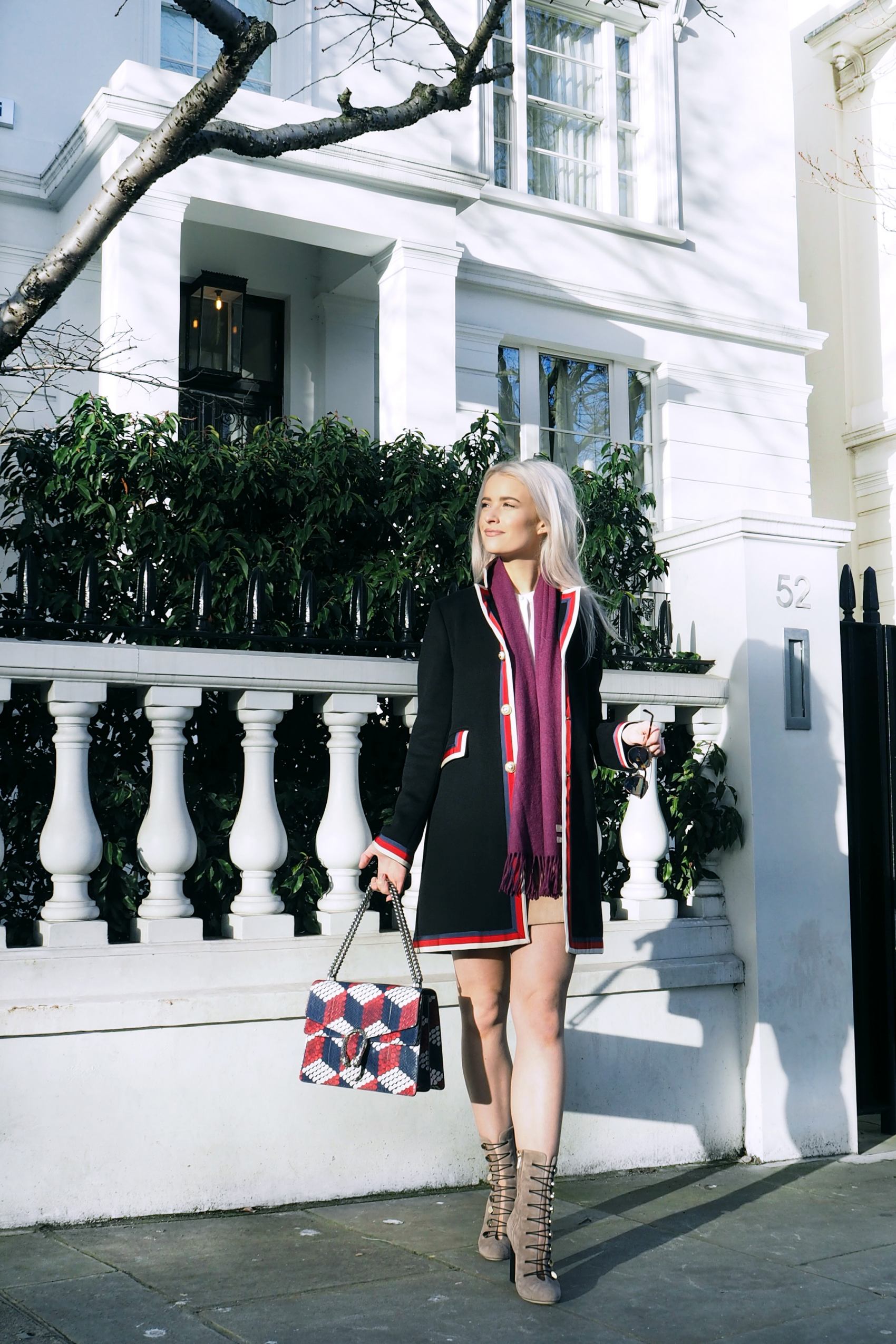 The move to London was a big change for me. London is a city that I feel is extremely chic and sophisticated. Maybe rough around the edges, yes, but chic none the less. Manchester was cool and a little more experimental. I almost let the vibe of the city sway my fashion sense. And the same happened when I then moved to London. It completely changed how I felt towards colour, shape, silhouettes and brands. Eight months into living in the capital, I dyed my hair white and had already started to transition my style into something more refined and focused.
I was 23 when I created Inthefrow, and turning 28 this year is a big reason for the changes in my style. The influence of trends, magazines, celebrity culture and mainly age, are key reasons for a person's style to change. And I know that so many of these factor's were impactful on my own choices. Gone are the disco leggings of five years ago, and I sold my vast wardrobe of galaxy star print leggings ( I owned about ten). And now I have created a wardrobe of classic, feminine and tailored outfits that really suit the person I am inside and out.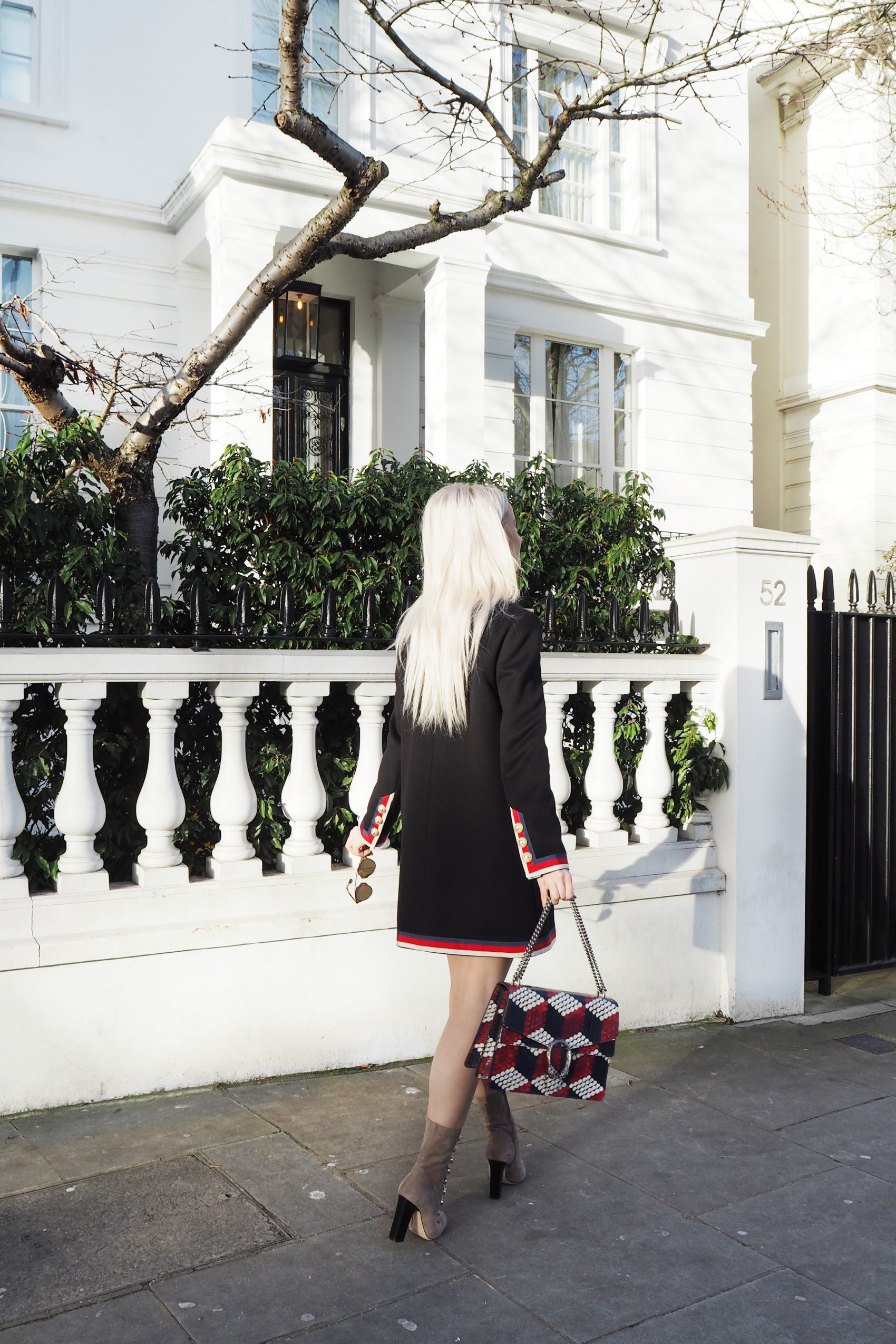 I have given so many of my old wardrobe pieces to charity over the years, and a number of key pieces I have sold on my Depop profile, so they can continue to be loved by another fashion lover. But the majority of my wardrobe is now made up of a smaller number of key pieces that I can wear across a number of outfits. I almost feel as though I have created a capsule or classic wardrobe of sorts, that consists of a number of pieces that I can pair with a variety of items across various seasons. White shirts, lace blouses, tailored trousers, fitted blazers and structured knitwear spring to mind.
I own a mixture of branded items, from highstreet faves (Topshop, ASOS), to high-end high street loves (Joseph, Whistles, Reiss, All Saints, Temperley) to a number of statement wardrobe luxuries, such as this new Gucci Jacket. Yes it was a huge investment, but it is a jacket that I can not stop thinking about, even though it is hung in my own wardrobe.
My love of luxury didn't just suddenly arrive from nowhere. I have loved luxury brands and products since I was a lot younger, but of course living on pocket money or a part time wage meant that saving for lavish luxuries was difficult. Growing up and maturing meant that my career transformed and my disposable income grew, and I don't know one person who would not treat themselves if their income allowed.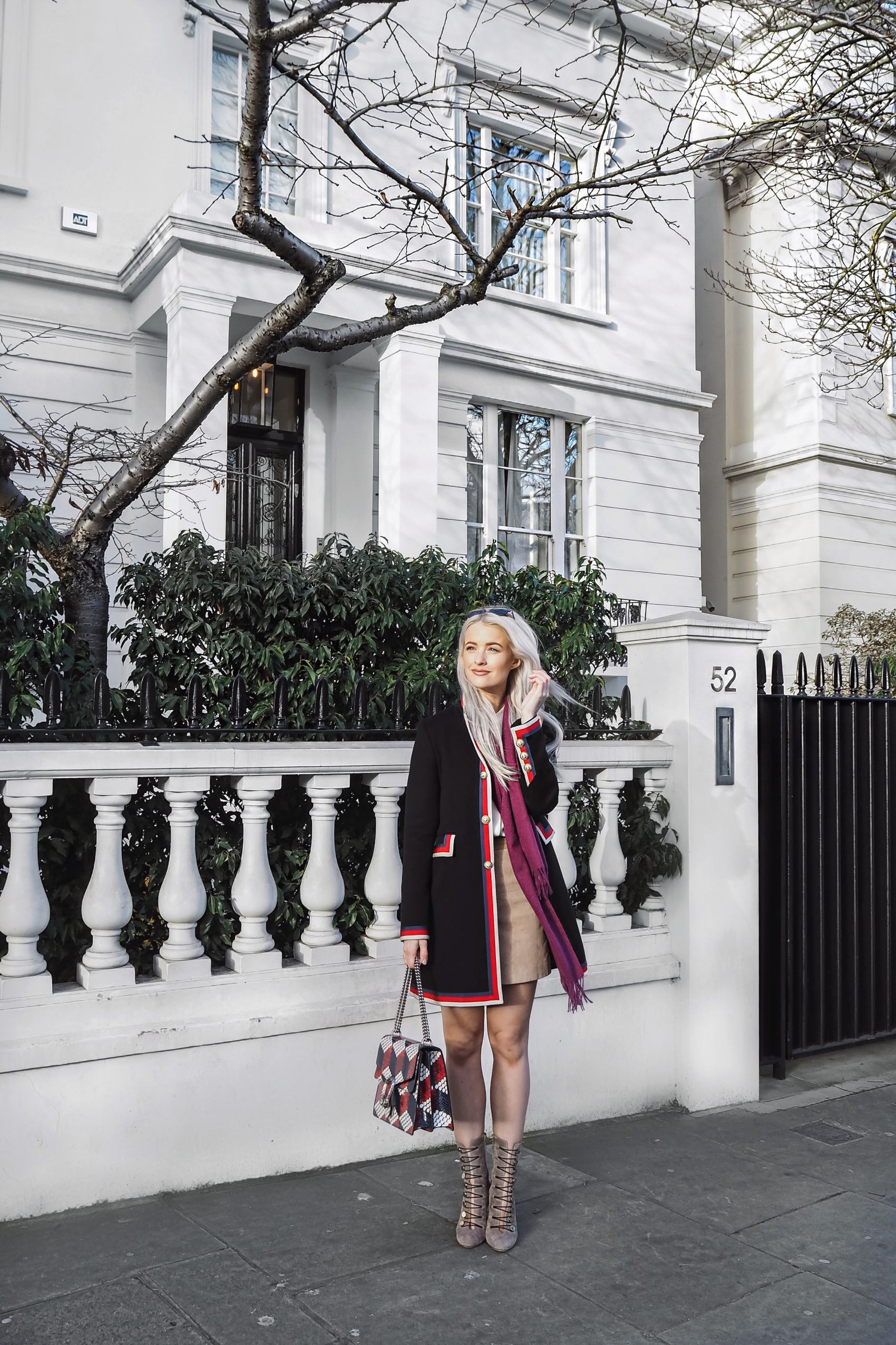 The last few years have been the time when I have been able to dress in a way that I feel truly represents the woman I am now. I have grown personally, mentally and physically and my fashion sense has transitioned alongside it. I love to buy basics that will go with every outfit I wear, but I relish those days when I stumble upon one item that sends my heart a flutter.
In a nut shell, I would now describe my style as consisting of feminine, chic and tailored pieces, in neutral tones of grey, cream, black, dark navy and green. I love to wear highstreet and high-end high street pieces alongside designer shoes and bags, just like the majority of women that I know and know of. But my jacket choices are also often of the higher end variety, as I feel a jacket is that first impression piece and deserves to show your personality. I enjoy texture, pattern and colour, but often in block colour or small amounts, such as vibrant bags and shoes. But for the most part, sophistication and classic shapes are at the forefront of my mind when I get dressed in a morning.
Over the last few years, all I have tried to do is find a style that suits me, that makes me feel my most confident and my most fashionable. My style has changed a lot in the last few years, but I am still the same person I always was. I just want to make sure I show my personality more through the clothing that I wear now. I want to feel elegant and sophisticated, mixing tailoring with beautiful textures and fabrics and allowing myself to feel like a stylish 27 year old woman. I don't think there is anything wrong with focusing your style and condensing it into something that really works for who you are. Everyone deserves to dress how they like, depending on how they feel, how they want to be perceived and what they deem to be appropriate.
I'm not the younger woman I once was. Rather I have grown into a mature young lady, with a firmer focus on fashion, an understanding of what suits me, what fits me and how I wish to be perceived. And I could not be happier with my current wardrobe.
Have a peek below at what I have recently added to my collection!
I would love to hear how your style has grown and changed over the years and what you equate those changes to. Was it a big move across the country, a change in your personality or something else? I think personal style is just that, personal. And everyone deserves the right to express themselves in whatever way they deem fit. Fashion is supposed to be fun; lets keep it this way!
Sign up here for a weekly catch up of everything Inthefrow