24/01/17
5 Highlighters To Fall For
From Subtle to Bling
Regardless of whether I'm going for coffee or attending a Gala dinner, my highlight will always be applied before I leave the house. I'm a highlight obsessive. Looking at my collection right now, I have 24 highlighters, and I recently did a clear out of those that were old, broken or I had completely forgotten. I've tested a lot, and through that I have learned to love so many products on the highlighting market. Especially since the highlighting boom a few years ago, when we began to strobe our faces all over to diminish the need for contouring. Luckily that trend died quite suddenly, but we continued glowing up our cheekbones in the hopes of looking like radiant unicorns. And since then, my collection has only grown.
Whilst there are definitely more than five highlighters I would recommend, and the majority you will find me using on this blog or during my makeup tutorial videos, these five are the newest five that I really thought deserved a mention. From a subtle glow to a full blown moonbeam, these are five products that I am really enjoying!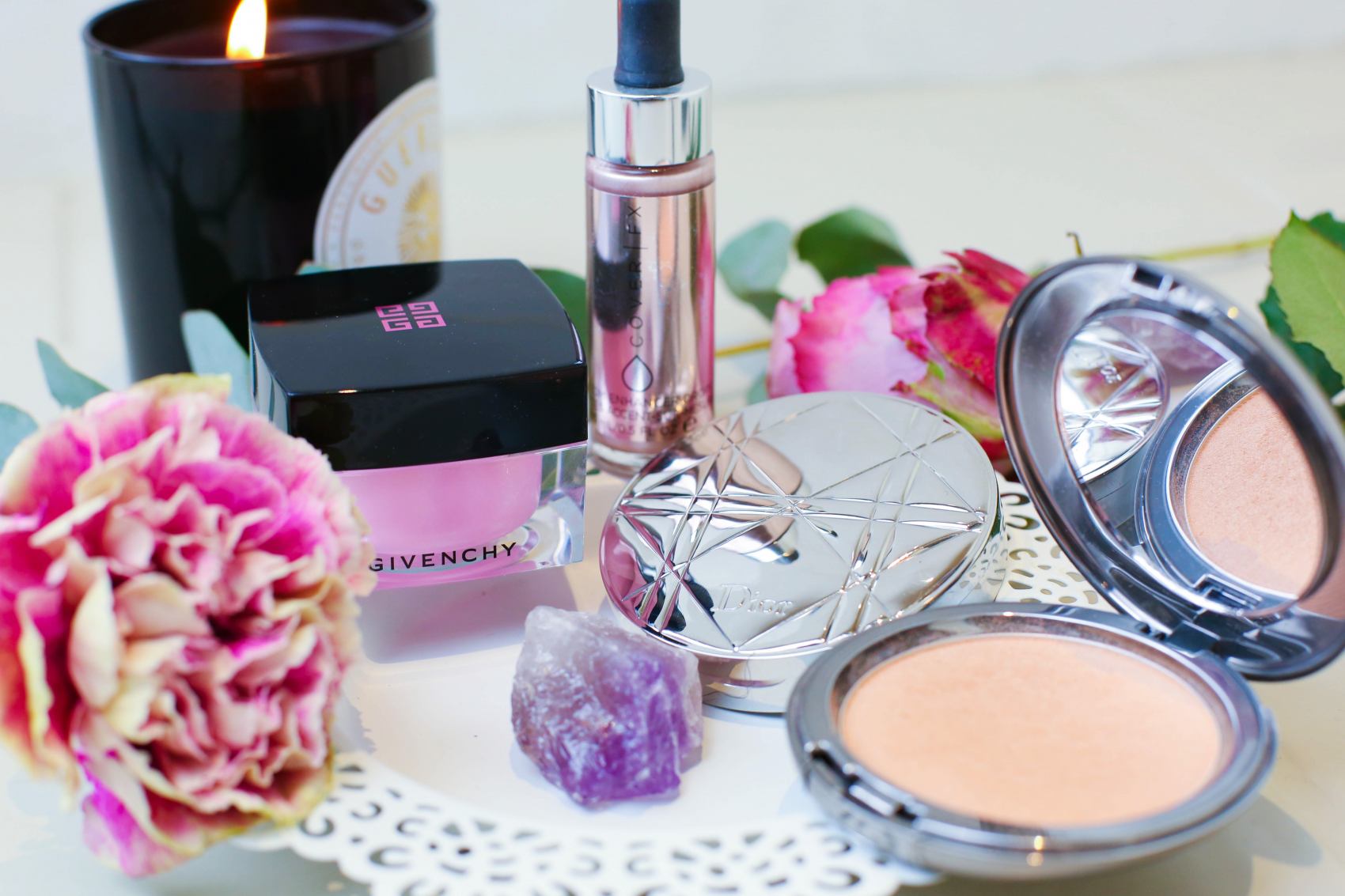 Givenchy Highlighter Mémoire De Forme
Info.  A bouncy, pink jelly of sorts. It almost reminds me of angel delight with shimmer mixed inside.
Consistency.  This feels like a light cream that just happens to add the most beautiful subtle light pink shimmer to the cheeks.
Intensity. So subtle. An enhanced and slightly shimmery natural glow, as if you have just had a wonderful facial and your skin is glowing from within.
Value. You get so much in this pot, it will last you a year probably! Its Limited Edition so sold out almost everywhere, so try in stores or ship it over via Sephora right here for $45.
Beauty Pie Pro Glow Highlighter
Info.  A circular compact with a mirror containing a super glowy bronzey, champagne shimmer highlight. I LOVE this on my eyelids every day! 
Consistency.  A creamy, blendable powder.
Intensity. Really glowy and shimmery. On the eyelids and cheek bones this really gleams and catches the light, whilst the colours in the pan really mix for a cool toned champagne glow
Value. The pigmentation of this powder means that it will last you so so long. I use it every day and haven't made a dent. Plus, if you sign up to Beauty Pie, you will get this highlight for £5 – read more about that on their website, its a pretty innovative, original concept! £30 for 8g or £5.46 for members!
Dior Nude Air Luminizer in 001
Info.  The most beautiful, subtle, glow from within highlighter that I own. Too much of this is never too much. 
Consistency.  A silky powder compact with a champagne meets rose gold tone
Intensity. This sits in the middle of subtle and golden glow. I feel this is a daywear highlighter than could be intensified for evening with a few coats. It just seems to make your cheeks glow from within without looking cakey or too over the top. 
Value. This is highly pigmented and so a little goes a long way. It would take you a good 6 months or more to get through this. £35: 6g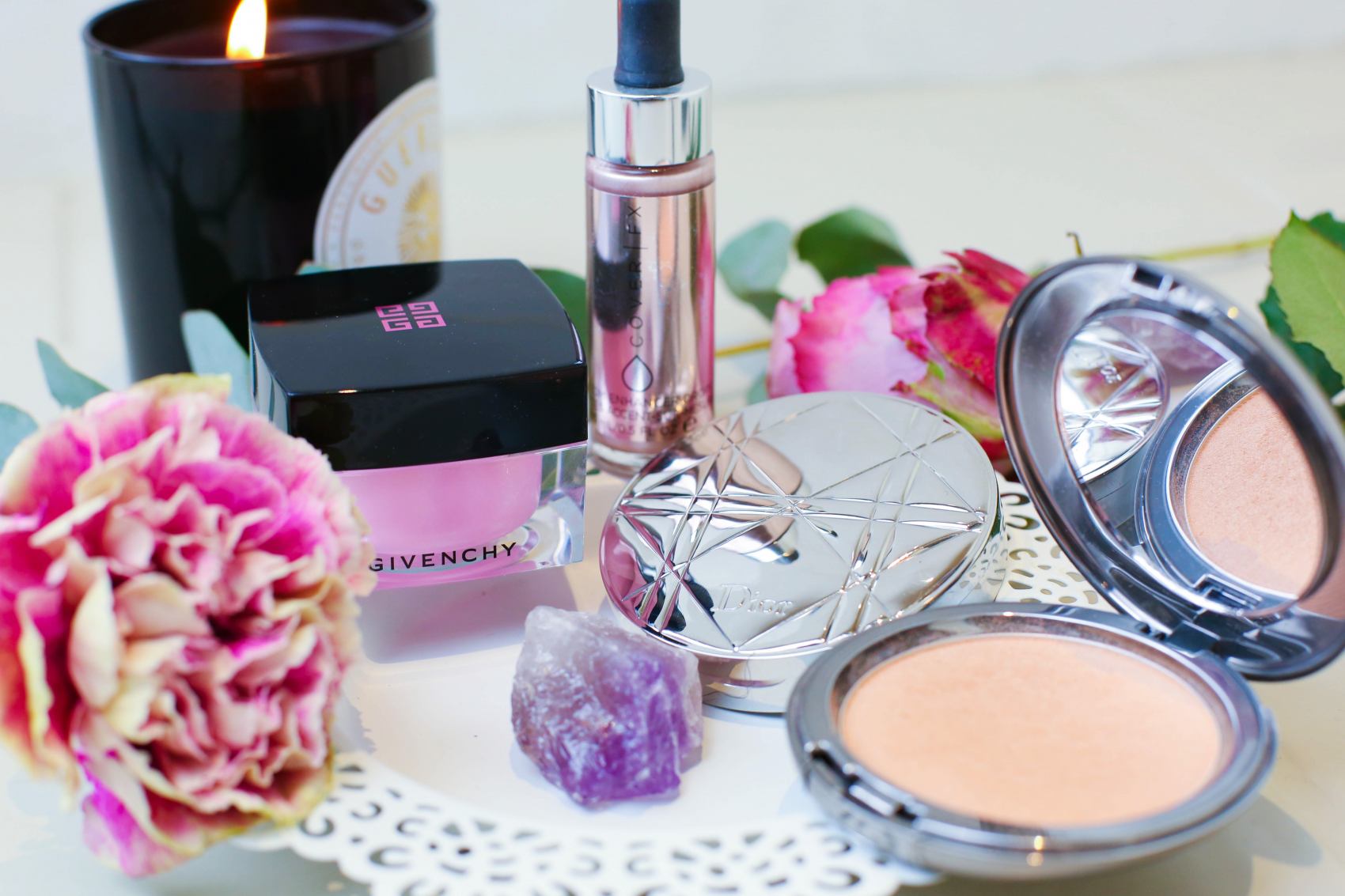 Cover FX The Perfect Light Highlighting Powder
Info.  A highly pigmented powder highlighter in a light champagne tone that leaves a sheen of highlighter rather than a shimmer
Consistency.  A smooth powder with fantastic pigmentation.
Intensity. Super pigmented and intense, for a powder. The most intense of the powder products in this post, that leaves a gleam to the skin rather than a powdery, shimmery finish.
Value. A little lower in price than the others here, but still £25 for 8g. The pigment in here is only mildly looser than the others, so this may be a touch quicker to get through, but very minor.
Cover FX Custom Enhancer Drops
Info.  A highlighting product within a glass bottle with pipette. I prefer to apply the product to the back of my hand before using my little finger or a small brush to apply this to my cheekbones before blending. This required a touch more patience and time to apply due to its intensity, but the glow is worth it. My favourite shades are Candlelight for a light champagne tone, or moonlight for a rose gold. 
Consistency.  A liquid highlighter that reminds me of liquid gold. Just too stunning for words. One for the makeup lovers.
Intensity. Super duper intense. The most intense and pigmented highlighter that I own. This might as well contain drop of liquid metal. Fantastic to use alone for an incredible glow, or blended into the cheeks with a powder product packed over the top, if the glow isn't quite reaching the NASA space station.
Value. A little goes a very long way. And quite frankly this is so incredible, the price really reflects the quality of this product. £34 for 15ml. 
Tempted to try out something new? Have you already tried any of these? What did you think? I'd love to know of your favourite full blown highlighter for the most intense glow you've ever seen. Does it beat Custom Fx Enhancer Drops?! I'd love to know!
Sign up here for a weekly catch up of everything Inthefrow