This is a paid for advertorial in collaboration with Luisa Via Roma.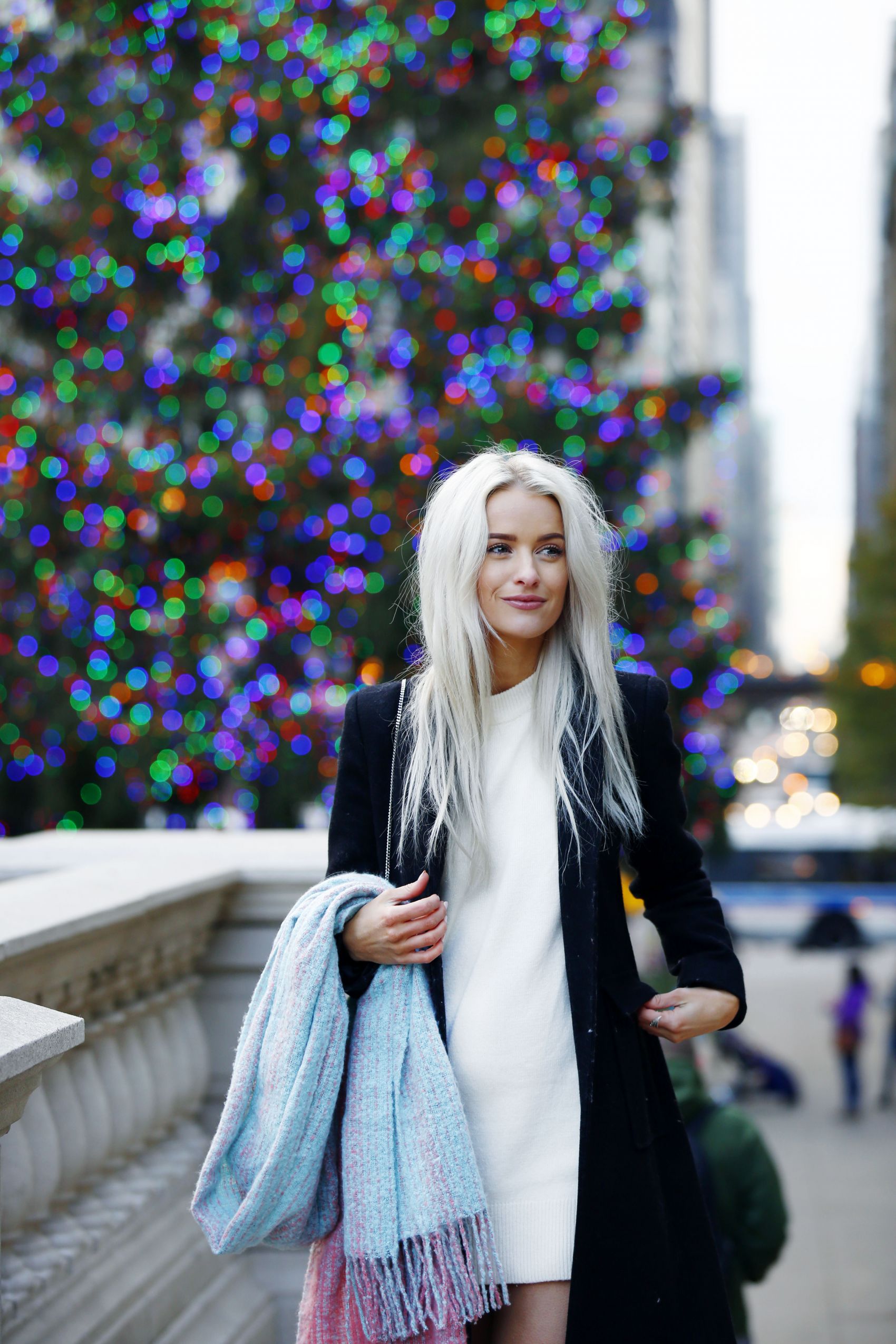 01/12/16
Lessons to Live By
Taking a Step Back
This last week I was in Chicago. Not located entirely centrally, but out in the suburbs of the Windy City, staying with my best friend who recently moved out there with her new Hubby. Lucky thing. This was my 23rd trip of the year if you would believe it. I don't completely believe it – how on Earth did I do that?! But the other thing you may find it hard to believe was that this was my first holiday of the year. And not only of the year, but of the last few years. Apart from maybe my trip to Iceland last Christmas, but even then I was vlogging, photographing and Instagramming my life away. This trip to Chicago was planned 6 months in advance and was blanked out in the diary as my special "H O L I D A Y ! ! !" . Time to put down the vlog, time to not focus on creating content, or Instagramming everything, or Snapchatting too much and certainly not writing anything. I really needed that time to relax with my best friend, Alex and my new brother in law. As I'd like to think of him.
Now I see you looking at these pictures and querying what I just said. Not creating content, eh?! But hey, I got too excited about wearing this new outfit and decided I couldn't miss out on taking photographs at the famous Chiacgo Bean. We had just headed into Chicago for a shopping trip, to eat Taco's in the delicious El Hefe and to wander around Dylan's Candy Bar lusting over the Pick and Mix. Of course we devoured a number of Christmassy Starbucks Latte's on the way and I spent a lot time picking yet more nude velvet matte lipsticks in Sephora. So the majority of the time was chilled and totally off duty. But I loved this outfit and seeing as Alex had his camera, it was just one of those good opportunities!
But during the rest of this trip to Chicago, and the down time I spent lazying on the couch, I actually managed to think about things other than work, fashion, makeup and instagram posts. I'll be honest, I love all of those things, but some head space away was really eye opening. I was granted an entry into what I feel was a closed part of my brain for a long long time – where I was blocking out a lot of thoughts and feelings that I just didn't want to think about.
And so I don't forget these feelings, I decided to write them down; just in case you too need a little reminder.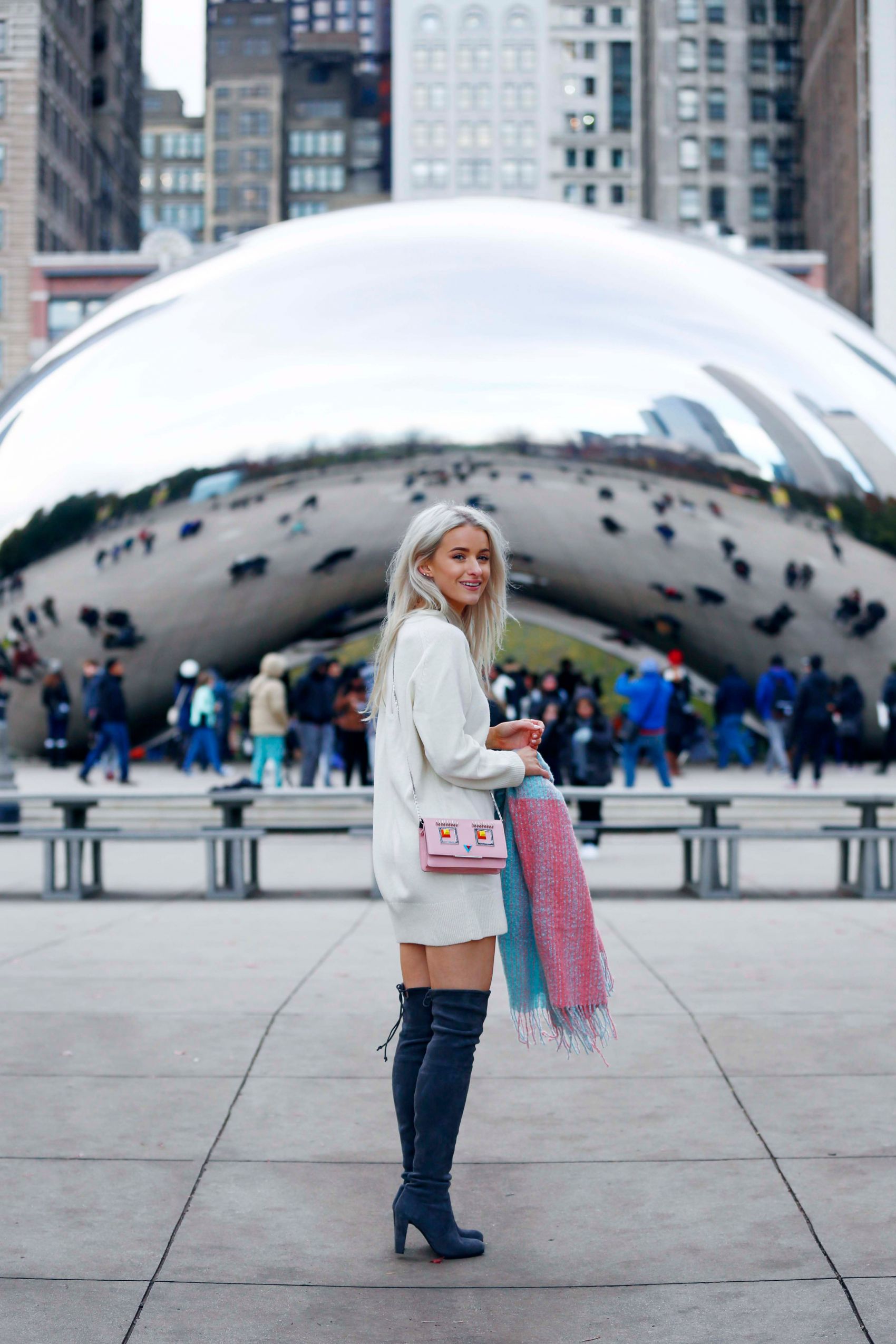 We spend so much time dieting, double checking ourselves when we reach for another slice of bread, saying no to a bottle of wine and opting for "Oh, just a small glass please." But for goodness sake, we literally live once, and if you know you eat well for the majority of the time and you have some form of exercise in your regime, all be it your walk to work, then just go for it. Eat all the pizza you bloody want to. I had takeaway deep dish Chicago pizza TWICE in one week. Plus the rest. And you know what, I enjoyed every single minute. And even now, feeling as though I cannot wait to get back into a gym regime, I still don't regret one bite. Food should not be able to rule your world, your regimes, your mood swings. And I've decided that I really don't want it to anymore.
Time with friends is the best time.
I forget to text my friends back, within an hour, the majority of the time. Sometimes it will take me half a day, a day, two days or then there are the times I entirely forget. I get so consumed in what I'm writing, what I'm planning and what I need to be doing next, that I often put replying to friends into the non-priority box. It's not that I don't love my friends, because my friendships are truly one of the most important things to me. It's just that I prioritise wrong. And as time goes on, the more it dawns on me. Spending time with Rebecca in Chicago, I literally sat, or more I was swallowed, by her mammoth sofa whilst she and Alex played on the XBox, and I felt this wonderful feeling of friendship and warmth. I felt totally at ease and happiness knowing I had some absolutely incredible people so close to me that I could rely on, trusted wholeheartedly and who would always be there for me, no matter what. Friendships are something that need to be embraced, held and kept extremely close.
Cuddling is good for the soul.
Up until the last month, I would go as far as saying that I was someone who could give or take a cuddle. I love to hug people, thats my Northern charm I think, but when it came to extreme, prolonged cuddle sessions, I would much rather have had my own space. I know so so many women just like me – trust me I have conversed with many over this top just to ensure I wasn't alone here. I was never the child who cuddled teddy bears and played with Barbie dolls like they were my children, and so I feel like I got used to my own space quite well.
Yet something has vastly changed for me in the past month. Let's just say, I've turned into the cuddle monster. And I think Alex is loving every minute of it. Recently, Alex has been helping me with my photography, as you may have noticed, and that has really helped with some of the workload. And I think over the time he has been helping me, I have gradually started to relax and relax and relax. Until now, where my strings have loosened and I actually crave his attention, instead of the other way around.
Take time to cuddle more, relax more and show your loved one how much you adore them.
This, is hard for me. I like to be right. I was always the studious one in school who never got told off, always answered the question with the correct answer and who was most definitely the goody two shoes. I remember the one time that a teacher shouted at me at around age 9, because I was being a little too cocky one day and needed bringing down a peg or two. I still recall it vividly. And overtime I think I got used to thinking that I was most probably right, in most cases.
But you know what, sometimes you're just not in the right. In the middle of an argument, it's hard to see that perhaps it was your wrongly worded sentence, your sharp look or your long intake of breath that kicked it off in the first place. And in fact it's not your partner's fault for starting this argument in the first place due to his frustration at your previous eye roll. You know, sometimes it's best to just say I'm sorry, and move on. Yep, Elton, you're absolutely right! Sorry really does seem to be the hardest word. And I'm finally learning to say it a lot more often.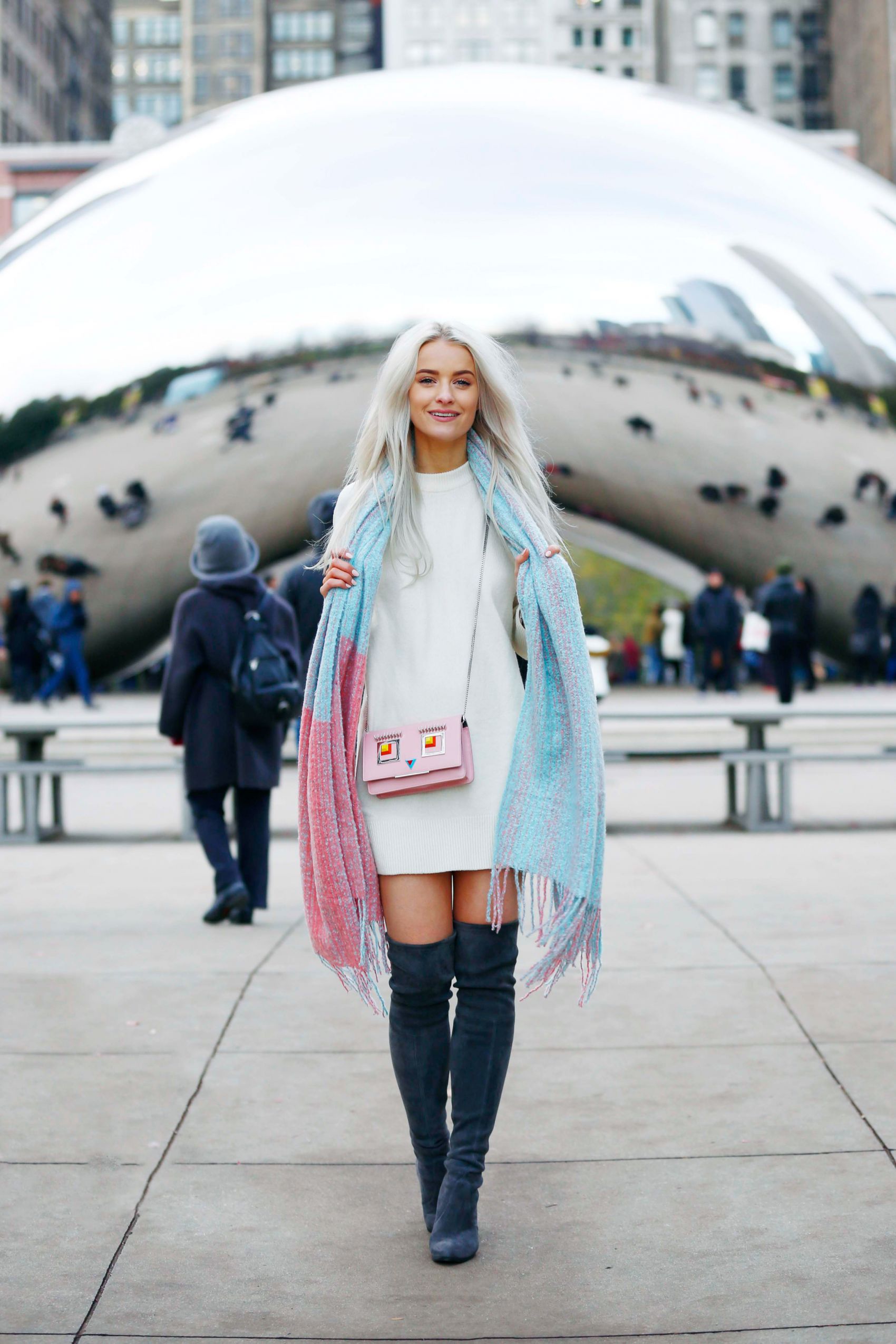 – The Outfit –
Say hello to the two best additions to my wardrobe recently.
These Stuart Weitzman Boots have been on my list of 'I need to own' for a number of years and after spying them on Luisa Via Roma, I finally had to add them to my collection. And honestly, I could not be happier that I did. They are extremely versatile, the most slimming pair of boots I have ever owned (my thighs have never looked so slender), and the colour is truly dreamy. With jumper dresses like this one from Wood Wood, paired with a mini skirt or worn over your favourite skinny jeans, I think you'll find yourself reaching for these more than you realise!
And this Fendi Small Faces Clutch, seriously how adorable! Luisa Via Roma never fail to select the cutest, more statement pieces for their product selections and this went straight into my lust list as soon as I saw it. Big enough to fit your phone, cards, keys and lipstick, this is one of those bags that will keep your essentials close, but what more do you need when the outside looks this darn fancy! Smitten is an understatement.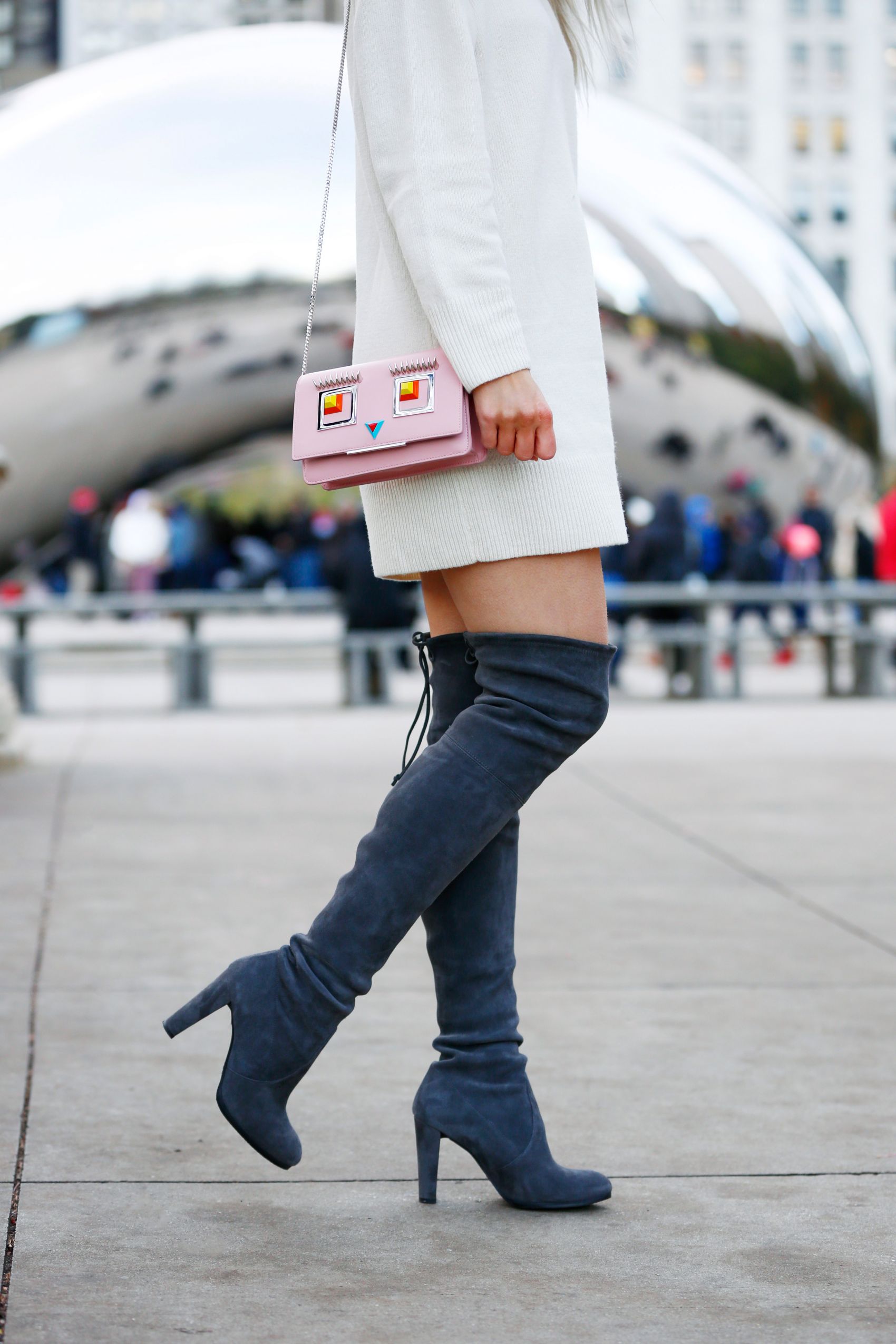 What life lessons have you learned recently? I'm sure we all have these moments of realisation at some point, and it just takes a moment out of our comfort zone to notice them.
Sign up here for a weekly catch up of everything Inthefrow