27/12/16
Christmas With Dior
In Magical Paris
Location: Plaza Athenee
Whilst my trip to Paris with Dior came to an end over a week or so ago, I am still reeling from the magic. I headed to Paris and this exact hotel in January for the launch of
Dior Poison Girl
, and due to a fluke illness over those few days, I would be lying if I said it didn't reduce my enjoyment just a tad. So to return to one of my favourite cities with one of my favourite brands, and to this exquisite hotel, was more than a dream come true.
I realise that us bloggers like to dramatise and exaggerate sometimes, because in honesty it's hard to think of new superlative adjectives each and every time we want to express our passion for something. But my adoration for Dior is something I have become pretty well known for now. When I was younger, I would stare longingly at the Dior Boutiques in London and around the world, and swore that one day I would have the courage to even just enter inside. And now I am past my mid-twenties, with my own business and income, the ability to walk into Dior is something I get excited about each and every time. It's the brand that fills me with the most excitement, adoration and interest and it is a brand that I choose to invest in whenever I am able to. I think everyone has that one brand that they truly adore. And Dior is mine.
And now, on my second trip with Dior Beauty, I journeyed to Paris to experience another beautiful Dior experience. Dior Beauty is a team of wonderful ladies who can encapsulate the feeling of this brand into one perfectly organised trip and I knew it was going to be something extra special. Read on below for a diary edition of what we got up to and why we were there!
Christian Dior Privée
The first stop, a trip to the new Dior Parfum Boutique on Rue Du Marché Saint Honoré. A gorgeous, modern perfume haven, stocking all of the divine La Collection Privée Christian Dior scents and offering perfume consultations to those who are looking for something extra special.
For me, I completely fell in love with Amber Nuit.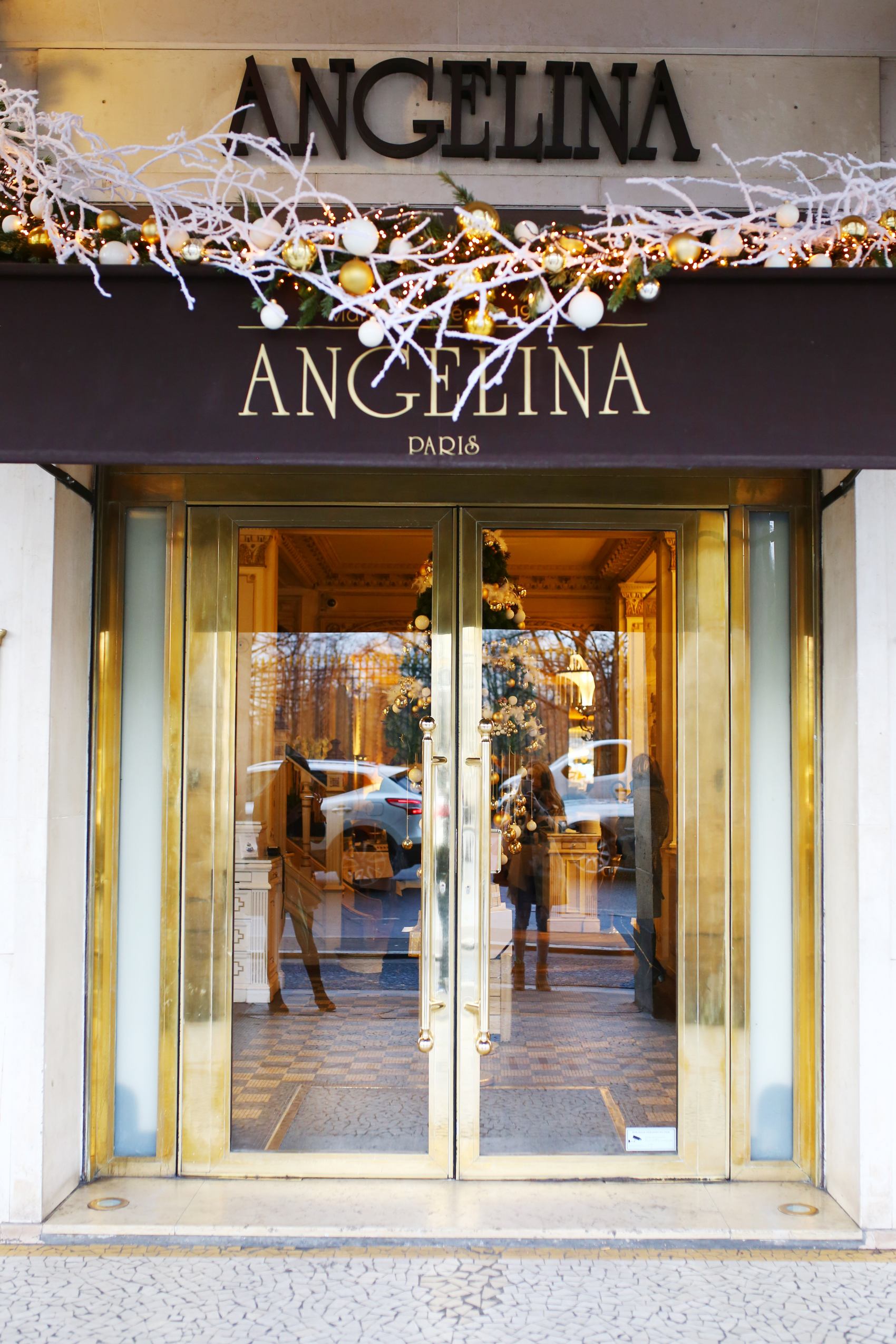 Angelina Chocolate
From the Parfum Boutique we walked around the corner to my favourite Hot Chocolate stop. Angelina's in Paris is the one place you must visit if you're a Chocolate obsessive. Even more so if you're searching for the best hot chocolate in the world.
There is nothing like it.
J'Adore Boutique's!
A trip to Paris would not be complete without a shopping trip down the best street in Paris. And with Dior being at the heart of the trip, we made our way to the beautiful Dior Boutique for a quick glimpse inside. And of course we strolled across the road to take a peek inside the Dior Fine Jewellery Boutique directly opposite.
Paris almost feels as though it lives and breathes Dior.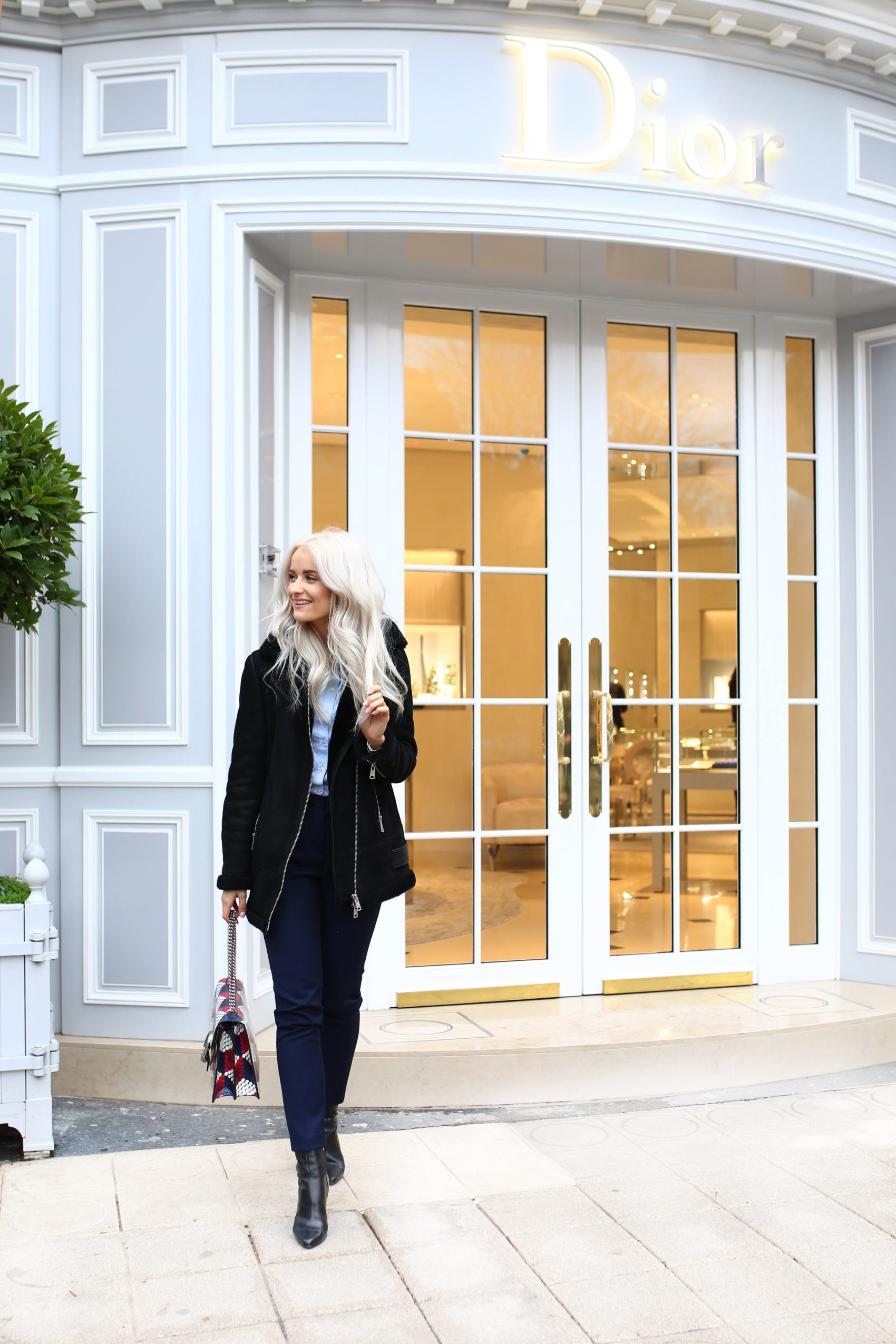 Attire
With a number of dresses packed for our evenings, I opted for a more androgynous feel for the daytime. Fitted navy trousers that I adore, an easy light blue shirt, Dior Boots with a stunning blue perspex heel and a warm shearling aviator to keep me warm. I promise I had also packed my Dior bag for the trip, but on this occasion I had my Gucci in toe that I had shipped over from the US with Go Send! Plus some incredible new Fendi Glasses and all Dior Jewellery for a touch of sparkle.
I want to be a Dior Girl Forever.
Surprises.
And there, sat on the coffee table, were two Dior bags. Intricately wrapped and labelled for me. Inside the white packaging was the key reason we were invited on the trip, for a first peek of the new Dior Forever Cushion Foundation (coming in January). In my shade 020, this has become my go to foundation for every day. With the luminosity, longevity and coverage of Dior Forever, with a touch more oomph. This is one of those products to carry with you every day for that expert touch up. I've already nearly ran out.
And the second bag, a Dior Card Wallet, in baby pink and famous Dior quilting.
I had to pinch myself.
A Parisian Evening
Tucked within the beautiful Hotel Plaza Athenee, you will find the impeccable Dior Prestige Spa. We were treated to a 90 minute facial, which I can boldly state was one of the most incredible beauty experiences of my life. The beautician was beyond fantastic, the products were the height of luxury and the Spa and surroundings were beyond anything I had ever seen before.
And after a facial, we headed back to our rooms to experience the beautiful new Dior Forever Cushion Foundation, applied by a Dior artist.
The red lip made me feel like a superhero.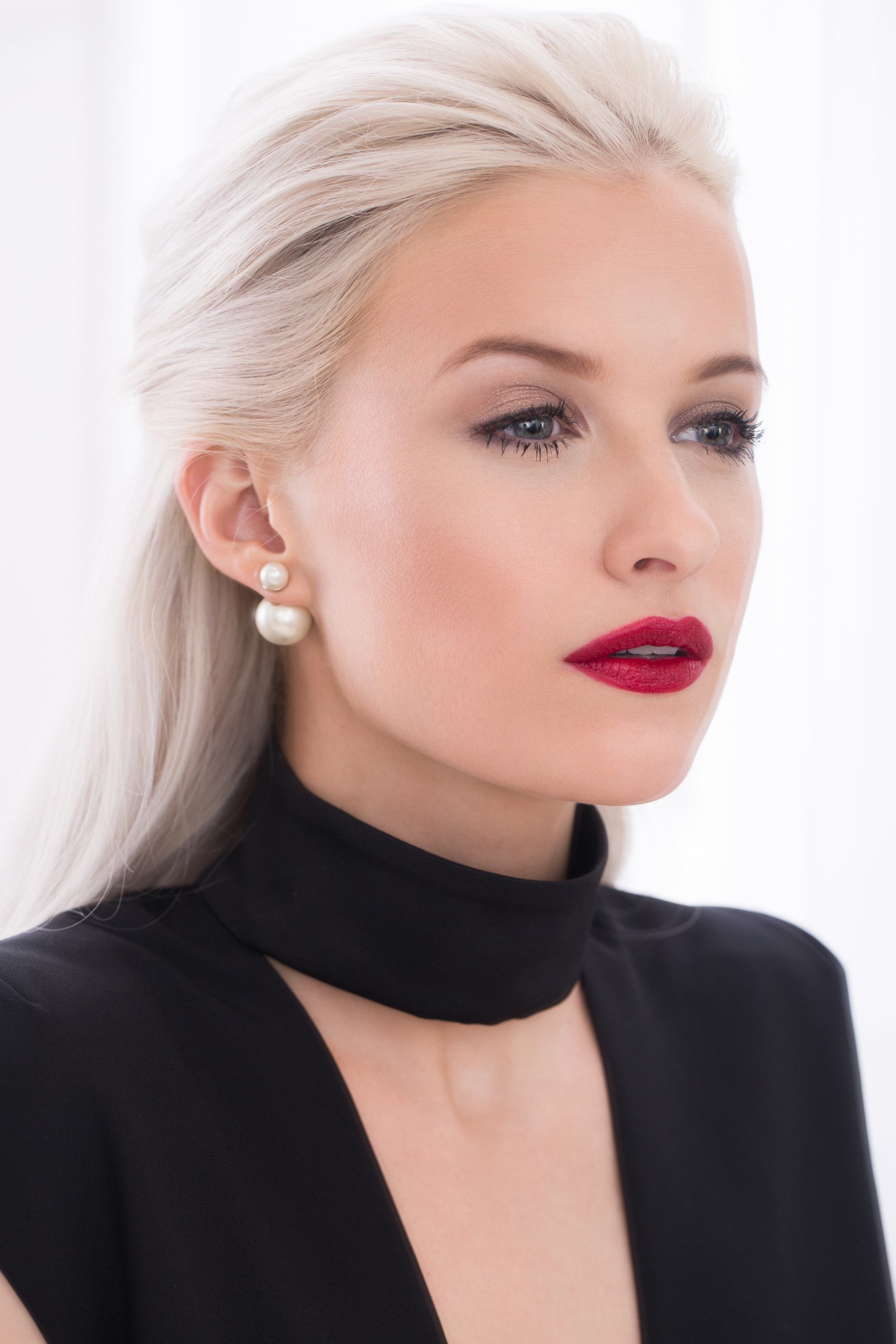 Crazy Horse
What would be a better way to spend an evening in Paris that with three beautiful ladies that I adore, (Tamara, Amelia and Niomi), the gorgeous Dior Beauty team and a group of stunning Parisian Dancers in the famous Crazy horse show. We dolled ourselves up to the nines ready for an incredible evening.
Huge thankyou to Alexandra Utzmann for the wonderful photos.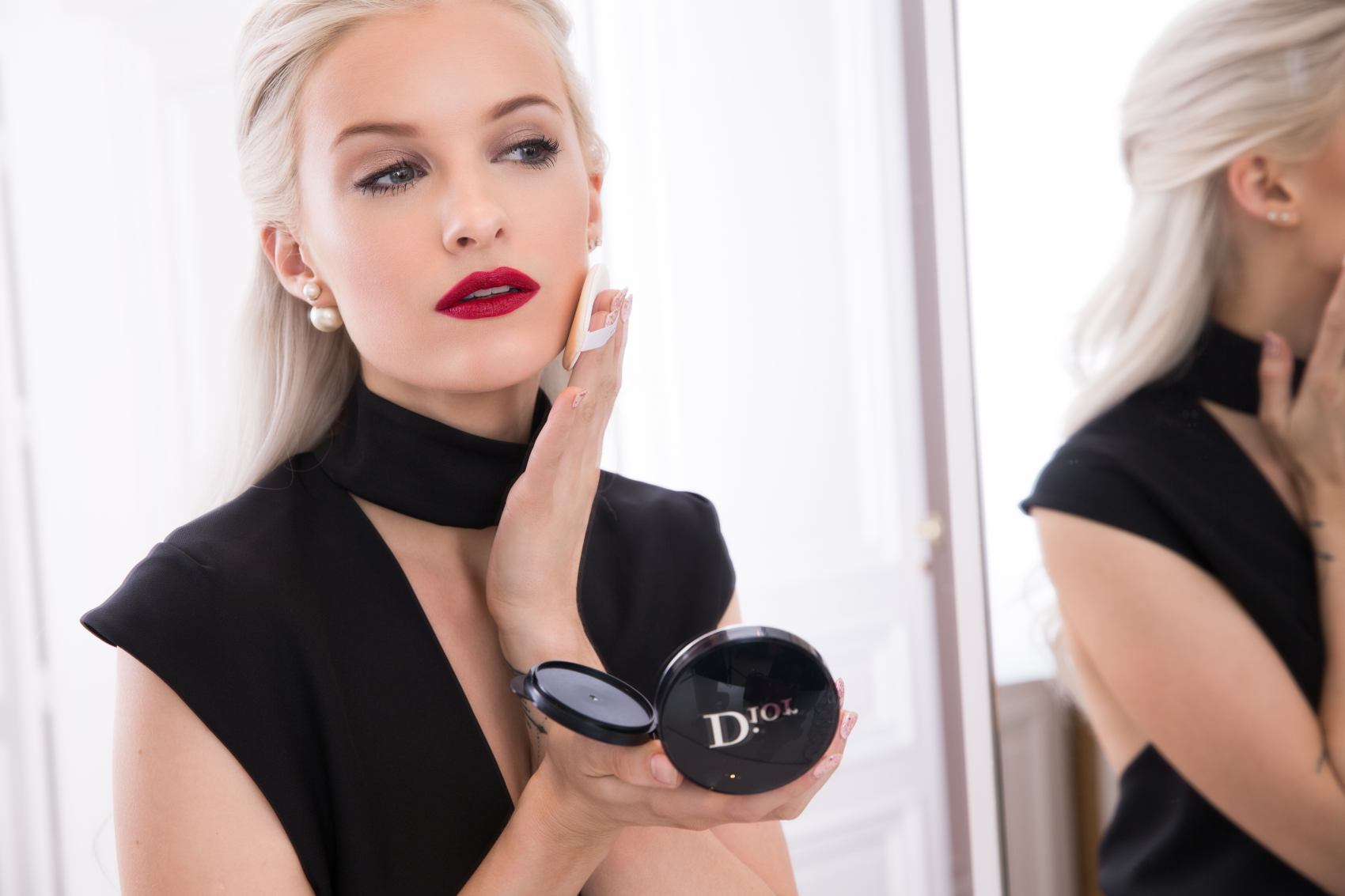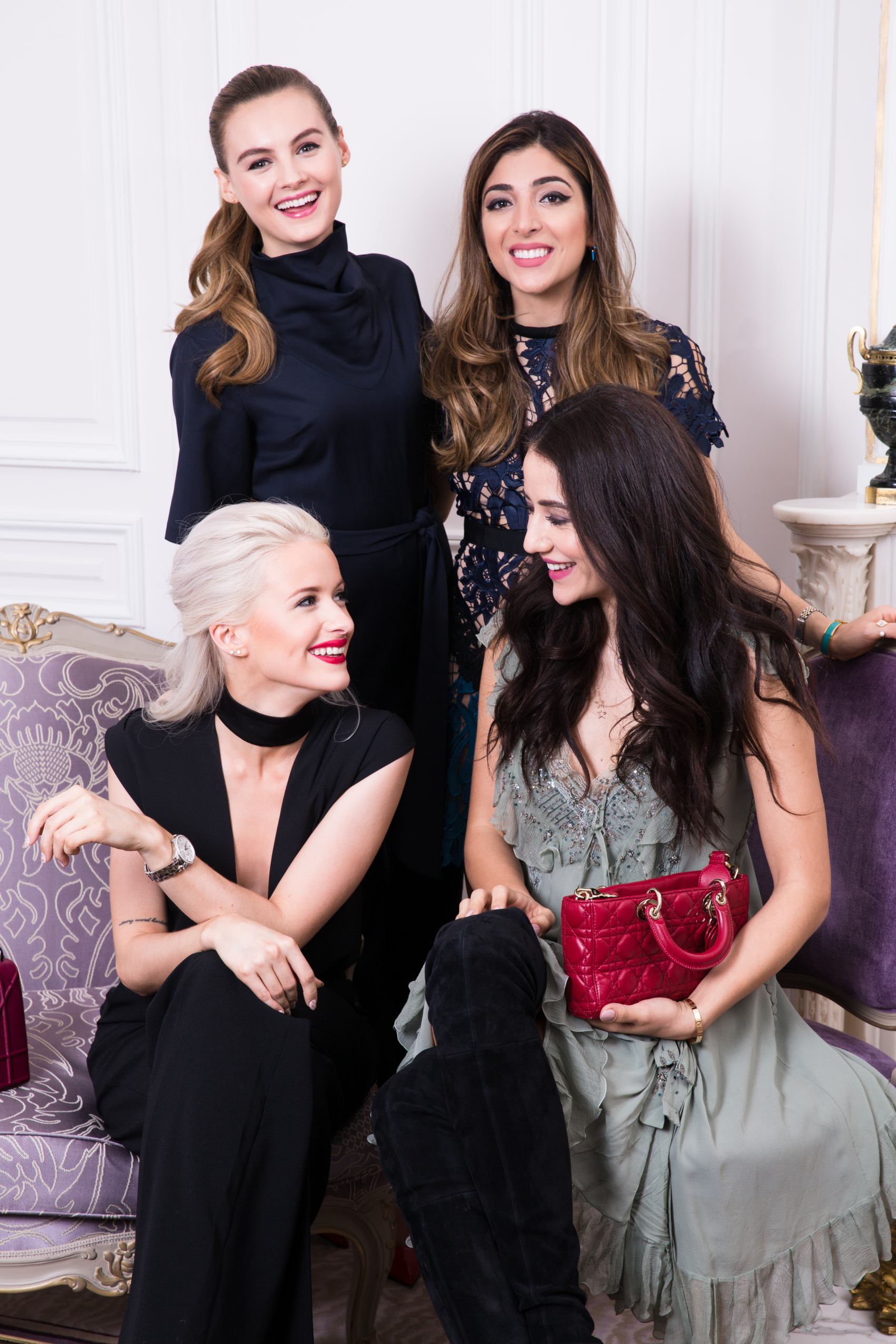 Room with a view
The next morning, a stunning breakfast was laid out before a breathtaking view of the Eiffel Tower. We swung open the balcony doors to reveal the most magical Parisian view imaginable and tucked into our eggs and avocados before making our way back to our rooms to pack.
Just call me Carrie Bradshaw.
Thankyou Dior
One of the final trips of a fantastic year, and one I will never forget. The hotel, the views, the gifts, the food, the company.
It was all beyond my wildest dreams. 
Sign up here for a weekly catch up of everything Inthefrow