08/11/16
Autumn Skin and Makeup Beauty Favourites
And the brands I love the most
With so many new products to review, unless I took on about five members of staff, I'd never be able to cover every single new launch. And thus beauty reviews on Inthefrow have reduced over the last year, because I find it so hard to keep up with everything that is super brand new. And so, I really want to start writing round up posts, filling you in on all of the products I'm using a lot, the ones I'm most excited about and the brands that keep me coming back for more!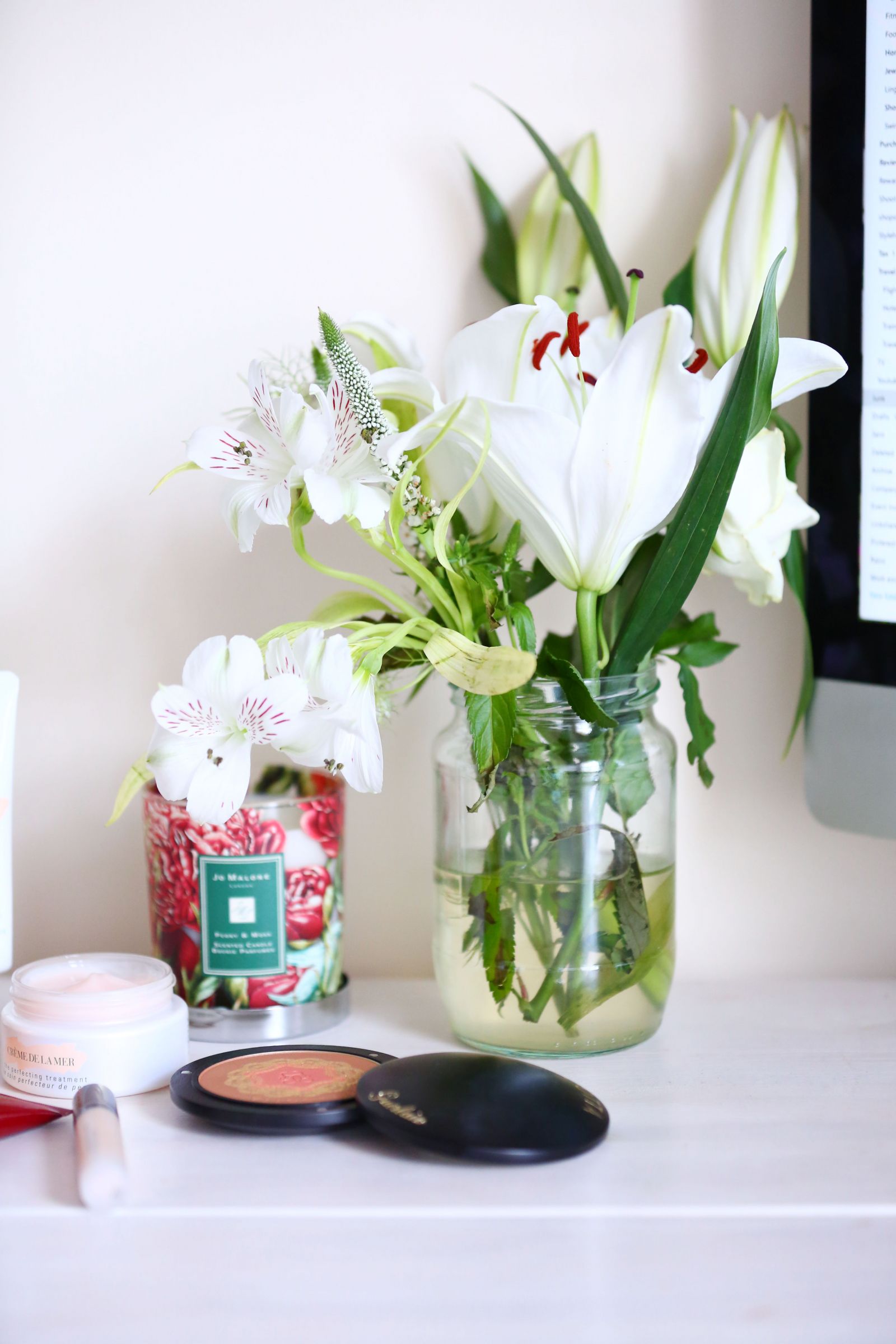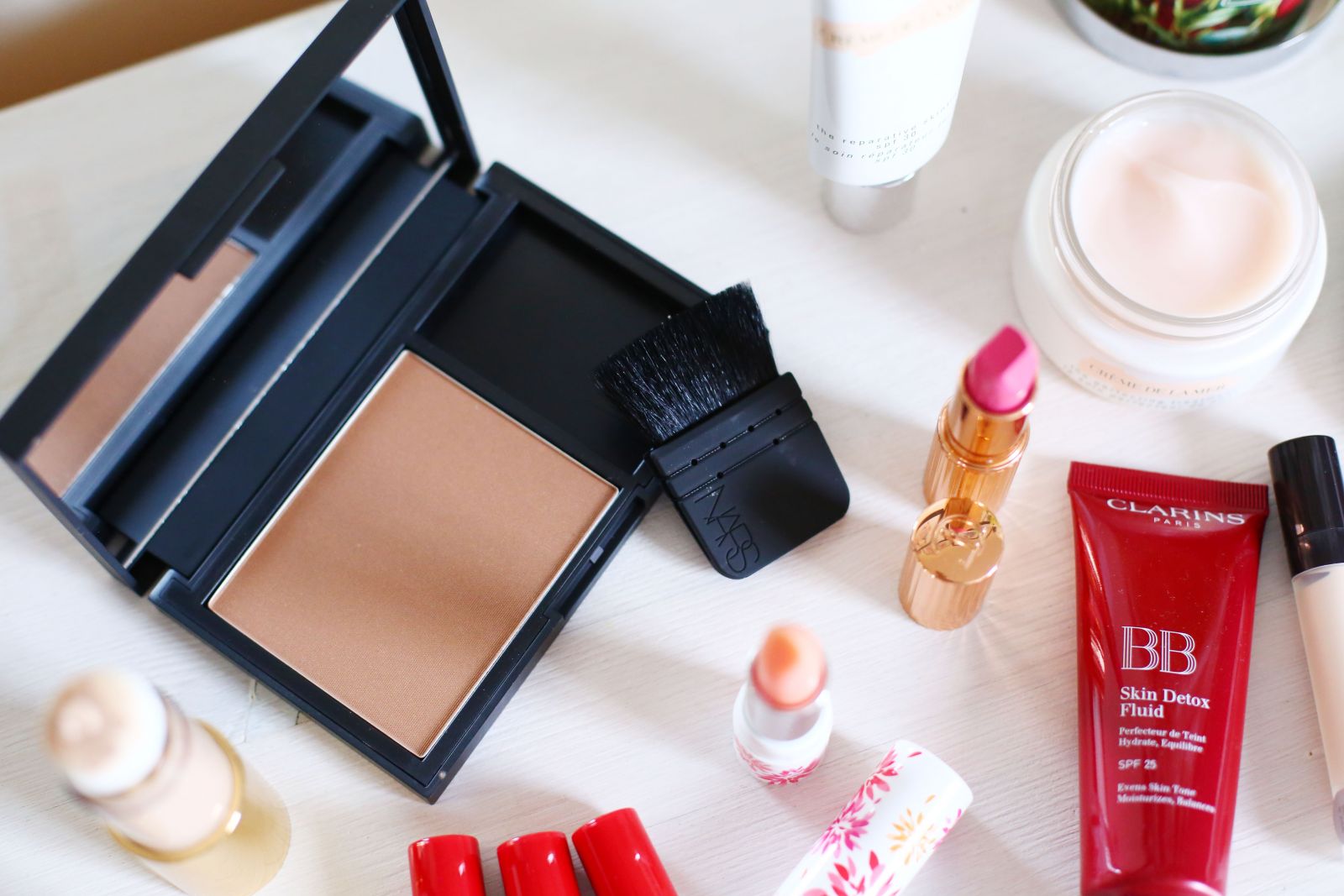 Nars.
Nars is constantly innovating, collaborating with inspiring artists on new collections or launching a new palette that I absolutely must have. And so it has always remained a brand that I highly recommend. One of their latest collections based around the laguna bronzer, integrated the shade into palettes and liquid bronzers for an end of summer glow and I loved the matte black packaging with the logo updated to a bronzed tint. Within this range was the Velvet Matte Skin Tint which has been my go-to tinted moisturiser over summer. Wonderful coverage with a dewy glow, even though it mattifies in all of the right places. But the huge face and body laguna bronzer is by far one of my favourite products of the last few months.
Nars Laguna Face and Body Bronzer
Guerlain.
My mum was always a fan of Guerlain perfume, so I grew up very aware of this beautiful and elegant beauty brand. Their skincare is one of a kind, and I literally take Guerlain with me on every long haul flight that I take. Their tiny tubes of product are the perfect travel companions with Stop Spot, Super Lips and Midnight Recovery sitting proudly in my tiny travel case everywhere I go. Midnight Recovery really is one to try if you're after an intensive night cream that really does make a difference over night.
But here you can see one of their gorgeous bronzers, in a limited edition wooden case. All of their Terracotta bronzers are truly brilliant and I would highly recommend them to anyone, especially the Four Seasons Bronzer for a cool toned, blendable bronzed finish.
Guerlain Terracotta Bronzing Duo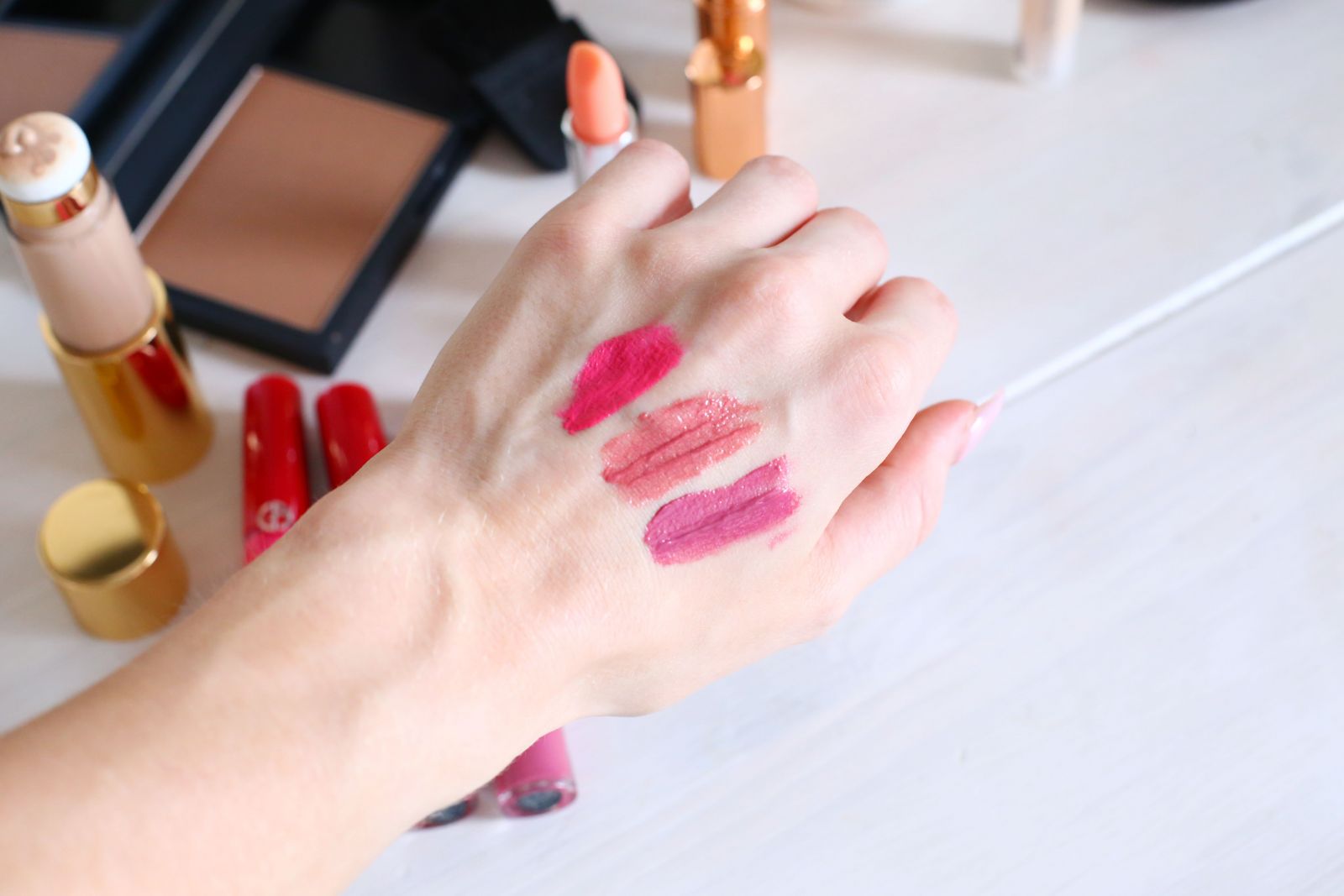 Armani.
You're probably aware that I'm a HUGE Giorgio Armani fan. Especially as I have been on a number of trips to Paris and Milan recently with the Armani team and could not have felt more welcome. Their products are by far some of the most innovative, creative and effective on the beauty market and I feel that they still don't get quite the recognition that they deserve. I could wear just Armani Beauty on my face every single day and love every product, and there are not many brands that I could say that so boldly for. Their skincare, foundations, powders, mascaras and lip products are must try's! Here you can spot the Armani Lip Maestro's in a number of cool pink, mauve shades. The new Lip Magnet's have recently been released too, which have an alternative finish and bare lip texture, but for a sheen finish liquid lipstick, the Lip Maestro is such a simple and beautiful product.
Giorgio Armani Lip Maestro swatches 505 (pink), 508 (coral pink) and 507 (mauve).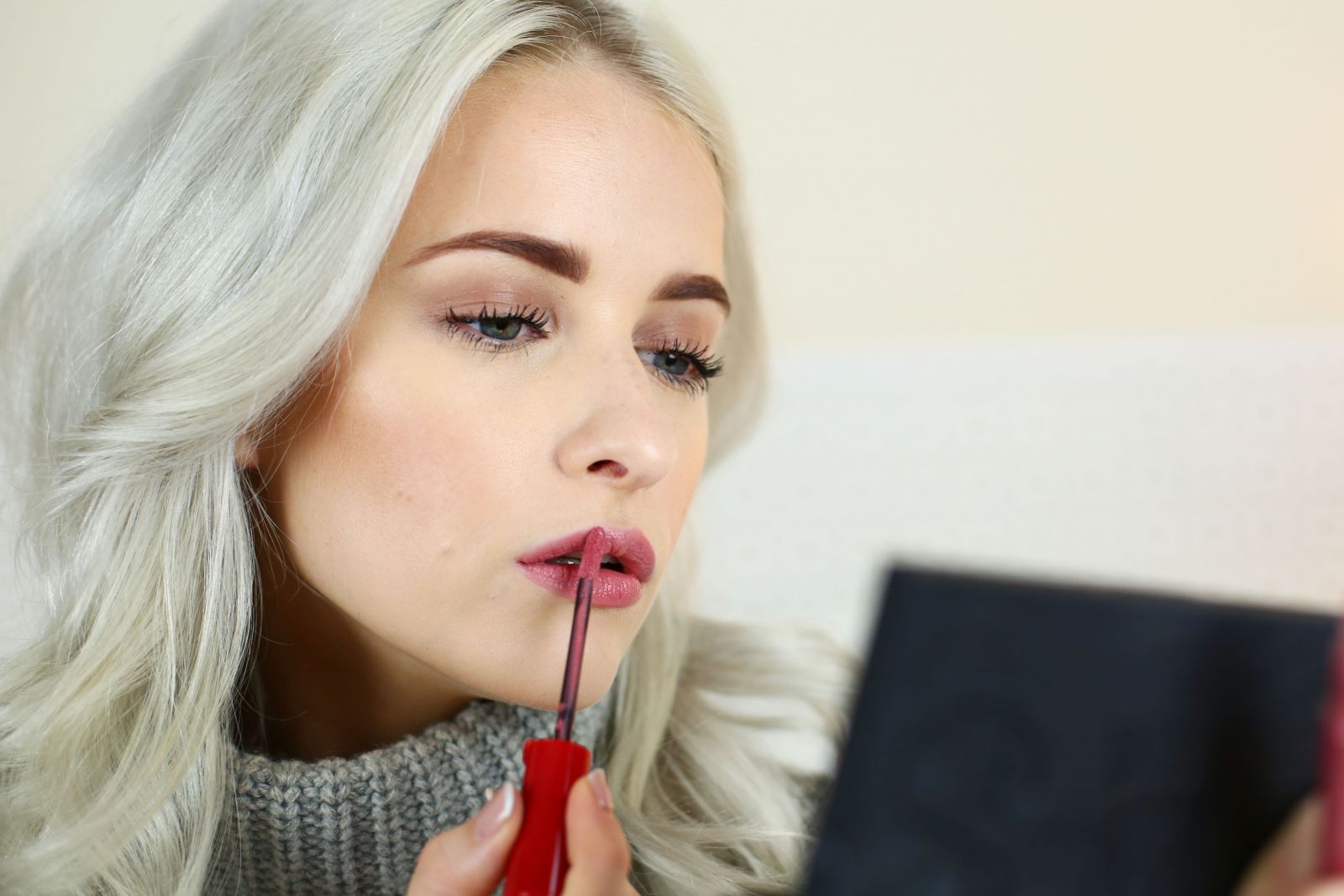 Armani Lip Maestro in 507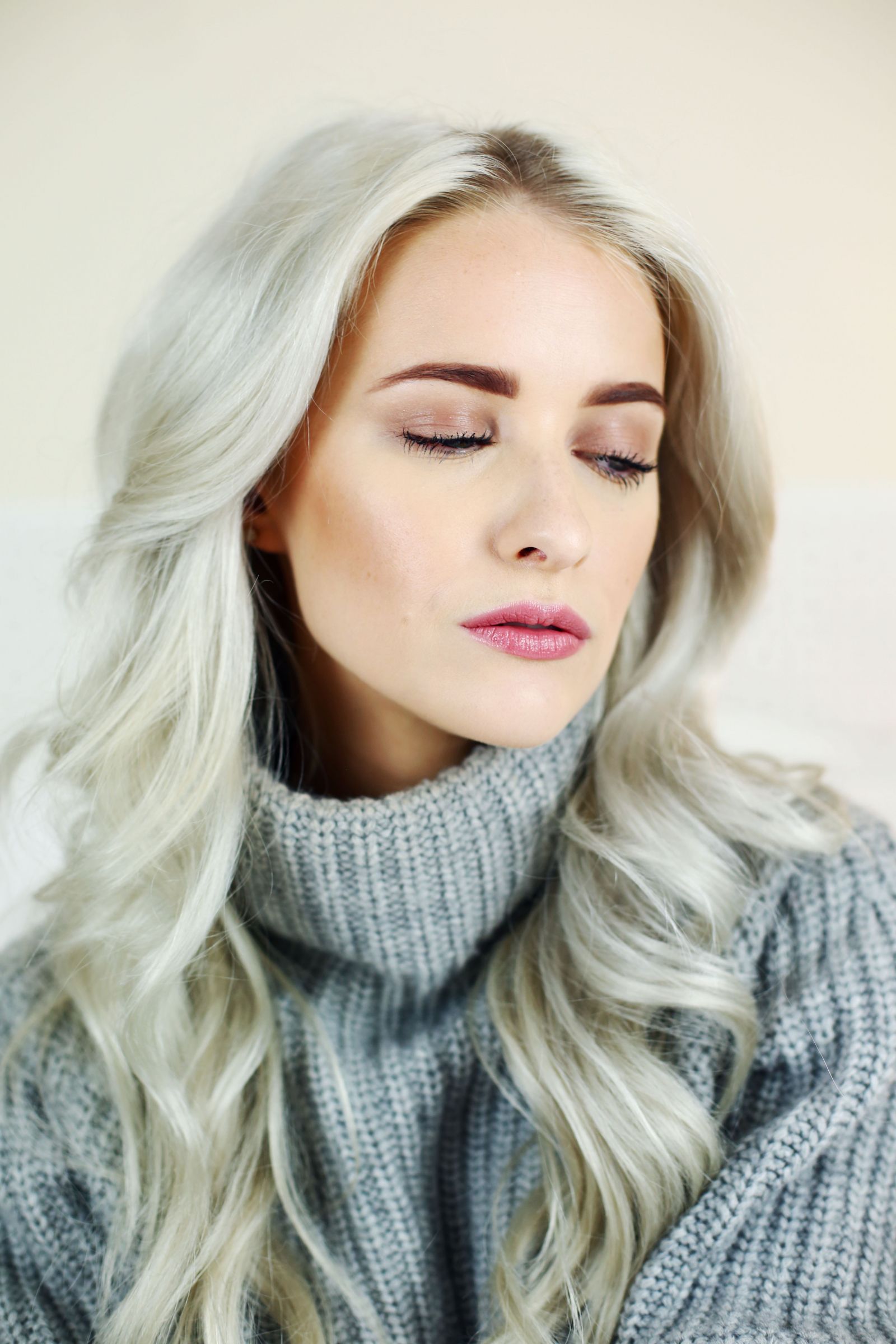 Becca.
I have a lot of respect for Becca, mainly because of their collaboration with U.S Youtuber Jaclyn Hill. The fact that brands are now trusting and believing in social and video influencers to create collaboration products is such an incredible step forward. The collaboration was one of the best I have seen thus far when it comes to Youtuber collaboration ranges, and the number of people who own a piece of Becca x Jaclyn Hill highlighters speaks volumes as to how successful the campaign actually was. But aside from collaborations, Becca really do create fantastic products, and the highlighters, illuminators and primers are some of my absolute favourites from this brand. The Becca Backlight Priming Filter really enhances dull skin to illuminate and prime the skin ready for foundation and is one of my go-to's when it comes to priming.
Clarins.
There's so much I could say about Clarins. You probably know that I have been a huge fan for years! I swear by their skincare, their concealers and their lip products, but their foundations are also some of the best on the market. I just feel that Clarins doesn't often get the acknowledgement it deserves in the makeup market. The BB Skin Fluid Detox pictured here is just another of Clarins' fantastic skin products, with a texture that brightens and covers the skin without looking caked or heavy. It is illuminating and brightening whilst offering a light to medium coverage. But if you're looking for an incredible concealer, look no further than the Clarins Instant Light Concealer – it's a true gem!
Clarins Daily Energiser Lip Balm is also a new fave and smells like delicious peaches!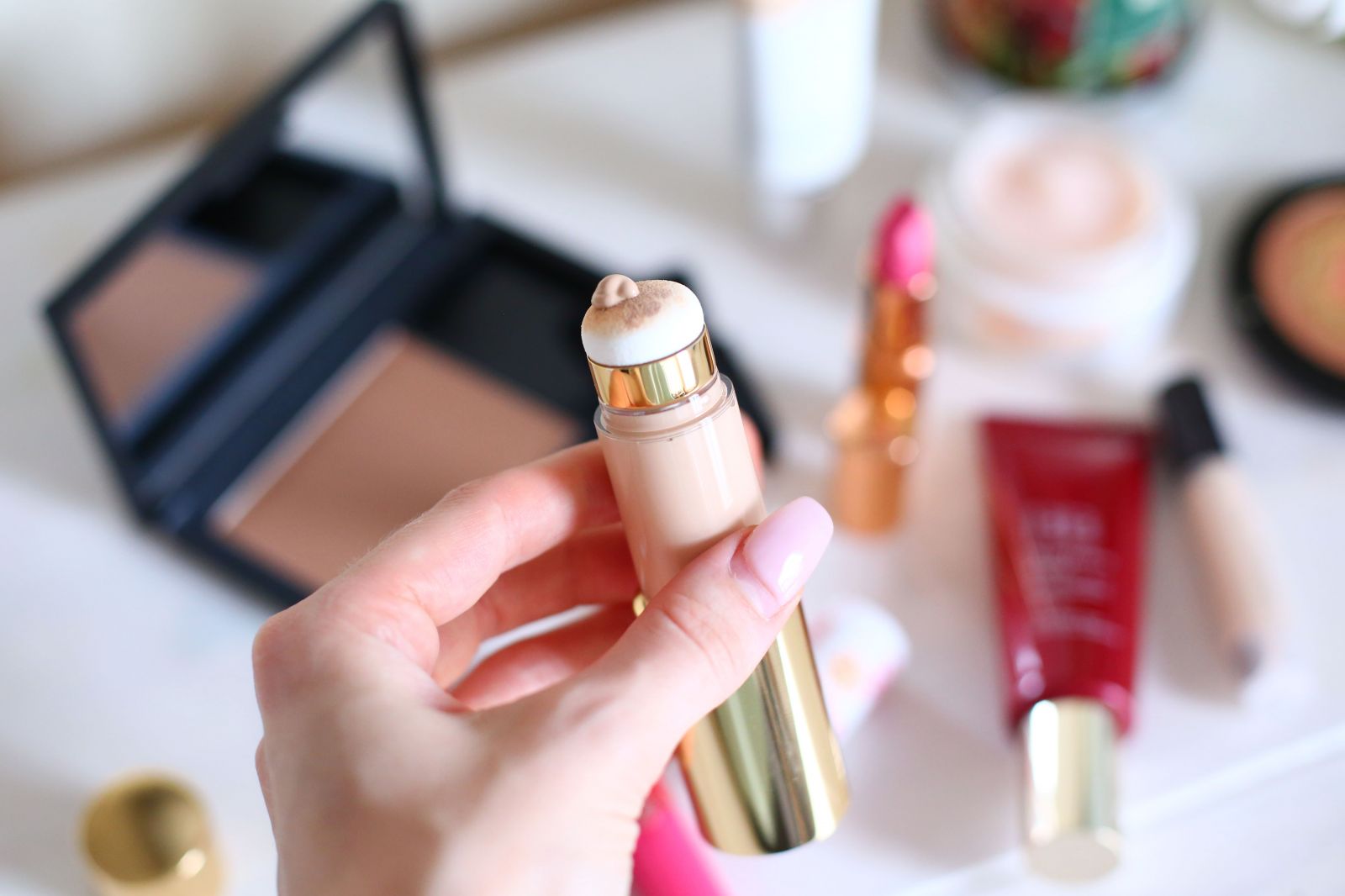 Estee Lauder.
Let's state the obvious here; the new Victoria Beckham and Estee Lauder collaboration range is beautiful. Stunning Tom Ford like packaging, beautiful luxurious products within and a really stylish feel to the whole range. My favourite piece from the collection is definitely the Morning Aura Illuminator for a dewy, fresh glow that works as a moisturiser and primer in one (p.s. I think this might also be VB's favourite product). But I also adore the colours of the Eye Metals. Yet aside from this, Estee Lauder have always been a winner when it comes to foundations – but would you believe I have never tried double wear!! However, I have tried the new Cushion Stick foundation, and alongside from the super easy packaging and cute sponge tip, this is a lovely medium coverage foundation with a number of great warm shades.
Charlotte Tilbury.
This is a brand I would recommend to every and anyone. In fact, the number of times that friends and family have asked me for makeup present recommendations for others, and I have immediately aimed them towards Tilbury. The packaging is just divine and the products are some that I truly believe in. I feel that this is another brand that I could easily create a full face of makeup with and feel truly confident. There are too many products in Charlotte's range to recommend, but my favourite is definitely the Cheek to Chic blusher in First Love. It's my ultimate number one blush of all time. But her lipsticks are also absolutely stunning and this one from the Hot Lips range in Bosworth's Beauty is a pink dream!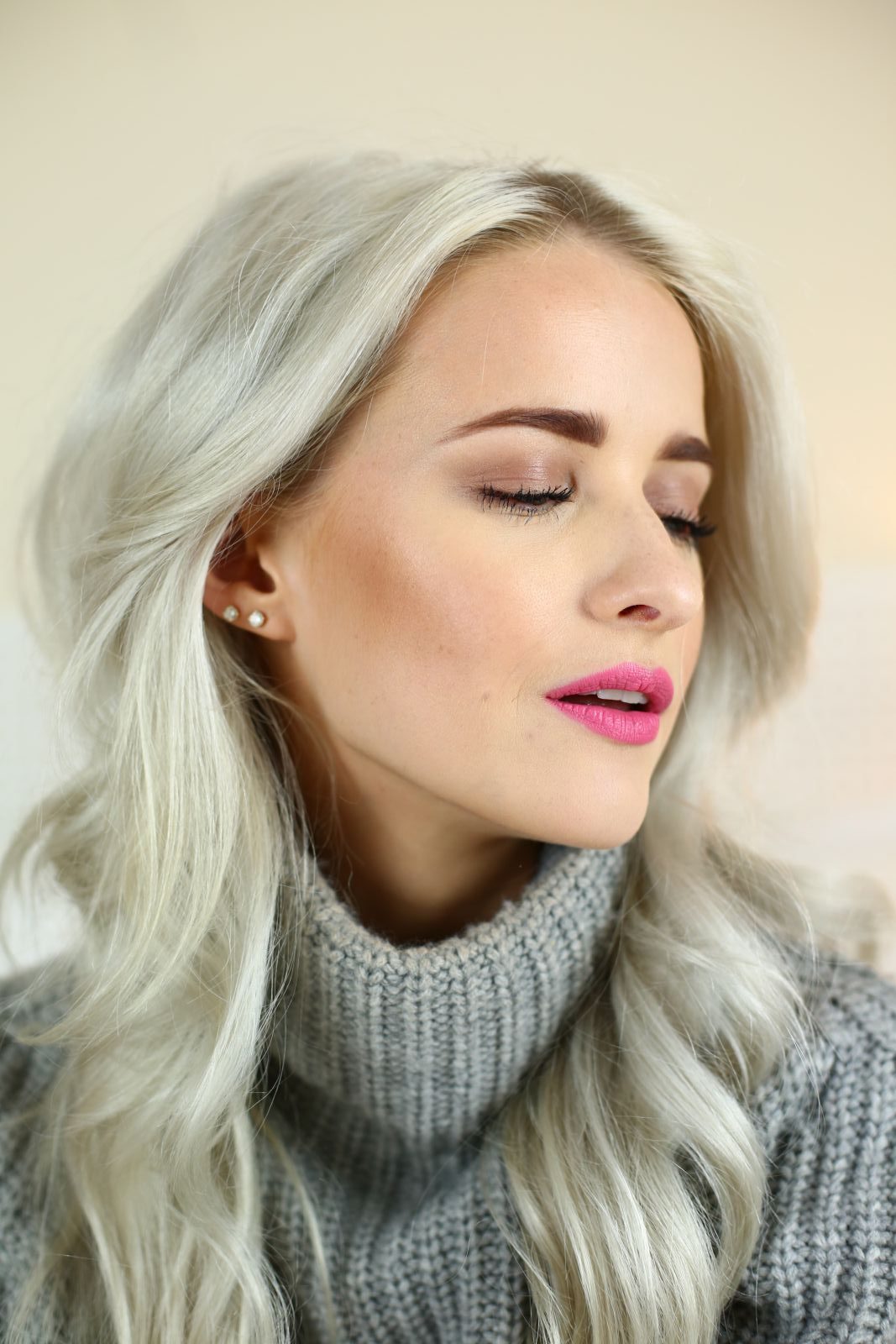 Wearing Hot Lips in Bosworths Beauty.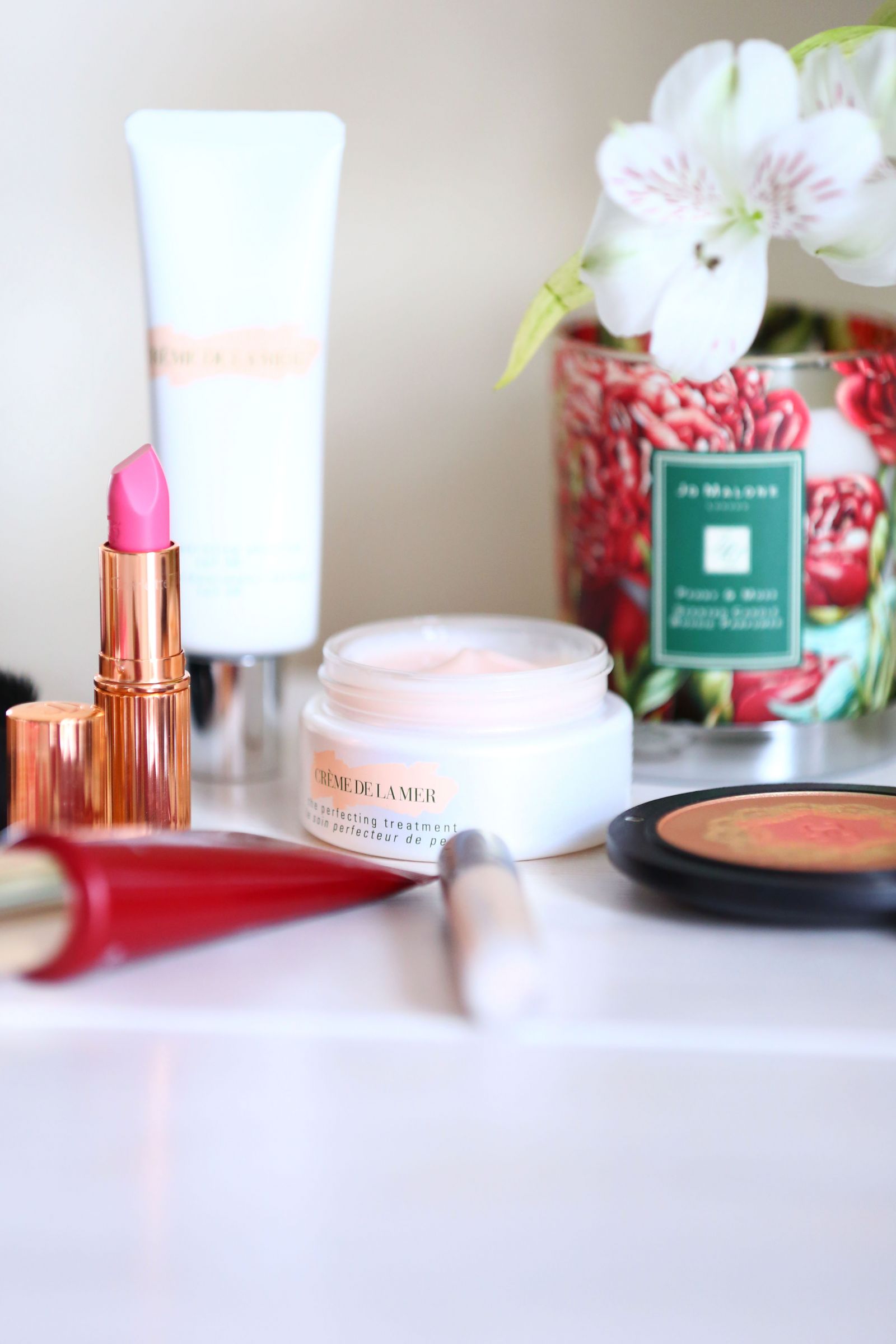 La Mer.
Last but most certainly not least here is La Mer, and I'm afraid to say this is the first time La Mer has appeared on this blog. I cannot believe it has taken me this long to try out their products, but honestly, I am absolutely hooked. I was kindly sent a number of their best sellers to try, and I honestly cannot tell you what a difference they make for my skin. My favourite skincare combo right now, aside from the Armani Prima range, is a mixture of the La Mer Moisturising Soft Cream £110, mixed with two drops of the La Mer Renwal Oil £160 and then the La Mer Perfecting Treatment £155 over the top as a priming lotion. The three together feel like a total dream, but have led to my makeup lasting all day long. Plus, due to the oil content, my face has never looked so dewy and healthy! For those with oily skin, I maybe wouldn't recommend this combo, but for those with dry skin types, this is a dream come true! But then the La Mer Reparative Skin Tint £65 is a light tinted moisturiser that I loved to apply over summer. For those with blemish free skin, the skin tint is highly recommended, as it really is a light skincare consistency with a sheer wash of colour. Yep, in total that is a cool £460 to cover your base!!! So whilst I wouldn't recommend you buy this all in one go, I really did want to mention how fantastic I believe these products are, and I think I may cry when I personally run out!
 Wearing La Mer Skin Tint over La Mer Perfecting Treatment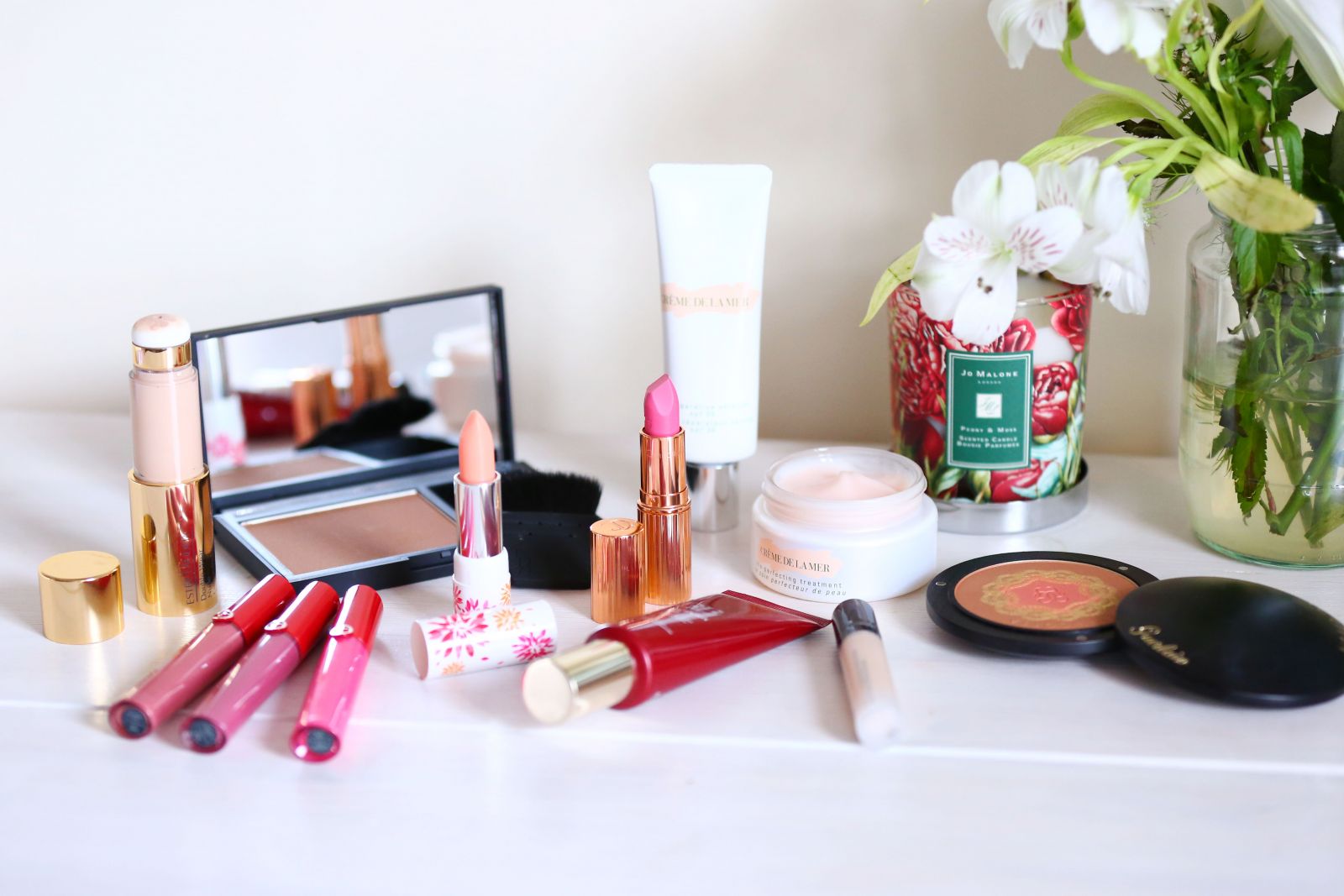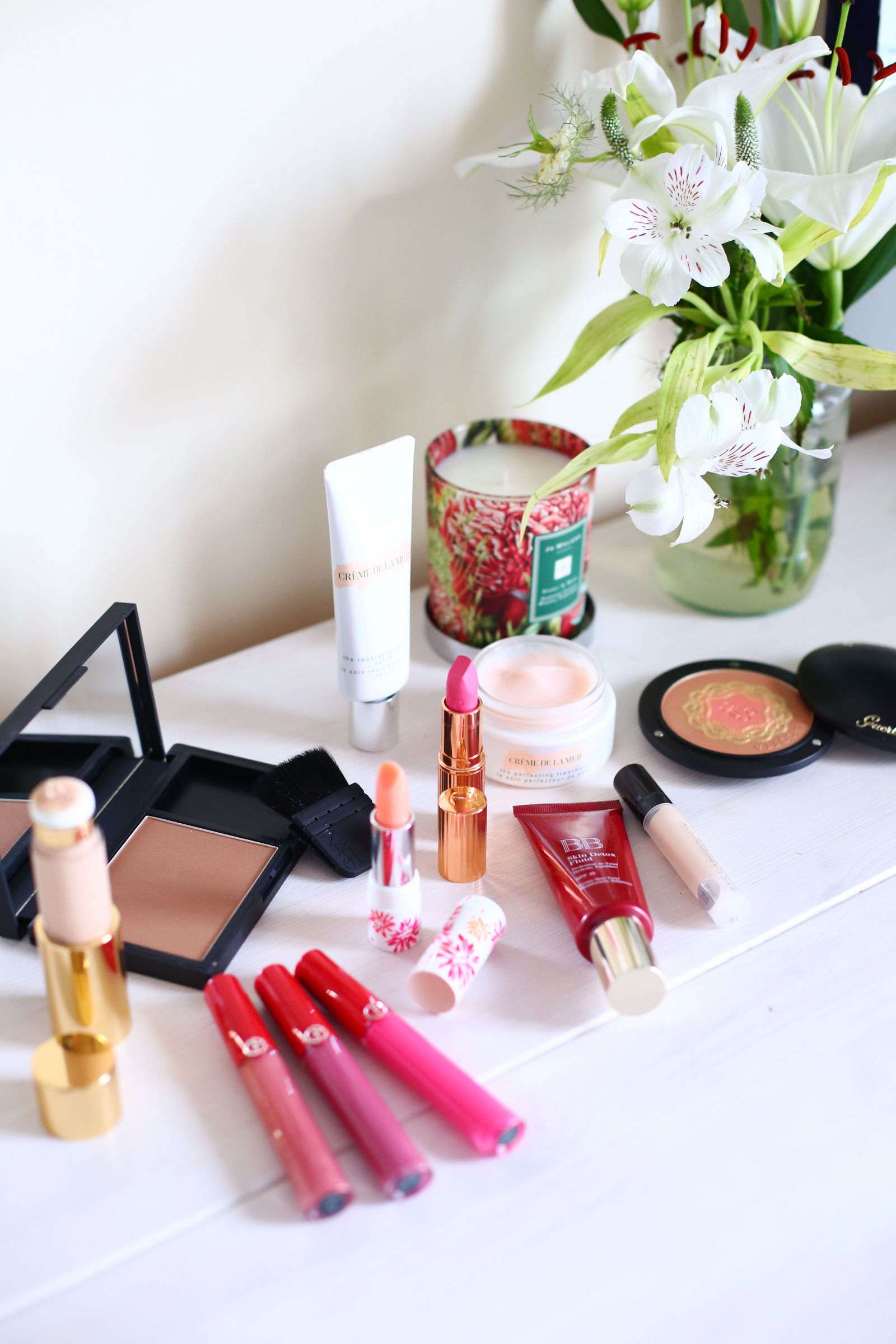 Have I mentioned any of your recent favourites in there? Or maybe I've mentioned something you didn't know existed? If you end up picking up any of my recommendations, please do let me know! I'd love to hear what you think!
Sign up here for a weekly catch up of everything Inthefrow