27/10/16
Two Fashion Favourites
My Self Portrait and Gucci Obsession
It was about time that I came clean and owned up to my recent obsessions. I'm one of those gals who when they get a product in their head, they will go to the ends of the earth to find said product even if it's only available across the globe. The more I can't have it, the more I desperately
need
it. I know many many people with this issue.
Luckily for me, the two brands I have recently fallen head over heels in love with, are actually easy to get hold of here in the UK, so this makes my work a little easier. But it doesn't stop me from loving each and every one of their newest launches. I'm talking about Gucci and Self Portrait.
Gucci is my accessories obsession and Self Portrait is my clothing obsession, if you hadn't already noticed. The blog and Youtube have become a little Gucci and SP heavy as of late. I think I may own around 7 Self Portrait pieces now and I think for good reason.
With the number of events and occasions I head out for, it's gotten to the point where I consistently need beautiful dresses to wear for each occasion. It would be great if I could wear the same dress over and over, but when the events are attended by similar people and paparazzi, each event requires a different dress. And so, I like to find beautiful, stand out pieces that don't break the bank – and that is Self Portrait for me. Elegant, sophisticated, understated glamour with a price tag that is mid market. You're looking at around £250-£350 for a Self Portrait dress. And every time I wear their pieces, someone will ask me if it's Self Portrait – people know the cuts, shape, fabrics and general silhouette, which I think makes this brand extremely special. This is the latest dress I picked up from Self Portrait, in a beautiful mixture of navy and jade green patchwork lace, capped sleeves and a lace hemline.
And for Gucci – I don't know one fashion lover who hasn't declared their love for Gucci this season and the last. They have been designing the most beautiful accessories, playing with textures and patterns, mixing fabrics and creating something entirely fresh for the luxury market. And their work is certainly being noticed. My new velvet green Marmont bag is the latest addition to my accessories collection, and one I have already worn more times than a few other bags put together. The fabric is perfect for the season, whilst the jade green keeps it exciting and fresh. The double G Marmont logo in the bright gold matches the gold hardware strap and enhances the colours of the bag beautifully. And somehow I'm finding the colours to work wonders with the majority of my wardrobe.
Together, the Self Portrait Dress and the Gucci Marmont Bag are a wonderful match. My two favourites brought together in the perfect colour palette.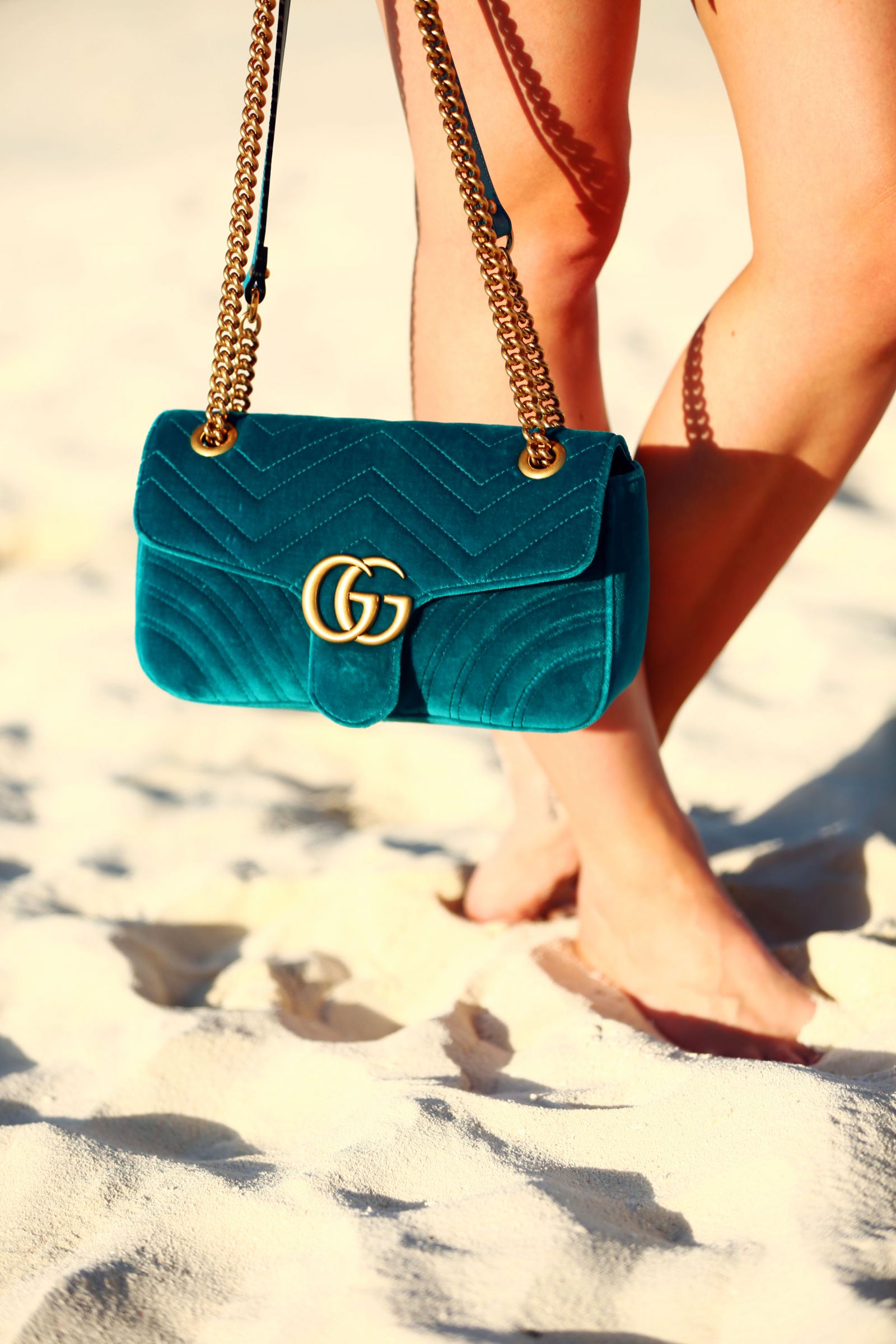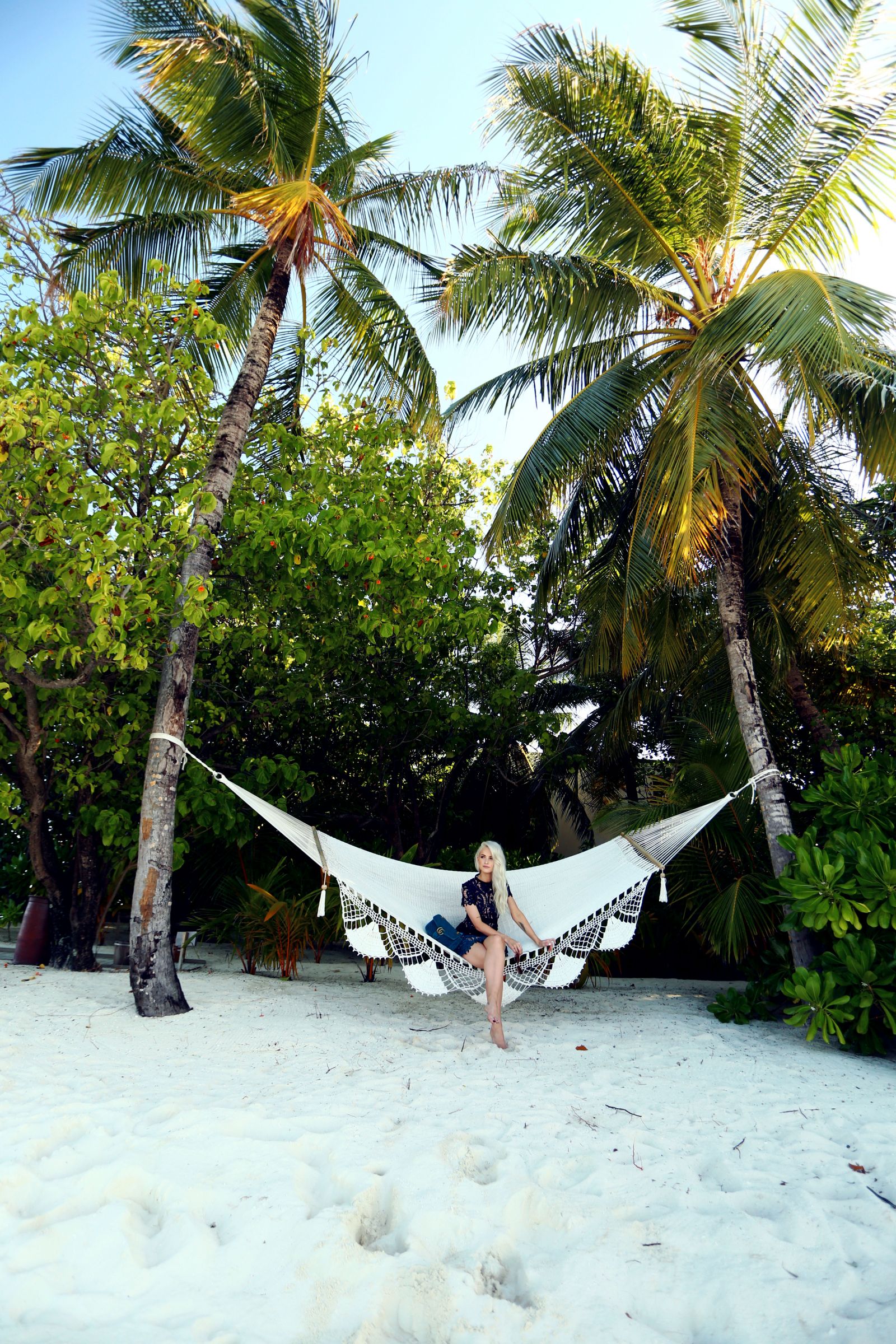 Anyone else stuck in a fashion obsession phase right now? Which brands are you in love with at the moment?
And by the way if you're wondering what paradise Island these photos were taken on, these were all taken at Mirihi Island Resort in the Maldives. A stunning, no shoes all holiday Island with wonderful staff, delicious food and the best reef you'll find in the Maldives. We went swimming with Whale Sharks, drank cocktails over the water watching the sunset and ate dinner overlooking the ocean every evening. Perfect!
Sign up here for a weekly catch up of everything Inthefrow